Everyone's favorite food in dip form! This pizza dip is simple, delicious, and can be customized based on your favorite pizza toppings!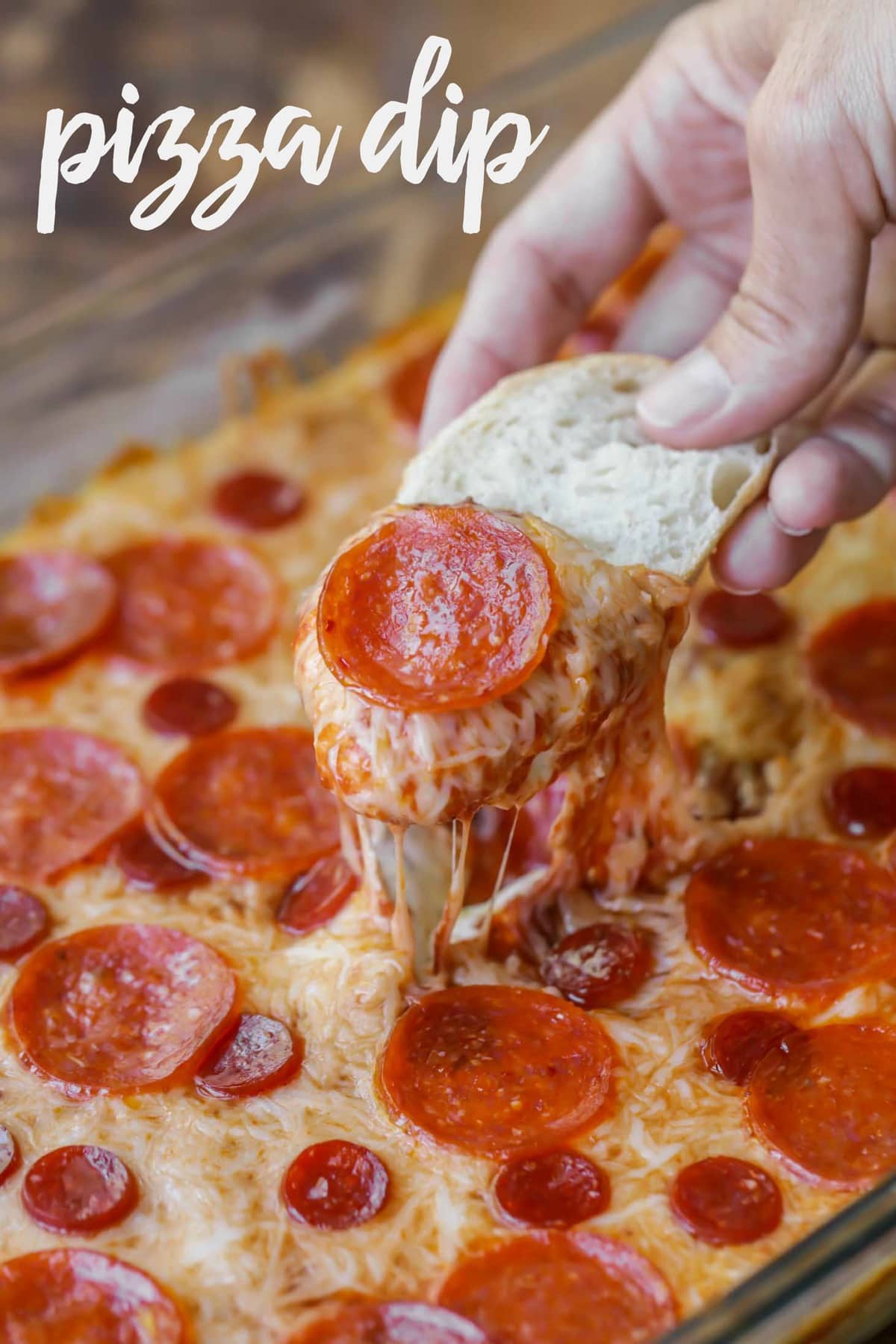 Who doesn't love PIZZA?!
Our family loves it so much that every Friday is Pizza Night at our house. Sometimes we go and pick up a pizza and other times we make our own homemade version. It's a dish that everyone in my family loves, so when I saw a recipe for Pizza Dip in one of my mom's old church cookbooks, I decided to give it a try.
This Pizza Dip recipe is very simple to make. It literally took me just a few minutes to put together.You combine all the sauce and spices and pour it into a baking dish. Top it off with cheese and your favorite toppings (we did regular and mini pepperonis), and then you bake it. Easy as that.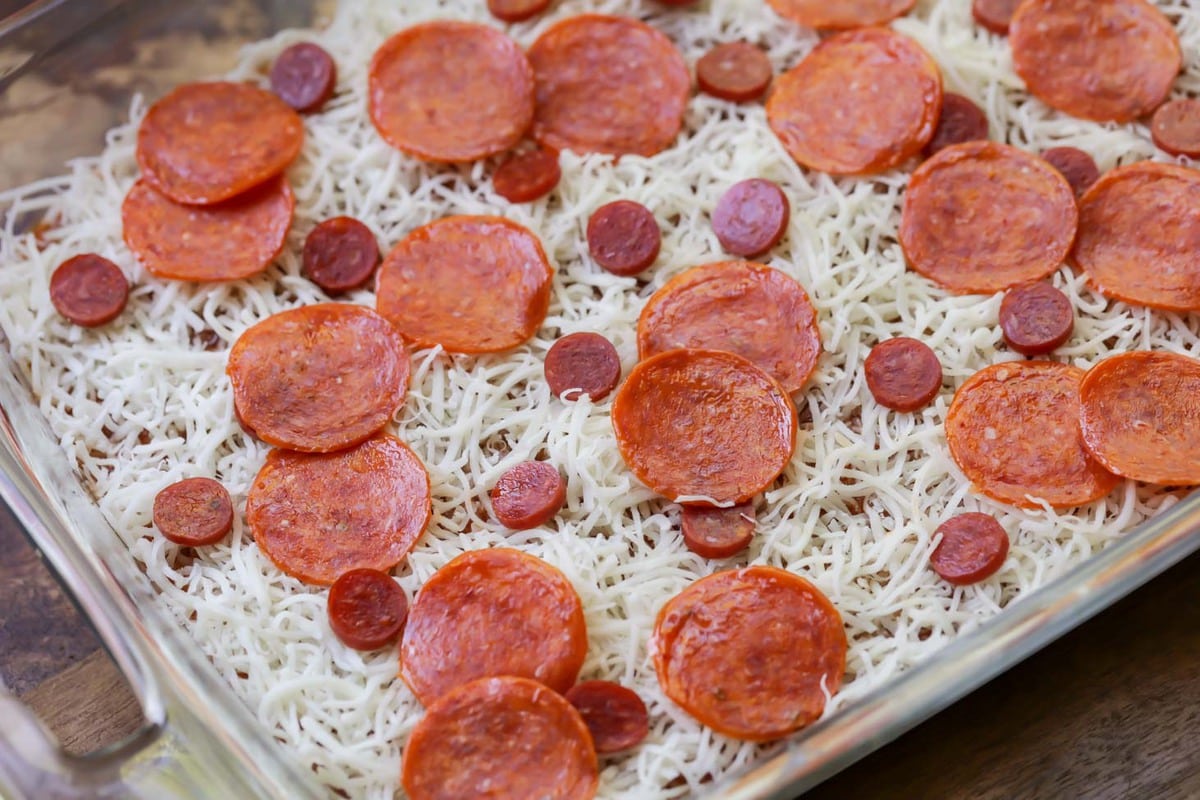 Use your favorite toppings
Like I said, we used pepperonis, but you can use any pizza toppings/sauces you want! Some other ideas include:
Pepperoni, italian sausage, ground beef, ham, bacon, grilled chicken, ground pork, mushrooms, spinach, red onions, black olives, red, green and yellow bell peppers, jalapeno peppers, tomatoes, pineapple

Cheese: mozzarella and parmesan, but you can use your favorite cheese such as cheddar

Sauces: classic marinara, creamy garlic parmesan, Barbecue, buffalo
Some combinations modeled after some of our favorite pizzas include:
Hawaiian: ham/canadian bacon and pineapple

Meat lovers: pepperoni, italian sausage, ham, bacon, seasoned pork and beef

Supreme: pepperoni, seasoned pork, beef, mushrooms, green and red bell peppers, onions

Chicken: use BBQ Pizza Sauce instead of classic marinara and add grilled chicken
Dipping ideas
We ended up serving ours with pita chips and it was great!! We like to have breadsticks at many of our Italian night dinners, so I'm thinking this dip will be great side to go with the bread. Maybe even sliced french bread? Here are even more dipping ideas:
Tortilla chips

Garlic bread

Pretzels

Crackers

Spoon 😉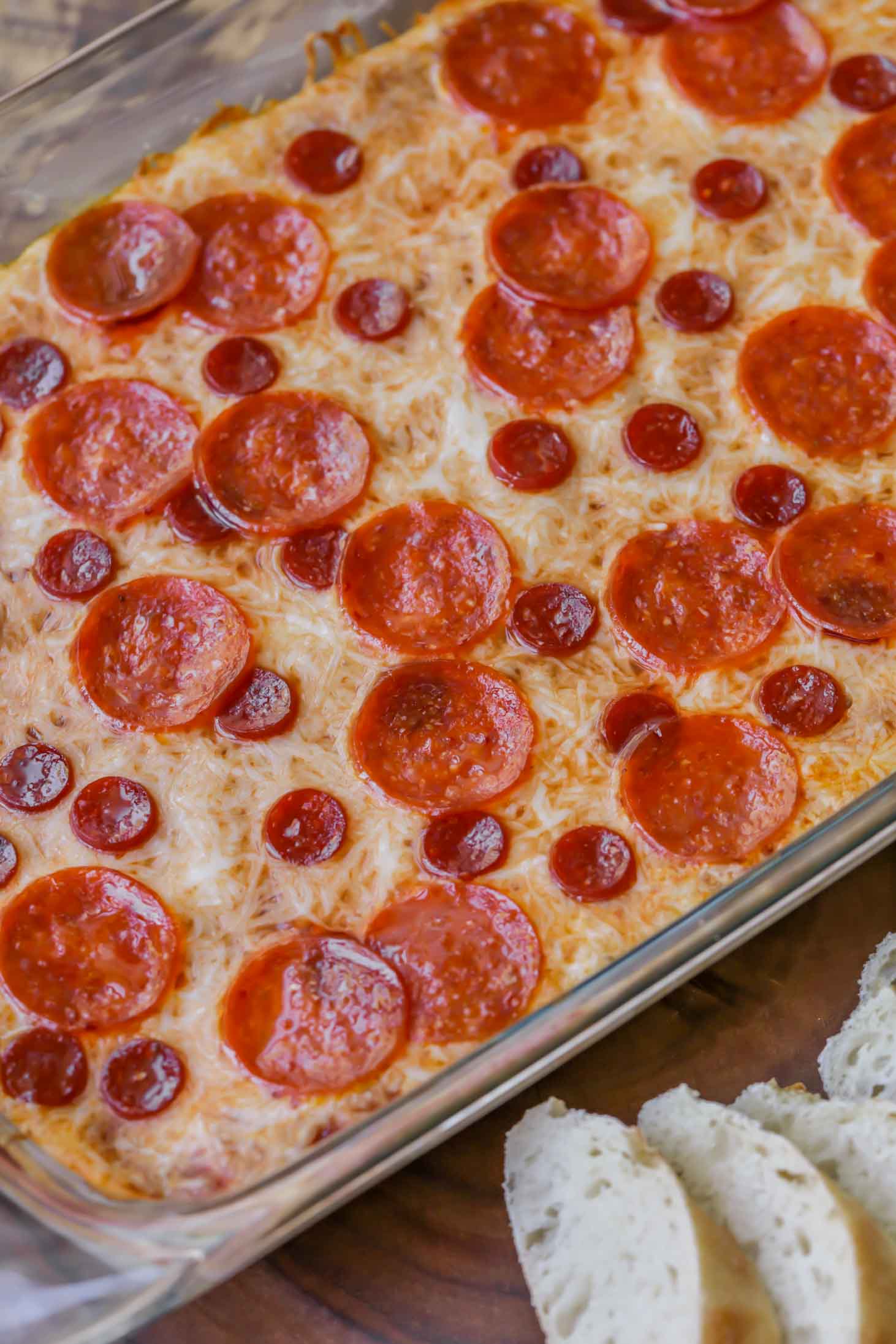 Make ahead. You can make this a day ahead of time. Assemble all the ingredients in the pan as directed, but do not bake. Instead, cover and place it in the fridge. When you're ready to bake, let it sit on the counter for about 20 minutes before throwing it in the oven.
Crockpot version
With a little change, you can also make this dip in the slow cooker! Add the cream cheese mixture to the bottom of the crockpot, followed by the pizza sauce, then top it with cheese.
The added step is to precook the pepperoni in a skillet. This way it is nice and crisp, otherwise it will be a little limp if cooked solely in the crockpot. Once all the layers have been assembled cover and cook on LOW heat for at least an hour.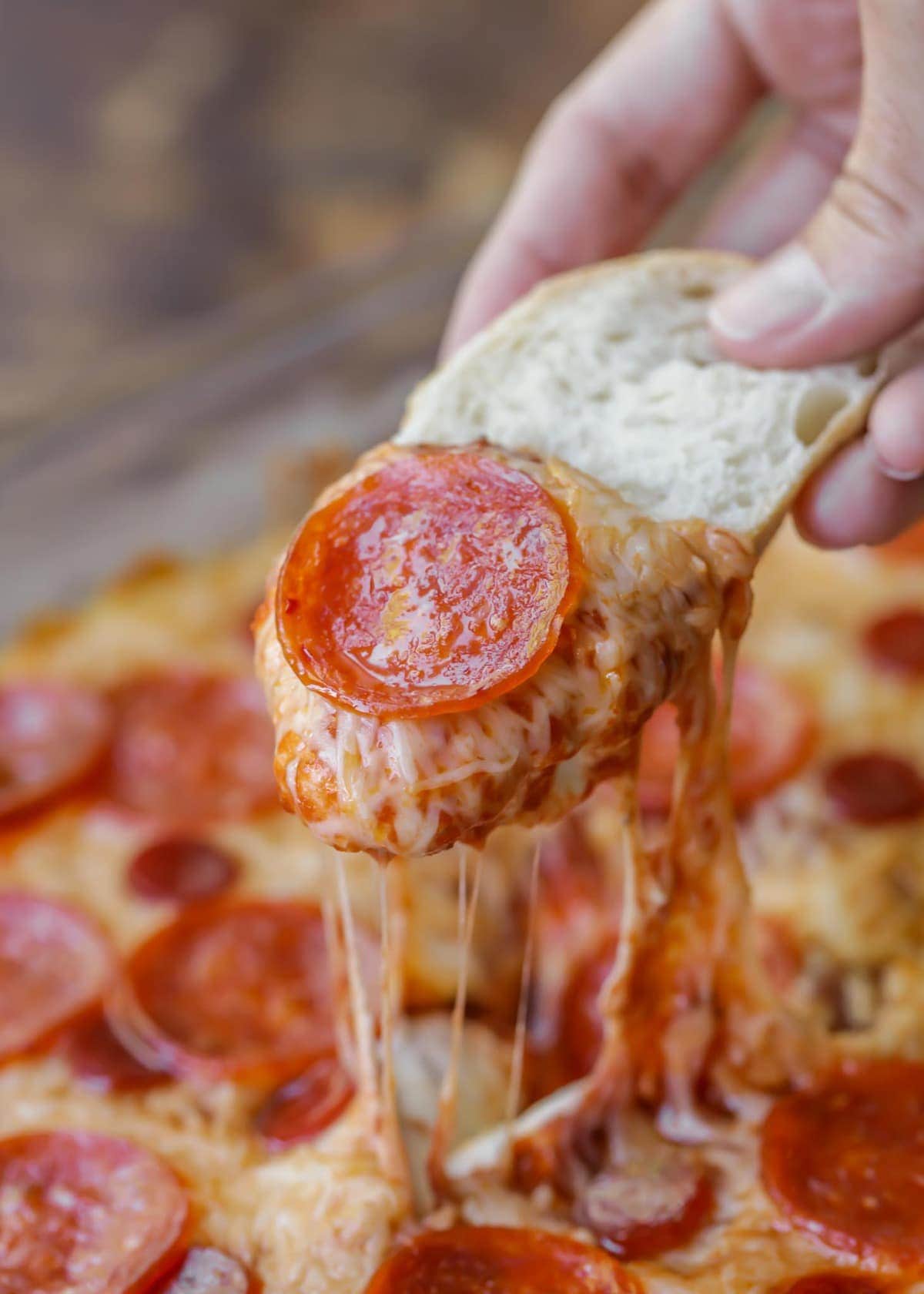 As with most dips, this pizza dip would be great for any party or get together. Also, the recipe calls for using a jar of pizza sauce but I know this would be even better with our own homemade pizza sauce recipe, so let us know if you try that out!!
For more delicious pizza recipes, check out:
And for more party dips, try:
Pizza Dip Recipe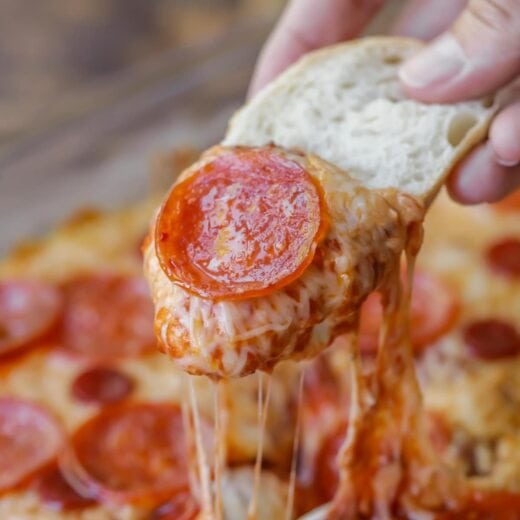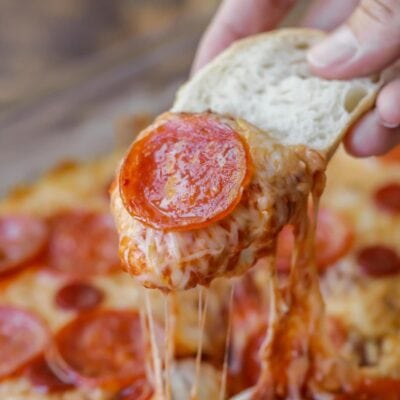 Everyone's favorite food in dip form! This pizza dip is simple, delicious, and can be customized based on your favorite pizza toppings!
Ingredients
2

8 oz. packages

cream cheese (softened)

1/2

cup

sour cream

1

tsp

oregano

1

tsp

pepper

1/2

tsp

salt

14 oz.

jar

pizza sauce

1

cup

Mozzarella cheese

pizza toppings: Pepperoni, etc.
Instructions
Pour cream cheese, sour cream, oregano, pepper and salt in a medium bowl. Mix until smooth and pour into 9x13 pan.

Spread pizza sauce over cream cheese mixture. Top with Mozzarella cheese and bake for 23-25 minutes (or until bubbly).

Serve with crackers, bread sticks or pita chips. ENJOY warm!