Just like the originals, these copycat Olive Garden breadsticks are light and airy on the inside, and flavored with butter and garlic salt on the outside. You can never eat just one!
These breadsticks pair perfectly with any soup, salad, or pasta. But they're especially delicious with our copycat recipe for Zuppa Toscana—another Olive Garden favorite!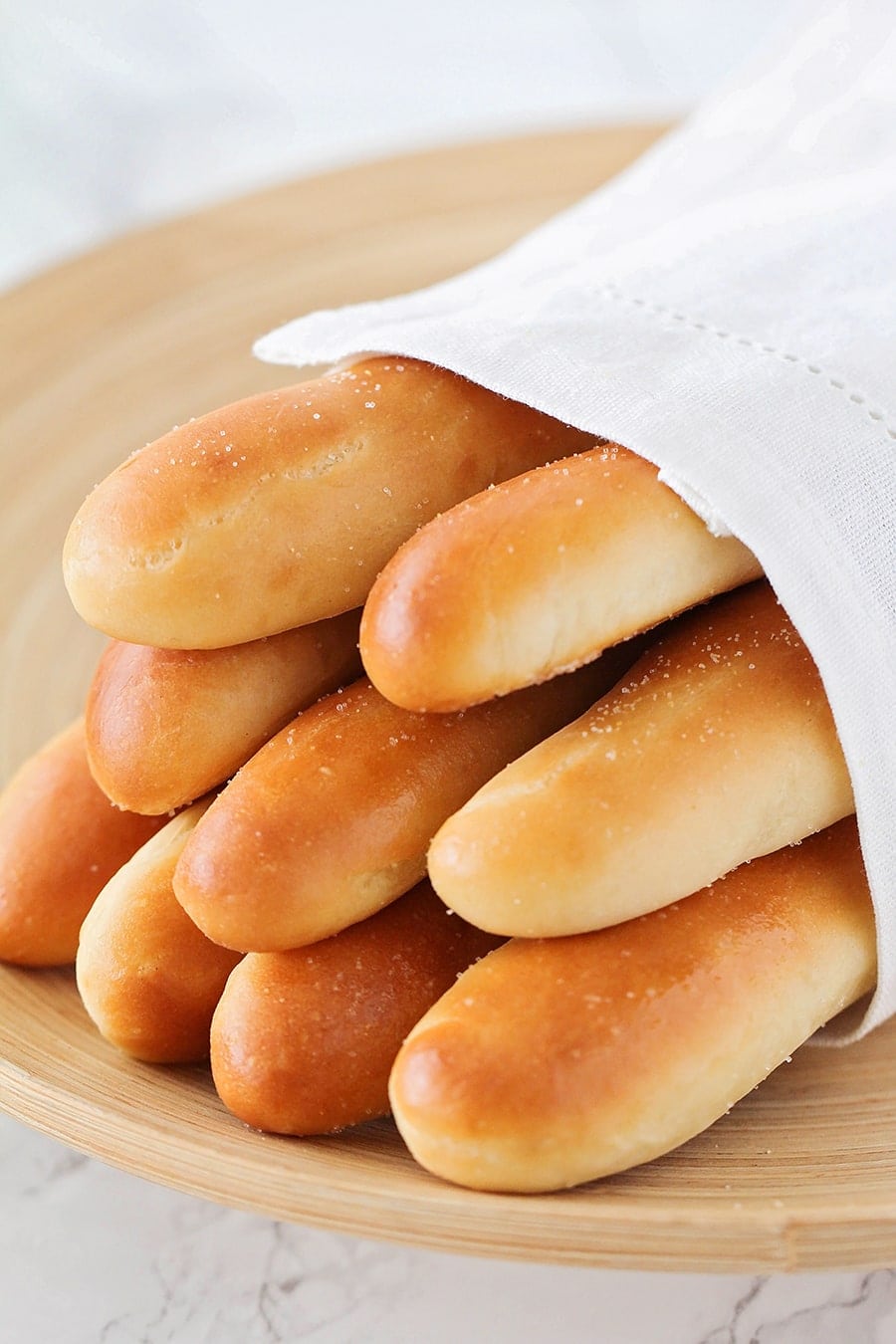 copycat Olive Garden breadsticks
Who else is excited about soup season? Soup is one of my favorite foods, and I like to eat soup at least once a week.
I like pretty much every variety, from broccoli cheese soup to tomato basil soup. I love that there are so many different flavor combinations, and it's always warm and comforting.
Of course, if you're making soup for dinner, you need some fabulous bread to go with it, and that's where these copycat Olive Garden breadsticks come in! They taste just like the breadsticks from Olive Garden, but even better, because you can make them at home! Best of all, they're easy to make, and way cheaper than store-bought.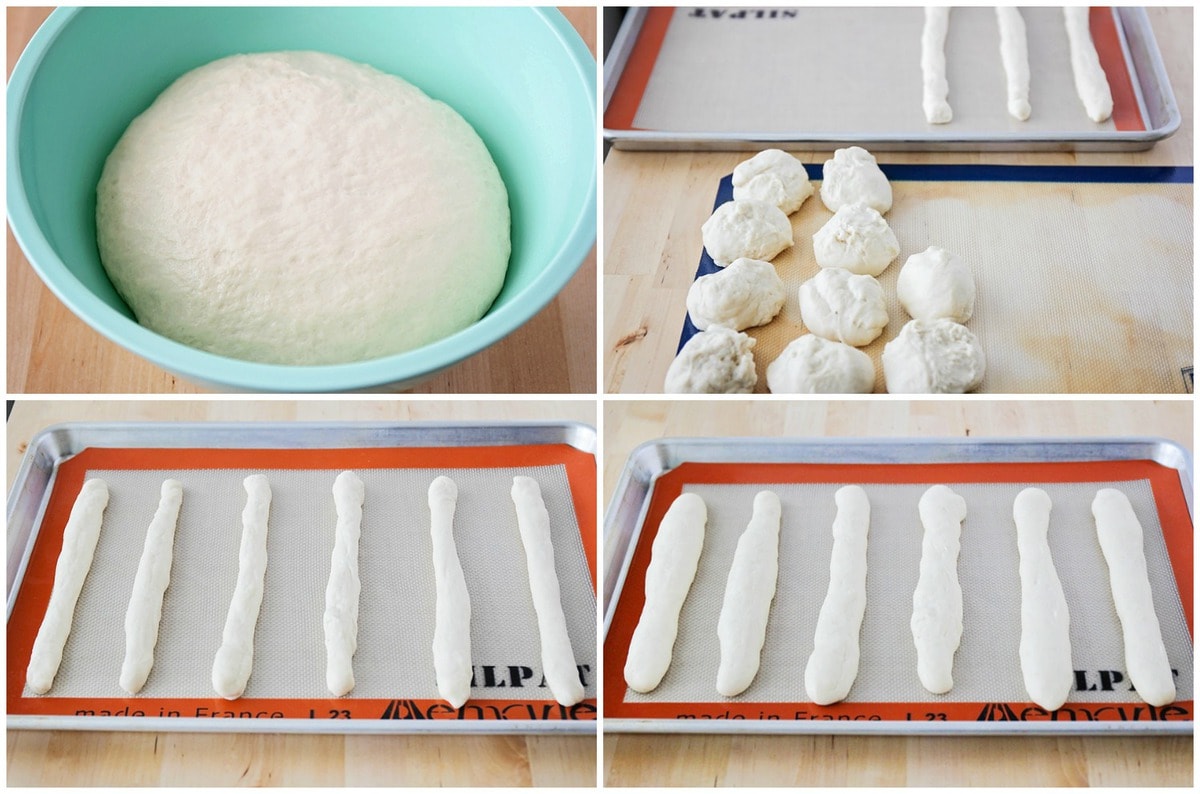 How to Make Olive Garden Breadsticks
DOUGH. You'll start by mixing up a simple breadstick dough. If you have a stand mixer, it makes the kneading part a little easier, but you can definitely mix the dough up by hand, too! Once it's mixed, let it rise about one hour, or until it has doubled in size.
(Note: The dough should be smooth and elastic after kneading is done. I have found this takes anywhere from 7-10 minutes. Use medium speed if you are using a dough hook with an electric mixer.)
DIVIDE. Next, divide the dough into twelve equal sized pieces that are about two ounces each. If you're OCD like me, you can use a kitchen scale. I actually ended up with thirteen breadsticks, based on that two ounce weight. The more the merrier! 🙂
ROLL. Roll each piece of dough out into a long rope (about nine inches long) and place 2 inches apart on a lined baking sheet. They totally don't have to be perfect. Even if they're a little wonky, they'll still turn out delicious.
RISE. Cover the breadsticks and let them rise for about one hour. During the last ten minutes of rise time, preheat the oven to 425.
BAKE. Bake the breadsticks 12-14 minutes, or until golden brown, then brush with melted butter and sprinkle with garlic salt. If you don't have garlic salt, you could mix some garlic powder and regular table salt together, but I love how much flavor the garlic salt adds. Yum!
SERVE. Serve them hot with your favorite pasta or soup. Some of our favorites include: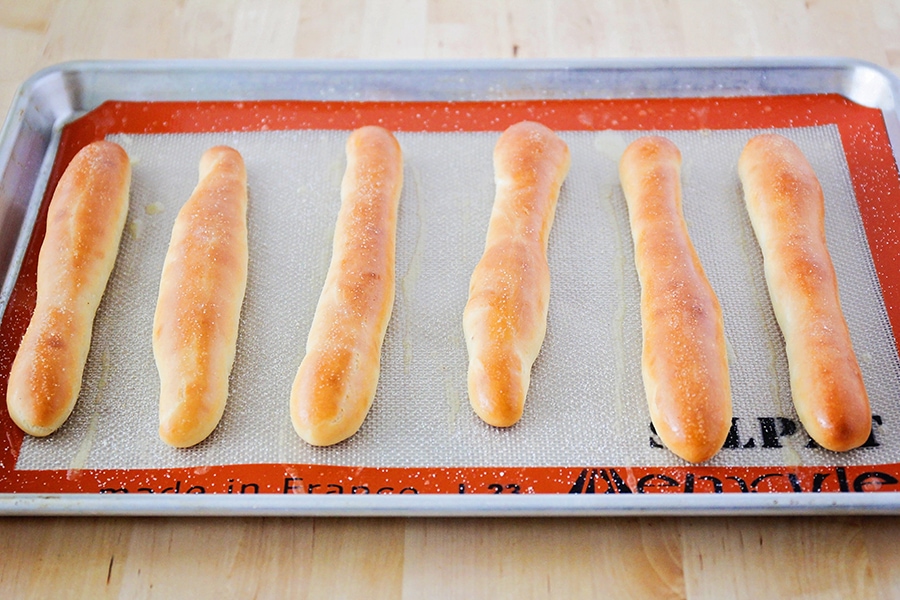 Variations and Storage
Variations: We love the garlic salt taste like Olive Garden has, but you easily change up the toppings for a new flavor.
Coat the outside with butter and powdered Parmesan cheese

Before baking, sprinkle your favorite cheese on top

Brush with butter and sprinkle cinnamon and sugar on top
Another way to change up these breadsticks is to serve them alongside different dipping dishes. You can use sweet or savory sauces depending on the flavor of topping you decided to add on the breadstick itself. 
Storage: Fresh breadsticks are definitely best when eaten the same day, but they still make delicious leftovers, Just store at room temperature in a bag or container.
Freezer: You can either freeze these breadsticks in dough form to be baked later or after they have been baked. 
Dough

: Shape the dough into the breadsticks but do not allow them to rise a second time. Instead, place them on a baking sheet and into the freezer. Once solid transfer them to a freezer safe storage container, label and freeze for up to 3 months. When you're ready to use them you'll need to thaw them completely before baking. Spread them out on a baking sheet, spray one side of a large piece of plastic wrap with cooking oil and cover the breadsticks, oil side down. Once the dough has thawed, remove the plastic and bake according to recipe directions. 

Baked

: Allow the breadsticks to cool completely. Place the breadsticks into a freezer safe container and freeze for 1-2 months. Reheat them in the microwave or in an oven.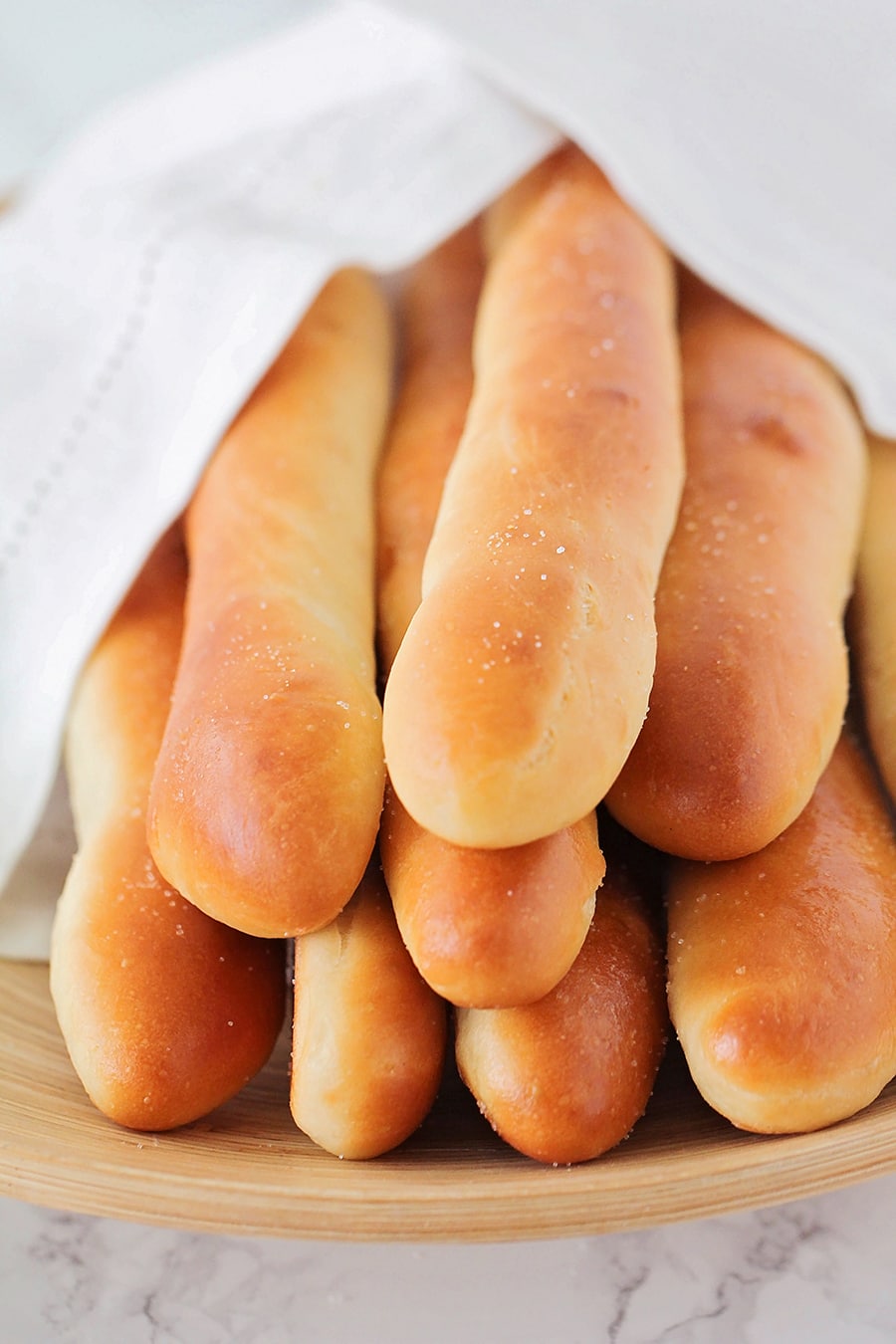 For more bread recipes, check out:
Olive Garden Breadstick Recipe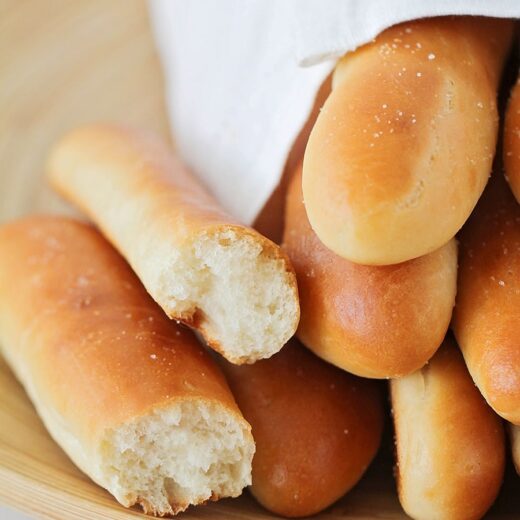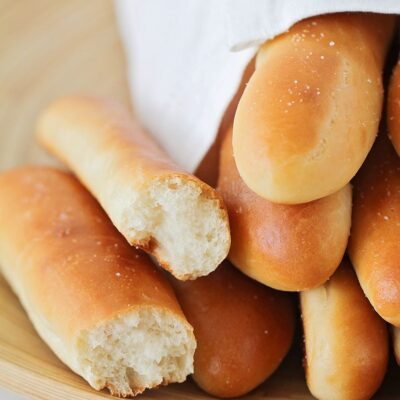 Just like the originals, these copycat Olive Garden breadsticks are light and airy on the inside, and flavored with butter and garlic salt on the outside. You can never eat just one!
Ingredients
Topping
2

tbsp

butter

melted

1/2

tsp

garlic salt (with parsley flakes)
Instructions
In a large bowl or the bowl of a stand mixer, dissolve the yeast and sugar in the warm water. Let sit 5-10 minutes, or until foamy. Add the salt, oil, and two cups of flour, and mix until combined. Add additional flour, ¼ cup at a time, until the dough pulls away from the sides of the bowl and is soft and only slightly sticky to the touch.

Knead the dough until smooth, sprinkling with flour as needed to make the dough manageable. Place the dough in a lightly greased bowl and let rise one hour, or until doubled.

After the dough has rise, punch it down gently and divide it into 12 equal sized balls. Roll each ball out into a nine inch rope, and place on a baking sheet lined with parchment or a silicone liner. Repeat with remaining dough, using two baking sheets. Cover and let rise one hour.

During the last ten minutes of rise time, preheat the oven to 425. Bake 12-14 minutes, or until golden brown. Remove from oven and brush with melted butter, then sprinkle with garlic salt. Serve warm.