All the flavor of buffalo wings in a creamy, cheesy, simple dip! This super easy Buffalo Chicken Dip is filled with chicken, buffalo sauce, ranch, and three different types of cheese! It's perfect for parties and get togethers, served with chips or veggies.
This must-have appetizer is a family favorite! It's buffalo wings in dip form and is simple, quick and delicious! If you are a dip fan, you will love this recipe, along with our Spinach Artichoke Dip and 7 Layer Bean Dip.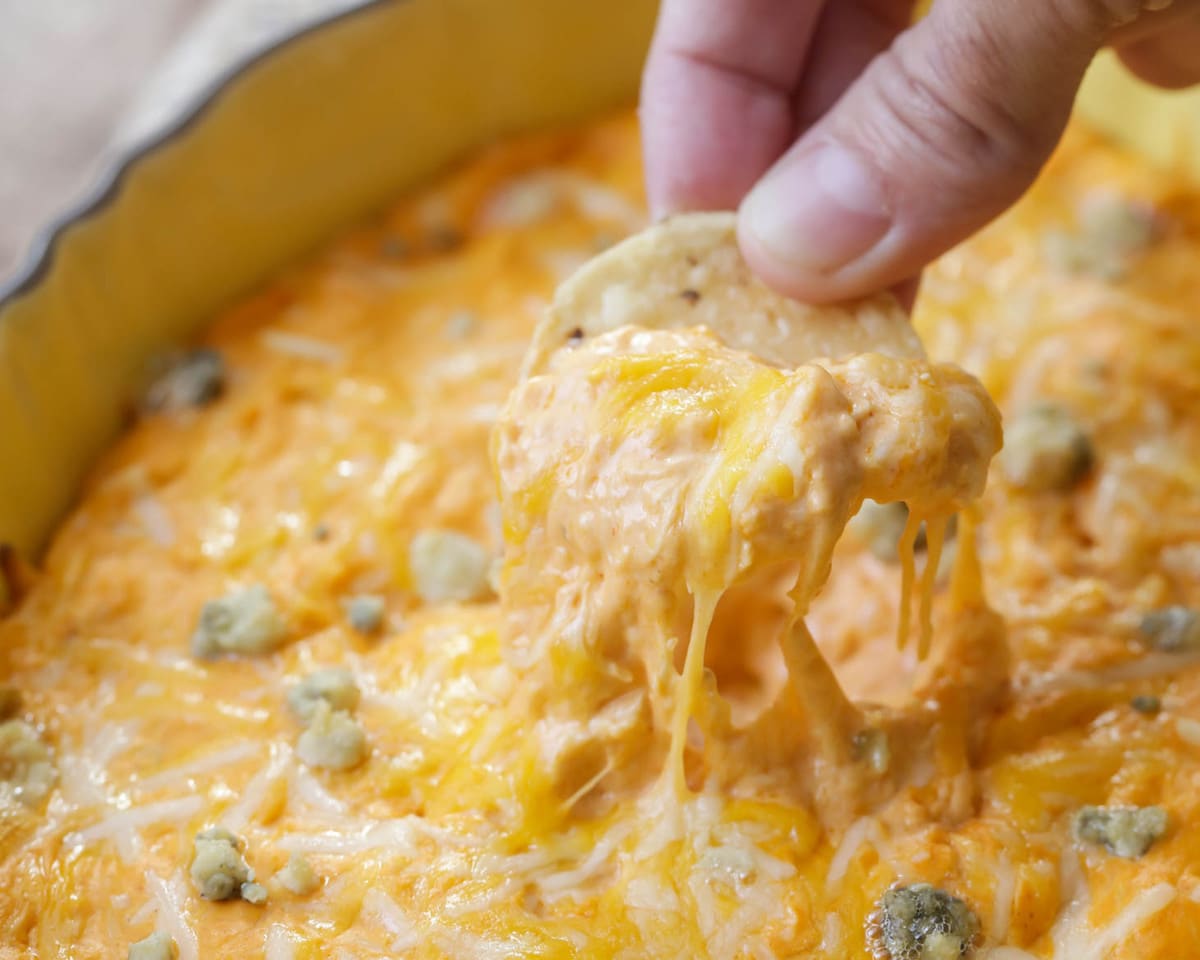 easy buffalo chicken dip
Appetizers are a must-have at any function we like to host!
While we lived in Texas, we made it a tradition to invite all of my hubby's students over on the First Friday of the month. We'd pick up loads of pizzas and the students would bring appetizers, desserts and drinks.
It was our favorite thing to do while we lived there, and it was the first time I was introduced to today's Buffalo Chicken Dip recipe, which has become a FAVORITE of ours!
Yes, it's a dip with all the flavor of buffalo wings and it's so stinkin' delicious… and addicting… and amazing in every way. It can be served with bread pieces or tortilla chips, but the best part is it's REALLY simple to make and is a great addition to any function, party or get together.
We made it for our New Year's Eve party and it was gone in no time. It has now become a go-to appetizer for all of our get togethers and is definitely a crowd pleaser, which  means we HAVE to have it now. 😉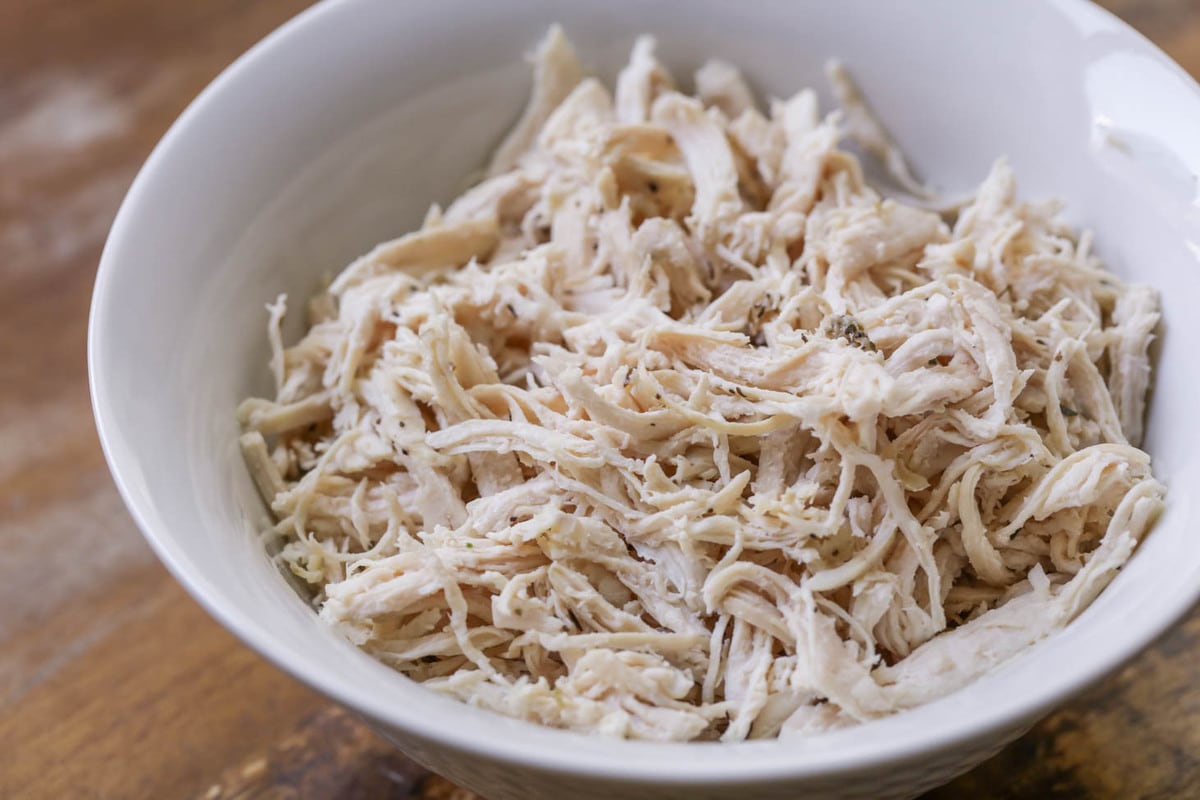 How to make Buffalo Chicken Dip
I think you'll love that this buffalo dip is simple and quick. So if you're a fan of buffalo recipes, but don't want all the work of buffalo wings, then I definitely recommend this recipe!
It hardly takes any prep work at all – you just have to mix the ingredients together, throw them in a baking dish, and bake! Here are the ingredients needed to make this delicious chicken dip:
chicken (cooked and shredded)
cream cheese
buffalo sauce (or favorite hot sauce)
ranch dressing
cheese
bleu cheese crumbles
And then, all you have to do is follow these easy steps to make this buffalo dip:
MIX. Mix the chicken, cream cheese, buffalo sauce (whatever level of spiciness you prefer), ranch dressing, and 1 cup of the shredded cheese until everything is well combined.
POUR. Pour into a greased 9×9 dish. Sprinkle bleu cheese crumbles and remaining ½ cup of cheese on top.
BAKE. Bake at 350° for 20 minutes and serve immediately with bread, tortilla chips, or even veggies if you like.
Simple, right? Another nice thing about this recipe is that you can customize it. You can decide how hot you like your buffalo sauce to be, or how much bleu cheese to sprinkle on top! We like it mild with only a little bit of bleu cheese.
Homemade Hot Sauce
Don't have any hot sauce? You can make it at home! Begin, by picking your favorite pepper (we prefer cayenne and/or jalapeno). You will need about 18-20 of these along with:
1 ½ cups white vinegar
dash of salt
3 teaspoons minced garlic
Begin by washing your peppers, cutting off the tops and slicing in half lengthwise. Add these to a medium pot along with the vinegar, salt and garlic. Bring to a boil and reduce heat and simmer for about 10 minutes, until the peppers are soft.
Add this mixture to your blender and liquify. Add any additional heat if desired. 😉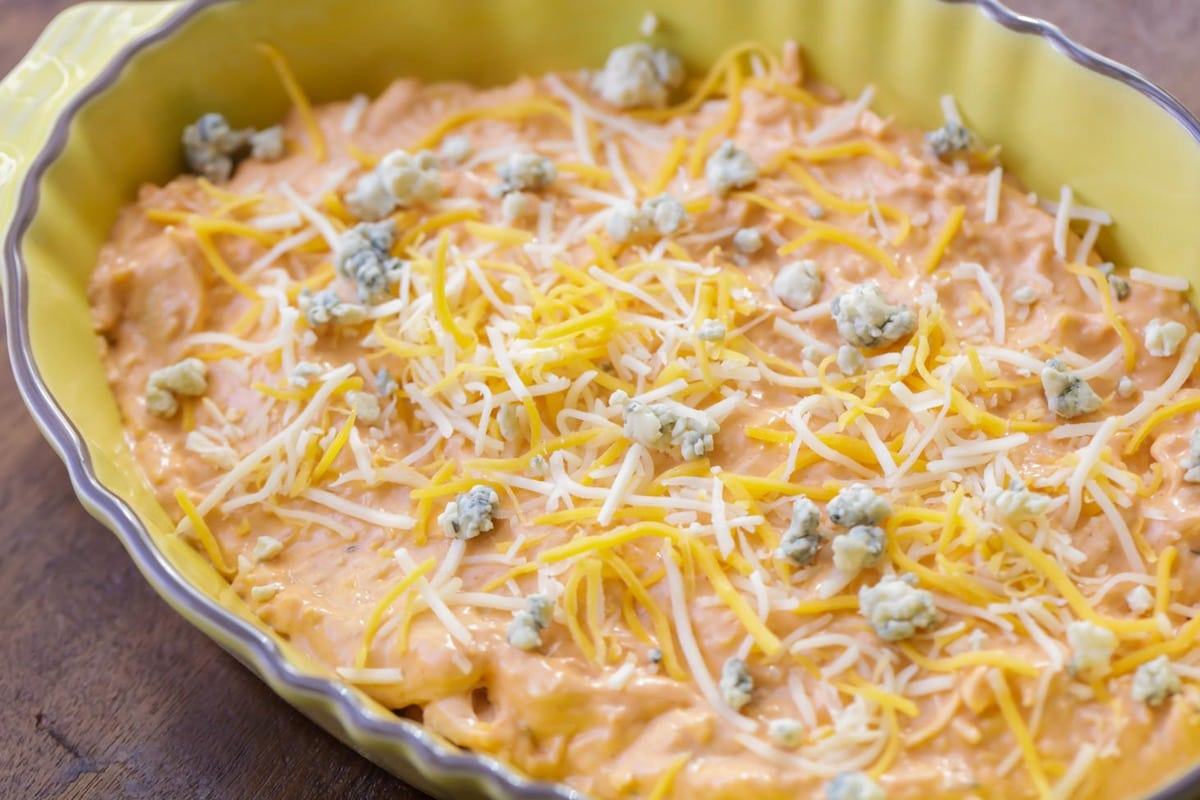 buffalo dip TIPS, TRICKS + FAQ
How long is buffalo chicken dip good for? Leftovers will generally last for 2-3 days in the fridge. In the unlikely event you have a lot left over you can freeze the leftovers for 3-4 months to be used later.
How long can buffalo dip be out at room temperature? You can have this set out at room temperature for up to 2 hours and it still be safe to eat.
If the dip is set out using a food warmer it will stay safe to eat for several hours if the temperature stays above 140 degree F. Stir the dish occasionally to keep it warm throughout.
Can buffalo chicken dip be made ahead of time? You can make this ahead of time and store in the fridge for 1-2 days or the freezer for 3-4 months. When you're ready to use it just follow the cooking directions as written. If it was frozen thaw in the refrigerator before cooking.
How to reheat buffalo chicken dip? To reheat in the microwave use a microwave safe dish. Heat on high for 30-40 seconds at a time stirring in between. Continue heating until you've reached your desired temperature.
You can also reheat in the oven. Preheat oven to 350 degrees F. Place dip in an oven safe baking dish. Baking time will vary depending on how much leftovers there are. Start with 7-9 minutes. If it needs more time, bake longer, checking frequently, until you've reached your desired temperature.
How much chicken dip should I plan to make per person? Plan for people to eat about ½ – ⅓ cup of an appetizer dip per person. This recipe recipe will serve about 10-12 people. This may also vary based on the other appetizers/dips one is serving at a get together.
One batch – 10 – 12 people.
Double batch – 20-24 people
Triple batch – 30-26 people

crock pot buffalo chicken dip
If you want to make this buffalo chicken dip in the crock pot/slow cooker, add the shredded chicken, cream cheese, ranch dressing, 1 cup of the shredded cheese, and buffalo sauce to a bowl – mix well and pour into the crock pot.
Cover the slow cooker and cook on low for 1-2 hours until the dip is hot and bubbly. Sprinkle the remaining shredded cheese and blue cheese crumbles on top of the dip and cook for a few more minutes until shredded cheese has melted.
It's that simple!
What to serve with buffalo chicken dip?
This pairs well with a variety of dipping options.
Fritos scoops

tortilla chips

club and Ritz crackers

Breads and baguettes – we love to toast the bread and serve with the dip

Pita chips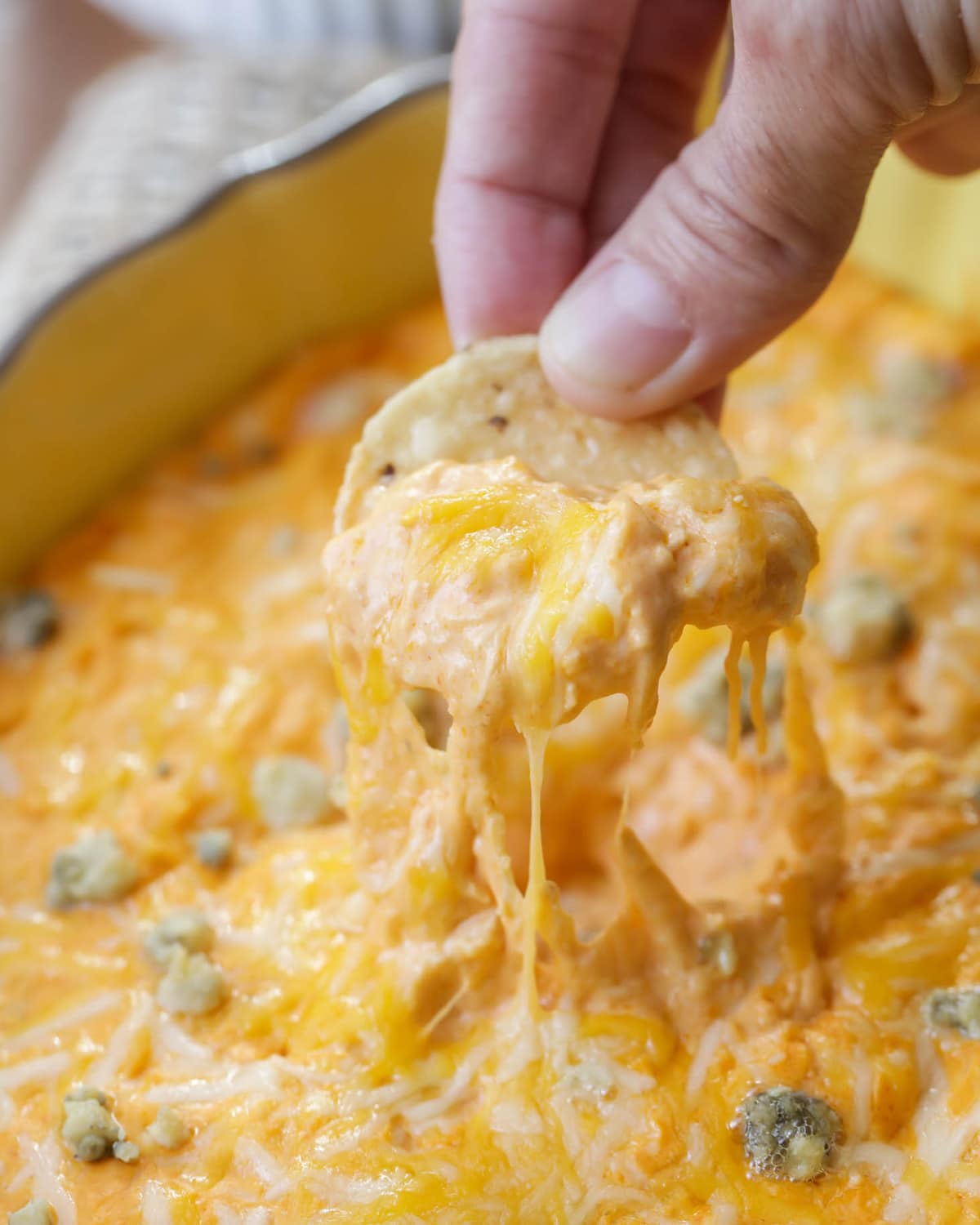 Making traditional wings is a lot more work than this dip, but if you are looking to make buffalo wings anyways, we love this recipe. We also have a variety of other wing recipes, including these Teriyaki Wings and these Honey BBQ Wings.
All of these appetizers are delicious and always perfect for parties. Having said that, this dip is so quick and simple you may find yourself using this recipe more often than you'd think. 😉
For more dip recipes, check out:
Buffalo Chicken Dip Recipe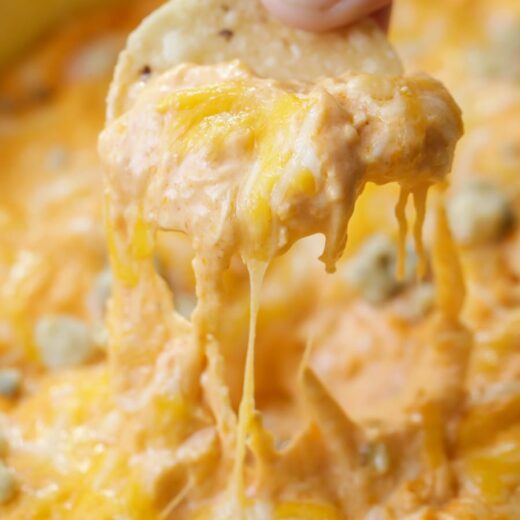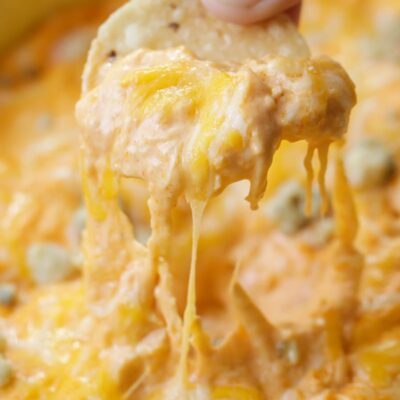 All the flavor of buffalo wings in a creamy, cheesy, simple dip! This super easy Buffalo Chicken Dip is filled with chicken, buffalo sauce, ranch, and three different types of cheese! It's perfect for parties and get togethers, served with chips or veggies.

Ingredients
2

c

chicken

cooked, shredded

8

oz

cream cheese

softened

1

c

buffalo sauce

1

c

ranch dressing

1 1/2

c

cheese

divided

bleu cheese crumbles
Instructions
In a bowl mix chicken, cream cheese, buffalo sauce, ranch dressing and 1 cup of the cheese. Mix until combined well.

Pour into a greased 9x9 dish.


Sprinkle with bleu cheese and ½ cup of cheese.


Bake at 350 for 20 minutes. Serve immediately with bread or tortilla chips.