Appetizers are a must at any function we like to host. While we lived in Texas, we made it a tradition to invite all of my hubby's students over on the First Friday of the month. We'd pick up loads of pizzas and the students would bring appetizers, treats and drinks. It was our favorite thing to do while we lived there, and it was the first time I was introduced to today's Buffalo Chicken Dip recipe.
Yes, it's a dip with all the flavor of buffalo wings and it's so stinkin' delicious… and addicting… and amazing in every way. I really love it that much! It can be served with bread pieces or tortilla chips, but the best part is it's REALLY simple to make and is a great addition to any function, party or get together. We made it for our New Year's Eve party and it was gone in no time. Everyone loves this warm dip that is so creamy and cheesy. I'm actually salivating right now thing about this delicious recipe.
I think in no time it will become a favorite for you as well, and you'll love that it's simple and quick. If you're a fan of buffalo wings, but don't want all the work of buffalo wings, then I definitely recommend this recipe. It's sure to knock your socks off!
MY OTHER RECIPES
Here are some more yummy pics of this Buffalo Chicken Dip:
Add as much or as little bleu cheese as you like.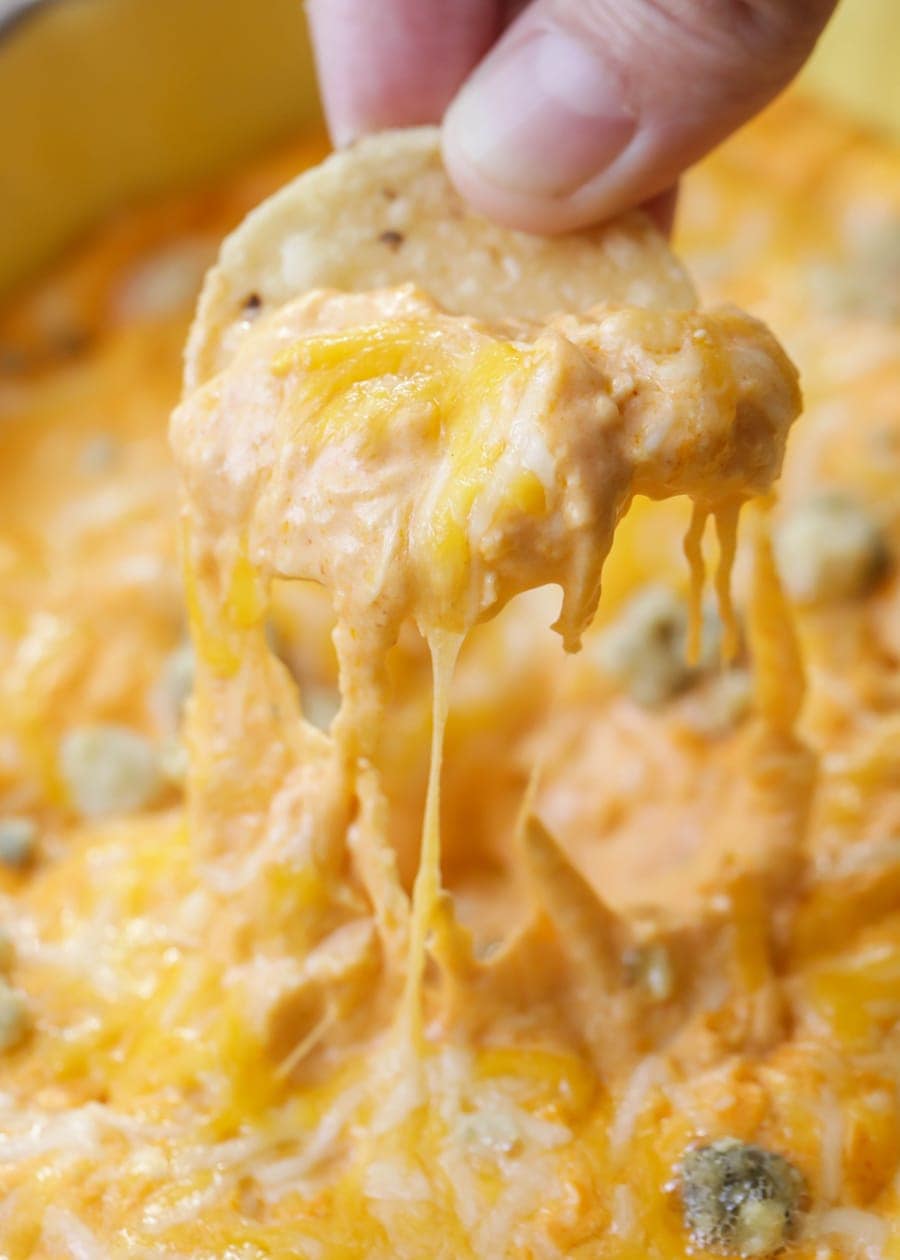 Making traditional wings is a lot more work than this dip, but if you are looking to make those, we love this recipe. We also have a variety of other wing recipes, including these Teriyaki Wings and these Honey BBQ Wings. All of these appetizers are delicious and always perfect for parties. Having said that, this dip is so quick and simple you may find yourself using this recipe more often than you'd think. 😉
For more dip recipes, check out:
Buffalo Chicken Dip Recipe:
Buffalo Chicken Dip
Buffalo Chicken Dip - all the flavor of buffalo wings in a creamy, cheesy, simple dip that is perfect for parties and get togethers.
Ingredients
2 cup cooked, shredded chicken
8 oz. cream cheese (softened)
1 cup hot buffalo sauce
1 cup ranch dressing
1½ cups cheese (divided)
bleu cheese crumbles
Instructions
In a bowl mix chicken, cream cheese, hot sauce, ranch dressing and 1 cup of the cheese.. Mix until combined well.
Pour into a greased 9x9 dish.
Sprinkle with bleu cheese and ½ cup of cheese.
Bake at 350 for 20 minutes. Serve immediately with bread or tortilla chips.