Hey guys! Last week I wrote a little bit about our family enchilada recipes. They're all so yummy. I'm sure Kristyn has told you about how much we love to get together and eat all foods, but Mexican food is our favorite. With those main dishes like Enchiladas and Beef Empanadas, we always have some scrumptious sides to go along with it like today's recipe for our 7 Layer Bean Dip is one of those side dishes that we always seem to have when we are eating Mexican food.
This bean dip recipe is simple and easy to put together. Spread it over a large platter to serve lots of people. We think it's perfect for all those summer potlucks and family gatherings or for Cinco de Mayo coming up.
MY OTHER RECIPES
Add all your favorite toppings!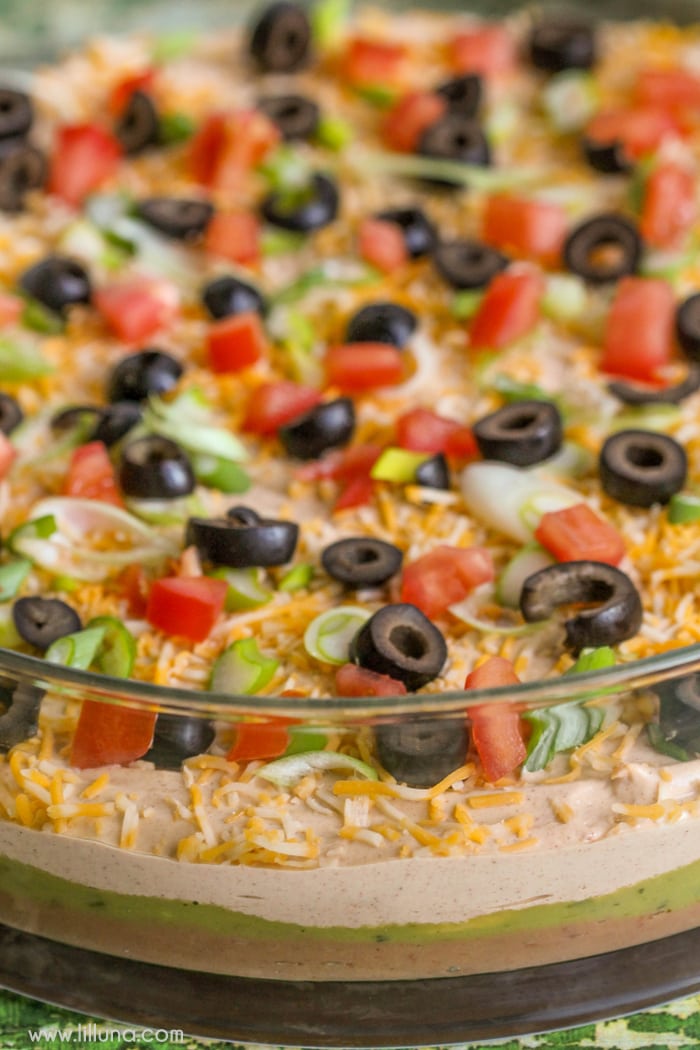 It can be served with warm tortilla chips or is great with Frito's too. The fun thing about this 7 layer bean dip is you can add as many additional layers as you'd like. Avocados, corn, whichever ingredients you like in your bean dip. No matter how you make it, it's always delicious and always a HIT!
For more dip recipes, check out:
How to make 7 Layer Bean Dip:
7 Layer Bean Dip
7 Layer Bean Dip - our family's favorite recipe with loads of flavor and all your favorite dip ingredients including avocados, olives, tomatoes, cheese and more! It's a must-have appetizer at most family functions.
Ingredients
2 to 3 cans of frito lay bean dip
4-8 ounces Guacamole
1 cup sour cream
1 cup Mayonnaise
1 package taco seasoning.
Top with cheese, olives, tomatoes, and green onions.
Instructions
Layer ingredients one at a time onto a tray as follows... 1st layer - Frito lay bean dip, 2nd layer - Guacamole, 3rd layer - 1 cups each sour cream and mayo mixed with taco seasoning.
Top with cheese, olives, tomatoes, and green onions.
Refrigerate until ready to eat.