Did you know that Tex-Mex and Mexican food (Sonoran-style) are TOTALLY different?? I've learned that being in Houston the past year and whenever I ask someone for a great Mexican restaurant they always suggest a Tex-Mex place. These place are usually good but are tons different from the typical Mexican places I'm used to visiting in Arizona. We still enjoy Tex-Mex, but because we have yet to find a Sonoran Mexican food chain we enjoy here, I've had to learn how to make some of the recipes we enjoy back home in AZ, like today's Cream Cheese Bean Dip.
It's sad that it's taken me moving away to actually learn how to make most of these recipes, but I'm glad I have because we enjoy a Mexican meal at least once a week. I've finally mastered Rice, Tacos, Enchiladas (Chicken and Cheese), and a few others. I've also learned how to make Salsa (Red and Green) and have even tried a few Queso-type dips, all of which have been super tasty. I've been on the hunt for a good Bean Dip recipe (one similar to that of Gecko Grill in Arizona) and recently found one that may taste even better!
I knew cream cheese had to be in the recipe and was so excited to experiment and find a recipe for Cream Cheese Bean Dip that the whole family enjoyed. In fact, the hubby couldn't stop eating this recipe – he loved it! I may have had my fair share of chips and dip that night too! 😉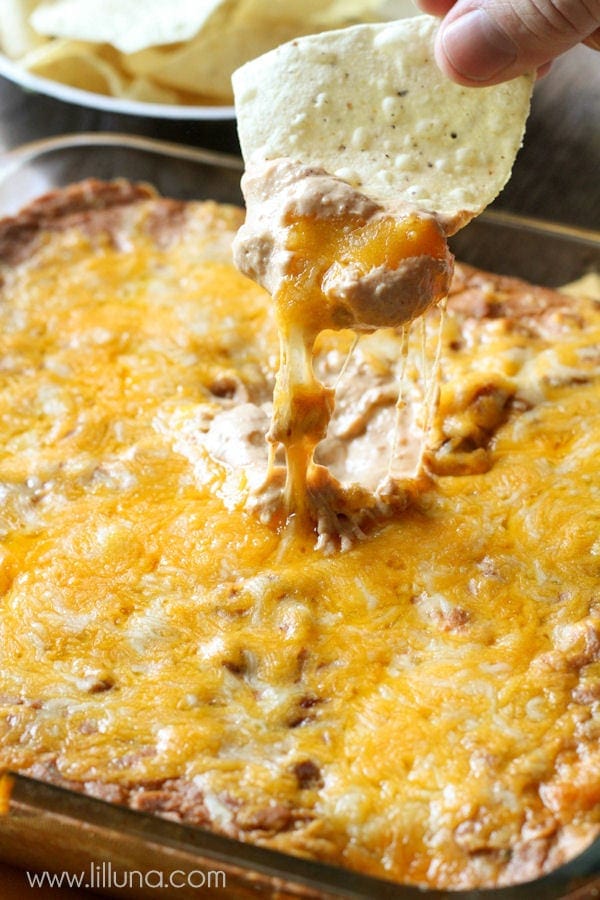 MY OTHER RECIPES
I seriously cannot wait to make this again! It's a great recipe to make for parties when serving tortilla chips (or our FAVORITE Loaded Nachos), or would even be great served with some warm tortillas.
For more bean dip recipes, check out:
For the Bean Dip recipe VIDEO, check out:
For printable recipe…

Cream Cheese Bean Dip
Our new favorite dip - Cream Cheese Bean Dip! Recipe includes sour cream, cream cheese, Mexican cheese, refried beans, and salsa.
Ingredients
1 cup sour cream
1 - 16 oz. can refried beans
4 oz. (1/2 bar) cream cheese (softened)
1 package taco seasoning
1 cup mexican cheese
Salsa (a few TB - ¼ cup of your favorite kind) - optional
Instructions
Preheat to 350.
Combine beans, sour cream, and cream cheese in a bowl until well combined. Add taco seasoning and salsa.
Pour into 8x8 pan. Top with cheese and bake for 25 minutes.
Serve hot with tortilla chips. ENJOY!