This is such an EASY and delicious homemade salsa recipe! All you have to do is throw all the ingredients into your blender, and blend!
No Mexican entree is complete without a complimentary salsa or dip! This is the most easy and versatile salsa (it goes with EVERYTHING!), but we of course love to serve it with fresh Homemade Tortilla Chips.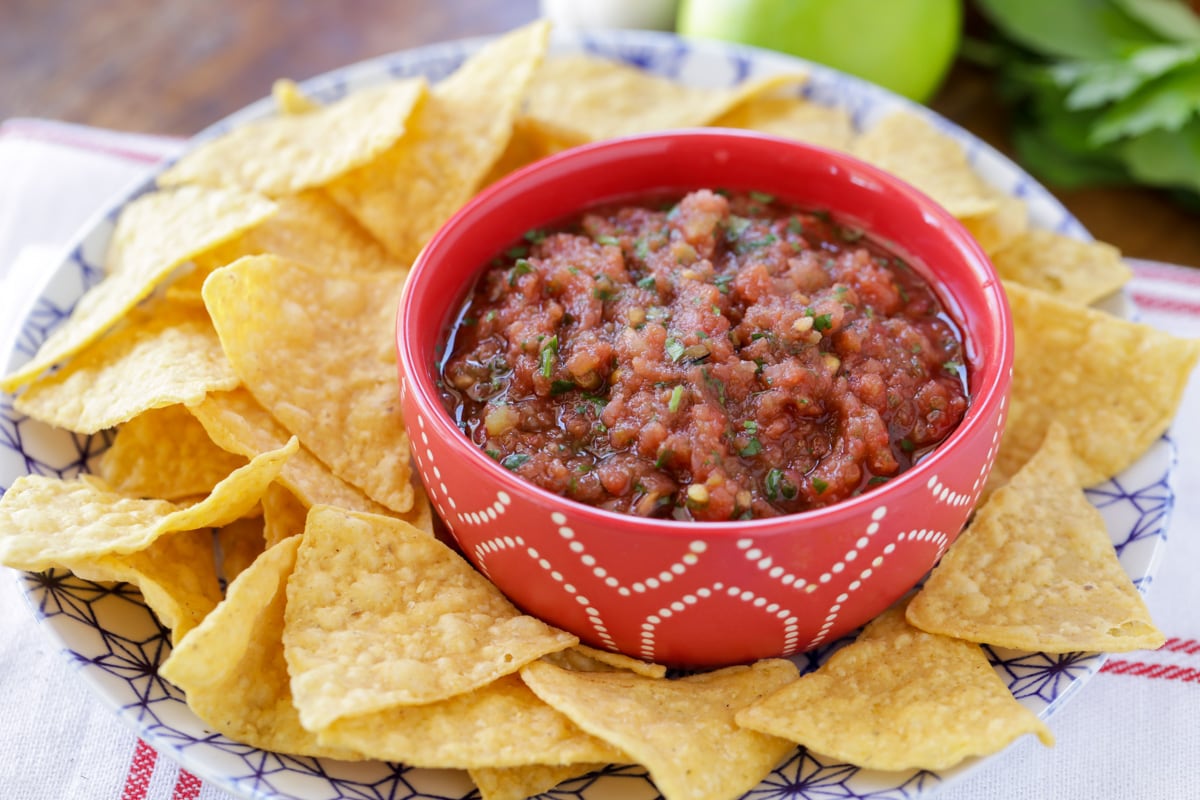 Restaurant style salsa at home
Who doesn't love Salsa?
We love them all – red, salsa verde, strawberry salsa, peach salsa, etc.!
I grew up on the stuff (remember – I'm half Mexican!) I've always loved a great Homemade Salsa recipe and have tried so many different kinds growing up.
I've also tried many recipes myself and have enjoyed them all, but think I finally found the easiest and yummiest way to make homemade salsa.
This delicious homemade salsa recipe takes just a few minutes to make and tastes like it came straight from the restaurant – SO much flavor!
All I need is a big bowl of homemade Tortilla Chips and I'm set. 😉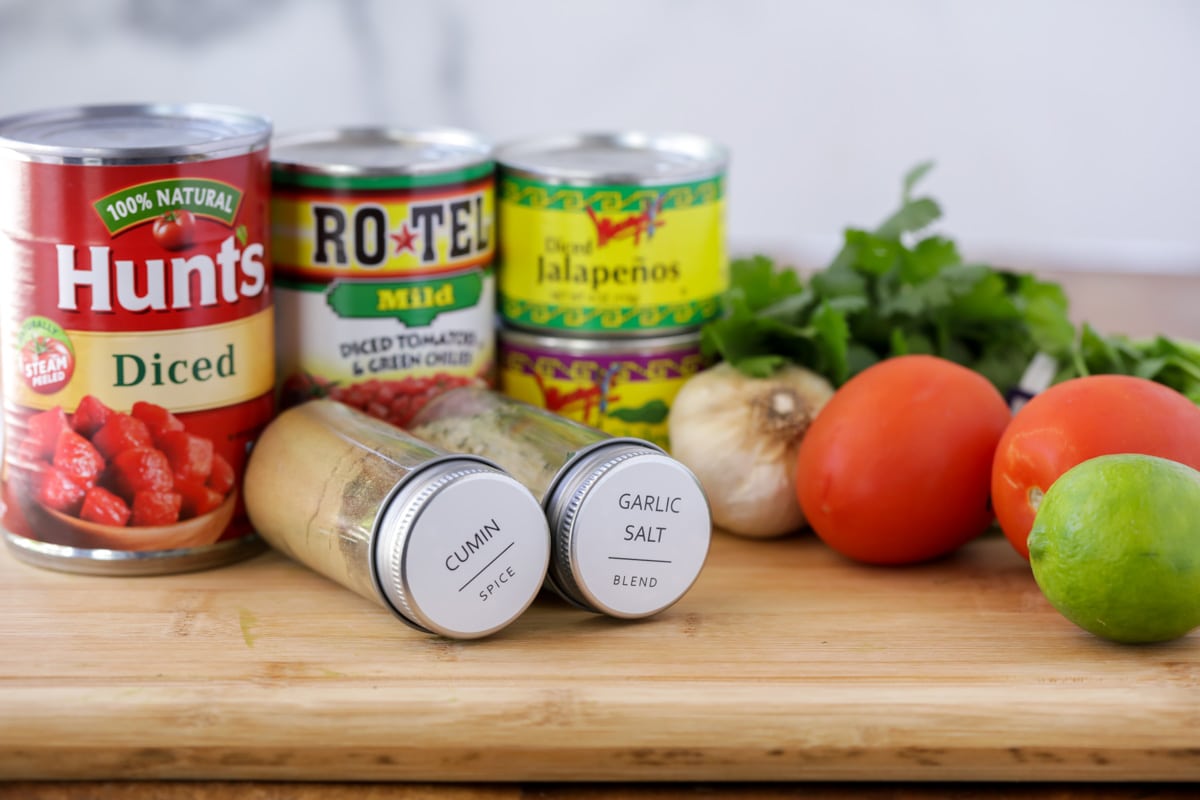 How to make Homemade salsa
I'm not joking around when I say you literally throw everything into your blender or food processor, blend it up, and that's it.
There's no chopping, no dicing, no nothing! Even the Roma tomatoes and cilantro can be tossed in whole. How perfect is that?!
All you need are:
diced tomatoes
Rotel
Roma tomatoes
cilantro
onion (or onion powder)
green chiles
fresh lime juice
jalapeno peppers
minced garlic
sugar (optional)
spices: garlic salt with parsley flakes, cumin
Using all fresh tomatoes: I use canned tomatoes for the convenience of this recipe. I also like that the rotel is already mixed with the green chilies and all I have to do is add all the ingredients to my bullet. However, you can skip the canned tomatoes and use fresh ones. There are 5-6 whole, peeled tomatoes in one 14 oz can.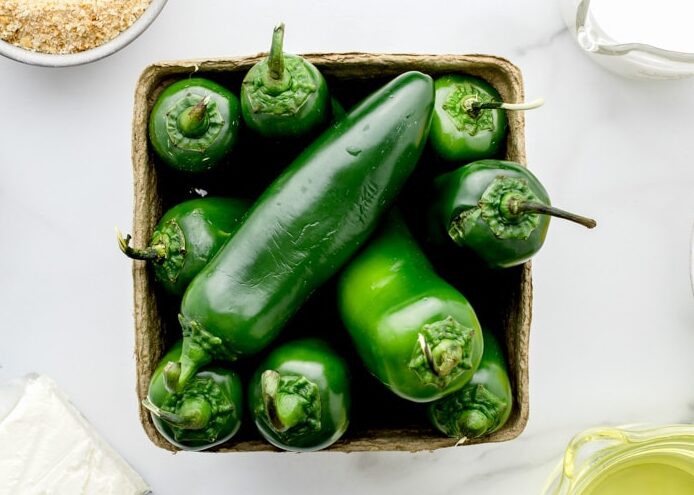 Here are a few variations you can make of this salsa recipe:
Don't have fresh tomatoes? Just add another can of Rotel (drained)!
If you like onion in your salsa, add ½ small onion, roughly chopped.
You can seed the jalapeño peppers if you want it less spicy, or leave the seeds in for a spicy kick.
Add 1 tsp of honey for a hint of sweetness.
If you don't have Ro-Tel (canned diced tomatoes with green chilies) at your local grocery store, you can substitute half a can of diced tomatoes, plus a 4 oz. can of green chiles.
This really is the BEST salsa recipe!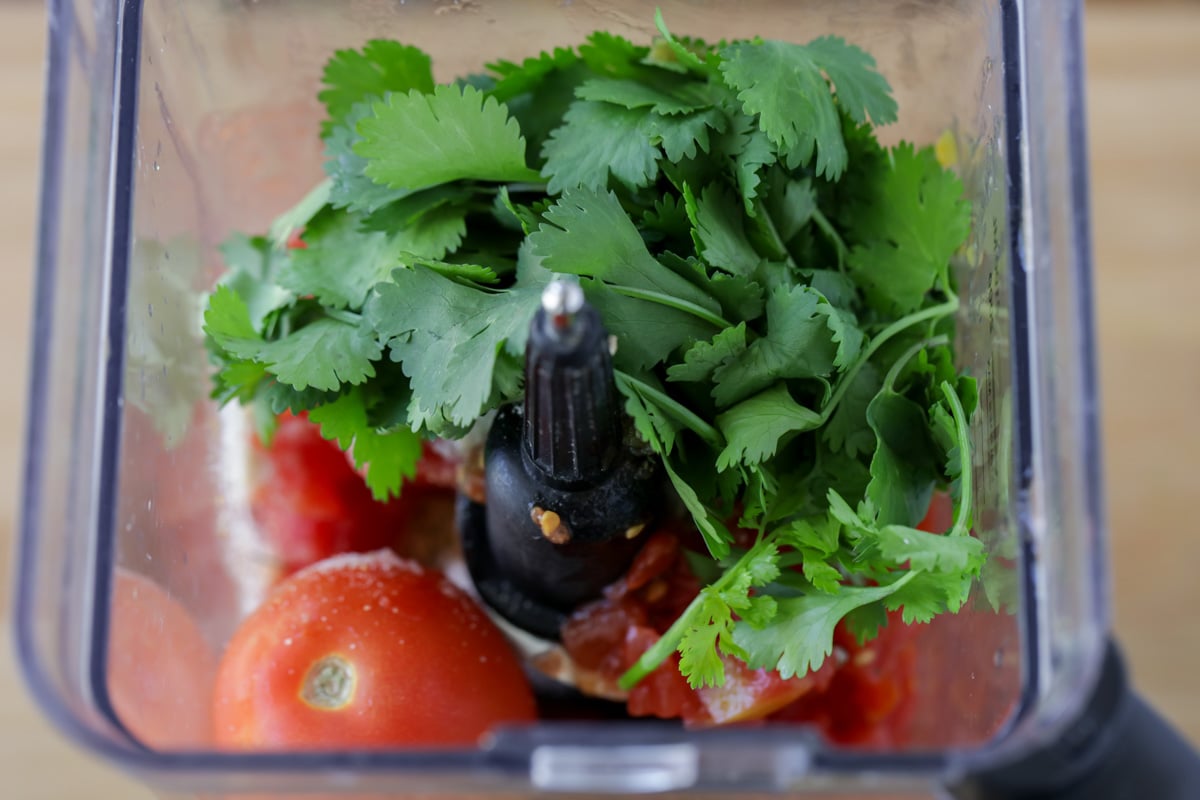 how to thicken your salsa
If your pureed salsa is too thin or watery for your liking, try adding a cornstarch slurry.
For each cup of salsa you want to thicken add 1 tbsp of cornstarch to a separate bowl. Then add and equal amount of water to the separate bowl (ex. if you use 3 tbsp cornstarch then add 3 tbsp water). Stir until it forms a paste.
This won't work if your salsa is cold, so put your salsa in a saucepan and heat over medium heat. Once it is simmering, add the cornstarch slurry to the salsa and stir.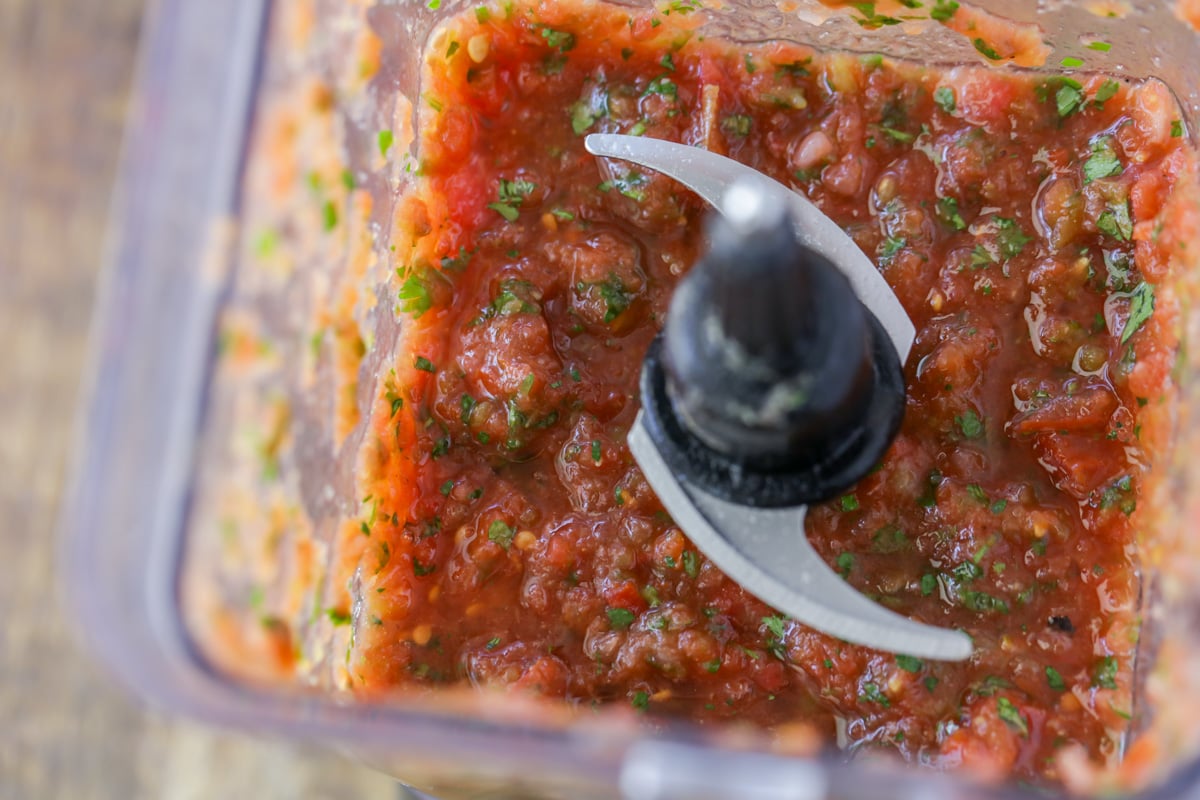 How to store salsa + freeze
STORING. If stored in an air-tight container in the fridge, fresh salsa can last for a week. If the color starts to darken, a smell starts to omit or fungus forms, then the salsa is no longer good. This is also determined based off of the fresh ingredients you used to make the salsa.
**Note**: Even though I have this in a glass jar it still needs to be refrigerated with a lid. Do not put it on the pantry shelf. Be sure to convey this message if you give it as gifts.
Can you freeze fresh salsa? The short answer is Yes, you can freeze salsa. However there are a few tip to keep in mind.
The salsa may discolor a bit. To help prevent this add a bit of lemon or lime juice to the salsa.

When salsa is thawed it tends to be more watery. You can either drain the excess water from the thawed salsa or pretreat the tomatoes before making the salsa. You can pretreat the tomatoes by first, quarter your tomatoes and place in a colander. Second, allow the water to drain out for several hours.

Make sure to store in an airtight container in smaller serving sizes.

Do not freeze chunky salsa. Pureed salsa freezes best.
Frozen salsa lasts for 2-4 months.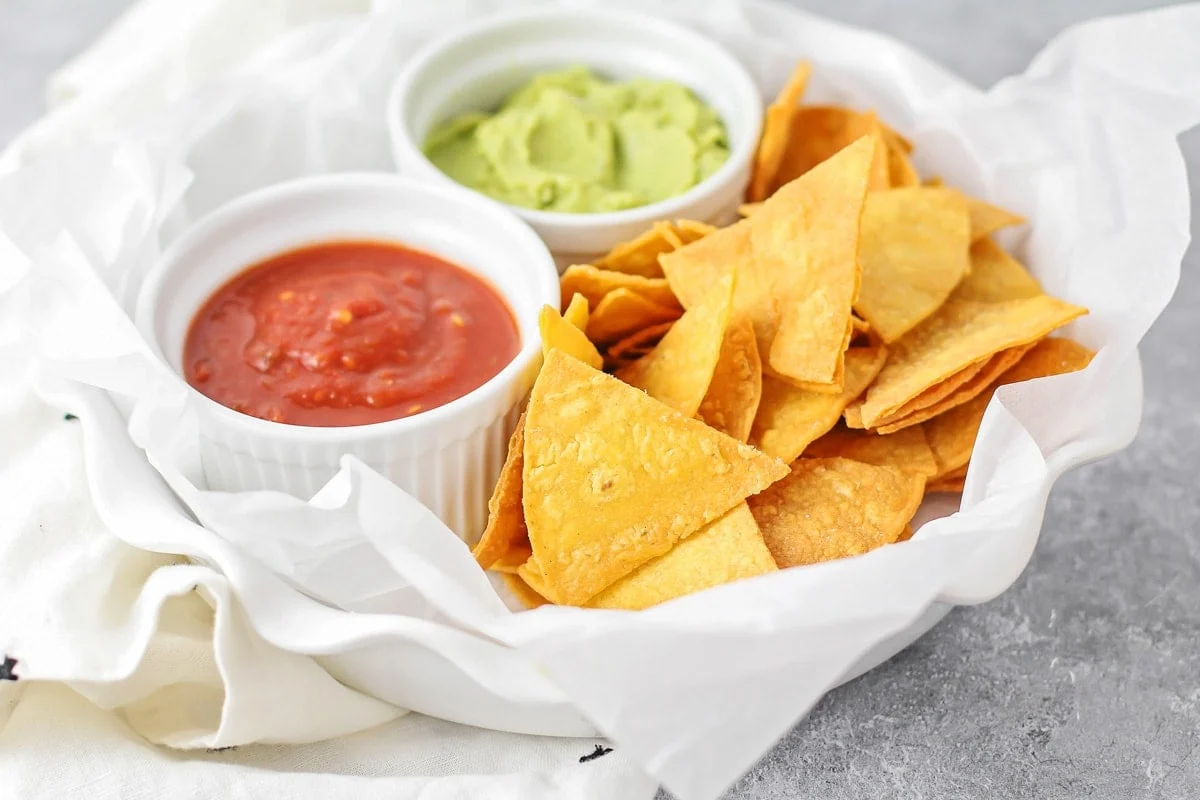 What to serve with salsa?
Homemade Salsa isn't just good for tortilla chips. We have so many recipes we love to serve this salsa with, including: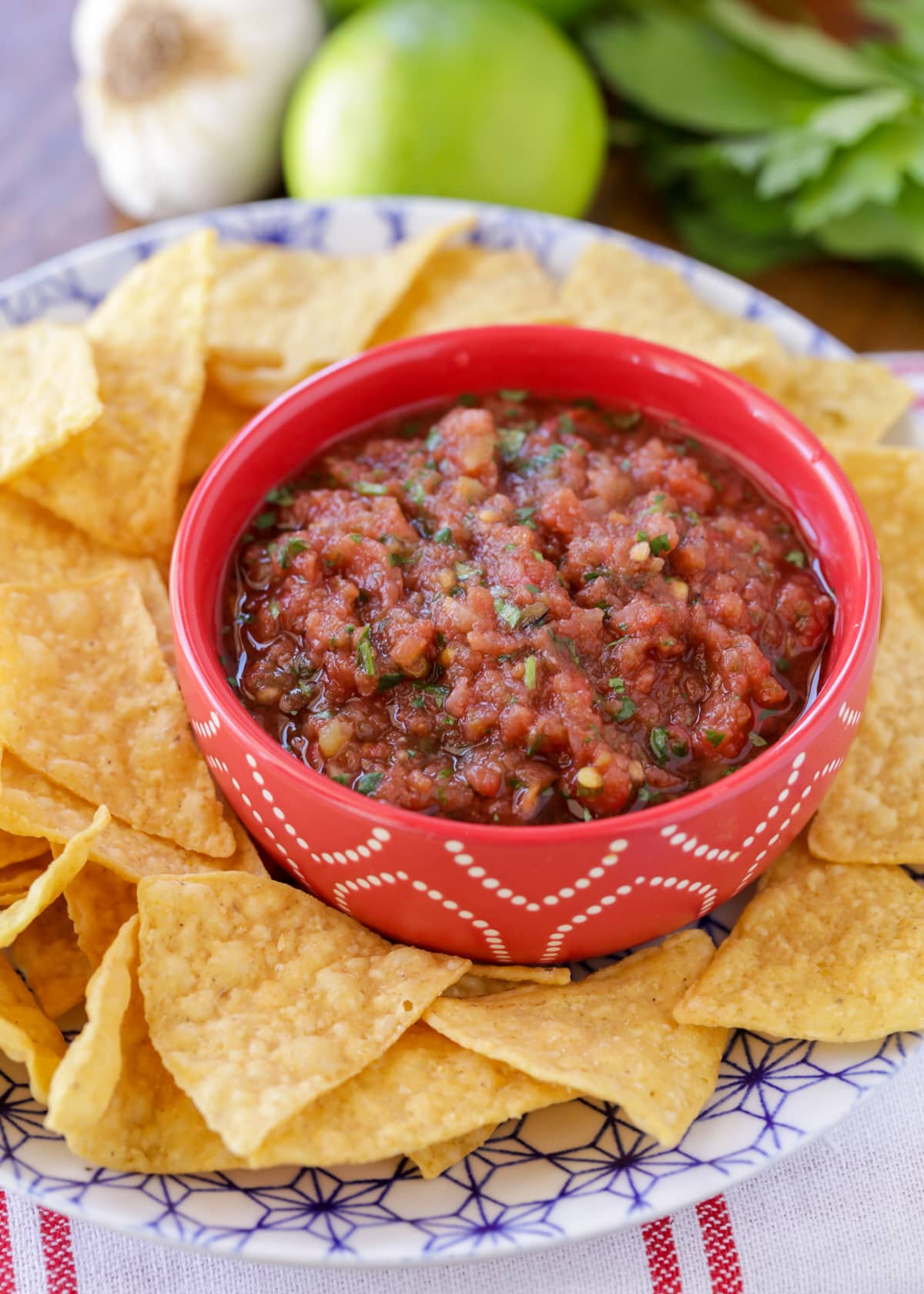 Recipe FAQ
What is the key to good salsa?
Using the right ingredients that enhance the flavor. Having cilantro, garlic salt with parsley flakes, cumin, onion, fresh lime juice and a little bit of sugar make this recipe the best ever!!
How to store salsa the best way?
You can store salsa in an air-tight container in the fridge for up to 1 week.
For more Mexican dips and salsas, check out:
Homemade Salsa Recipe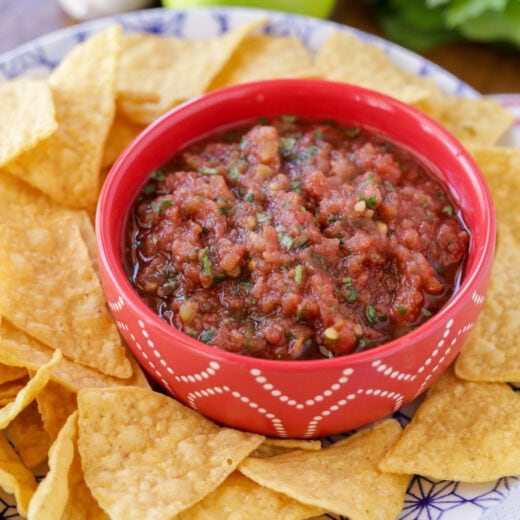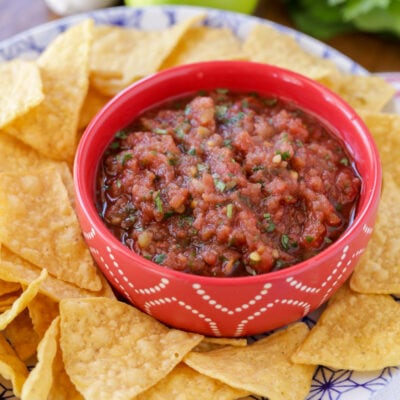 This is such an EASY homemade salsa recipe! All you have to do is throw all the ingredients into your blender, and blend!
Ingredients
1

(14.5-ounce) can

diced tomatoes

drained

1

(10-ounce) can

original Rotel

drained

2-3

Roma tomatoes

seeded, if desired

½

white onion

or 1 tablespoon onion powder

1

medium handful fresh cilantro

1

(4-ounce) can

diced green chiles

optional

1-2

tablespoons

diced jalapeño

1

teaspoon

minced garlic

1

teaspoon

sugar

1

teaspoon

garlic salt with parsley flakes

1

teaspoon

ground cumin

1

tablespoon

lime juice
Instructions
Combine all ingredients in a blender and pulse until blended to the consistency you desire.

Add more salt or lime juice to taste, if needed.
Recipe adapted from Mountain Mama Cooks.

Homemade Salsa Gift
In case you want to give a jar of Homemade Salsa as a gift, I decided to make some free printable tags. You can make it a gift to give anytime of the year, or it would be a great Christmas gift as well. There are tags for either occasion:
All you have to do is download the tag you want.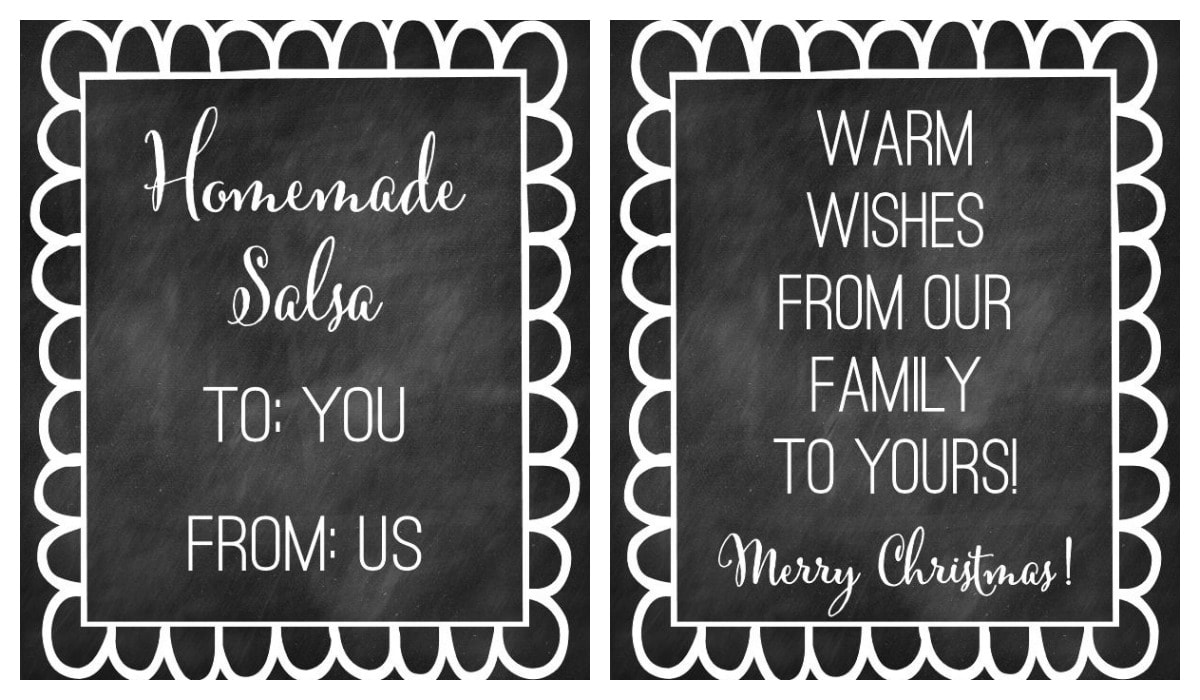 SAVE & pRINT SALSA TAGS:
To Save, CLICK on the tag you like. Then, RIGHT-CLICK and SAVE. Open it in a program like WORD, RE-SIZE, PRINT, cut out and attach.
download your salsa tags printable now
Fill out the form and the FREE printable will be sent to your email.
Nothing like a delicious and simple recipe as well as how to turn it into a quick and inexpensive gift too!
We also made tags for our Salsa Verde so be sure to check that out too!