Fresh peach salsa is delicious with chips, on top of fish or pork, or spooned over tacos! You'll love the flavor combinations in this recipe!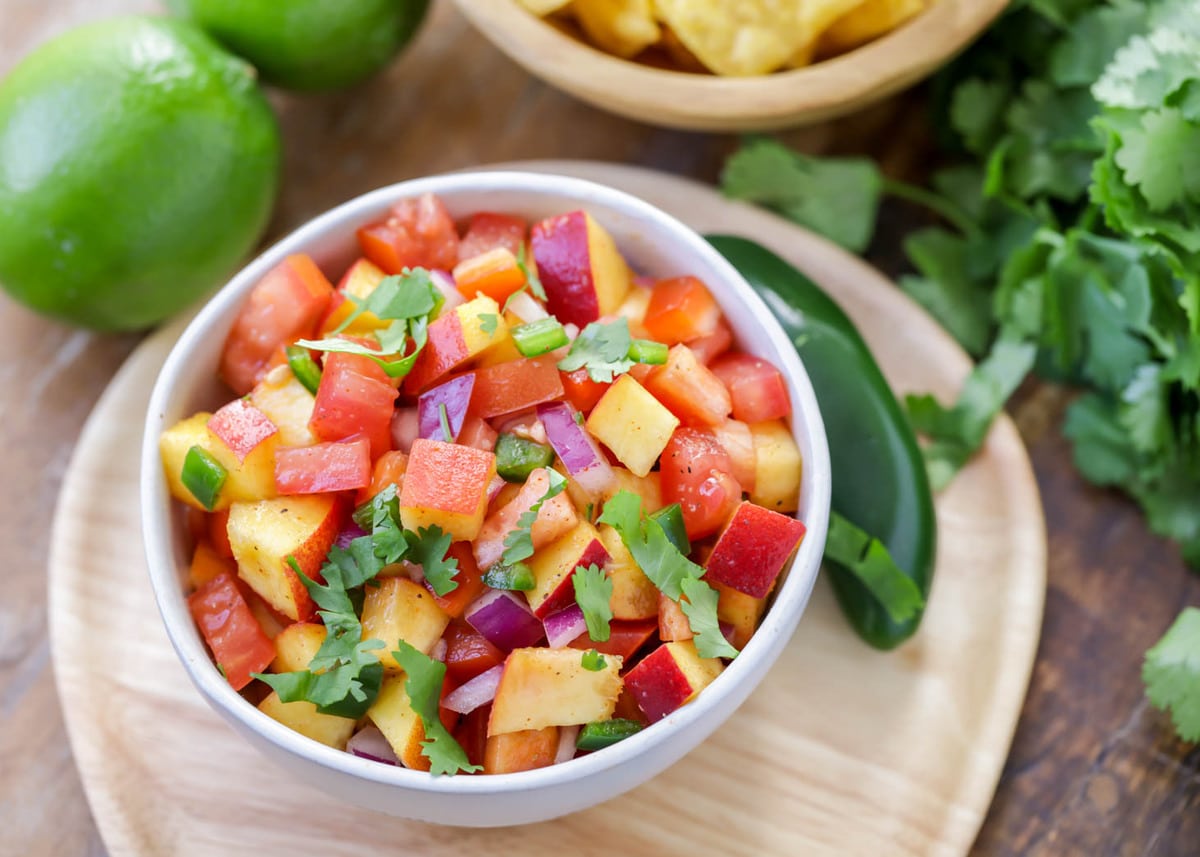 Fresh Peach Salsa
Who here loves salsa?
And how gorgeous is this fresh peach salsa? I love the color of all the ingredients mixed together. The flavors are even better! It's sweet from the peaches, crunchy from the onions and tomatoes, and a little spicy from the jalapeños.
This salsa is perfect for warm summer days. It's light and fresh and makes the best snack or appetizer. Bring this salsa to any potluck/dinner party/girls night/neighborhood party. It will be the star of the show and everyone is going to love it.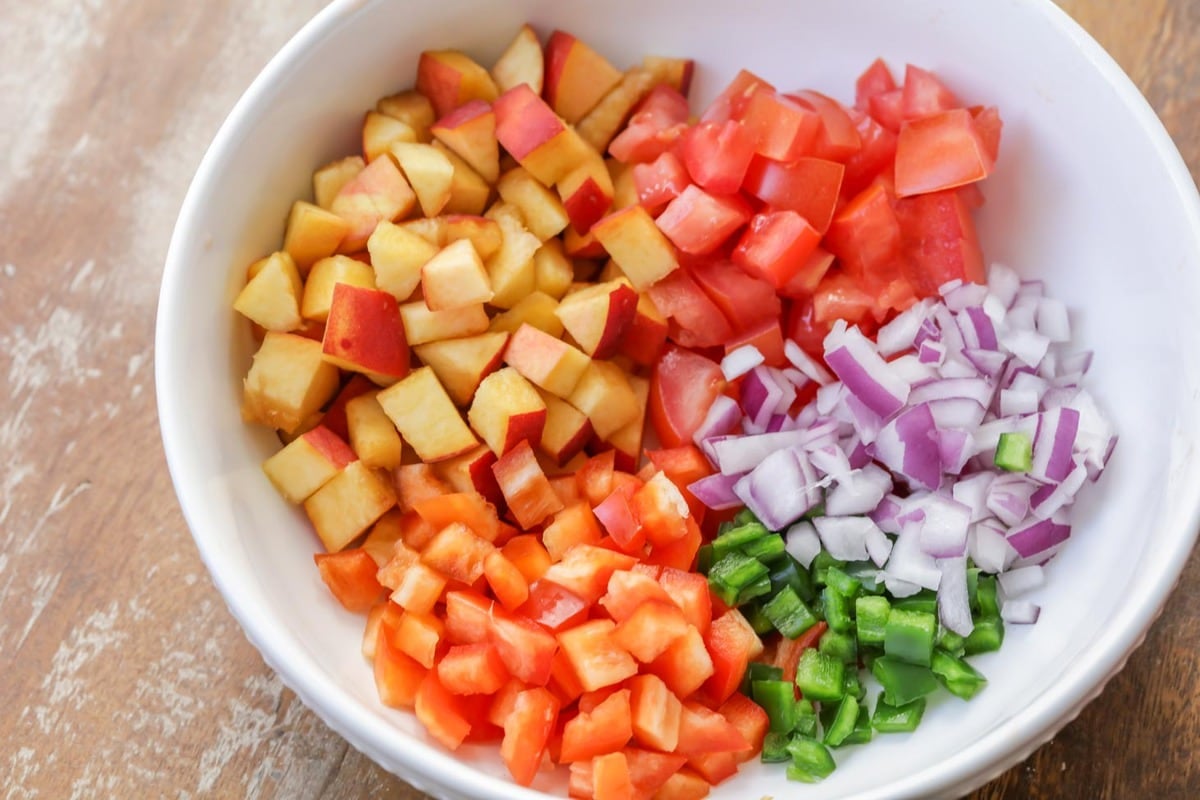 How to Make Peach Salsa
Get all of your ingredients prepped and ready to go. Chop and dice the peaches, tomatoes, jalapeños, onions, cilantro, and red bell pepper.
If you want the salsa to be mildly spicy, take out the membranes and seeds from the jalapeño and discard. More seeds = more spice.
Add all of the chopped ingredients to a medium sized bowl. Add lemon juice, salt and pepper to the mixture and toss everything to combine.
For even more spice and flavor, add in the chili powder. This is totally optional and it will still taste great if you decide to omit that ingredient. Grab a couple chips and taste test the salsa. Add any additional ingredients that are needed.
How to store peach salsa?
Store your peach salsa in a mason jar, Tupperware, or any airtight container. Keep it in the fridge and it will last for up to 4 days.
What to serve peach salsa with?
Peach salsa will go wonderfully with any Mexican dish, but our favorites include:
It can also be serve on top of fish, pork, or steak!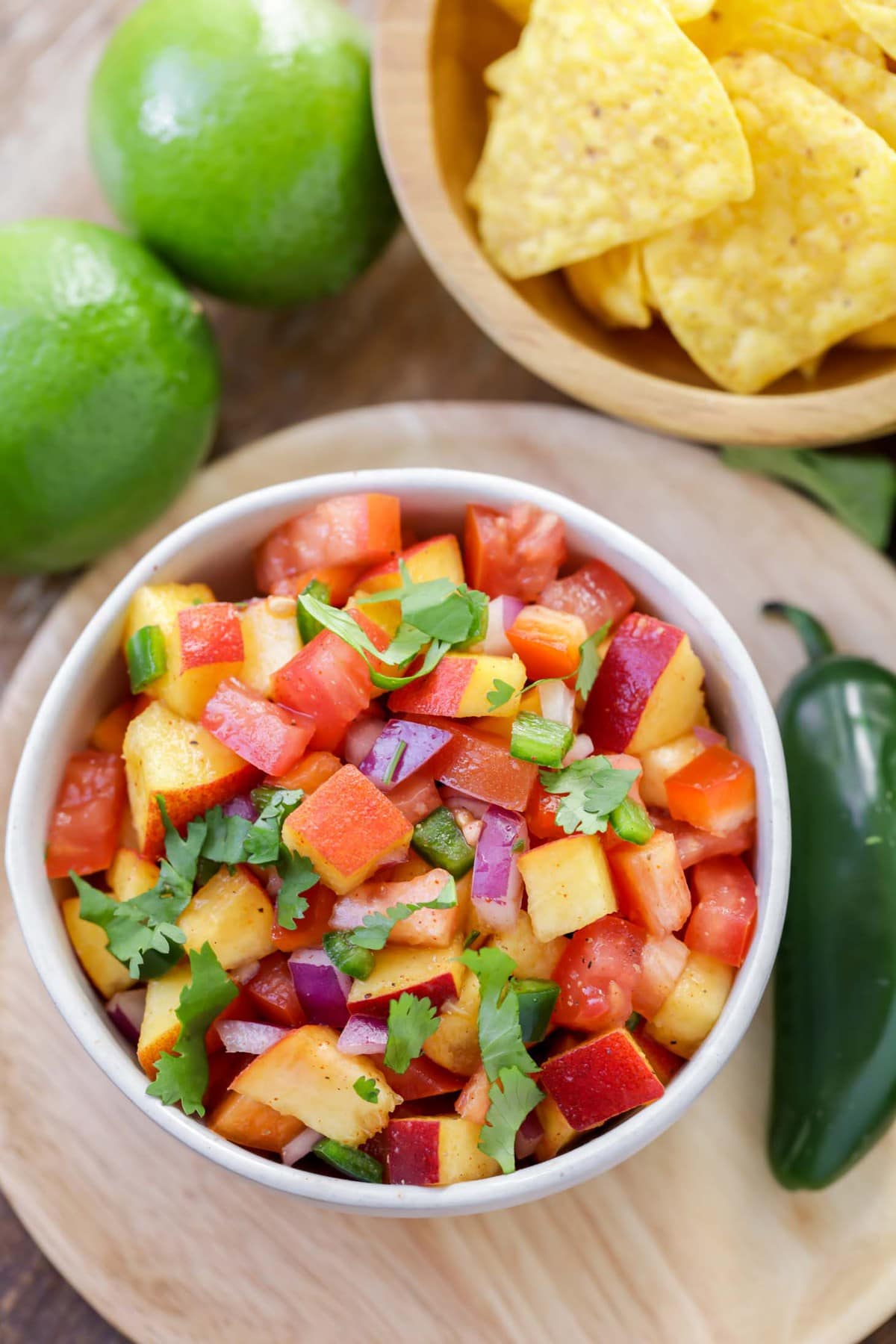 My family can devour a bowl of salsa in one sitting, and this peach salsa is quickly becoming one of our favorites. Peaches are one of my favorite fruits and it's the perfect fruit for a sweet—the salty and sweet flavors are so addicting.
I love eating regular salsa, but these sweet variations of salsa are high up my list. It's nice to switch it up every once in a while.
For more Salsa recipes, try:
For more of our favorite chip dips, check out: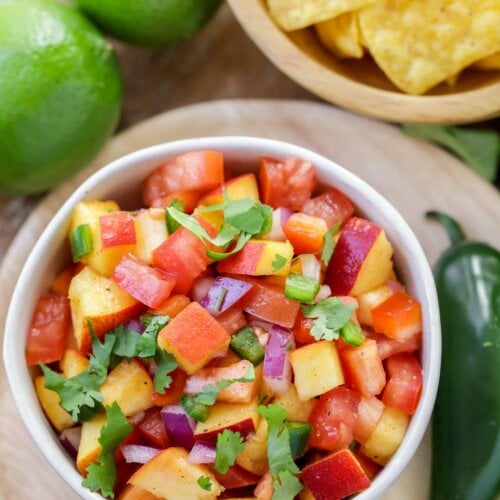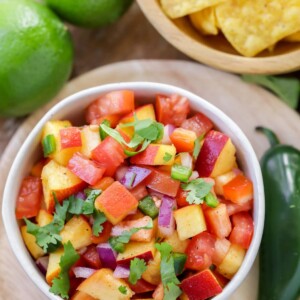 Peach Salsa Recipe
Fresh peach salsa is delicious with chips, on top of fish or pork, or spooned over tacos! You'll love the flavor combinations in this recipe!
Ingredients
3

peaches

fresh, yellow, ripe - diced into 1/2 inch cubes

1/4

red onion

chopped

1/2

red bell pepper

chopped

2

roma tomatoes

chopped

1

jalapeno

diced

1/2

cup

cilantro

chopped

1/2

cup

fresh lime juice

1-2 limes

garlic salt and pepper

sugar

sprinkle

chili powder

sprinkle
Instructions
Rub peaches softly with a cloth to remove peach fuzz. Rinse and dry.

Chop peaches, tomato, onion, bell pepper, jalapeño (seed too if you want it to be more mild), and cilantro and add to a medium bowl.

Add lime juice, salt and pepper, and sugar and gently toss to combine. Add chili powder for additional spice if needed (optional)

Taste salsa, and add additional juice or salt and pepper as needed.