Crisp and light cucumber salsa is delicious with tortilla chips or on top of tacos. It is best when freshly made and chilled.
We love to have this cucumber salsa with tortilla chips, but it's also great with tacos, burritos and more. It's cool, refreshing and similar to a pico de gallo, so whatever you'd serve with that also works for this salsa.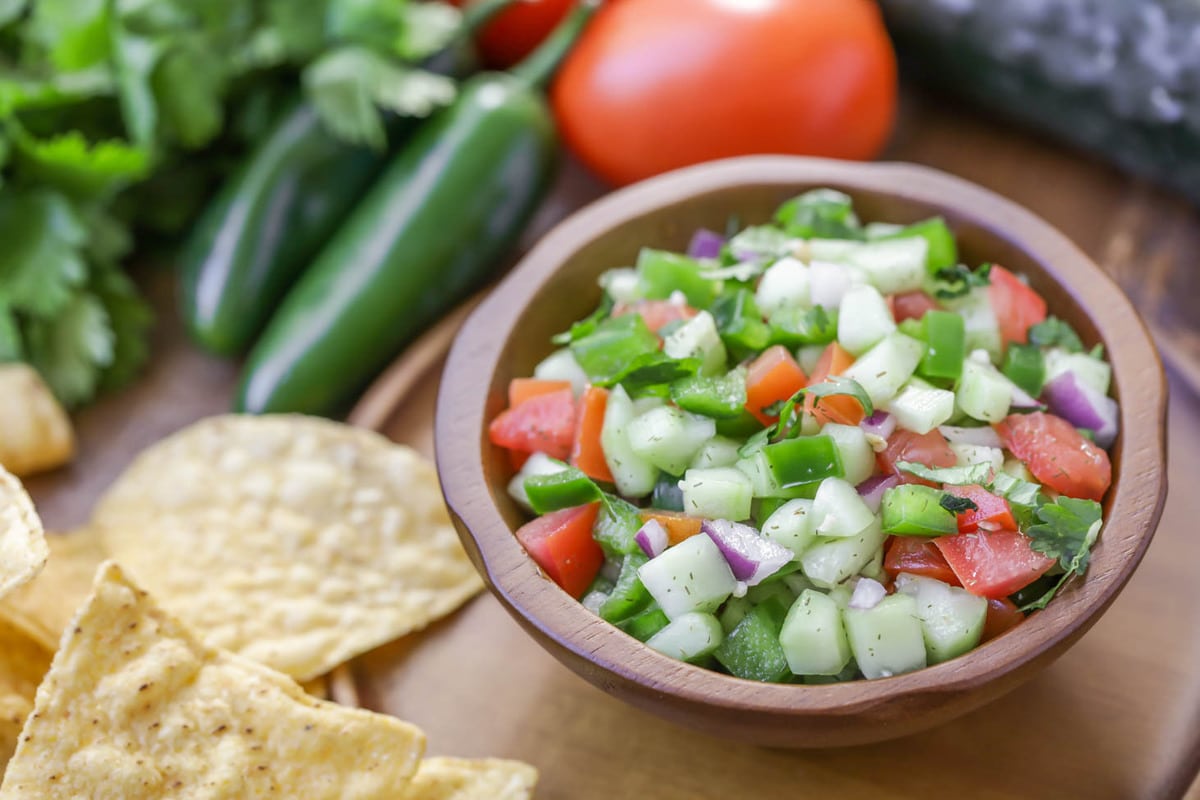 Tomato Cucumber Salsa
A big bite of this cucumber salsa is like a party in your mouth! It's spicy, it's fresh, it's light, and it's crisp and crunchy. It's everything you want in a salsa. Salsa variations are so fun to try, and I really liked this cucumber version.
It still has some diced tomatoes in it which keeps the flavors of original salsa in it too. The jalapeños give it a kick of heat, and the lime juice and cilantro enhance the flavor of all the other ingredients.
Grab a bag of your favorite tortilla chips and eat them with this fresh tomato cucumber salsa. It's great on it's own but you can also serve it on top of fish, chicken, or pork dishes. Cucumber salsa is also delicious on top of Mexican dishes like tacos, burritos, or even in Mexican salads!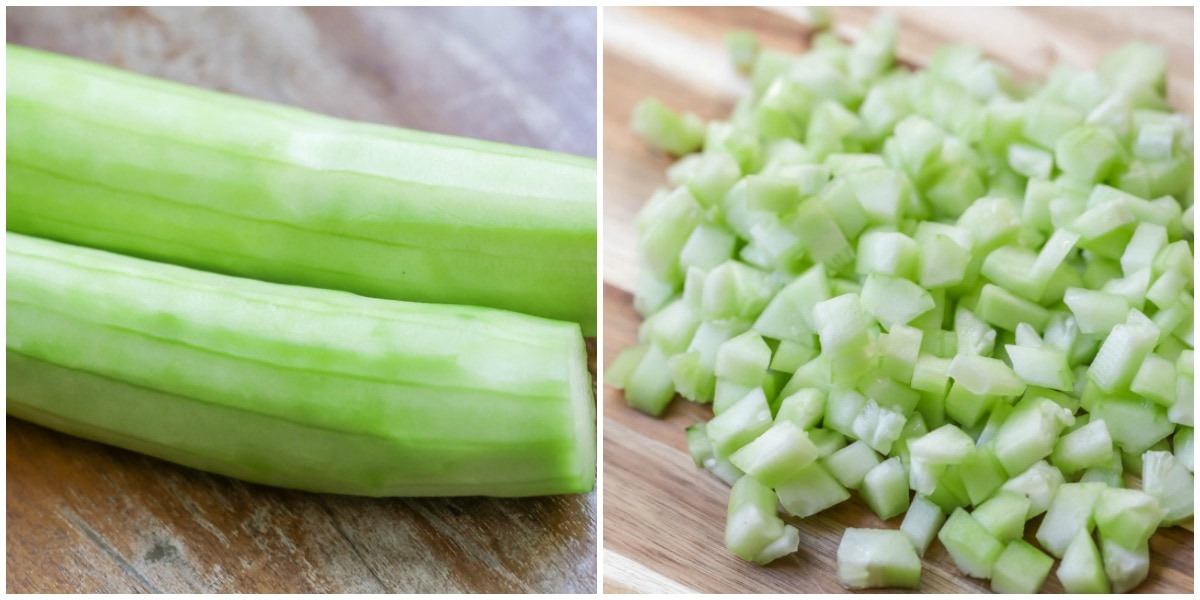 How to Make Cucumber Salsa
DICE. Chop up the cucumbers, onions, jalapeños, bell pepper, and tomatoes.
COMBINE. Add those ingredients to a bowl and stir together to combine. Then add in the garlic, lime juice, cilantro, dill, and garlic salt. Mix everything together until well combined.
SERVE. Cover the bowl with plastic wrap and keep in the fridge for about one hour. It's best served chilled. Serve with tortilla chips or any of the dishes mentioned above. I hope you love this fresh cucumber salsa as much as I do!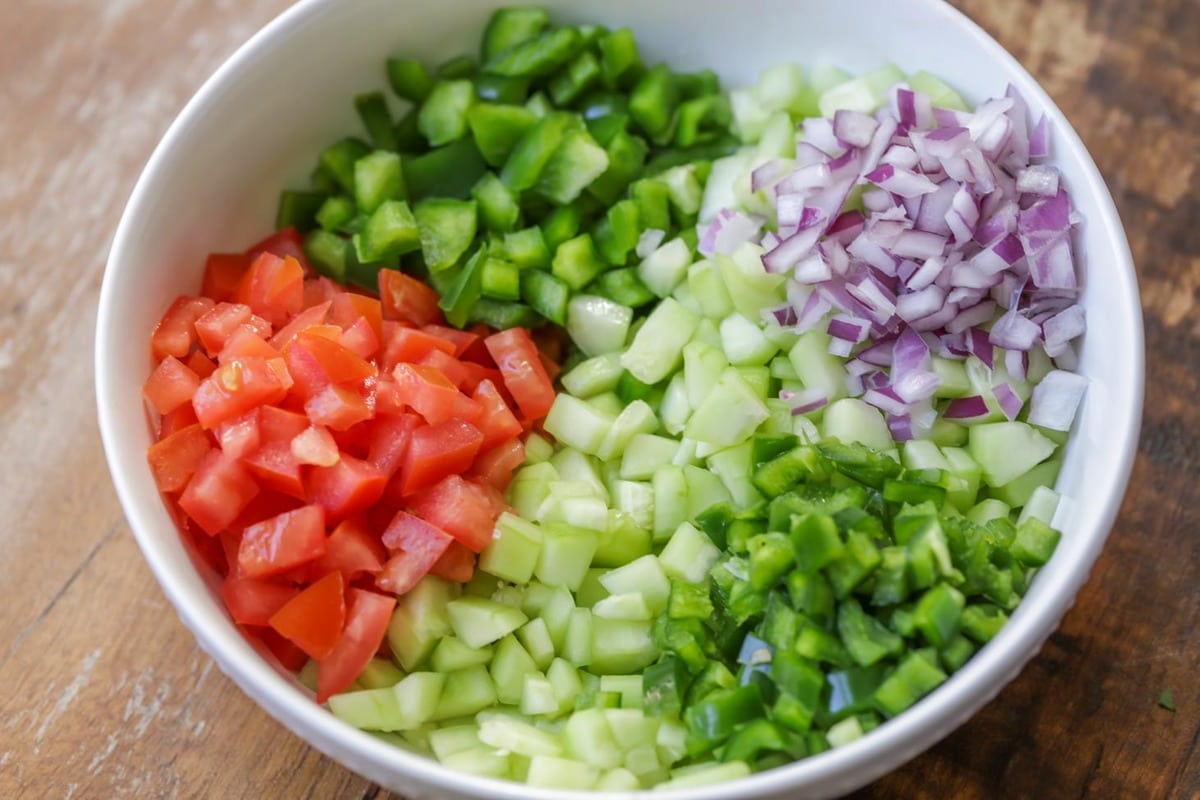 Tips + Storing Info
Tips for making this fresh & healthy salsa:
Fresh squeezed  lime juice is always best when making this recipe
If you find that your chopped onion is a little too strong, never fear! You can tone it down a little by rinsing it in cold water and then draining it thoroughly before adding it to the salsa.
For a fun variation of this salsa, trade out the green bell peppers for red, yellow, or orange. Or why not have some fun and mix in half green with half of another color.
If you are sensitive to spiciness you can always gradually add in your jalapenos little at a time until you get to the amount of heat that you like. It is also helpful to note that not all jalapenos are the same and some are much milder than others – it's pretty much the luck of the draw!
You could also substitute a serrano pepper for the jalapeno for a milder flavor.
Helpful tips for working with jalapenos:
A great way to cut the jalapeno is to start by cutting it in half lengthwise then working from the bottom of the pepper to the top, use a spoon to scrape out the membrane and seeds. Then you can dice it as desired.
Wearing gloves when handling jalapenos is also always a good idea, but if you don't have any handy and end up burning your hands a little bit, here are a few things to try:
Wash your hands with some dish soap right away instead of hand soap.
Try putting your hands in some cool milk, or covering them with yogurt.
Apply some rubbing alcohol to your skin with a dampened cotton ball.
It's hard to think of a more classic combination than chips and salsa. Why not try making some of our homemade chips to go along with this dish? I promise they are easier than you think!
While some salsas are able to be canned, this particular recipe is definitely one you want to eat fresh!
STORE cucumber salsa in an airtight container in the fridge. It can last for about 4 days but it's so yummy you will probably eat it all by then!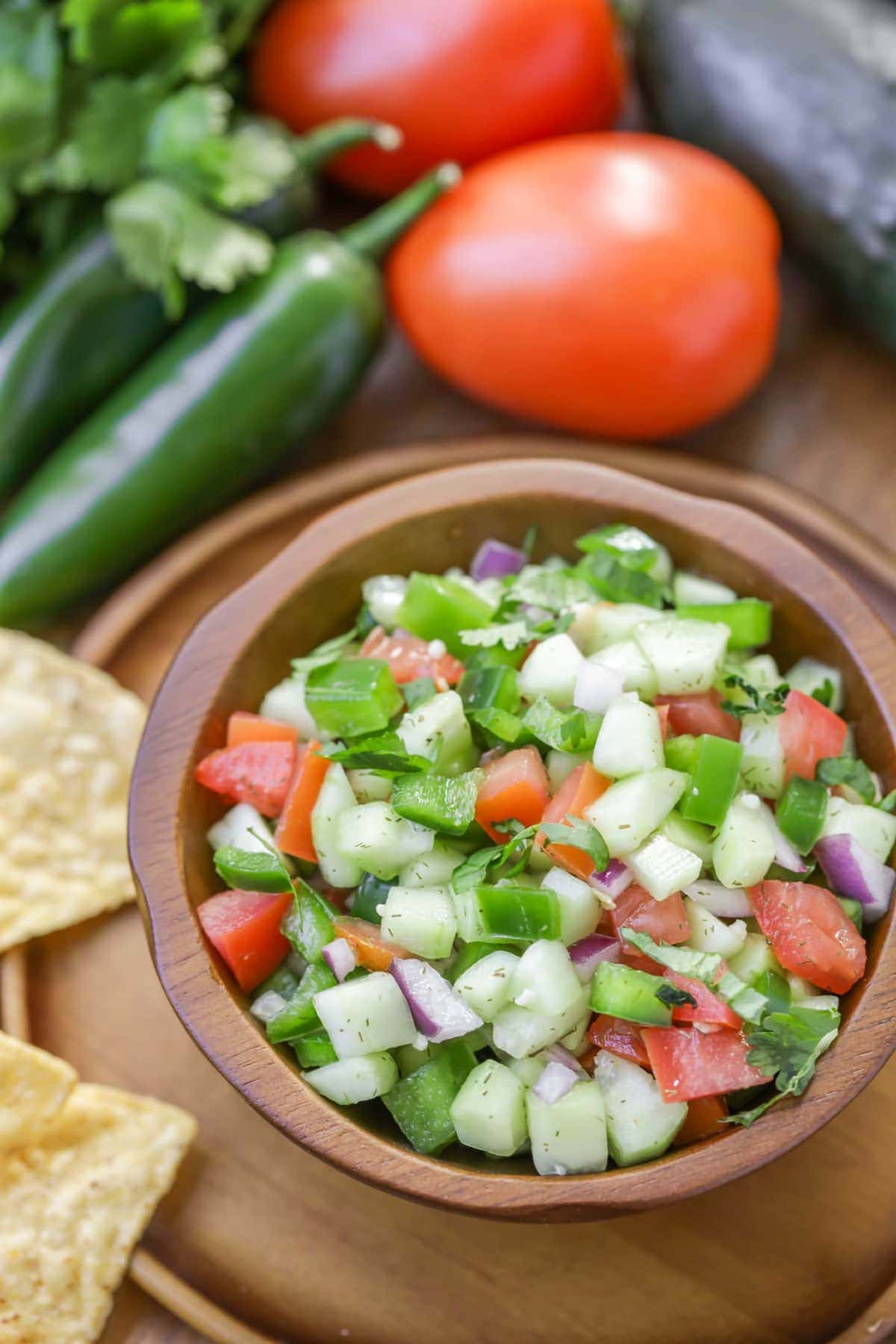 For more salsa recipes:
Cucumber Salsa Recipe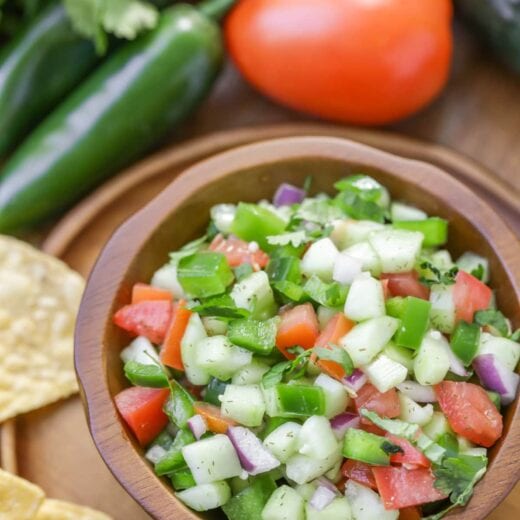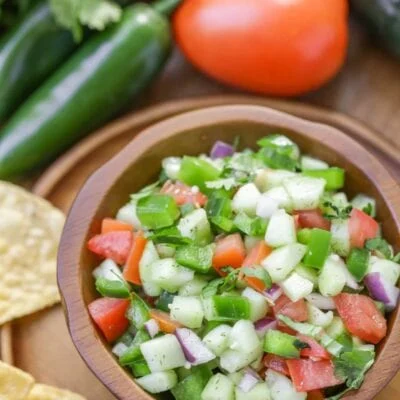 Crisp and light Cucumber Salsa is delicious with tortilla chips or on top of tacos. It is best when freshly made and chilled.
Ingredients
2

cucumbers

peeled, seeded, and chopped

2

tomatoes

chopped

1/2

cup

green bell pepper

chopped

1

jalapeno pepper

seeded and minced

1/2

onion

chopped

1

tsp

minced garlic

2

tbsp

lime juice

2

tsp

cilantro

minced

1/4

tsp

dill weed

dried

1/4

tsp

garlic salt (with parsley flakes)
Instructions
Add chopped cucumbers, tomatoes, green pepper, jalapeno pepper, onion, garlic, lime juice, cilantro, dill, and garlic salt to a medium bowl. 

Stir to combine. Cover and refrigerate for 1 hour. Serve with tortilla chips.