Sweet Salsa Verde is a delicious salsa recipe made from tomatillos, jalapeños, sugar, & cilantro. It is sweet and spicy and takes just minutes to make.
Delicious, sweet and spicy green salsa is great for any Mexican dinner. It's as much of a staple as our guacamole and homemade red salsa! We also love to use it to make Salsa Verde Chicken.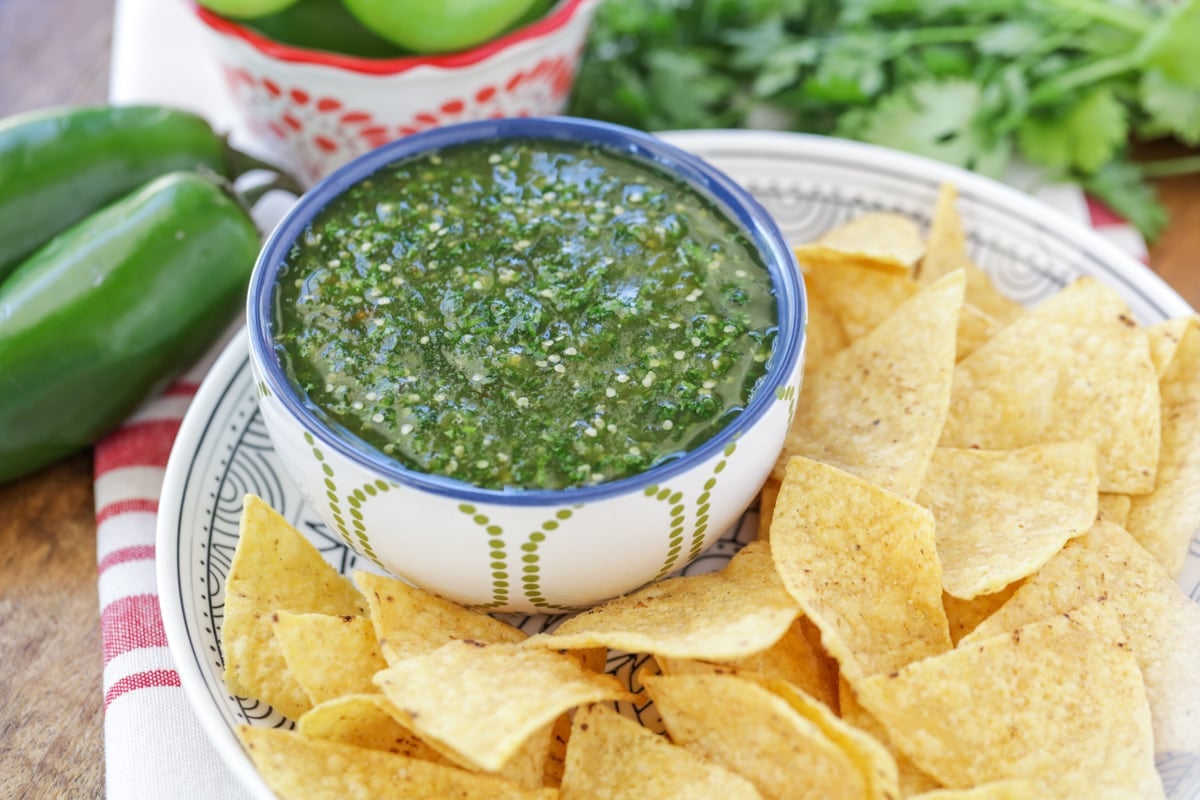 aka Green Salsa
I LOVE Salsa!!
We have it for so many of our meals and we love the flavor it adds to these dishes. We have loads of salsa recipes on the site by out go-to's are our classic Homemade Salsa and Black Bean + Corn Salsa, AND today's salsa verde.
But, what is salsa verde?
Salsa verde, aka Green Salsa, is a sweet and spicy salsa made with tomatillos, cilantro, sugar and jalapeños. It is very popular in areas like Arizona and is served at many of its Mexican restaurants.
Not only is this salsa addicting, but it takes just about 2 minutes to throw together. Quick and easy—my kind of recipe!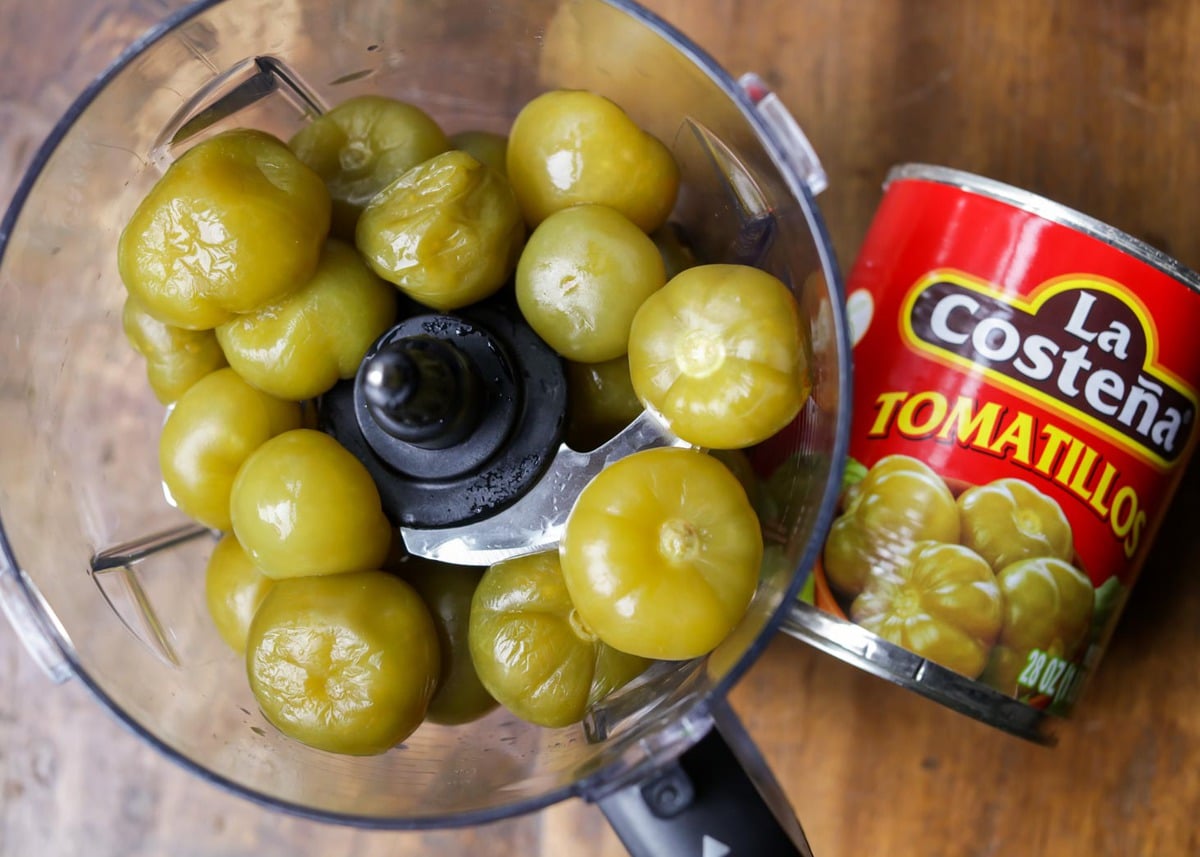 How to Make Salsa Verde
You can't beat recipes that take just minutes to make. This green salsa is so easy and requires just 4 INGREDIENTS, including: canned tomatillos, cilantro, sugar and jalapenos.
BLEND! To make this salsa, just combine all of the ingredients in the blender or food processor and pulse until blended well.
You can adjust the sweetness and spicy-ness based on the amount of sugar and jalapeños used.
**NOTE**: If you are looking for a salsa that is similar but does not have the sweetness, be sure to check out our Tomatillo Salsa. It's more savory than this recipe, and similar to what is found at the grocery store for green salsa.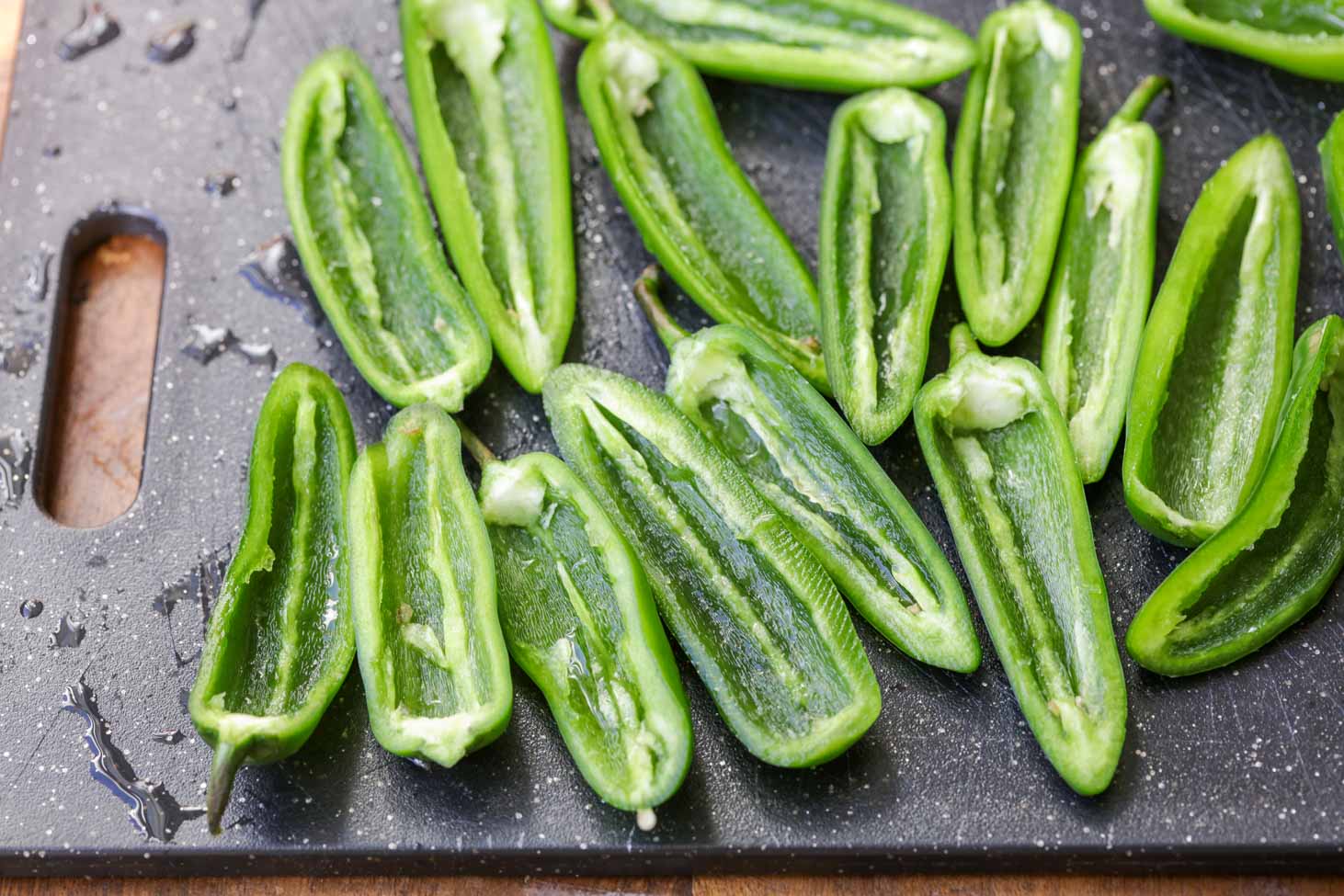 Using Fresh Ingredients
Wat to use fresh tomatillos and fresh jalapeños?
I like to use the canned tomatillos and jalapeños for convenience. If you prefer to use fresher ingredients, you certainly can. Just prep the ingredients and throw them in the blender.
Tomatillos: you will need about 20. Prep them by removing the papery husk and stem, then rinse in warm water to remove the sticky residue. Cut them in quarters and put in the blender. Raw tomatillos are more tart and acidic. When roasted they take on a more mellow and sweeter taste so adjust the amount of sugar used.
Jalapeños: You'll need 1-2 jalapeños. Wear rubber gloves when working with this hot food. Slice the jalapeños in half and remove the seeds and veins. Slice the jalapeños and add them to the blender.
To roast: This is not necessary, but some people like to roast them beforehand. Place the tomatillos, jalapeños and 2-3 unpeeled garlic cloves on a baking sheet. Place the rack about 8 inches from the top. Broil for 5-10 minutes or until nicely charred. Discard the garlic and add remaining ingredients to the blender.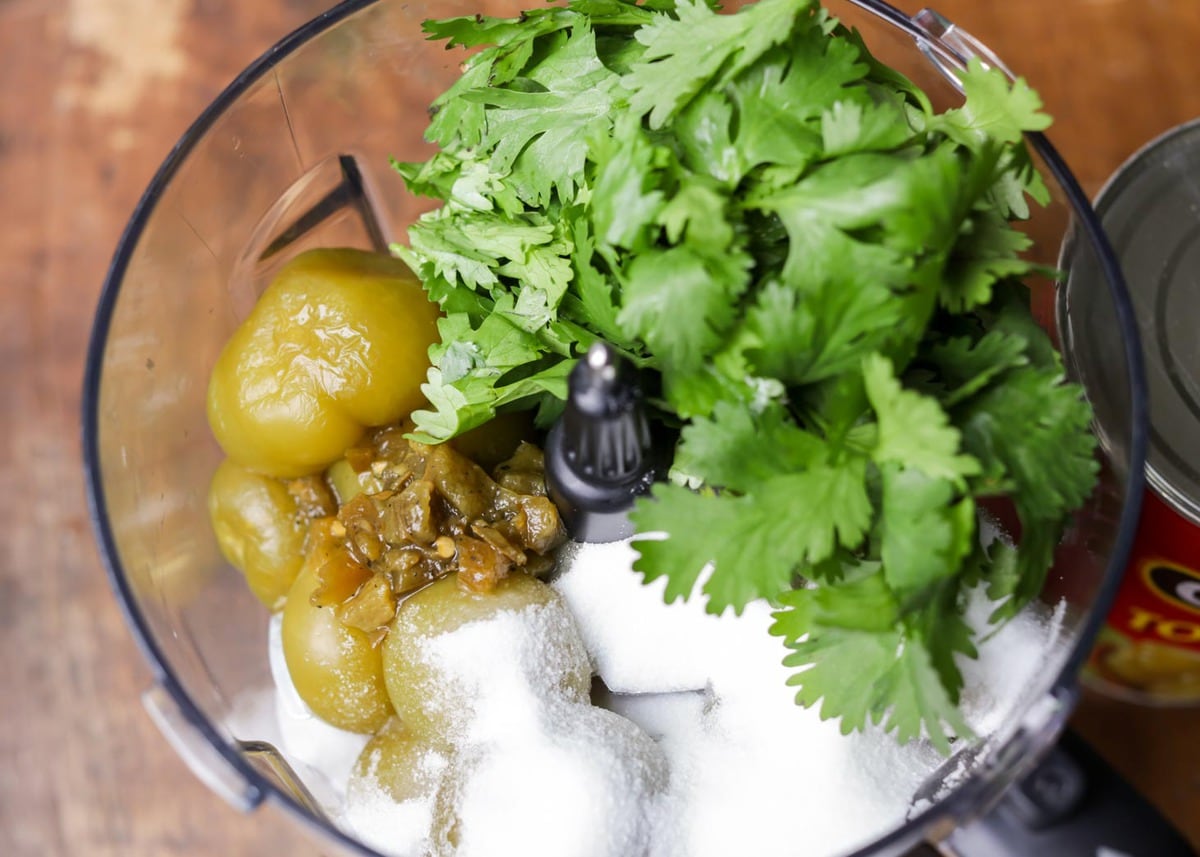 TIPS + FAQ
How long does green salsa last? If stored in an air-tight container in the fridge, salsa verde can last for about a week. If properly canned and not opened, this green salsa can last even longer in the fridge.
Can you freeze salsa verde? You can freeze green salsa by placing it in a covered airtight container or in a freezer-safe Ziploc bag. This should keep in the freezer for up to 2 months. For more tips about freezing salsa, CLICK HERE.
What to serve with it? We love serving this salsa verde recipe with tortilla chips (and Frito's), but also love it with: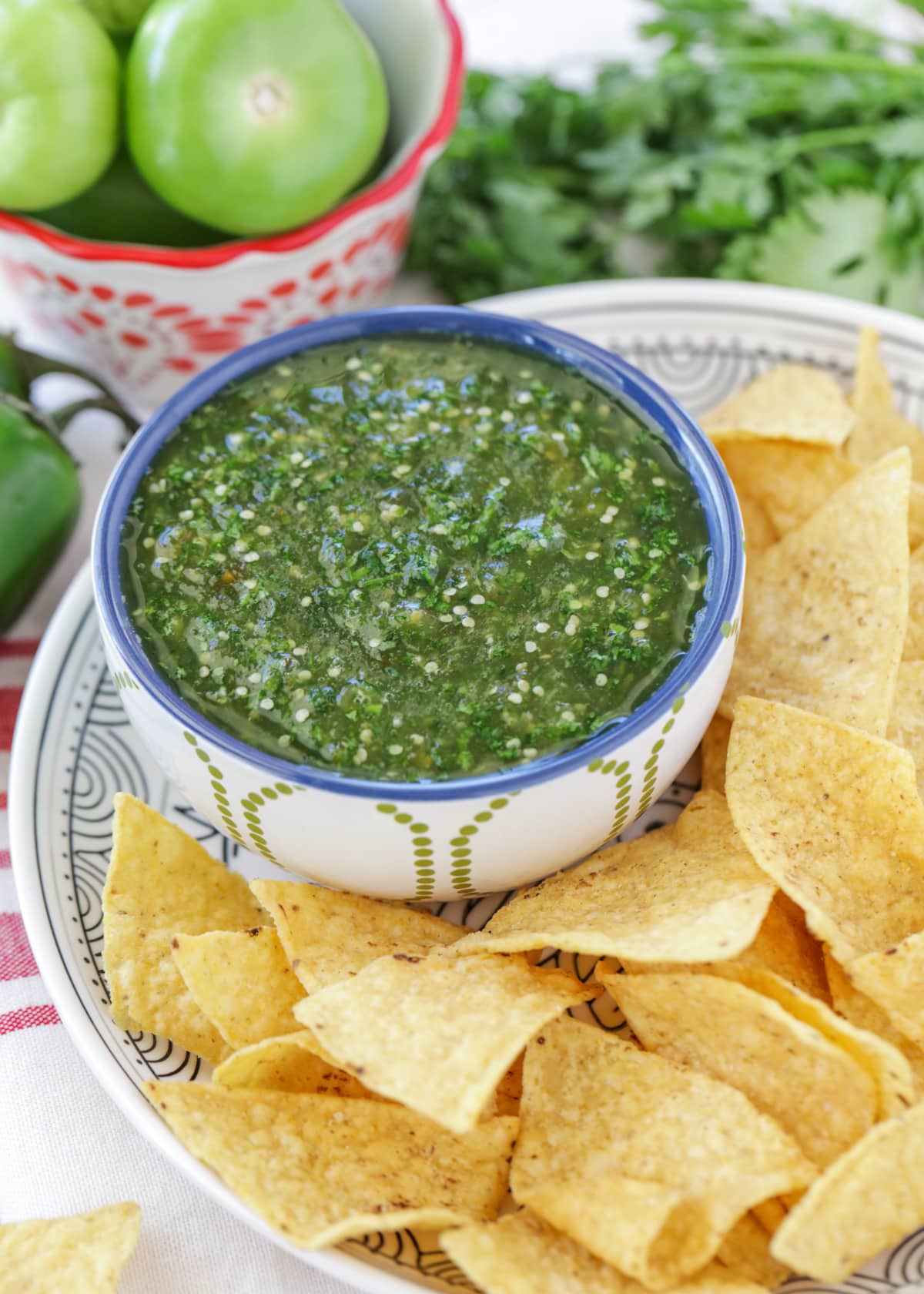 For more salsa recipes, check out: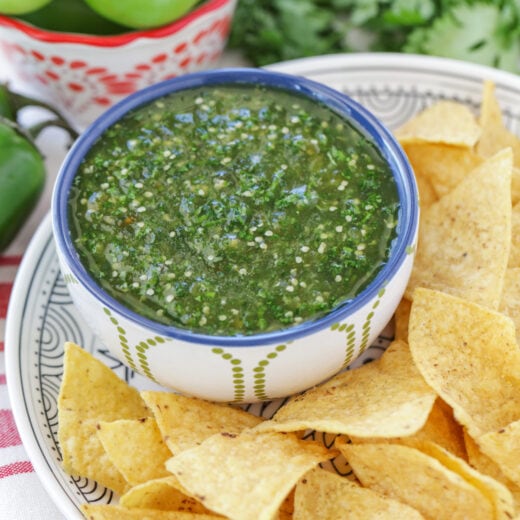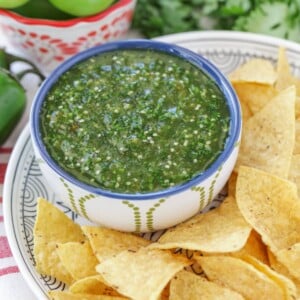 Salsa Verde Recipe
Sweet Salsa Verde – a delicious salsa recipe that is sweet and takes just minutes to make. Ingredients include tomatillos, jalapenos, sugar, & cilantro.
Ingredients
1

(28-ounce) can

tomatillos (about 20)

drained

½-⅔

cup

sugar

1

small bunch fresh cilantro

2-3

tablespoons

diced jalapeño
Instructions
Combine all ingredients in a blender and pulse until blended to the consistency you desire.

Add additional jalapeños for more spice, or add more sugar if you like it sweeter.
Notes
Make Ahead: Store in an airtight container in the refrigerator for 4–6 days. Seeding Tomatoes: To prevent watery salsa, seed the tomatoes before adding to the blender.
Nutrition
Serving:
1
g
,
Calories:
33
kcal
,
Carbohydrates:
8
g
,
Protein:
0.03
g
,
Fat:
0.04
g
,
Saturated Fat:
0.003
g
,
Polyunsaturated Fat:
0.003
g
,
Monounsaturated Fat:
0.002
g
,
Sodium:
0.2
mg
,
Potassium:
7
mg
,
Fiber:
0.1
g
,
Sugar:
8
g
,
Vitamin A:
38
IU
,
Vitamin C:
3
mg
,
Calcium:
1
mg
,
Iron:
0.01
mg
Nutrition information is automatically calculated, so should only be used as an approximation.
Making this recipe? Tag us!
Share it with us on Instagram using the hashtag #lilluna, so we can see what you're creating in the kitchen!
Make it a Gift
Turn this recipe into a gift just by throwing it in a jar and attaching a printable!!
NOTE: I often store my salsa in mason jars and give it as gifts. Be sure to let those you give it to know that they should NOT put the jar in the pantry unless it has been properly bottled and has a sealed lid.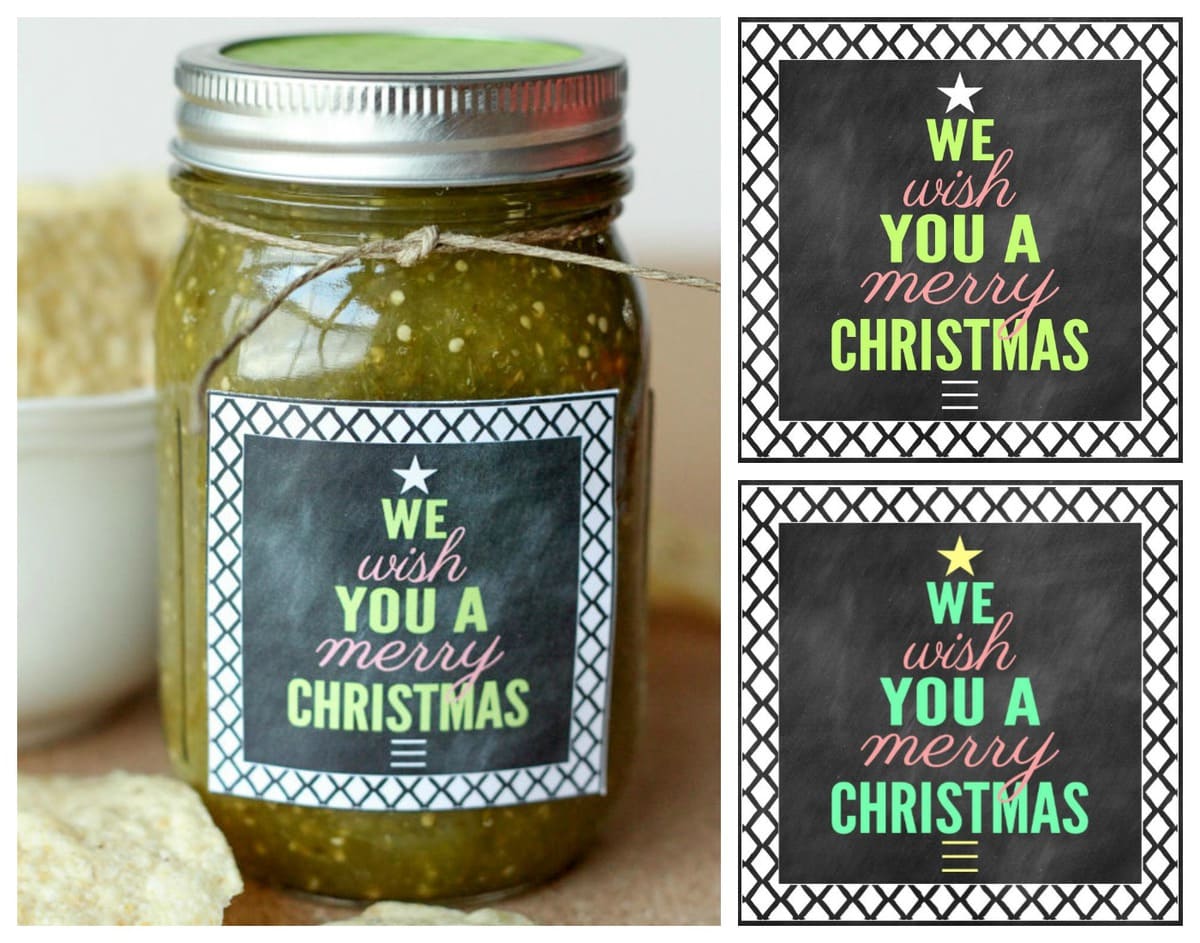 I made this print for you that is cute and simple! It doesn't need to be used just for salsa. It can be used for anything!! Attach it to a jar of candy or a box or plate of cookies.
TO SAVE & PRINT MERRY CHRISTMAS TAGS:
To Save, CLICK on the tag you like. Then, RIGHT-CLICK and SAVE. Open it in a program like WORD, RE-SIZE, PRINT, cut out and attach. We have made both a turquoise and a green print version for you and you can choose to use a square sized version or a larger tag version as well.
download your free "we wish you a merry christmas" tags now
Fill out the form below and the FREE printable will be sent to your email.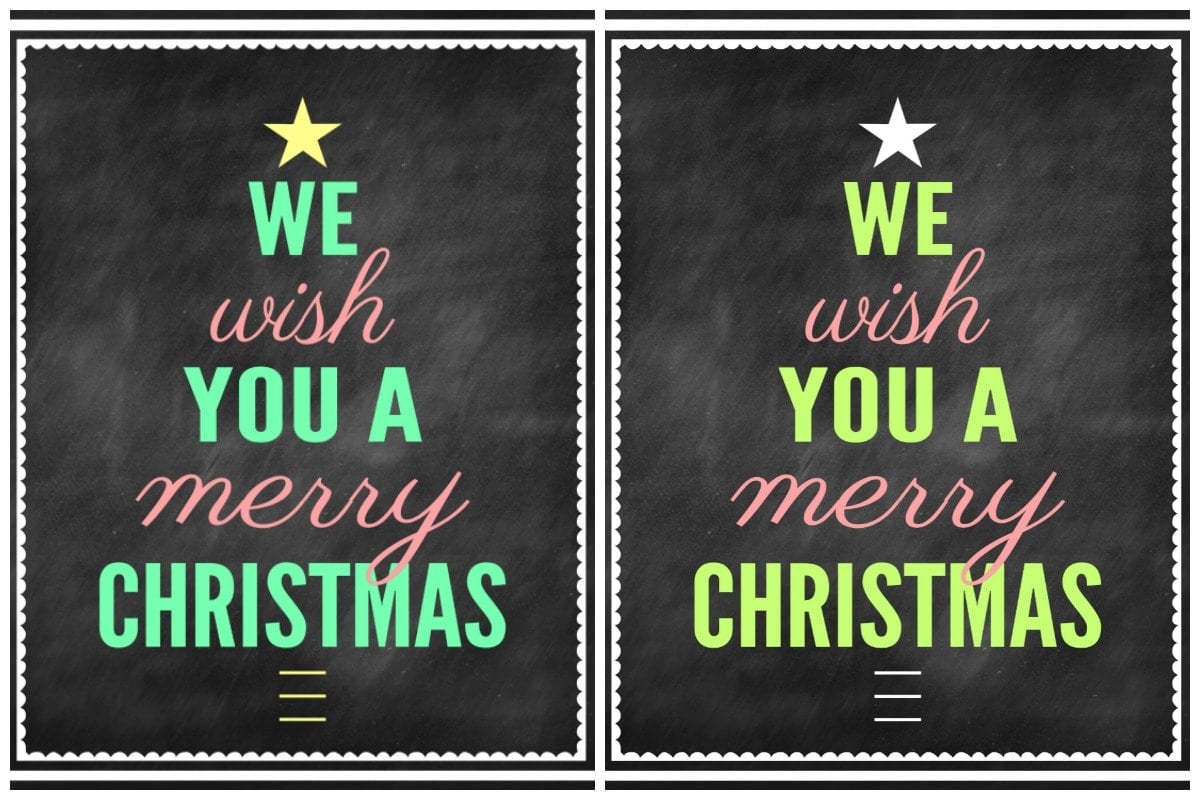 I attached mine with some glue dots and added some ribbon around the lid. EASY!! Hope you enjoy!