Spicy, chunky simple guacamole is so easy and addicting, it's sure to be a crowd pleaser! You won't be able to stop eating it.
Simple Guacamole adds that special touch to any Mexican food dish like our fave Carne Asada Tacos, Bean Chimichangas, or Chicken Flautas. It's also delish with our kids' best-loved Baked Taquitos!!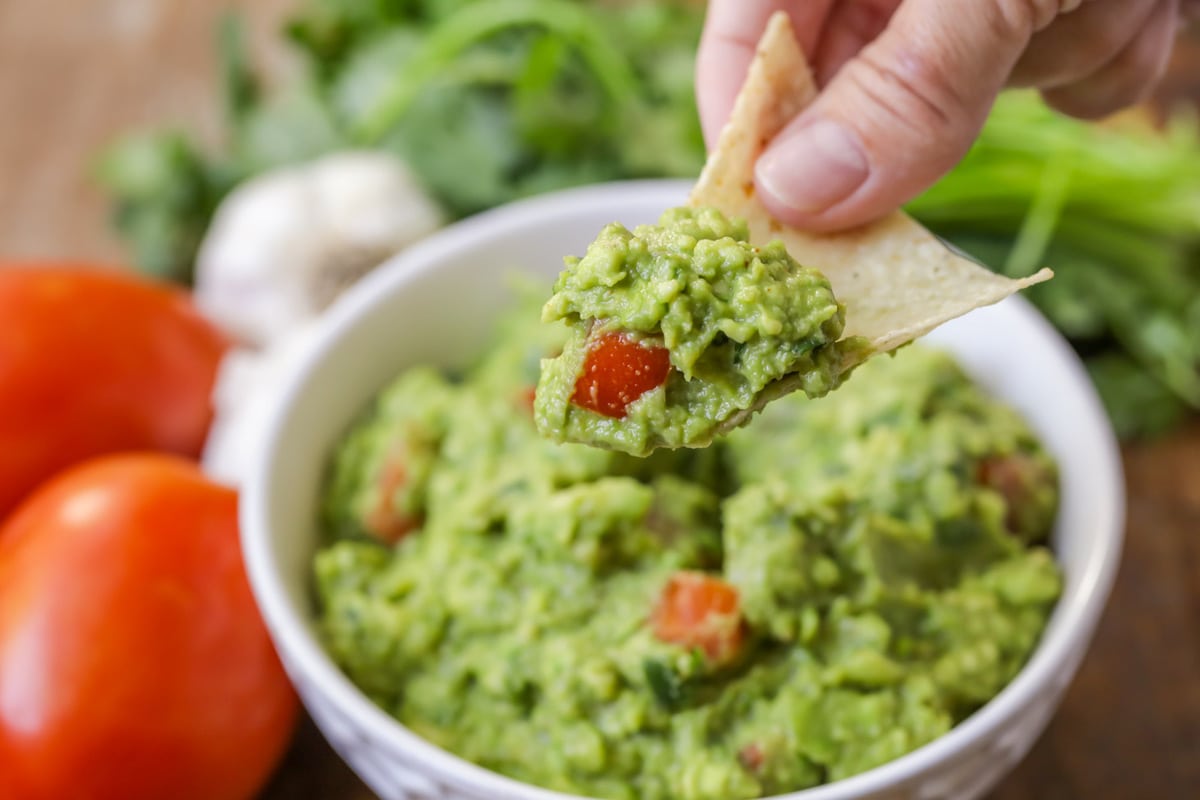 homemade guacamole
Is there anything better than a big bowl of fresh guacamole and a bag of your favorite tortilla chips? This homemade guacamole recipe is so addicting that you might eat it all in one sitting (it's right up there with our Cream Cheese Bean Dip and Homemade Salsa). It has the freshest yummiest ingredients in it! Some avocados, a little lime juice, a few chopped tomatoes, little bit of jalapeño, and don't forget the cilantro! All of the best and simple ingredients for the best homemade guacamole recipe!
Is there ever a bad time to make guacamole? I don't think so. Guacamole is good for an afternoon snacking with your kids, any game night at home with friends, a holiday party, or a yummy side dish to your Mexican food.
Best of all, it's simple and quick – making it a dip and appetizer we make often! I dare you not to eat all of this guacamole in one sitting. And an entire bag of chips! It's the best recipe ever and I hope you love it!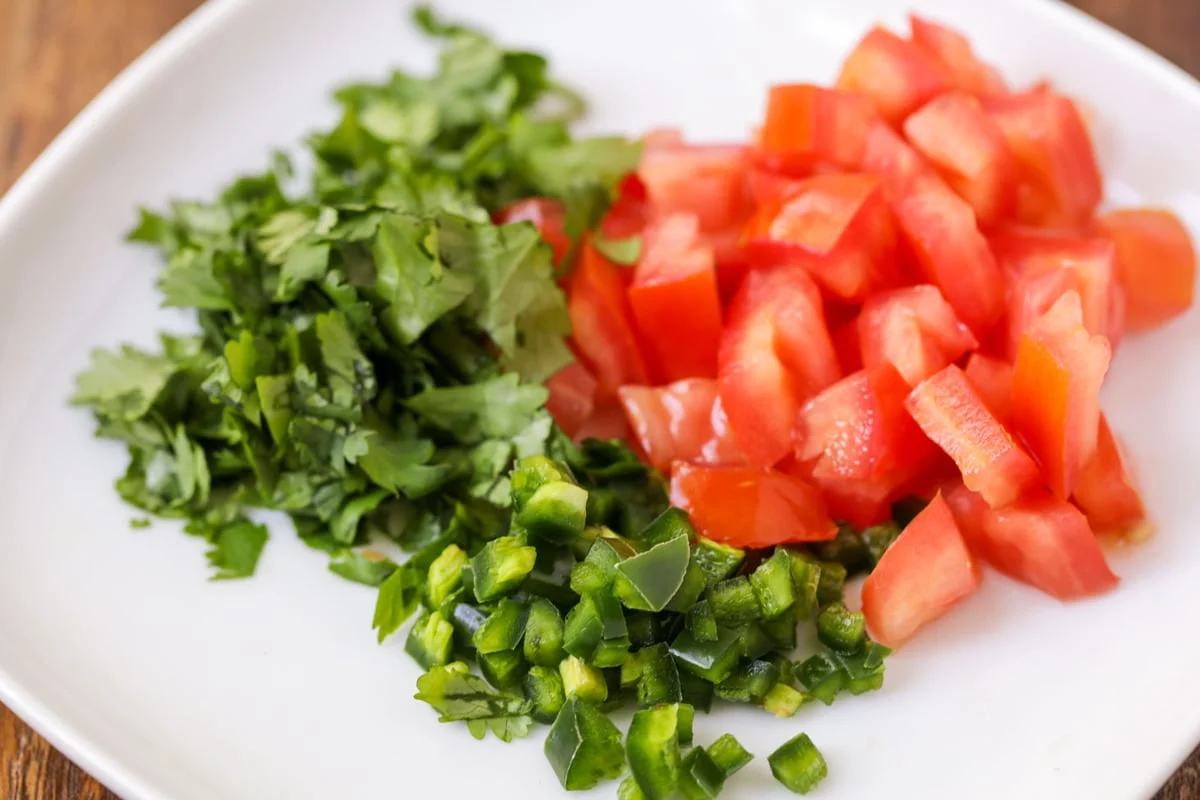 How to Make Guacamole
As stated, this homemade guac is very simple. It requires fresh ingredients, but items that are easily found. From start to finish, it also takes just under 10 minutes to make. That's my kind of appetizer! This recipe is so easy to make that you'll want to whip it up weekly!
MIX. Combine the avocado and the lime juice in a bowl and mix it around until the avocado is coated. Add the salt, cumin, and cayenne pepper and mash it all up using a potato masher. Gently mix in the onions, pepper, tomato, cilantro, and garlic. Add a little more lime juice at the end to help prevent the avocado from browning.
ENJOY! Now the best part- taste testing! Grab a few chips and taste the guacamole to see if any additional ingredients are needed. Sometimes a little more cilantro or salt or lime juice can be added to adjust the taste.
more Simple Guacamole Recipe
Have some ripe avocados but are missing some of the other key ingredients like cilantro and tomatoes? No worries, we love to make guac by mashing up 2-3 avocados and adding a bit of minced garlic, cumin, salt (coarse), lime juice, chili powder. It's more of a guac dip and is delicious!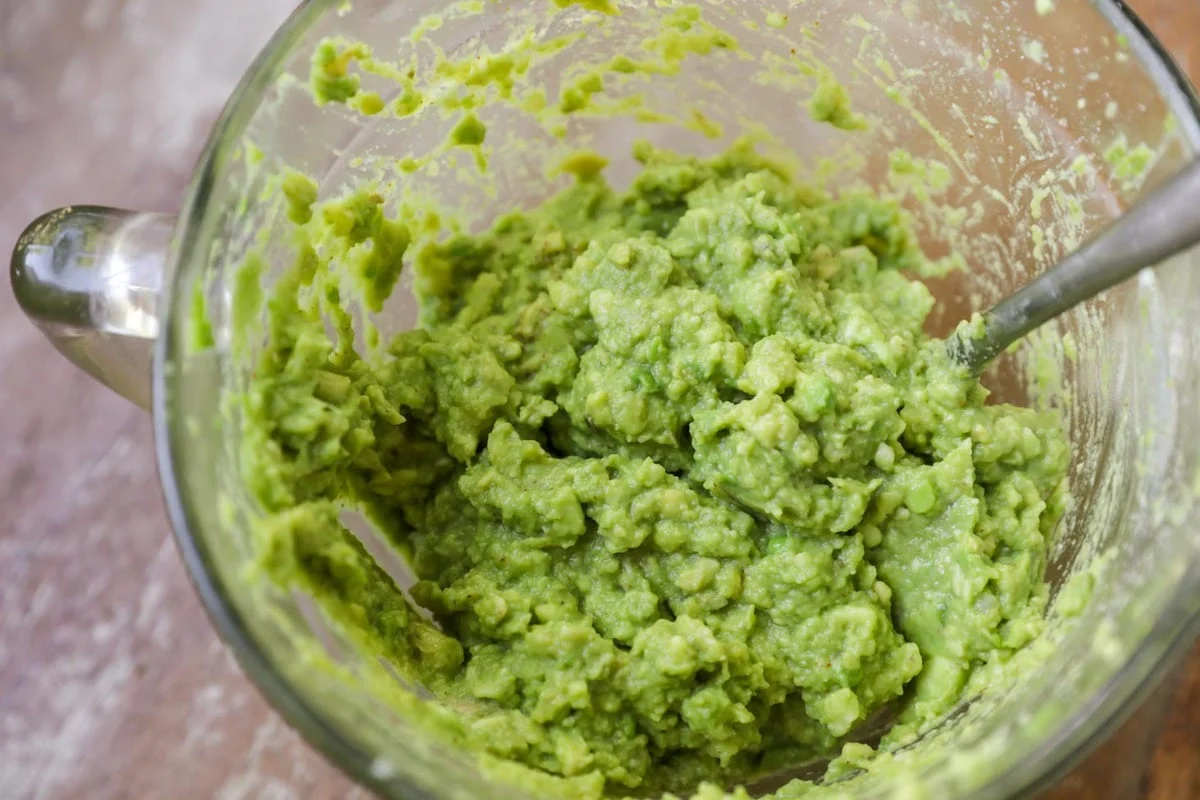 TipS + Variations
To pick the perfect avocadoes: grab an avocado and squeeze gently. It should feel firm with a bit of softness. If it's overly hard or overly soft or mushy, they aren't ripe.
The riper the avocado the better! If your avocado isn't quite ripe yet leave it out on a counter top for 4-5 days checking it daily. When the skin has turned dark green to black with a bumpy texture and it yields under pressure a little when you squeeze it – you are good to go!
If your avocado is ripe, but you aren't ready to use it yet, it's best to store it in the fridge for 2-3 days instead of leaving it out on the counter.
To make your chopped onion milder briefly rinse it in water and drain it thoroughly before adding it to your avocados
If jalapenos are too spicy for you try substituting with a serrano pepper instead.
Fresh lime juice is always best when making an awesome guacamole.
It goes without saying that chips and guac are the perfect combo – why not try one of our easy recipes for making your own homemade chips!
Customize your guacamole:
Add additional chopped jalapenos or serranos to make it more spicy!
Add sour cream for a smoother, creamier guac.
Add fruit to your guac such as pomegranate, peaches, mangoes, pineapple, or even berries.
Add chopped walnuts, toasted almonds, or pepitas (roasted pumpkin seeds) if you'd like.
Storing Info
Homemade guacamole usually lasts up to 2 days. When you see a puddle of brown liquid and the layers below the surface have lost their vibrant green color, you'll know it's gone bad.
There are a few ways to store and keep guacamole tasting fresh. One of my favorite ways is to STORE the guacamole in a container, pat it down to make a flat surface, poor a layer of lime juice on top, then cover with plastic wrap and push the plastic down to touch the guacamole. Keep it in the fridge until ready to eat again. This will prevent air pockets and will keep the guacamole from browning. Pour out the lime juice on top when you're ready to start dipping. May seem strange, but it works!
It is not recommended to FREEZE guacamole – it will often become grainy and dry when defrosted.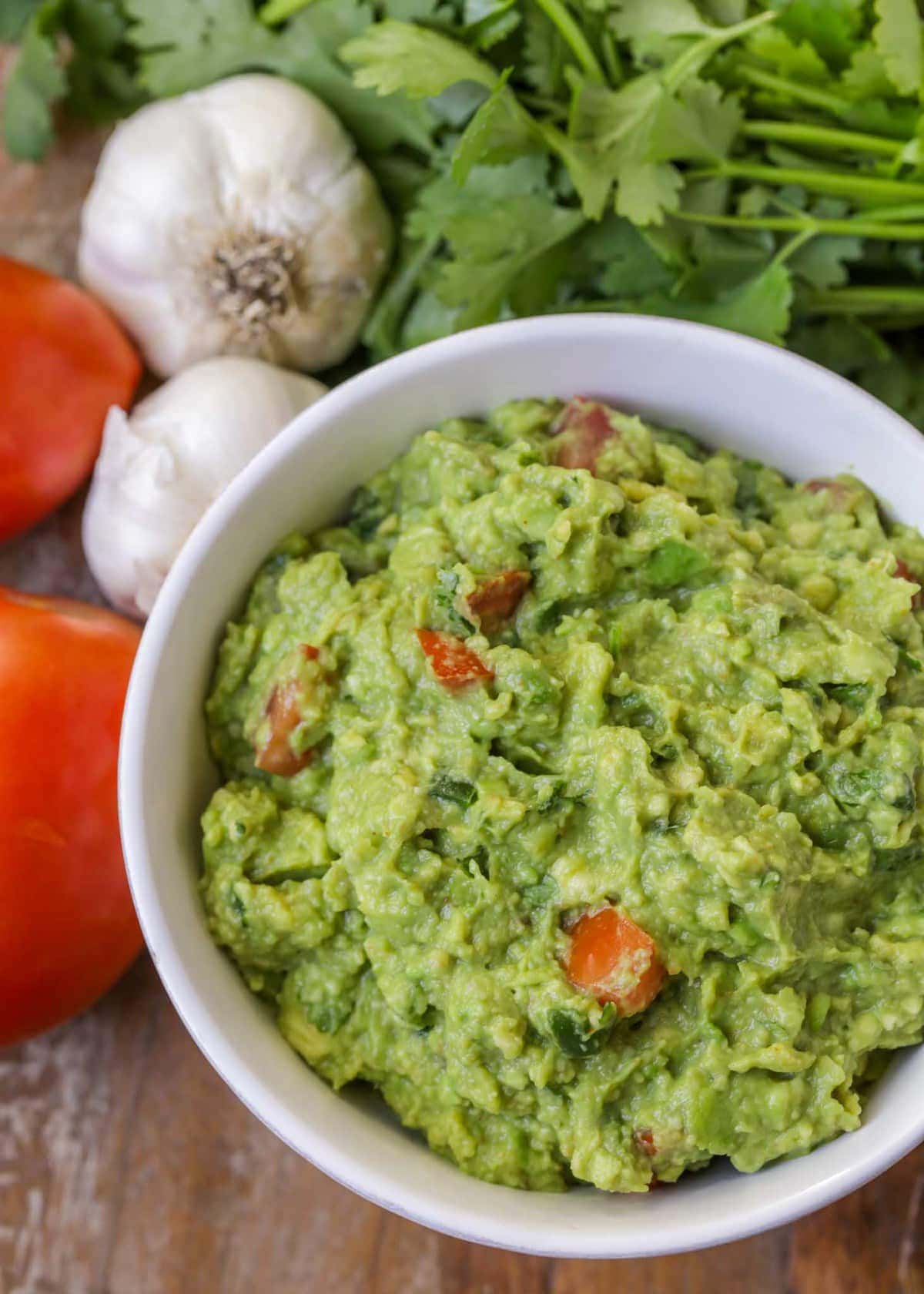 For more of our favorite Mexican dips, check out:
Simple Guacamole Recipe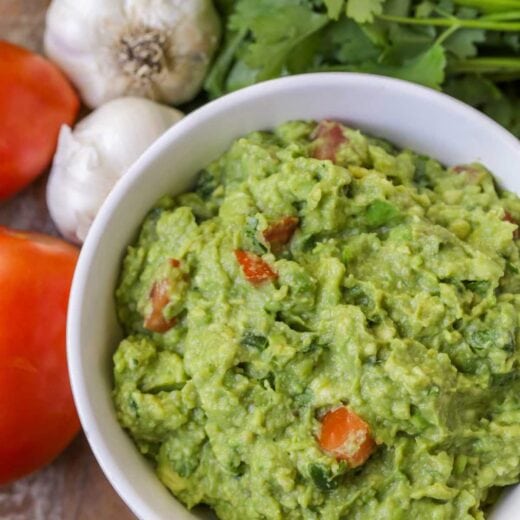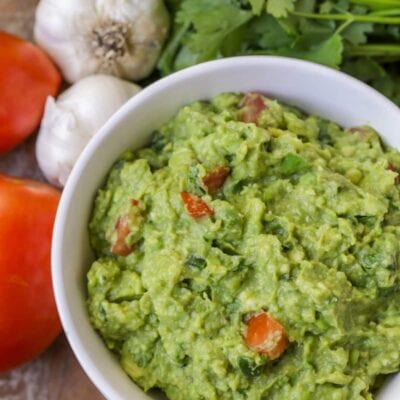 Spicy, chunky simple guacamole is so easy and addicting, it's sure to be a crowd pleaser! You won't be able to stop eating it.
Ingredients
5

avocados

halved, peeled and pitted

2

tablespoons

lime juice

plus more for topping

½

teaspoon

kosher salt

½

teaspoon

ground cumin

¼

teaspoon

cayenne pepper

2

Roma tomatoes

seeded and diced

½

onion

chopped (optional)

2

tablespoons

chopped fresh cilantro

1

tablespoon

chopped and seeded jalapeño pepper

1

teaspoon

minced garlic
Instructions
In a large bowl, combine avocado and lime juice and mix until coated.

Add salt, cumin and cayenne and mash avocado mixture using a potato masher or the back of a spoon.

Fold in tomatoes, onions, cilantro, jalapeño and garlic.

Add additional lime juice over the top to help keep guacamole from browning Serve with tortilla chips.
Notes
Make Ahead: To store guacamole, place it in a bowl and pour a thin layer of lime juice on top of the guacamole. Cover with plastic wrap and push the plastic down to touch the guacamole. This will prevent air pockets and will keep the guacamole from browning. Store in the refrigerator for 3–4 days.