Need some sides for your Mexican fiesta? Don't fret! We have all the sides you need to complete your meal – appetizers, soups, salads, dips, salsas – you name it!
For more collections: Mexican Dinner Ideas, Mexican Desserts, Mexican Soups, Mexican Beef Recipes, Mexican Appetizers
Our Favorite Mexican Sides
Whether you're making a weeknight dinner for your family or hosting a Mexican themed fiesta with friends, you can find the perfect side dishes to go along with the rest of your meal.
We have so many favorites on the site and have rounded up the best ones to go with your meal.
What are the most popular Mexican sides? Creating a Mexican feast is a salivating prospect. From the appetizer to dessert there are so many delicious recipes to choose from. Side dishes are not to be overlooked. Some of our most well loved side dishes include:
serving tips
Many Mexican Dishes are warm and it can be tricky to figure out how to keep all your different dishes warm while prepping the food and throughout the evening.
A cooler is not just for keeping food cold. Its insulation will help retain heat.

Use the grill. A gas grill, with a thermometer, will work to keep foods warm. Keep the internal temp around 200°F.

Keep dishes like rice, beans, or dips in a crock pot set to low or warm.

Use an insulated food carrier

to transport to another location.

Chafing Dishes

are great for sides and main dishes.
Some classic main dishes to serve with these amazing Mexican side dishes include:
Once you've chosen your main dishes, it will be easier to pick the perfect sides!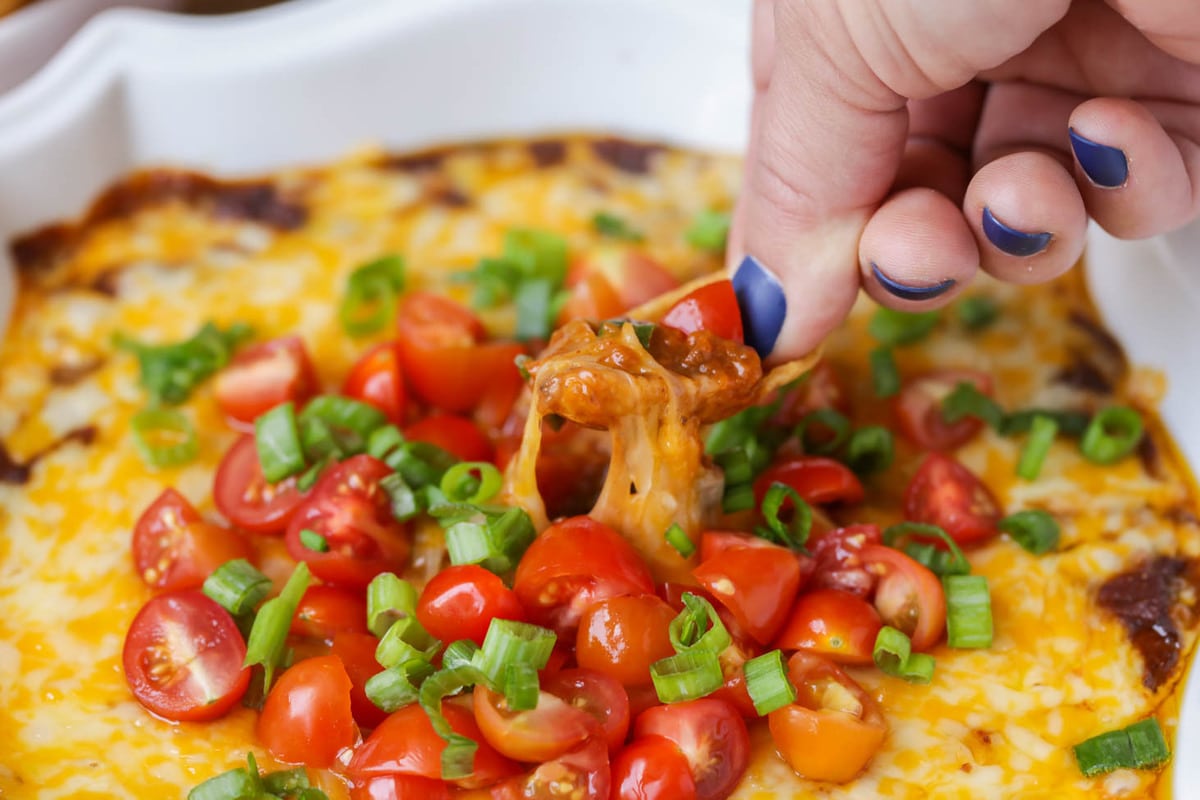 Planning a party?
If you are planning a party, I've gathered some helpful tips:
Sometimes side dishes can also be used as appetizers or even a main dish when making a simple meal. If you're creating a large menu be sure that the courses don't overlap.

Use seasonal ingredients if you can. They're often fresh and cost effective.

Find side dishes that can be prepped and/or made ahead of time.

Be sure to test out new recipes before serving so you can work out any kinks.

For 6 or fewer guests have 3-4 different sides, then add one more side for every 5 guests.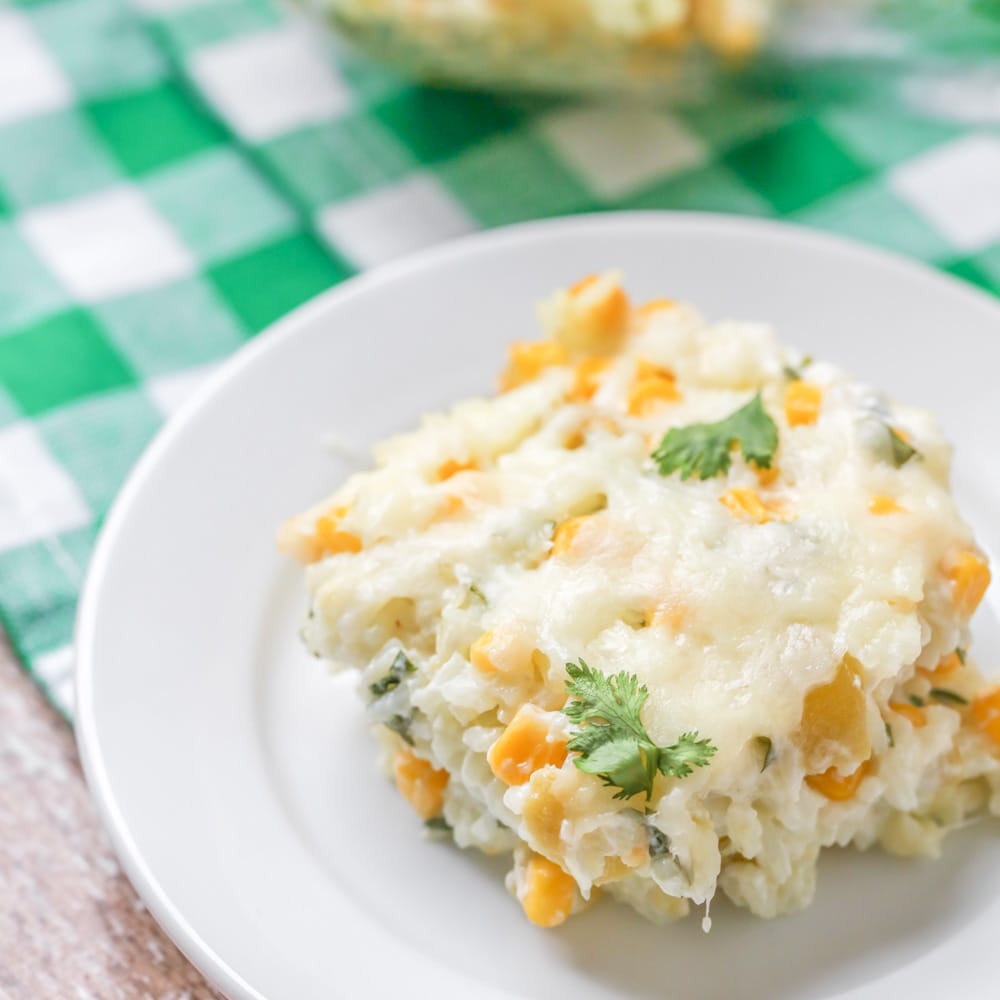 Our Go-To Mexican Sides
A good side can really make the meal. We have so many favorites, but these are the ones we use most often when we are serving Mexican food.
Sour Cream Rice – Mexican Sour Cream Rice filled with cheese, corn, green chiles, sour cream and cilantro. This delicious side dish is simple and great with any meal!
Easy Refried Beans – Get perfectly creamy restaurant style refried beans by adding just THREE extra ingredients to your canned beans! These refried beans are perfect served as a dip, side, or filling for burritos and tacos!
Mexican Cornbread – This Mexican Cornbread (AKA jalapeño cornbread) is light and fluffy and is filled with cheddar cheese and jalapeño. It has a bit of a nip and a lot of flavor.
Homemade Spanish Rice Recipe – Restaurant-Style Spanish Rice (aka Mexican Rice), that is easy to make and tastes like it came straight from the restaurant, and is the best side dish to any Mexican entree.
Mexican Street Corn – Delicious Mexican Street Corn – a copycat version from Torchy's Tacos filled with butter, cheese, chili powder and cilantro.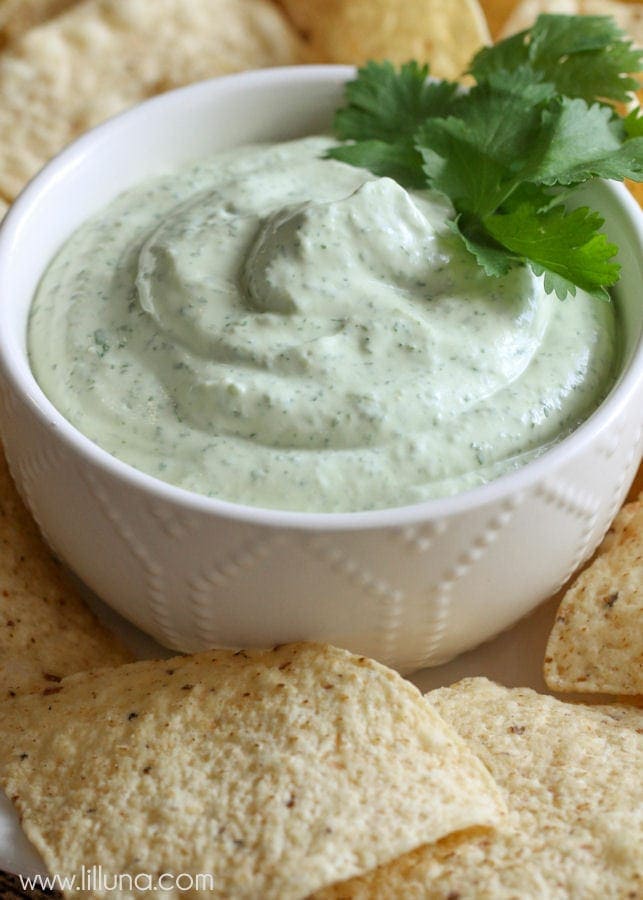 What's a Mexican meal without tortilla chips and dip?!
We always have them (and our favorite are Juanita's – if you haven't try them, you must!) Along with the chips we love to serve some dips and salsas. We have a post with ALL our Mexican appetizers, but if we only had to pick a few to complete the meal, here are our favorites…
Avocado Lime Ranch Dip – It only takes a small handful of ingredients and a few minutes to whip up some creamy and delicious Avocado Lime Ranch Dip! Filled with cilantro, lime juice, and avocado, this ranch dip is perfect for dipping chips or topping Mexican dishes!
Cream Cheese Bean Dip – With sour cream, cream cheese, Mexican cheese, refried beans, and salsa, Cream Cheese Bean Dip is perfect to eat with chips, tacos, or any Mexican dish!
Cafe Rio Cilantro Ranch Dressing – Copycat recipe for Café Rio Cilantro Ranch Dressing is fresh and creamy with a hint of spice. We LOVE this stuff!
Simple Guacamole – Spicy, chunky simple guacamole is so easy and addicting, it's sure to be a crowd pleaser! You won't be able to stop eating it.
Chili Cheese Dip – Just four ingredients make for the BEST and yummiest chili cheese dip! Melty cheese and hearty chili are so tasty together! It's the perfect appetizer for any party.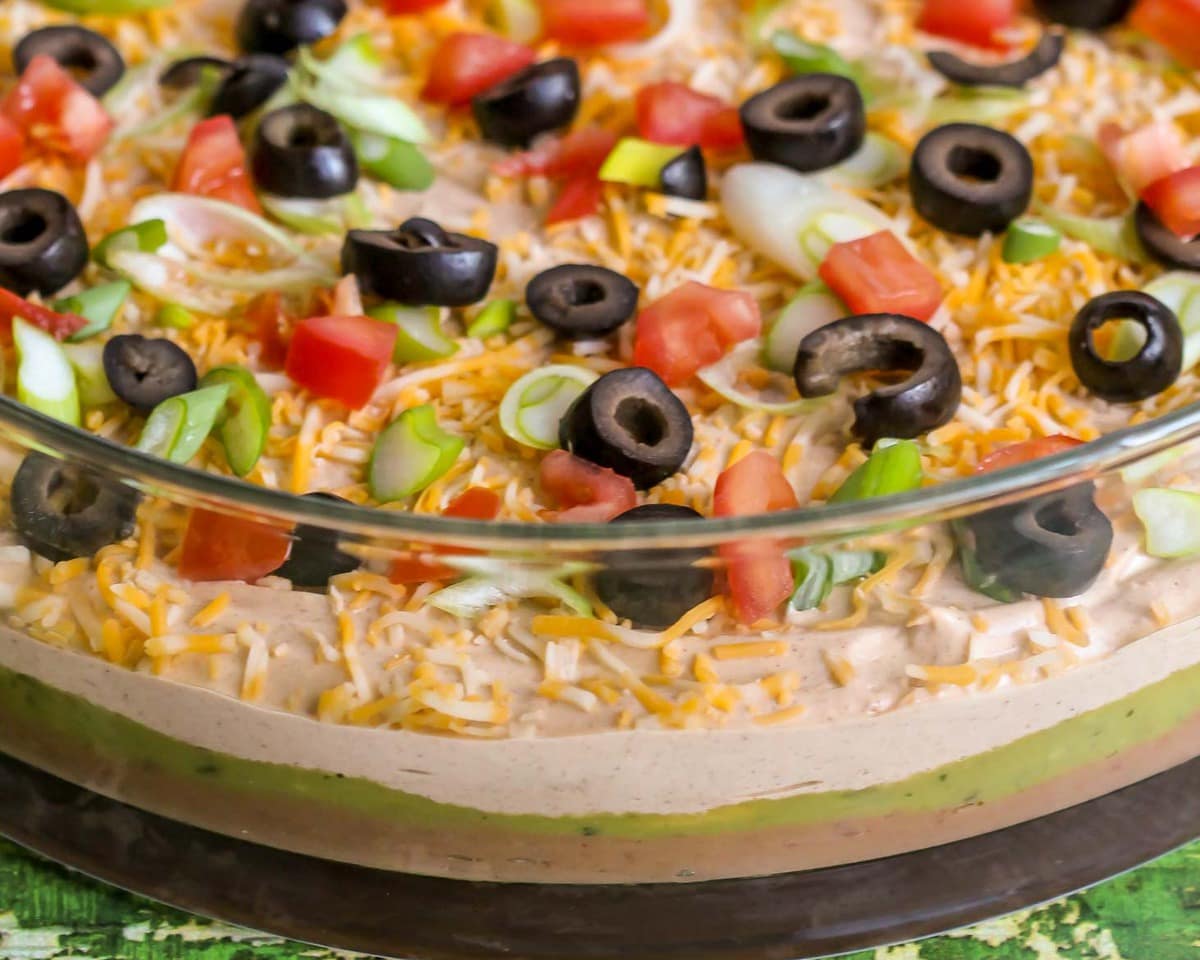 7 Layer Bean Dip – This 7 Layer Bean Dip recipe is a must-have at every function! It has loads of flavor and all your favorite dip ingredients including avocados, olives, tomatoes, cheese, guacamole and more!
Jalapeno Popper Dip – Jalapeño Popper Dip is packed with 4 kinds of cheese, just enough spicy Jalapeños to give it a kick, and a golden crispy topping. This dip is sure to be a hit at your next party!
Tamale Dip – Tamale Pie Dip – this cheesy dip is going to be a new favorite at any gathering! Filled with shredded chicken, creamed corn, cream cheese, Mexican cheese, and sour cream!
Queso Blanco – This delicious queso blanco is made in no time, and will be the perfect addition at your next get together, especially served with tortilla chips and veggies.
Taco Dip Recipe – Loaded with all of your favorite taco toppings, this creamy taco flavored dip is perfect for dipping with tortilla chips.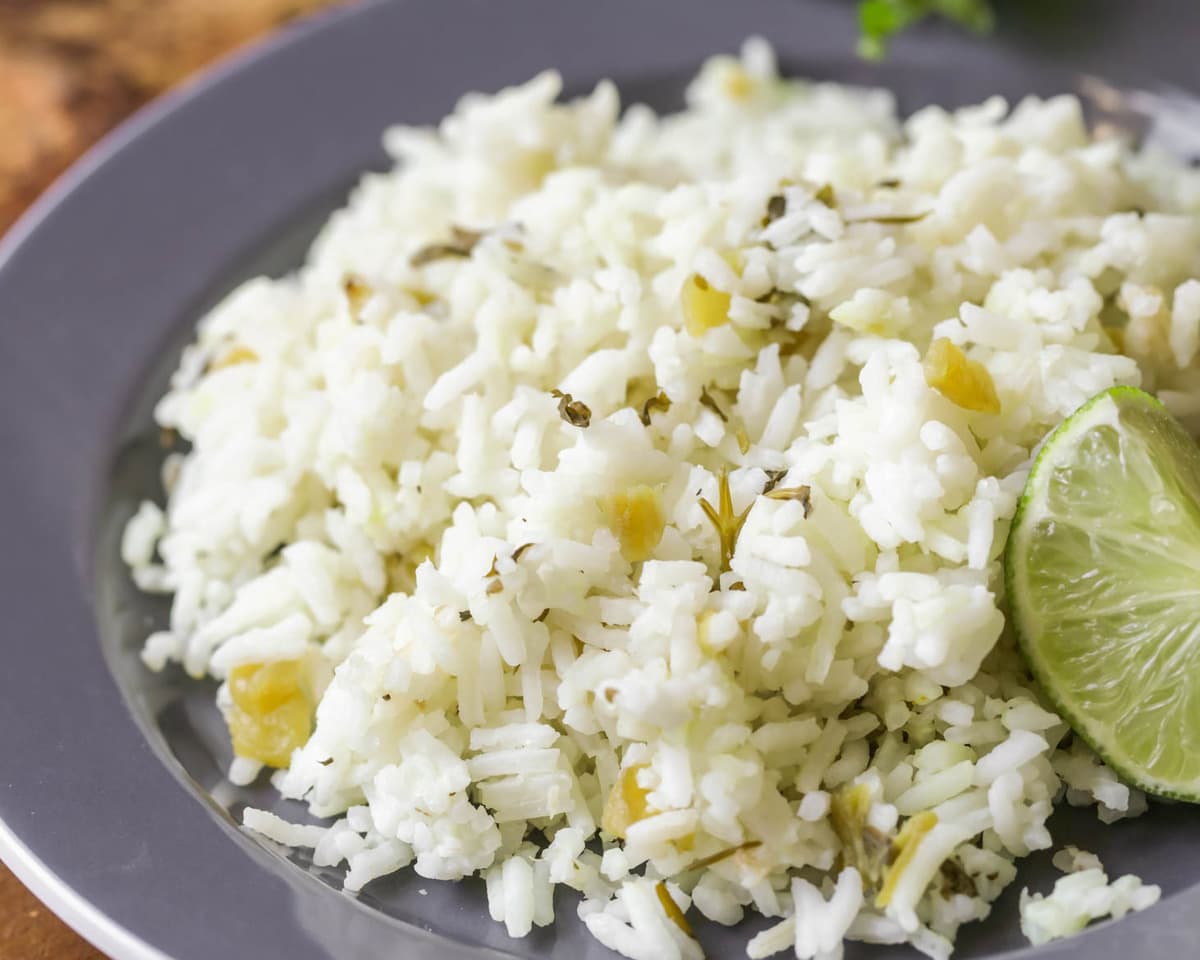 Easy Mexican Side Dishes
It's always good when the side dish is not only tasty, but easy!! These simple sides whip up in no time and are the perfect compliment to your favorite Mexican dishes.
Cilantro Lime Rice – This recipe tastes just like Cafe Rio and Chipotle Cilantro Lime Rice! If you've ever been to either of these restaurants, you know how delicious cilantro rice is inside a salad, burrito, or taco. Now you can make this delicious lime rice from home!
Homemade Flour Tortillas – Homemade Flour Tortillas made from 5 Ingredients. They're so soft, easy to make, and can be used for burritos, tacos, quesadillas, however you like!!
Loaded Nachos – Piled high Loaded Nachos are the perfect game day food and appetizer. They're easy to make and customize with your favorite nacho toppings!
Southwest Egg Rolls – These delicious Southwest Egg Rolls are fried to perfection and are filled with chicken, corn, peppers, beans, spices and more! Serve them with salsa, sour cream or guac and they are sure to be a favorite party appetizer.
Esquites – Esquites is a tasty corn salad topped with chili and cotija cheese. It's incredibly delicious and easy to whip up!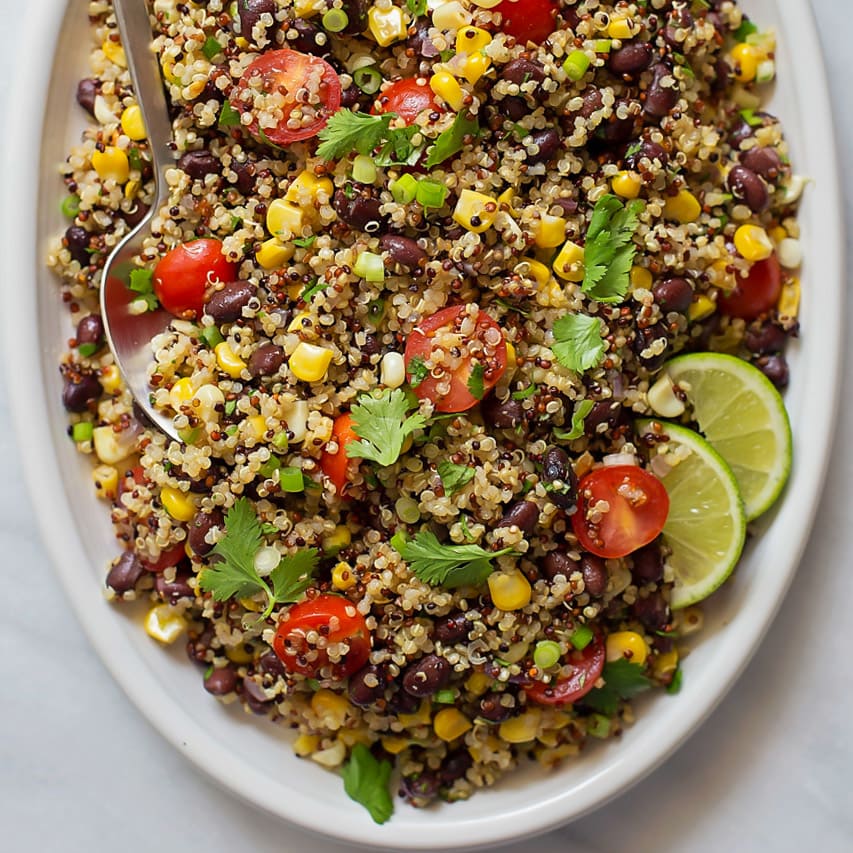 Healthy Mexican Side dishes
We love any dish full of Mexican spices. Some of our favorites are soups and salads. We have a whole post dedicated to Mexican Soups, but when we we are looking to add one of these to the menu, we have a few that we love most. Here they are:
Southwest Quinoa Salad – Southwest Quinoa Salad is bursting with freshness. It's got a ton of texture going on and a whole lot of flavor!
Mexican Soup – Filling and Flavorful Mexican soup is packed with chicken, beans, and veggies with just a little bit of heat!!
Southwest Salad – Simple and delicious Southwestern Chopped Salad filled with chicken, peppers, beans, corn, tomatoes, avocado and topped with a homemade cilantro ranch dressing.
Chicken Taco Salad – Crunchy and fresh chicken taco salad is a weeknight dinner dream! Easy, flavorful, and a recipe that everyone will enjoy.
Albondigas Soup – Albondigas soup is a delicious Mexican recipe filled with meatballs, vegetables and spices! Packed full of flavor, this simple Albondigas soup is sure to become a favorite.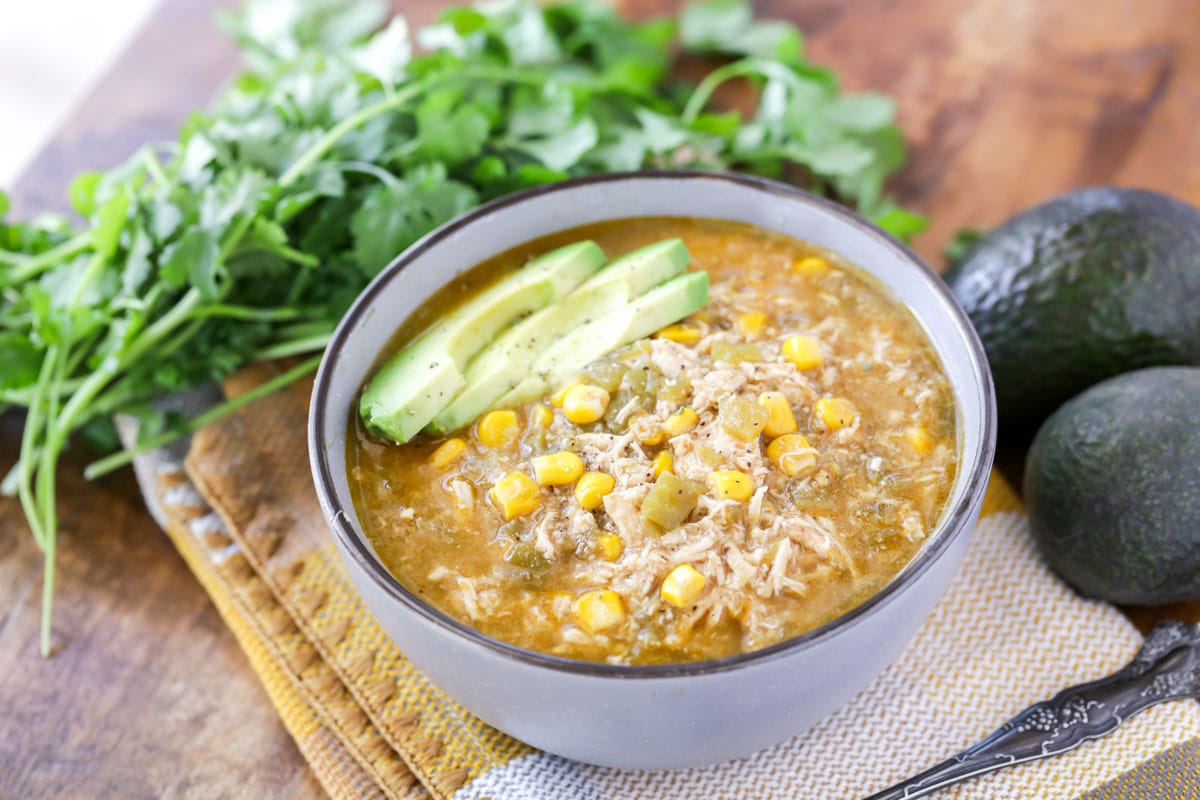 Green Chili Chicken Soup – Perfectly spiced Green Chili Chicken Soup is like an enchilada in soup form! It's hearty, delicious, and is always a crowd pleaser.
Sopa De Fideo – This quick, simple and delicious Sopa (soup) de fideo is a family favorite. It's also cheesy and flavorful! Just 5 Ingredients and you'll have dinner in no time.
Taco Pasta Salad – Delicious Taco Pasta Salad filled with beans, corn, tomatoes, avocado and more!!
Caldo De Pollo – Hearty and delicious caldo de pollo is a homey chicken soup filled with Mexican spices and flavors. It is warm, comforting, and SO yummy!!
Chicken Tortilla Soup – The BEST slow cooker chicken tortilla soup is filled with chunks of chicken, beans & corn. It is easy to make and full of flavor!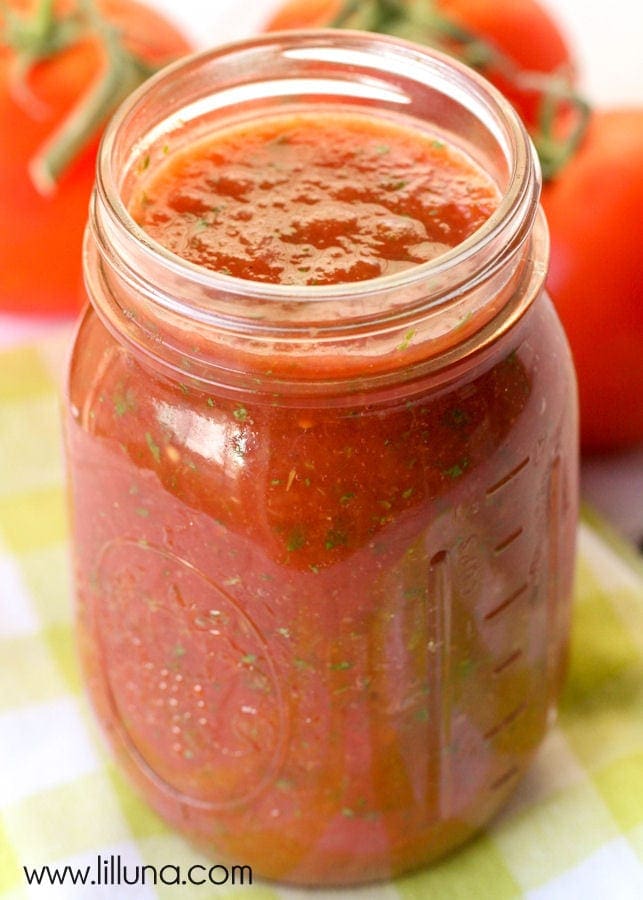 Can't forget the best part – the salsa!! These are some of our go-to's for any fiesta we have.
Homemade Salsa – This is such an EASY homemade salsa recipe! All you have to do is throw all the ingredients into your blender, and blend!
Mango Salsa – This sweet and savory Mango Salsa is perfect with chips or any Mexican meal. It's filled with sweet pineapple, cilantro, mangoes, onion, cilantro and jalapenos making it full of flavor and simple to make.
Black Bean And Corn Salsa – This Black Bean and Corn Salsa is one of our favorite dips and appetizers. It's great with any Mexican dish or served with tortilla chips!!
Tomatillo Salsa – Easy tomatillo salsa is spicy and delicious! It's great with tortilla chips or as a sauce on top of your favorite Mexican dishes!
Strawberry Salsa – You can't go a summer without eating this sweet and spicy strawberry salsa! The flavors are so unique. Grab some cinnamon and sugar chips or your favorite tortilla chips and dig in!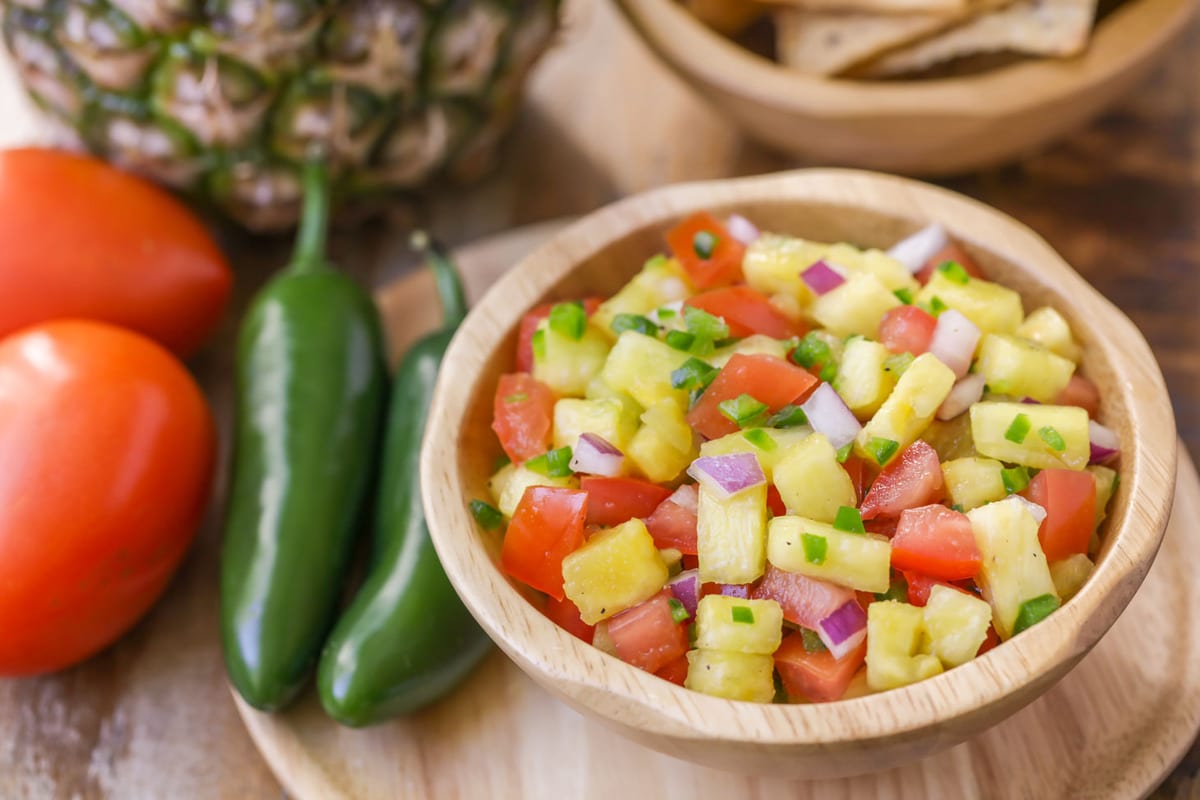 Pineapple Salsa – Sweet and spicy pineapple salsa that you won't be able to stop snacking on. Eat it with your favorite tortilla chips and share with friends and family!
Salsa Verde – Sweet Salsa Verde – a delicious salsa recipe that is sweet and takes just minutes to make. Ingredients include tomatillos, jalapenos, sugar, & cilantro.
Corn Salsa – Savory corn salsa has a little kick of spice! There are so many yummy uses for this delicious and simple salsa.
Chili's Salsa – The restaurant salsa you know and love, made at home anytime you like! This Chili's Salsa copycat recipe is literally made in minutes with the help of a blender.
Peach Salsa – Fresh peach salsa is delicious with chips, on top of fish or pork, or spooned over tacos! You'll love the flavor combinations in this recipe!
---
The complete list
Here are the picture cards for all of the fantastic Mexican Side Dishes listed above.
Side dishes are usually simple, and we think you'll find these side recipes just that – easy and delicious for your next Mexican dinner! Let us know which recipes are your favorites!
---
So many great Mexican side dishes!
More Collections: Mexican Dinner Ideas, Mexican Chicken Recipes, Mexican Desserts, Mexican Christmas Food