Delicious Mexican Street Corn – a copycat version from Torchy's Tacos filled with butter, cheese, chili powder and cilantro. This irresistible corn is the perfect side for your Mexican meals!
This delicious side pairs perfectly with mexican dishes! We like to add it to our other Mexican sides like refried beans and mexican rice.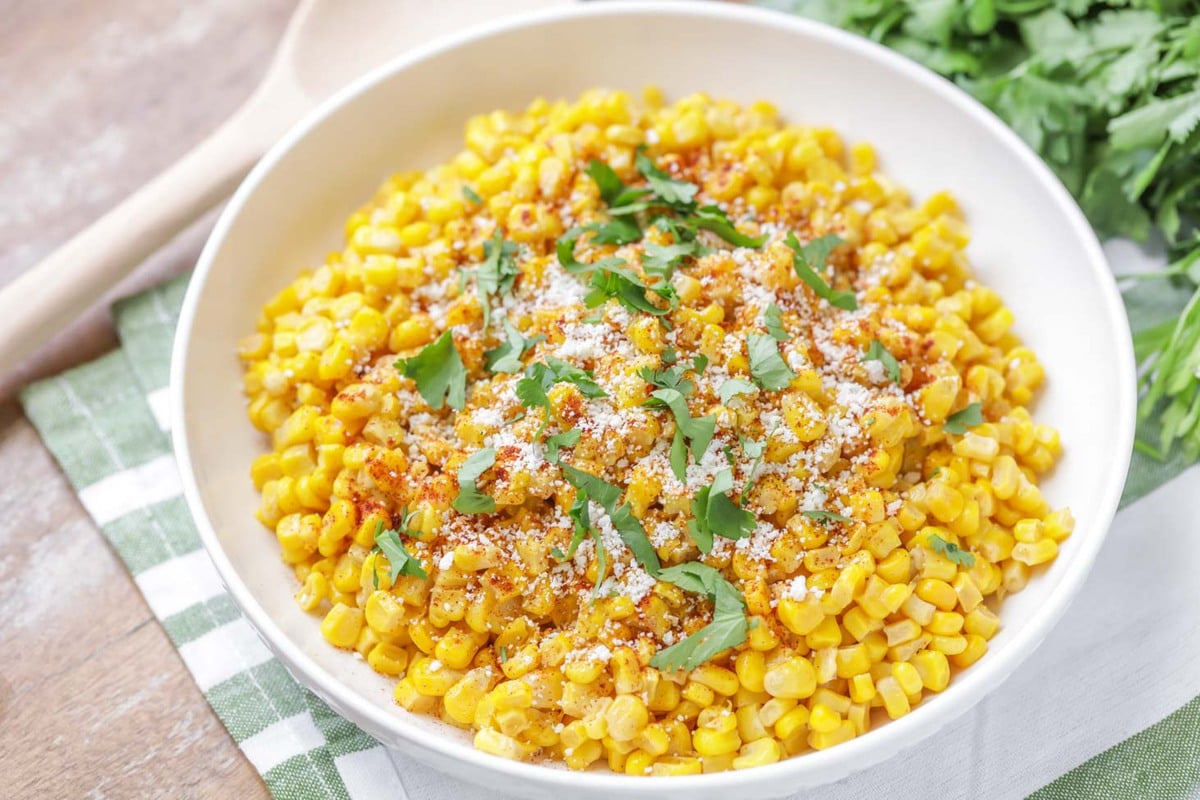 Torchy's Tacos Copycat
Have you been to Torchy's Tacos before? Unfortunately, they are only located in Texas, Colorado and Oklahoma so if you haven't been to any of these places in the last few years, chances are you haven't been there. It's a very sad thing because the place has some of the best tacos and sides I've ever tried.
Torchy's is best known for its tacos, which we absolutely love. Having said that, the two other menu favorites for us is the Mexican street corn and the queso. I still need to come up with a copycat recipe for the queso, but today I'm sharing a copycat recipe for the street corn.
Sometimes street corn is served as an entire cob on a skewer, but this recipe is for mexican corn off the cob. I personally think it's easier to prepare that way!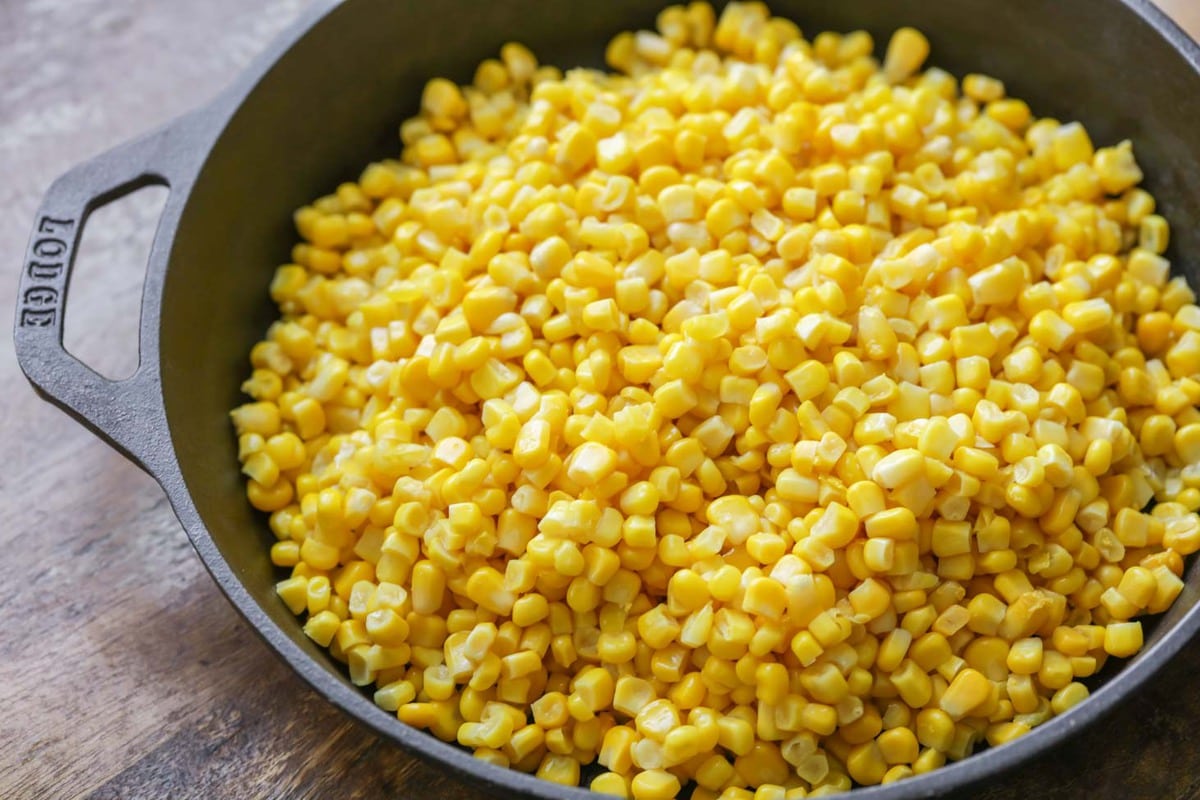 How to Make Mexican Street Corn
HEAT CORN. Heat a cast iron skillet on high heat and add the corn. Cook for 8-10 minutes, stirring occasionally.
ADD INGREDIENTS. Remove from heat and add in butter and salt. Stir until mixed. Place corn in a bowl and stir in mayo and lime juice. Add 1 teaspoon chili powder and mix well. Sprinkle with cojita cheese, chili powder and chopped cilantro. Serve immediately.
Can I use frozen corn? Yes, just let it thaw first, or cook for an extra 5 minutes or so.
Can I use fresh corn on the cob? Although it will be more time consuming, you definitely can! And you'll want to use a grill to cook it. Brush corn with vegetable oil. Grill corn on high heat, turning every 2-3 minutes, until slightly charred on all sides. Cut corn kernels off cob, and then mix with the rest of the ingredients.
Make as a side for these fav dishes: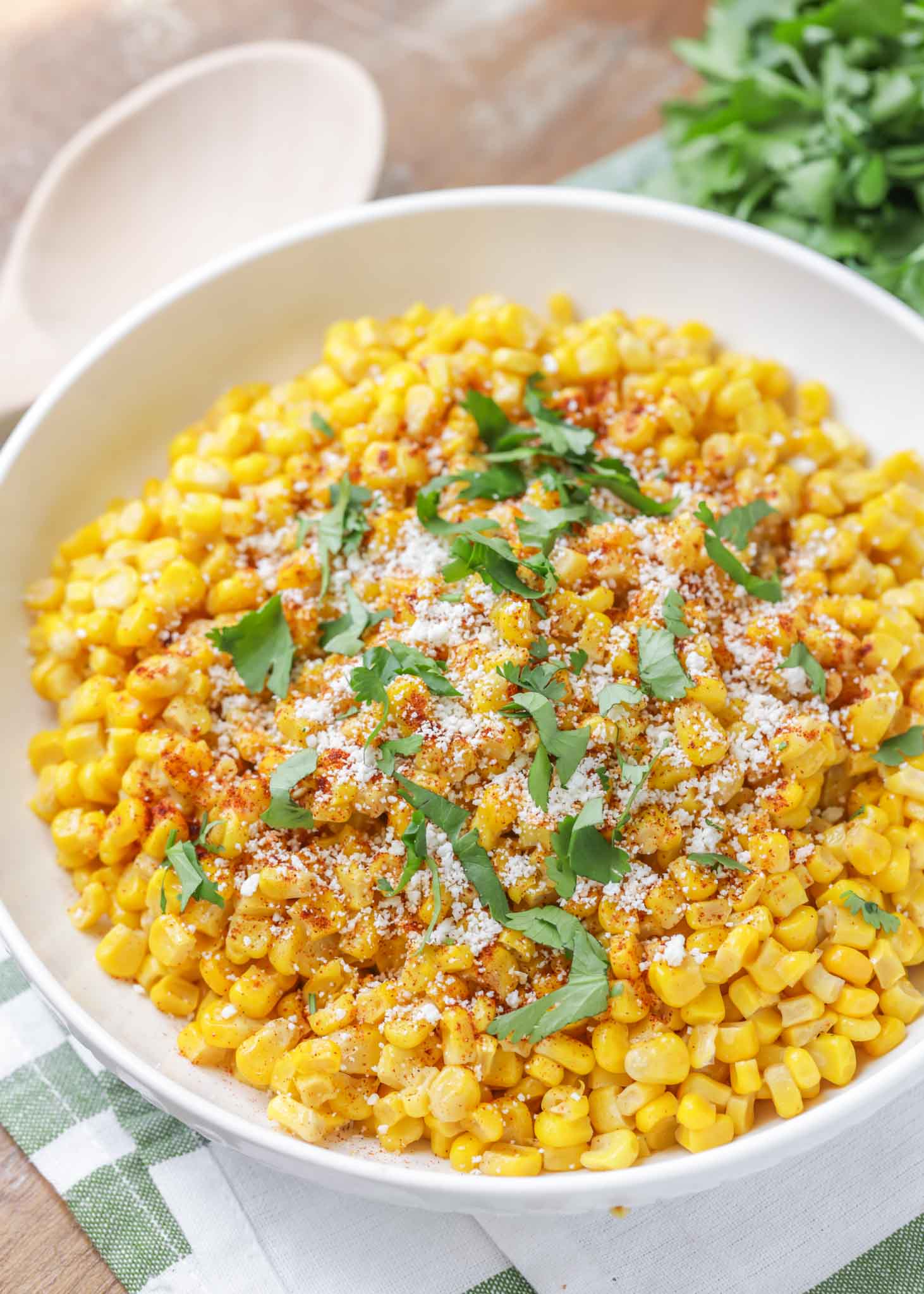 Serving + storing tips
Ingredient substitutions: You can sub feta cheese for the cotija, and parsley for the cilantro. You could try greek yogurt, avocado mayo, or olive oil in place of the regular mayo, but it will have a slightly different flavor.
Is it served warm or cold? I definitely prefer Mexican corn served warm, but you can serve it at whatever temperature you like!
Storing. Keep any leftovers in an airtight container in the fridge for up to 3 days.
For more great sides for your Mexican meal, check out:
Mexican Street Corn Recipe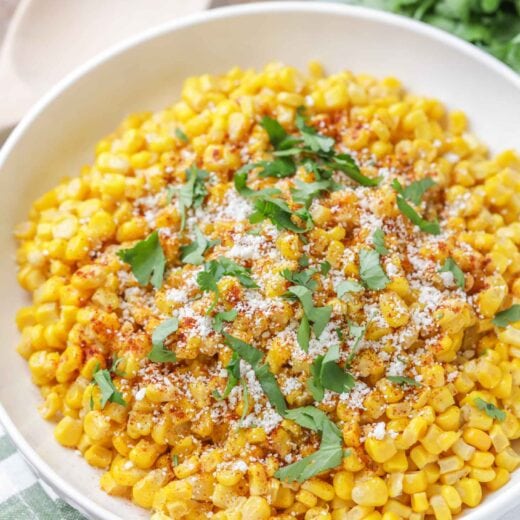 Delicious Mexican Street Corn - a copycat version from Torchy's Tacos filled with butter, cheese, chili powder and cilantro.
Ingredients
45.75

oz

corn

drained (3 15.25 cans)

2

tbsp

butter

kosher salt

3

tbsp

mayonnaise

1-2

tbsp

lime juice

2

tsp

chili powder

divided

cojita cheese

cilantro

roughly chopped
Instructions
Heat a cast iron skillet on high heat and add the corn. Cook for 8-10 minutes, stirring occasionally.

Remove from heat and add in butter and salt. Stir until mixed.

Place corn in a bowl and stir in mayo and lime juice. Add 1 teaspoon chili powder and mix well.

Sprinkle with cojita cheese, chili powder and chopped cilantro. Serve immediately and enjoy