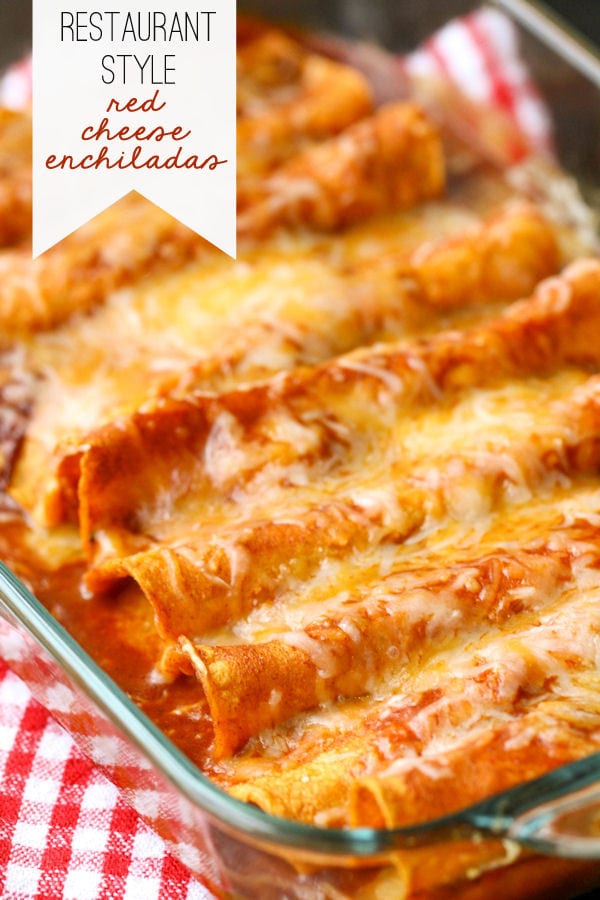 My mom is full Mexican and has spoiled us with her delicious Mexican food my entire life. 🙂 I know I've posted a few of our favorite family Mexican dishes on here before, but one I have yet to share with you is our Red Cheese Enchiladas Recipe. This is a recipe my mom has had for years (my great-grandma Bean Burro used it!) and it's the one we use whenever we have Cheese Enchiladas.
What's great about this sauce is that it can be froze, which is great!! I actually just used my frozen sauce last week and you could never tell it hadn't been made fresh. Oh, AND these are great reheated the next day. I feel like there are few foods that taste just as good the next day, but this one is just as yummy! If you like Restaurant Style Red Enchiladas, you must try out this recipe because it is so good and is perfect for your next Mexican food night. Here is the recipe for the Red Sauce: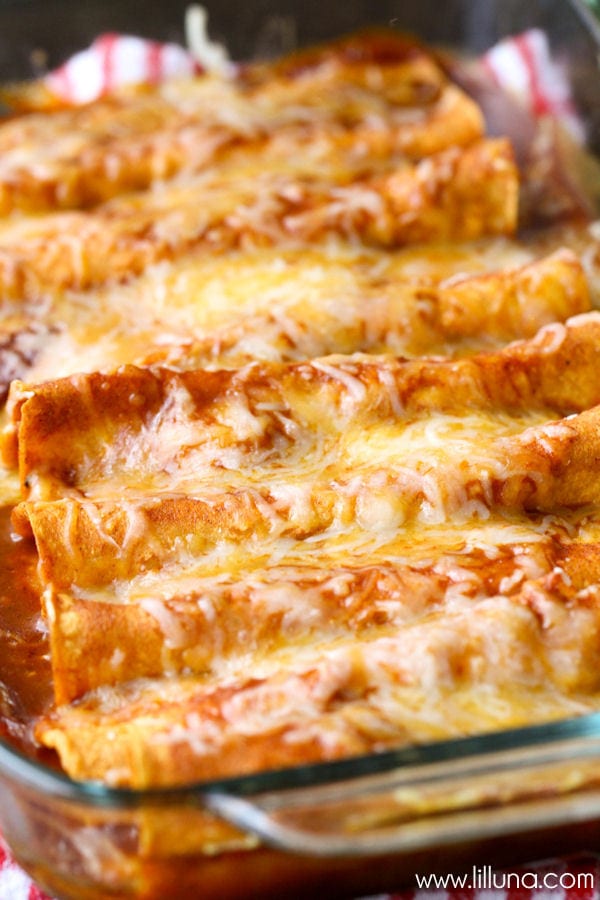 Eek! These are my favorite!! I actually love all sorts of enchiladas but this sauce just brings back so many memories of eating them as a child. My great-grandma Bean Burro (that's what we called her but her last name was really Gutierrez) made them and my mom learned from her and my grandma Luna. 😉
Best of all, it really is an easy recipe and tastes like it came straight from the restaurant! Oh, so so yummy!
For more enchilada recipes, check out:
For video instructions, check out:
How to make Red Cheese Enchiladas: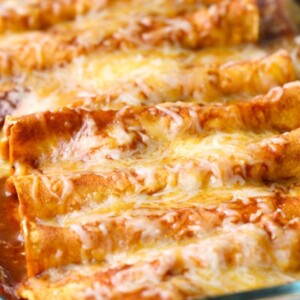 Red Cheese Enchiladas
Restaurant-Style Red Cheese Enchiladas - Corn tortillas filled with cheese, tomato sauce, chile puree, salt & garlic pepper and topped with more cheese!
Ingredients
2

tbsp

oil

4

tbsp

flour

3

tbsp

Gebhardt Chili Powder

1/2

tsp

garlic powder

1/4

tsp

oregano

1/2

tsp

salt

2

cups

chicken broth

Corn Tortillas

Mexican Cheese

1/2

tsp

cumin
Instructions
Add oil to pot and heat on Medium. Pour in flour and whisk together and cook for 1-2 minutes.

Add chili powder, garlic powder, cumin and oregano and mix until clumpy. Pour in chicken broth, whisking the entire time and until there are no more clumps. Heat for 15 minutes or until thickened.

After you have made your sauce, you will want to dip your corn tortillas in the sauce until they are soft and immediately put it into a greased 11x7 pan.

From there you will add cheese (I use the Mexican Blended Cheese), roll it up and push it to the end of the pan.

Continue doing this with your tortillas until your pan is full. From there you will pour the excess sauce over your tortillas. Sprinkle the top with more cheese. (You can also prepare this in advance and refrigerate until ready to cook).

Bake at 350 for 20-25 minutes.
Adapted from Gimme Some Oven.