Sweet Pork Barbacoa is the best slow cooker pulled pork recipe you will ever try. Better than Cafe Rio—you better make a double batch!
I love a good pulled pork smothered in BBQ sauce and sandwiched between a hamburger bun… But this Mexican style sweet pork barbacoa is (dare I say) even BETTER served in tacos, enchiladas, salads, or quesadillas!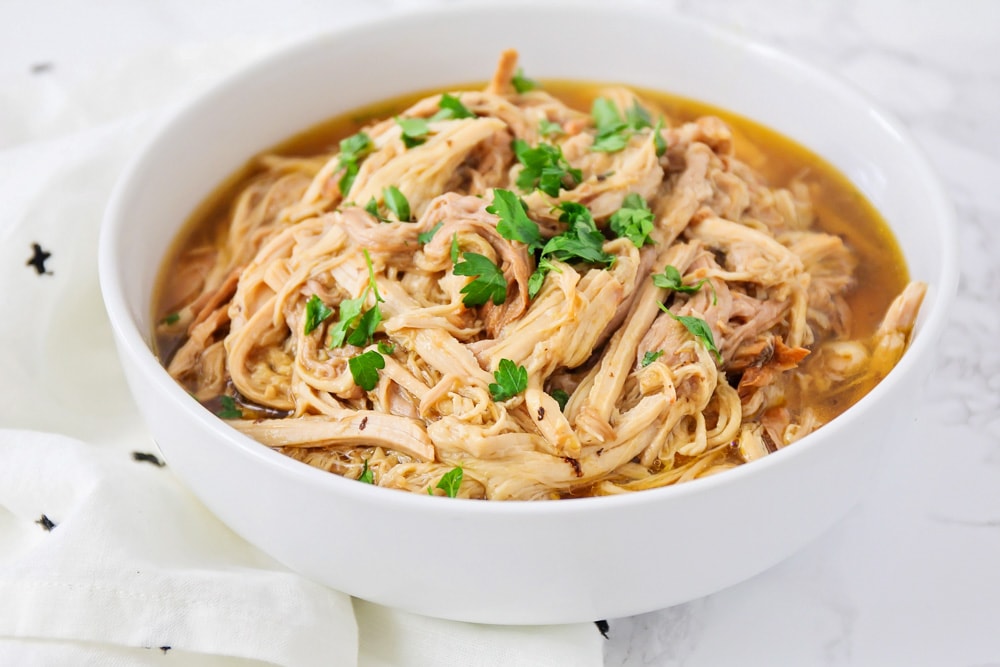 This Sweet Pork is to die for!
Hi everyone!!! It's Gina from Kleinworth & Co. & I'm back today to share my all-time favorite dinner ideas. You see, pulled pork is the one thing I absolutely can't get enough of. All by itself, in some bbq sauce, or in a burrito—I could eat it all day everyday for the rest of my days on earth.
Then when we moved here to North Idaho and we found Cafe Rio,  it was there that I tried Sweet Pork Barbacoa for the first time and I swear my eyes rolled to the back of my head. I was in sheer heaven and I knew that I would have to figure out how to make my own.
After a few attempts I finally have this one perfected & I'm here today to share that perfect recipe with you all.
I make this as often as the rest of the family can stand it… And then probably more often than they would like. They do LOVE it. However, no one in this house loves it as much as I do. In fact, it's pretty hard for me to even share with them.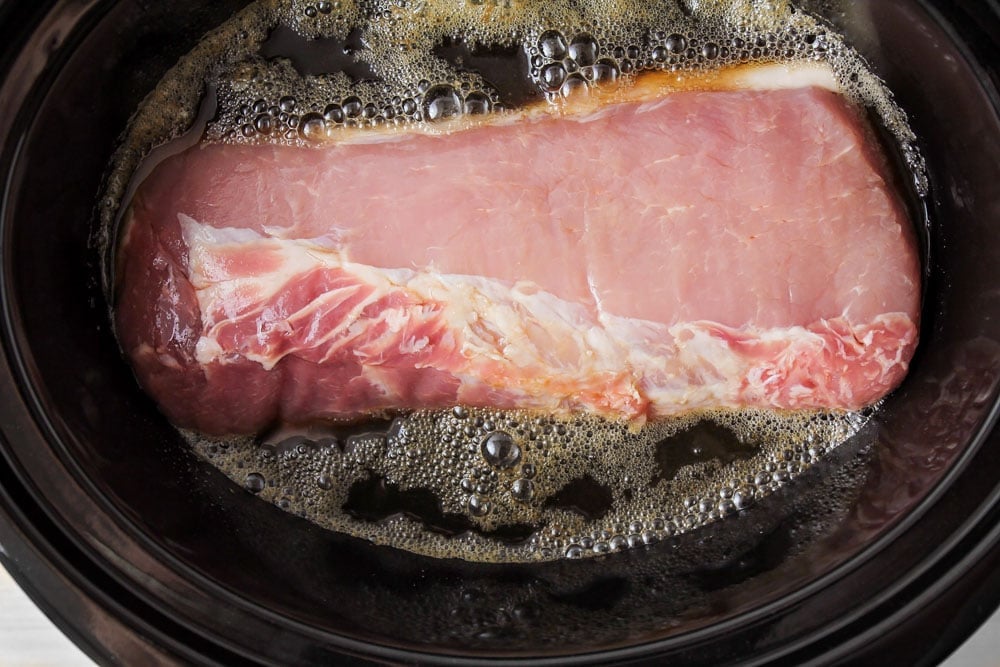 Let the slow cooker do all the work
What's so nice about this recipe is that you hardly have to do anything! You just toss all the ingredients into the slow cooker, let it do it's thing, and then shred the meat.
MEAT: We used a pork sirloin. I do have to say that because it is lean you'll need to keep an eye on it so that it doesn't dry out. If you don't mind the extra fat, Pork shoulder, Boston butt and picnic roast work well and are flavorful and tender. Just remove any extra juices before adding the remaining ingredients.  
SODA: You can use either Dr. Pepper or Coke (not diet) for your sweet pork. They are the two most common sodas used for this recipe. You can also try Root beer as well.
Tip: Sometimes I have two cookers going at a time if I want extra pork leftover, or if I'm feeding a crowd. There is so much you can do with sweet pork that it makes it super easy to make everyone happy. In general, 1 lb of pork will feed about 3 people. So for a big crowd of around 50 people you will want 15-18 lbs of pork.
Two Great Meals
I love putting this in some soft tacos the day I cook it. Makes for quick & easy dinner & clean up. Then the next night, we use any leftovers in enchiladas. Oh man- 2 nights of this pork puts me in a good mood. I love it just as much as I would to have a giant chocolate cake for dinner. 😉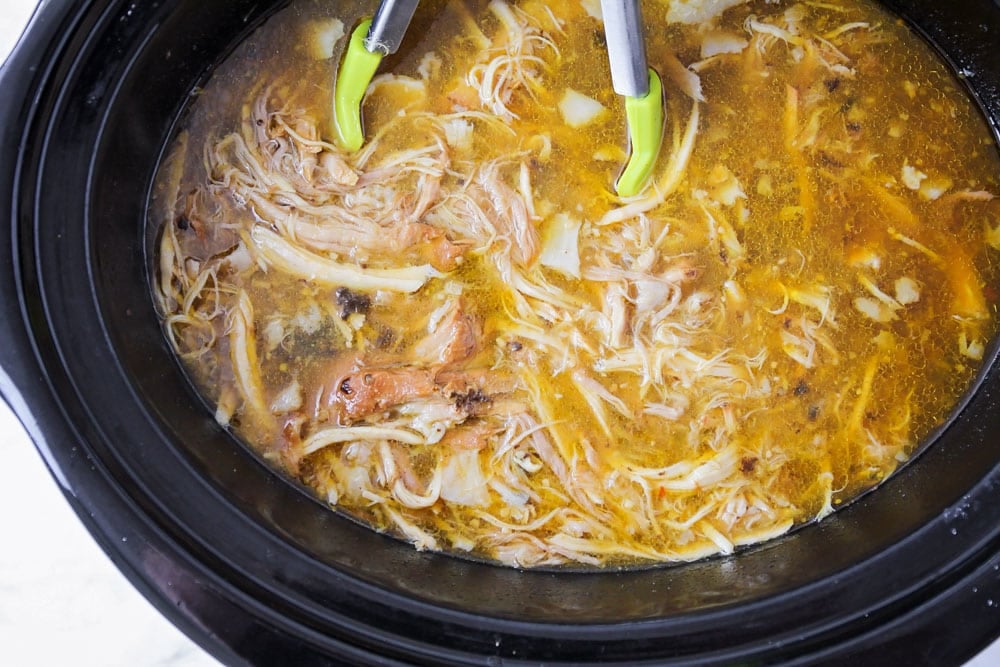 Using leftovers
Refrigerate: It is best to not let your cooked sweet pork sit out on the counter for longer than 2 hours or it can go bad. Store leftovers in an airtight container or ziplock bag in the fridge for up to 4 days. It is easiest to reheat it in the microwave.
Freeze: It also freezes really well, just place it in an airtight freezer safe container (freezer bags also work great) and freeze for 2-3 months. When you are ready to eat it let it thaw in the fridge overnight and reheat it in the microwave or in the oven.
Other recipes: We like eating it over rice, in tacos, burritos, enchiladas, and wraps. You could even us it on top of nachos or a salad. 
Some favorite topping ideas: 
Shredded lettuce

Cheese: Monterey Jack or Cheddar

Diced tomatoes

Diced avocados

Sour cream or Greek yogurt

Salsa, hot sauce

Cilantro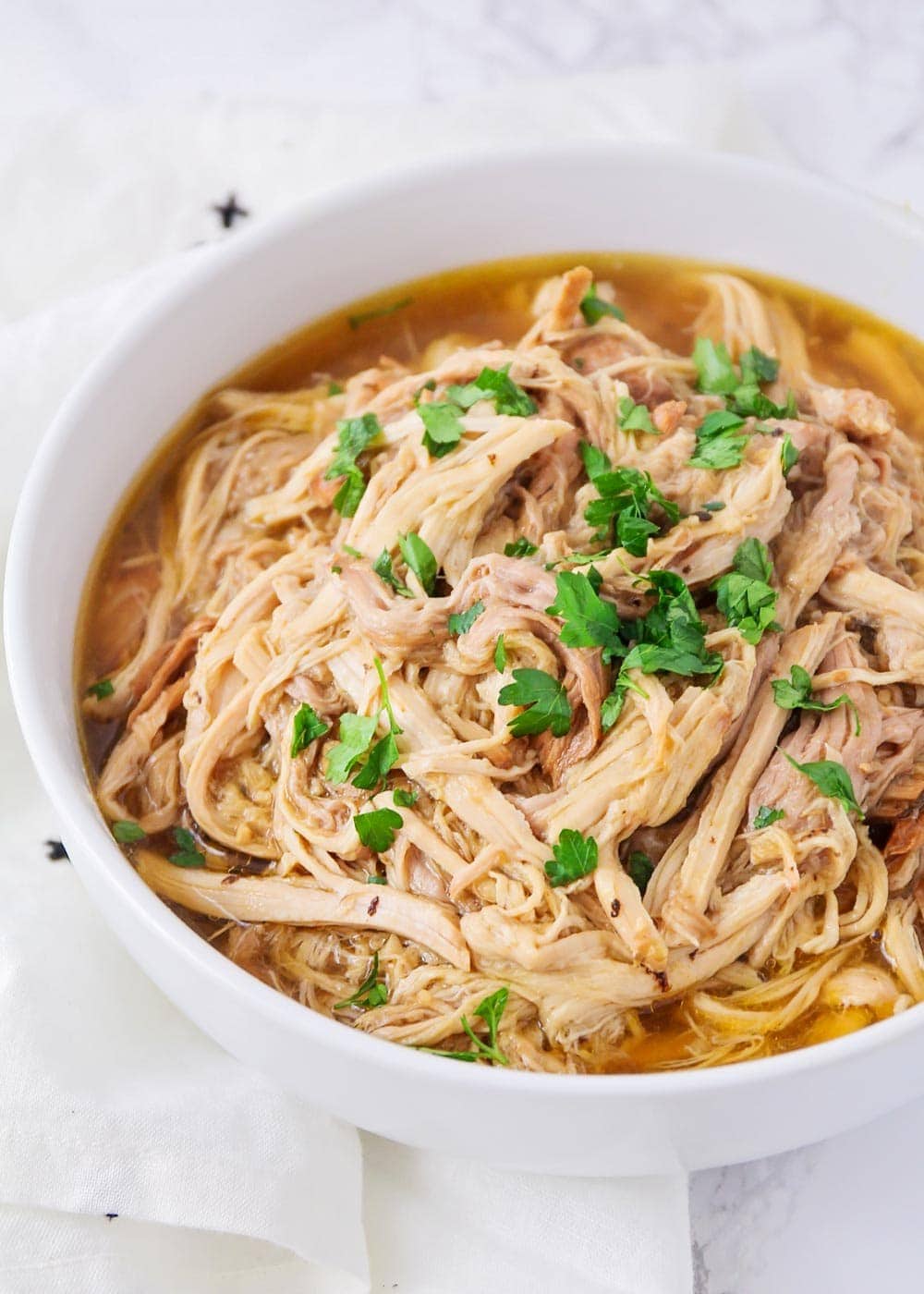 more cafe rio copycat recipes:
For more pork recipes, try:
Sweet Pork Barbacoa Recipe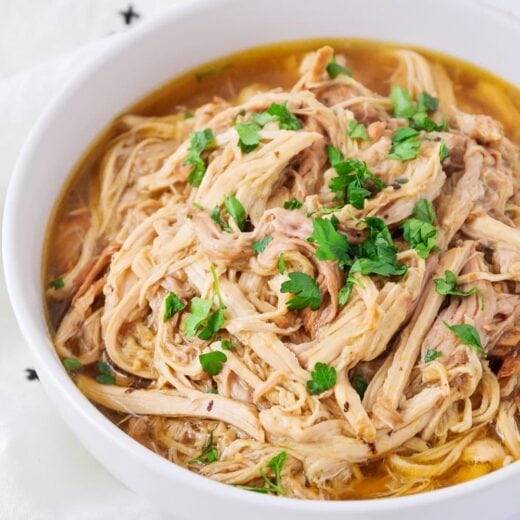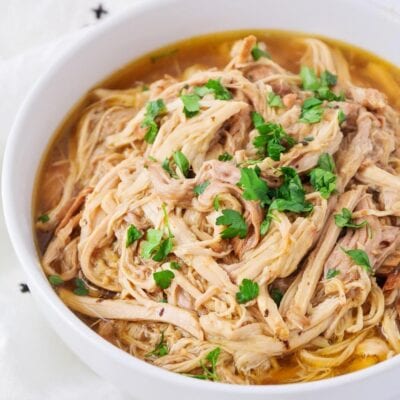 Sweet Pork Barbacoa is the best slow cooker pulled pork recipe you will ever try. Better than Cafe Rio—you better make a double batch!
Ingredients
3

pounds

pork sirloin roast

1

(16-ounce) bottle

Dr. Pepper

1

(28-ounce) can

green enchilada sauce

¾

cup

sugar

¾

cup

packed brown sugar

2

tablespoons

minced garlic

2

tablespoons

granulated garlic

1

teaspoon

ground cumin

¾

teaspoon

dry mustard

½

teaspoon

chili powder
Instructions
Spray slow cooker with nonstick cooking spray.

Add pork and soda to the slow cooker. Cover and cook on high for 4 hours.

After 4 hours, combine all remaining ingredients in a large bowl and whisk to mix well.

Add this mixture to your slow cooker and cook for 2–3 hours more, until pork is falling apart as you try to remove it from the slow cooker.

Shred pork pieces with a fork, removing fat as you go, and place back in the sauce. Serve warm.
Notes
Serving Suggestions: Serve this pork in tacos, burritos, enchiladas and wraps. Or make a salad bowl using Cilantro-Lime Rice , Creamy Refried Beans, chopped
lettuce, tomatoes, sour cream, Guacamole, Salsa  and Cilantro Ranch
Dressing.