Tender pulled pork makes up these delicious carnitas tacos! These tacos are super flavorful and really easy to make for dinner with the help of a crock pot.
Our Chicken Tacos are one of our most classic go-to's for a Mexican meal, but recently we've been loving Ground Beef Tacos and these Carnitas Tacos!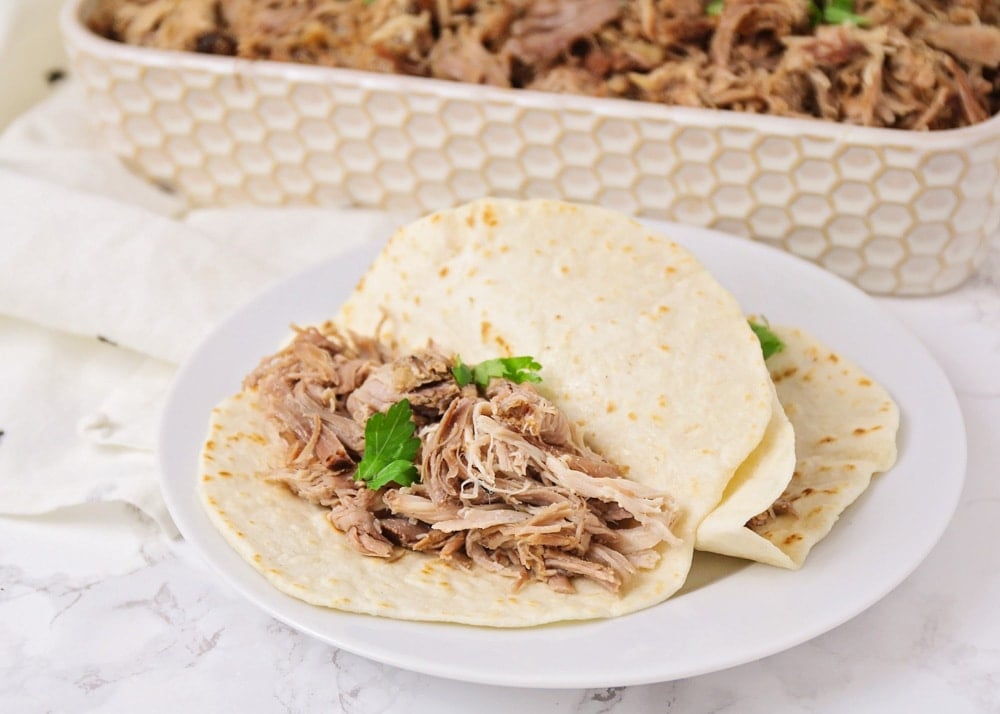 Easy Pork Carnitas Tacos
Looking for a simple meal to make for dinner? These easy pork carnitas are your answer!
The pork is cooked in the crockpot until it's super tender and falling apart. It's flavored with orange and lime juice and spices. Pull apart the pork and add it to tortillas for the yummiest tacos EVER! Perfect for a big group of people or just your small family.
Carnitas are a tender pieces of pork cooked until they almost melt in your mouth. They're often cooked in lard and seasoned with citrus and spices. We skipped the lard and opted to slow cook them until they're tender. You can find the recipe HERE that you can use to make these tasty tacos.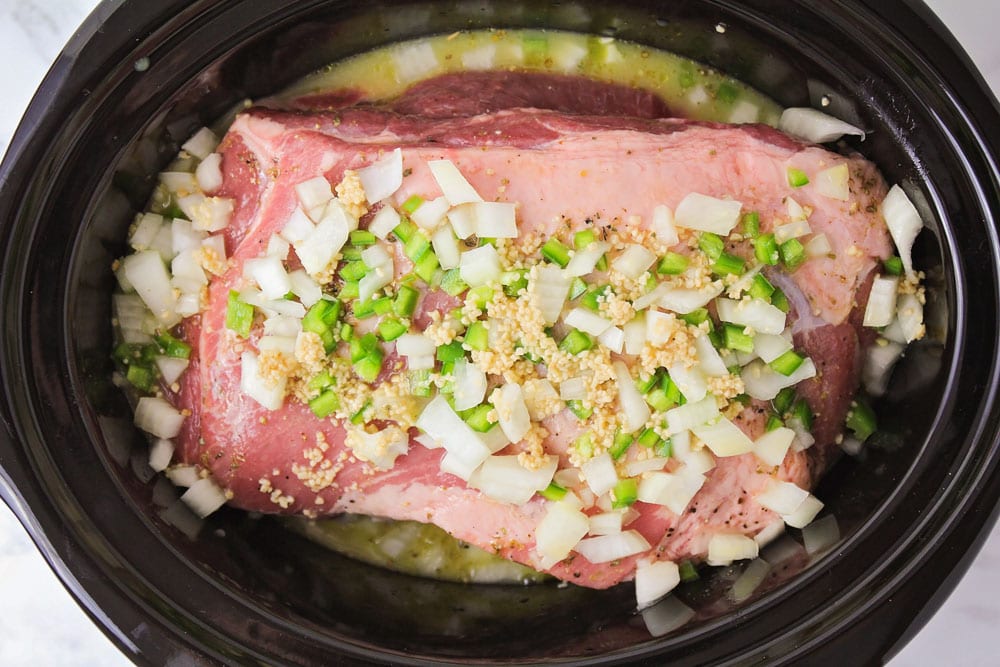 How to Make Carnitas Tacos
Combine the rub ingredients (oregano, cumin, olive oil) in a small bowl and set it aside. Pat dry the pork butt and rub garlic salt and pepper all over it. Put rub ingredients on pork butt and place it in the slow cooker with the fat side up. Add the minced garlic, onion and jalapeño. Top it with lime and orange juices.
Cover the slow cooker and cook on HIGH for 6 hours or LOW for 9-10 hours. Let the pork cool for 20 minutes before shredding. Make sure to discard any big chunks of fat. Add the pork to warmed tortillas and add any toppings desired.
Taco Toppings Ideas
I personally feel less is more because I don't want to mask the delicious seasoned pork, but you can add as little or as much toppings as you desire. Some topping ideas include: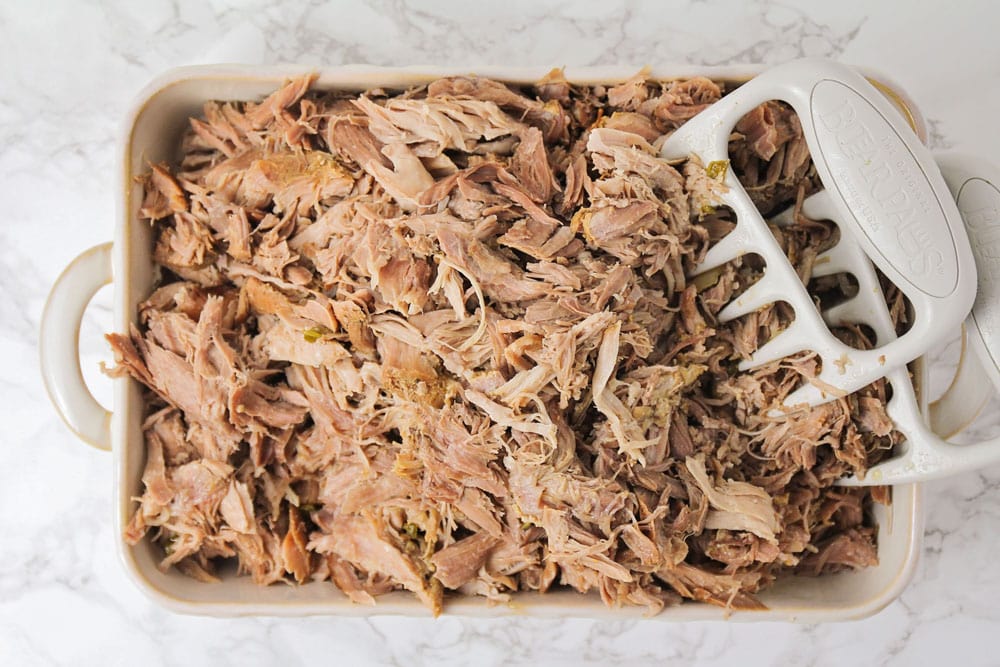 Recipe + Hosting Tips
How to keep tortillas warm: We like to serve out carnita tacos with flour tortillas, but you can also use corn tortillas as well. There are several ways you can keep tortillas warm. This is especially helpful when using corn tortillas as they tend to tear unless warm. 
Tortilla warmer: warm the tortillas in the microwave then place them in a tortilla warmer

Crockpot: Get a kitchen towel damp with warm water. Wrap the tortillas in the towel and place it in the warm crock pot. 

Heating pad: Wrap a heating pad with a towel. Arrange the tortillas evenly over a serving platter. Place the platter on top of the heating pad. The heat will seep through the towel and keep the platter warm. 
If you don't want to use tortillas you can serve the carnitas tacos over tortilla chips or even in a lettuce wraps. 
Making ahead of time: I have good news! You can make the meat ahead of time. AND you can also easily store leftovers in the fridge or freezer. Be sure to include any drippings in the storage container to keep the meat moist and flavorful.
Fridge:  Store carnitas in an airtight container in the fridge for about 4 days.

Freezer: Store it in a freezer safe container for 2-3 months.

Reheat in a crockpot or in a covered pan in the oven. To crisp them up just put them under the broiler for 1-2 minutes. Be careful not to burn them.
What to serve with Carnitas Tacos? Complete the meal by also making these easy recipes…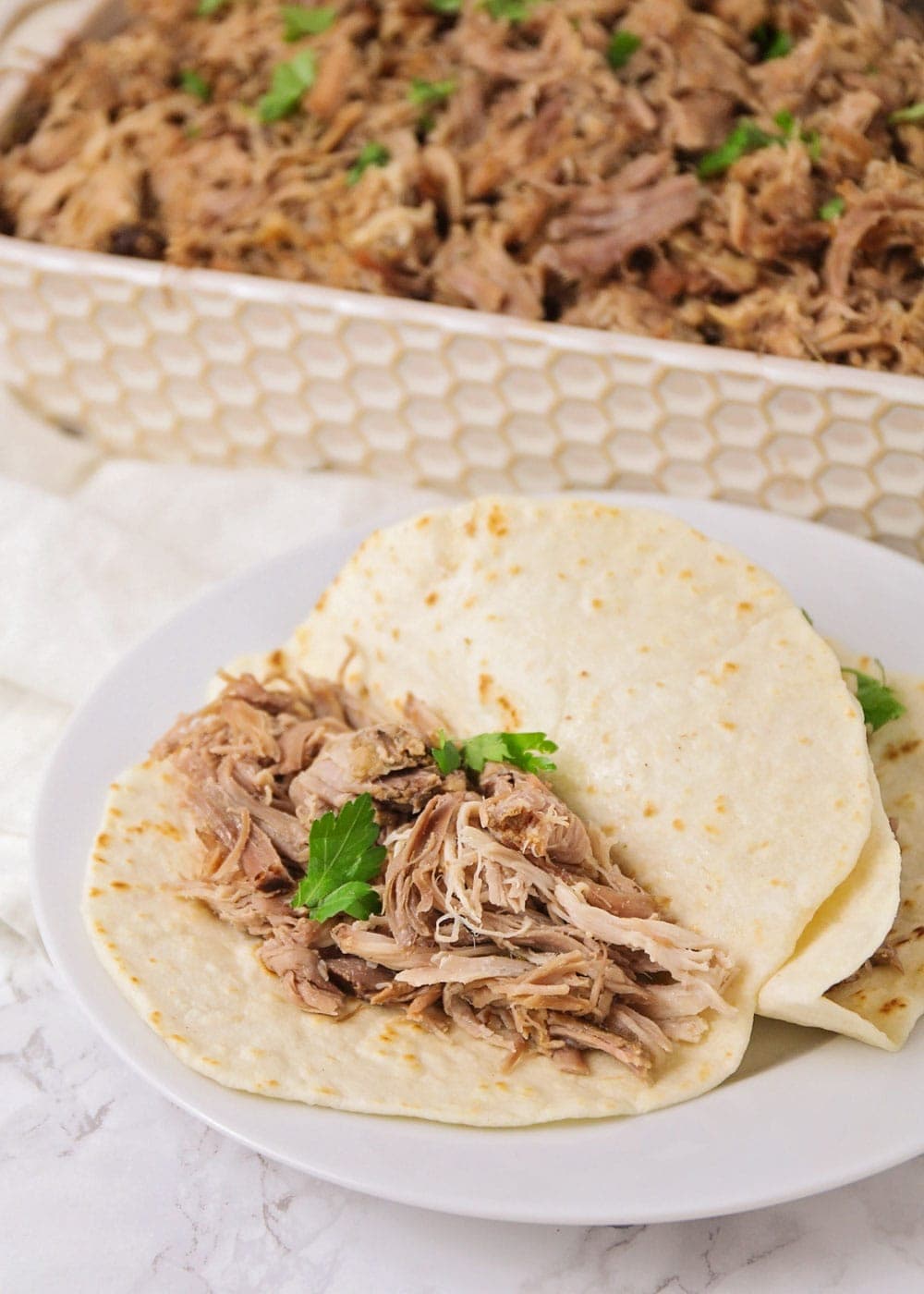 For more Mexican recipes, try:
Carnitas Tacos Recipe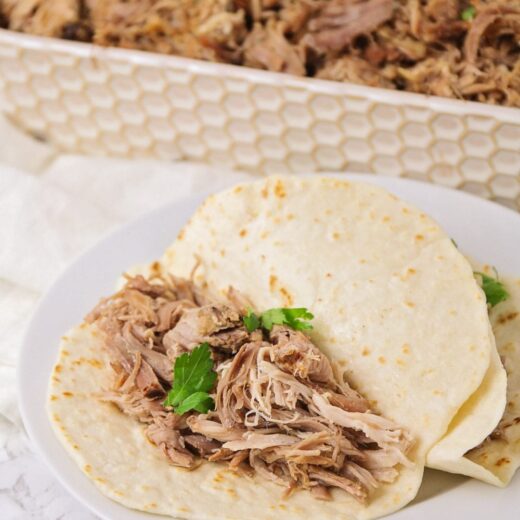 Tender pulled pork makes up these delicious carnitas tacos! These tacos are super flavorful and really easy to make for dinner with the help of a crock pot.
Ingredients
4

lb

pork butt

boneless, skinless

2

tsp

garlic salt (with parsley flakes)

1

tsp

pepper

4

tsp

minced garlic

1

onion

chopped

1

jalapeno

deseeded, chopped

1/2

cup

orange juice

1/4

cup

lime juice

Tortillas

corn or flour

toppings
Rub Ingredients
1

tbsp

oregano

1

tbsp

cumin

1

tbsp

olive oil
Instructions
Combine rub ingredients in a small bowl and sit aside.

Dry pork butt and rub garlic salt and pepper all over it. Put rub ingredients on pork butt and place in slow cooker, with the fat side up.

Add minced garlic, onion and jalapeno and top with lime and orange juices.

Cook on HIGH for 6 hours or LOW for 9-10 hours.

Let cool for 20 minutes before shredding making sure to discard any big chunks of fat.

Add to warmed tortillas and add any toppings desired (pico, salsa, lettuce, tomatoes, sour cream, etc.)