This quick and Easy Coleslaw makes the perfect side dish for any picnic or BBQ. It takes just minutes to put this classic coleslaw recipe together, and it can easily be customized with the spices and flavors you love most.
It's a classic side dish during the summer and for BBQs. This simple version takes just minutes to make and is a great side along with baked beans and potato salad.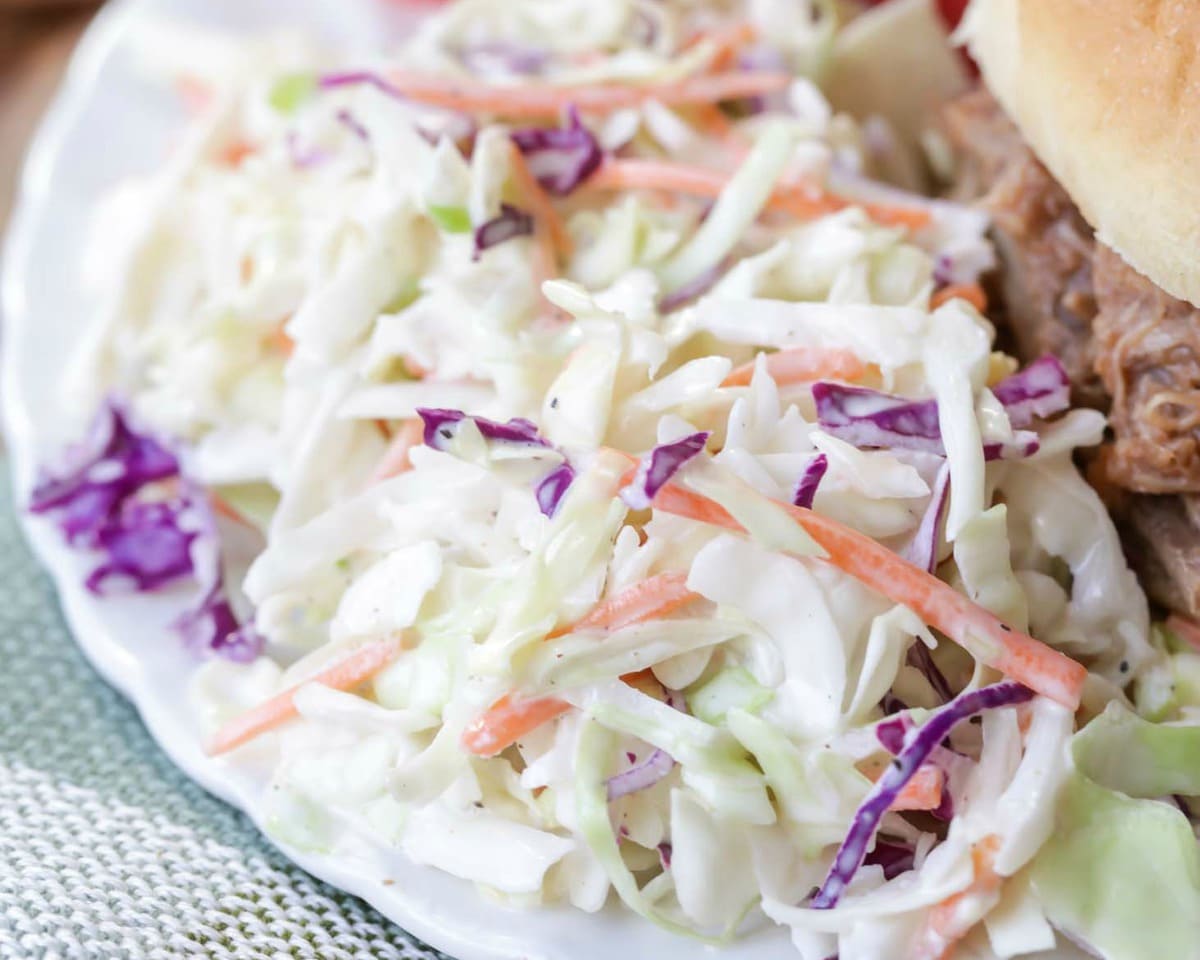 go-to BBQ SIDE
Who here loves Coleslaw? I feel like it's one of those side dishes that you either love or hate.
Fortunately, it's one recipe I absolutely love. The first time I had it was at KFC years ago, and although I was hesitant to try it at first, I realized just how great it was.
I know there are so many different versions of coleslaw, but today I'm sharing the best version that is very simple, quick, and the standard side you'll find at most picnics and BBQs.
As mentioned, this recipe is the classic version that everyone knows and loves. But what's great is you can easily customize it based on the seasonings and flavors you love most.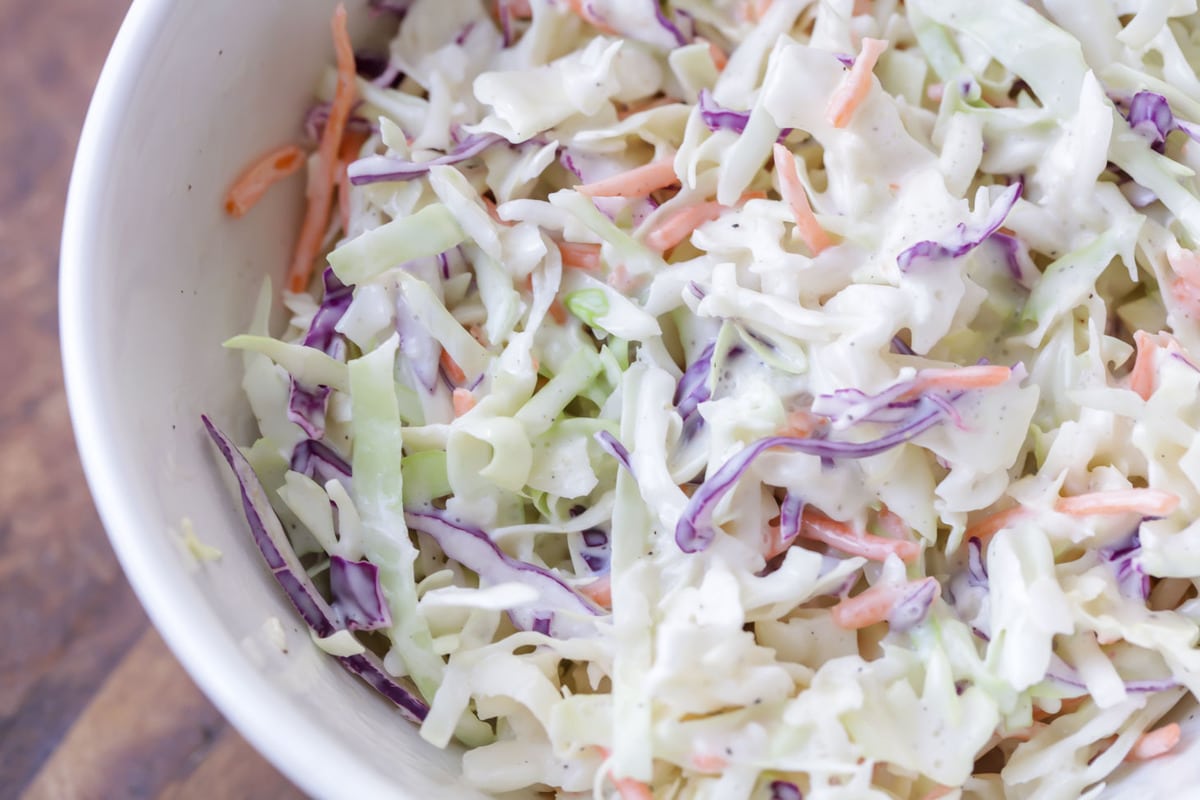 EASY + delicious Dressing
It's always great to have dressing ingredients on hand, and this is one of those recipes that falls under that category. The main ingredients are as follows:
mayonnaise
sugar
vinegar
salt and pepper
Like I said – these are typical ingredients that most tend to have on hand. And the dressing is easy to customize based on the flavors you want to get.
With this standard coleslaw dressing, I'm so excited to kick it up a notch and try different varieties in the coming months as we tend to have loads of BBQs and get togethers.
Should I use Mayonnaise or Miracle Whip to make coleslaw? The answer to this question is entirely up to your individual taste preference. Some people even prefer using buttermilk (gives a more tart flavor) or sour cream (gives a little more tangy flavor) to make their dressing.
Coleslaw flavor variations:
As I mentioned before, you can easily customize the flavors and seasonings used in coleslaw. Here are some variations:
Asian Coleslaw – add Ramen Noodles, Almonds, Soy Sauce
Buffalo Coleslaw – add some 1 TB ranch and a few Tablespoons of buffalo sauce
Barbecue Chicken Coleslaw – add ⅓ cup barbecue sauce and 1 cup shredded chicken
Broccoli Slaw – broccoli slaw and ramen noodles and peanuts!
Ranch – Add 1 cup broccoli, ¼ cup sunflower seeds, and ¼ cup Ranch
The possibilities are endless!
How to Make
Once you combine all the dressing ingredients together, you whisk it until it's smooth and you're just about done. From there you can add any additional ingredients you want to try and then add your coleslaw mix and you're done.
Chill until you're ready to serve, and you have a delicious coleslaw recipe that everyone loves that took under 10 minutes to make. 😉
How do you make creamy coleslaw? If you find that you're dressing isn't quite creamy enough try adding a little more of your base ingredient in our recipe that would be Mayonnaise.
You can also try adding a little sour cream to increase the creaminess as well as give a little zip to the flavor of your slaw.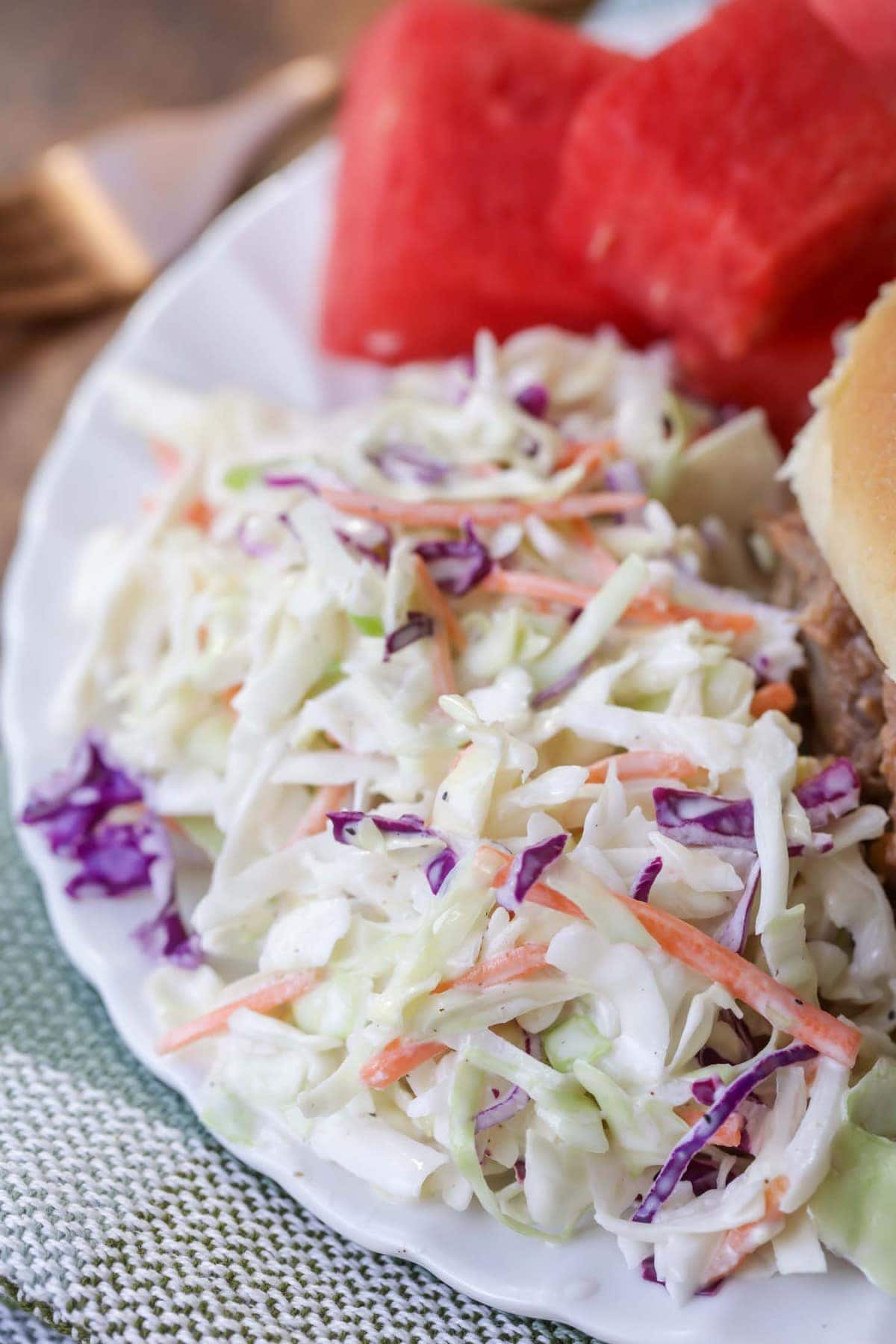 TIps & tricks
How do I keep my coleslaw from becoming too watery? Even the creamiest dressing can be ruined when the slaw becomes too watery.
The best way to keep your coleslaw from becoming watery is to salt the cabbage before mixing it with the dressing. The salt will draw the excess water out of the cabbage which would normally leak out leaving your dish runny. To salt your cabbage:
 Cut cabbage and place in a salad spinner or a colander.

Sprinkle 1 tsp salt per pound of cabbage.
Let sit for 30-40 minutes.
Spin the salad to remove excess water or press out as much liquid (don't squeeze or wring) then pat dry with a paper towel.
Mix the salad with the the dressing. *Note: if you pre-salted your cabbage do not add more salt if the recipe calls for it.
What is the best way to store coleslaw? Coleslaw can be made ahead up to 2 days ahead of time and stored in a covered dish in the fridge. Be sure to salt your cabbage so that it will not get watery as it waits to be served.
If you have leftovers they can be stored in a covered dish in the refrigerator for to 2-3 days. Be mindful that any coleslaw that has been sitting out at room temperature for more than two hours should be thrown away.
For even more Slaw recipes, check out:
Easy Coleslaw Recipe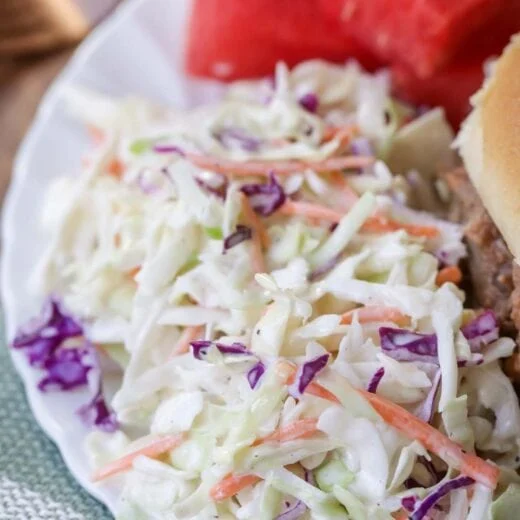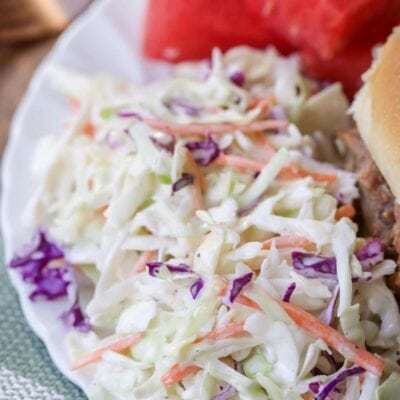 This quick and Easy Coleslaw makes the perfect side dish for any picnic or BBQ. It takes just minutes to put this classic coleslaw recipe together, and it can easily be customized with the spices and flavors you love most.
Ingredients
Instructions
Add all ingredients to a bowl and whisk together until smooth.




Toss with your favorite lettuce combo (shredded lettuce, cabbage, carrots, or coleslaw mix). Chill until ready to serve. ENJOY!