My hubby LOVES my mom's cooking. There is one thing in particular though that he loves above all else…. her famous Potato Salad Recipe. He craves it fortnightly and would always secretly hope she made it as a side any time we had a BBQ. The entire family loves it but everyone knows that you better save some for Lorin. 🙂
Even I admit that I do not like Potato Salad (in general), but I LOVE my mom's recipe. My mom has actually helped me make it for several events in the past and any time I brought it to an event people asked for the recipe. Unfortunately, my mom just makes it from memory and without a recipe so I made her sit down and measure everything out so we could get it all written out. Being two states away I can't rely on her to make it anymore (insert sad face) so I've had to master this delicious Potato Salad recipe for the hubby. I'm happy to report I've made it at least 4 times since we've moved here (the last time being last week), and the hubby has declared it tastes just like my mom's. Mission successful!! 😀
If you're a fan of Potato Salad, you will definitely want to try this recipe. It is perfect any time of year, but is especially wonderful any time you BBQ. Best of all, it saves really well and is a great leftover (if there are any leftovers that is – ha!)
MY OTHER RECIPES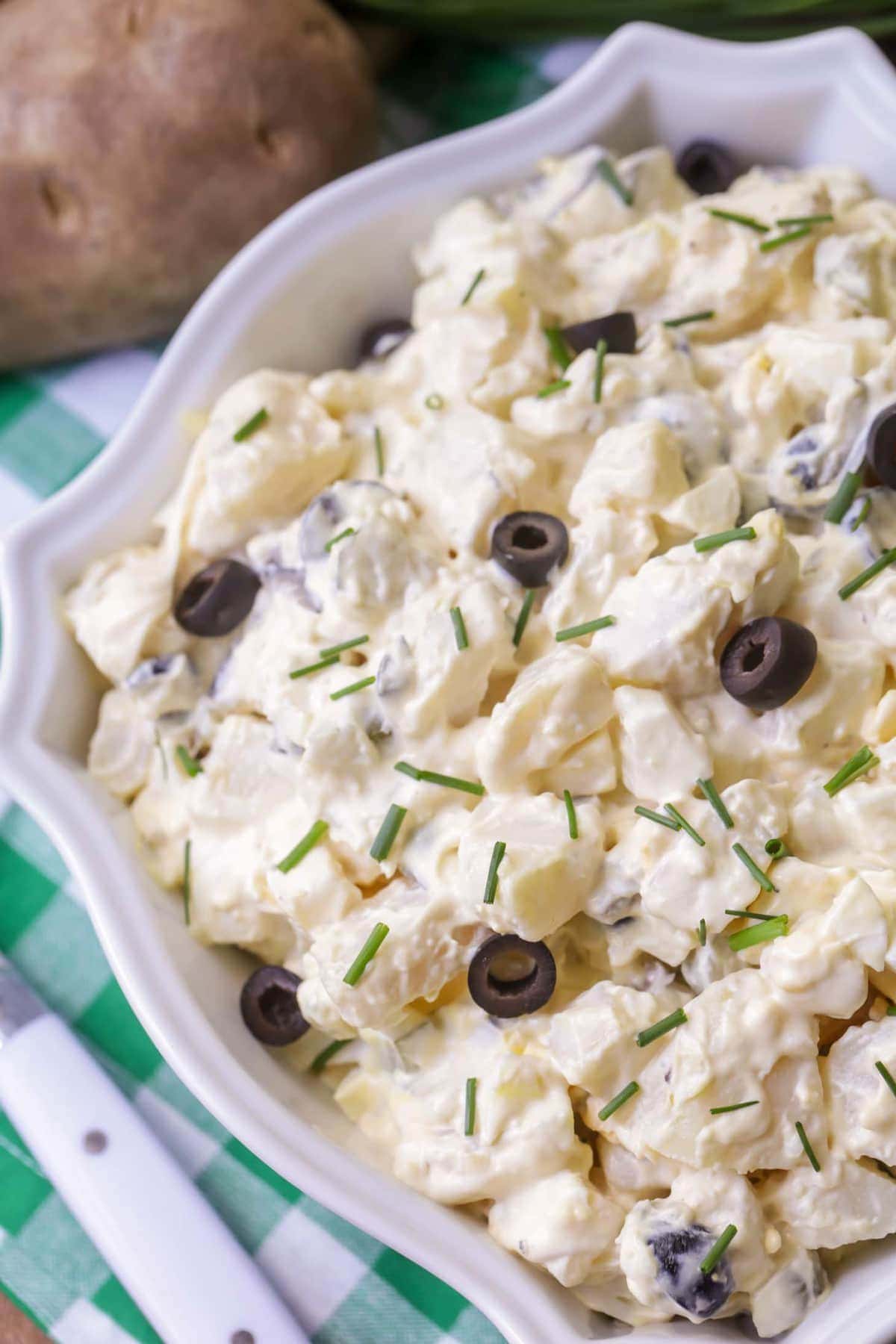 How to make Potato Salad video:
BEST Potato Salad recipe:
Favorite Potato Salad Recipe
Our all-time favorite Potato Salad - it's simple, flavorful and filled with chunks of potatoes, eggs and olives!
Ingredients
10-12 potatoes (we use a 5 lb. bag)
6-7 boiled eggs
1 can black olives (we use about 20 and slice)
2 cups mayonnaise
3-4 TB pickle juice
baby dill pickles (diced)
2 tsp. mustard
salt and pepper to taste
Instructions
Place your potatoes in a pot and bring to a rolling boil. Boil Potatoes for 40-45 minutes or until tender (a knife should easily pierce a potato).
While potatoes are cooking, boil your eggs. Peel them and set aside.
Let potatoes cool. Peel off skins and cube your potatoes. It's okay if they are soft or fall apart. Place in a large bowl.
Cube eggs and add to bowl.
Cut olives and desired amount of pickles (we used 3) into small pieces as well and add to your bowl.
Add your mayonnaise and mustard and mix well (add more or less mayonnaise depending on what you like). Add salt and pepper and mix well. Refrigerate until ready to serve. (We like to make this the day before and let it refrigerate for 18 - 24 hours).
*NOTE: For a great tutorial on how to boil eggs go HERE.
This is another salad we like to have at our summer BBQs:
For more great side salads, check out:
ENJOY!