This simple, creamy Macaroni Salad is loaded with pasta, peas and ham. It's perfect for parties, family dinners, and potlucks!
There are a few salad recipes that I always make in the summertime, including this Macaroni Salad! My favorite savory salad is probably Egg Salad, and my favorite sweet salad is by far Ambrosia Salad!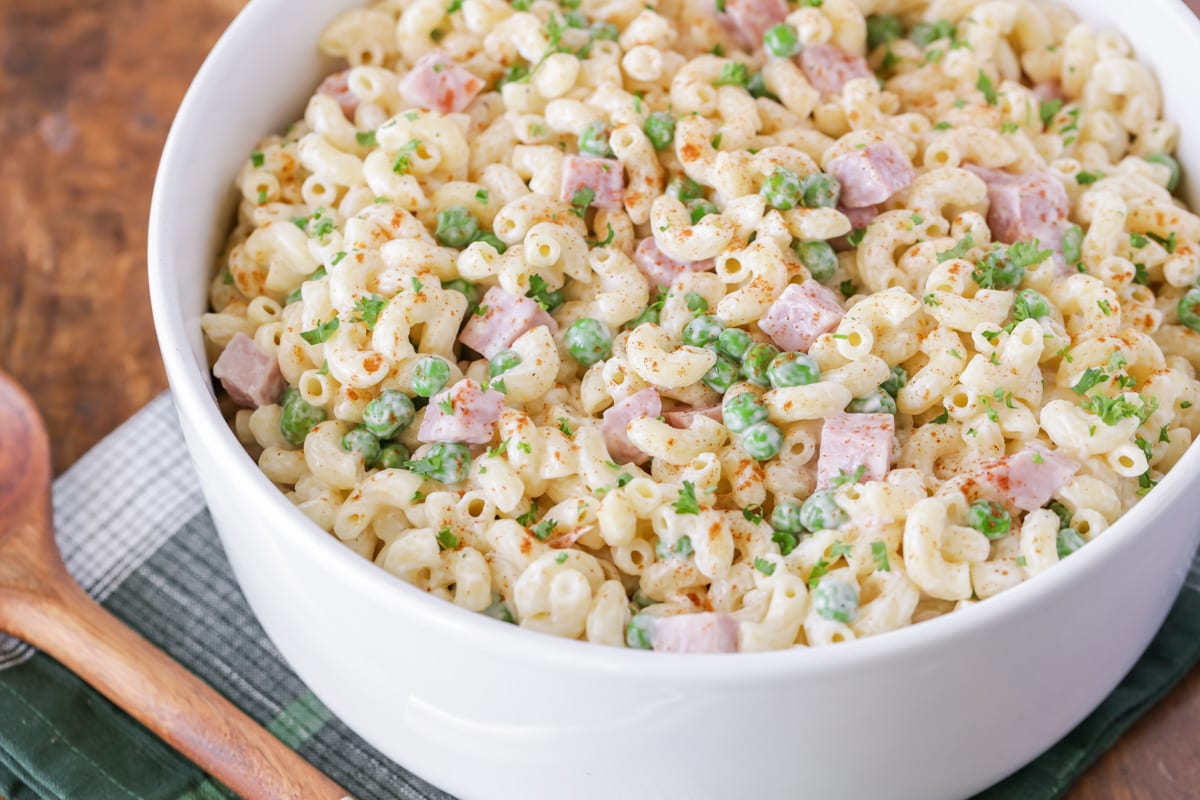 Quick + Easy Macaroni Salad
In search of a great pasta salad dish to bring to your next family dinner?
This easy Macaroni Salad recipe is it! It's also great for picnics, BBQs, showers, brunches, and all of the holidays, especially summer ones!
I like to make a big batch of this classic Macaroni Salad because it always serves a ton of people. It's super yummy served on the side of other main dishes or it can be served by itself as a lunch or dinner dish.
We also love our other version of this macaroni salad—Chicken Macaroni Salad!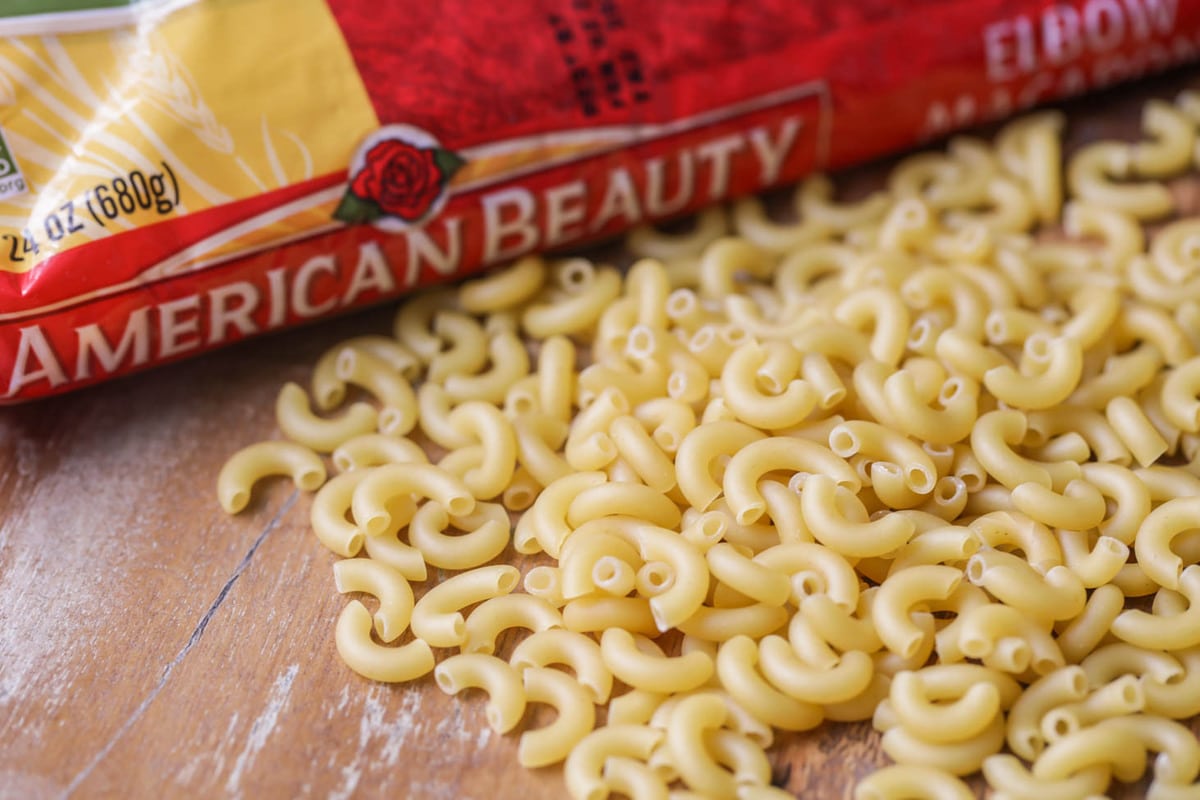 How to Make Macaroni Salad
MACARONI. Bring a pot of water to a boil. Add in the noodles of your choice and the salt. Cook until the macaroni is tender and then drain the pasta.
SAUCE. In a medium sized bowl, add the drained macaroni, peas and ham. In a separate bowl, mix the milk, mayo and ranch dressing together. Add the sauce to the pasta and mix until everything is coated. Season with salt, pepper and paprika.
Variations
I like to keep my macaroni salad simple especially when I'm serving it for a large crowd. However, there are so many delicious mix in ideas that you can use for your family. You can even have the mix ins on the side for people to add themselves. The mix ins can spruce up the flavor as well as add texture and color.
Add

diced celery

,

tomatoes

, red

bell peppers

or sliced radishes.
Use sweet pickles or even sweet pickle relish.
Add

chopped red onion or scallions

.
Add in a diced Boiled Egg or two.
Add

Cheese chunks-cheddar or colby jack is yummy

.
Season with garlic powder, fresh parsley, paprika.
Add a dab of dijon mustard or a splash of apple cider vinegar.
Use

Tuna or chicken instead of ham

.
Add a bit of crunch with chow mein noodles.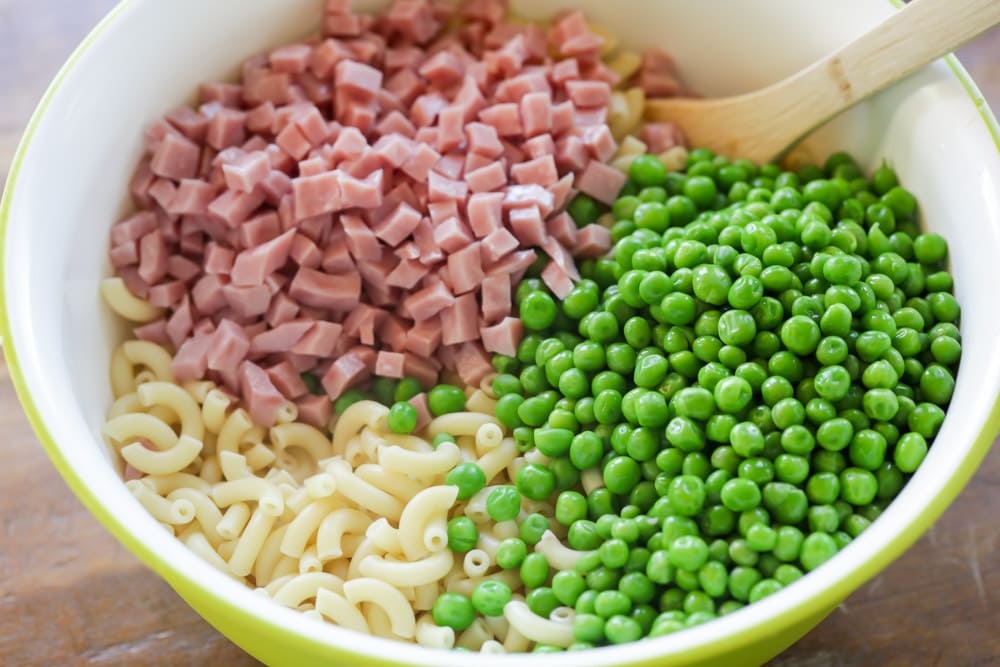 Perfect Pasta tips
Not only is pasta the main ingredient in the salad it is what can make or break the recipe. Take note because macaroni salad breaks a couple of my pasta rules.
Water. Salt the water, which then beautifully seasons the pasta. Once the water is boiling, right before adding the macaroni, you'll want to add 1 ½ tablespoons of salt per pound of pasta to the pot.
Cooking pasta. This is one of the few pasta recipes that you DON'T want al dente (broken rule 1). If you don't cook the macaroni long enough, then the sauce won't stick very well. However, you also don't want to overcook it. Check the package directions for the perfect middle time.
Rinse. Drain, rinse with cold water (broken rule 2), and then chill the macaroni while you whip up the sauce. If you add sauce to warm pasta the sauce will melt right off. The pasta also needs to be somewhat dry for the sauce to stick to each piece of macaroni.
Chill. Once the salad is mixed, allow time for all the ingredients and flavors to marry while it chills in the fridge.
Making this for a crowd. I would plan for ½ cup which is about 5oz per person.
Pasta Shape
Aside from the different mix-in options, use different pasta shapes. Anything that is bite-sized and has grooves that will cling deliciously to the dressing will work. Some ideas include:
Shell (small or medium)

Wagon wheel

Bow tie

Penne

Rotini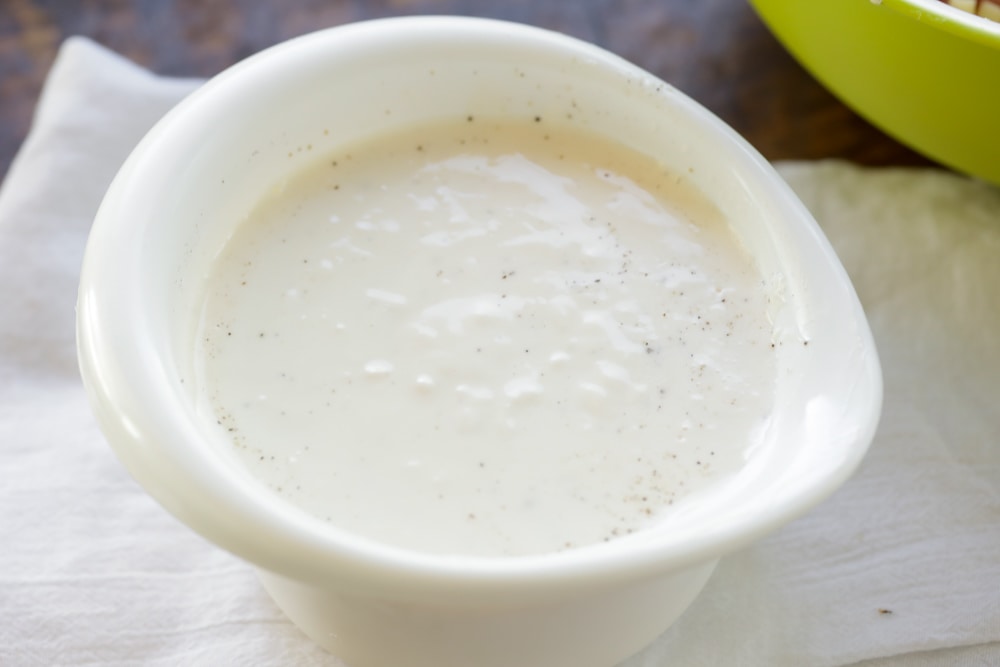 storing info
Keep it cool. Macaroni salad is perfect for picnics and potlucks, but this means often leaving it out for a while and sometimes in warm temperatures. It's not recommended for any food to be left out for longer than 2 hours at room temperature and less in the heat. Here are a couple tips to help when serving:
Only set out a little at a time and leave the rest in a cooler with ice.

Set the bowl of macaroni salad inside a large bowl with ice in it.
Make ahead of time. Macaroni salad can be made ahead of time. In fact, I like to make mine the day before and let all the flavors blend. If you do make this the day before, I suggest leaving a little dressing out so that you can freshen it up if it gets a little dry.
STORE. Leftovers can be stored, covered, in the fridge for up to 5 days. If it gets dry, mix up a little bit more macaroni salad dressing and re-toss.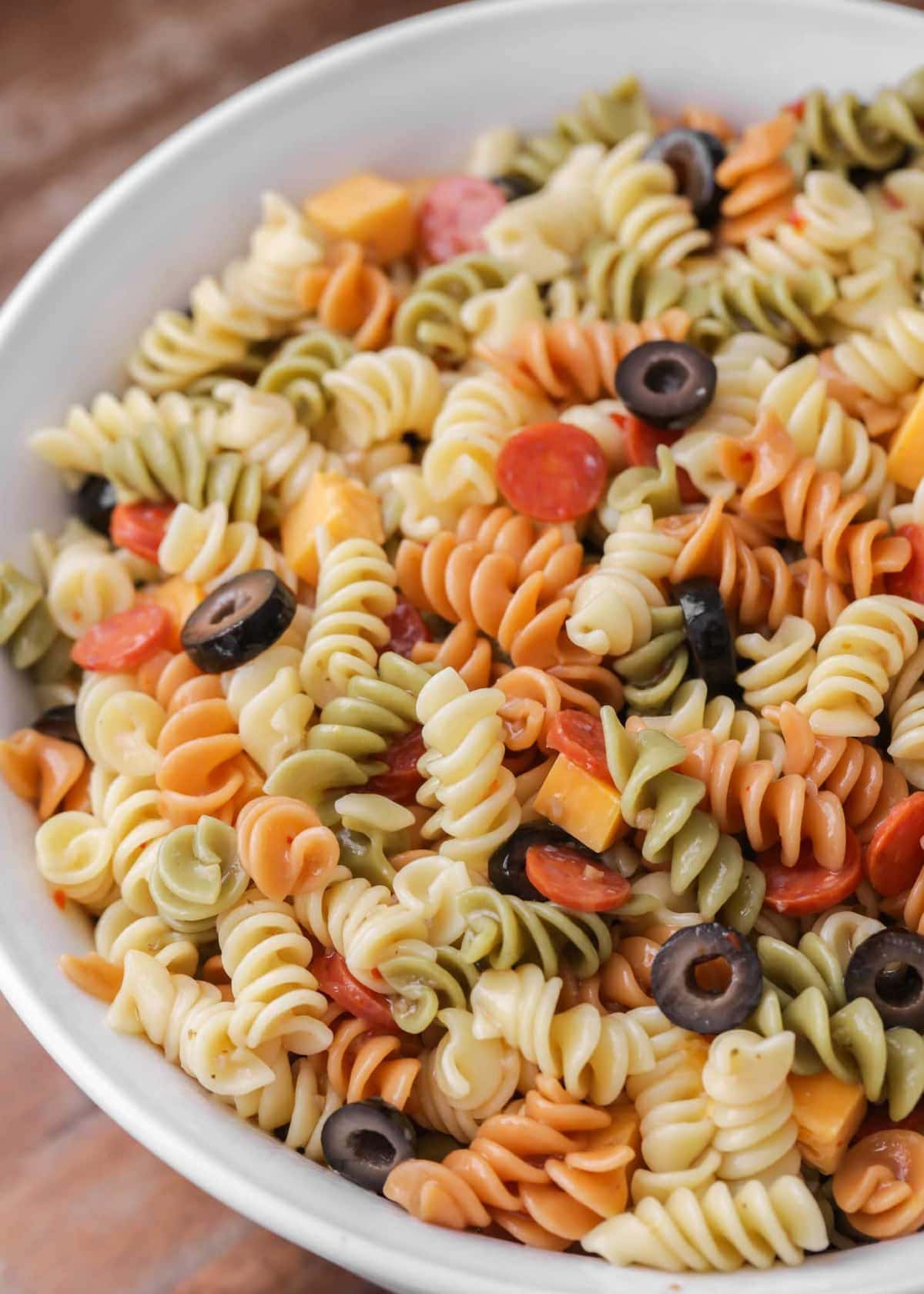 Complete Your Picnic:
Add some of these other classic recipes to your upcoming picnic: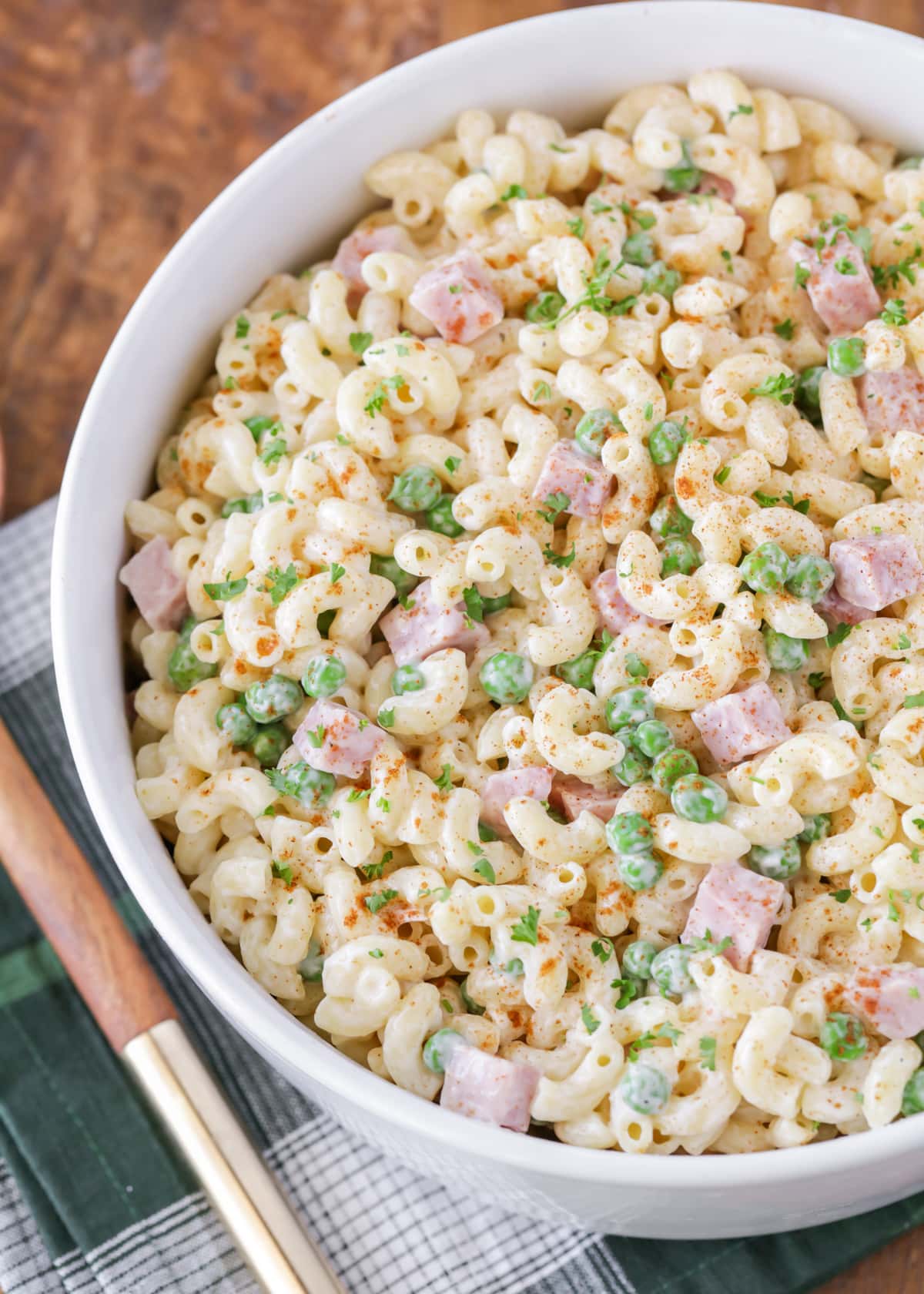 For more Pasta salad recipes, try:
Macaroni Salad Recipe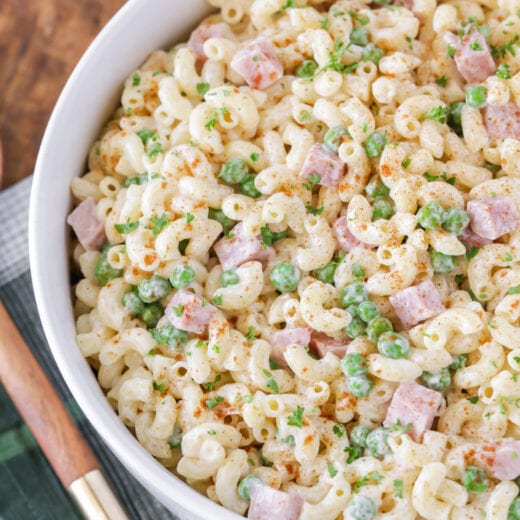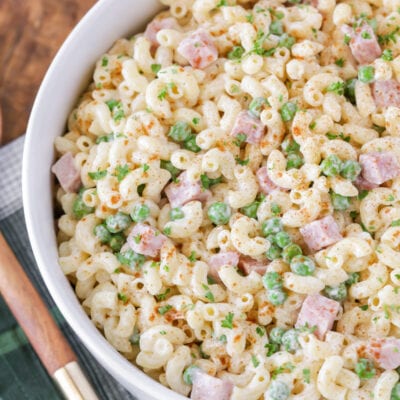 This simple, creamy Macaroni Salad is loaded with pasta, peas and ham. It's perfect for parties, family dinners, and potlucks!
Ingredients
24

ounces (or 6 cups)

macaroni

1½

cups

cubed ham

1

(12-ounce) bag

frozen peas

thawed

1½

cups

mayonnaise

1

cup

milk

½

cup

ranch dressing

salt and pepper to taste

paprika to taste
Instructions
Cook macaroni in salted water according to package directions. Drain and rinse.

In a large bowl, combine cooked macaroni, ham and peas.

In a separate bowl, mix the mayonnaise, milk and ranch dressing.

Add dressing to the pasta and mix until coated.

Season with salt, pepper and paprika. Stir in any additional desired mix-ins and refrigerate until ready to serve.
Notes
Make Ahead: Macaroni salad can be made 24 hours ahead of time. Mix most of the dressing in before storing in an airtight container in the refrigerator, but reserve a little dressing to add right before serving, to freshen up the salad in case it is a little dry.  Try a Different Pasta: Anything that is bite-sized and has grooves works well, such as shells, wagon wheels, bow ties, penne or rotini. Perfect for Parties: We use this recipe for many get-togethers, like holidays and baby showers. It makes a lot, so be sure to halve it if you're looking to serve closer to 8 people.