Chicken Salad is perfect for light lunches or picnics at the park! Eat your creamy chicken salad on a croissant, in a salad, or by itself!
It's the classic side to serve at any shower or get together. This simple recipe has been used in our family for decades and is great with our go-to broccoli salad and pasta salad recipes.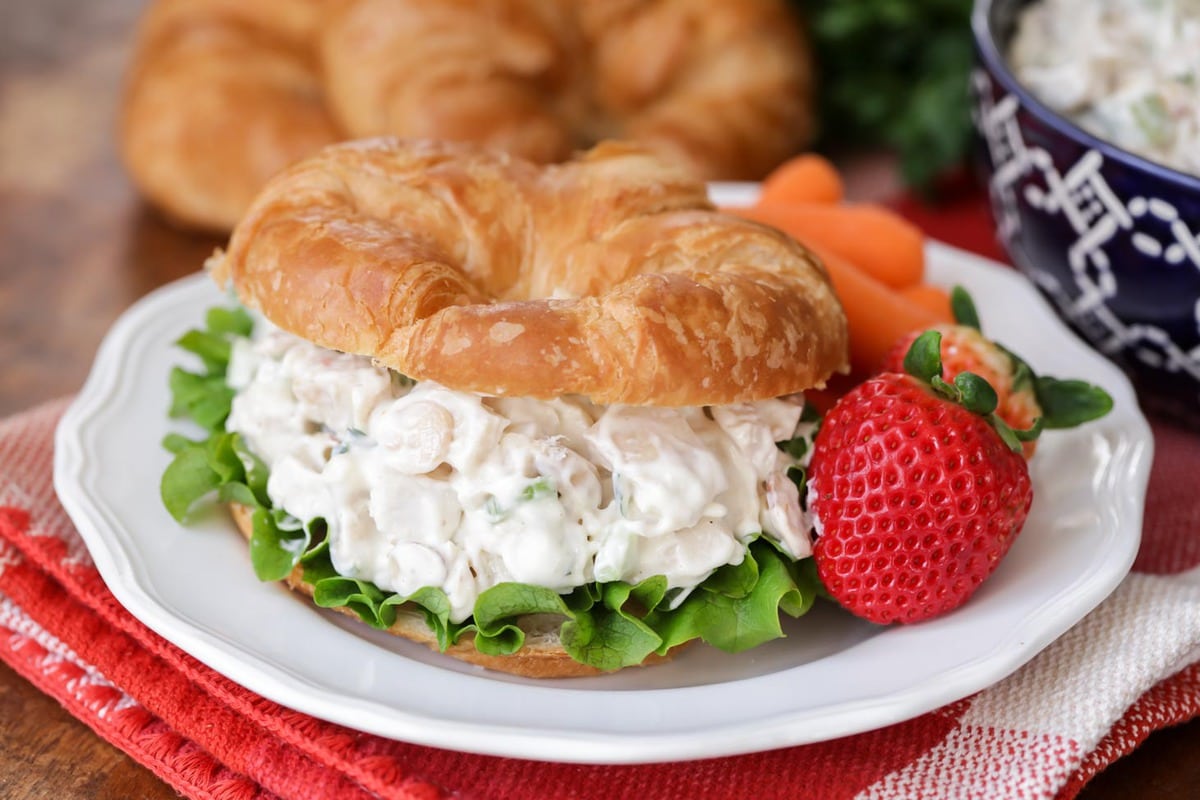 Grandma's Easy Chicken Salad
This chicken salad recipe is nostalgic for me! It came from my sweet Grandma.
She always used to make a big batch of Chicken Salad for us when we came to her house. We'd eat it for lunches with fresh fruit and salad. It was also common for families parties and showers.
Every ingredient compliments each other and the mayo dressing has lots of flavor. The chicken is tender and well seasoned, and the celery and sliced almonds give it the BEST crunch.
This recipe is really easy to whip up. Just like Grandma, I love mixing up a big batch and eating it on croissants for weekday lunches or serving at get togethers.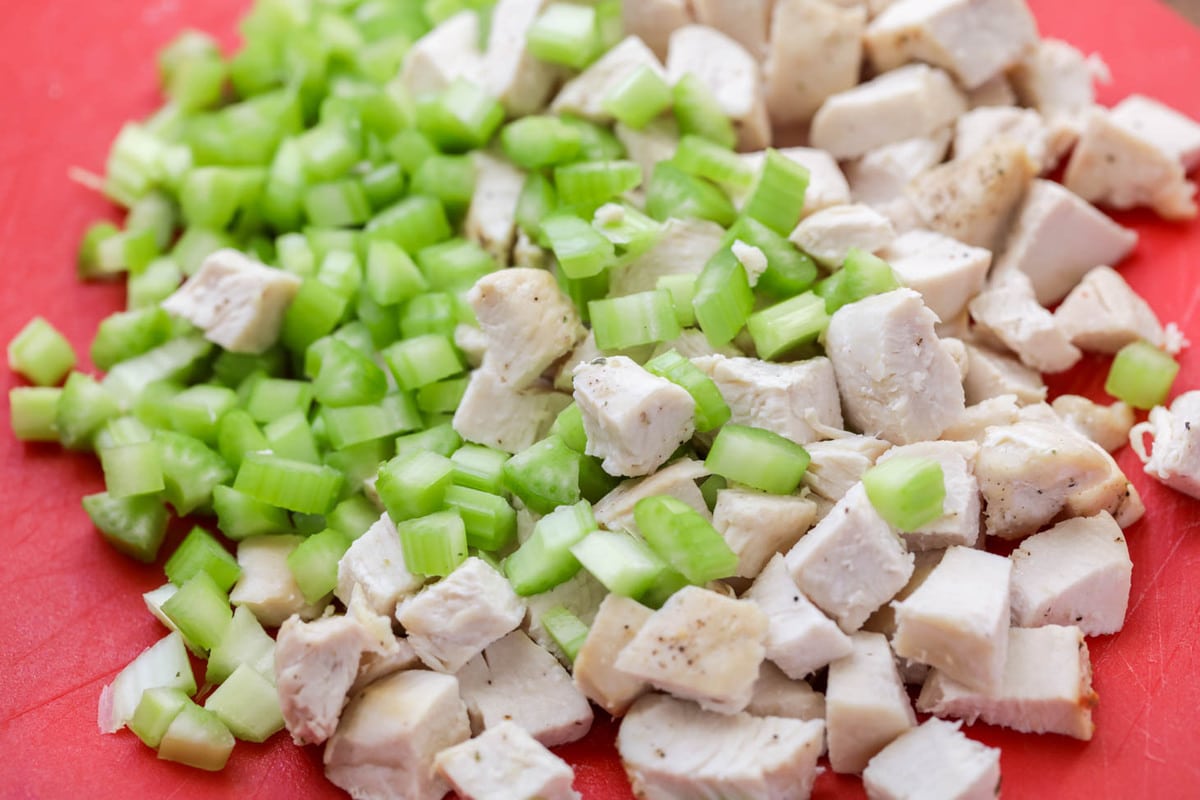 How to Make chicken salad
You're going to need about 3 cups of chicken for this recipe. Feel free to cook your chicken however you'd like.
CHICKEN. We like to bake the chicken in the oven, but you can also use canned chicken, chopped, rotisserie chicken or shredded chicken. Sometimes, I even boil my chicken breasts, cut it into cubes, and then season with a little salt and pepper.
DRESSING. Chop the chicken and celery, and set aside while you make the dressing. Whip the whipping cream in a large bowl, until thickened. Add lemon juice, mayo, salt and pepper and whisk together until smooth.
CHILL + SERVE. Add in the chicken, celery and almonds to the mayo dressing. Cover the chicken salad and refrigerate for at least an hour before serving. It's best served chilled. Sprinkle with chopped parsley before serving.
Tip: There are a few substitutes for the mayo if you'd rather use something else. Low-fat plain greek yogurt, or sour cream.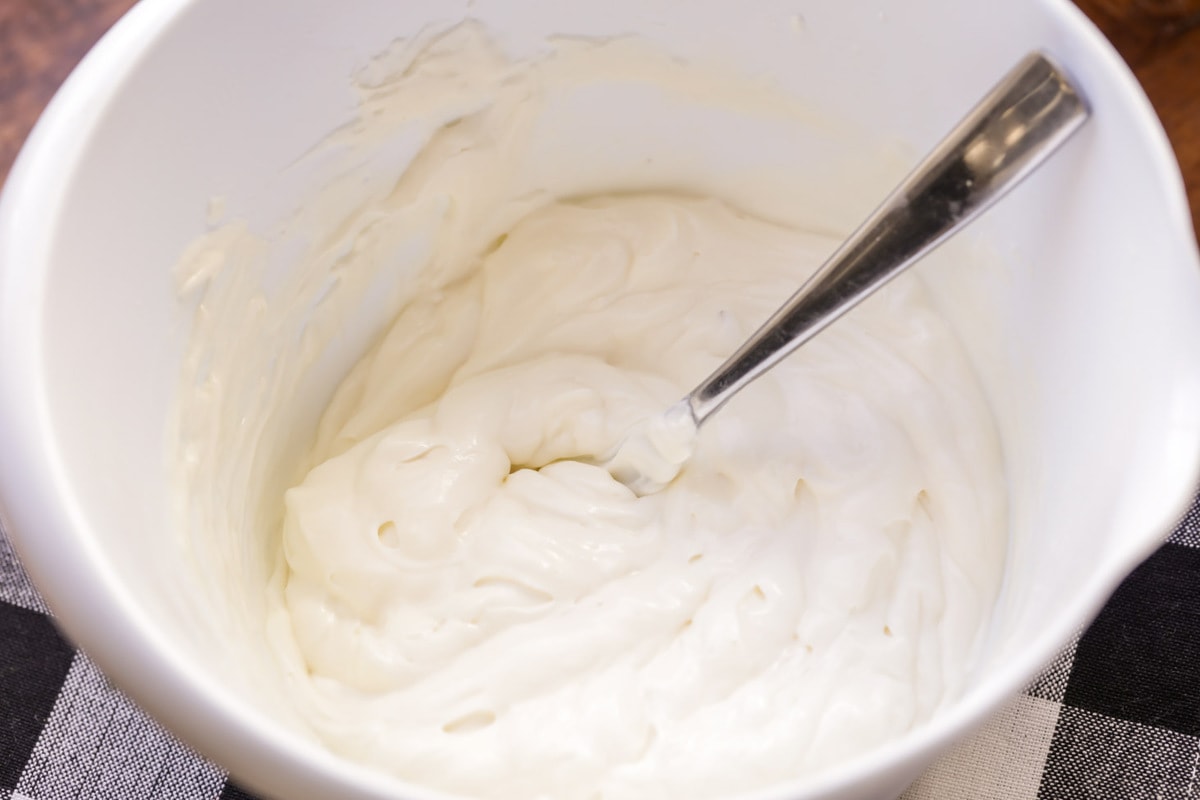 ADDITIONS
There are lots of different versions of chicken salad out there. Here are a few additional ingredient add-in options to try:
pesto
fruit: sliced grapes, raisins, dried cranberries, chopped apple
other nuts: walnuts, cashews, pecans
water chestnuts
green onions
peppers
curry powder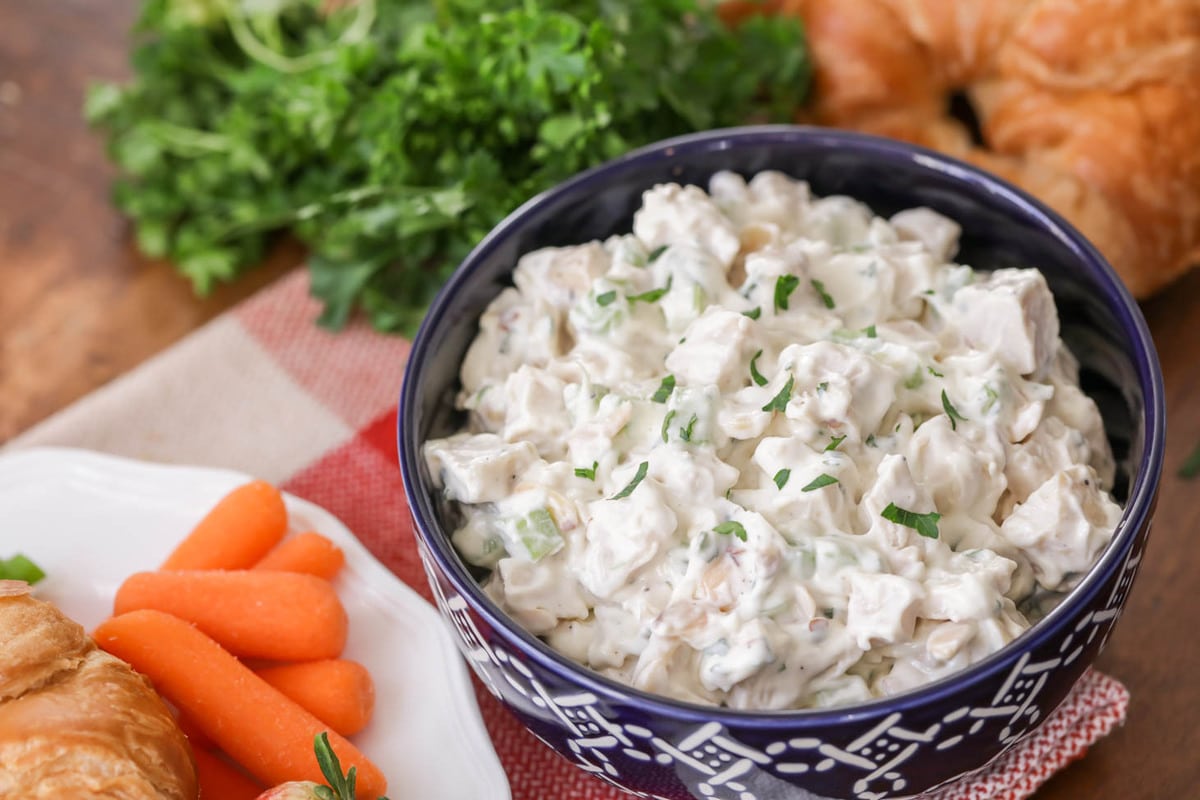 Serving + SToring
Make for a crowd: This recipe will serve up to 8 people! Double it or triple it if you're making it for a larger crowd or party. Here is a party serving guide
8-10 people – 1 batch
16-18 people – 2 batches
24-25 people – 3 batches
32-34 people – 4 batcahes
What to serve with chicken salad: There are tons of ways to serve chicken salad. I love it as a sandwich on yummy rolls, sliced bread, or croissants. Fresh fruit or veggies are delicious side dishes on the side of chicken salad sandwiches.
If you want a lower-carb option, try eating it in a lettuce wrap, or even on top of chopped lettuce as a salad.
These sandwiches are popular at showers, family reunions, and other large gatherings because they easily feed a crowd. And it can be made ahead of time!
Here are some of our favorite breads to serve it with:
croissants
multi-grain bread
STORE chicken salad in the fridge for up to 5 days. Make it a few days ahead of time if you need to! I do not recommend freezing chicken salad, it is always better when made fresh!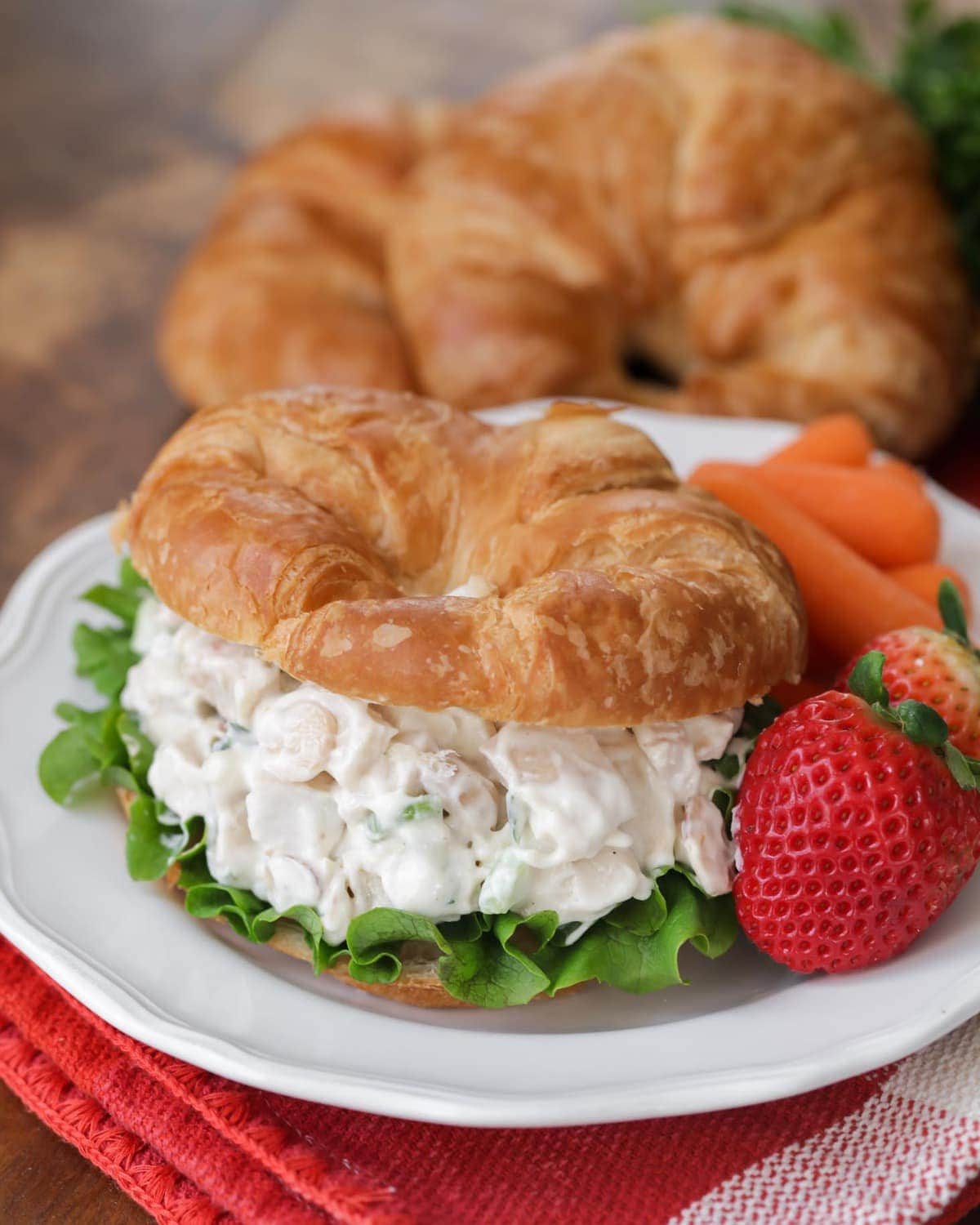 I hope you enjoy this recipe! It's definitely one we love to make for showers and get togethers.
For more salads, check out:
Chicken Salad Recipe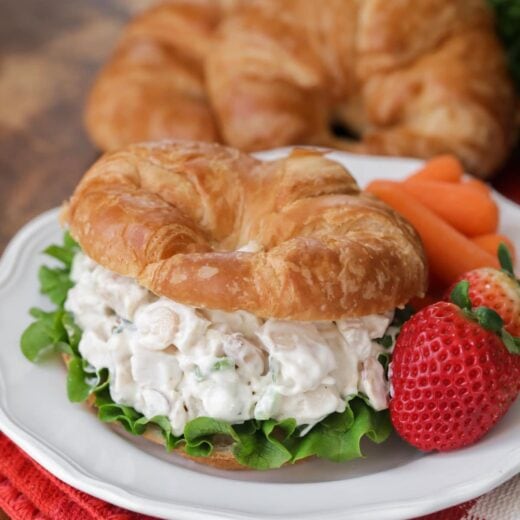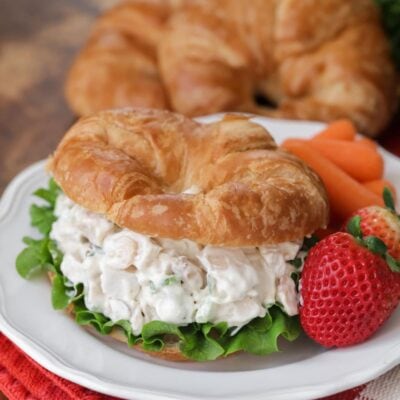 Chicken Salad is perfect for light lunches or picnics at the park! Eat your creamy chicken salad on a croissant, in a salad, or by itself!
Ingredients
6

chicken breasts

cooked and cubed (rotisserie chicken and shredded chicken work too)

1½

cups

chopped celery

½

cup

heavy whipping cream

1

cup

mayonnaise

2

tablespoons

lemon juice

1

teaspoon

salt

½

teaspoon

pepper

½

cup

sliced almonds

2

teaspoons

chopped parsley
Instructions
In a large bowl, combine chopped chicken and celery.

In another bowl, whip cream by hand until thickened. Add lemon juice, mayonnaise, salt and pepper. Whisk together until smooth.

Pour dressing over chicken and celery. Add sliced almonds and mix until combined.

Refrigerate for at least 1 hour. Sprinkle with chopped parsley before serving.
Notes
Make Ahead: The components can be made up to 2 days ahead of time. Store chicken, celery, almonds and parsley in one bowl and dressing in a separate container in the refrigerator. Combine dressing with other ingredients before serving.