Chopped Tuna Salad is the perfect summer side dish. Filled with fresh crisp veggies the color of the rainbow, protein packed tuna, and tossed in a light and refreshing lemon vinaigrette.
Especially during the summer, a light salad is all I need for a quick lunch, or a shareable side dish. This tuna salad is the perfect combination between a green salad and pasta salad—similar to our Asian Pasta Salad, or Tortellini Salad!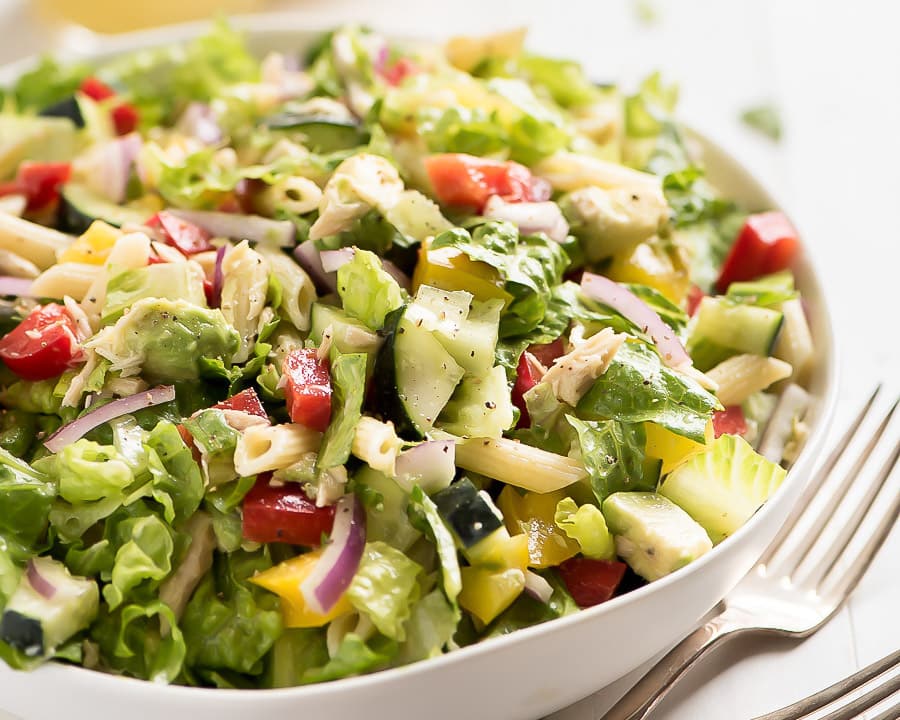 a light and refreshing Salad
If your goal this summer is to stay fit and healthy then this is the salad for you! This tuna salad has ZERO mayonnaise unlike your typical tuna salad that's packed with it. Instead, this Tuna Pasta Salad is tossed in a super simple fresh lemon vinaigrette made with extra virgin olive oil.
I love the refreshing taste and how light it sits. It's the perfect compliment to the tuna and all the veggies.
I'm a girl who loves her carbs so I added just a cup of pasta, but if you're wanting to go low carb you can definitely omit it. Honestly, I like it with the pasta because it makes it more filling for eating as a meal.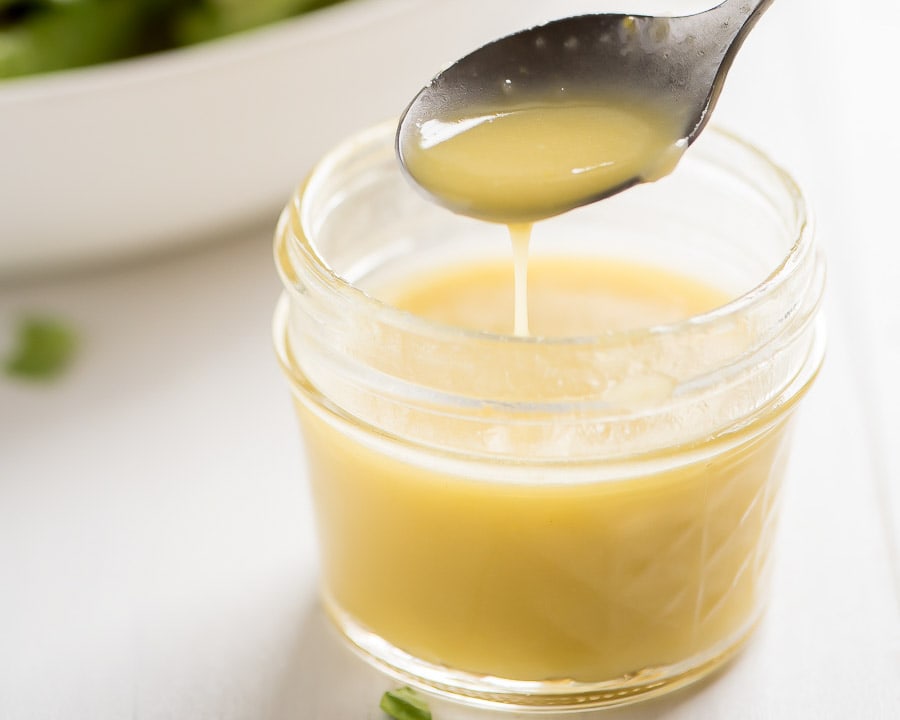 the Lemon Vinaigrette dressing
The first step to any salad is to start with the dressing. That way, when all the other parts of the salad are ready you can immediately toss on the dressing.
For the Lemon Vinaigrette you can either toss everything in a food processor or if you mince the shallot fine enough, you can just shake it all up in a jar. Here are the ingredients needed for it:
⅓ cup olive oil
2 tablespoons lemon juice
2 teaspoon shallot minced
1 ½ teaspoon Dijon mustard
½ teaspoon lemon zest
½ teaspoon granulated sugar (or honey)
2 tablespoons white balsamic vinegar
It takes just minutes to make and adds so much flavor to this salad!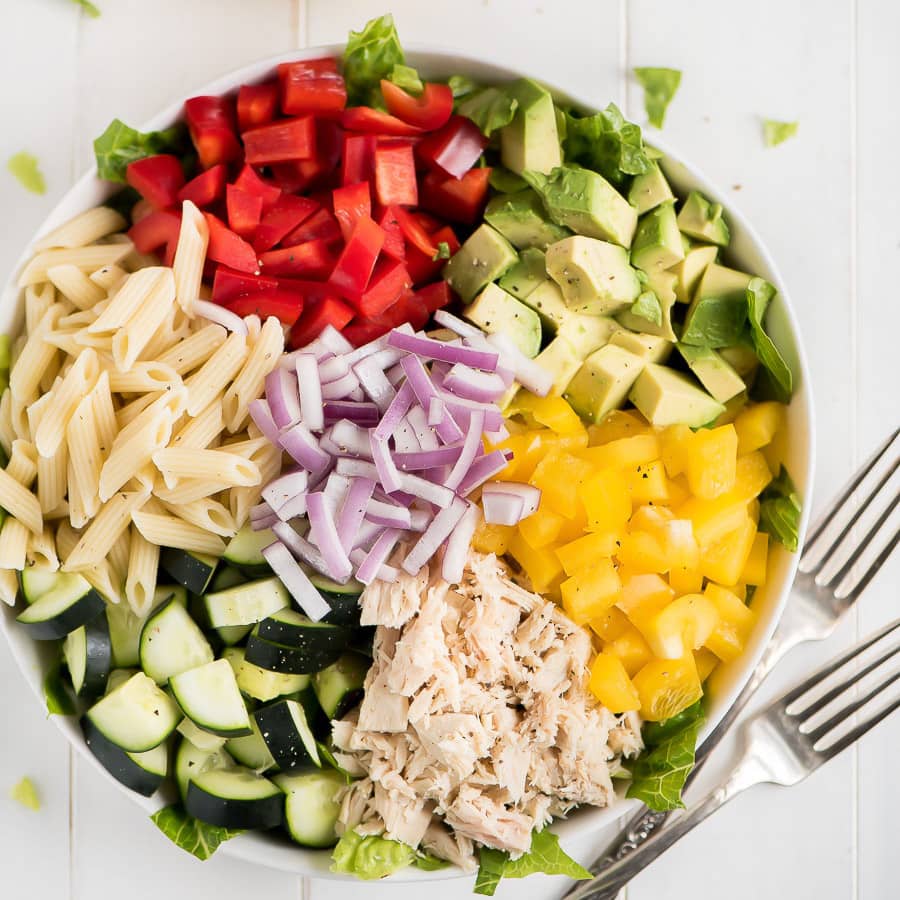 How to make Tuna Salad
PASTA. Since this salad has pasta in it you'll want to get it started before chopping up all your veggies. After boiling and draining the pasta you'll need to soak it in a bowl of ice water to cool the noodles down so they don't wilt the lettuce.
CHOP. While the pasta cooks, chop up the veggies. I like to chop my lettuce pretty small because there's nothing more awkward than trying to cram a giant floppy piece of lettuce into your mouth without getting dressing smeared on the side of your face.
TOSS. Once everything is chopped you can toss everything together and enjoy! Easy, right?
All your questions, answered
How long can tuna salad last in the fridge? Once the tuna has left the can, or vacuumed sealed pouch, it can last in the refrigerator for 3-4 days if properly stored in an airtight container. However, be aware that the other elements of this salad, such as the lettuce, may begin wilting sooner.
Can this Tuna and noodle salad be made ahead of time? This recipe can be prepared a day ahead of time. Prepare all the ingredients as written, but store them in individual containers in the fridge. When you're ready to serve your salad combine all the ingredients in a salad bowl and toss.
How much tuna is safe to eat? Fish is good for you. However, it does does contain mercury. The amount of tuna someone can eat depends on the type of tuna.
According to the FDA people, including pregnant women and children, can have 2-3 servings of canned chunk light tuna, but only 1 serving of canned albacore tuna or fresh caught tuna per week.
Adults: 4 oz = 1 serving Children (ages 2-7): 2 oz = 1 serving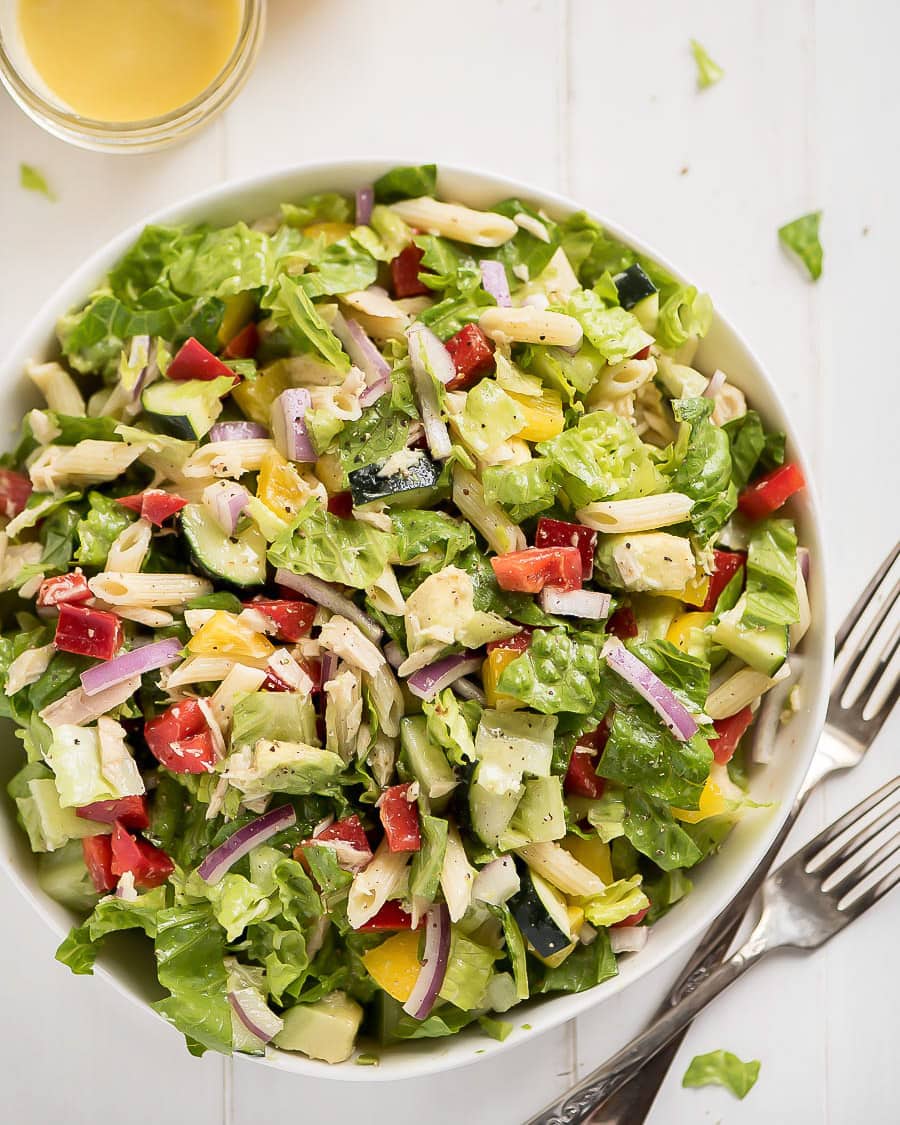 Pasta and salad recipes are my thing during the summer, so I have a feeling we will be making this often in the next few months. We hope you enjoy it as much as we do!
For more pasta salad recipes, check out:
Tuna Salad Recipe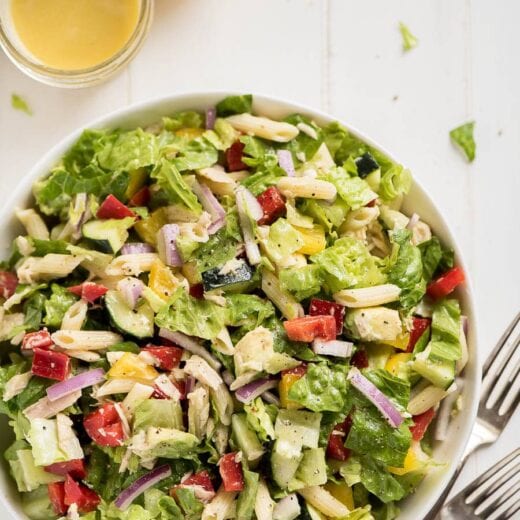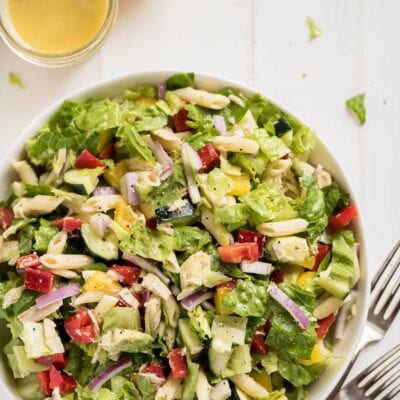 Chopped Tuna Salad Recipe is filled with fresh crisp veggies and tossed in a light and refreshing lemon vinaigrette!
Ingredients
For the Salad:
2

heads Romaine heart

chopped

1

avocado

diced

7

ounces

white albacore tuna

flaked with fork

1

cucumber

quartered

1

red bell pepper

diced

1

yellow bell pepper

diced

1/4

red onion

sliced

1

cup

dry pasta
Lemon Vinaigrette:
1/3

cup

olive oil

2

tablespoons

lemon juice

2

teaspoon

shallot

minced

1 1/2

teaspoons

Dijon mustard

1/2

teaspoon

lemon zest

1/2

teaspoon

sugar

or honey

2

tablespoons

white balsamic vinegar
Instructions
For the Salad:
Cook the pasta according to direction on package. Drain and place in a bowl of ice cold water. Drain again.

Place all vegetables in a bowl along with the cooled and drained pasta. Drizzle with dressing and toss.
Lemon Vinaigrette:
Place vinaigrette ingredients in a food processor or small blender and pulse until smooth.