This Caprese Pesto Pasta Salad is covered in basil and filled with mozzarella balls, tomatoes, basil and balsamic vinaigrette reduction sauce! It's a light dish with a bold flavor, making it perfect for potlucks, parties, BBQ's, and get togethers!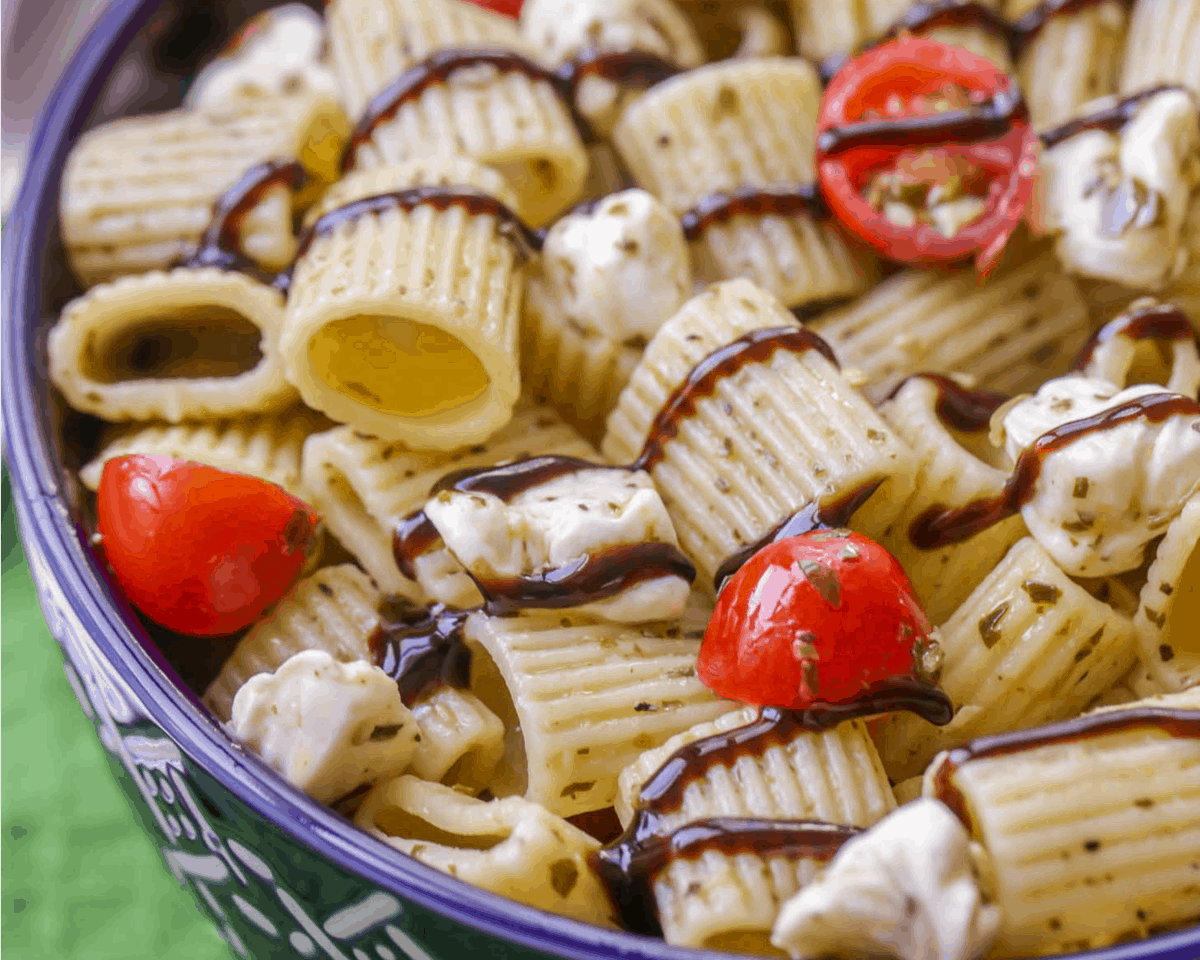 Favorite Caprese Pasta Salad
We love all the recipes associated with summer time, and one of those is PASTA SALADS!! We find ourselves making a pasta salad at least once a week with all the pool parties, BBQ's, and family gatherings going on.
Over the years, we have relied on our classic pasta salad recipe, but lately we have branched out and tried new recipes. Some of our favorites include this Greek Pasta Salad and this Buffalo Chicken Pasta Salad. We also have a new favorite – this Pesto Pasta Salad! We have always enjoyed the Caprese flavors of tomatoes, basil, mozzarella and balsamic vinaigrette, but when you add pesto to the mix, you get one of the most flavorful pasta salads you will ever try!!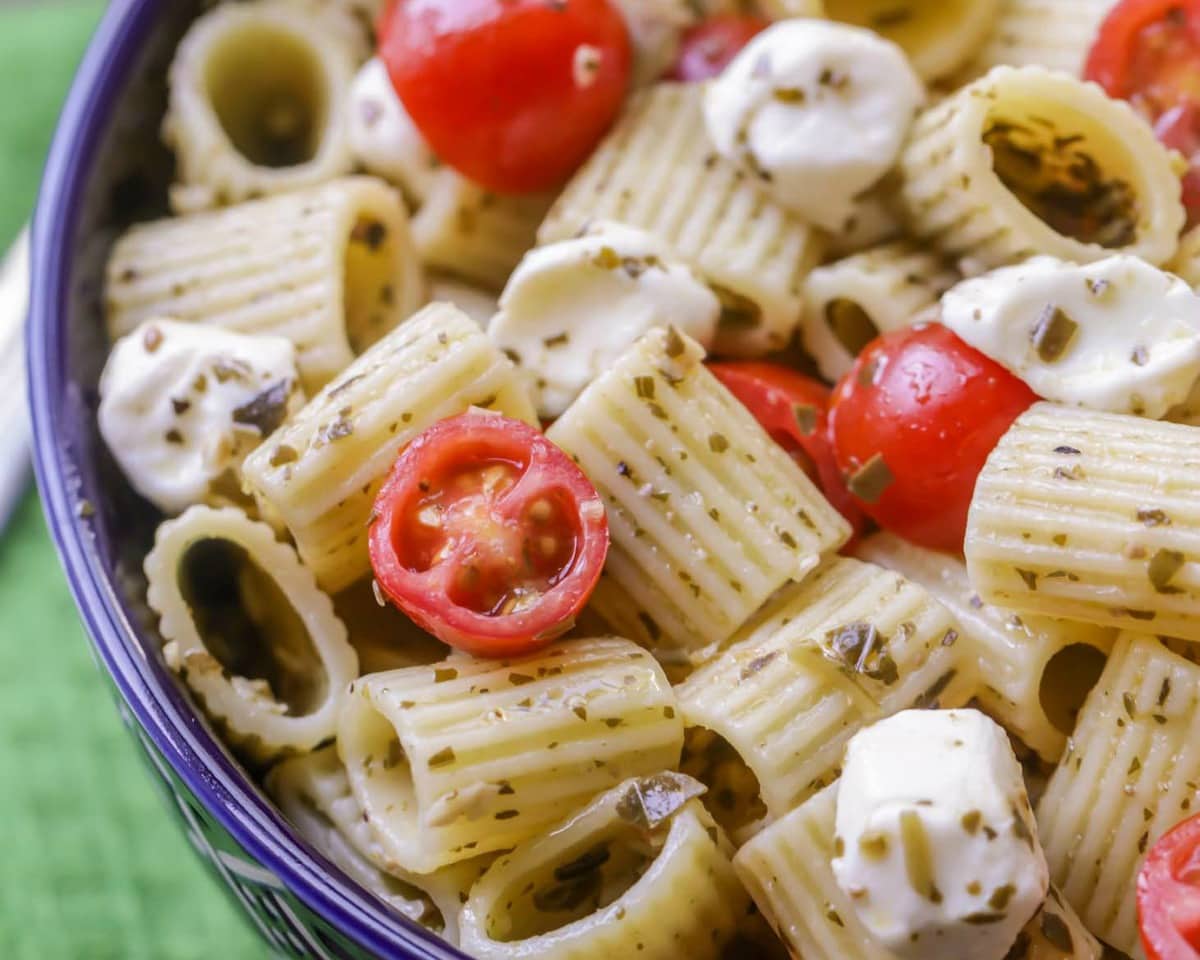 How to Make Pesto Pasta Salad:
Simply begin by cooking up your favorite pasta. We used rotini, but any pasta will do.
Drain pasta and set aside.
Mix pesto, olive oil, and seasonings. Add cooked pasta and mix.
Fold in the remaining ingredients with the pasta, and add the balsamic reduction on top right before serving, and ENJOY!
If you're not a fan of balsamic vinaigrette, you can definitely have it without! It adds a nice burst of flavor, but the pesto and other seasonings make it plenty flavorful on their own. Great taste isn't the only thing this pasta has going for it – it comes together SO quickly, and honestly the most difficult part is cooking the pasta. Next time you're in charge of a salad dish for your neighborhood potluck, give this Pesto Caprese Pasta Salad a try!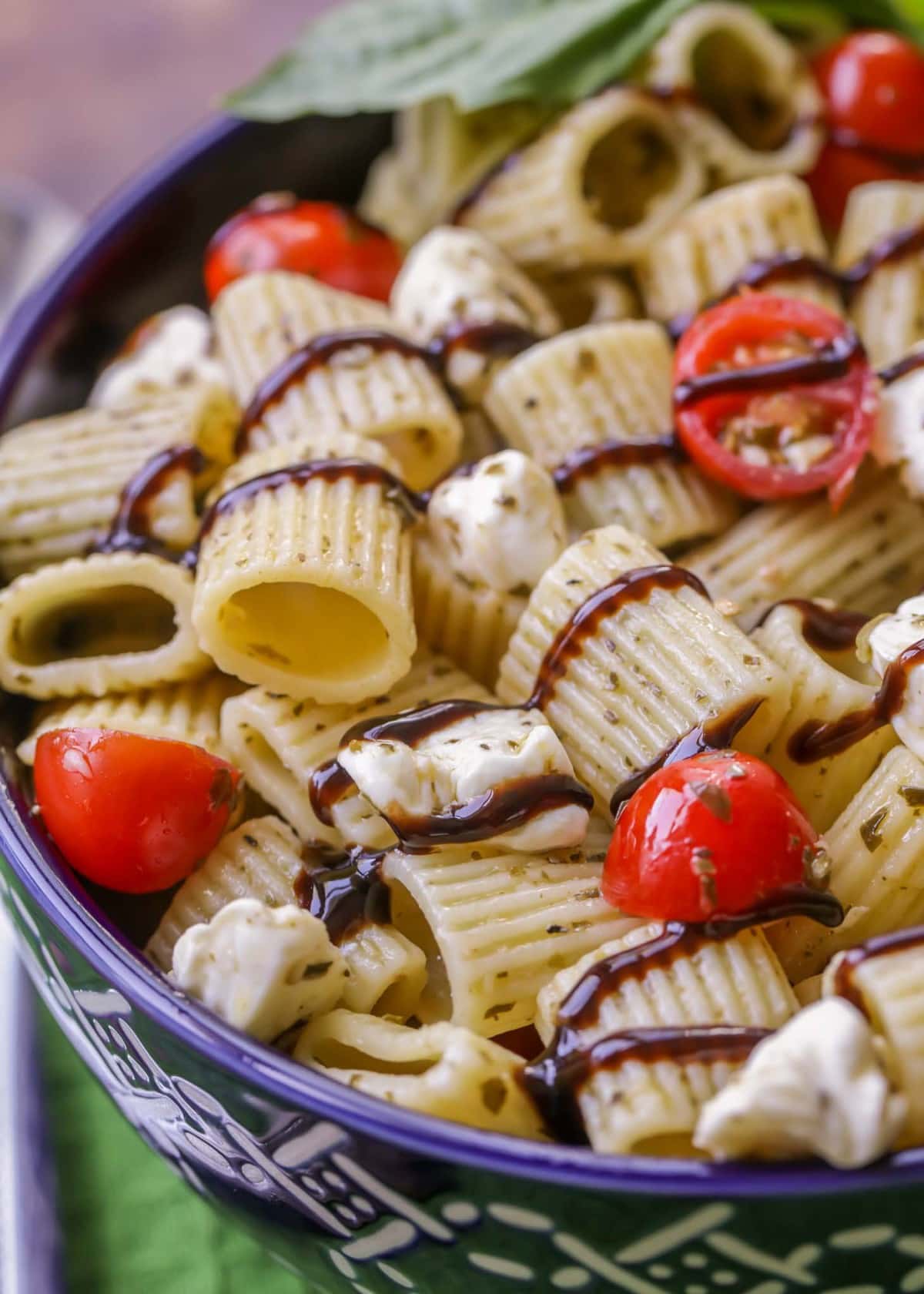 what to serve with caprese pasta:
For more yummy pasta salad recipes, check out these:
Caprese Pesto Pasta Salad recipe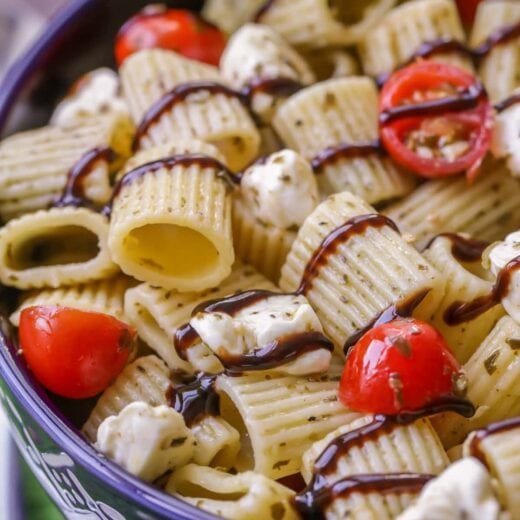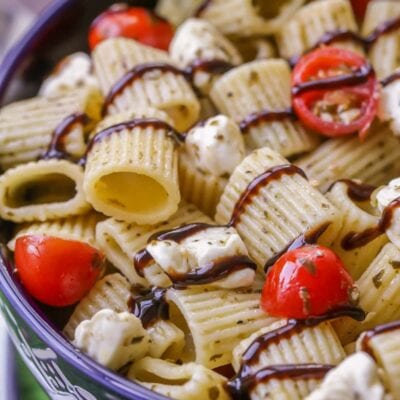 This Caprese Pesto Pasta Salad Is Covered In Basil And Filled With Mozzarella Balls, Tomatoes, Basil And Balsamic Vinaigrette Reduction Sauce! It's A Light Dish With A Bold Flavor, Making It Perfect For Potlucks, Parties, BBQ's, And Get Togethers!
Ingredients
1 1/2

cups

uncooked rotini pasta

4

tbsp

pesto

1

tbsp

olive oil

1/2

tsp

salt

(or more if needed)

1/4

tsp

garlic powder

pepper

1/2

cup

grape tomatoes

halved

1/2

cup

small fresh mozzarella balls

2

fresh basil leaves

chopped

Drizzle of balsamic vinaigrette reduction
Instructions
Boil water in a large pot and cook rotini according to box directions.

Drain pasta and set aside.

In a large bowl, mix pesto, olive oil, salt, garlic powder and pepper. Add cooked rotini and toss to coat. Add tomato halves, mozzarella balls and fresh basil. Refrigerate until ready to serve.

Drizzle with balsamic vinaigrette reduction right before serving. ENJOY!