This easy chicken marinade is the BEST way to marinate chicken breasts before grilling or cooking. It makes the meat juicy, tender, and so flavorful!
You can grill or bake marinated chicken, and turn it into a delicious chicken sandwich, or just serve it as a main dish with some sides. We like to pair it with baked parmesan asparagus and some mashed potatoes.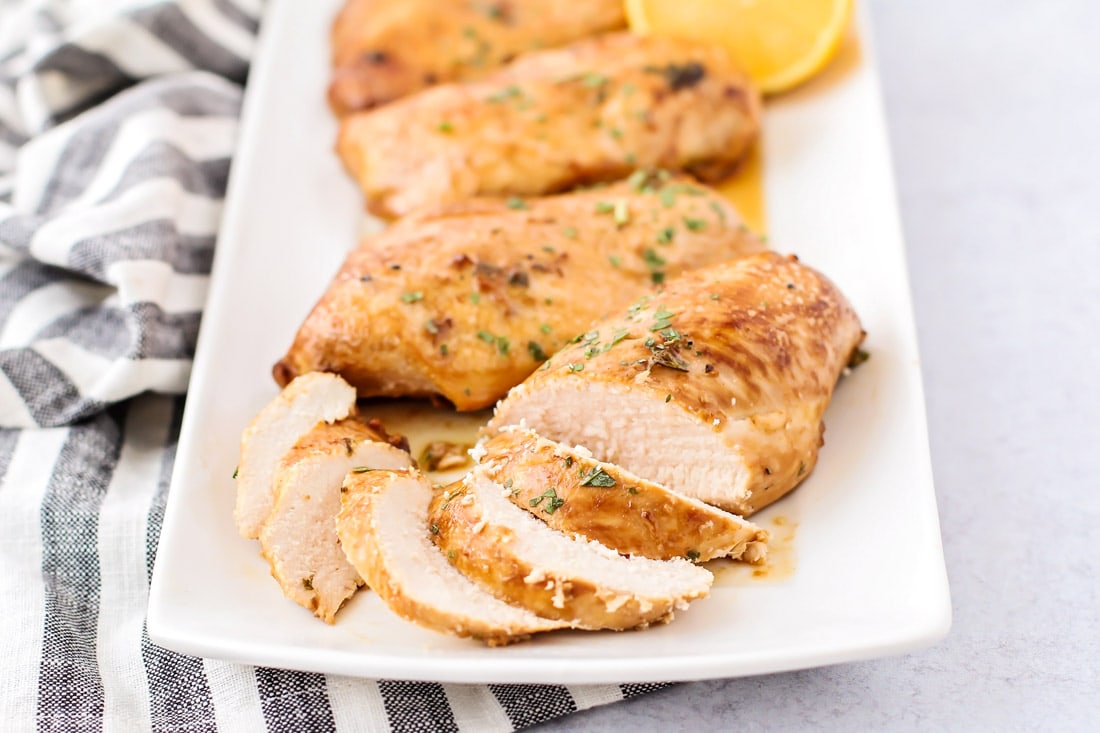 Grilled chicken Marinade (or baked)
Chicken is definitely the meat of choice here at our house. Most of our favorite dinner recipes include chicken—like Chicken Tetrazzini, Chicken Enchiladas, or Creamy Swiss Chicken Bake! We're always looking for yummy new ways to cook and enjoy it.
During the warmer months, we love to get good use out of our grill. Grilling is actually one of my favorite ways to cook chicken! It helps the meat to stay juicy, tender, and it adds amazing flavor!
I think the best flavor comes from marinating the chicken before grilling it, and I've finally found the perfect recipe for grilled chicken marinade!! But you can still use this even if you're just baking your chicken.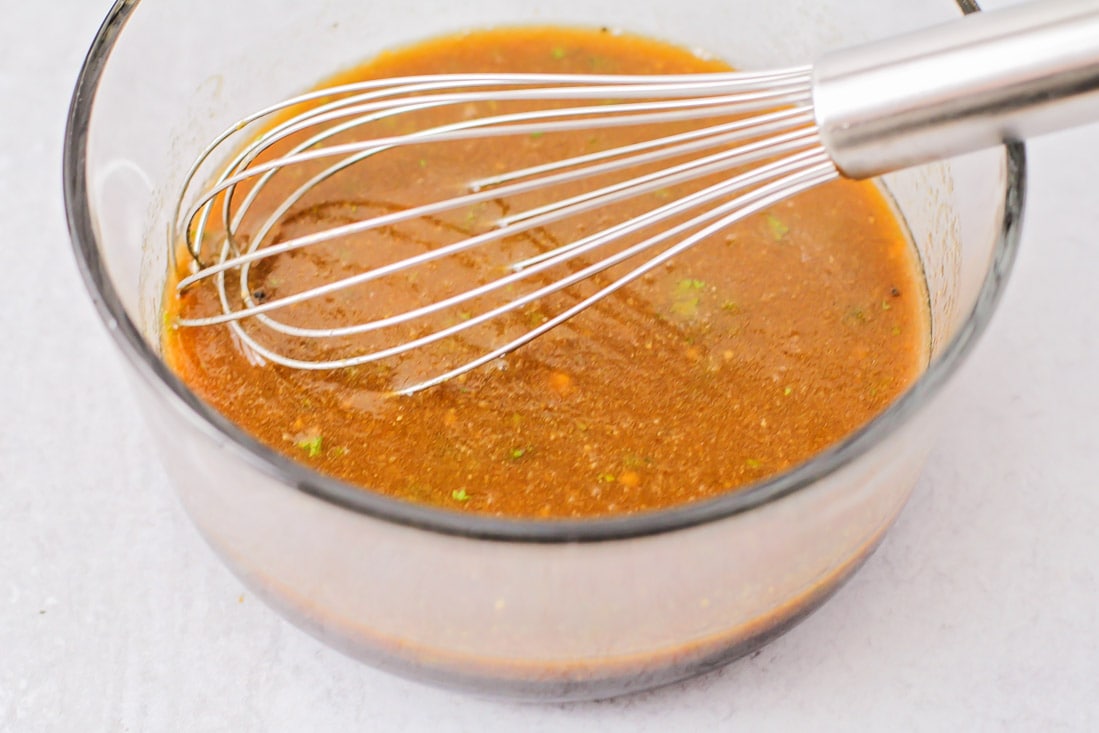 How to make chicken marinade
This simple chicken marinade only requires a handful of ingredients, and I would bet you most likely have almost all of these on hand already!
WHISK. Simply whisk all of the marinade ingredients together, then put in a large tupperware container or a gallon sized ziploc bag.
MARINATE. Add 4-6 chicken breasts to the marinade and let it sit for at least 4-8 hours in the fridge. The longer it marinates, the better!
COOK. Grill your chicken breasts for a few minutes on each side until they reach an internal temperature of 165° F. If you don't have a grill, you can use these other cooking methods:
Oven Baked Chicken – place marinated chicken on a sheet pan covered with foil and bake at 375° for about 30 minutes until chicken is completely cooked through.
Pan Fried Chicken – heat a little bit of olive oil in a skillet over medium heat. Place the marinated chicken breast in the pan and cook for about 10 minutes. Flip to the other side, cover the pan, turn to low heat and cook for an additional 10 minutes until completely cooked through. Let rest for 5 minutes before cutting into it.
SERVE. Serve chicken warm, either on its own or as grilled chicken sandwiches (like these Hawaiian BBQ Chicken Sandwiches).
Last time we made this recipe, we ate the grilled chicken on buns with lettuce, tomato, and mayo. You could even add some bacon and cheese! Regardless, the chicken marinade makes the meat SO juicy and flavorful, it will be amazing however you decide to enjoy it.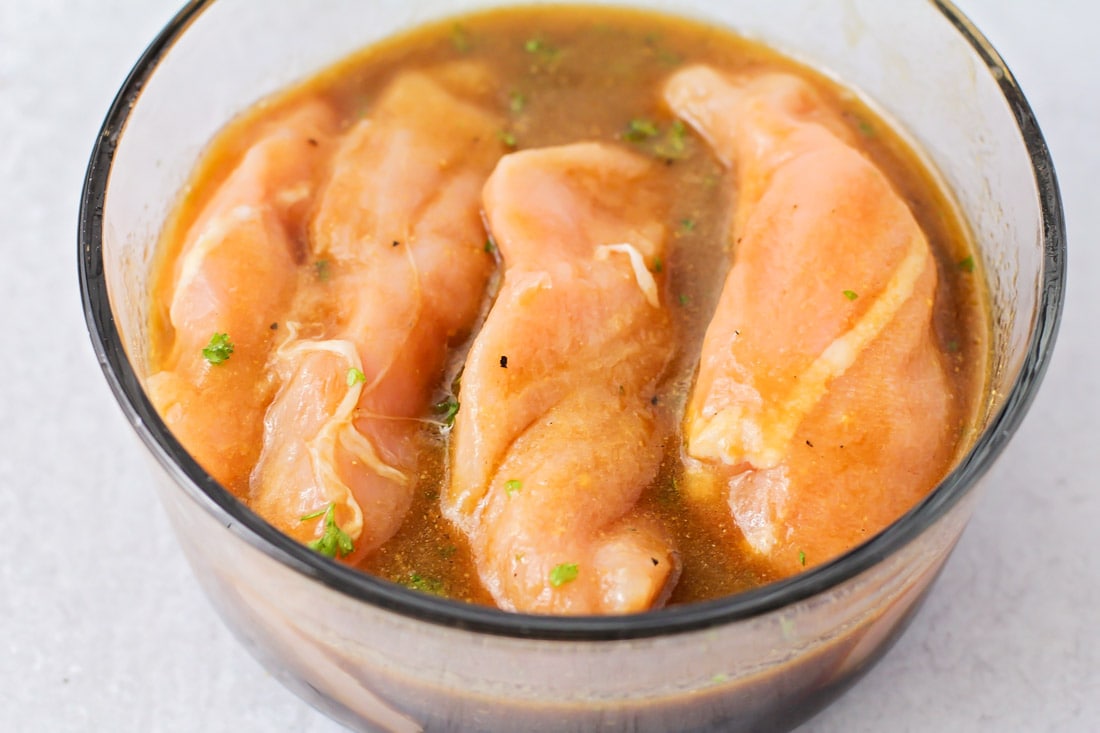 Marinating Tips + Tricks
Just a few tips and tricks to keep in mind for this recipe…
Use a blender to quickly combine all of the marinade ingredients.
Don't use a metal container to marinate the meat in, or it will give it a metallic flavor. Gross!
If you only have an hour or two, don't stress. The chicken will still benefit from marinating, even if it is only for an hour.
Make sure the meat is entirely covered by the marinade. If it's not, turn a couple times while marinating so all of it gets some flavor.
Once the raw chicken comes in contact with it, the marinade will contain harmful bacteria. If you want to use the marinade as a sauce after cooking the chicken, boil it for 5 minutes first to get rid of any present bacteria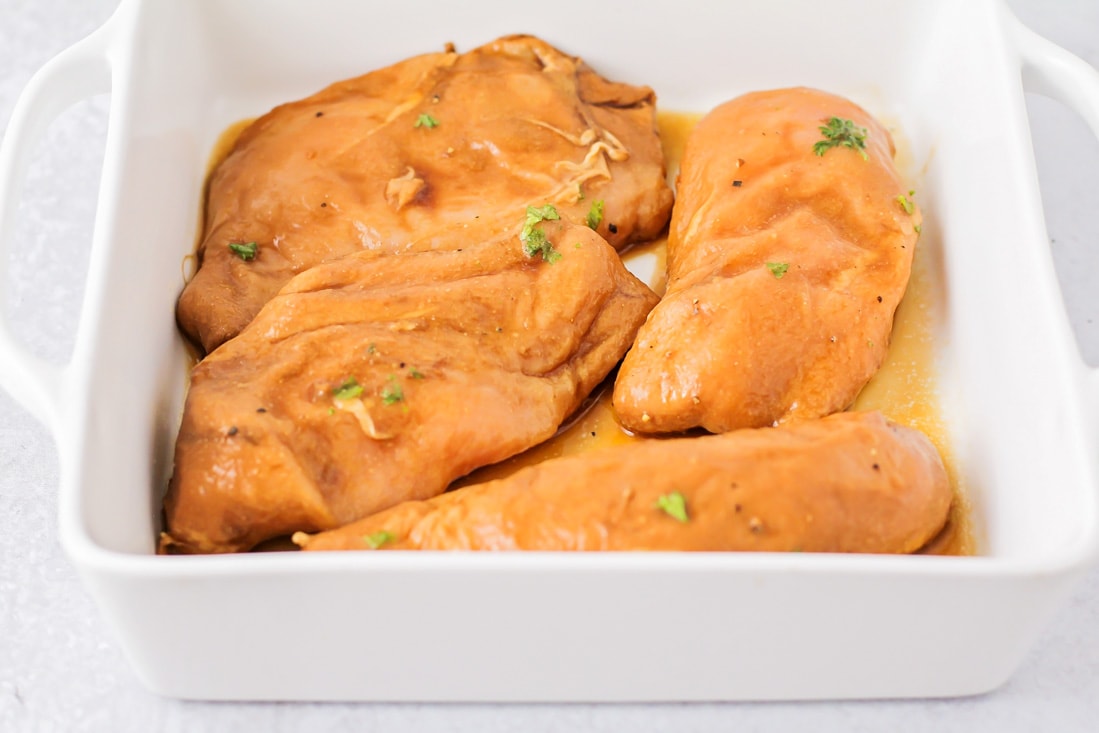 An Awesome Freezer Meal
Here's a trick if you're someone who likes to have meals on hand in the freezer. You can actually prepare this recipe according to the instructions, but instead of cooking the meat right away, you can actually freeze it!
After you add the raw chicken to the plastic bag of marinade, flatten the bag and place in the freezer. When you're ready to use it, place in the fridge to thaw, and it will actually marinate the chicken simultaneously.
Once it's thawed, cook the meat as usual. 😉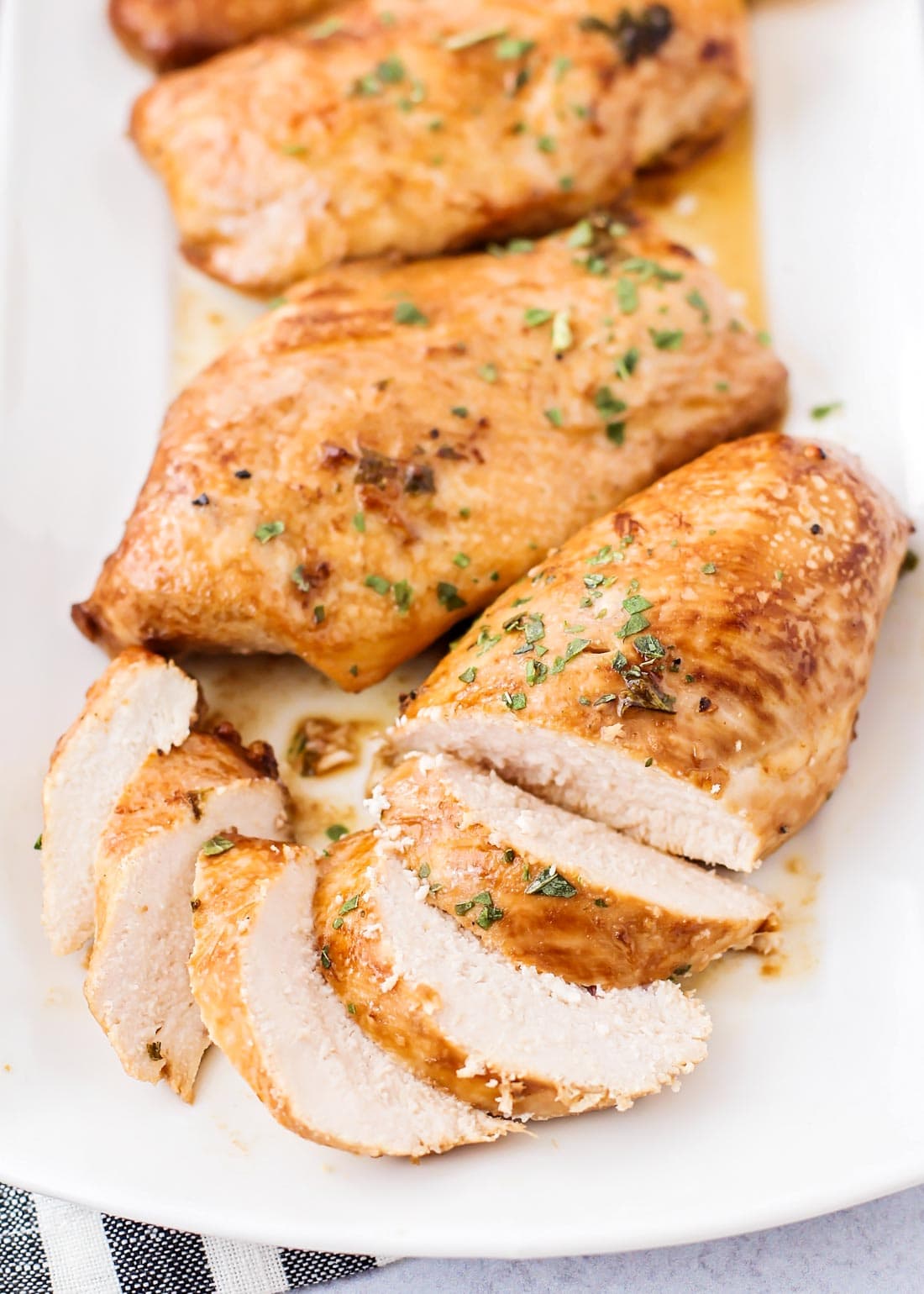 For more great chicken recipes be sure to check out:
Best Chicken Breast Marinade Recipe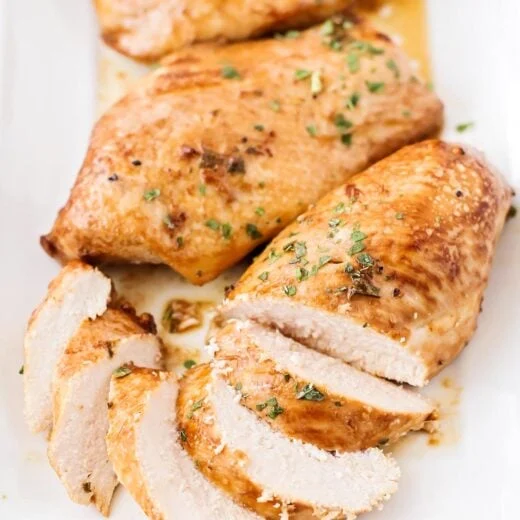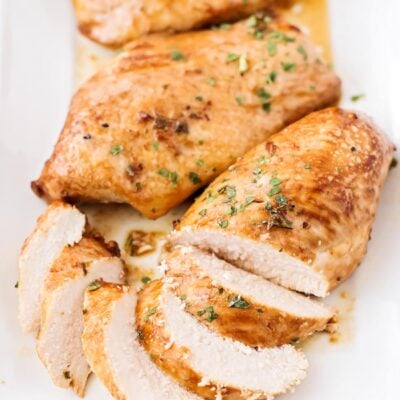 This BEST Chicken Breast Marinade is perfect for grilling or cooking chicken. It makes the meat juicy, tender, and so flavorful!
Ingredients
3/4

cup

vegetable oil

1/4

cup

soy sauce

1/4

cup

Worcestershire sauce

1/4

cup

red wine vinegar

Juice of 1 medium lemon

1

teaspoon

dry mustard

1/2

teaspoon

black pepper

1

teaspoon

fresh parsley

chopped

2-3

pounds

fresh chicken breast
Instructions
In a medium bowl or large measuring cup, stir together the oil, soy sauce, Worcestershire sauce, red wine vinegar, lemon juice, mustard, pepper, and parsley.

Add the chicken to large zipper bag or storage container. Pour the marinade over the chicken and toss gently to coat. Refrigerate at least 3 hours, or up to overnight.

When ready to cook the chicken, preheat the oven to 375. Bake 35-40 minutes, or until cooked through. Alternatively, you could grill the chicken over medium heat for 5-6 minutes per side.