EASY homemade Peach Cobbler takes minutes to prep and buttery and delicious. This is our FAVORITE peach dessert!
Cobbler is one of those desserts that is delicious year round! I crave the fruit during the summer, but the warm gooeyness during cold months. Peach is the flavor we make the most, but our blackberry and apple cobblers are just as tasty!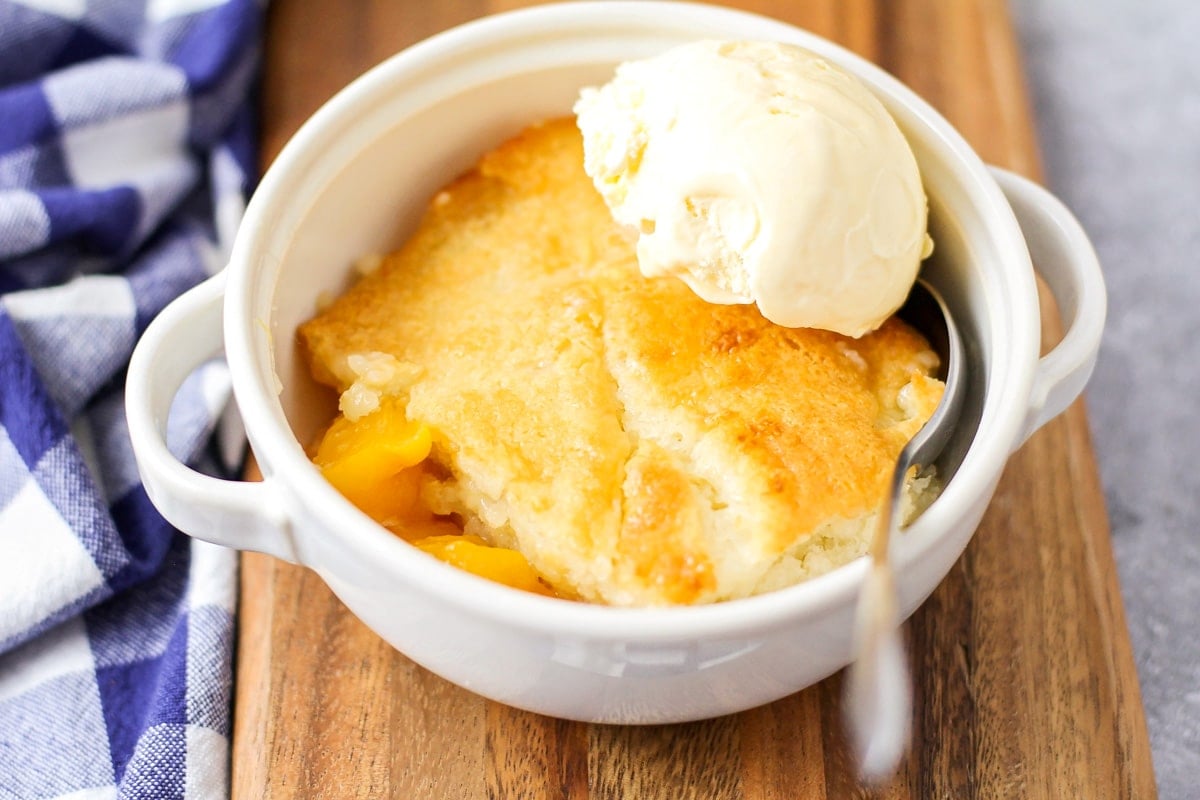 The EasIest Peach Cobbler!
I haven't always loved fruity desserts (I'm more of a chocolate girl), but have fallen in love with them. From Fruit Pizza to Strawberry Shortcake to Cobbler – they have become favorites, and I can't get enough of them.
Today, we wanted to share with you another favorite – our homemade peach cobbler recipe that takes just a few minutes to prep and is the EASIEST!
Let me tell you – this recipe is AMAZING!! In fact, it's become one of my favorite desserts to serve last minute because we always have the ingredients on hand, and it's easy to double for a larger crowd.
Cobbler or Crumble: They are similar but the key difference is that cobblers have biscuit topping and a crumble has a streusel topping. Crisps are crumbles that have oats in the streusel.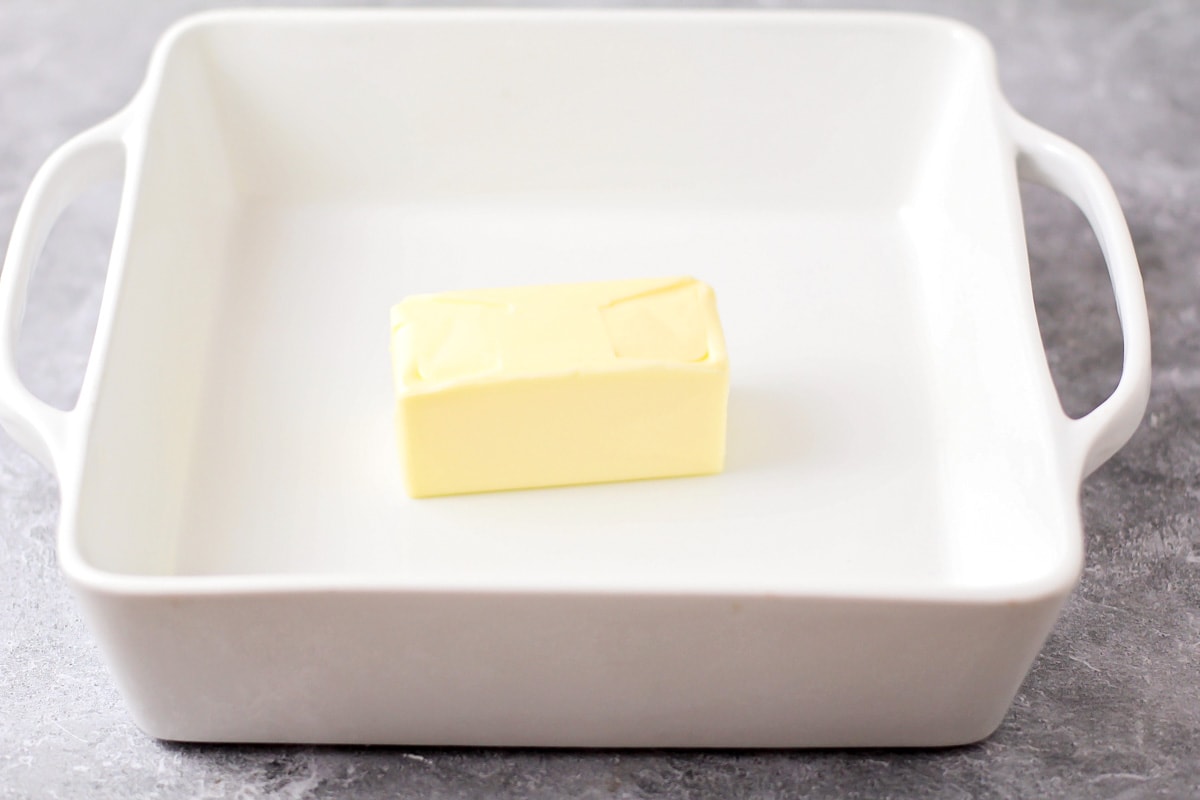 How to Make Peach Cobbler
This cobbler recipe is so easy, which makes it perfect to throw together for a last minute dessert. Especially because we almost always have these ingredients on hand!
PREP. Preheat your oven to 350° and melt the butter in a 9×9 pan in your oven.
CAKE. In a medium bowl, mix the flour, sugar, milk, baking powder, and salt really well. Take the pan out of the oven once the butter is melted and pour the batter mixture over it.
PEACHES. Spoon the peaches (with the juice) over it. Do NOT mix!!
BAKE + SERVE. Bake for 30-35 minutes and serve warm.
We love to serve it with vanilla ice cream and whipped cream! It seriously is the best and easiest cobbler that is so bread-y and gooey!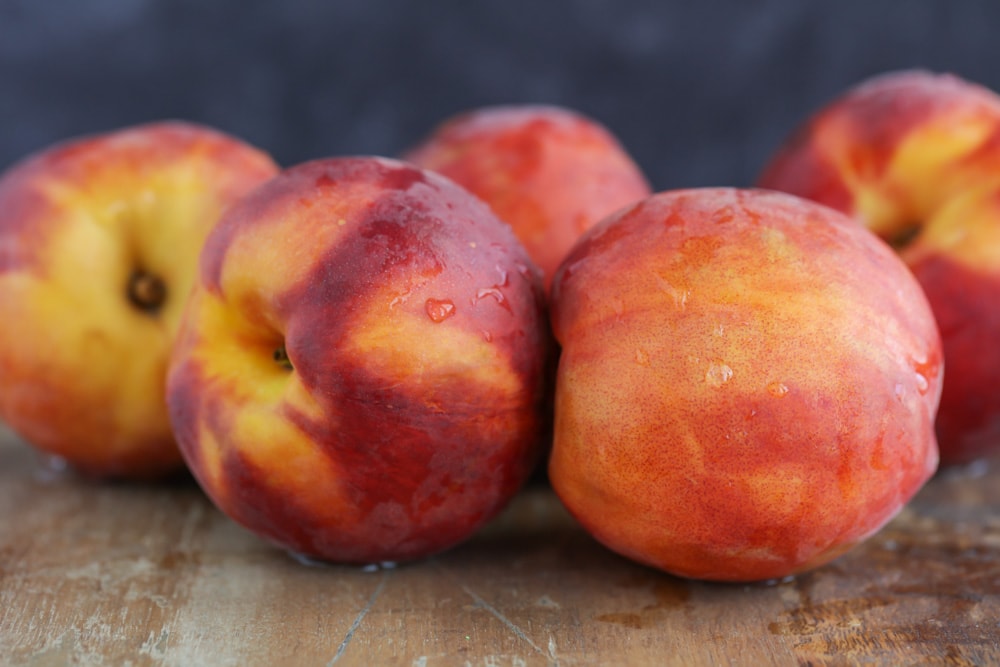 prefer to use Fresh Peaches?
I personally like to use canned peaches, because I think they taste just as good, and it saves me SO much time by not having to do any slicing. But if you prefer your peaches to be fresh, it is definitely possible with this recipe!
The only change you'll make to the recipe is substituting the canned peaches with a boiled fresh peach mixture.
PEACHES. Take 2 cups of freshly sliced peaches (about 4-5 peaches, peeled, cored and sliced), 3/4 cup of sugar, and dash of salt, and bring to a boil over high heat. Pour over batter in the 9×9 pan. Do not mix!
The rest of the recipe remains exactly the same.
For more tips and tricks, check out our Fresh Peach Cobbler Recipe.
Other Variations: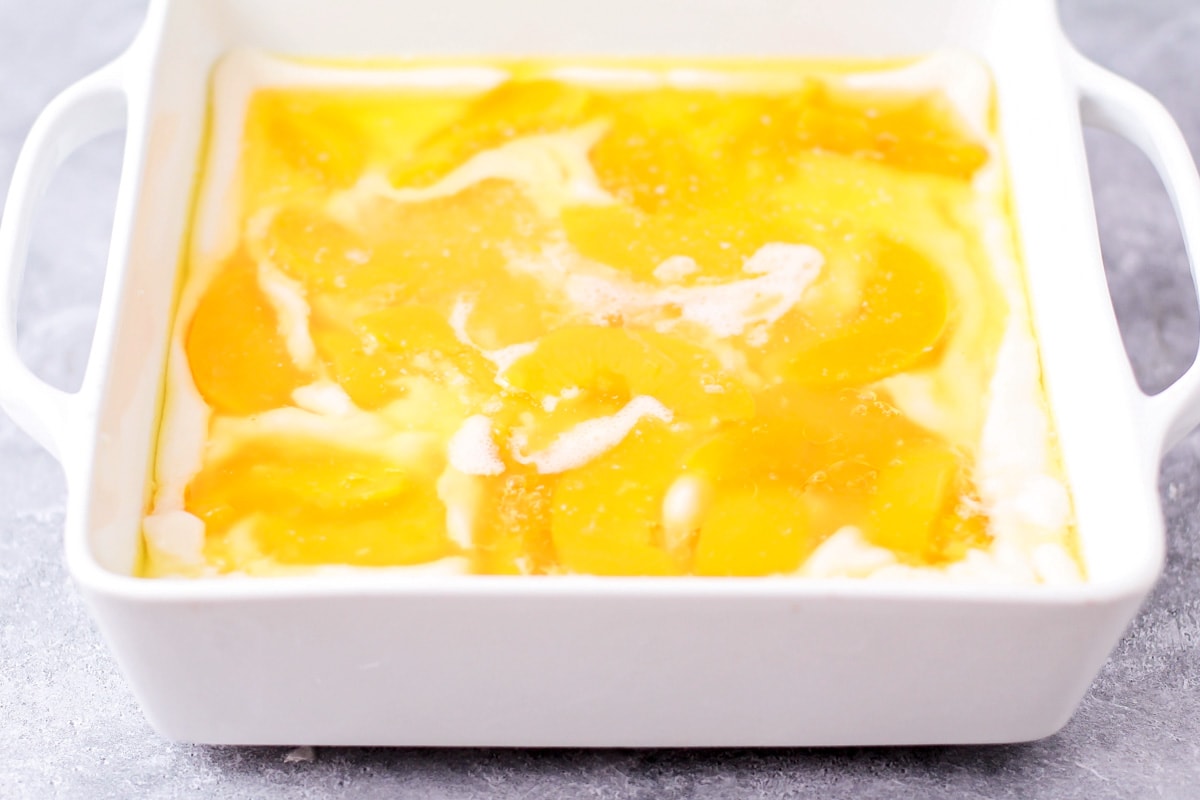 Tips and Troubleshooting
Use the whole can: This recipe calls for using the entire can of peaches. If you drain it, then the cobbler may turn out too dry.
Is it done? The biscuit topping will rise to the top and become a nice golden brown. The peach filling at the bottom will be bubbly. Keep in mind that we baked our cobbler in a glass baking dish. If you use a metal pan, then it may bake more quickly.
Switch the Spice: Replace the cinnamon with a similar favorite spice such as 1 teaspoon ground nutmeg, or allspice or a pumpkin pie spice.
Add Berries: Add some blueberries, strawberries, raspberries or blackberries, but toss them in some cornstarch first.
Add Cornstarch: If you're worried about mushy and runny cobbler, mix some cornstarch into the peaches. In a small bowl add 1 teaspoon cold water and 1 teaspoon cornstarch. Once it has been mixed, stir it into the peaches. As the cobbler bakes the hot liquid will activate the cornstarch.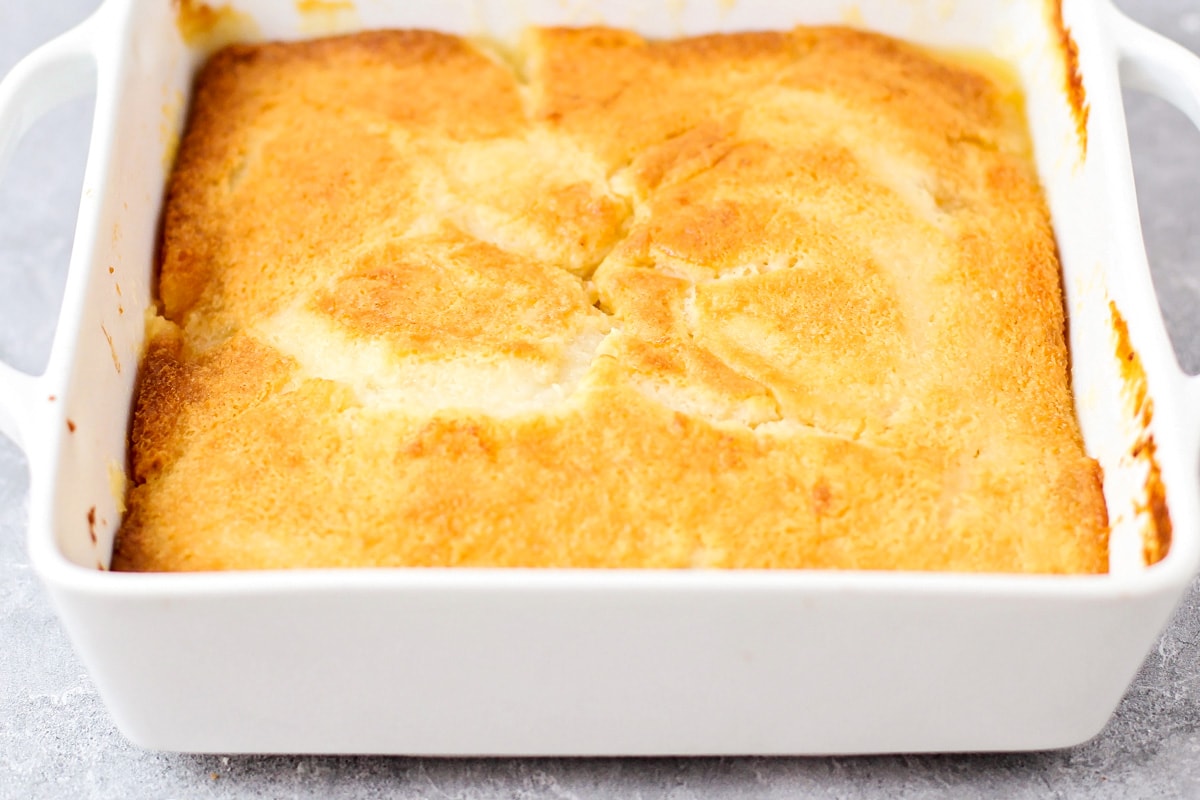 Storing tips + FAQ
Room temperature: Cover and store for up to 2 days
Refrigerator: Cover and store for up to 4 days
How to freeze? Cover with plastic wrap then again with foil and store for up to 8 months. Our peach cobbler can be frozen.
After baking let the cobbler cool and cover with plastic wrap then again with aluminum foil.

Label the contents and include the current date. Freeze for to 6-8 months.

To reheat thaw overnight in the fridge. Remove plastic wrap replace foil and bake in a preheated oven to 350 degrees F for about 20 minutes.
How to reheat? We love having peach cobbler warm. To reheat the cobbler, use the microwave and reheat in 30 second increments. If you want to reheat in the stove, just bake at 350 for 10 minutes if at room temperature, and about 20 minutes if the cobbler is chilled.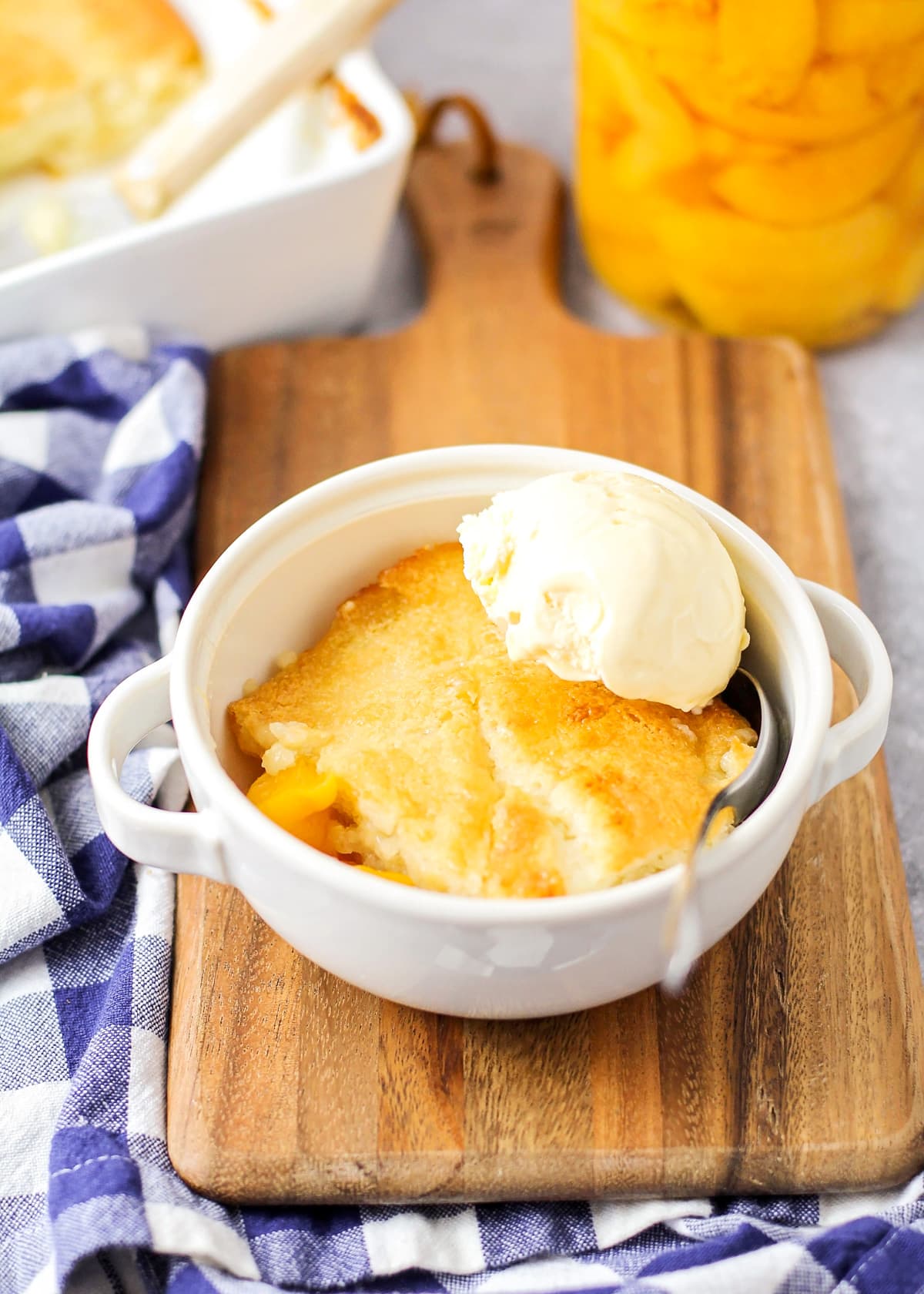 Recipe FAQ
Why is my peach cobbler runny?
Not baking the dish long enough can cause it to be soggy. Excess liquid can be another contributing factor to a runny cobbler and soggy crust. To help the filling set a little better you can mix in a cornstarch slurry. (directions above)
Is it better to use fresh or canned peaches to make peach cobbler?
Canned peaches are great because I always have them on hand and they do not take any extra preparations, but fresh peaches also taste delicious. Either way works and directions to prepare fresh peaches for this recipe are on the recipe card below.
How do I tell when the peach cobbler is done?
The biscuit-like topping should be a golden brown and you should be able to see some of the filling bubbling along the side of the pan. If the topping is browning before the filling bubbles, you can tent a piece of tin foil over the top for the remainder of the baking time.
For more peach desserts, check out: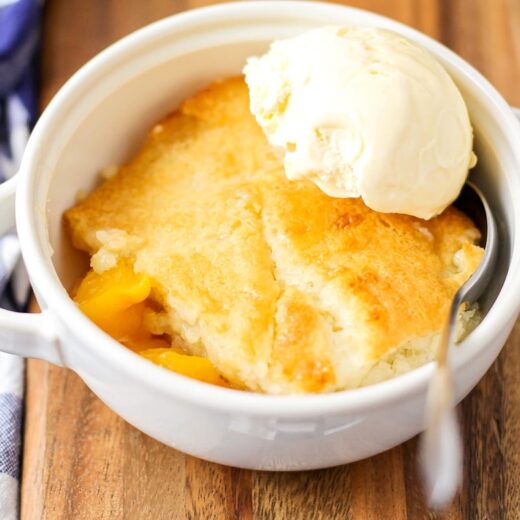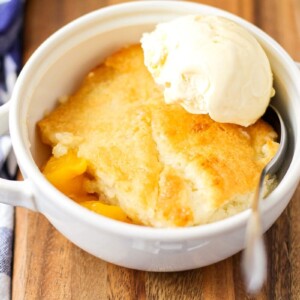 Peach Cobbler
Easy homemade peach cobbler takes minutes to prep and is buttery and delicious. This is our FAVORITE peach dessert!
Instructions
Melt the cube of butter in a 9×9 pan in the oven.

In a medium bowl, mix flour, sugar, milk, baking powder, and salt. Mix well.

Take out the pan with the melted butter and pour the batter mixture over it making sure it spreads mostly evenly.

Spoon peaches (with the juice) over it. Do not mix. Sprinkle with cinnamon if desired.
Notes
If you prefer to use fresh peaches substitute the canned peaches in step 4 with this boiled peach mixture: Take 2 cups of freshly sliced peaches, 1 cup of sugar, and 1 tablespoon of lemon juice, and bring to a boil over high heat. Pour over the batter in the 9×9 pan and do not mix.
Nutrition
Calories:
394
kcal
,
Carbohydrates:
58
g
,
Protein:
4
g
,
Fat:
17
g
,
Saturated Fat:
10
g
,
Cholesterol:
44
mg
,
Sodium:
154
mg
,
Potassium:
378
mg
,
Fiber:
1
g
,
Sugar:
41
g
,
Vitamin A:
770
IU
,
Vitamin C:
4.7
mg
,
Calcium:
130
mg
,
Iron:
1.3
mg
Nutrition information is automatically calculated, so should only be used as an approximation.
Making this recipe? Tag us!
Share it with us on Instagram using the hashtag #lilluna, so we can see what you're creating in the kitchen!