Be the weeknight dinner hero with this extensive list of Quick Dinner Ideas. There is plenty of variety to make every night deliciously successful, and hassle-free!
More Collections: Breakfast For Dinner, Beef Dinner Ideas, Chicken Dinner Ideas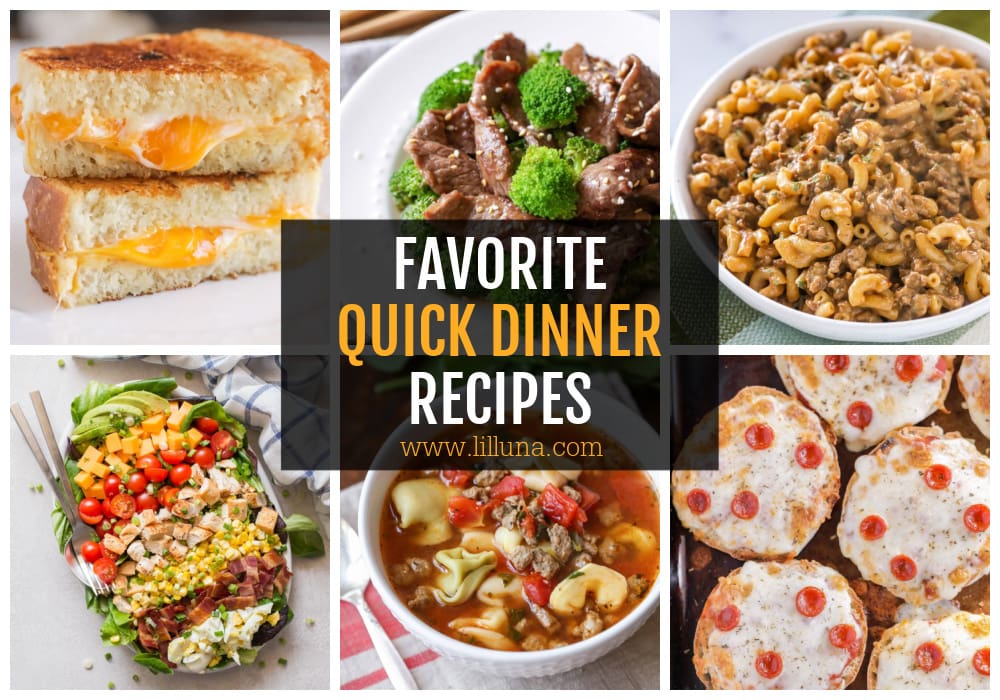 Perfect for Busy Nights!
Soups, salads, and sandwiches are go-to Quick Dinner Ideas in our home. I've also included more warm and hearty eating, sure to have your family returning for seconds.
These easy dinner recipes are quick prep, freezer, or make ahead recipes – perfect for those busy nights! What will you make for dinner tonight?
Plan Ahead
"What's for dinner?" This can be one of the most dreaded questions for any parent. When I take the time to plan my menu ahead of time, that question is easy to answer. Menu planning has a lot of great benefits:
Prep ahead of time. When the meals are planned for the week, ingredients can be prepped ahead of time.
Save time and money. Instead of running to the grocery store several times a week, make a list of what you'll need for the weekly menu, and only go once.
Flexibility. Having all needed ingredients for a week of meals allows you to adjust your daily plan. If something unexpected pops up, simply switch that days meal with a quicker one planned for later that week.
Variety. Planning ahead allows for more variety, and healthier eating. No more hasty trips to pick up fast food.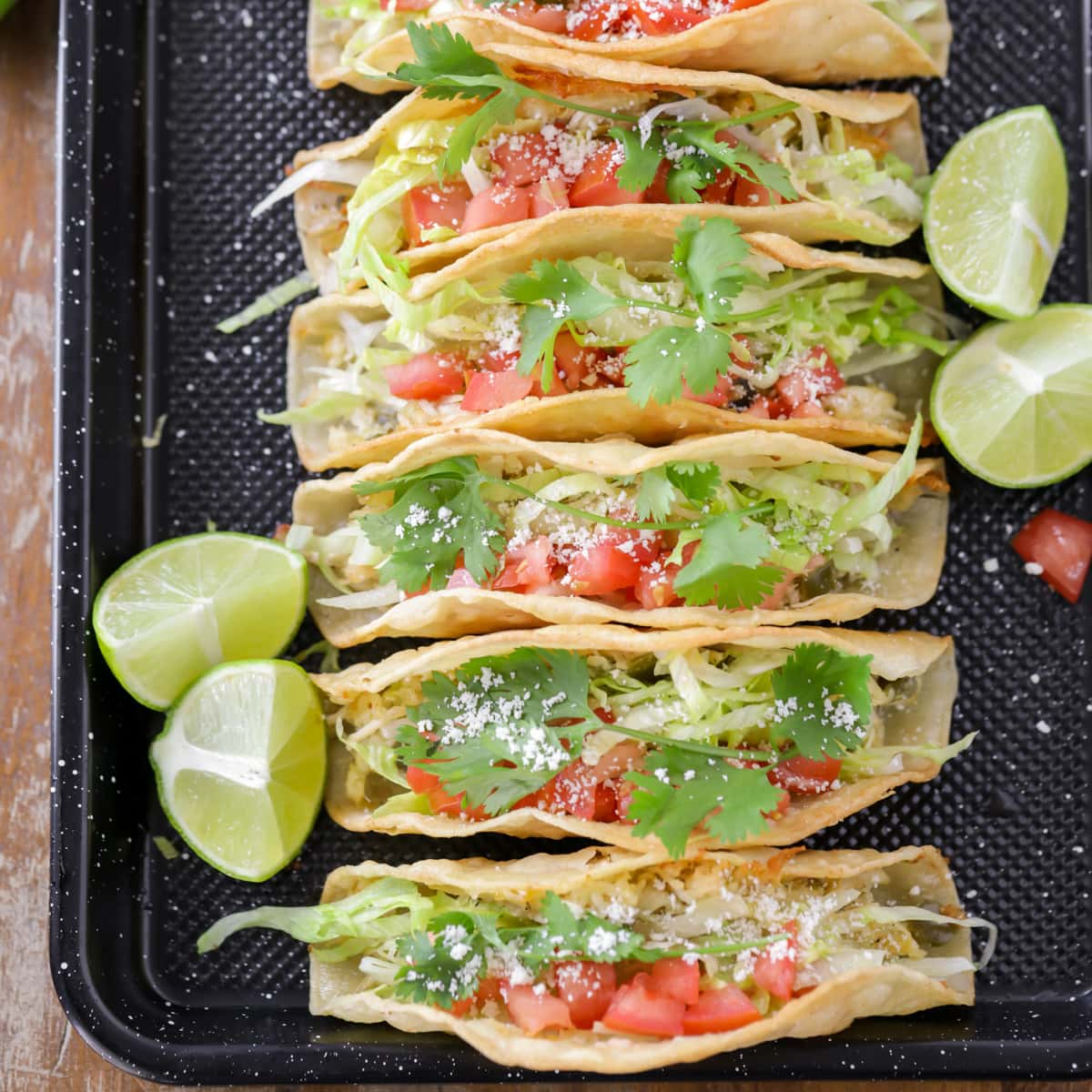 Keep it quick!
30 minutes or less. Collect 30 minute meal recipes to have quick options on hand. There are dozens of delicious recipes that can be made from start to finish within 30 minutes. This is a great option if you don't have time to prep ahead, or plans change, and you need a quick meal.
All the recipes listed on this page can be made in roughly 30 minutes or less. As an added tip, keep all needed pantry staples on hand for recipes you make often.
Freezer meals. One of the easiest ways to stock up on freezer meals is to double the recipe you are making for dinner that night. Save the extras in the freezer, for later. Remember to thaw the dish, in the fridge overnight, so that it is ready to be heated for dinner.
Along with complete freezer meals, I like to have cooked shredded chicken in the freezer. There are so many recipes that call for shredded chicken, it's nice to have on hand!
Instant pot. As much as I love my crock pot, the instant pot can do the same thing, in less time. This is especially helpful when I forgot to thaw my meat. Unlike the crock pot, you can quickly cook completely frozen meat in an instant pot.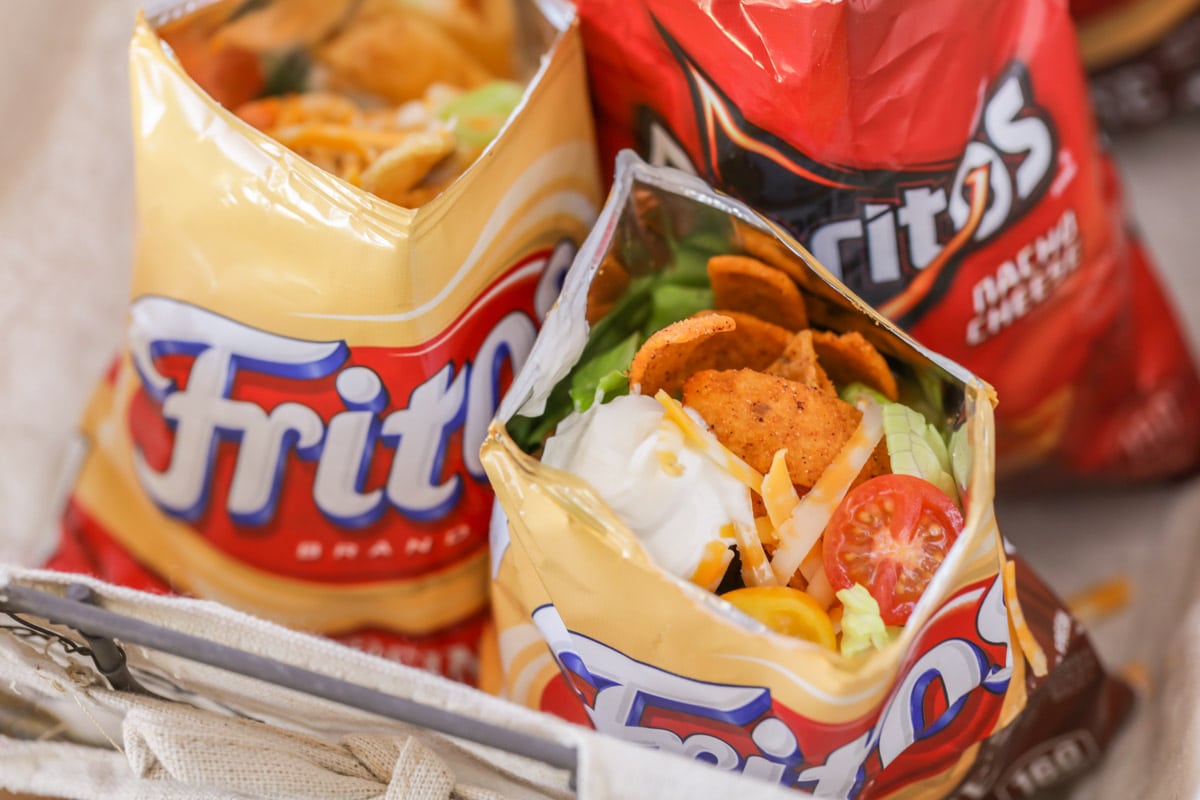 Utilize Leftovers
Leftovers can be a lifesaver on a busy night. They're already cooked, saving time, and can be used to make completely different dishes.
In my house leftover Crock Pot Roast is almost always used to make Green Chile Burritos later in the week. Use leftover Beef Chili to make Loaded Chili Nachos or Chili Hot Dogs. Leftover BBQ Chicken can be sliced and added on top of a salad. You get the idea.
After a while, you may find yourself purposely making more of a dish, just so you can use the leftovers later in the week.
---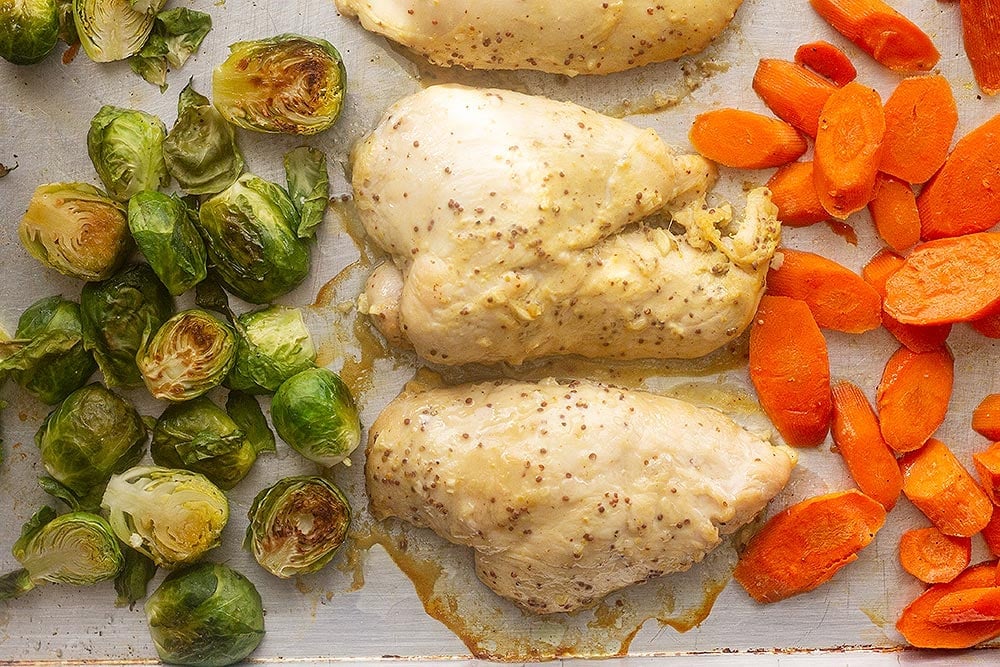 Quick Dinner Ideas with Chicken
All are simple, all are delicious, and all of these recipes utilize chicken!! Chicken is a versatile ingredients that can take on so many tasty flavor profiles. There is no shortage of goodness here!
Baked Honey Mustard Chicken – Quick and Easy Healthy Chicken Dinner. This takes less than 30 minutes to bake, is full of flavor, and will please the whole family!
Buttermilk Fried Chicken – You can't go wrong with delicious fried chicken!! It's great for picnics, barbecues, holidays and more. Plus – it's easier to make than you think!!
Chicken Flautas – Delicious, crunchy chicken flautas filled with shredded chicken, salsa, cheese, and more! They can be fried, air fried or even baked into a delicious and easy dinner or appetizer.
Chicken Tacos – Restaurant-style Chicken Tacos are filled with ingredients like shredded chicken, cheese, lettuce, and tomatoes, all inside a fried corn tortilla.
Lemon Garlic Chicken – This Lemon Garlic Chicken is ready in 15 minutes or less! It's a great weeknight chicken dinner that is full of flavor and tastes great over rice!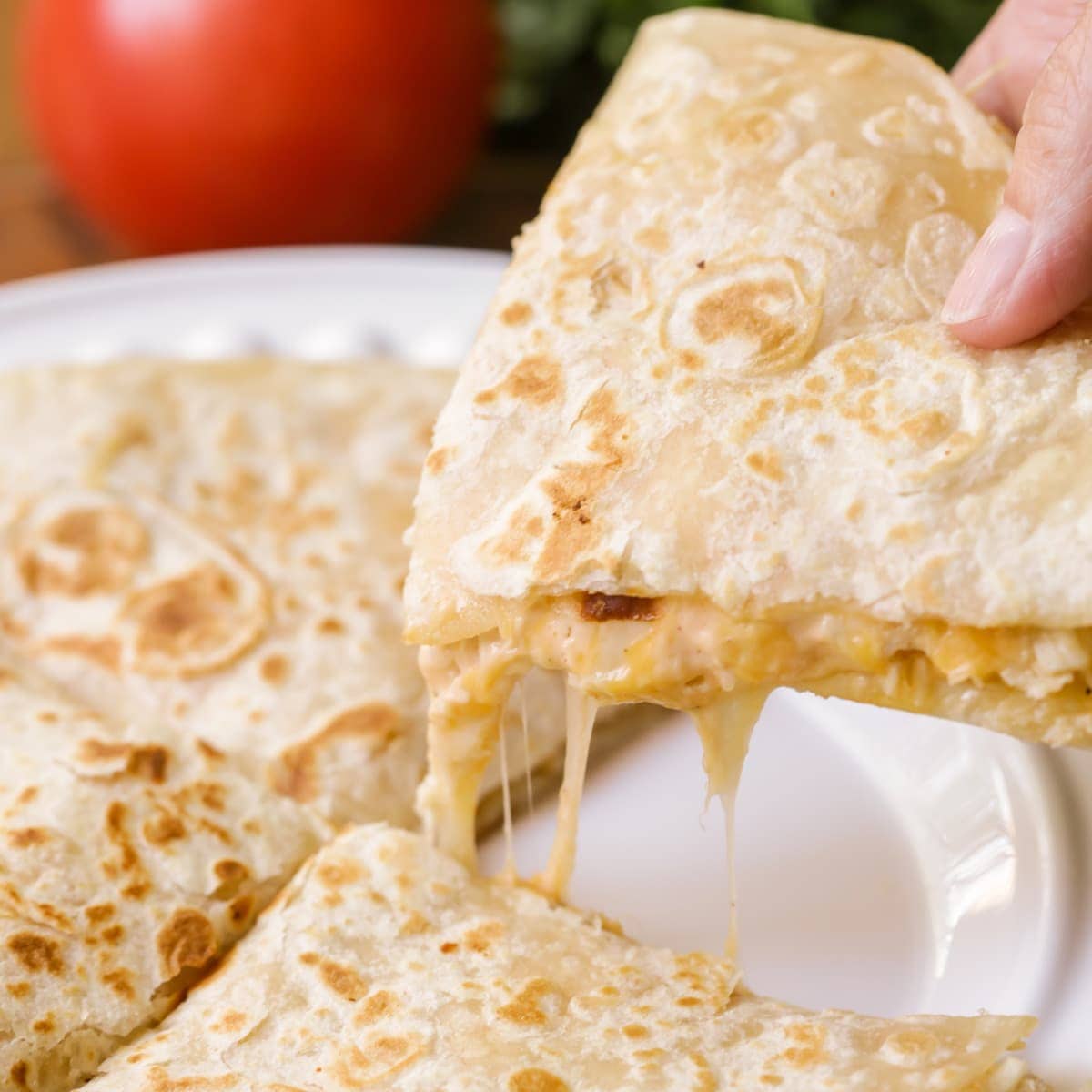 Chicken Quesadillas – These easy, cheesy Chicken Quesadillas are a crowd favorite. They are not only filled with cheese and chicken, but a delicious homemade sauce that makes these hand-held goodies irresistible!
Baked Chicken Chimichangas – Everyone loves chimichangas! This Baked Chicken Chimichanga recipe is stuffed with rice, chicken, cheese and more. Such a simple dinner recipe that is so delicious and perfect to add to the monthly menu.
Huli Huli Chicken – This Grilled Huli Huli Chicken is the juiciest and most delicious Hawaiian chicken you'll ever try! Great alone or served on rice or noodles!!
Baked Chicken Wings – Deliciously crispy baked chicken wings have endless possibilities. Bake in the oven, and dip in your favorite sauces!
Popcorn Chicken – Crispy, delicious Popcorn Chicken is a family favorite!! Not only is it easy to make but it's a hit with the entire family making dinner a cinch!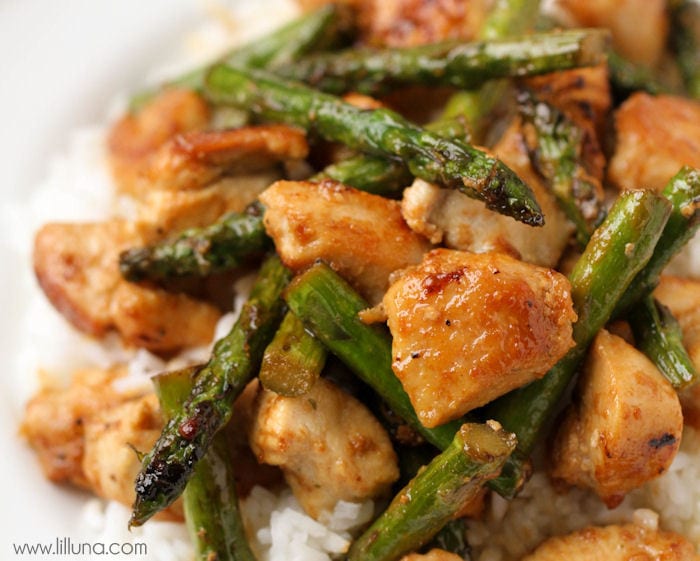 Chicken And Asparagus Stir Fry – Healthy and delicious Lemon Chicken and Asparagus Stir Fry is packed with lots of delicious flavors. It's simple and super easy too!
Lemon Pepper Chicken – Flavorful and tender Lemon Pepper Chicken is simple and requires just a few ingredients. Served on its own or over rice, this buttery chicken dish is perfect any night of the week for a simple, quick dinner idea.
Chicken Stir Fry – The tender chicken and flavorful sauce with yummy veggies made this stir fry dish a keeper, and I'm already anxious to try it again.
Fried Chicken Breast – Crispy breaded chicken topped with arugula, shaved parmesan cheese, and a delicious lemon vinaigrette!
Baked BBQ Chicken – Easy and healthy Baked BBQ Chicken – You can whip up the sauce, pour it over some chicken breasts, pop it in the oven and you're done!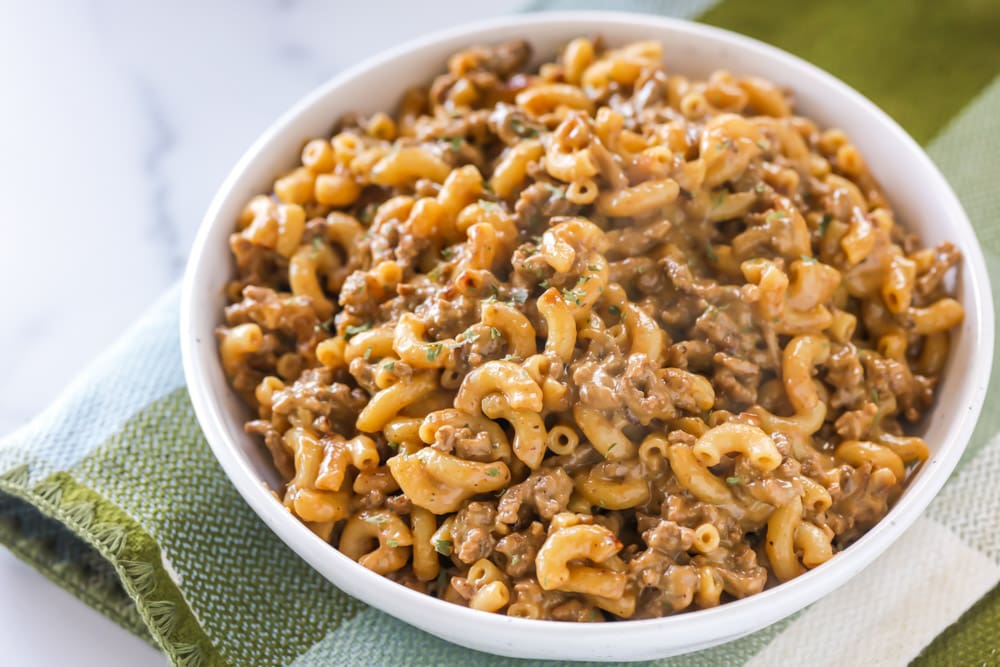 Quick Dinner Recipes with Beef and Pork
These hearty dishes feature beef and pork. They are filling, and still crazy quick! They are perfect for any night of the week.
Homemade Hamburger Helper – Hamburger Helper is filling and hearty. A perfect dish for the family that comes together in under 30 minutes!
Walking Tacos – Walking tacos are an easy grab and go meal that is full of flavor! They are no mess, easy to make, and perfect for large gatherings!!
Beef Lo Mein – Hearty and delicious Beef Lo Mein is so simple and has so much flavor! It is filled with saucy chunks of beef, carrots and broccoli.
Beef Enchiladas – Shredded Beef Enchiladas are made with Just 6 ingredients! This easy dinner idea is a crowd pleaser filled with corn, beef, green chiles, and cheese, and covered in red sauce.
Ranch Burgers – The BEST homemade hamburgers!! This easy burger recipe is complete with the most delicious secret sauce that compliments the Ranch Burgers perfectly!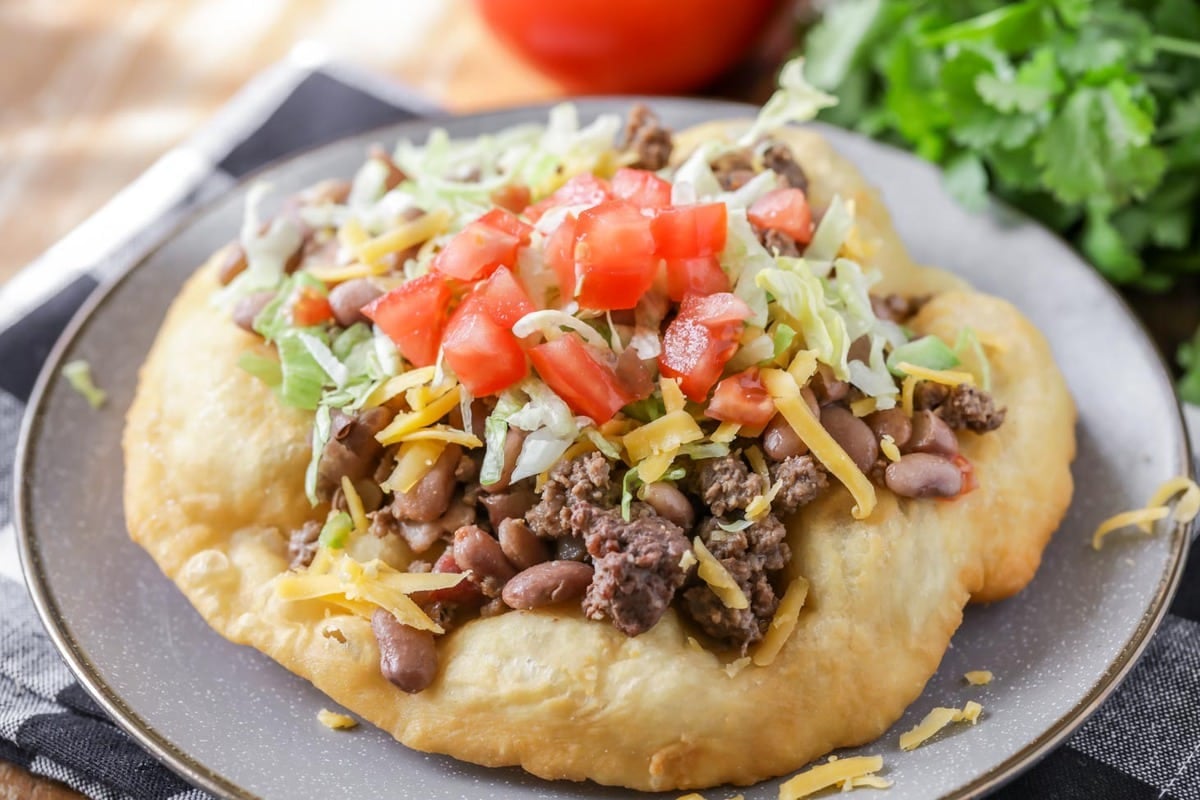 Indian Fry Bread – Delicious Homemade Fry Bread—aka "Navajo Tacos" or "Indian Bread"—pillows of dough, fried until crispy on the outside and soft on the inside. Make it a meal by adding sweet or savory toppings!
Easy Meatball Recipe – This Homemade Meatball recipe is way better than store bought, and easy too – they take minutes to put together! Made from ground beef mixed with parmesan cheese, salt, pepper, onion and garlic powder, milk, and eggs. These ground beef meatballs are perfect alone or mixed in with pasta!
Sweet And Sour Meatballs – These Sweet and Sour Meatballs are made with frozen meatballs and pineapple chunks and are covered in a DELICIOUS homemade sweet and sour sauce!! It's the perfect appetizer or dinner idea served over rice or noodles.
Easy Beef And Broccoli – DELICIOUS Beef and Broccoli recipe that everyone will love. This flavorful dish is perfect for your next dinner is easy to make too!
Flautas – Tortillas filled with meat and cheese and fried to perfection! Crispy, flavorful flautas are a delicious dinner for everyone!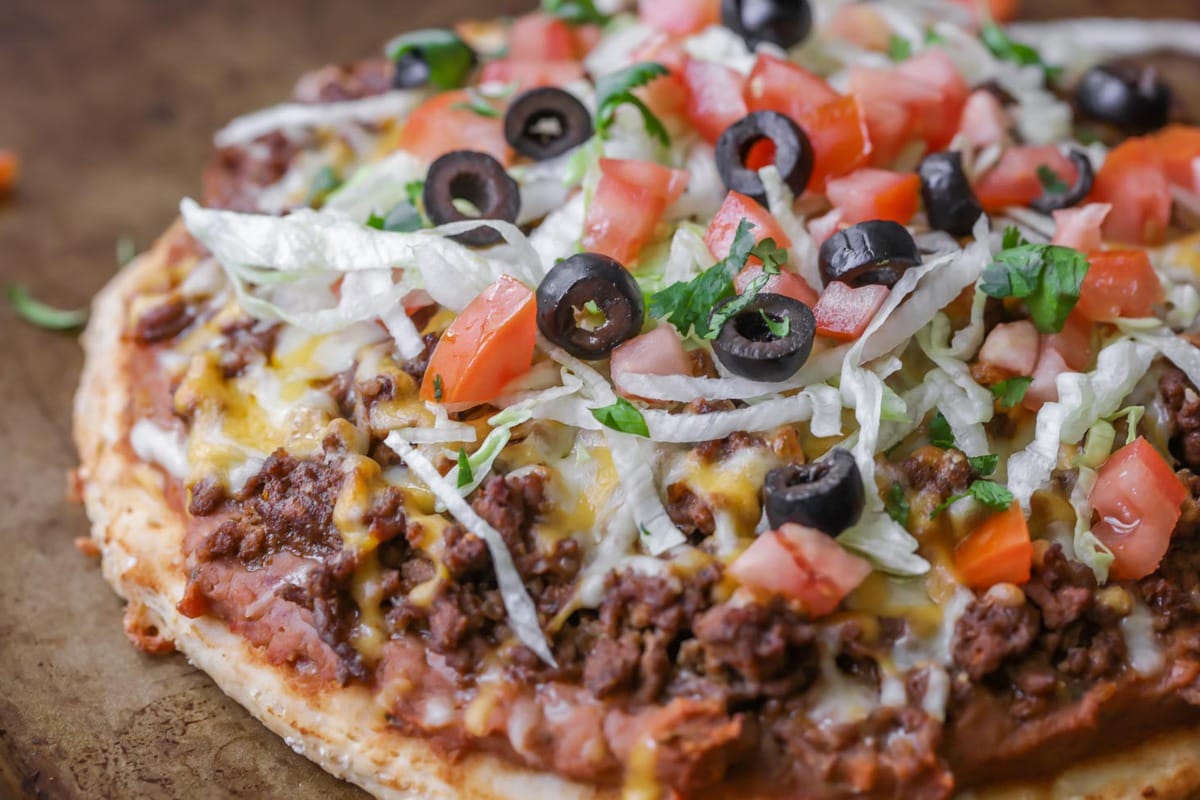 Homemade Taco Pizza – This delicious, Homemade Taco Pizza is simple and on the table in under 30 minutes. It's topped with meat, beans, cheese and more making it flavorful and easy to customize based on all the flavors you love most.
Italian Pork Chops – These Italian Pork Chops require just a few ingredients and are baked in the oven with loads of veggies. Have it ready and on the table in just 30 minutes!
Sloppy Joes – Saucy and savory homemade Sloppy Joes are a delicious meat loaded sandwich. They are quick and easy, perfect for feeding a crowd!
Taco Pie – I really think you'll like this pie, Especially if you're a fan of Mexican casseroles and taco salads (that's what I feel this recipe is a combination of). It's delicious!
Steak Fajitas – You know those sizzling fajitas you see at restaurants? You can make them at home! It may seem intimidating, but these steak fajitas couldn't get any easier!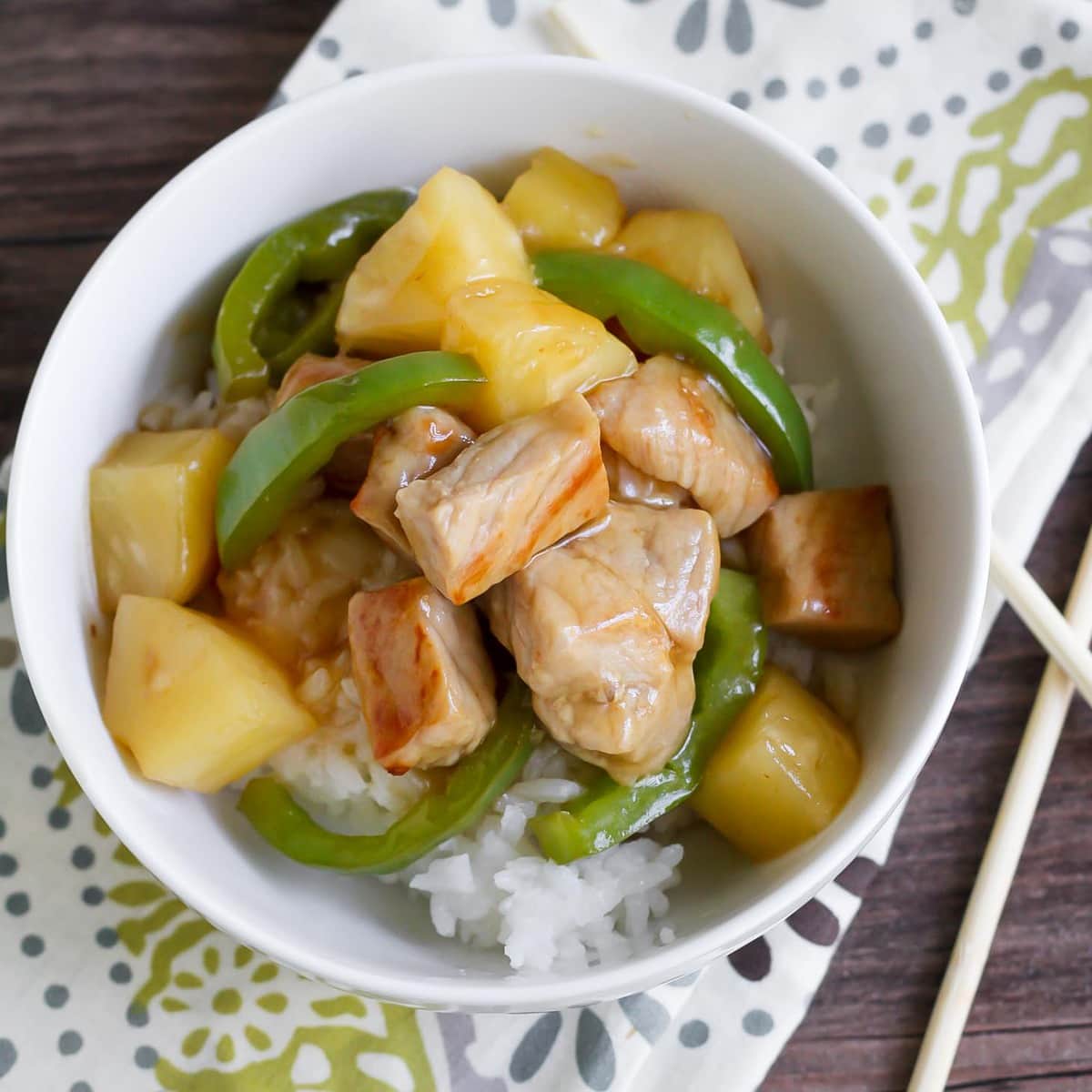 Sweet And Sour Pork – This sweet and sour pork recipe includes pork, pineapple, and green bell pepper—all smothered in a perfectly tangy sauce.
Pork Stuffed Sweet Potatoes – Savory Pork Stuffed Sweet Potatoes are simple and quick and perfect for dinner any night or as a side dish.
Pork And Broccoli Stir Fry – If you love Asian food, you'll love this simple and delicious Pork and Broccoli Stir-fry!! It is PACKED with flavor!!
Fried Pork Chops – Simple pan Fried Pork Chops in lemon butter sauce are crunchy on the outside and perfectly tender and delicious on the inside!
Teriyaki Pork Chops – Simply sweet and savory Teriyaki Pork Chops make the perfect dinner recipe and are ready in only 20 minutes!!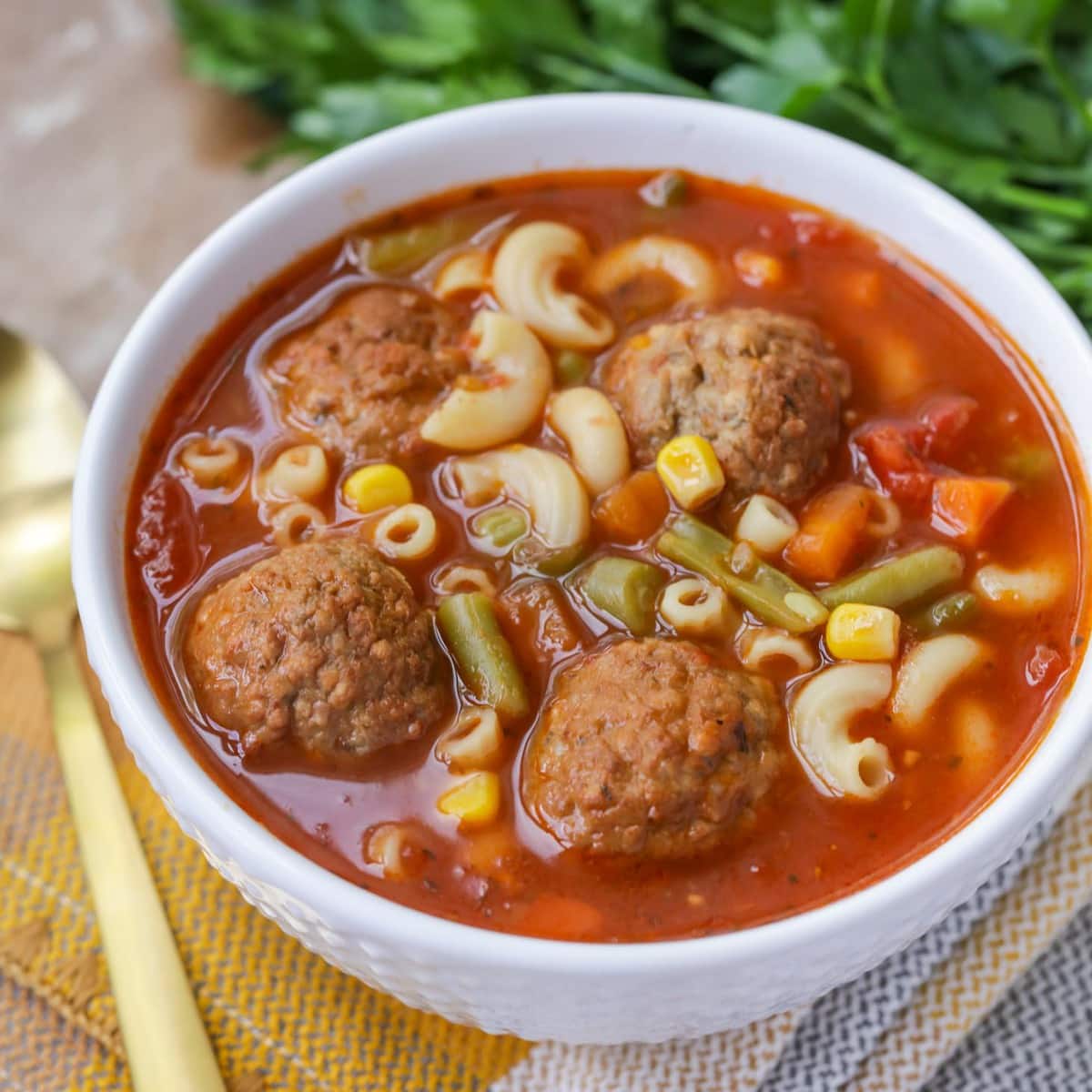 Quick Soup Recipes
Soups can be cooked low and slow in a crock pot, for a dinner that is ready to go when you are! They are perfect for busy nights, and generally require very little morning prep.
Make these tasty soups in an instant pot for an even shorter cook time!
Meatball Soup – Veggie loaded Meatball soup is filling and delicious. Your entire family will love and devour this kid-friendly dish!
Chicken Dumpling Soup – Our all-time favorite version of one of the most classic soup recipes – Chicken and Dumplings! This simple, delicious soup is filled with chunks of chicken and pieces of biscuit, along with your favorite veggies!
Taco Soup – Taco Soup is one of the EASIEST dinner recipes of all time! Just dump, simmer, and enjoy in under 20 minutes!
Mexican Chicken Corn Soup – This Delicious Mexican Soup is filled with chicken, corn, tomatoes, cheese, & lots of seasonings! It's full of Flavor and Made in 20 Minutes!
Buffalo Chicken Soup – All the flavors of your favorite appetizer are contained in this delicious Buffalo Chicken Soup. It's so hearty and tastes just like buffalo wings!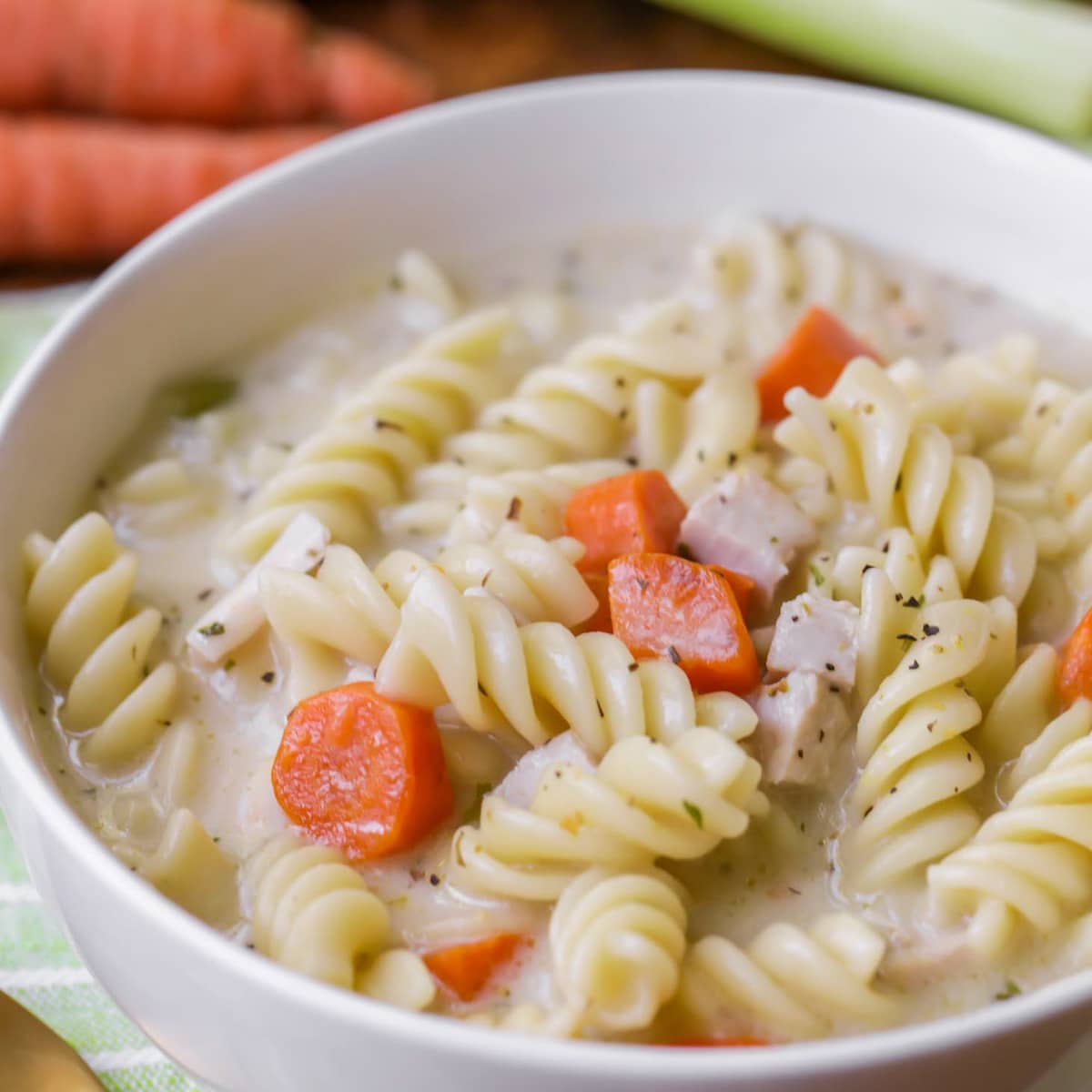 Turkey Noodle Soup – This hearty Turkey Soup recipe is flavorful and filled with rotini pasta, celery, carrots and turkey. It's perfect for fall!
Sausage Tortellini Soup – Italian Sausage Tortellini Soup is hearty, delicious, and full of healthy, tasty ingredients. Best part, it's on the table in no time!!
Chicken And Rice Soup – Creamy homemade Chicken and Rice Soup is hearty & flavorful. Best of all, it's on the table in just 30 minutes!
Egg Drop Soup – This delicious and easy Egg Drop Soup recipe tastes just like the restaurant version. Now you can make and enjoy one of your favorite Asian recipes at home with this tasty soup.
Sweet Potato Soup – Velvety smooth sweet potato soup has a bit of nip and is the perfect soup recipe for anyone who loves sweet potatoes.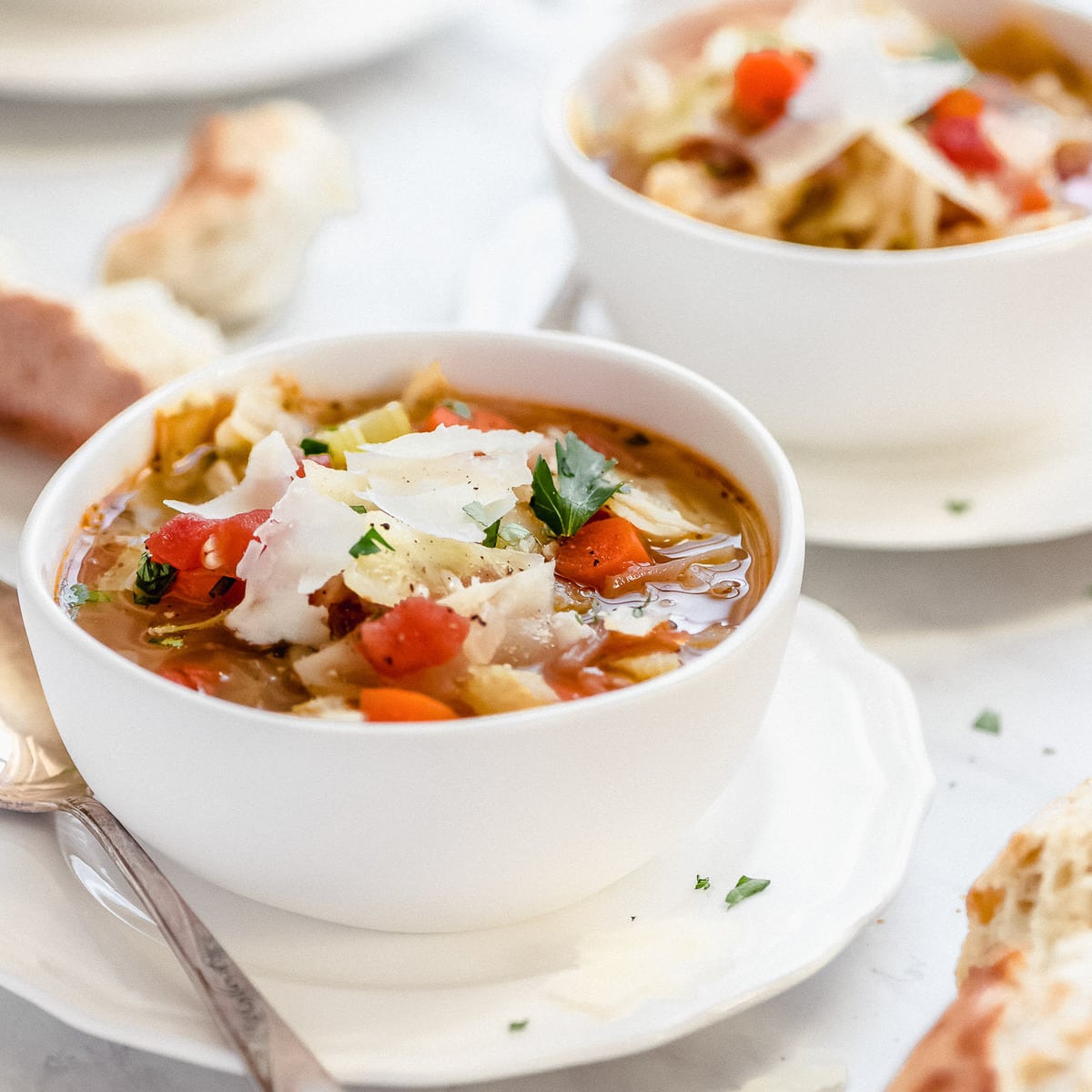 Cabbage Soup – Cabbage Soup is an easy healthy soup loaded with fresh veggies. Warm up with a cup of this low calorie and low carb delicious soup!
Chicken Wild Rice Soup – Such a tasty and simple recipe – this Chicken Wild Rice Soup is filled with long grain and wild rice, chicken, carrots, almonds and more!
Bacon Potato Corn Chowder – This thick and creamy chowder is filled with bacon, corn, potatoes, and big flavor! The whole family will love Bacon Potato Corn Chowder.
Cheesy Chicken Parmesan Soup – One of your favorite Italian dishes turned into a delicious soup! This Cheesy Chicken Parmesan Soup is a creamy tomato-base soup filled with chicken, penne pasta, and of course cheese. The best part – it comes together in less than 30 minutes!
Chicken Gnocchi Soup – This Chicken Gnocchi Soup is so hearty and so flavorful. It is filled with chicken, carrots, spinach, broccoli and gnocchi! It's perfect all year long and is bound to be a new favorite.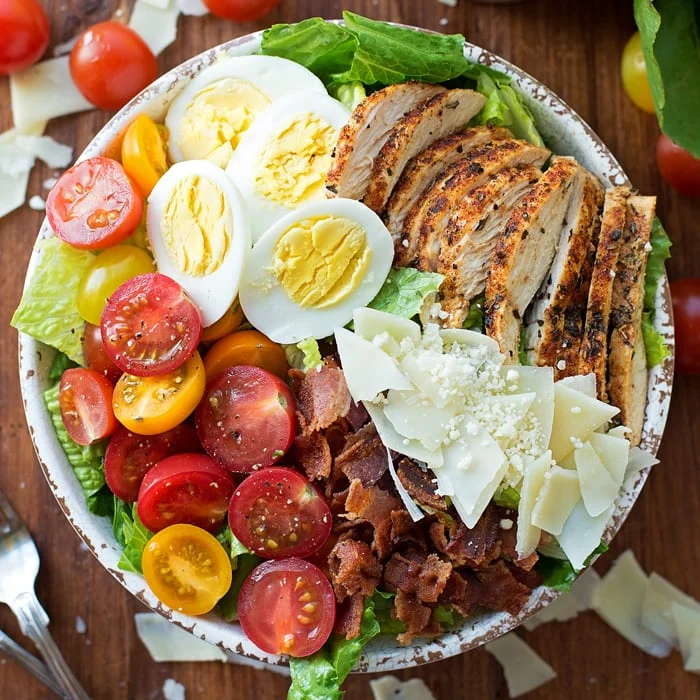 Quick Healthy Dinner ideas
Salads are filled with veggies, and can easily incorporate protein and other vitamin-rich ingredients. Serve the dressing on the side for an additional healthy tip!
Enjoy these fresh and deliciously Quick Dinner Ideas!
Chicken Caesar Salad – Ultimate Caesar Salad with grilled chicken, croutons, tomatoes, bacon, hard-boiled eggs, Parmesan cheese and tomatoes.
Quick Caprese Salad – Simple and Quick Caprese Salad is easy and delicious with pops of mozzarella, tomatoes, avocados and drizzled with a balsamic glaze!
Cobb Salad – This simple Cobb salad is so full of tasty ingredients it's a meal all on it's own. It is quick to make and utterly delicious.
Cheesecake Factory Luau Salad – Loaded with sweet, tropical flavors, this delicious Luau Salad is BETTER than it's Cheesecake Factory double!
Steak And Tortellini Salad – Delish Steak and Tortellini Salad is hearty and refreshing. Tortellini, sirloin & romaine in a creamy pesto dressing is a must-have!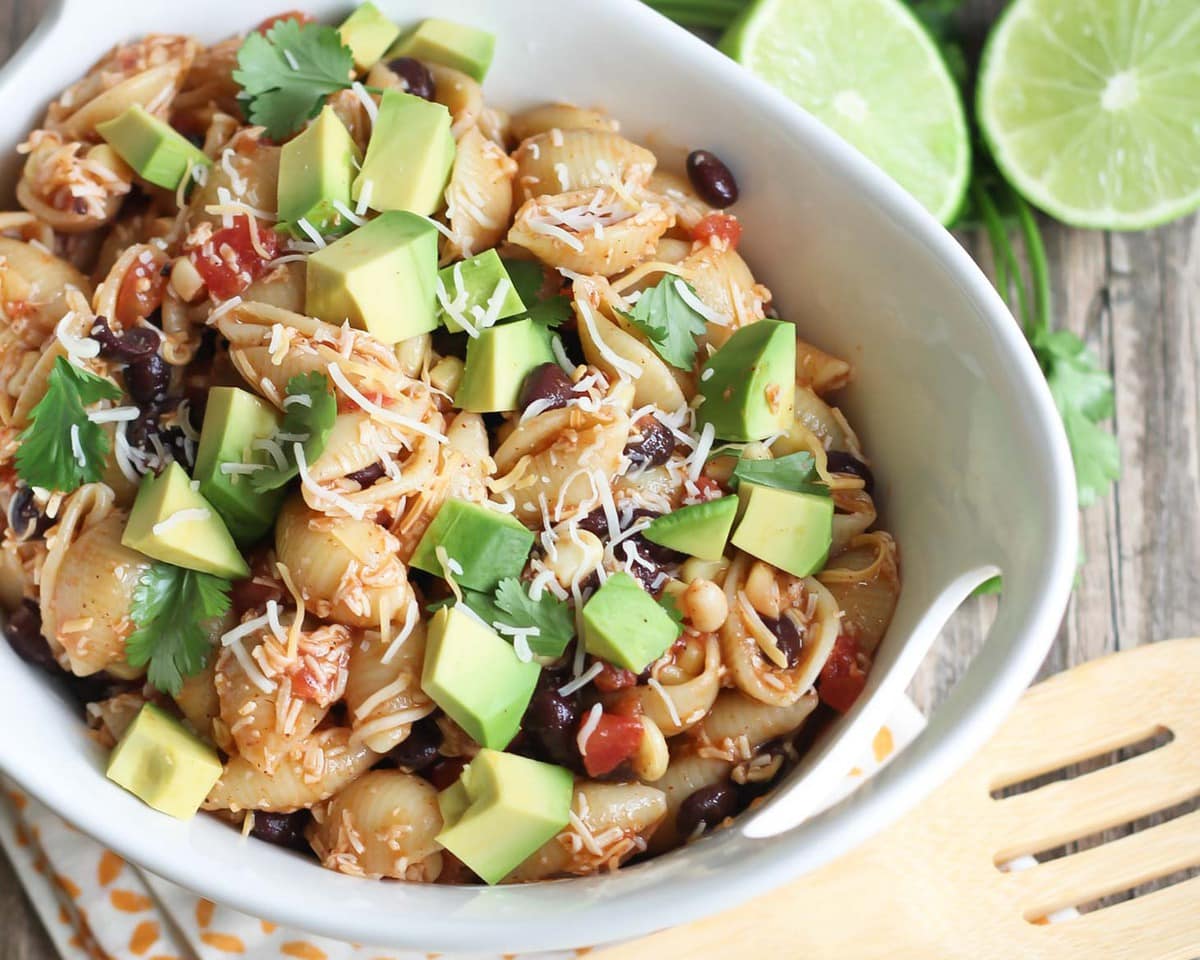 Taco Pasta Salad – Delicious Taco Pasta Salad filled with beans, corn, tomatoes, avocado and more!!
Buffalo Chicken Pasta Salad – Buffalo Chicken Pasta Salad is filled with spicy buffalo wings and topped with a tangy blue cheese dressing. It is easy and delish!
Strawberry Harvest Salad – Strawberry Harvest Salad tastes just like the salad at Zupa's! It's topped with a homemade Strawberry Vinaigrette dressing.
Chicken Taco Salad – Crunchy and fresh chicken taco salad is a weeknight dinner dream! Easy, flavorful, and a recipe that everyone will enjoy.
Waldorf Salad – Waldorf Salad is filled with texture and flavor. Tossed in a homemade poppyseed dressing, it's perfect for any lunch, dinner or appetizer.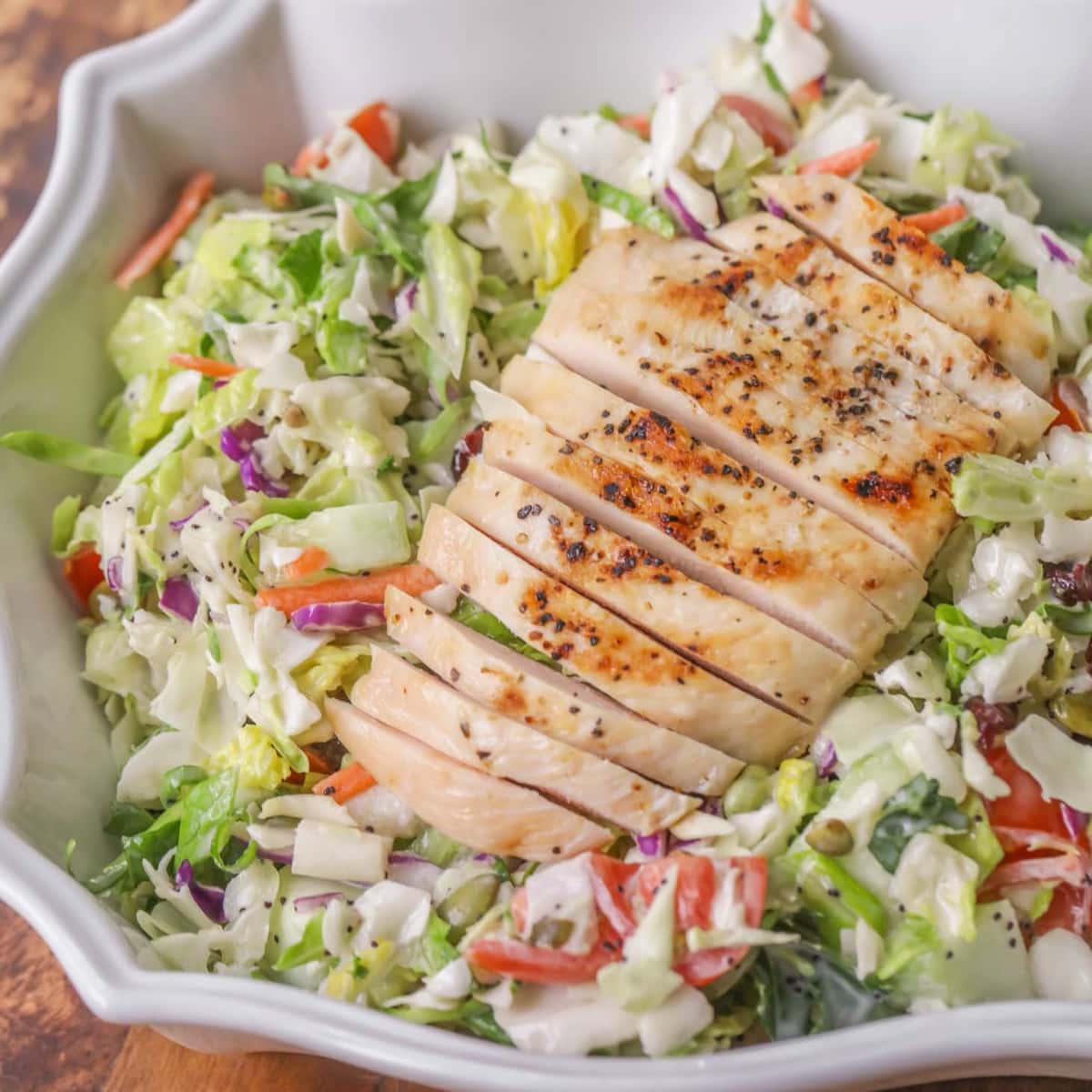 Lemon Poppy Seed Dressing – A delicious salad with tomatoes, chicken, craisins, sunflower seeds and a delicious homemade lemon poppy seed dressing. The dressing only requires 4 ingredients and takes minutes to make!
Asian Citrus Chicken Salad – Bright & flavorful Asian Citrus Chicken Salad topped with crunchy wontons and a fruity vinaigrette is a family favorite!!
Honey Mustard Chicken Salad – Honey Mustard Chicken Salad is one of the heartiest, most delicious salad recipes you'll try! With greens, fruits, nuts, and a tangy dressing, it's a real winner.
Pizza Salad – Delish Pizza Salad is hearty & refreshing. All of the flavors of pizza on a bed of greens, topped with a homemade herb dressing!
Applebee's Oriental Chicken Salad – This delicious Copycat Oriental Chicken Salad from Applebee's is made with breaded chicken, cabbage, romaine, sliced almonds, and more tossed in a flavorful Asian dressing!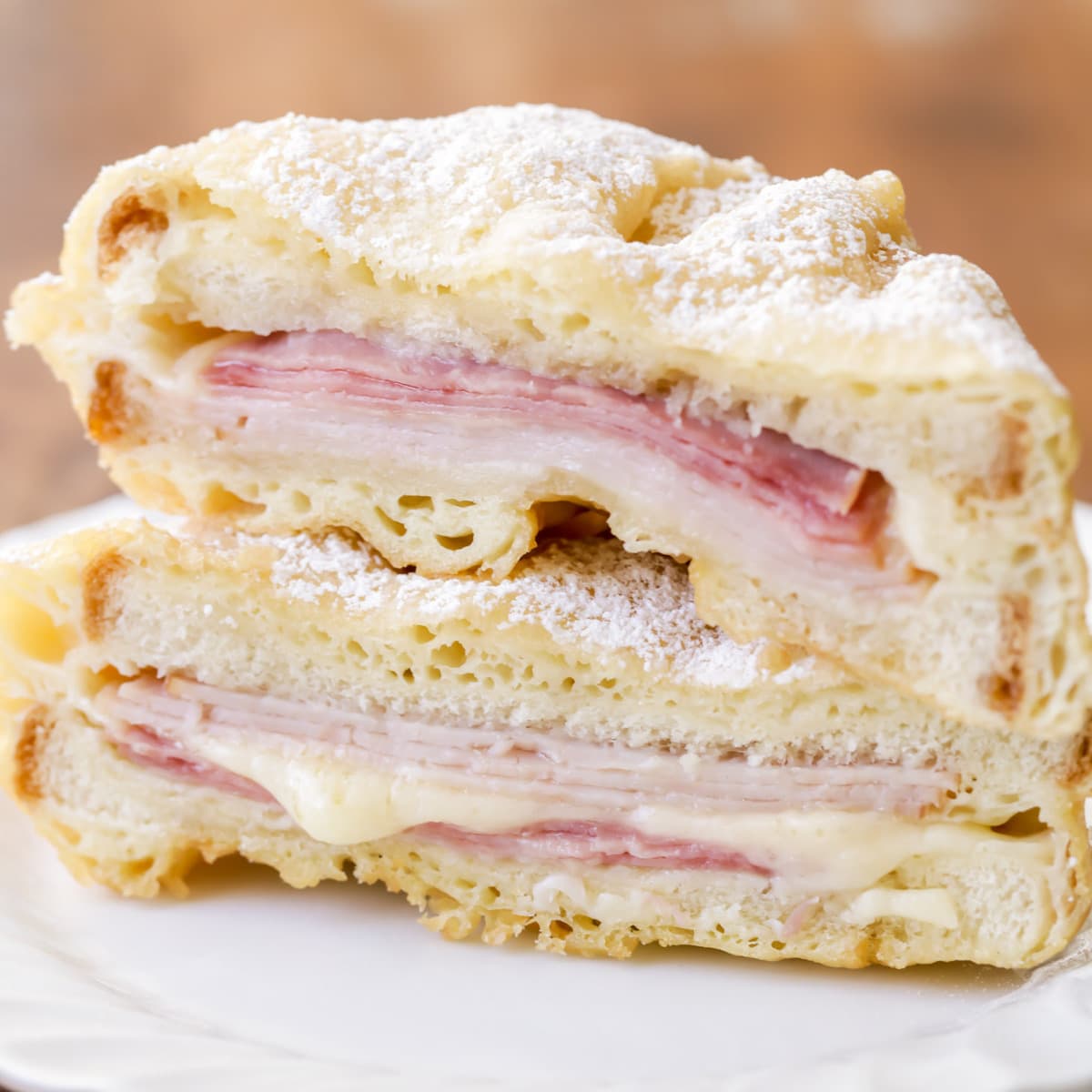 Quick cheap dinner ideas
Sandwiches and wraps are simple, fast, and easy on the pocket book. These tasty dishes are perfect for lunch or dinner, and all of them are quick!
Monte Cristo Sandwich – Copycat Disneyland's Monte Cristo Sandwiches! Yummy swiss cheese, turkey, ham on white bread, fried & topped with powdered sugar!
Chicken Lettuce Wraps – This PF Chang's Lettuce Wraps recipe is a copycat of a restaurant favorite. A mixture of ground chicken, minced mushrooms, and onions, seasoned and cooked in oriental sauces and wrapped in fresh lettuce. Best of all, they take just 20 minutes to make!!
Chicken Caesar Wraps – Fresh Chicken Caesar Wraps are a simple, delicious variation of a Caesar Salad. It's perfect for a lunch or picnic.
Chicken Parmesan Sliders – Marinated and grilled chicken breast, melty cheese, marinara sauce, and lettuce all sandwiched between a ciabatta bun. These chicken parmesan sliders make for the perfect appetizer, but can hold their own as a main dish too!
Chicken Salad – Chicken Salad is perfect for light lunches or picnics at the park! Eat your creamy chicken salad on a croissant, in a salad, or by itself!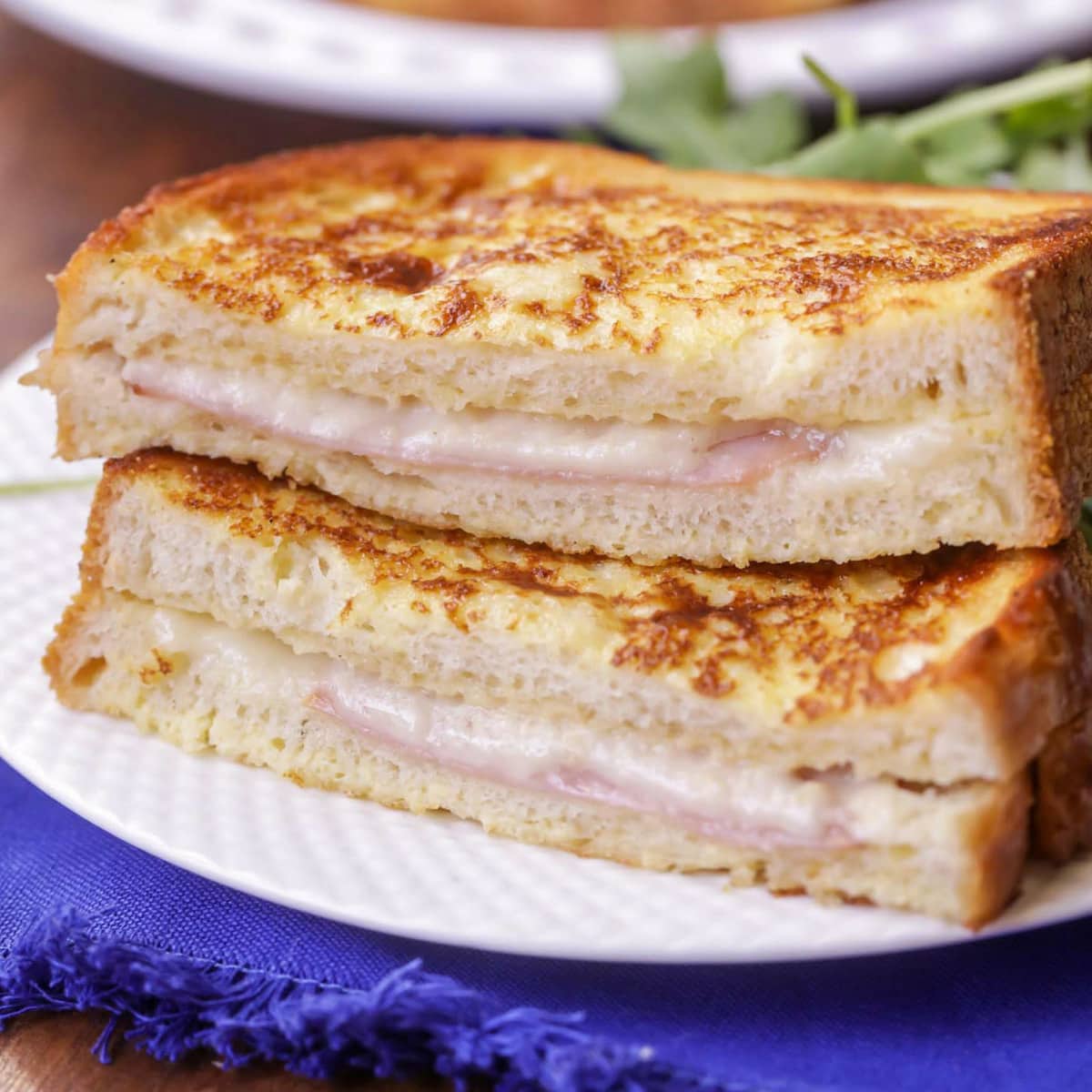 Croque Monsieur – Croque Monsieur is not your typical ham and cheese sandwich! It has a dijon mustard spread, an egg coating, and is baked or fried into a hot and melty dish.
Flatout Wraps – If you're in need of a light and easy meal, try the BLT wrap or Turkey Bacon Ranch wrap! Both are under 300 calories and Weight Watchers approved!
Pepperoni Pizza Grilled Cheese – Pepperoni Pizza Grilled Cheese is stuffed with mozzarella, pepperoni sandwiched between two pieces of buttery garlic toast. It's a fun twist on a classic.
Ham And Cheese Sliders – Everyone loves these Hot Ham and Cheese Sliders because they're easy, cheesy and addicting! They don't take long to make, and are perfect for any get together—always a crowd pleaser!
Ultimate Grilled Cheese – Thick slices of artisan bread oozing with three different cheeses make up this Ultimate Grilled Cheese sandwich—inspired by Disneyland's Toy Story Land Grilled Cheese!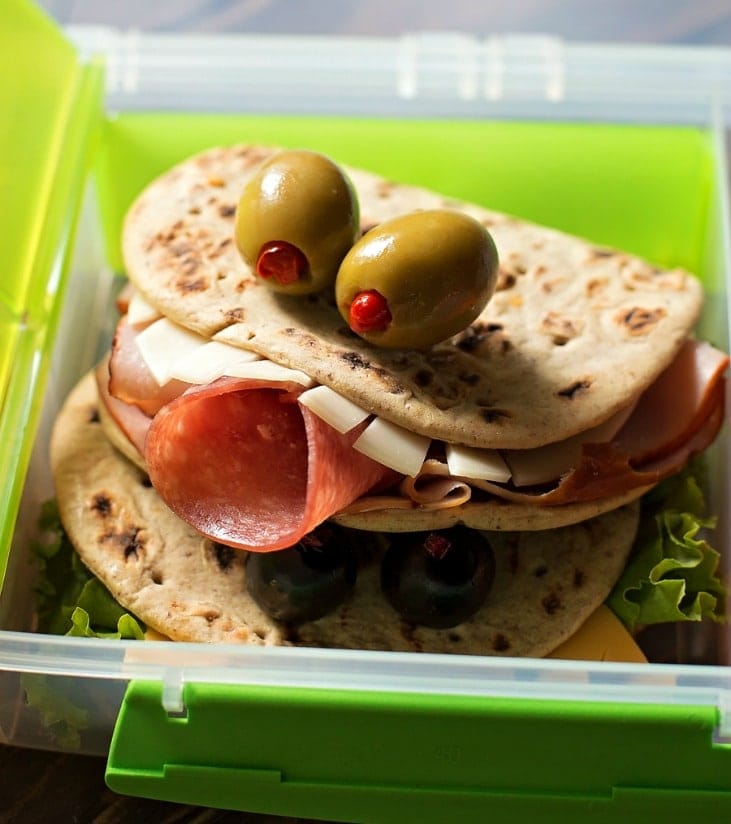 Flatout Monster Sandwiches – Fun and delicious Flatout Monster sandwiches filled with your favorite meats, cheese and veggies are a hit with the entire family!!
Egg Salad – Egg salad is classic, simple, and only requires a handful of ingredients! Serve it as a side, or make it into an egg salad sandwich. Either way, it's perfect for feeding a crowd!
Flatbread Pinwheels – Three variations of delicious flatbread pinwheels are easy to assemble and make the best school lunches, or shareable appetizers!
Veggie Panini – Delicious Veggie Panini – one of our favorite sandwich recipes filled with cheese, tomatoes, avocado and spinach.
Avocado Chicken Salad – Simple Avocado Chicken Salad is fresh, delicious, and whips up in minutes. Enjoy it as a salad or sandwich!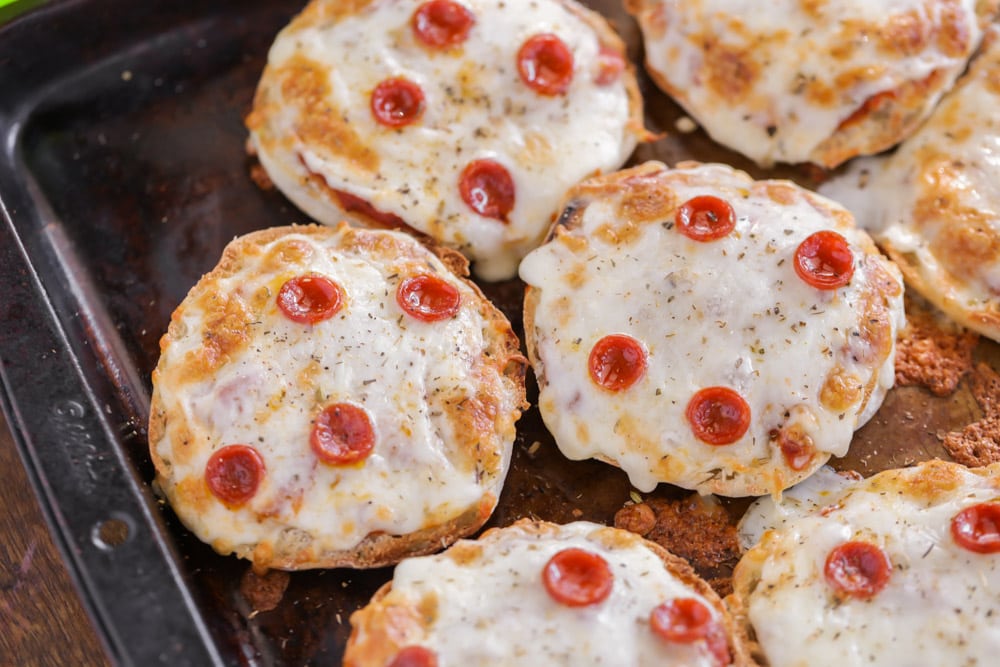 Quick Dinner Ideas for kids
It's no secret my kids love pizza and pasta! I'm sure they aren't the only ones. I have a collection of some of our favorites.
Several of these pizzas are quick, as long as you have dough on hand, ready to go! I like to make homemade pizza dough, and store it in the freezer for occasions like this!
English Muffin Pizzas – English muffin pizzas are a quick and easy meal the kids will love. They are savory, delish, and sized just right!
Chicken Alfredo Pizza – This Delicious Chicken Alfredo Pizza is made with a homemade pizza crust, homemade white sauce and is topped with chicken and spinach.
Mini Pizzas – These Mini Pizzas are bite-sized pizzas topped with cheese, tomatoes, fresh basil and more. They're perfect for lunch, dinner, or even as an appetizer at parties!
Margherita Pizza – Margherita pizza stars fresh basil, mozzarella cheese, and the best ripe tomatoes. It's simple, delicious, and light.
Healthy Flatbread Pizzas – Try making either of these Healthy Flatbread Pizzas! Chicken Pesto Pizza and Buffalo Chicken pizza – BOTH full of flavor and low on calories!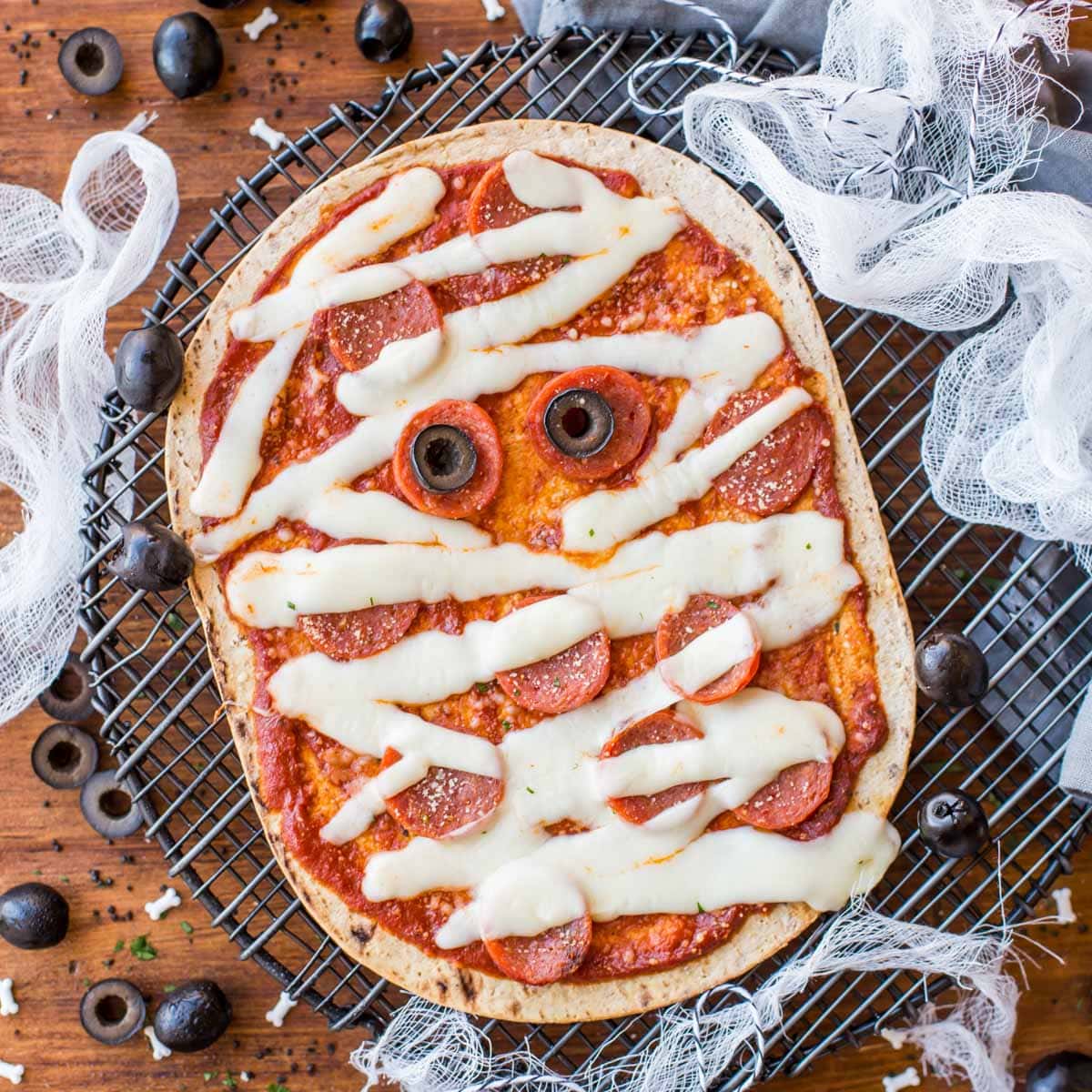 Halloween Flatbread Pizza – Halloween Flatbread Pizza is EASY, kid-friendly, and perfect for Halloween! They take 10 minutes to make and are completely customizable!!
BBQ Chicken Pizza – With barbecue sauce, mozzarella cheese, chicken, bacon, and cilantro, this Barbecue Chicken Pizza will be a new family favorite. Best of all, it's made in less than 20 minutes!
Mini Deep Dish Pizzas – Mini Deep Dish Pizzas are our new favorite dinner recipe. They're easy, quick and can be made custom for each person with their favorite toppings!
Pepperoni Pizza – This homemade pepperoni pizza is wonderfully crispy every time. Achieve the perfect slice right at home!
Buffalo Chicken Pizza – You'll want to make pizza night every night with this flavorful buffalo chicken pizza! Shredded chicken, spicy buffalo sauce, blue cheese crumbles, and cilantro all cooked together on top of the most delicious crust.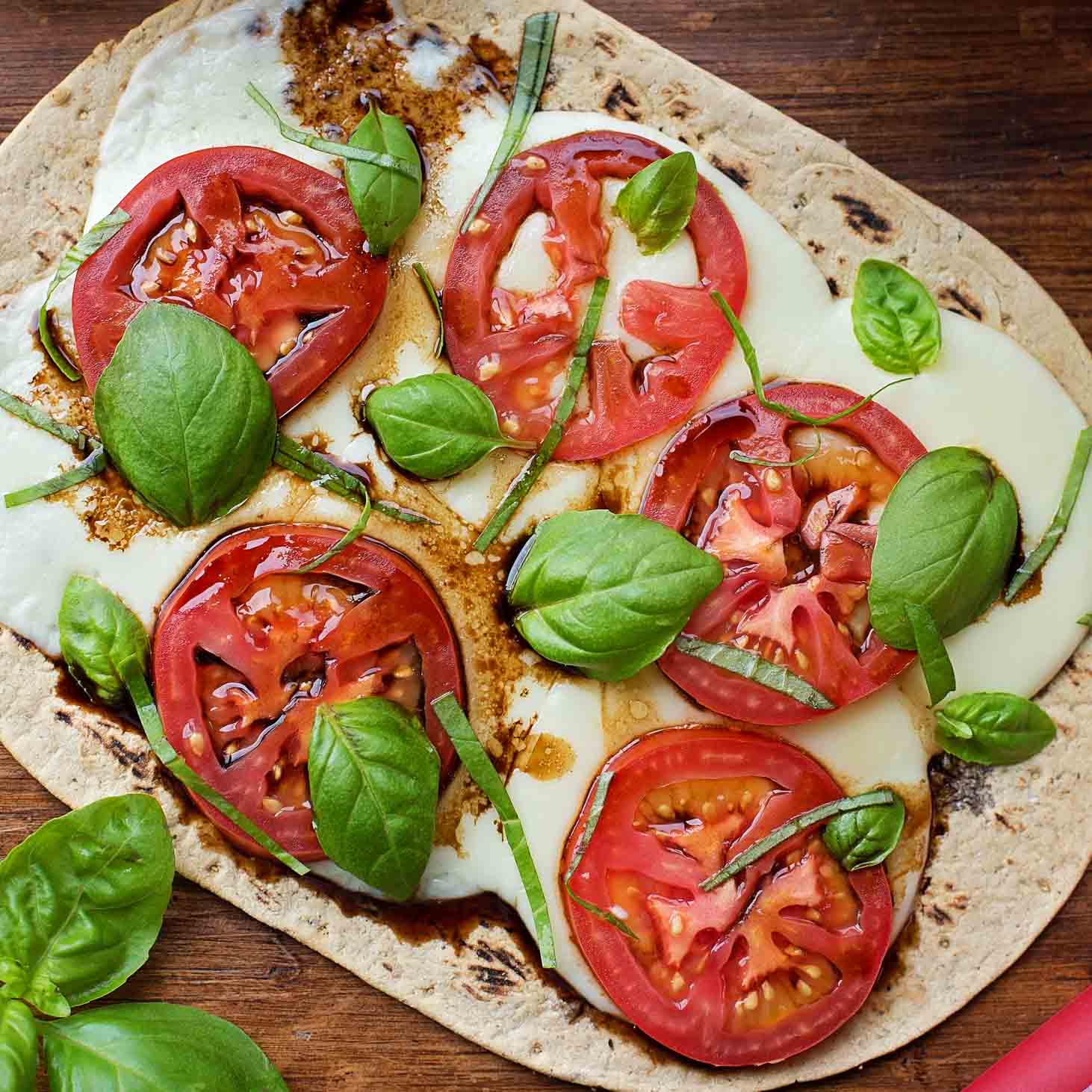 Flatout Flatbread Pizzas – Zazz up pizza night by making quick and easy flatbread pizzas with Flatout Flatbread. Our favorites are caprese and chicken Caesar salad!!
Heart Shaped Pizza – Adorable homemade heart shaped pizza is deliciously simple. This tasty dish is ready to enjoy in only 30 minutes!
Caprese Pizza – This delicious Caprese Flatbread Pizza is filled with mozzarella, tomato, basil, and topped with a balsamic glaze. It's quick and easy to make, and tastes just like the recipe at Disney World!!
Artichoke Pizza – This artichoke pizza is so cheesy and delicious, with a unique combination of flavors—garlic, artichokes, and of course cheese. It's perfect for your next pizza night!
Tomato Pizza – Tomato pizza is simply delicious. It is packed with flavor for a vegetarian take on a classic.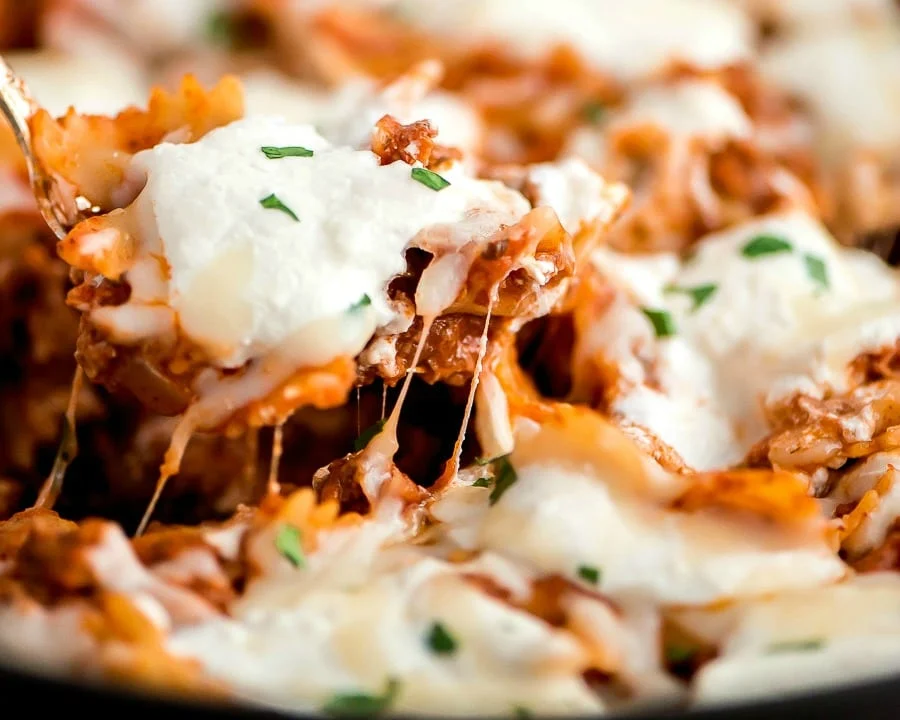 Skillet Lasagna – Skillet Lasagna is a comforting and cheesy one pot meal. It takes just 30 minutes and is perfect for dinner any night of the week!
Chicken Stroganoff – This Homemade Chicken Stroganoff is perfect for dinner any night of the week. Its full of flavor and is made start to finish in under 40 minutes!
Cheesy Baked Ravioli – Easy Cheesy Baked Ravioli – a quick, simple and delicious dinner recipe that the whole family loves! It's so cheesy and so tasty!
Lemon Asparagus Pasta – This Lemon Asparagus Pasta is so simple, yet packed with amazing flavor! Made from penne pasta, mixed with asparagus, and covered in a cheesy sauce with just a hint of lemon.
Baked Ziti – Baked Ziti is an easy baked pasta recipe filled with a cream cheese and tomato sauce and topped with cheese! It's great for feeding a crowd.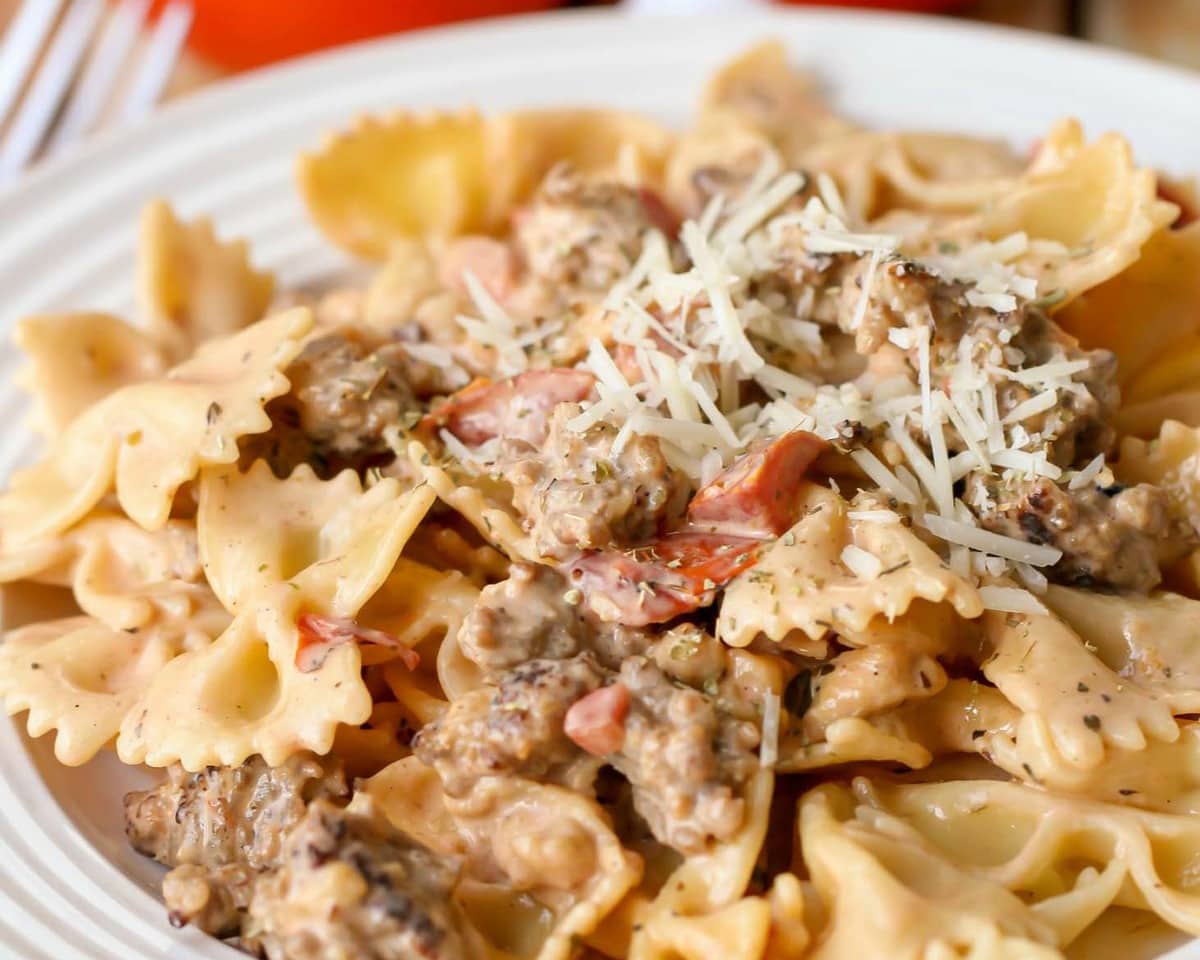 Italian Sausage Pasta – Easy cheesy Italian Sausage Pasta is creamy, delicious and perfectly spiced. It's a family favorite ready in only 20 minutes!
Creamy Garlic Penne Pasta – Super simple and delicious Creamy Garlic Penne Pasta recipe packed with flavor. This dish is perfect by itself or you can add chicken too!
Sun-Dried Tomato Pasta – A copycat version of Cheesecake Factory's Sun-Dried Tomato Fettuccine recipe. This flavorful and creamy dish is filled with chunks of chicken, garlic, whipping cream, spinach and sweet sun-dried tomatoes. It's not only delicious but is a great way to change up the classic fettuccine recipe.
Chicken Bacon Ranch Casserole – Creamy and hearty Chicken Bacon Ranch Casserole is the best way to beat the weeknight rush! It's easy to make, and filled with pasta, chicken, bacon, and creamy alfredo sauce.
Spaghetti Aglio E Olio – Spaghetti Aglio e Olio is one of the easiest pasta dishes you can make! It uses only 6 ingredients and takes less than 30 minutes to make!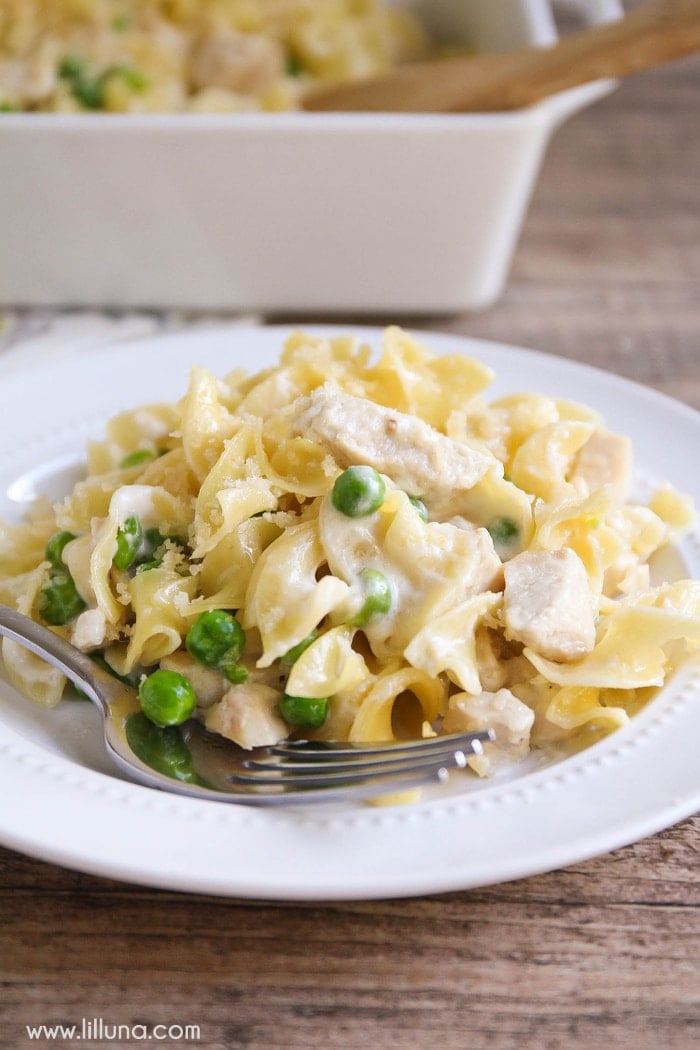 Parmesan Chicken And Noodles – Chicken noodle casserole for the dinner win! It's filled with chicken, noodles, broccoli, carrots, and more, and topped with a butter-y cracker crust making it a flavorful family favorite.
Cheesy Garlic Tortellini Pasta – Cheesy garlic tortellini pasta is covered in a delish homemade sauce, and is ready in 20 minutes! It is perfect for busy weeknights.
Pasta Carbonara – A creamy, delicious and flavorful pasta dish filled with cream cheese, parmesan, garlic and bacon. For only having a few ingredients, this Pasta Carbonara has big flavor!
Easy Fettuccine Alfredo – Easy and Quick Fettuccine Alfredo that takes just 15 minutes to make! This family favorite recipe includes fettuccine, garlic, parmesan, and whipping cream and is sure to become a go-to dinner idea!
Chicken Penne Pasta – A delicious and simple Chicken Penne Pasta that is the perfect family dinner. The entire family loves it!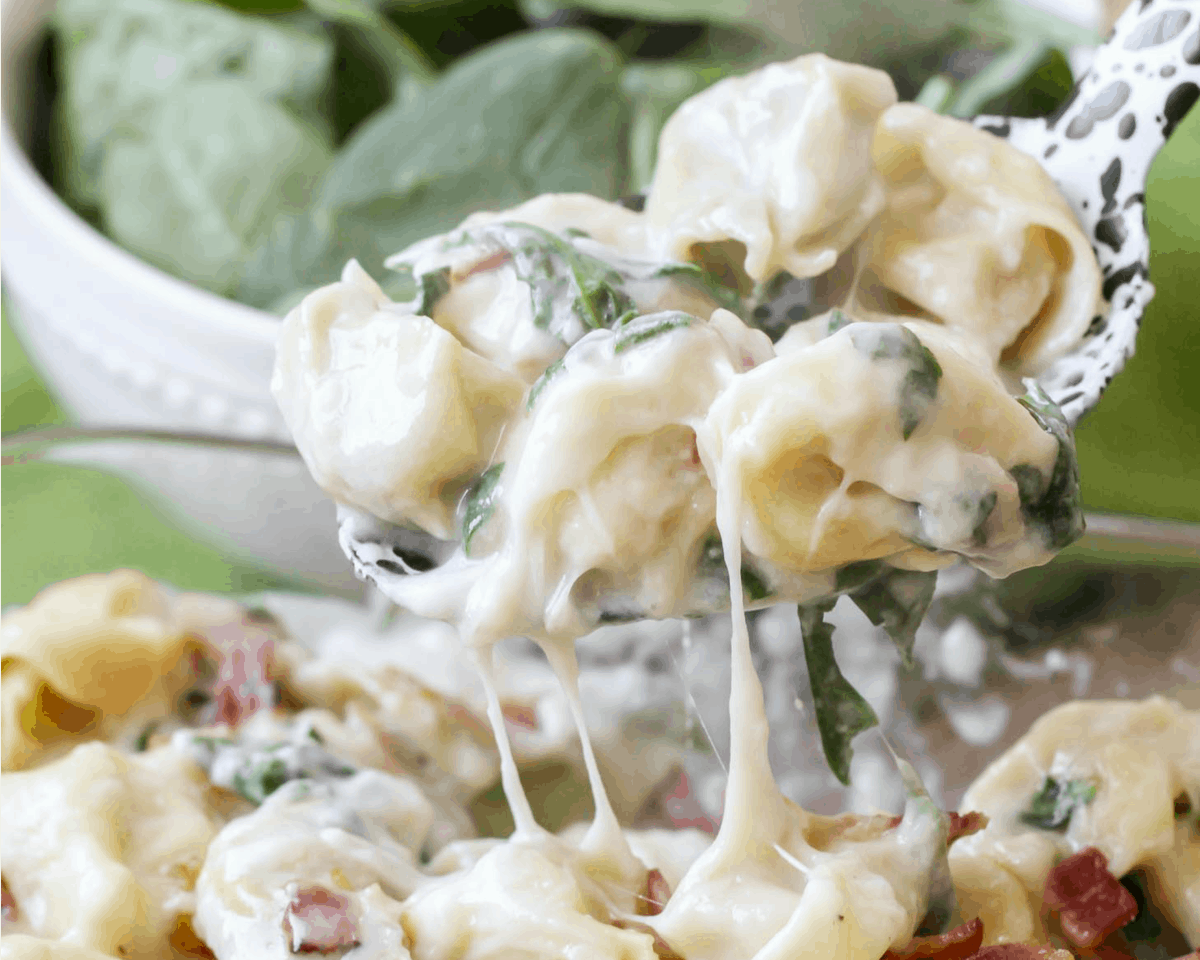 Cheesy Baked Tortellini – This Easy Cheesy Baked Tortellini is simple and delicious too. Tortellini, bacon, cheese, basil, & spinach fill this recipe and make it irresistible and perfect for dinner any night.
Bruschetta Chicken Pasta – Easy and flavorful Bruschetta Chicken Pasta is a hot pasta dish filled with all the flavors of classic bruschetta—chicken, tomatoes, basil, and mozzarella.
Baked Macaroni And Cheese – Baked Macaroni and Cheese is a deliciously cheesy meal, perfect any night and one that the whole family will love and devour in no time!
Chicken Pesto Pasta – This Chicken Pesto Pasta is very flavorful and simple dinner idea that is sure to please. It's filled with bow-tie pasta, chunks of chicken, cheese, sun-dried tomatoes, garlic and pesto making it a new go-to meal recipe.
Pasta Primavera – A tried and true dinner recipe! Delicious pasta full of vegetables like zucchini, squash, bell peppers, and tomatoes.
---
the complete list
Here are the picture cards for ALL of the amazing Quick Dinner Ideas listed above.
There are so many delicious meals to choose from that you can have ready in a flash! You're sure to come back to this list again and again!