Simply Sweet and Savory Teriyaki Pork Chops make the perfect dinner recipe and are ready in only 20 minutes!!
This simple pork loins recipe is great served on it's own or over lemon or cauliflower rice and is made with a delicious homemade teriyaki sauce. Grilled asparagus or Wedge Salad is a perfect pairing to finish it off!!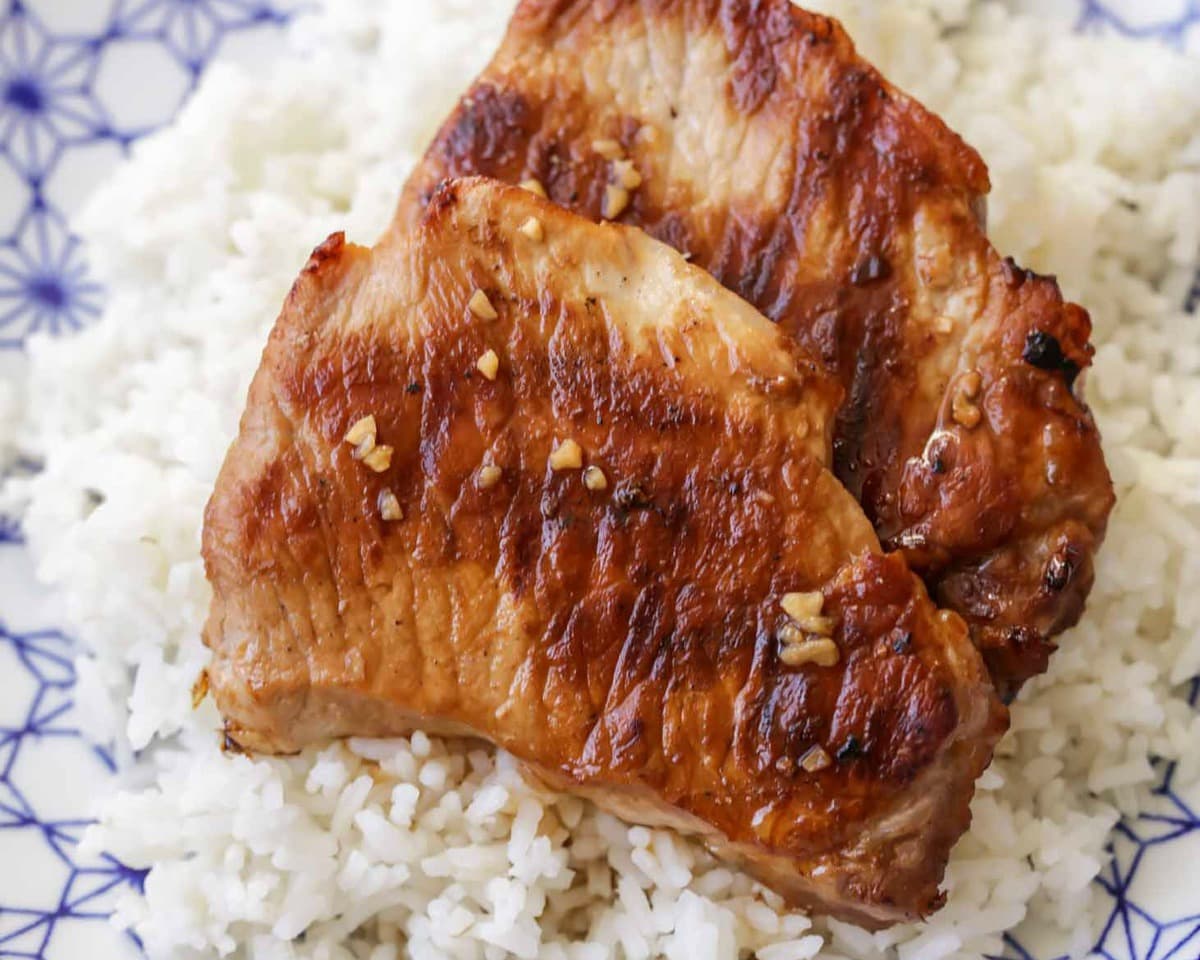 Pan Fried Teriyaki Pork Chops
Here's another really easy dinner recipe because LIFE. I've got your back mama! Teriyaki pork chops that are pan fried to a crispy brown. These are honestly so incredibly yummy. My entire family devours this meal.
Serve it on top of some rice– I've done white rice in the picture but you could make any kind. You could also throw in some roasted veggies too. These tender pork chops pair wonderfully with so many different side dishes.
The teriyaki sauce that these are made with is heavenly. It's sweet and citrusy in the most amazing way. You can taste the brown sugar and soy sauce in every bite. Mmmm! I also love the orange juice flavor in the sauce. This is a solid recipe that you'll keep coming back to and use a bunch.
How to Make Teriyaki Pork Chops
PREP. Start out by warming up a skillet on the stove. You'll want your skillet to be HOT before putting in the pork chops. This will make that pork chop skin nice and crisp when it's done cooking.
COOK. After you've placed your chops in the pan, add the rest of the ingredients (except the cornstarch and water- we'll come back to those in a minute) to the skillet. Stir it around a bit to mix all the flavors together.
SAUCE. Dissolve the cornstarch into ¼ cup of cold water. Then add that to the skillet to cook with everything else. This cornstarch/water mixture will add some thickness to the sauce and make it really adhere to the pork chops. If the sauce is too thick for your liking, add a little water to thin it out.
BASTE. Brush or baste that sweet sauce all over the pork chops until they are cooked through. And that's it! Seriously that easy, do you love it? I know I do!
Tips, Variations + Storing Info
Make this in the oven: If you would prefer to bake these pork chops in the oven you will not get the same kind of sear as you would cooking them on the stove. This is still an option, but in order to do so you will need to bake them at 375F for about 35 minutes.
Marinade them before cooking: In this recipe we are basting them during the cooking process instead of marinating them ahead of time. The flavor gained through both of these processes are pretty equivalent.
Cooking Temperature: Unlike chicken, pork is perfectly safe to eat with a bush of pink. Just be sure that the interna; temperature has reached at least 145ºF. For a medium cook the temperature should reach 150ºF and 160ºF for well done. 
STORE leftover chops in an airtight container in the fridge for 2-3 days. I also like to slice leftovers into strips and put them in the freezer to use as a topping for rice on a busy day. FREEZE in a freezer Ziploc for 2-3 months.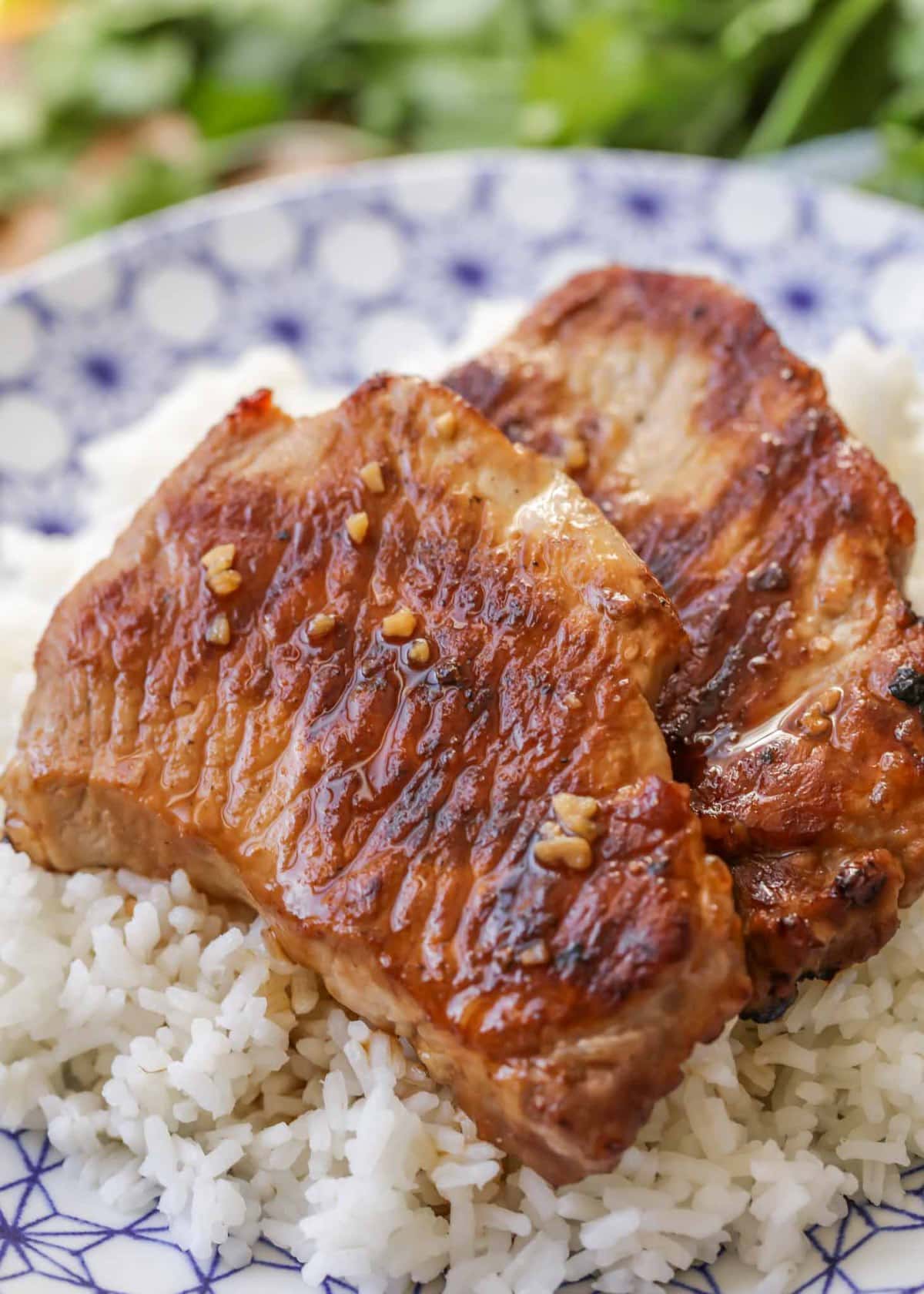 I've spent most of my life enjoying Teriyaki recipes… but they were always chicken. We are so glad that we now have a delicious Teriyaki Pork Chop recipe to enjoy.
For more pork chop recipes, check out:
Teriyaki Pork Chop recipe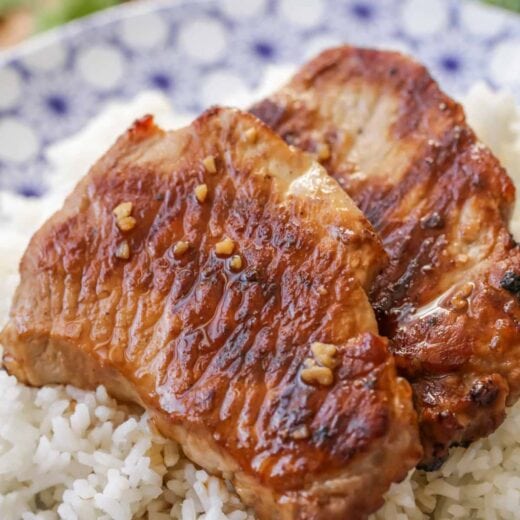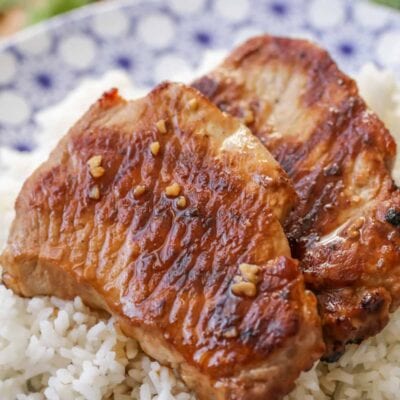 Simply Sweet and Savory Teriyaki Pork Chops make the perfect dinner recipe and are ready in only 20 minutes!!
Ingredients
4

pork chops

1

cup

water

1/2

cup

orange juice

1/4

cup

soy sauce

2

tbsp

honey

2

tsp

minced garlic

5

tbsp

brown sugar

1/4

tsp

ground ginger

2

tbsp

corn starch

1/4

cup

cold water
Instructions
Place pork chops in a hot skillet. Add water, orange juice, soy sauce, honey, garlic, brown sugar, and ginger. Dissolve cornstarch in ¼ cup cold water and add to pan.

Heat until sauce reaches desired thickness. Add water to thin out if needed.

Baste pork chops and saute in skillet until cooked through (internal temp of 160).