"Porkchops and Applesauce" I grew up hearing my Dad say this in a weird lysp type of voice. I never knew what the heck he was referring to. So, I figured 20 years later I could just ask google! Sure enough, I got an answer. Google led me to a cute scene from The Brady Bunch. Oh, how I miss this show.
Any who… Today's recipe is, SURPRISE…Pork Chops!! I'll be honest, I'm not a Pork Chop lover but my mom makes them quite a bit for the family. My mom made these Slow Cooker Pork Chops a few weeks ago and everyone loved them! The simple gravy on top really added to the great taste. If you're getting bored with the same old chicken recipe, shake things up and try these out. Just don't go around saying "Pork Chops and Applesauce." Your kids might resent you 😉
Here's the recipe:

Slow Cooker Pork Chops
Ingredients
½ cup all-purpose flour + ¼ cup all purpose flour
½ tsp ground mustard
½ tsp garlic pepper blend
¼ tsp seasoned salt
4 (4oz) boneless pork loin chops
2 TB canola oil
1 can (14-1/2 oz) chicken broth
Instructions
Combine ½ cup flour, mustard, garlic pepper and seasoned salt to a large resealable plastic bag,. Add pork chops, one at a time, and shake well to coat. Place chops In a large skillet with hot oil and brown on both sides. Transfer pork chops to a 5-qt. slow cooker.
Place ¼ cup flour in a small bowl and whisk in chicken broth until smooth. Pour over chops. Cover and cook on low for 3-4 hours or until meat is tender. Remove.
Whisk cooking liquid until smooth and serve with pork.
After looking at these pictures over and over, I think I might have to ask my mom to makes these again. I'm regretting not trying them! They look really yummy. Minus the green beans, cuz, well, you know… I don't do veggies! :/
P.S. I just asked my Dad about saying "Pork Chops and Applesauce" and he's totally denying it. What?! I guess I'm making it up.
DIFFICULTY: Simple
HOW MANY DOES IT FEED: 4
ANY CHANGES MADE: Used wondra to mix with chicken broth. This makes for a finer gravy
ANY SUGGESTIONS FOR NEXT TIME: None. Everyone loved these!
For more easy pork recipes, check out these posts:
MY OTHER RECIPES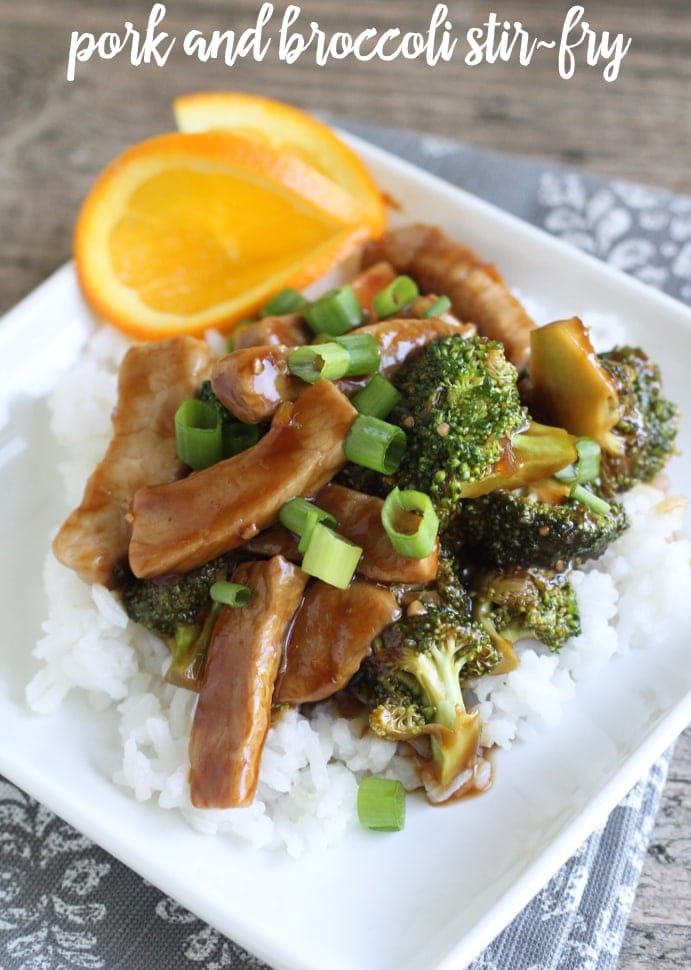 For all main dish recipes, go HERE.
For all recipes, go HERE.
And get weekly emails with monthly freebies by signing up for the Lil' Luna newsletter. 🙂
For even more great ideas follow Kristyn on Facebook – Pinterest – Instagram – Twitter – Periscope – Snapchat.
Don't miss a thing – Sign up for the Lil' Luna Newsletter today!