These Italian Pork Chops require just a few ingredients and are baked in the oven with loads of veggies. Have it ready and on the table in just 30 minutes!
I'm all about easy dinners with the meat and veggies baked together on a single sheet pan. If you're with me, you need our Sheet Pan Chicken Fajitas and Baked Honey Mustard Chicken!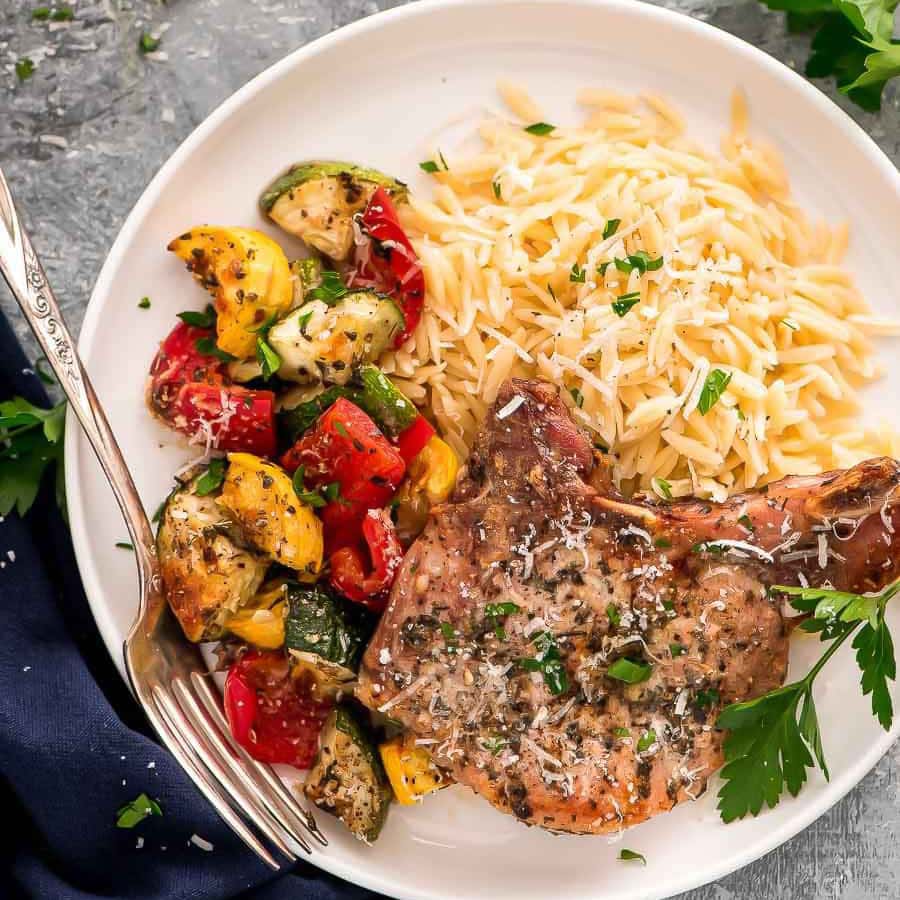 A Quick & Easy Weeknight Dinner
The time between when the kids get home from school and dinner can be pretty rough. Kids are tired from school, hangry, there are activities to go to… there's just not a ton of time to prepare a healthy meal for the family.
Meals like Creamy Penne Pasta and these Italian Pork Chops are perfect for those stressful nights when you need to get dinner on the table fast!
As much as I love the tender flavorful pork, the veggies in this dish are awesome. I could eat these roasted veggies all day long. And what's great is my kids like them too. I hope you enjoy this meal as much as we do!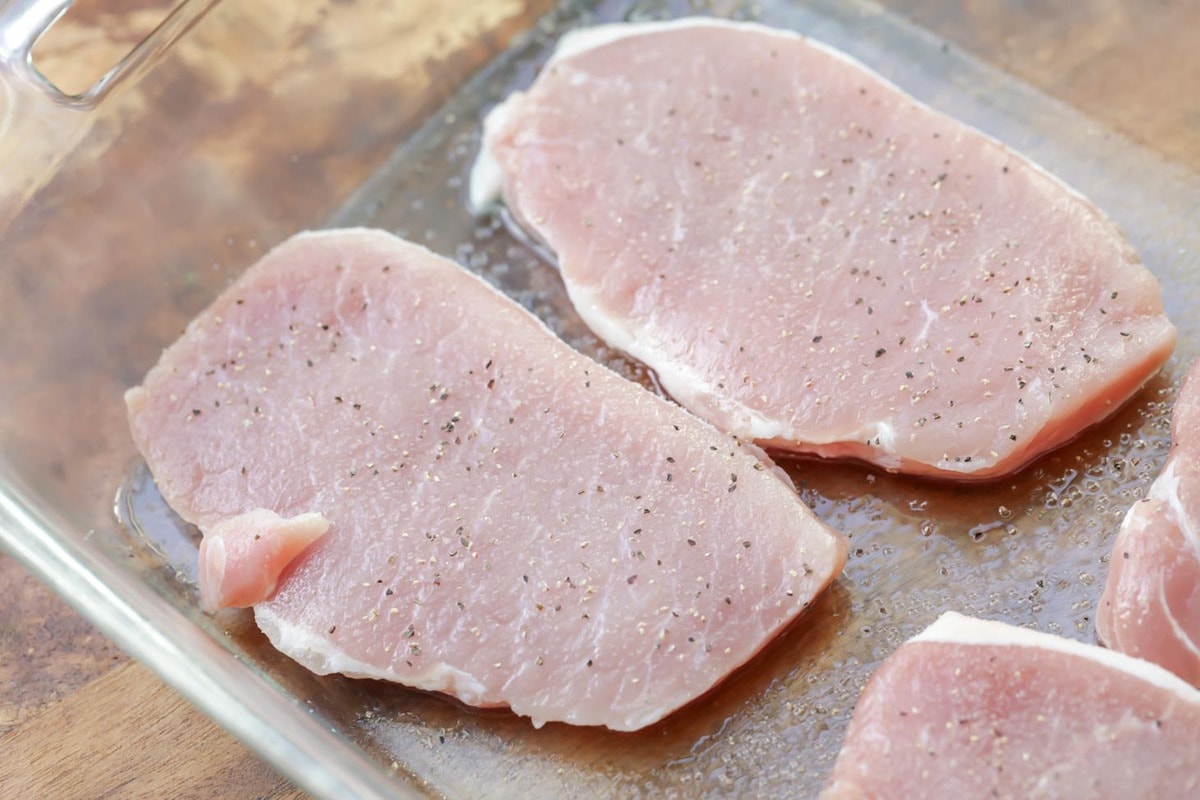 The Whole Meal Made on One Pan!
One of the things that makes this such an easy dinner is that the entree (pork chops) and the side (roasted vegetables) are all seasoned and roasted on the same sheet pan!
SEASON. To assemble this one pan meal, just throw the veggies on the pan, toss with a mixture of oil, Italian seasoning, salt, pepper, and Parmesan cheese and rub the pork chops with the same seasonings.
BAKE & BROIL. Pop it in the oven, flipping the pork chops halfway through, and end it by broiling until perfectly browned. Pork chops should have an internal temp of 145°F for medium rare and 160° for medium. Allow them to rest for 3-5 minutes before cutting.
SERVE. Sprinkle on more Parmesan if desired (but let's be real—who doesn't have that desire) and serve with a side of orzo, pasta, rice, baked potato… Voila! A quick, tasty, healthy, and balanced meal for the whole family.
*Note: We used thin cut pork chops and pounded them to tenderize. If you use a thicker cut chop be sure to pound it to tenderize and adjust the cook time. Thicker cuts will need extra time.
Variations
A great thing about using veggies is you can use whatever you love. Some other delicious additions include:
pearl onions
broccoli and cauliflower florets
brussel sprouts
asparagus
cut baby potatoes.
I will often buy a package of assorted frozen veggies to toss on the pan to make the dish even easier. Using produce that's in season is also a great idea as they're often fresh and inexpensive.
Sub in Chicken: Substitute the pork chops with chicken breasts. Bake time 375 for 30 minutes.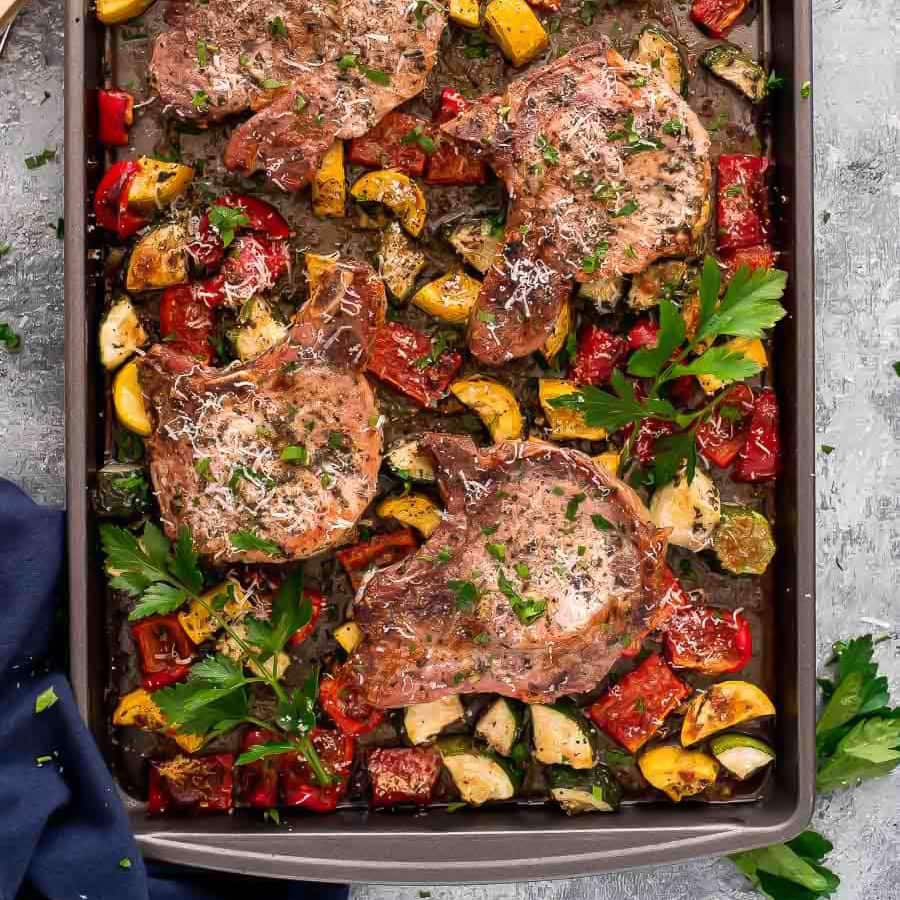 Prepping Ahead & Storing Leftovers
You can PREP the ingredients in the morning or even the night before. Chop and store the veggies in the fridge. Store stronger flavored produce, like onions and bell peppers, in their own containers.
STORE any leftovers in a container in the fridge for 2-3 days.
REHEAT in the oven or the microwave.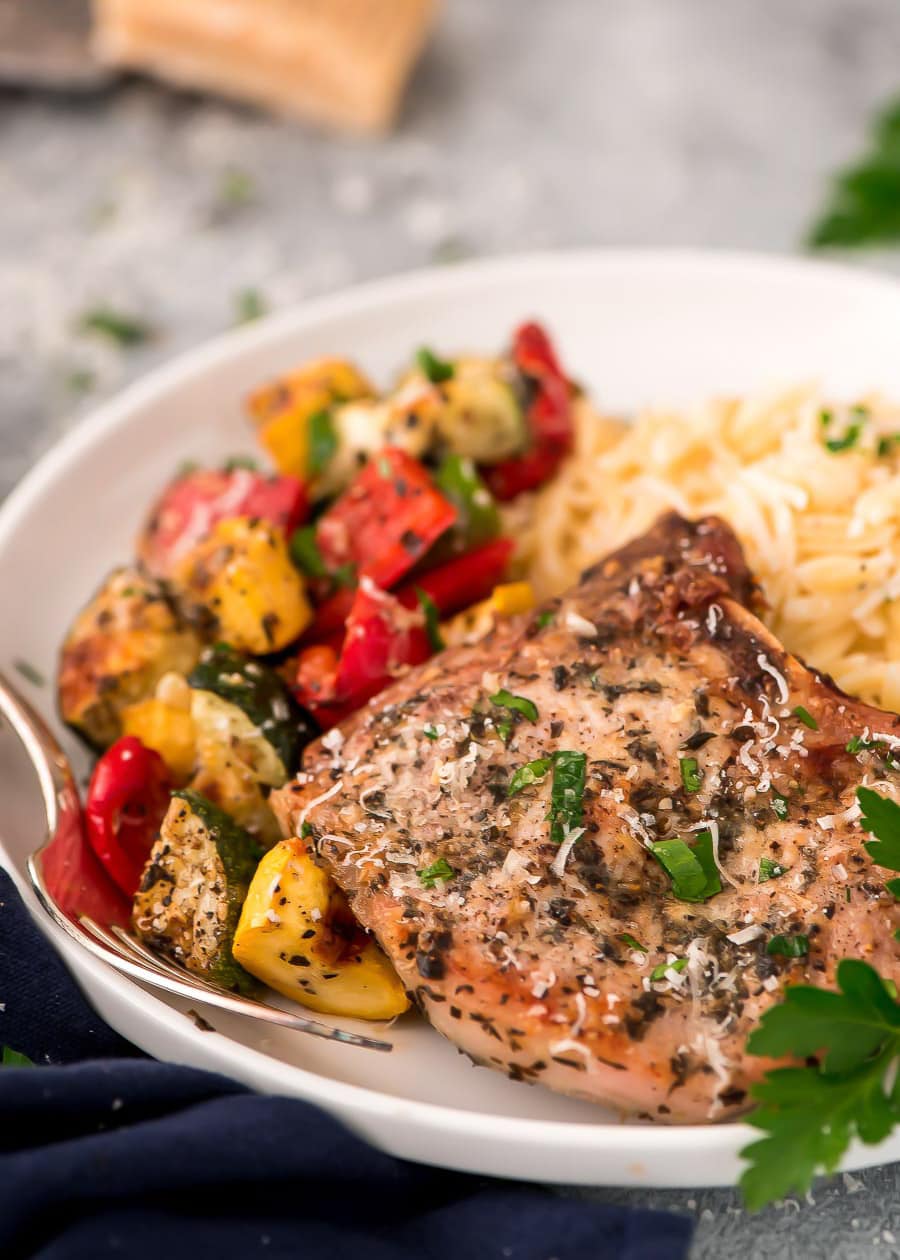 For more pork chop recipes, check out:
Italian Pork Chops Recipe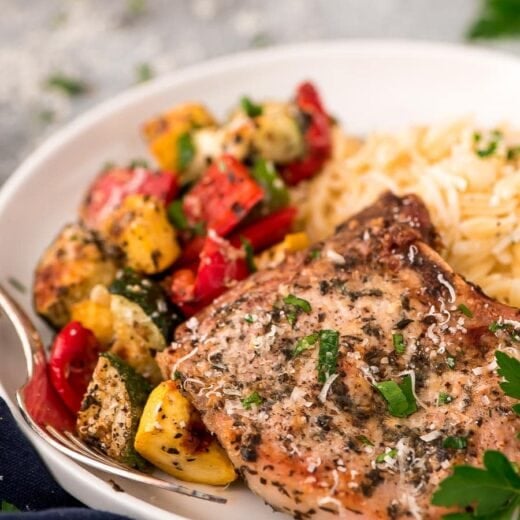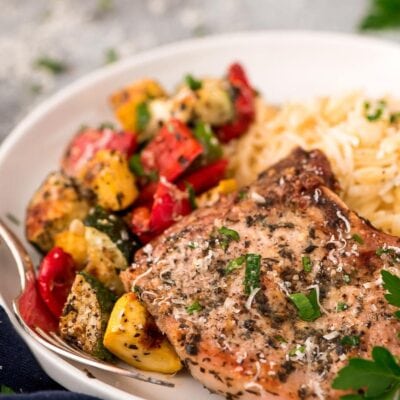 These Italian Pork Chops require just a few ingredients and are baked in the oven with loads of veggies. Have it ready and on the table in just 30 minutes!
Ingredients
4

bone-in pork chops

thin cut, pounded to tenderize

1

zucchini squash

cut into 1 inch pieces

1

summer squash

cut into 1 inch pieces

1

red bell pepper

cut into 1 inch pieces

4

tbsp

virgin olive oil

2

tbsp

italian seasoning

1

tsp

salt

fresh cracked black pepper

1/4

cup

freshly grated parmesan

(plus more for garnish)
Instructions
Preheat oven to 400 degrees F. Place the chopped veggies on a large sheet pan.

In a small dish, mix oil, Italian seasoning, and salt. Pour half of it over the veggies along with the Parmesan cheese and toss.

Place the pork chops on top of the veggies and then coat both sides of the pork chops with the remaining oil seasoning. Sprinkle everything with fresh cracked pepper.

Bake for 8 minutes, flip the chops, bake another 8 minutes and then increase the oven heat to broil. Broil for 4-6 minutes or until nice and browned.
—————————————-
These look amazing, Melanie!! Who doesn't love a good pork chop? For more delicious recipes from Melanie, check out, Garnish & Glaze.