These baked BBQ pork chops are simple, delicious and smothered in a homemade BBQ sauce. They're the perfect easy meal for the pork loin lover.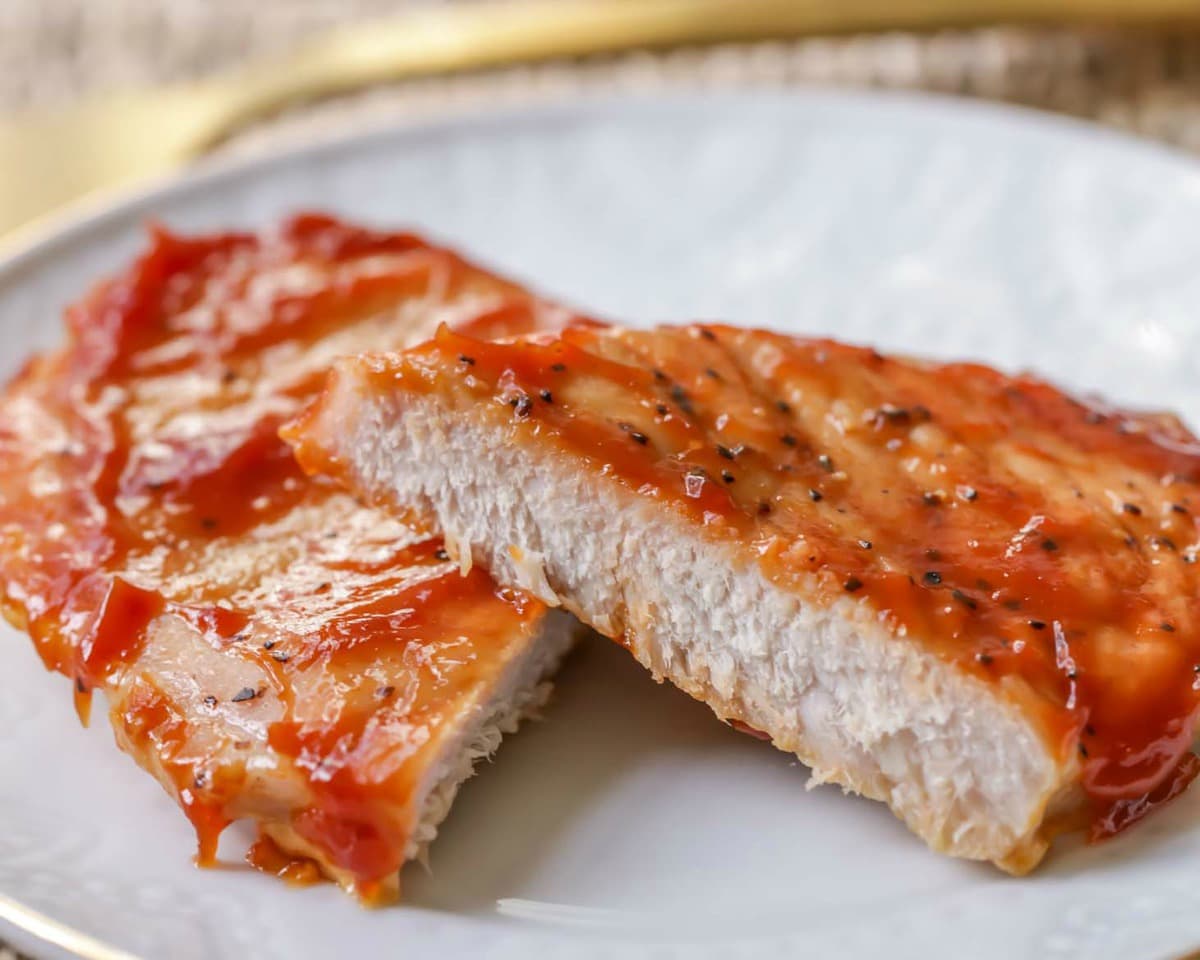 Baked BBQ Pork Chops
Sometimes life gets crazy during the week. Rushing from school to activities to home. I am always looking for easy recipes for weeknights. Not only do they have to be simple but they also have to be really yummy. No one has time for a bad recipe. If you're a busy parent then you will fall in love with these baked BBQ pork chops.
I like that these pork chops are baked in the oven. That means it's a little healthier and way less mess to clean up. That's a win-win in my book. You just can't go wrong with a good pork chop topped with sweet BBQ sauce. I think anyone will enjoy these BBQ pork chops – even little picky eaters.
For some reason BBQ = summer to me. But you can make this recipe anytime of the year when you're craving some good BBQ.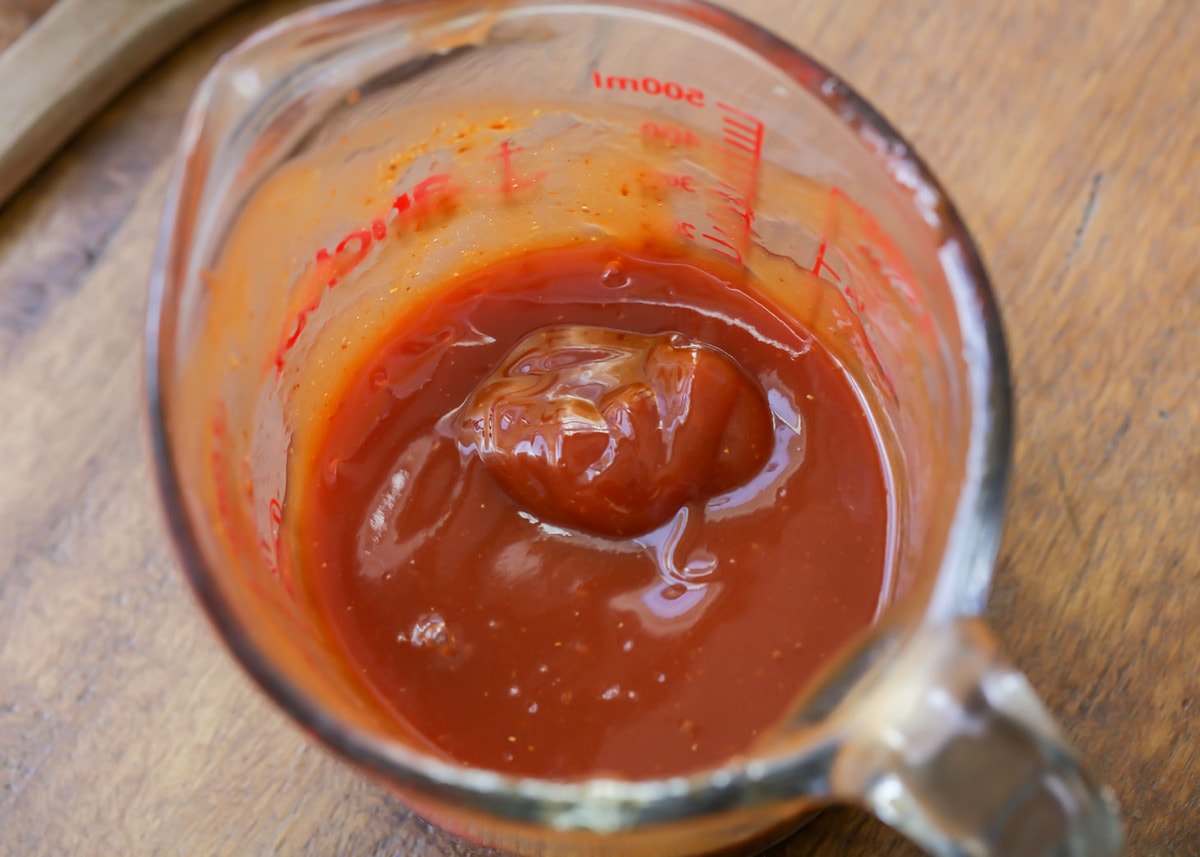 Homemade BBQ Sauce
You're going to want to drink this BBQ sauce. It's a little bit tangy and a little bit sweet. It goes deliciously on top of these baked pork chops. This sauce is also so tasty on chicken and ribs. Yum yum yum!
Just combine the first 8 ingredients into a saucepan on the stove. Bring to a boil and then let the sauce simmer on low for about 15 minutes. Totally easy right? If you have extra sauce, put it into a airtight container and keep it in the fridge to use on something else. The possibilities are endless with this sauce. What other meats or veggies would you put this on?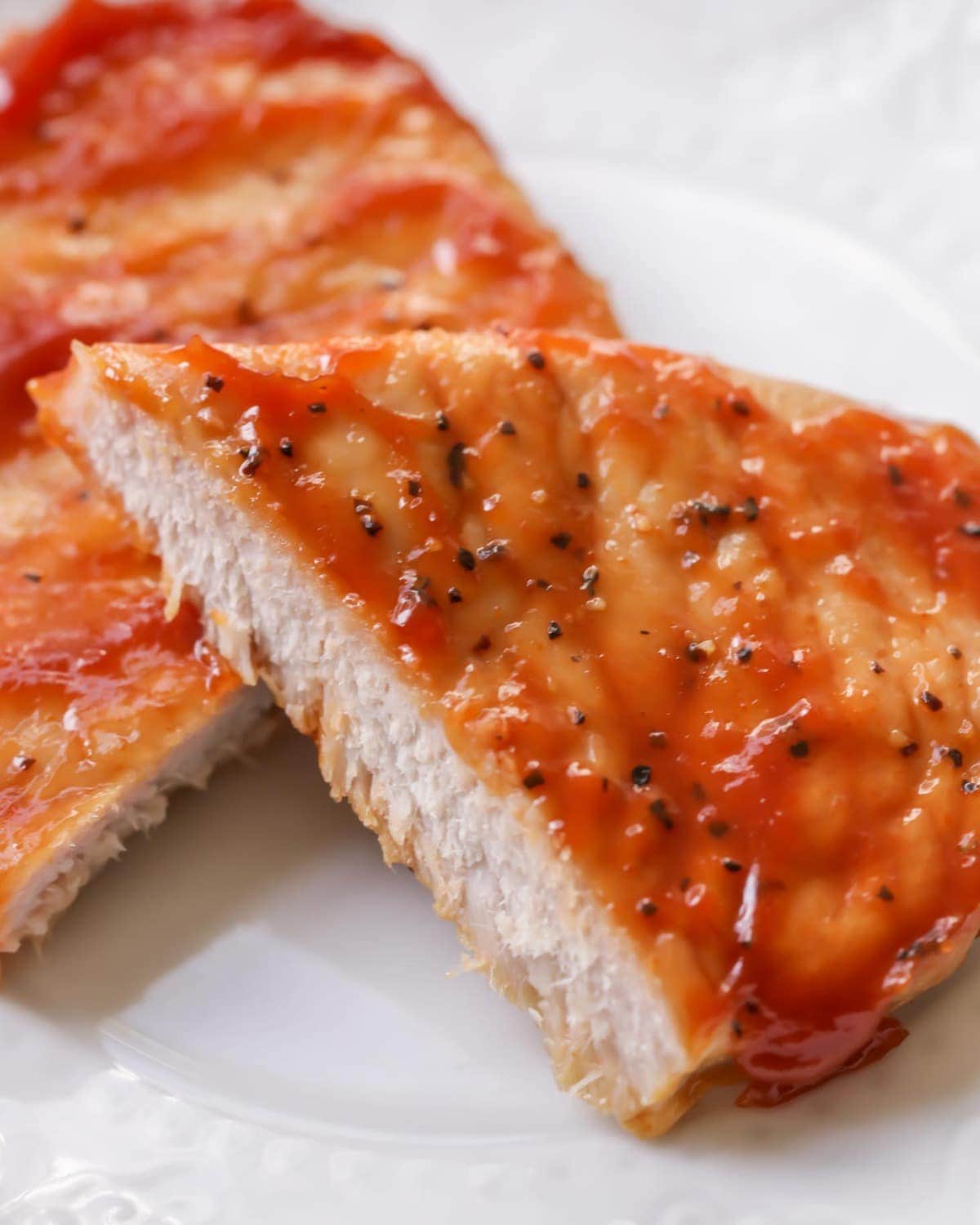 Favorite Barbecue Pork Chops
Lather that sweet BBQ sauce onto these chops and bake them in the oven for 30 minutes at 425 degrees. They will be cooked to perfection- tender, juicy, and well-seasoned! You could even brush a little more sauce on them after they are cooked. You can never have too much BBQ sauce in my opinion.
Serve with rice, fluffy rolls, and/or your favorite vegetables. These BBQ chops have got you covered for an easy and delicious dinner recipe. Enjoy!!
What to serve with Barbecue Pork Chops:
For more pork chops recipes, check out:
BBQ Pork Chops recipe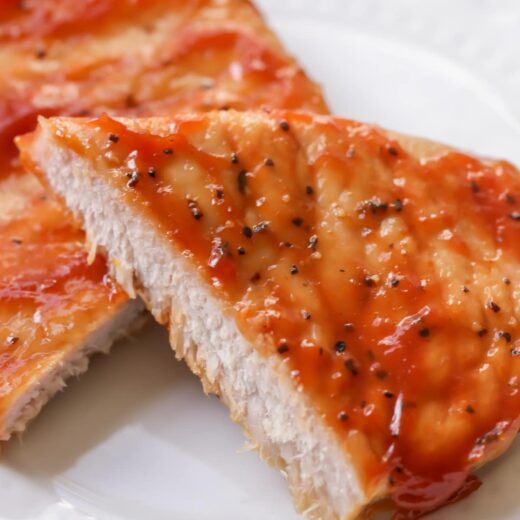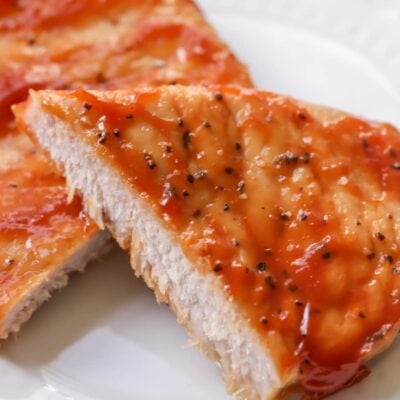 These baked pork chops are simple, delicious and smothered in a homemade BBQ sauce. They're the perfect easy meal for the pork loin lover.
Ingredients
2

cups

ketchup

1

cup

water

1/2

cup

apple cider vinegar

5

tbsp

brown sugar

5

tbsp

sugar

1/2

tbsp

yellow mustard

1/2

tbsp

pepper

1

tbsp

lemon juice

1

tbsp

Worcestershire sauce

6

thin

pork chops

salt and pepper to taste
Instructions
Preheat oven to 425 degrees.

Combine first 8 ingredients in a medium saucepan and bring to a boil. Let simmer for 15 minutes.

Season pork chops with salt and pepper and place on a baking sheet. Cover each with 2 tablespoons of bbq sauce. Bake @ 425 for 30 minutes.
Adapted from Allrecipes.com