Busy weeknights or exhausted weekends call for easy dinner recipes! Whether it be crock pot meals or casseroles, there are plenty of easy dinner ideas to keep your weeks running smooth.
More Collections: Crockpot Dinner Ideas, Quick Dinner Ideas, Healthy Dinner Ideas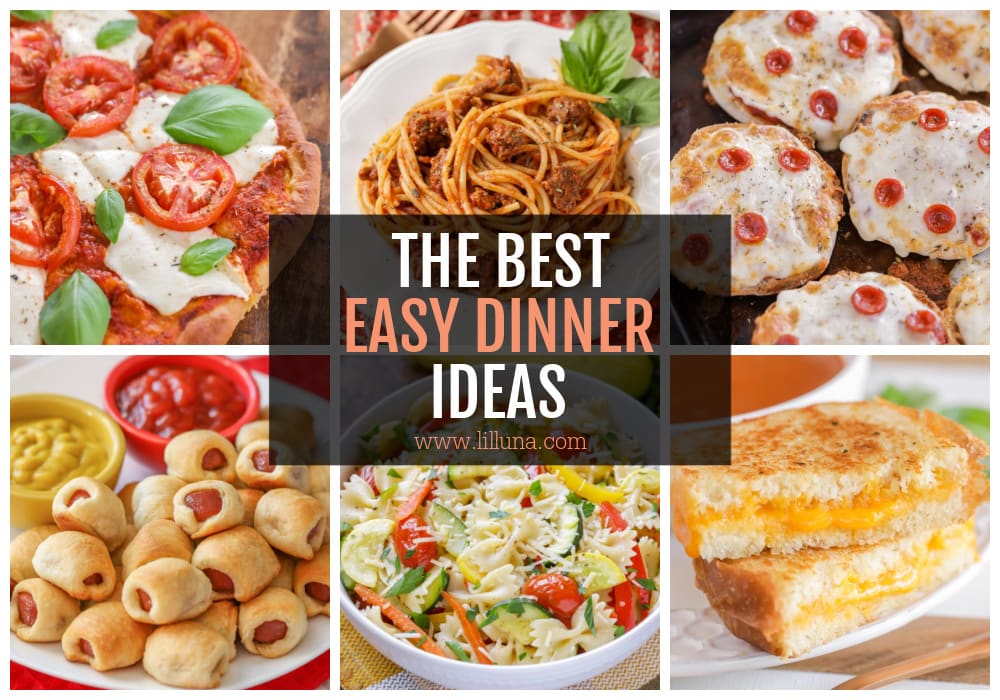 Make Dinner Easier!
Whether you are planning breakfast, lunch, or dinner, there are some days you just don't have a lot of time or energy to put into meals.
Thankfully, there are a lot of things you can do to help get a meal on the table quickly and easily.
Some of our easiest dinner recipes include a lot of pastas, pizzas, casseroles, and a few soups here and there. I have a whole list of our favorites—including kid-friendly recipes!
But first, here are some planning tips to make your dinner prepping easier. Which one will you make for dinner tonight?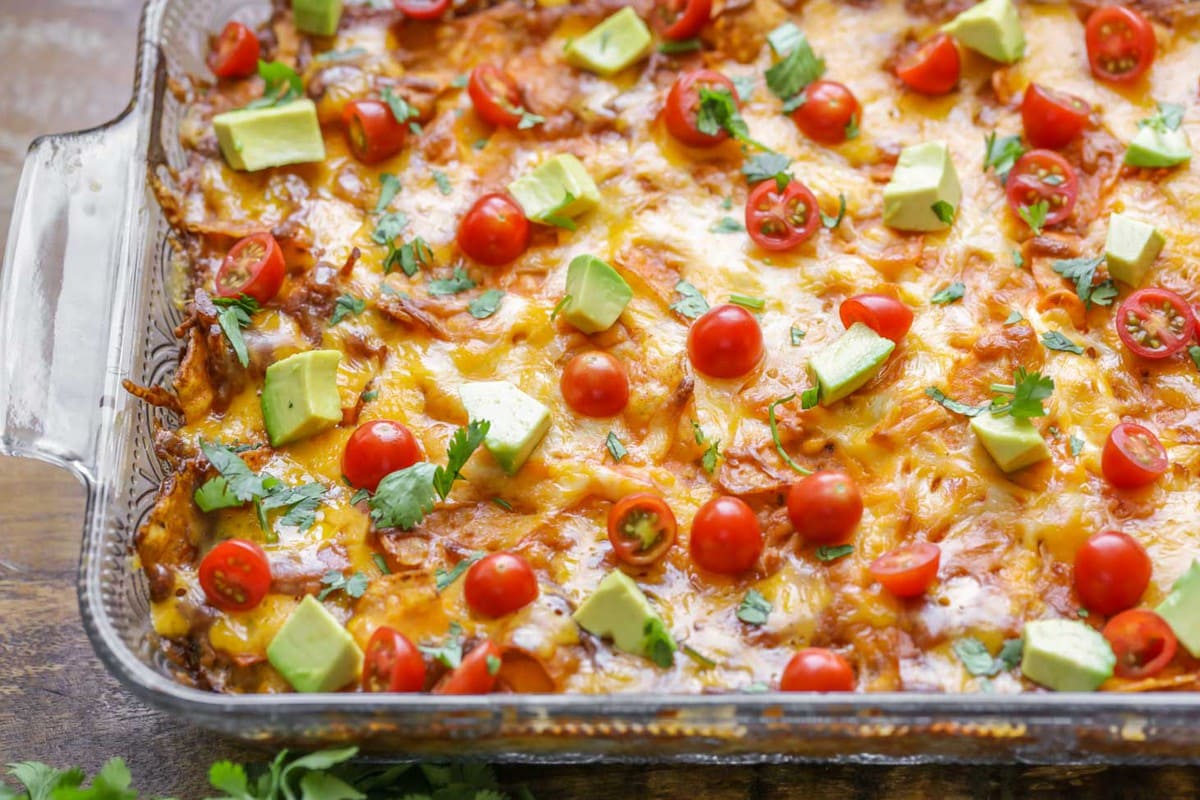 Cooking for 2
You will find that many easy dinner recipes are designed to feed 6-8 people or more which is great unless there's only 1 or 2 of you. Thankfully, you don't have to skip out on these delicious dishes.
Divide the recipe in half or thirds
Make the listed recipe and freeze half for later.
Make the recipe and divide the leftovers up for lunch or dinner later in the week.
Turn leftovers into new dishes. Let's say you grilled a steak and served it with roasted veggies. Use the leftover steak and make Steak Tacos or a Steak Salad.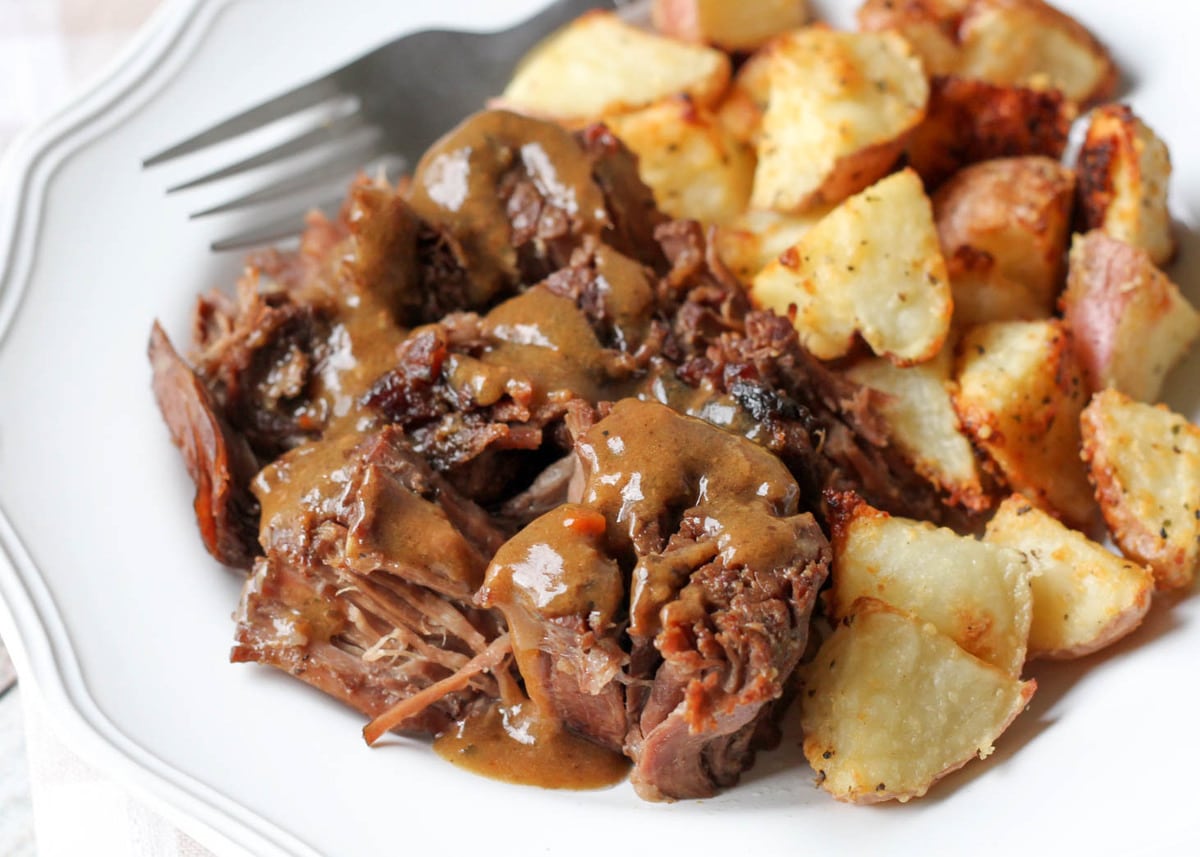 Planning Tips
Menu plan: I know people who plan weekly menus and some who plan monthly menus. Both are great because knowing what you plan to serve saves so much time. You can plan a better grocery list so that you always have the right ingredients.
Look at your weekly events and decide what days you have a time crunch and might want to use a freezer meal or the crock pot and what days you might have more time to make a more involved dinner.
You can also use our Weekly Meal Plans, and we'll do all the planning for you!
Prep ahead of time: Having pre chopped veggies, pre shredded chicken, or meat thawing in the fridge will only help prepare your dinner run more smoothly.
Stock up on freezer meals: The easiest way that I am able to store away freezer meals is to double a meal that I am already making. I serve one and I save one in the freezer. You can also set aside a Saturday and stock up on several freezer meals at once.
Crock Pot: These may not be quick, but they are easy and don't take a lot of attention. You can cook so many different dishes in the crock pot as well.
Instant Pot: These really speed up cook time and one thing I particularly love about this appliance is that you can cook frozen meats. I can't tell you how many times I'm racking my brain for meal options only to realize I don't have time to thaw the meat.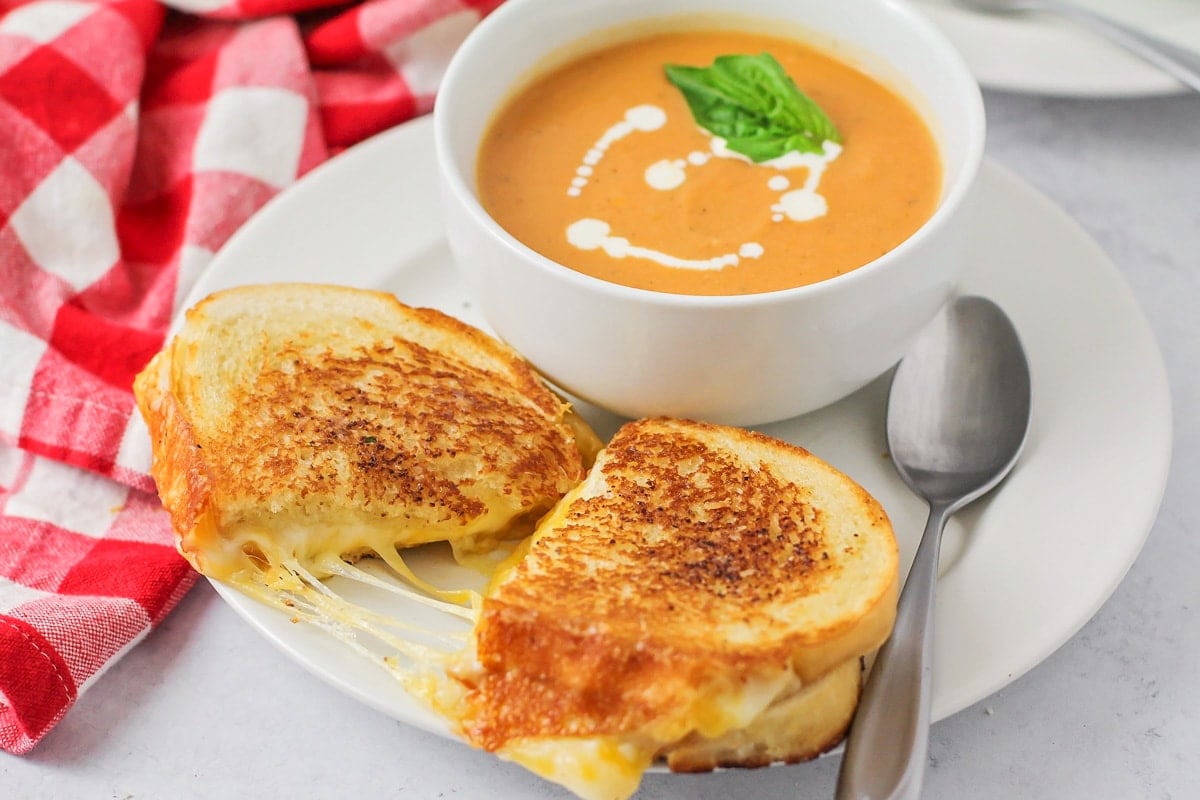 How to avoid eating the same dinners
One way to avoid eating the same dinners is to slowly start trying new recipes to see how well you like them. Pick a day that you usually have more time to prepare a meal and use that to test out something new. You can venture out and test vastly different types of food or variations of ones you already love.
Pick a cuisine you don't often eat and start testing out new recipes. 
Pick a dish you already love like classic Ground Beef Tacos and find different ways to prepare it such as Taco Casserole, Walking Tacos, or Taco Pasta Shells.
Plan dishes that use a different protein each day or no protein at all.
Implement different cooking strategies: Find recipes that can be grilled, oven baked, cooked in a skillet or pot on the stove, use the slow cooker, or don't need to be cooked like a salad.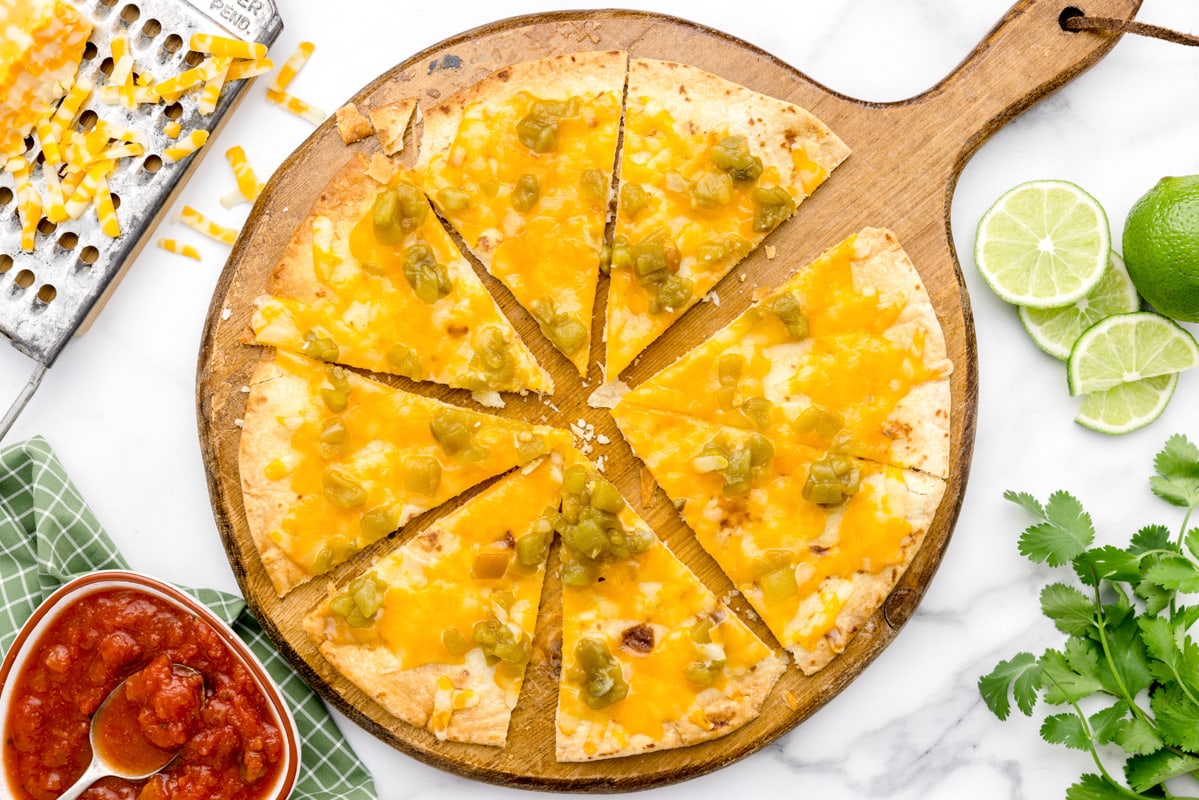 Making dinner easy and healthy
You're already taking the first step by making dinner at home. With these healthy dinner recipes, you get to choose exactly what ingredients you use.
Food that is closer to its original state is healthier than processed food. Fresh fruits, vegetables, meats and whole grains are all great ingredients to cook with.
Add balance– Many recipes, like soups and casseroles, will hit different food groups in one dish. However, if you're grilling up a steak, then you'll want to balance it out with a side of produce.
Read the recipe- choose ones that fit your dietary needs and are easy to make.
---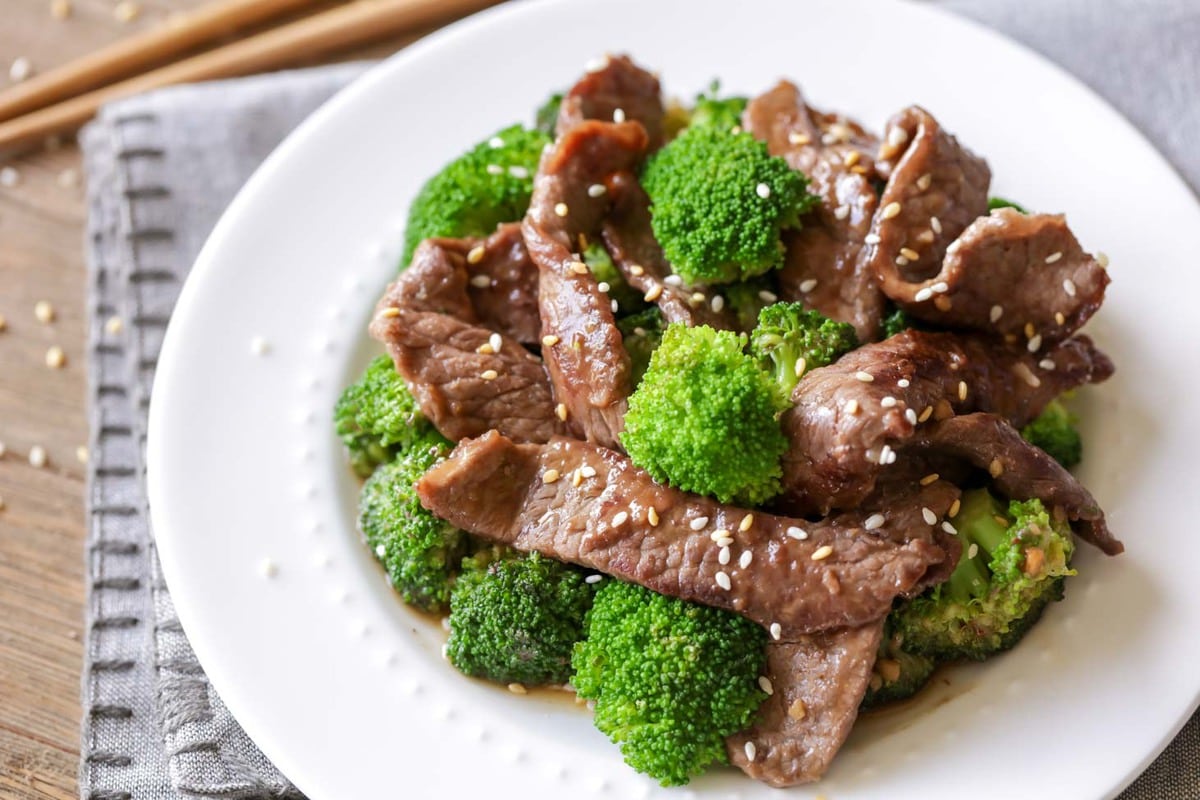 Best Easy Dinner Recipes
Easy Beef and Broccoli – DELICIOUS Beef and Broccoli recipe that everyone will love. This flavorful dish is perfect for your next dinner is easy to make too!
Easy Meatloaf – The whole family will devour this Easy Meatloaf! It's super simple—making it perfect for all levels of cooks in the kitchen.
Chicken Quesadillas – These easy, cheesy Chicken Quesadillas are a crowd favorite. They are not only filled with cheese and chicken, but a delicious homemade sauce that makes these hand-held goodies irresistible!
Pot Roast – This Crock Pot Roast Recipe is one of our favorite Sunday dinners. It takes only 3 minutes of prep time and then the slow cooker does the rest! The chuck roast ends up being SO tender and full of flavor from the brown gravy, Italian, and ranch dressing mix!
Creamy Swiss Chicken Bake – Delicious Creamy Swiss Chicken Bake – a simple and delicious dinner recipe that includes Swiss and Parmesan cheeses and baked to perfection.
Slow Cooker Pulled Chicken – Slow Cooker Pulled Chicken is juicy, flavorful. and preps in minutes! This simple dish is great for holidays, parties and potlucks!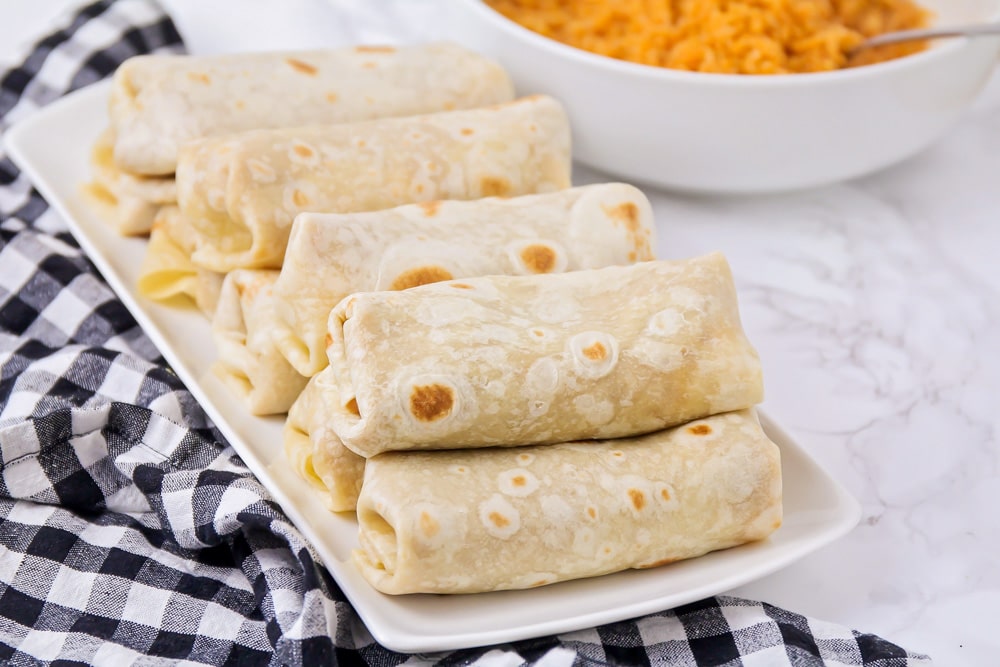 Bean Burritos – Cheesy bean burritos are so easy to whip up for dinner! These are perfect for making ahead of time, or freezing for later.
Cheese Crisp – A Cheese Crisp is a crunchy open-face quesadilla that is an Arizona favorite!! They are quick, easy, and perfectly dippable.
Croque Monsieur – Croque Monsieur is not your typical ham and cheese sandwich! It has a dijon mustard spread, an egg coating, and is baked or fried into a hot and melty dish.
Hamburger Stroganoff – Creamy, savory hamburger stroganoff is a perfect weeknight dinner. It is full of flavor and comes together quickly.
Hawaiian Haystacks – A pile of fluffy rice stacked with chicken, gravy, and all your favorite toppings! Totally customizable, and great for feeding a crowd!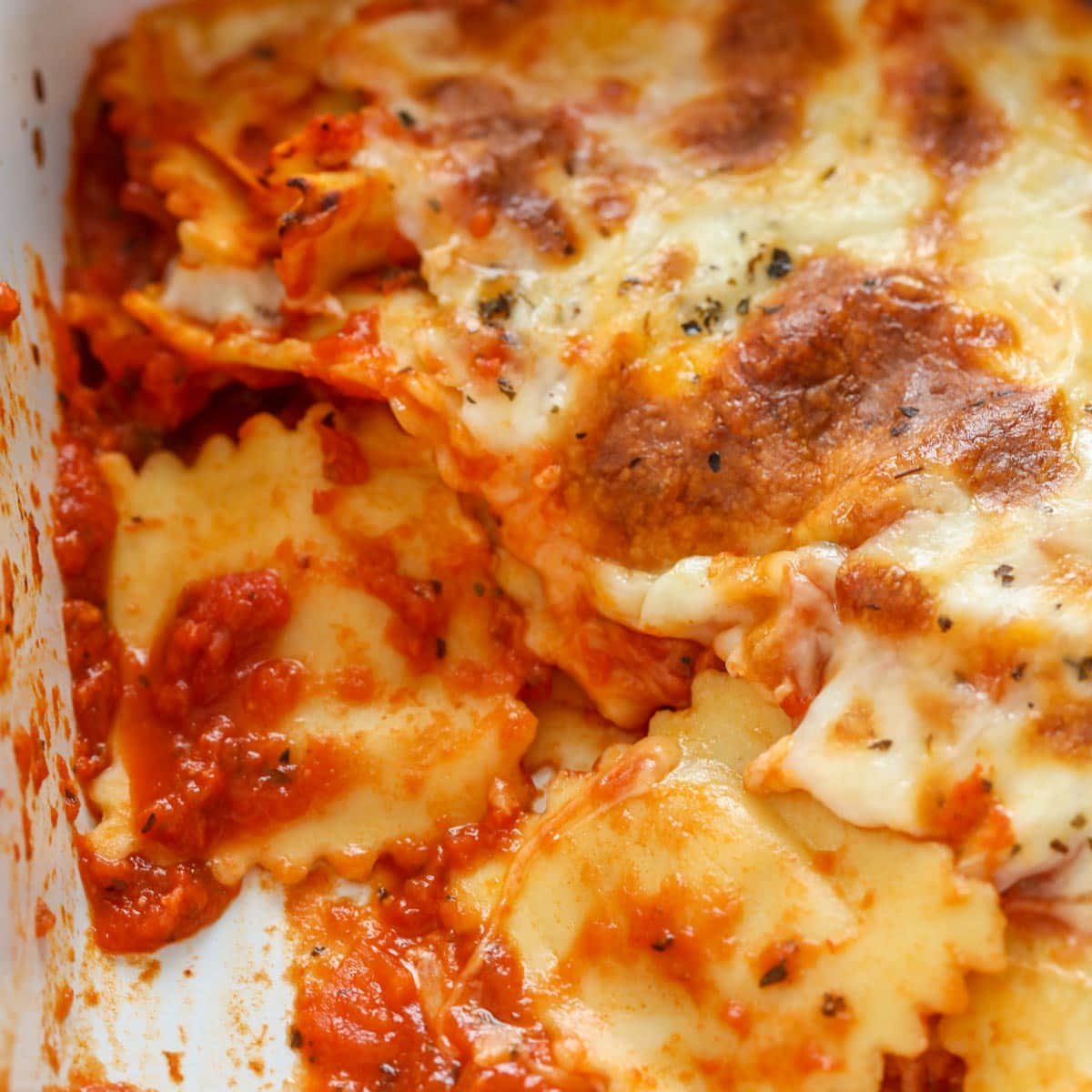 Easy Dinner Ideas For Kids
I don't know about you, but my pickiest eaters were always happy with the four kid diet staples: pasta, pizza, nuggets, and just about anything with cheese. These are some of our favorite kid friendly recipes that have been tried and true for years!
Cheesy Baked Ravioli – Easy Cheesy Baked Ravioli – a quick, simple and delicious dinner recipe that the whole family loves! It's so cheesy and so tasty!
Fettuccine Alfredo – Easy and Quick Fettuccine Alfredo that takes just 15 minutes to make! This family favorite recipe includes fettuccine, garlic, parmesan, and whipping cream and is sure to become a go-to dinner idea!
Easy Spaghetti Recipe – This easy spaghetti recipe is kid-friendly and is made with a delicious homemade spaghetti sauce making it the perfect family dinner recipe!
White Sauce Pasta – Super Simple And Delicious Creamy Garlic Penne Pasta Recipe Packed With Flavor. This Dish Is Perfect By Itself Or You Can Add Chicken Too!
Copycat Chick Fil A Nuggets – This recipe allows you to have the crispy, delicious chicken nuggets you love from Chick-fil-A without even leaving your house! These Copycat Chick Fil A Nuggets taste just like the real thing. Best of all, they're ready in less than 30 minutes!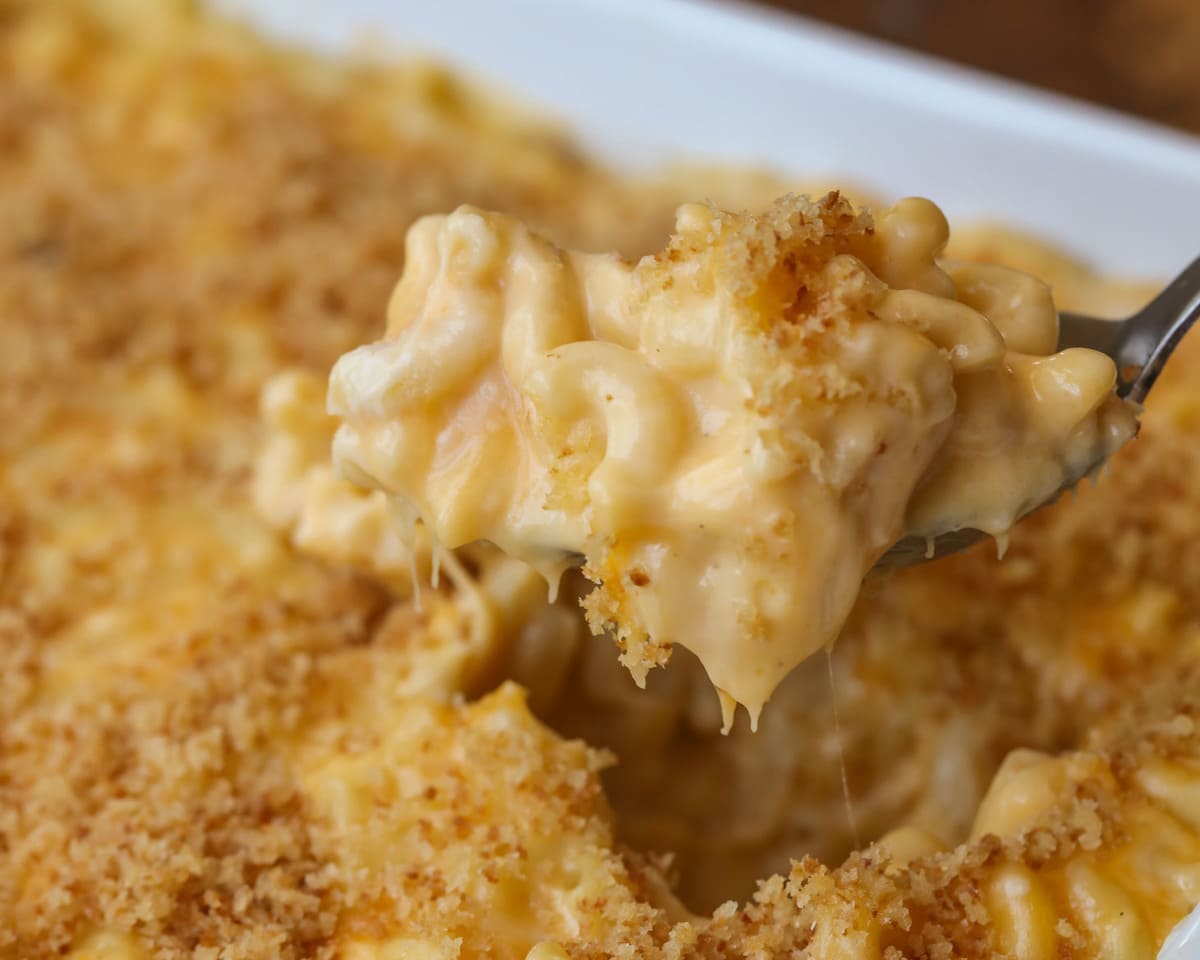 Homemade Mac And Cheese – The cheesiest, CREAMIEST homemade mac n cheese you'll ever make! Macaroni pasta covered in sharp cheddar cheese, melted into a warm cream sauce, and topped with a perfect panko crust. The whole family will definitely approve!
English Muffin Pizzas – English muffin pizzas are a quick and easy meal the kids will love. They are savory, delish, and sized just right!
Grilled Cheese – Grilled Cheese Sandwiches are a classic in our family. Not only are they easy to make and loved by everyone but are easily changed up by the bread, cheese, fillings and spices used to make them! This version is our go-to!
Hot Dog Nuggets – Hot Dog Nuggets only require TWO ingredients and make a perfect for lunch, dinner or even a party appetizer! Kids and adults alike will love these little bites.
Bean Chimichangas – Easy and delicious Bean Chimichangas are filled with beans, cheese and ROTEL and they taste just like the ones at the restaurants!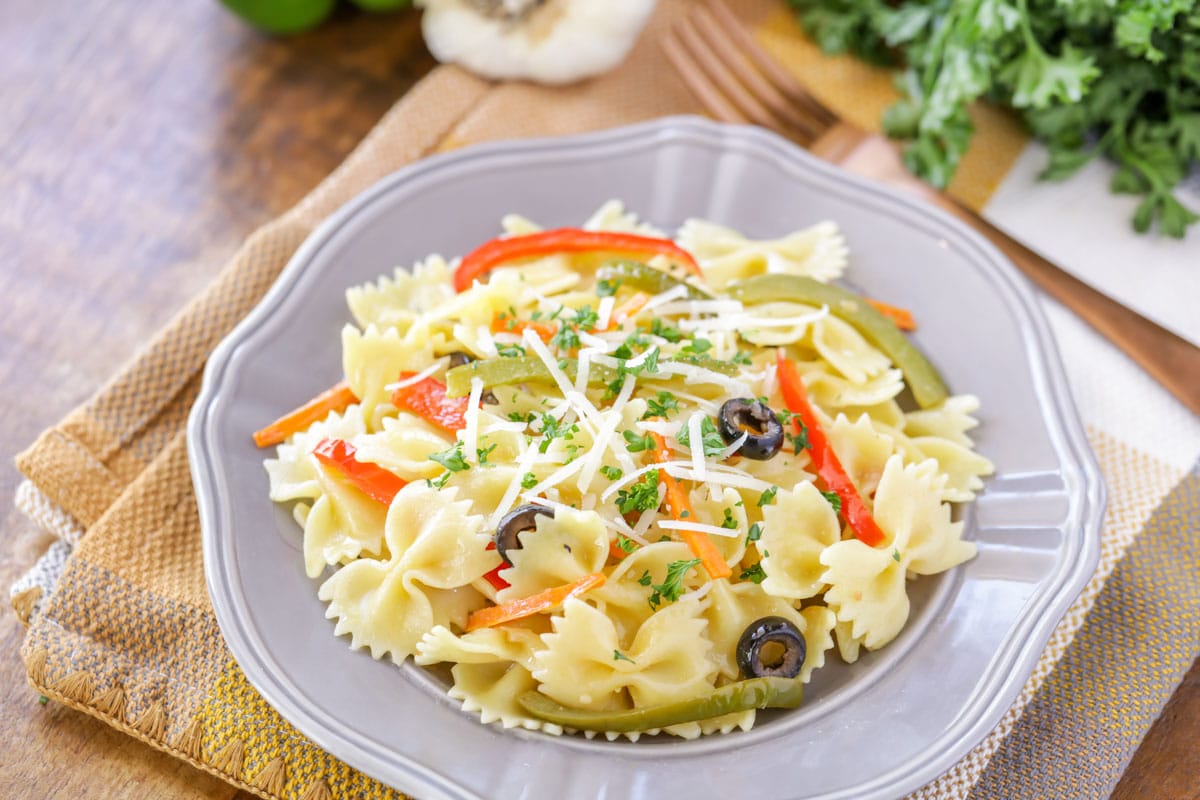 easy vegetarian dinner recipes
Soups are great because they are quick to whip up and just take some time to simmer to blend all the flavors together. They are often filled with protein and veggies and generally all you need to have to feed the family a filling meal.
Garlic Butter Pasta – Simply dressed Garlic Butter Pasta is filled with veggies and sprinkled with parmesan. It's straightforward and so flavorful!
Creamy Tomato Basil Soup – With garlic, basil, and other delicious seasonings, this creamy tomato basil soup has a bold flavor that you'll quickly fall in love with.
Lemon Asparagus Pasta – This Lemon Asparagus Pasta is so simple, yet packed with amazing flavor! Made from penne pasta, mixed with asparagus, and covered in a cheesy sauce with just a hint of lemon.
Vegetable Soup – Loaded with potatoes, carrots, corn, green beans, and tomatoes, this vegetable soup is healthy, hearty, and super good.
Pasta Primavera – A tried and true dinner recipe! Delicious pasta full of vegetables like zucchini, squash, bell peppers, and tomatoes.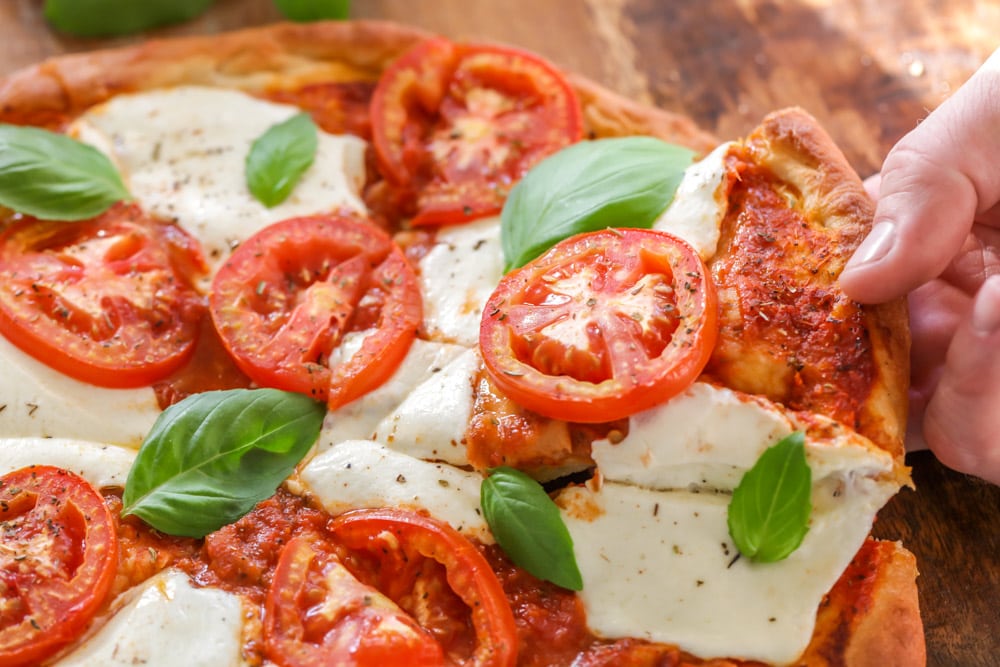 Margherita Pizza – Margherita pizza stars fresh basil, mozzarella cheese, and the best ripe tomatoes. It's simple, delicious, and light.
Broccoli Cheese Casserole – A creamy combination of broccoli and cheese, topped with a crunchy Ritz cracker topping! Even your pickiest eaters will love this Broccoli Cheese Casserole!
Baked Spaghetti Squash – Learn how to perfectly cook spaghetti squash every time with this fabulous recipe! Tender strands of spaghetti squash mixed with cheese, tomatoes, and a little bit of basil, both healthy and delicious!
Eggplant Parmesan – Delicious baked eggplant parmesan is made with crispy coated eggplant slices smothered in cheese and marinara. This easy dish is sure to be loved by all!
Grilled Cheese And Tomato Soup – The Jolly Holiday Combo is a favorite meal at the Happiest Place on Earth. It's a tasty, grilled cheese sandwich served with creamy tomato basil soup – comfort food at it's finest at Disneyland!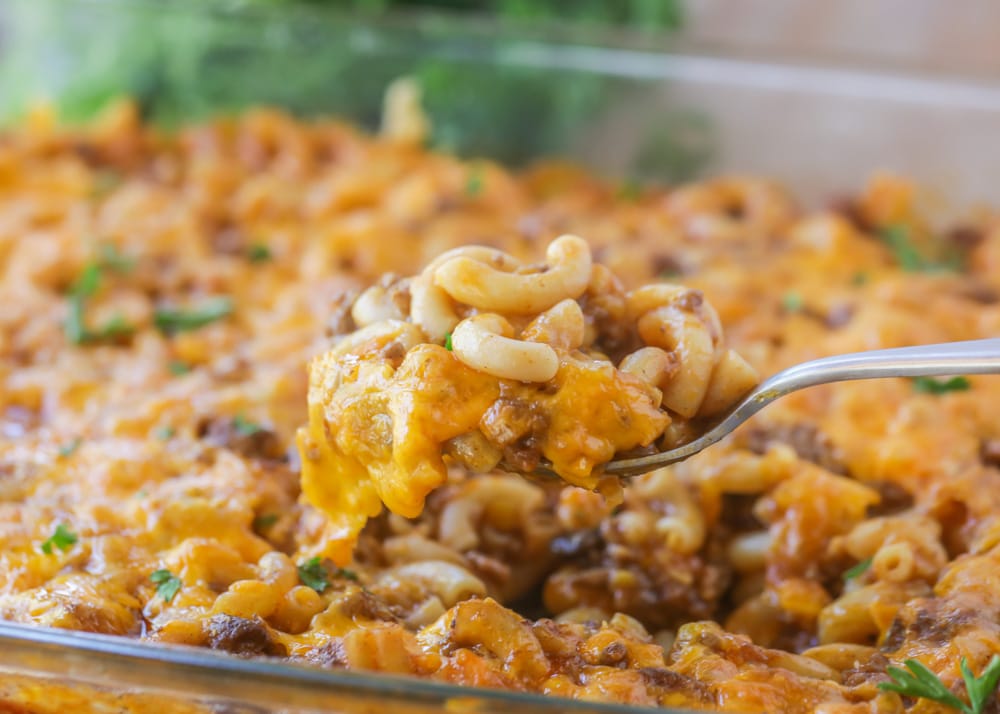 easy dinner casseroles
Casseroles are another amazing dish that is hearty and easy to make. They can often be made ahead of time and then cooked in the oven.
Hamburger Casserole – Hamburger Casserole is cheesy and packed with flavor. It is simple, flavorful and loved by the entire family making it a go-to in the monthly menu.
Spaghetti Casserole – Spaghetti casserole is the definition of comfort food! Hearty, delicious, and an easy way to make and eat spaghetti.
Enchilada Casserole – Enchilada Casserole is simple, requires no rolling, and is a comforting family favorite—perfect for weeknights!
Cauliflower Casserole – Let's have a round of applause for this cauliflower casserole loaded with bacon, cheese and cream. There's no better way to add vegetables to your meal!
Mexican Casserole – This Mexican casserole is an easy weekday dinner idea that is full of Spanish rice, chicken, and melty cheese. It's flavorful and everyone will love it!
Dorito Casserole – Everyone loves this crunchy and flavorful Dorito casserole. It's layered with lots of meat, cheese and (of course!) nacho cheese flavored Doritos!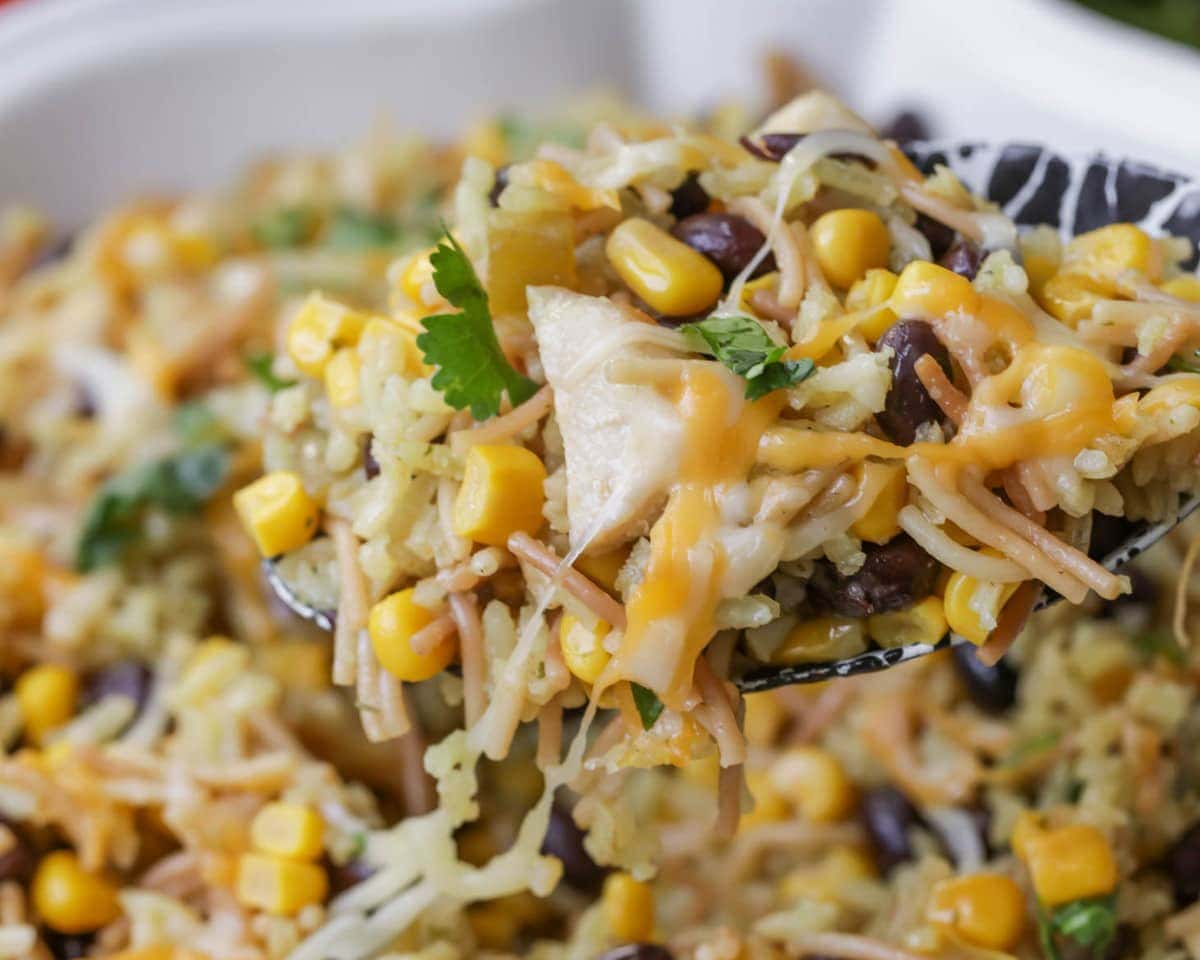 Cheesy Chicken And Rice Bake – EASY Cheesy Chicken and Rice Bake is a simple, deliciously homey dinner that is perfect for freezing and sharing!
Tater Tot Casserole – This easy cheesy Tater Tot Casserole is a simple, quick and tasty side dish with a tater tot base, creamy and cheesy center, and a fried onion topping! It's great for any dinner or holiday meal.
Chicken And Dumpling Casserole – This Chicken and Dumpling Casserole is comfort food made easy. Canned biscuits and cream of chicken soup help speed up this hearty casserole.
Cheeseburger Casserole – Hearty cheeseburger casserole is filled with ground beef and pasta, and oozing with cheese! It really is everything but the bun.
Easy Pizza Casserole – Quick and delicious Easy Pizza Casserole – prepped in 5 minutes and only requires 5 ingredients. We call that a dinner win!
Frito Pie – Frito pie is packed with creamy and crunchy textures, and big taco style flavor. This easy dish comes together in just over 30 minutes!
---
the complete list
Here are the picture cards for all of the crowd pleasing Easy Dinner Ideas listed above.
Who knew that dinner this delicious could be so quick and easy?! You're sure to find some new favorites on this list!
For more collections: Chicken Dinner Ideas, Family Dinner Ideas, Dinner Ideas for Kids