Our family's favorite lasagna recipe – not only because it's delicious but because it's so EASY! You don't even have to precook the lasagna noodles! With beef, pork, three cheeses, and tons of seasonings, you know this recipe is going to be a hit!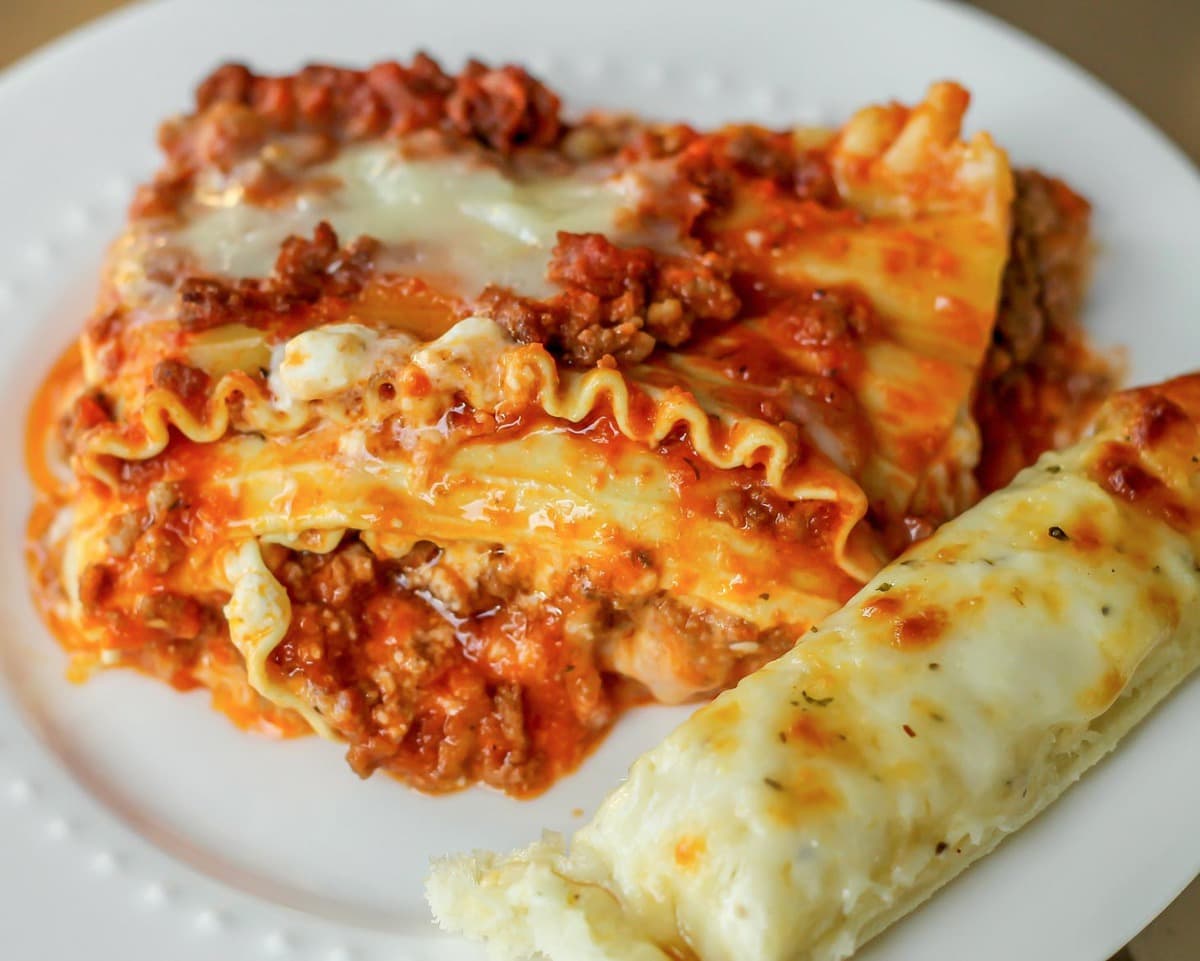 Family Favorite Lasagna Recipe
I'm sharing our family's favorite easy lasagna recipe today! My mom makes Lasagna for the family all the time (we love all lasagnas and also make Chicken Lasagna and even Lasagna Soup). It's one of those meals that the entire family loves, and one that feed a crowd.
Over the years my mom has tried a TON of Lasagna recipes, but recently she has been using the same one because all of us kids loved it so much. The recipe comes from the awesome ladies at Favorite Family Recipes. My mom modified it a bit to our family's liking and we will probably continue to make it again and again because it's so easy and so good.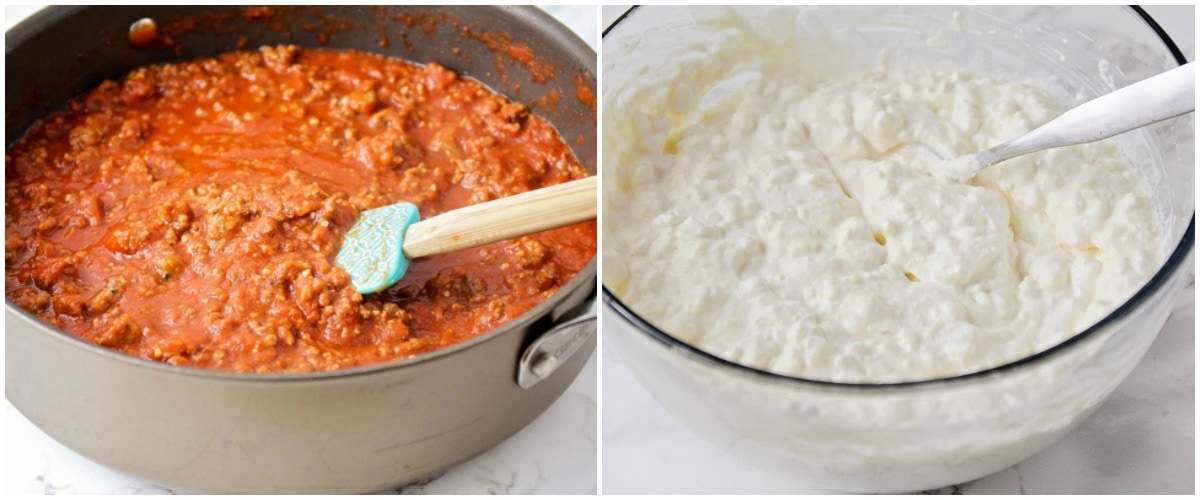 Lasagna Ingredients:
This easy lasagna recipe includes all the traditional ingredients including
ground meat (beef and pork)
cheese (parmesan, mozzarella, and cottage cheese)
seasonings (minced garlic, basil, salt, and pepper)
tomato sauce
lasagna noodles
One of the reasons this recipe is so simple is because it calls for no boil lasagna noodles!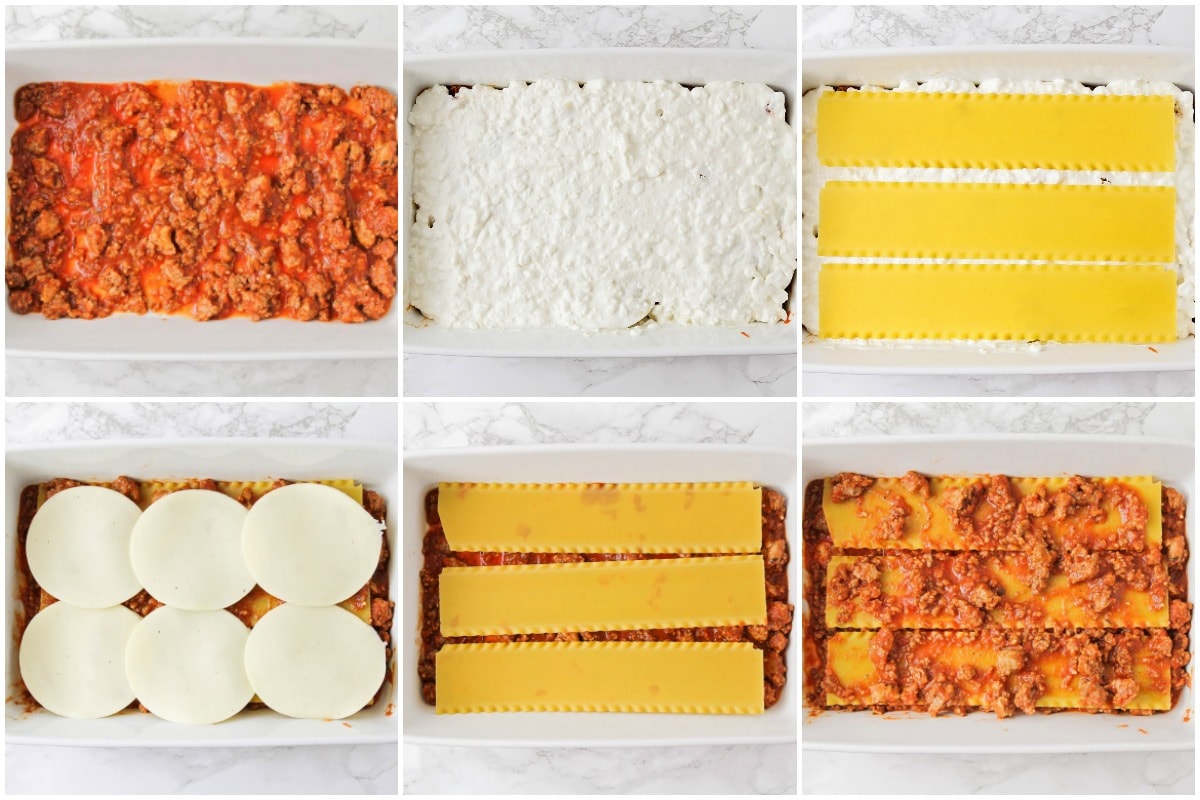 How to Make Lasagna
This classic lasagna recipe is so simple to make. Begin by cooking up your meat, seasonings and tomato sauce. Once that's made you will combine the three cheese together and start layering:
So you just have to cook up the meats and seasonings with the tomato sauce, combine the three cheeses, and then layer everything with the uncooked noodles in your 9×13 pan! The noodles cook while you're baking the lasagna in the oven. It's so much faster!
Easy Lasagna Layers
This homemade lasagna recipes is simple but has several layers to it. Here they are to help in making this delicious dinner idea.
Layer 1 – 1 cup of sauce – this 

helps prevent the lasagna from getting dry, and the noodles from sticking to the pan.

Layer 2 – Lasagna Noodles
Layer 3 – 1 cup of sauce
Layer 4 – Sliced Mozzarella
Layer 5 – Half the Sour Cream Mixture
Layer 6 – Lasagna Noodles
Layer 7 – 1 cup of Sauce
Layer 8 – Sliced Mozzarella
Layer 9 – Remaining Sour Cream Mixture
Layer 10 – Lasagna Noodles
Layer 11 – Remaining Sauce
Layer 12 – Shredded Parmesan Cheese
Once everything is layered, you will bake for 25-30 minutes. We recommend letting the dish rest for at least 15 minutes to let the layers firm up a bit before cutting into it.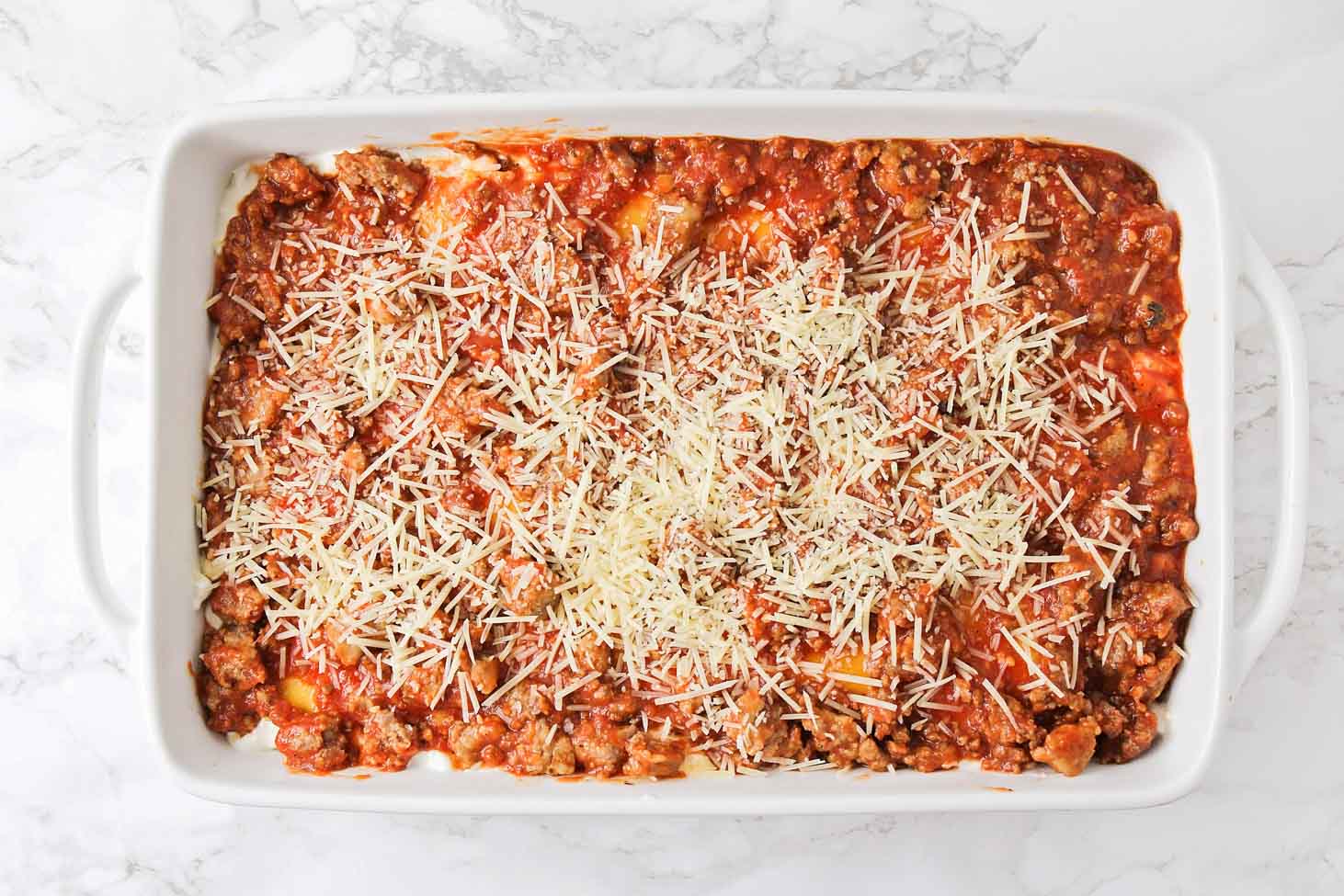 Do you cook lasagna covered or uncovered?
If you leave your lasagna uncovered in the oven, it will become dry. Fight back with a foil-topped tray for a portion of the baking time. Once the lasagna has baked at least halfway through, remove the foil so the top can brown. If, once it's fully cooked, the top still looks pale, turn on the broiler to help move things along. But keep an eye on the casserole; it can burn quickly. 
Why is my lasagna soupy?
A few things can cause too much moisture in lasagna. If you use a really thin tomato sauce, or non-fat sour cream and cottage cheese, there will be more water content in your ingredients, causing the lasagna to be soupy. Also, if you live at a higher altitude, it may require a longer baking time than listed in the recipe. While you can make lasagna ahead and refrigerate or freeze it, it won't necessarily reduce the moisture content, but the no boil noodles will soak up the watery sauce.
What are "no boil" lasagna noodles?
Similar to "instant rice," no-boil noodles are precooked at the factory. During baking, the moisture from the sauce softens, or rehydrates, the noodles, so there's no need to boil them before assembling your lasagna.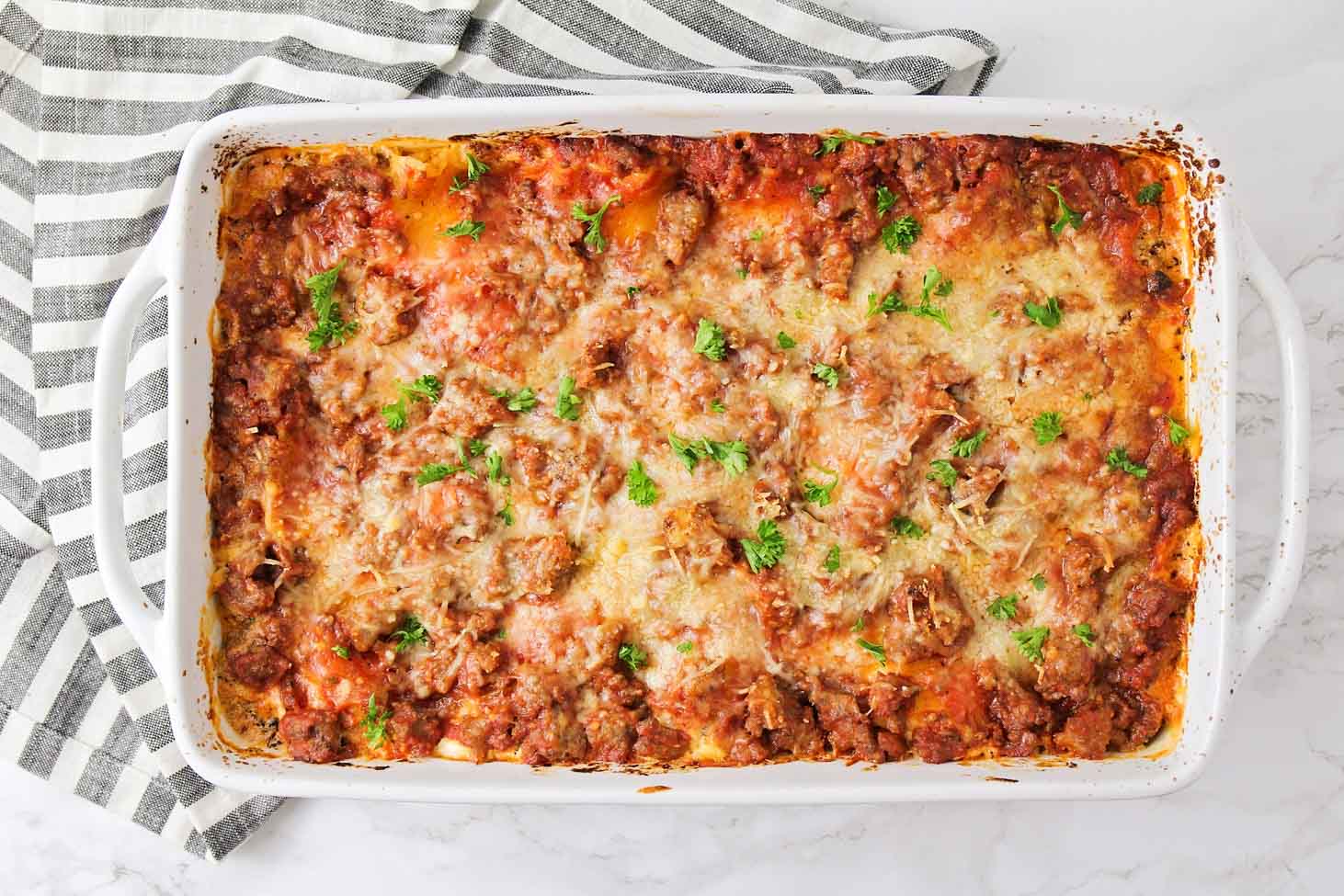 How to reheat lasagna:
You can reheat small portions of lasagna in a microwave by placing it in a microwave-safe container and adding a bit of marinara sauce or water on top. This prevents it from drying out in the microwave. Cover it with a lid or a microwave-safe plate and heat for 1-2 minutes, or until the lasagna is heated through.
If you're trying to reheat larger portions (however much is left in the pan), pour about ¼ cup of water or marinara sauce over the lasagna and cover it with aluminum foil. Bake for 25 minutes at 425 degrees F, or until the lasagna is hot and bubbly.
Can I use ricotta instead of cottage cheese?
Yes, just sub out equal amounts of ricotta for cottage cheese. The only difference between the two is a matter of texture and nutritional value. Cottage cheese is lumpier, while ricotta cheese is grainier, although cottage cheese has fewer calories and grams of fat.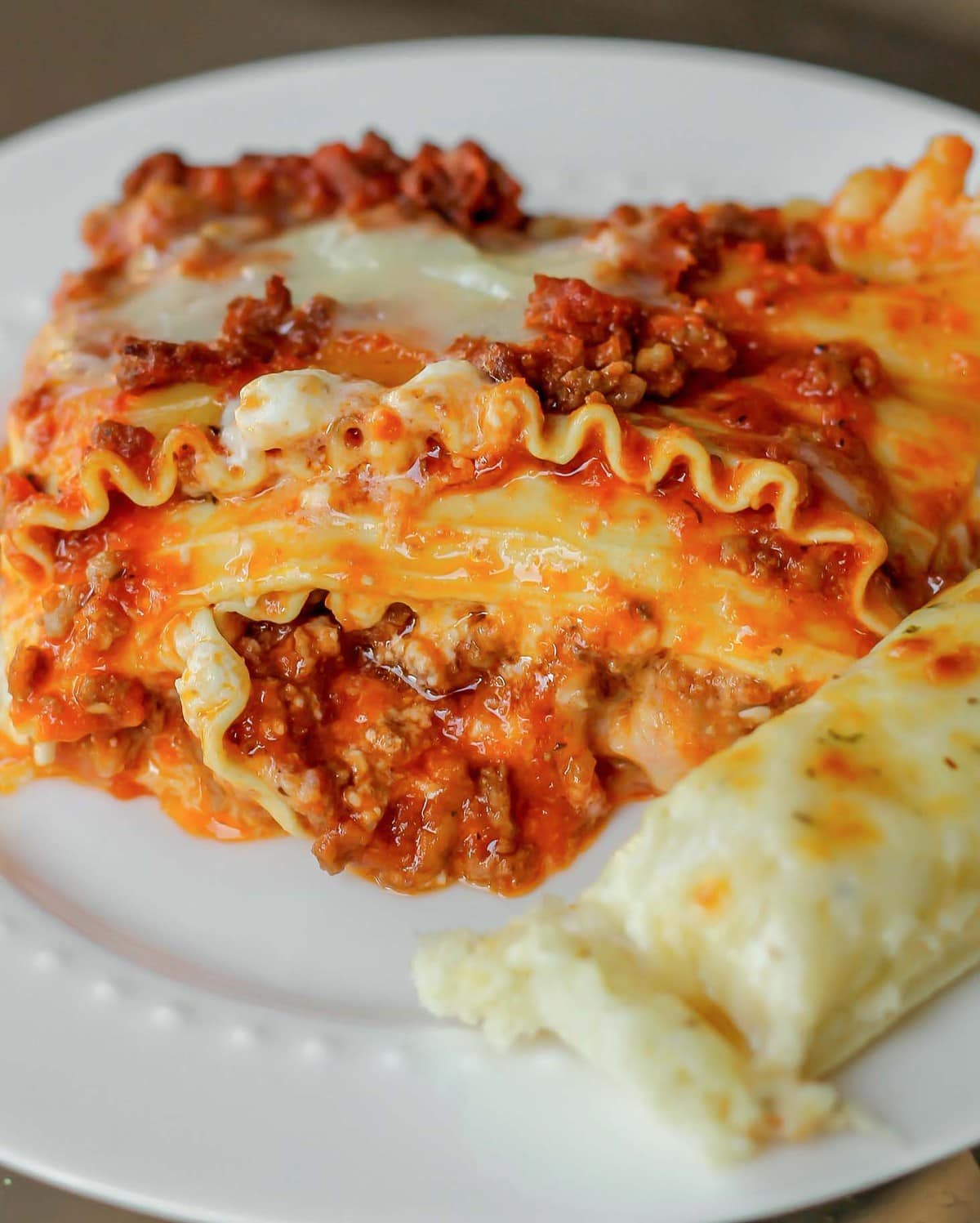 Seriously – you can never go wrong with lasagna for dinner. It's just too good, and I will never turn it down with all it's cheesy meaty goodness!
what to serve with lasagna?
For more lasagna recipes, check out: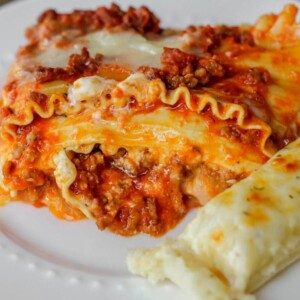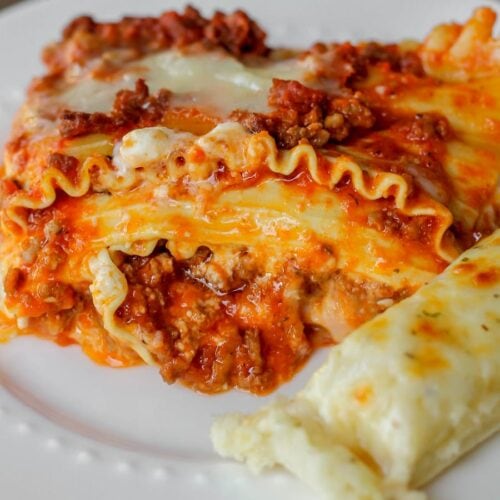 Easy Lasagna Recipe
Our family's favorite lasagna recipe - not only because it's delicious but because it's so EASY! You don't even have to precook the lasagna noodles! With beef, pork, three cheeses, and tons of seasonings, you know this recipe is going to be a hit!
Ingredients
1

TB

vegetable oil

3

tsp

minced garlic

2

TB

basil

1 1/2

tsp

kosher salt

5

c

tomato sauce

1

lb

beef

1

lb

pork

16

oz

sour cream

2

c

cottage cheese

1

c

parmesan cheese

1

lb

mozzarella cheese

sliced

1

pkg

lasagna noodles

no boil

parmesan cheese to taste

pepper to taste
Instructions
In a pan, saute garlic in Vegetable oil on medium heat for 2-3 minutes. Stir in basil, salt, a little pepper, and tomato sauce. Simmer for 10 minutes. Turn down to low and continue to simmer.

In another pan, brown your beef and pork. Add browned meat to your sauce and continue to simmer.

In a bowl, combine Parmesan cheese, cottage cheese and sour cream. Mix well. Set aside.

In a 9x13 pan, spread 1 cup of your sauce on the bottom. Layer with lasagna noodles and spread another cup of sauce on top of the noodles.

Add a layer of sliced mozzarella cheese and then half the sour cream mixture.

Then add another layer of noodles, followed by a cup of sauce, another layer of sliced mozzarella and the rest of the sour cream mixture.

Then add one more layer of noodles and the last of the sauce.

Add Parmesan cheese to the top, cover with foil and bake for 25-30 minutes (taking foil off for the last 5 minutes of cooking).