Everyone loves lasagna! This White Chicken Lasagna version is just as delicious as classic lasagna and is filled with spinach, cheese and delicious homemade white sauce.
If you love classic lasagna, you'll love this white chicken version. It has many cheesy layers, is great for dinner and is a go-to recipe the whole family loves, like our Lasagna Roll Ups and Slow Cooker Lasagna.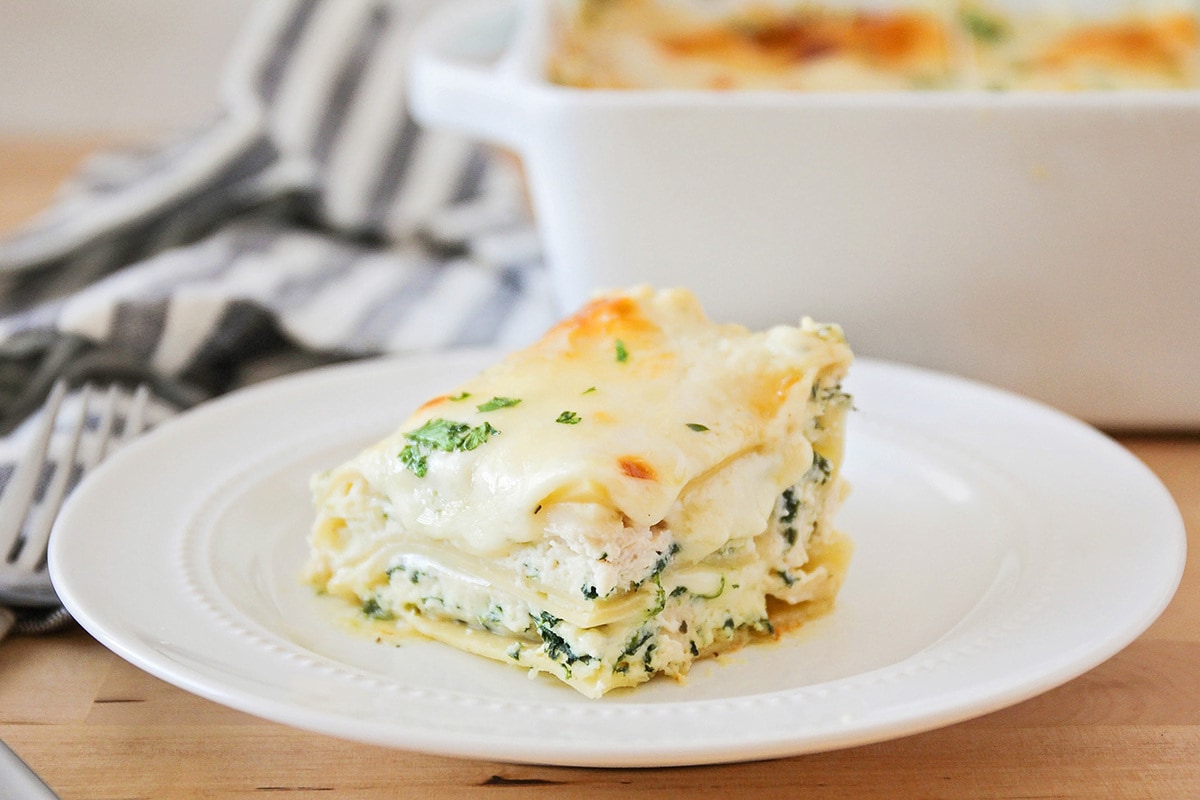 Chicken Alfredo Lasagna
Hello again! It's Alicia from The Baker Upstairs, and I'm excited to share one of my family's favorite recipes with you today! This creamy chicken lasagna is a favorite for Sunday dinners or special occasions, and is a huge hit with both kids and adults.
It's made with layers of tender noodles, creamy chicken filling, and savory homemade white sauce. Best of all, it's topped with loads of gooey cheese!
I made this lasagna when we had friends over for dinner a few weeks ago, and everyone raved about how delicious it was! Although it does take a little time to put together, it's pretty simple and straightforward to make.
If you haven't made a white sauce from scratch before (Alfredo sauce), have no fear! It's actually very simple to put together making this chicken Alfredo lasagna a keeper!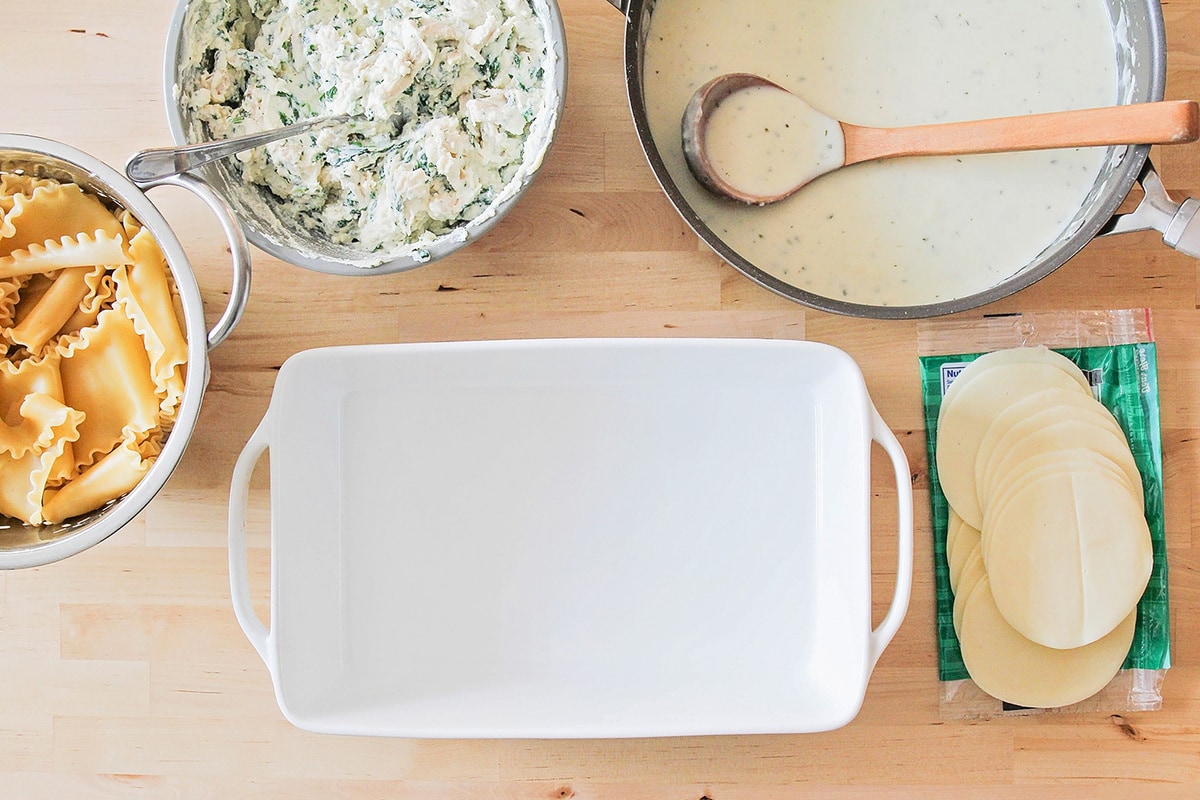 How do you Make Chicken Lasagna?
It's really quite easy, but here are step by step directions to make this white chicken lasagna.
The best order of operations that I've found for this recipe is to start by cooking the lasagna noodles, then draining them and letting them cool. While they're cooling, stir together the filling (Here are the instructions for cooked and shredded chicken). Then make the white sauce.
Now it's time to assemble the lasagna! Spread some sauce in the bottom of the baking dish, then layer three lasagna noodles to cover the bottom of the dish. Spread half of the chicken filling evenly over the noodles.
Next, layer on slices of provolone cheese. In the past, I had always made lasagna with shredded mozzarella cheese, but I recently switched to using sliced provolone, and I'll never go back! It's so gooey and cheesy, and I love how much flavor it adds. I like to use six slices to cover each layer, but I was a little short on provolone this time, so I used five slices on two of the layers.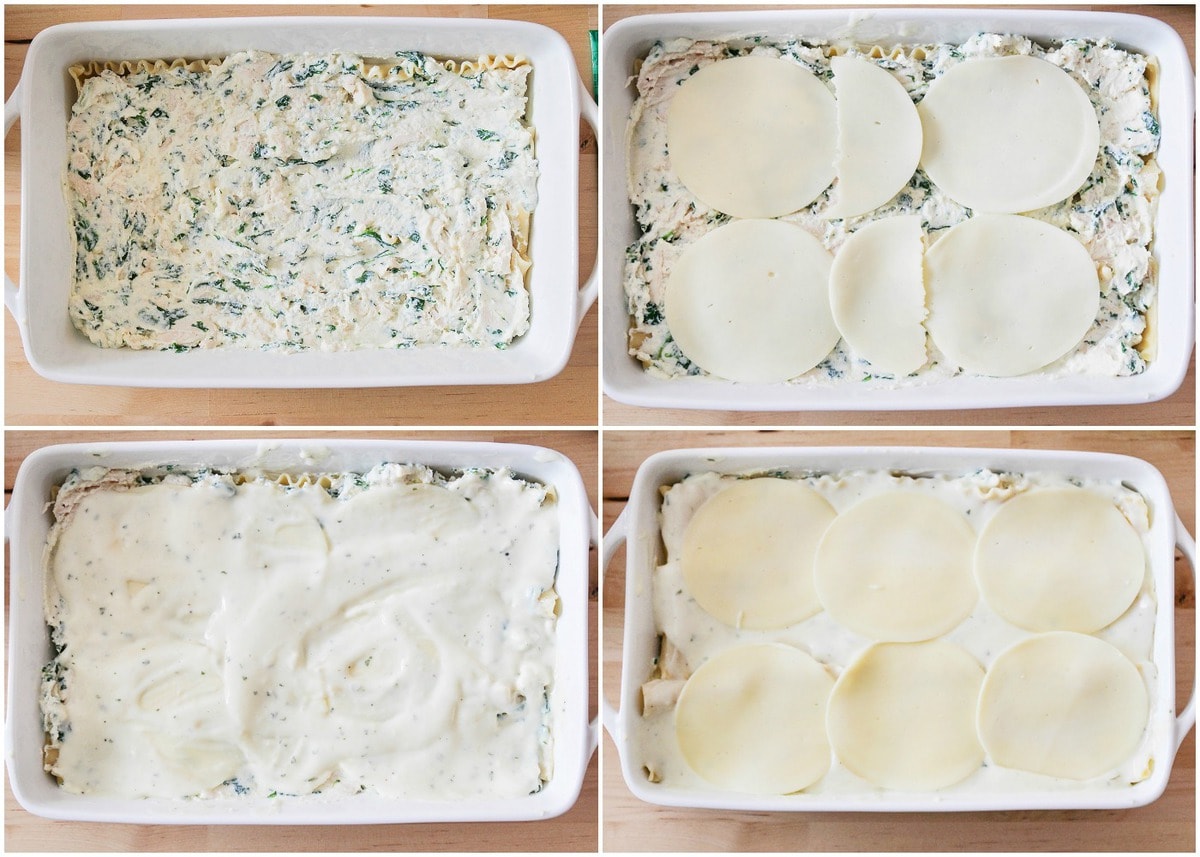 Next, spread more of that delicious white sauce over the top of the cheese. Then just repeat the noodles, filling, sliced cheese, and sauce layers.
Finally, add another layer of noodles, another layer of sauce, and the remaining sliced cheese. Now it's ready to bake!
Bake the lasagna for 40-50 minutes, or until the sauce is bubbling and the cheese is lightly browned. I topped mine with a little chopped fresh parsley to make it prettier, but it's not strictly necessary. Just look at that beautiful dish of cheesy goodness!
NOTE: It's a good idea to let the lasagna sit for 10-15 minutes before cutting it, so the sauce can thicken up a little bit and it's easier to slice.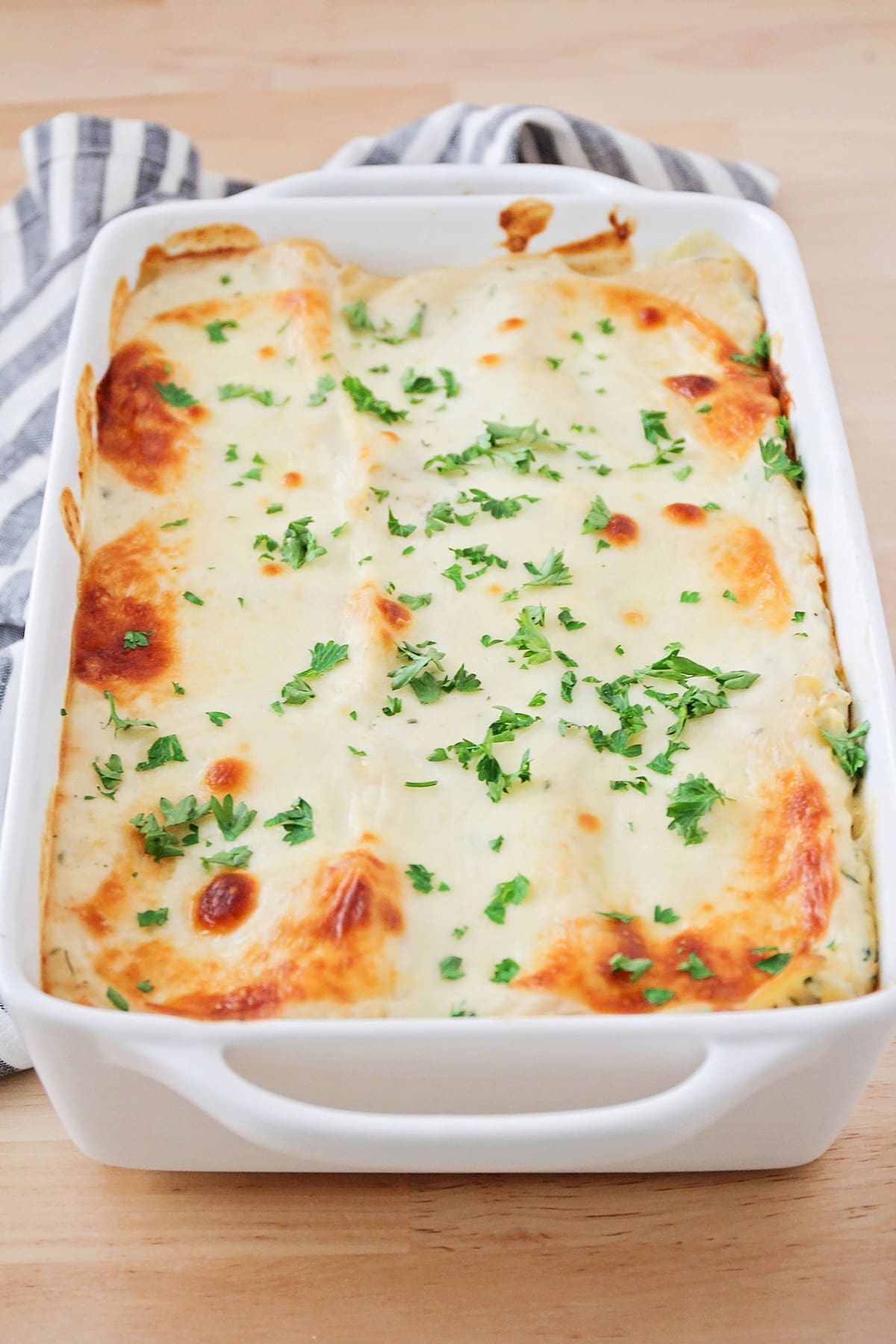 Can you Freeze Chicken Lasagna?
Yes, you can! We recommend making it in a disposable dish first, then cover with foil and freeze flat. When it's ready to cook, let it thaw overnight in the fridge and then bake at 350 for 60-65 minutes.
If you are trying to freeze leftover lasagna, store in an airtight container or freezer bake. Allow it to cool to room temp before reheating. 😉
We love that this chicken spinach lasagna is elegant enough to serve for company, but simple enough to make that we make it often. It's always a favorite at my house!
Complete the meal by also making:
For more Lasagna recipes, check out:
Chicken Lasagna Recipe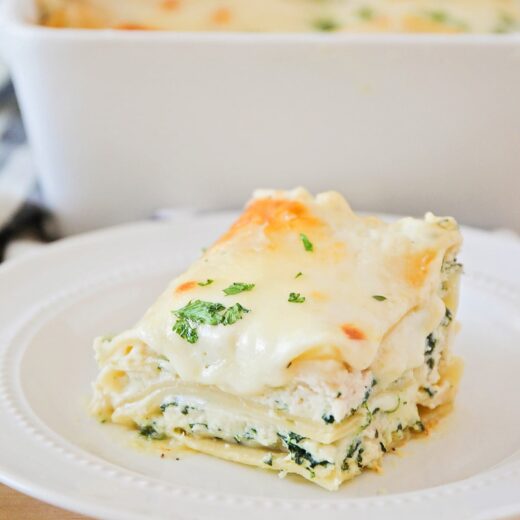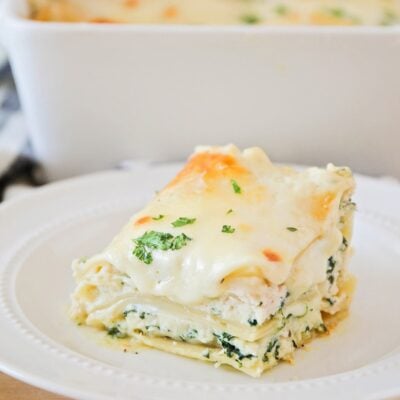 Everyone Loves Lasagna! This White Chicken Lasagna Version Is Just As Delicious As Classic Lasagna And Is Filled With Spinach, Cheese And Delicious Homemade White Sauce.
Ingredients
For the Sauce:
4

tablespoons

butter

1/4

cup

flour

2

cups

milk

1

cup

chicken broth

2

teaspoons

salt

1/4

teaspoon

pepper

1

teaspoon

garlic powder

1/2

cup

parmesan cheese

2

teaspoons

dried parsley
For the Lasagna:
1

package lasagna noodles

32

ounces

ricotta cheese

1/4

cup

grated parmesan cheese

2

eggs

3/4

teaspoon

salt

1/4

teaspoon

pepper

1

teaspoon

garlic powder

8

ounces

frozen spinach

thawed and drained

3

cups

shredded cooked chicken

18

slices

provolone cheese
Instructions
Preheat the oven to 350. Cook the lasagna noodles according to the package directions, then drain and let cool.

To make the sauce, melt the butter in a large skillet over medium heat. Whisk in the flour, and cook 3-4 minutes, or until golden brown and bubbling. Add the milk and the chicken broth a little at a time, whisking constantly, and bring the sauce to a simmer. Simmer until thickened. Remove from heat and stir in the salt, pepper, garlic powder, parmesan, and parsley.

To make the filling, mix together the ricotta, parmesan, eggs, salt, pepper, and garlic powder. Stir in the spinach and chicken.

To assemble, spoon about 3/4 cup of sauce into the bottom of a 9 x 13 baking dish. Add three lasagna noodles to cover the bottom, then spread half of the chicken filling over the noodles. Spread six slices of provolone over the top, then spoon 3/4 cup of sauce over the cheese. Repeat the layers again. Top with three more noodles, then the remaining sauce and remaining slices of cheese.

Bake 40-50 minutes, or until the sauce is bubbling and the cheese is melted and lightly browned. Let cool 10-15 minutes before serving.