This collection features all the BEST Chicken Pasta Recipes! Whether you need a nice dinner to serve company or a meal on the table in less than 45 minutes, there's a chicken pasta recipe to fit the occasion!
For more collections, check out: Vegetarian Pasta Recipes, Easy Pasta Recipes, Healthy Pasta Recipes, Penne Pasta Recipes
kid-friendly dinners
I've said it before and I'll say it again—we LOVE pasta!!
I love making it because it's an easy and inexpensive dinner, and my kids will almost always eat it with no complaints! We especially love chicken pastas.
Sometimes other meats, like sausage, can get kinda dicey with the kids, but they will always down some chicken.
Since chicken pasta recipes are a favorite around here, we sure have A LOT of them. From easy go-to recipes for busy weeknights, to pasta bakes and pasta salads, I have it all laid out for you!
And before I share the recipes, here are some tips and secrets to making these chicken pasta recipes a total breeze!
Tips on Pasta
Substitute different kinds of pasta noodles. Whether you change the shape, or the composition:
Shapes like bowtie, wagon wheel, penne, elbow and shell pastas can usually be interchangeable. Other shapes like Spaghetti, linguine, angel hair, and fettuccini can be substituted for each other as well.

You can also switch between white flour pasta, whole wheat pasta and rice pasta. I've even seen pasta made with vegetables. Some recipes can also use zucchini noodles as a substitute.
Cooking Pasta: When making pasta it can be tricky to determine how much you'll need. A good guideline to follow is to boil 2 oz of dry penne per person. Once cooked it will equal about 1-1.25 cups of cooked pasta.
Fill a pot with water. Use 4 quarts of water for every pound of pasta. Add a lid and bring to a boil.
Optional flavoring: For added flavor you can use chicken broth instead of water. Another optional ingredient is to add salt. Once the water is boiling add 1-2 tablespoon salt for every pound of pasta.
Add the penne to the boiling water. Boil, uncovered, until the desired tenderness. For al dente, boil for about 11 minutes. (See package directions for specific times) Stir occasionally. The best way to test for doneness is to bite into a piece.
Drain pasta in a colander. You can lightly rinse with water to keep the pasta from sticking to each other. Don't add olive oil as the oil will prevent sauces from sticking to the pasta.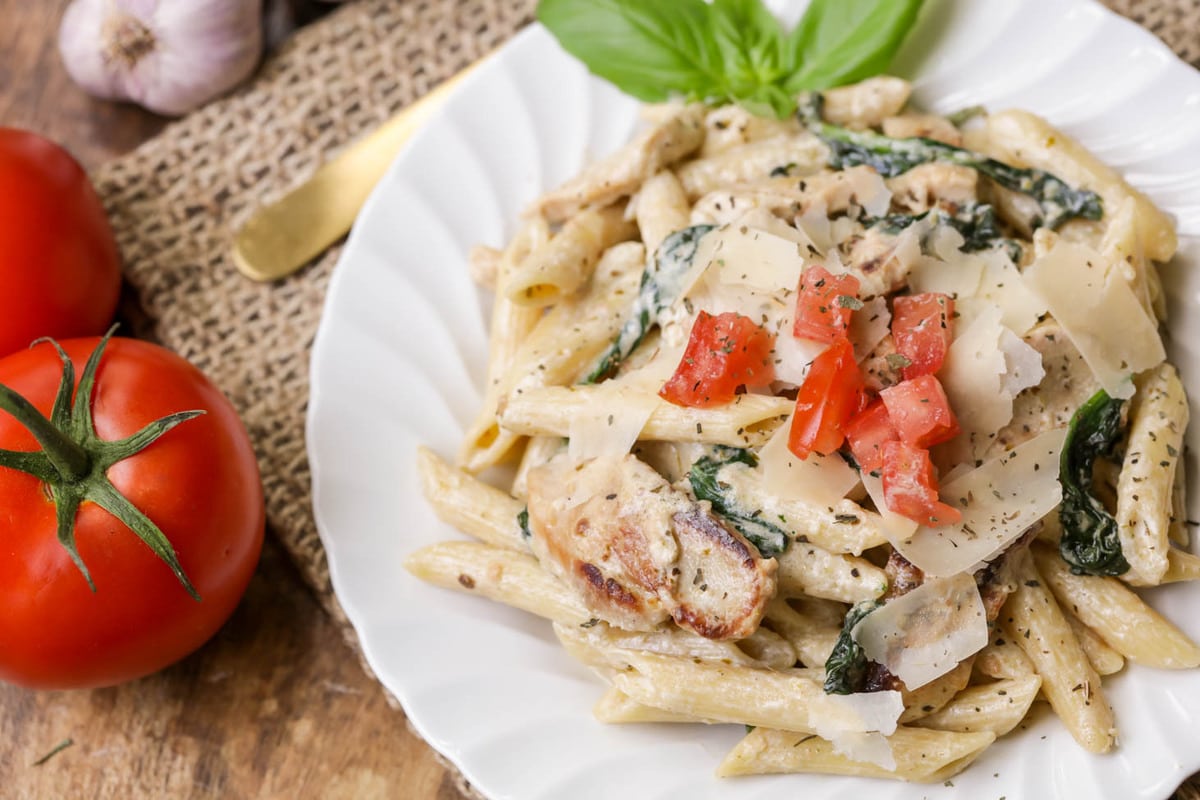 Using Chicken in Pasta Recipes
What type of chicken? I typically use boneless skinless chicken breasts, but chicken thighs work as well. You will find that most recipes instruct you to use precooked chicken. (Do not add raw chicken to other ingredients, unless the instructions specifically say to do so.)
I've got a great recipe that I use for Shredded Chicken. I'll usually make extras and throw some in the freezer for a later dinner.
You can also use canned chicken or rotisserie chicken to make your recipe quick and easy.
You can Bake your Chicken in the Oven and then cube or shred it.
Cube and pan cook it- Heat 2 tablespoons of oil in a skillet. Add the cubed raw chicken and cook it on all sides until no longer pink and juices run clear.
Protein variations: In many recipes shredded, cubed or ground turkey can be substituted for chicken.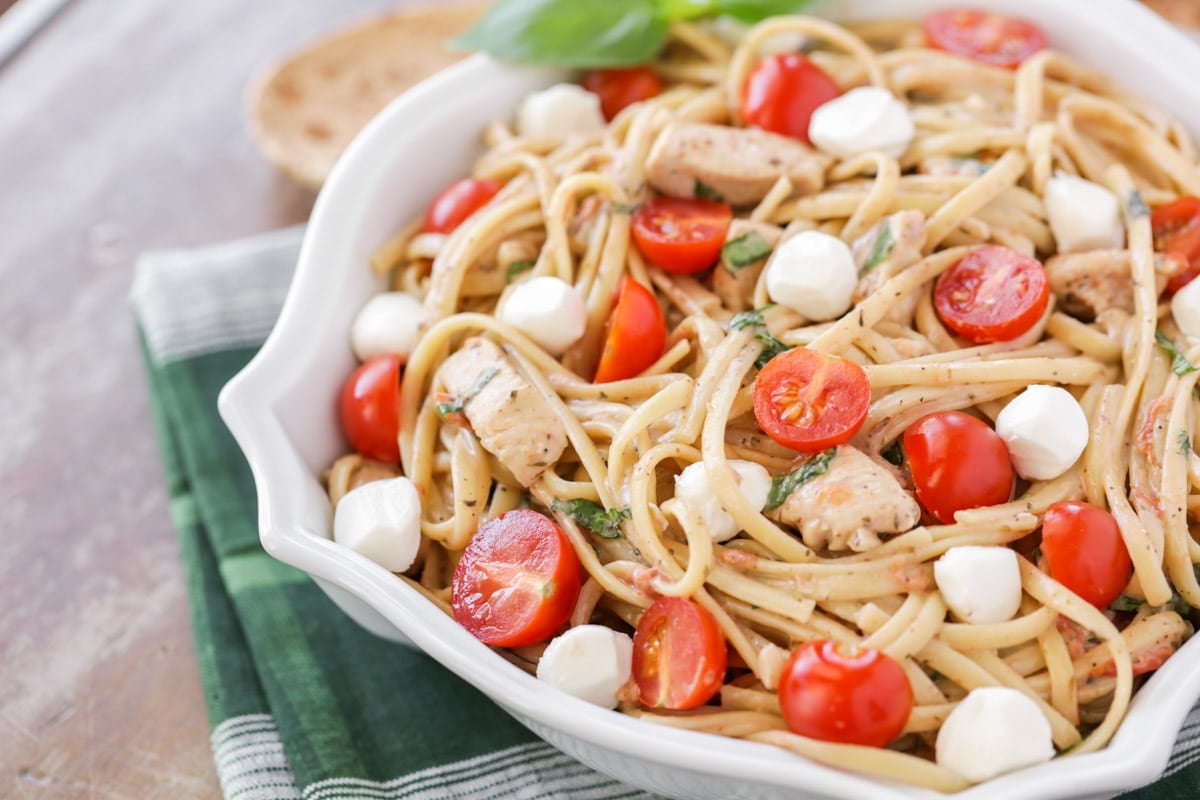 Pasta Bakes and Casseroles
I love pasta casseroles from how easy they are to whip up to how many people they feed.
Taste the sauce as you go. Once it's in the oven baking, you can't add ingredients.
Slightly undercook the pasta, or boil to al dente. If you fully cook the pasta, then bake it the noodles will tend to get too soggy. Undercooking the pasta first, then let it finish cooking in the oven.
Butter the baking dish, or use cooking spray, to help keep the casserole from sticking to the pan.
Broil it right before taking it out of the oven. This will give the top a bubbly golden crust.
Let it rest. Once you take it out of the oven let all the flavors and juices disperse and settle before dishing it out.
Double the recipe and freeze one for later.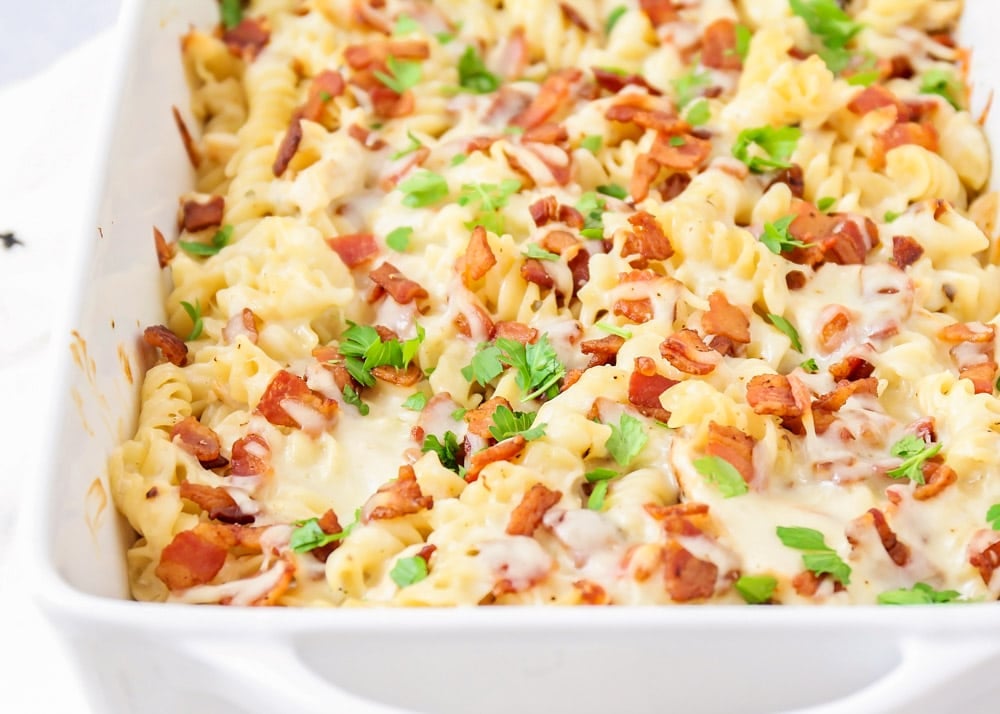 Switching up your chicken pasta
Since pasta goes well with so many different flavors and textures it's often really easy to change up a dish.
Use fresh herbs instead of dry. Keep in mind 1 tablespoon fresh herbs = 1 teaspoon dried herbs.
Season sauces to taste with salt, black pepper, and garlic salt are all easy ingredients to adjust that have a large impact on the overall taste.
Adding a spritz of lemon juice can help brighten a dish
Add some heat to any dish with red pepper flakes, paprika, hot sauce, Cajun seasoning or cayenne pepper.
Top with fresh parmesan cheese.
making ahead and storing pasta
Make ahead of time. Precook your pasta and STORE it in the fridge or freezer to be used in your recipes. Once the pasta has drained and dried a bit, toss it in a little olive oil.
FREEZE in a freezer safe Ziploc in the fridge for up to 3 days or in the freezer for 3 months. (Note: If the pasta is going to be baked or cooked again then you'll want to under cook it a bit.)
Reheating pasta dishes. The fastest way to reheat a dish is in the microwave, but it's not my favorite way. When reheating pasta, I like to reheat it the same way it was cooked.
I reheat casseroles in the oven.
Skillet pastas, I reheat on the stove top.
If the pasta dish looks a little dry, simply add some liquid that is already in the recipe—tomato sauce, heavy cream or milk, and broth are common ingredients you can use.
---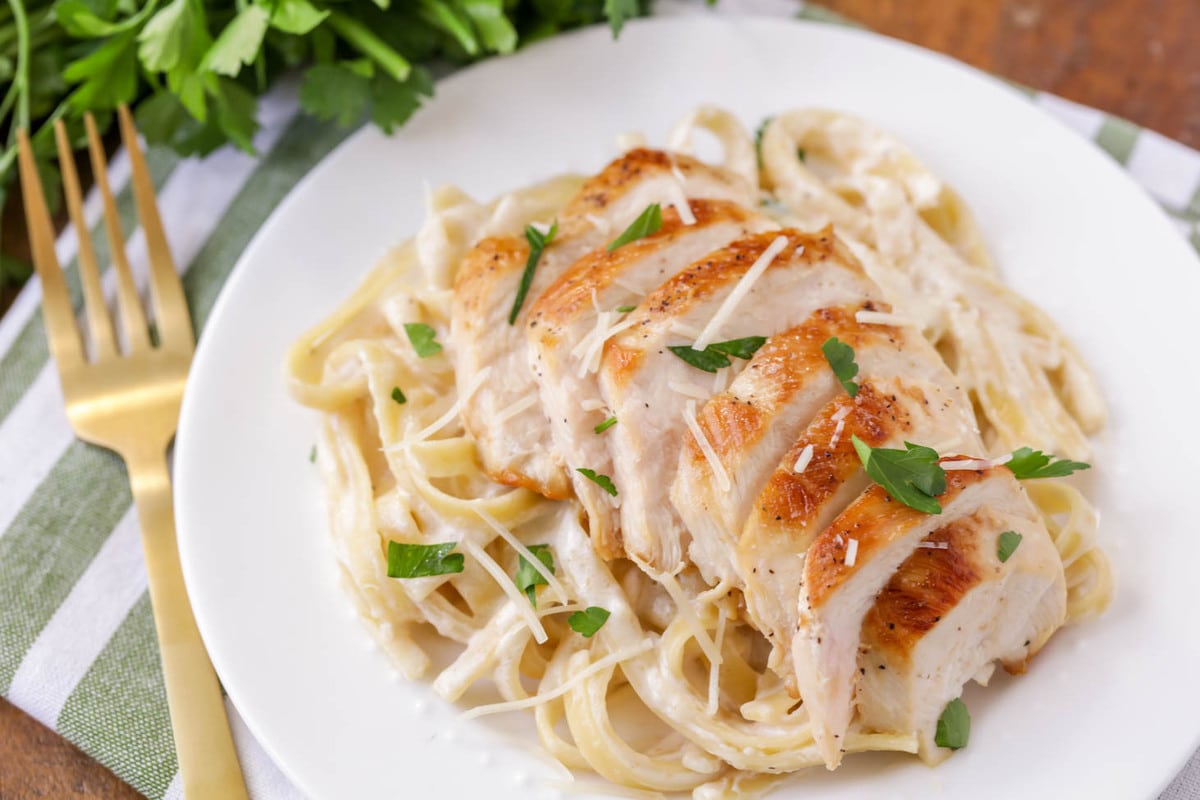 Best Chicken Pastas
Pasta dishes are usually known to be quick and easy. Here are some of our Easy and Delicious chicken pastas that are sure to please your family!
Chicken Alfredo – Cheesy chicken Alfredo pasta is a go-to dinner meal in our house. Creamy sauce mixed in with fettuccine pasta and sautéed chicken. A one-pot meal that the whole family will enjoy!
Chicken Parmigiana – Tasty Chicken Parmigiana Is Hearty And Filling Crispy Chicken A Top A Bed Of Pasta Covered In A Rich Homemade Tomato Sauce.
Chicken Pesto Pasta – This Chicken Pesto Pasta is very flavorful and simple dinner idea that is sure to please. It's filled with bow-tie pasta, chunks of chicken, cheese, sun-dried tomatoes, garlic and pesto making it a new go-to meal recipe.
Creamy Lemon Chicken Pasta – Simple & Creamy Lemon Chicken Pasta is bright, cheesy, and comforting. It is a flavorful dish the entire family will love!
Pesto Chicken Florentine – Delicious pesto chicken Florentine is simple, yet packed with big flavors. Pesto and homemade alfredo combine for a tasty combination!!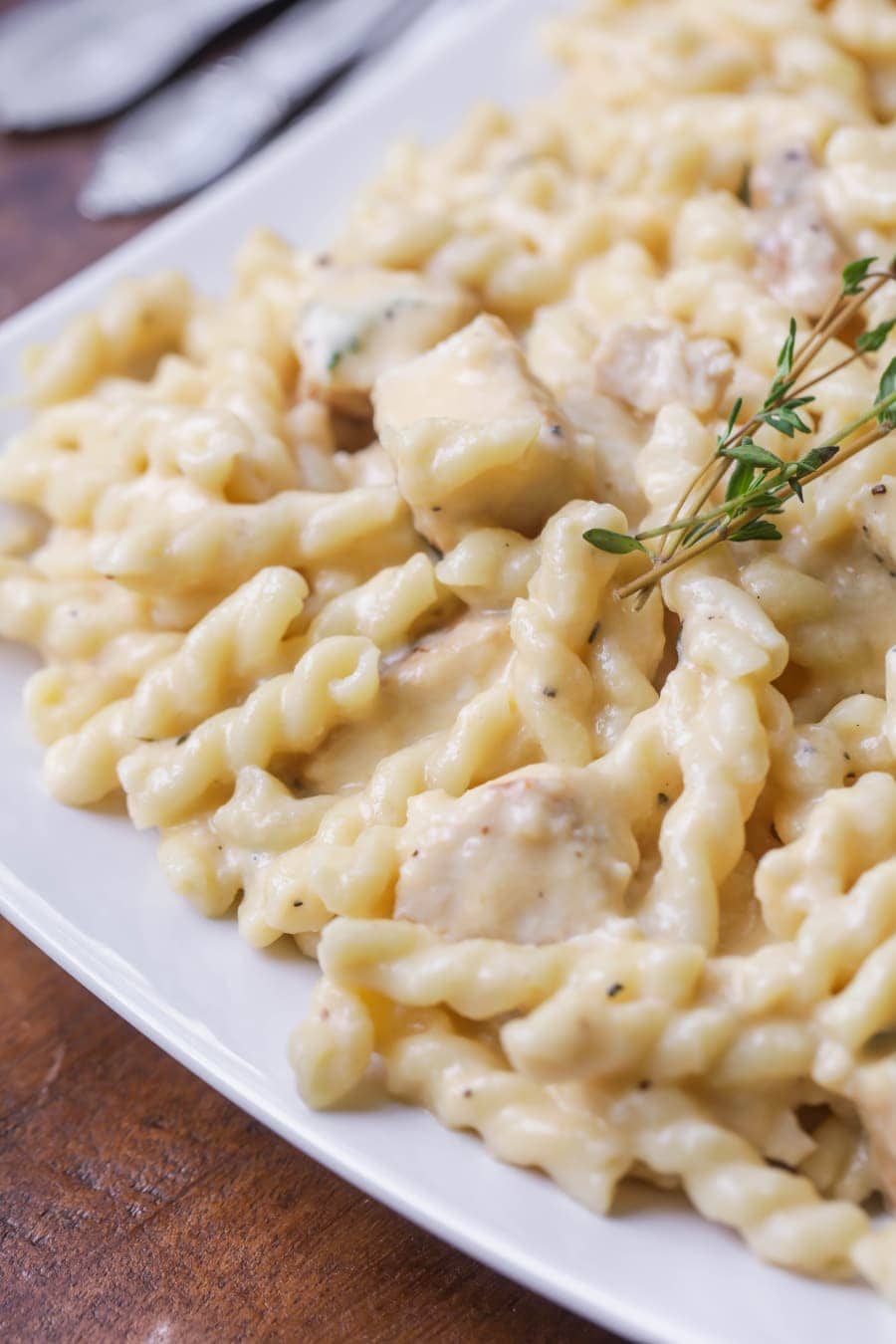 Triple Cheddar Chicken Pasta – Even my pickiest eaters love this easy chicken pasta, which is why it's a go-to weeknight dinner in our family! With pasta, chicken, seasonings, and cream sauce full of cheese, you definitely can't go wrong!
Chicken Stroganoff – This Homemade Chicken Stroganoff is perfect for dinner any night of the week. Its full of flavor and is made start to finish in under 40 minutes!
Creamy Chicken Orzo – This Creamy Chicken Orzo is made with simple ingredients and can be on your table in 30 minutes. It's a meal the whole family will love!
Chicken And Asparagus Pasta – This cheesy Chicken and Asparagus Pasta is one the whole family will love. It's flavorful and filled with everyone's favorite ingredients!!
Chicken Scallopini – This Chicken Scallopini is a delicious dish of crusted chicken over lemon butter pasta. The flavorful, butter chicken and pasta combo is irresistible and perfect for dinner any night of the week.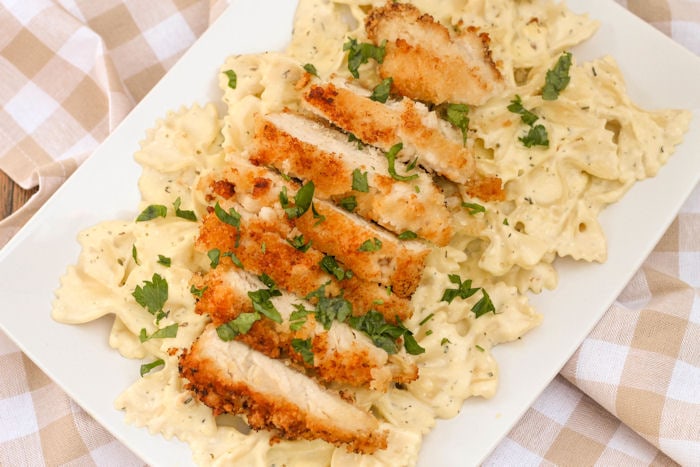 Crispy Chicken – Panko coated Crispy Chicken served over a deliciously creamy pasta is a hit with the entire family. It's on the table in under 30 minutes!
Chicken Bacon Ranch Pasta – Easy Chicken Bacon Ranch Pasta – a creamy and delicious pasta dish filled with cheese, chicken and bacon all made in one pot! This pasta can't be beat!
Lemon Chicken Pasta – Flavorful Lemon Chicken Pasta is covered in a delicious sauce made from lemons, whipping cream, cheeses, and fresh basil.
Chicken Broccoli Alfredo – Cheesy chicken broccoli Alfredo pasta is a go-to dinner meal in our house. It's a one-pot meal that the whole family will enjoy!
Chicken Penne Pasta – A delicious and simple Chicken Penne Pasta that is the perfect family dinner. The entire family loves it!
Bruschetta Chicken Pasta – Easy and flavorful Bruschetta Chicken Pasta is a hot pasta dish filled with all the flavors of classic bruschetta—chicken, tomatoes, basil, and mozzarella.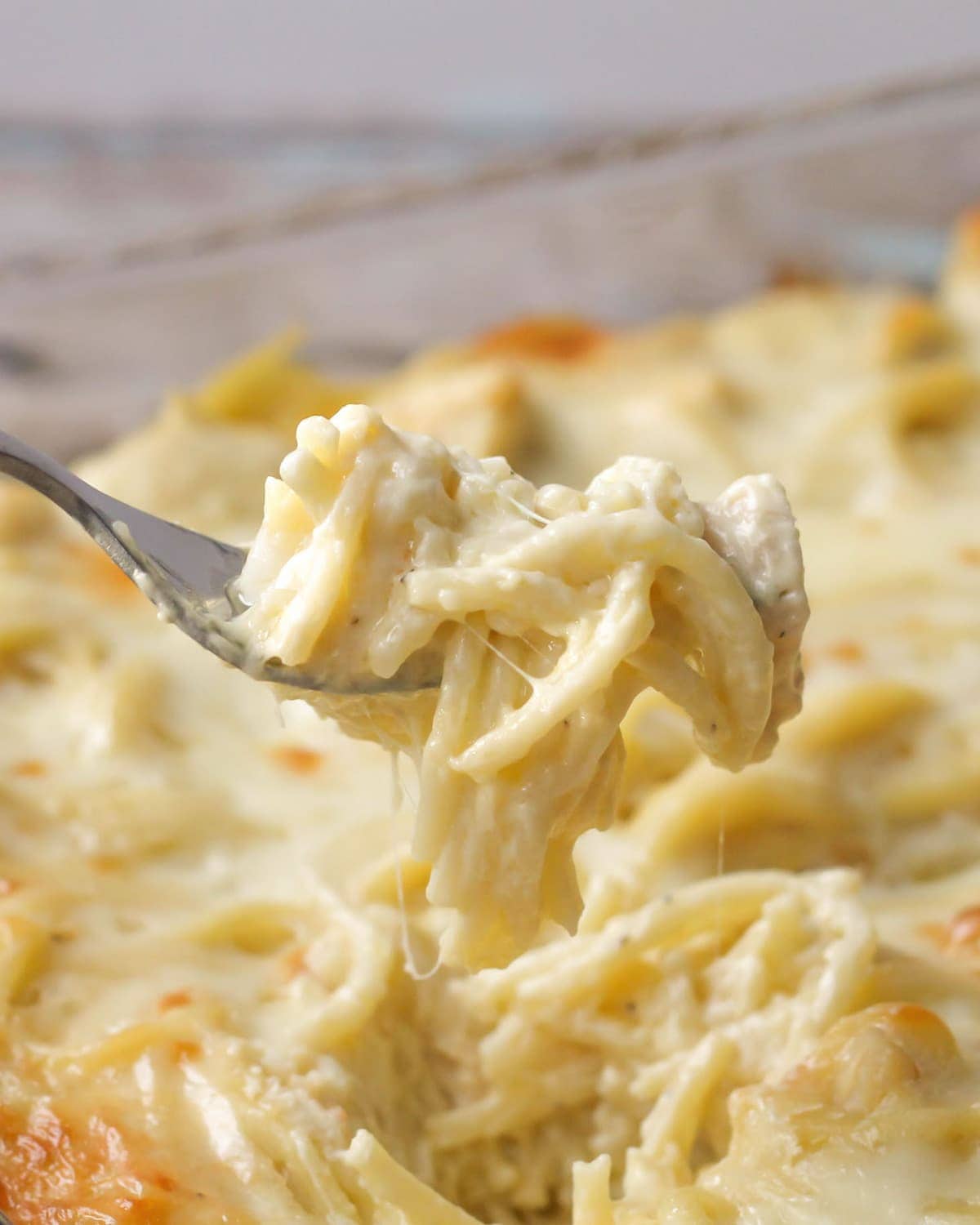 chicken pasta bake recipes
Chicken casseroles and pasta bakes are perfect to throw together on a busy day. You can even make them ahead of time and keep them in the fridge or freezer. All you have to do is thaw, if applicable, and bake.
Easy Chicken Tetrazzini – Easy and delicious Cheesy Chicken Tetrazzini – Chicken and pasta in a creamy sauce with lots of flavor. It's a family favorite dinner meal!
Chicken Asparagus Pasta Bake – A lighter Chicken asparagus pasta bake that is a favorite dish topped with Panko and baked to crispy perfection!!
Chicken Alfredo Bake – A delicious and simple casserole version of the dish every family loves – Cheesy Chicken Alfredo Casserole! Pasta, chicken, lots of cheese, and yummy seasonings make this pasta casserole a hit!
Chicken Noodle Casserole – Chicken noodle casserole for the dinner win! It's filled with chicken, noodles, broccoli, carrots, and more, and topped with a butter-y cracker crust making it a flavorful family favorite.
Chicken Lasagna – Everyone loves lasagna! this chicken version is just as delicious and is filled with spinach, cheese and delicious homemade white sauce.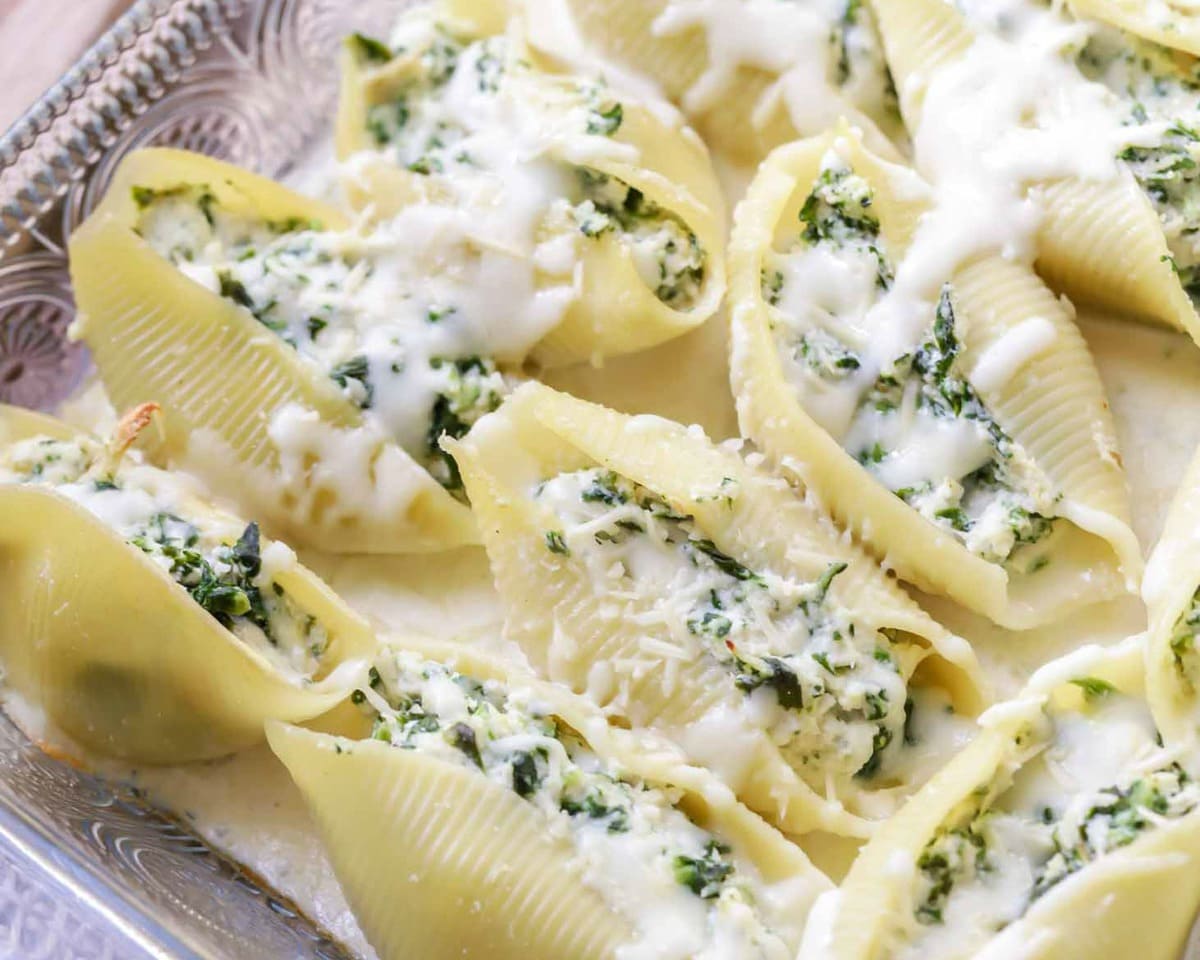 Chicken Alfredo Stuffed Shells – Chicken Alfredo Stuffed Shells are creamy, cheesy, and smothered in a rich homemade Alfredo sauce. They're so good, even the kids won't mind the spinach!
Baked Chicken Parmesan – This Baked Chicken Parmesan is one of the yummiest and easiest dinner ideas you'll ever try!! Breaded chicken covered in marinara sauce and topped with melted cheese—great served over pasta!
Chicken Spaghetti – A new twist on your favorite pasta dinner! This easy recipe calls for chicken, spaghetti noodles, cream of chicken, salsa, sour cream and cheese, making it the epitome of comfort food.
Parmesan Chicken Manicotti – If you are a fan of Italian and are up for trying new recipes then I suggest this Parmesan Chicken Manicotti. These manicotti shells are stuffed with a cheesy chicken mixture, and topped with tasty marinara!
Chicken Bacon Ranch Casserole – Creamy and hearty Chicken Bacon Ranch Casserole is the best way to beat the weeknight rush! It's easy to make, and filled with pasta, chicken, bacon, and creamy alfredo sauce.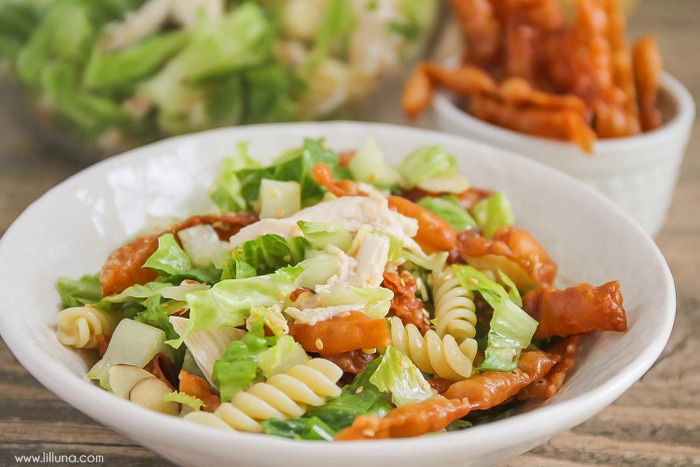 chicken pasta salad recipes
Chicken Pasta salads are one of my favorite dishes to serve in the summertime. They are filling yet cool! I also love how most of the salads have contrasting colors making them pretty to serve. I often serve them in a glass dish to showcase this very aspect.
These salads can be used as a main dish or even a side dish. When serving as a main dish I make sure there is ample chicken to help fill you up. For side dishes, I will sometimes reduce the amount of chicken knowing that there is going to be other filling dishes served.
Chinese Pasta Salad – Chinese Pasta Salad is filled with lettuce, pasta noodles, chicken, fried wontons, and more, all tossed in a delicious homemade dressing.
Buffalo Chicken Pasta Salad – Buffalo Chicken Pasta Salad is filled with spicy buffalo wings and topped with a tangy blue cheese dressing. It is easy and delish!
Layered Pasta Salad – A dish that is appealing to both your taste buds and your eyes! This beautiful Layered Pasta Salad is filled with your favorite ingredients including pasta, chicken, peas, lettuce, celery, and more.
Asian Pasta Salad – Easy & Delicious Asian Pasta Salad topped with a sweet and tangy dressing is packed with veggies and flavor!
Cashew Chicken Salad – Cashew Chicken Salad – A creamy chicken salad with pasta, grapes, cashews and more tossed in a delicious homemade dressing. It's a great alternative to classic chicken salad.
Chicken Pasta Salad – Creamy chicken pasta salad is quick, easy, and SO tasty. It is packed with hearty ingredients for a filling side or main dish!
---
the complete list
Here are the picture cards for all of the delicious Chicken Pasta Recipes listed above. So many options! I love our go-to chicken recipes when I'm in a pinch and need dinner on the table in less than an hour.
The pasta bakes are nice for planning/preparing ahead and then pulling out of the fridge and baking before serving.
And the pasta salads are great for taking to potlucks and summer BBQ's.
I hope you enjoy some of these chicken pasta recipes!
---
More Collections: Mexican Chicken Recipes, Chicken Dinner Ideas, Chicken Breast Recipes,