Whether you're a vegetarian, or you like to enjoy the occasional meatless recipe, all of these vegetarian pasta recipes are sure to leave you feeling satisfied!
More Collections: Easy Pasta Recipes, Healthy Pasta Recipes, Penne Pasta Recipes, Chicken Pasta Recipes
Meatless, Filling, & Flavorful!
I won't claim to be vegetarian (I love me a good pasta filled with chicken or Italian sausage!), but sometimes I do crave a pasta dish that's a little lighter.
Other times, I just don't have meat on hand or don't have time to cook it, which is why these meatless pasta recipes come in handy!
For those of you who regularly eat a vegetarian diet, I think you'll enjoy these pasta recipes as well! I have both hot pasta dishes as well as cold pasta salads.
Most of these are packed with other delicious vegetables and cheeses that make them flavorful and filling!
Tips for Vegetarian Pasta dishes
Before we get to the recipe lists, I wanted to share some pasta alternatives.
First off, you can substitute one pasta shape with another. Spaghetti, Angel hair, Linguine, and Fettuccine are all similar and can be substituted for one another.
Penne, bow tie, wagon wheel, shell, rigatoni, fusilli, ziti can often be used interchangeably as well.
Second, you can use pasta alternatives. One of my favorites is Spaghetti Squash. You can also use
Spiralized Vegetables- steamed or cooked to soften them

Eggplant Lasagna Noodles

Cabbage Noodles

Tofu Noodles

Seaweed Pasta

Zucchini Noodles
Each of these vegetarian pasta recipes have more tips, tricks and storage info.
---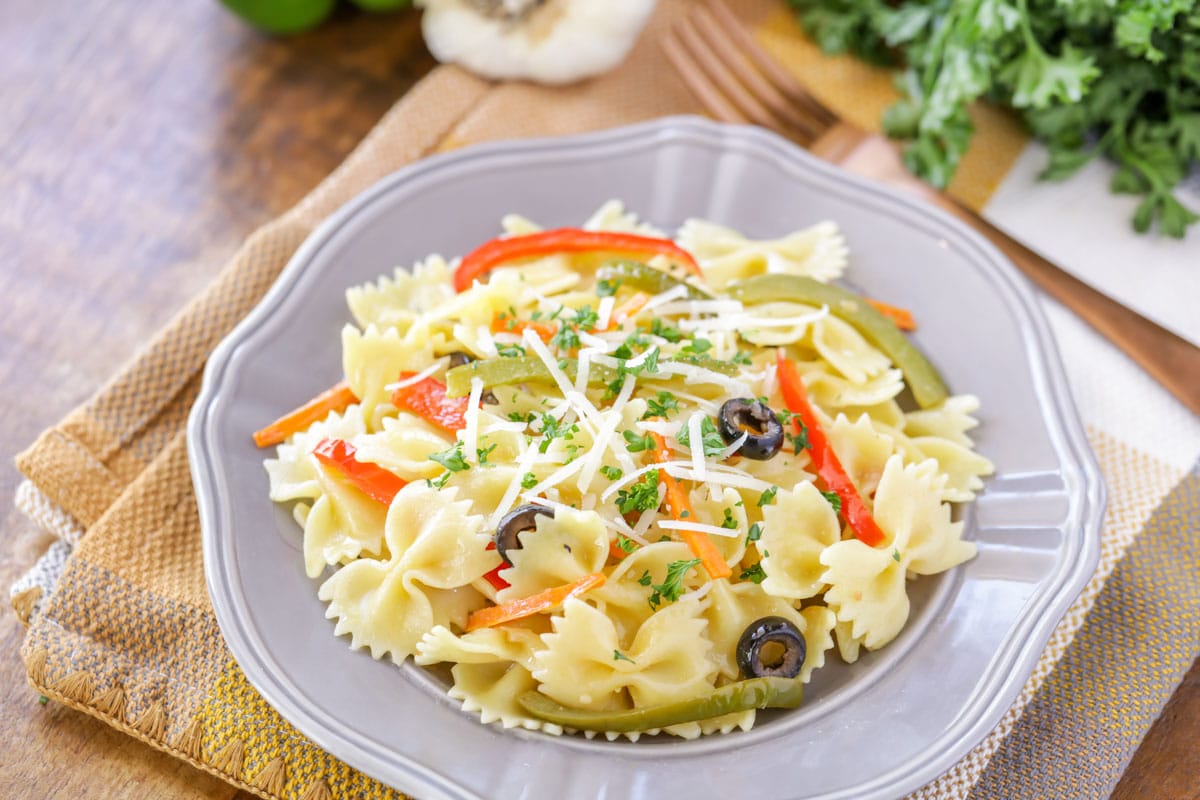 Vegetarian Pasta Dishes
Each of these dishes are naturally meatless, however they are still plenty filling! Not to mention they're flavorful and often packed with delicious vegetables. You won't even notice they don't have any meat!
Garlic Butter Pasta – Simply dressed Garlic Butter Pasta is filled with veggies and sprinkled with parmesan. It's straightforward and so flavorful!
Cheesy Baked Ravioli – Easy Cheesy Baked Ravioli – a quick, simple and delicious dinner recipe that the whole family loves! It's so cheesy and so tasty!
Crock Pot Mac And Cheese – Everyone loves a good slow cooker recipe, and this Crock Pot Mac and Cheese is so simple, cheesy and delicious. With loads of cheese, butter, and sour cream it's hard not to love this creamy macaroni and cheese recipe.
Stuffed Shells – Stuffed Shells is simple, cheesy and bakes in only 30 minutes. It's a perfect busy weeknight meal the entire family will love!
Pasta Primavera – A tried and true dinner recipe! Delicious pasta full of vegetables like zucchini, squash, bell peppers, and tomatoes.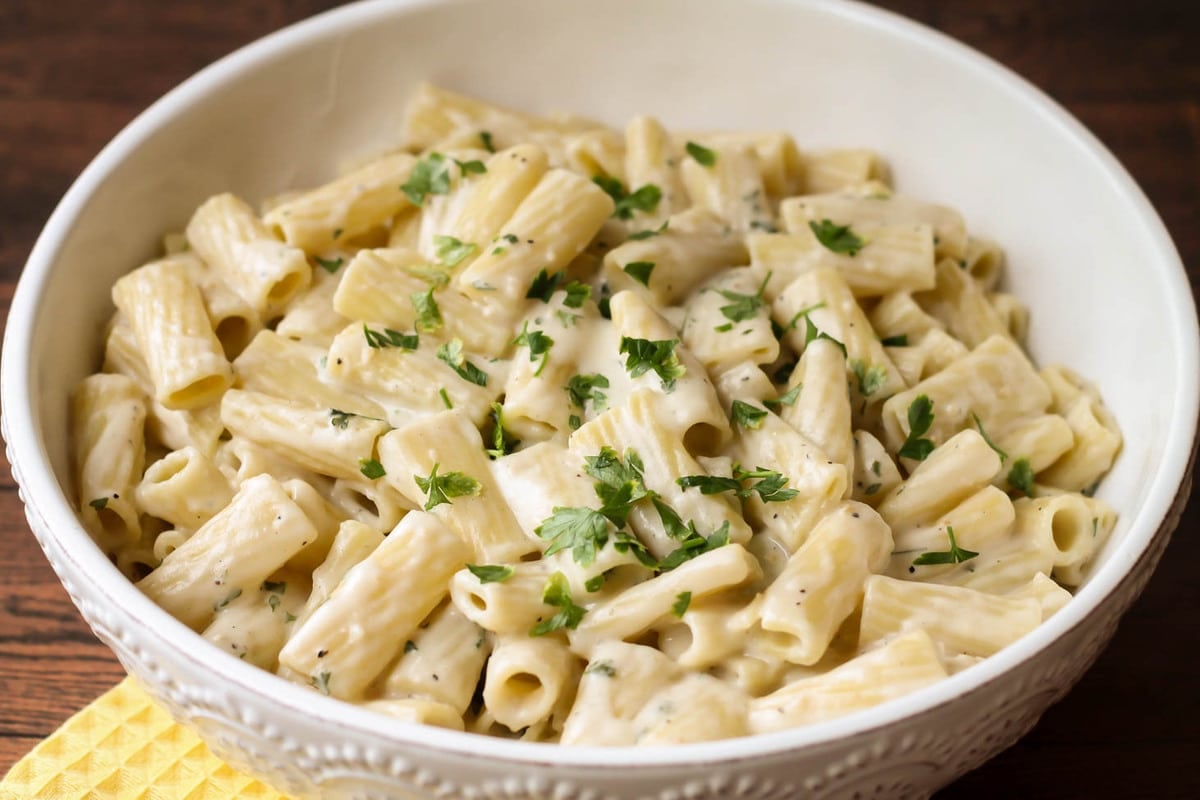 Creamy Garlic Penne Pasta – Super simple and delicious Creamy Garlic Penne Pasta recipe packed with flavor. This dish is perfect by itself or you can add chicken too!
Cheesy Spinach Lasagna Rolls – Everything you love about a lasagna, but EASIER! With a delicious spinach and three-cheese mixture rolled up in lasagna noodles and smothered in marinara sauce, what's not to love?!
Baked Macaroni And Cheese – Baked Macaroni and Cheese is a deliciously cheesy meal, perfect any night and one that the whole family will love and devour in no time!
Lemon Asparagus Pasta – This Lemon Asparagus Pasta is so simple, yet packed with amazing flavor! Made from penne pasta, mixed with asparagus, and covered in a cheesy sauce with just a hint of lemon.
Baked Spaghetti Squash – Learn how to perfectly cook spaghetti squash every time with this fabulous recipe! Tender strands of spaghetti squash mixed with cheese, tomatoes, and a little bit of basil, both healthy and delicious!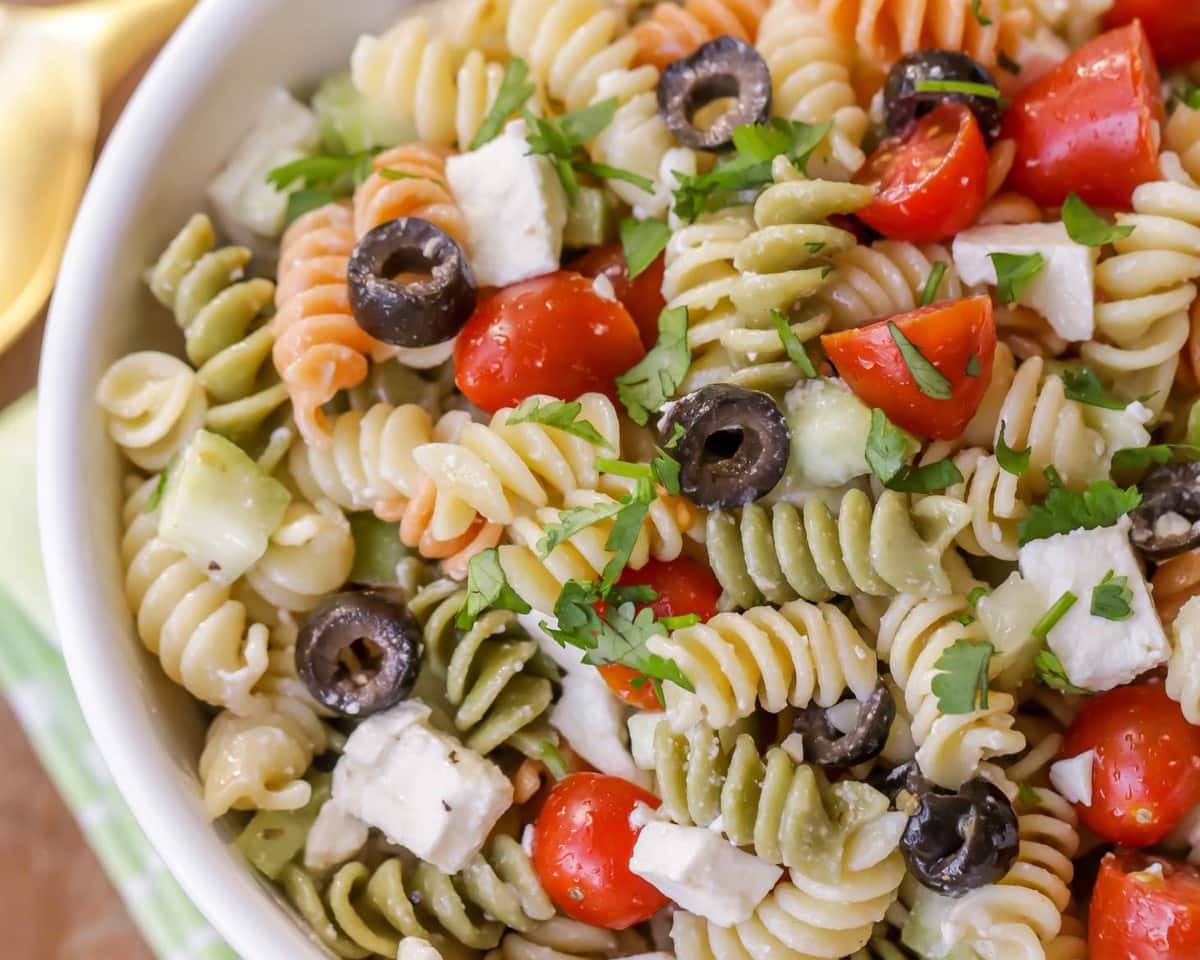 vegetarian pasta salads
Pasta salads are always great side dishes, and these ones are especially light and fresh. Enjoy them as a side, or as a nice lunch.
Greek Pasta Salad – This delicious Greek Pasta Salad is filled with rotini pasta, tomatoes, cucumber, olives, and feta cheese and is covered in a tasty Greek dressing! It's our new go-to pasta salad and is perfectly light and refreshing.
Fresh Mozzarella Pasta Salad – Easy & Fresh Mozzarella Pasta Salad is light, delicious and flavorful. This simply dressed salad is a new favorite!!
Spinach And Tortellini Salad – This cold tortellini salad is the ultimate side dish for bbq and potlucks! With tortellini, spinach, tomatoes, olives, and parmesan tossed in Italian dressing, this Tortellini Spinach Salad is packed with all the best flavors!
Greek Orzo Salad – Orzo Salad is a Greek pasta salad loaded with Orzo, veggies, and feta topped with a Greek dressing. It's a perfect side dish or light lunch entree!
Caprese Pesto Pasta Salad – Caprese Pesto Pasta Salad is a light dish with a bold flavor, making it perfect for potlucks, parties, BBQ's, and get togethers!
Taco Pasta Salad – Delicious Taco Pasta Salad filled with beans, corn, tomatoes, avocado and more!!
Easy Pasta Salad – Easy and delicious Italian Pasta Salad recipe that includes Rotini pasta, olives, tomatoes, & cheese in Italian dressing! It takes minutes to make and is perfect for any get together including BBQs and holidays.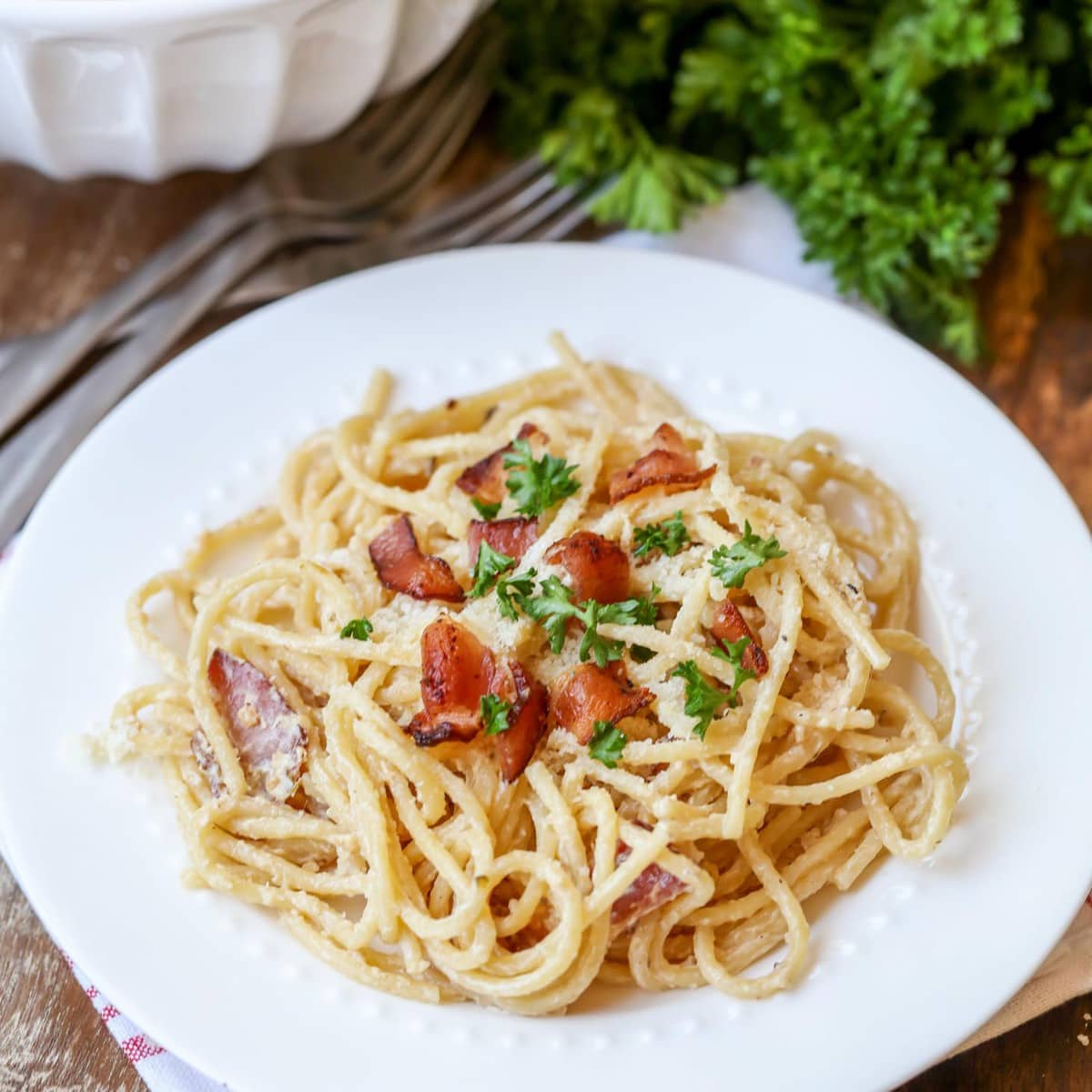 make it meatless
These recipes have chicken, beef, or pork listed in the ingredient list. But, you can easily just leave it out, or use a meat substitute to make these into delicious vegetarian pasta recipes.
I'm not a vegetarian so I don't know what products are the best out there. I imagine those who are vegetarians already know, so go ahead and use your favorite substitutes!
Pasta Carbonara – A creamy, delicious and flavorful pasta dish filled with cream cheese, parmesan, garlic and bacon. For only having a few ingredients, this Pasta Carbonara has big flavor!
Layered Pasta Salad – A dish that is appealing to both your taste buds and your eyes! This beautiful Layered Pasta Salad is filled with your favorite ingredients including pasta, chicken, peas, lettuce, celery, and more.
Easy Spaghetti Recipe – This easy spaghetti recipe is kid-friendly and is made with a delicious homemade spaghetti sauce making it the perfect family dinner recipe!
Macaroni Salad – A simple, creamy macaroni salad loaded with pasta, peas and ham. It's perfect for parties, family dinners, and potlucks!
Bruschetta Chicken Pasta – Easy and flavorful Bruschetta Chicken Pasta is a hot pasta dish filled with all the flavors of classic bruschetta—chicken, tomatoes, basil, and mozzarella.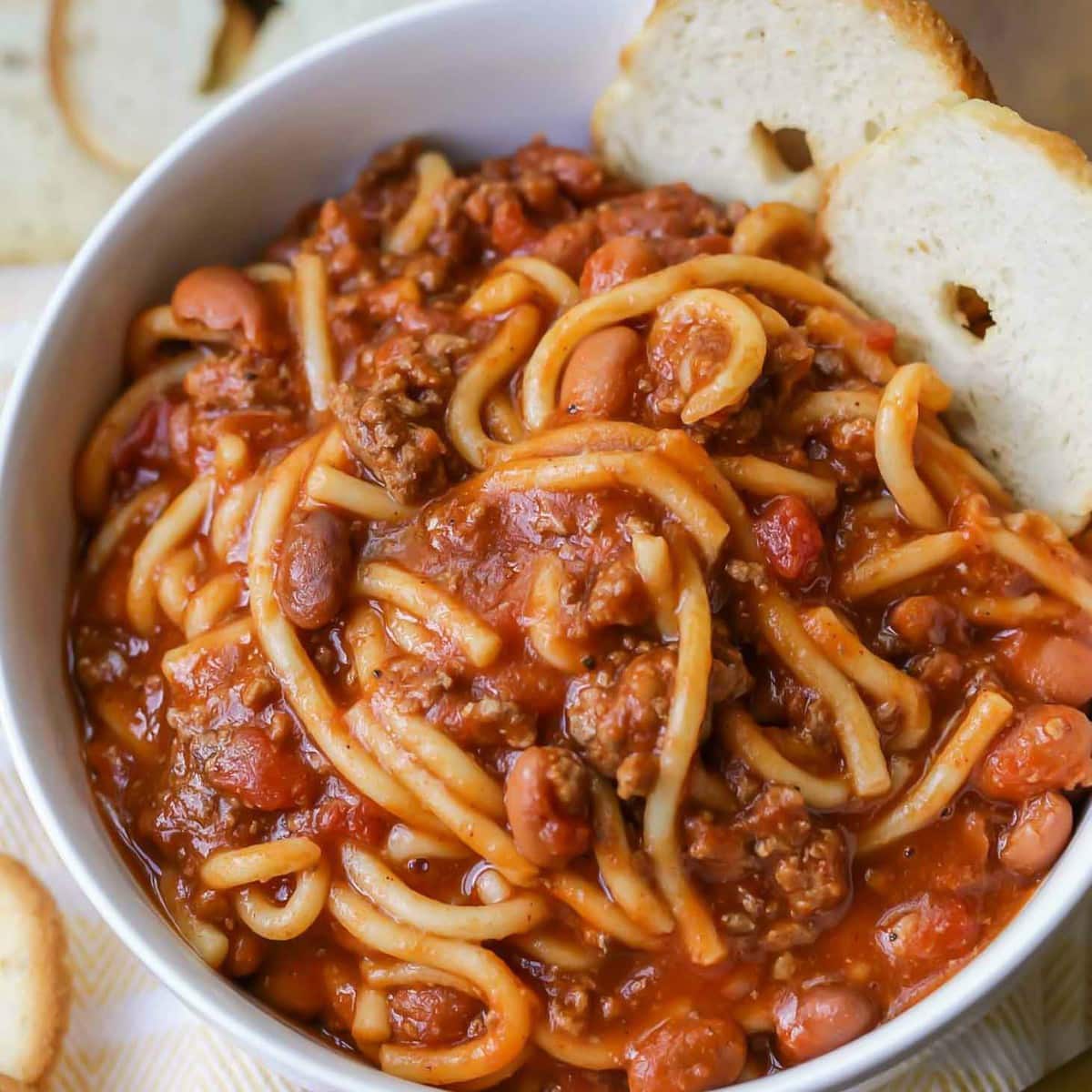 Chili Spaghetti – Flavorful Chili Spaghetti is a midwestern twist on a classic bowl of chili. It is hearty with just the right amount of spice!!
Chinese Pasta Salad – Chinese Pasta Salad is filled with lettuce, pasta noodles, chicken, fried wontons, and more, all tossed in a delicious homemade dressing.
Baked Spaghetti – Cheesy Baked Spaghetti – a simple, delicious, dinner recipe filled with hamburger, sausage, cheese and more! Everyone will love this dinner recipe!
Sun-Dried Tomato Pasta – A copycat version of Cheesecake Factory's Sun-Dried Tomato Fettuccine recipe. This flavorful and creamy dish is filled with chunks of chicken, garlic, whipping cream, spinach and sweet sun-dried tomatoes. It's not only delicious but is a great way to change up the classic fettuccine recipe.
Chicken Pesto Pasta – This Chicken Pesto Pasta is very flavorful and simple dinner idea that is sure to please. It's filled with bow-tie pasta, chunks of chicken, cheese, sun-dried tomatoes, garlic and pesto making it a new go-to meal recipe.
Crockpot Lasagna – Classic Lasagna made in the slow cooker! This delicious crock pot recipe has all the layers of noodles, cheese, sauce and meat that everyone loves but made more simply.
---
the complete list
Here are the picture cards for all of the delicious Vegetarian Pasta Recipes listed above.
With so many fantastic options to choose from you're sure to find some new meatless favorites on this list!
---
More Collections: Healthy Dinner Ideas, Healthy Soup Recipes, Healthy Side Dishes