Easy Cheesy Baked Ravioli – a quick, simple and delicious dinner recipe that the whole family loves! It's so cheesy and so tasty!
This recipe is up there at the top of our Easy Pasta Recipes. Not only is it super kid friendly, but it only takes 30 minutes and 4 ingredients which mean's it's mom friendly too. 😉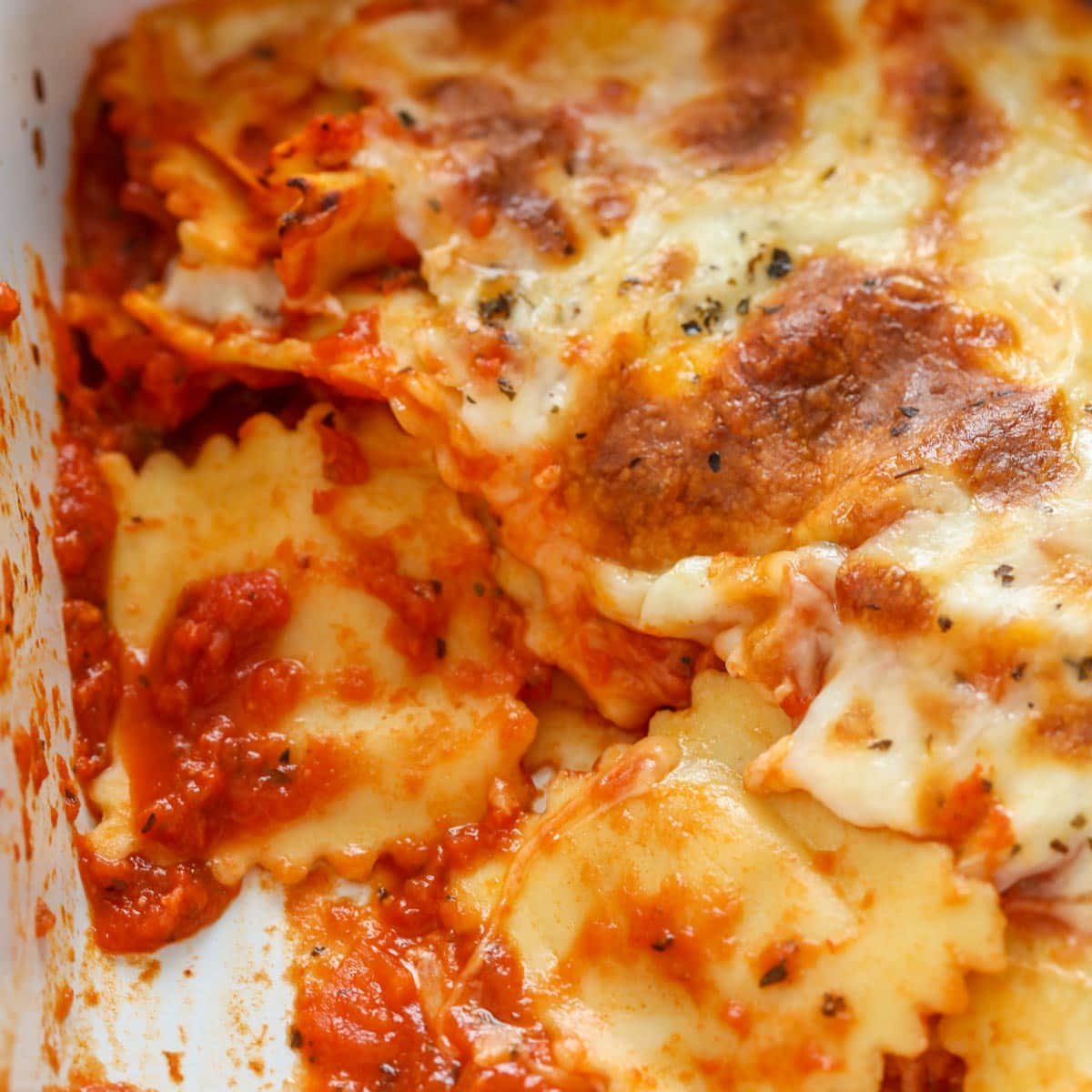 A recipe for busy people (yes, you)
I've come to the conclusion that there isn't NOT a busy time of year. If it's not school and sports, it's summer vacations, and if it's not summer, its the holidays, and if it's not that, it's the hustle and bustle of everyday life!! Am I the only one?!
Because life is just so busy, I NEED quick recipes on hand for when I don't have the time or energy to make a meal. And I'm not talking quick as in 3 minute ramen noodles… I'm talking quick, but still substantial and satisfying. That's where this Cheesy Ravioli Bake comes in.
My family loves pasta (and cheese, of course), so I knew that they would love this recipe. It only took minutes to put together, but it turned out delicious!! Even the hubby and I couldn't resist grabbing seconds.
Only 4 ingredients!
It looks and tastes like some kind of fancy casserole/pasta bake, but I'll let you in on a secret… There are literally 4 ingredients inside this thing.
Refrigerated ravioli
Pasta sauce (whatever kind you love)
Basil
Mozzarella Cheese
Just cook the ravioli, mix it in with the sauce and basil, throw it in a casserole dish, top with cheese and bake for 12 minutes. No joke! You can be a dinner hero in less than 20 minutes.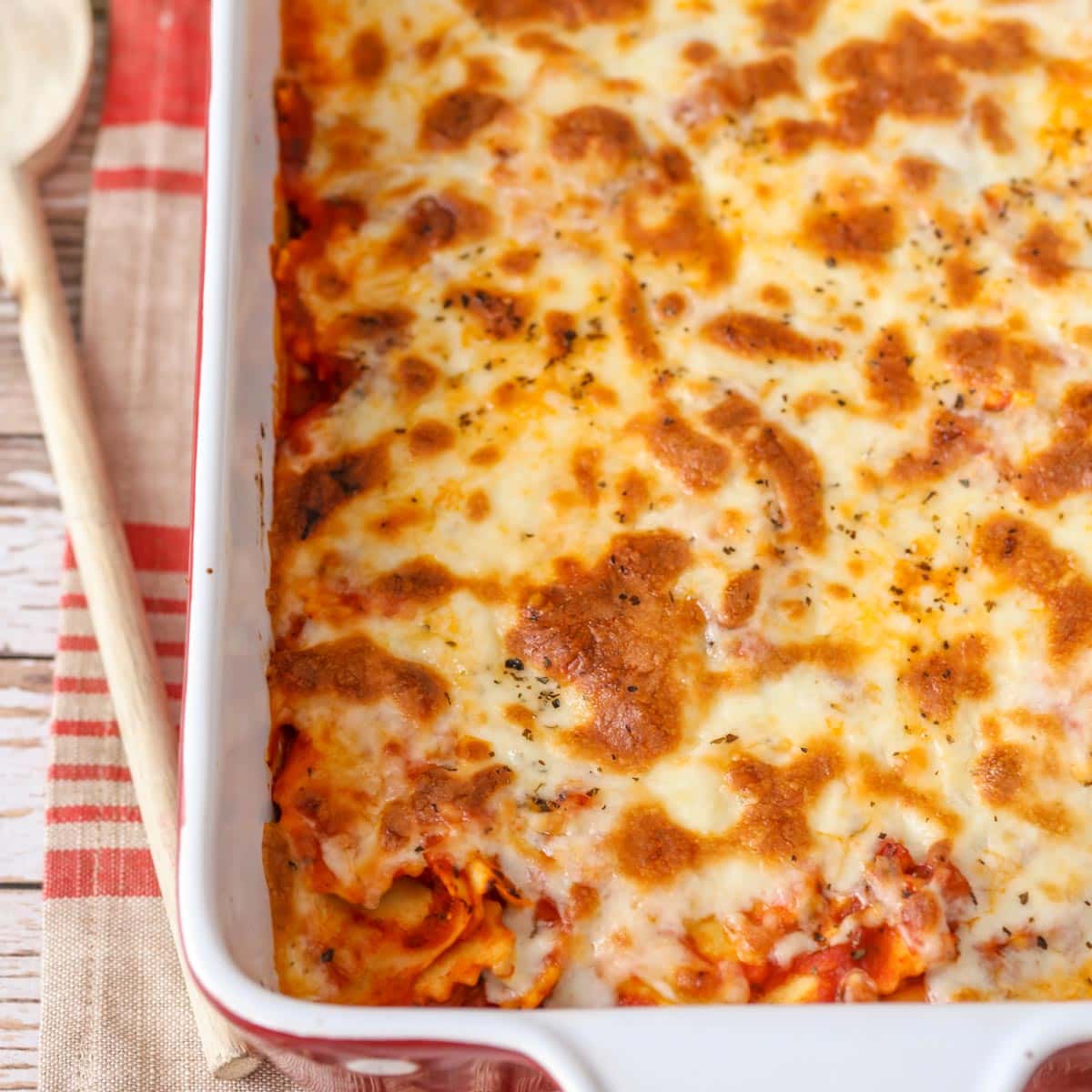 Variations and Storing Tips
Ravioli. I used beef ravioli for this recipe, but you can just as easily use cheese ravioli or veggie filled ravioli.
Pasta sauce. There are so many delicious pre-made sauces that you can purchase at the grocery store. If you want to make your own sauce you can use sauce found in our Spaghetti recipe.
Add-Ins. You can easily add veggies like spinach and chopped peppers to change up the flavors. You can also spice it up by adding red chili flakes.
Storage: Baked Ravioli can last in the fridge for 3-5 days. This means you can assemble it a day or two in advance, bake it, and store any leftovers in an airtight container for 2-3 more days.
This dish also makes a great freezer meal. In fact, you could even make two or three at a time, freezing them in disposable casserole tins, and spare yourself a few minutes down the road!
You will want to undercook the pasta just a bit to keep it from getting mushy when thawed.

Add the pasta to the sauce. Allow it to cool and sprinkle on the cheese

Cover the pan with plastic wrap then again with aluminum foil. Label and freeze for up to 3 months.

Thaw overnight in the fridge and bake according to directions until hot and bubbly.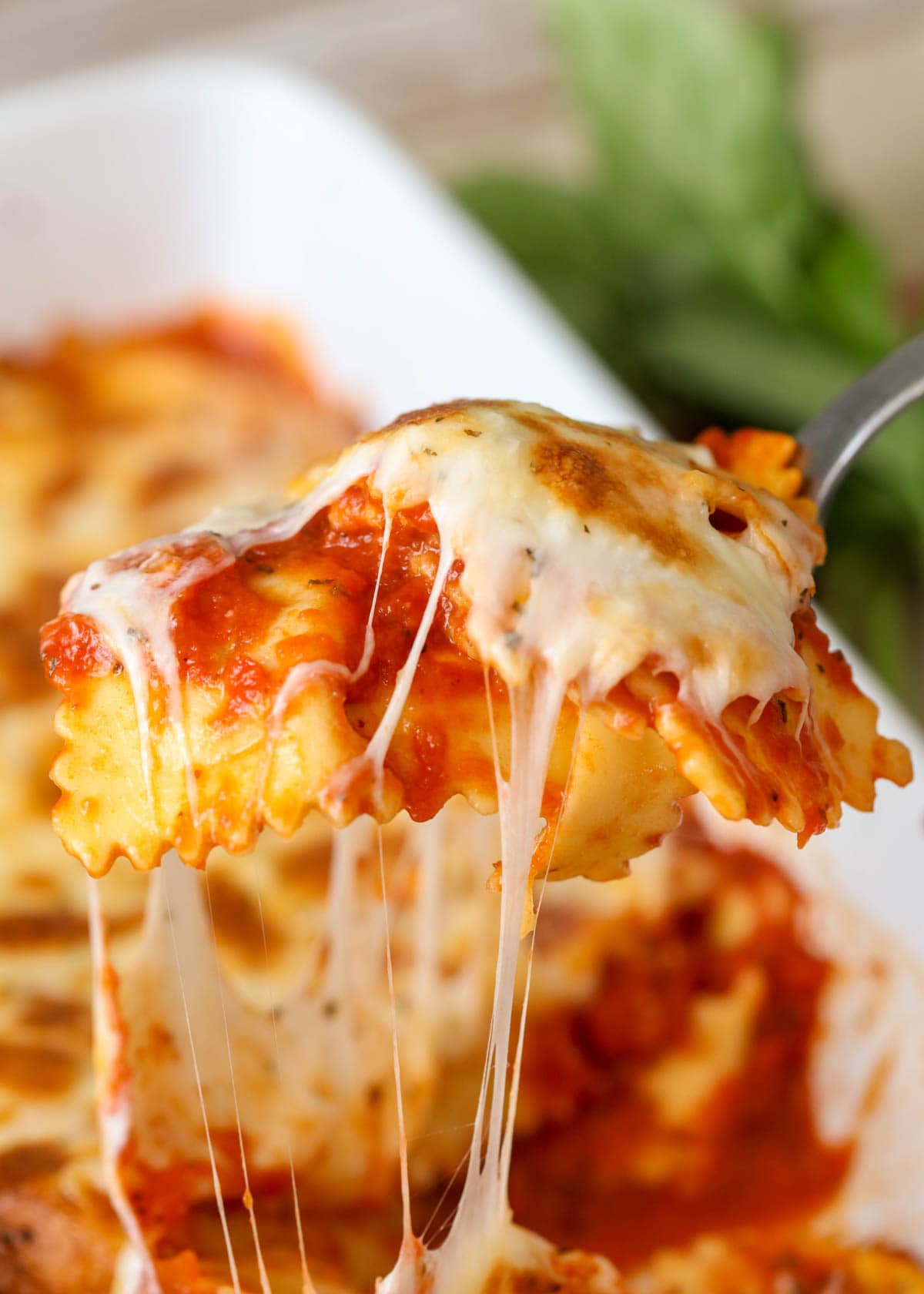 If you are like me and love having easy, quick dinner recipes on hand, I suggest giving this one a go. It's delicious and with your favorite pasta sauce, ravioli and plenty of cheesy, you really can't go wrong!
We love to pair this recipe with:
For more pasta dishes, check out:
Baked Ravioli Recipe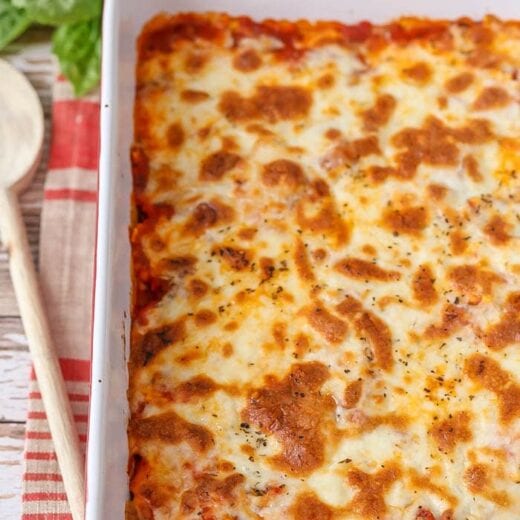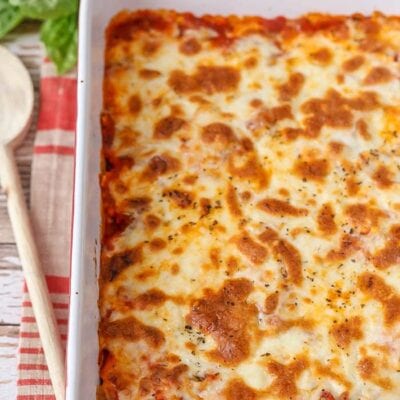 Easy Cheesy Baked Ravioli is a quick, simple, and delicious dinner recipe that the whole family loves! It's so cheesy and so tasty!
Ingredients
20

oz

cheese-filled ravioli

refrigerated

26

oz

pasta sauce

(your favorite)

1

teaspoon

dried basil leaves

2

cups

shredded mozzarella cheese
Instructions
Cook ravioli as directed on the package. Drain and set aside.

In a medium/large pot, mix pasta sauce, and basil and cook on medium heat until heated through (about 4-6 minutes). Add cooked ravioli and mix well.

Pour into a 9×13 pan. Top with cheese and bake for 12 minutes. ENJOY!
Recipe adapted from Pillsbury.