Who doesn't love Pasta?! I've shared our love before and admit that we make at least one pasta dish a week. Our favorites include Spaghetti, Fettucine Alfredo, Penne Pasta – you name it! Today's recipe is also a new favorite – Chicken Alfredo Bake. We love it for so many reasons, but just like the other pastas listed, we love them because:
They are always delicious – usually butter and lots of cheese are involved (which means you can't go wrong).
The WHOLE family loves it.
Yes, it's true – my  kids are getting pickier and pickier (insert sad face here), so I really enjoy making recipes that I know everyone loves. And everyone LOVES pasta!! That's why I share so many pasta recipes on the site. They are all different and have different ingredients and sauces, so we love the variety, and I love changing each dish up a bit since we have it so often. I'm sure you know what that's all about. 😉
We LOVE Chicken Alfredo and knew a casserole version would be just as good. Of course, everyone loved it, and with lots of cheese, chicken and delicious spices, I have a feeling you will too. 😉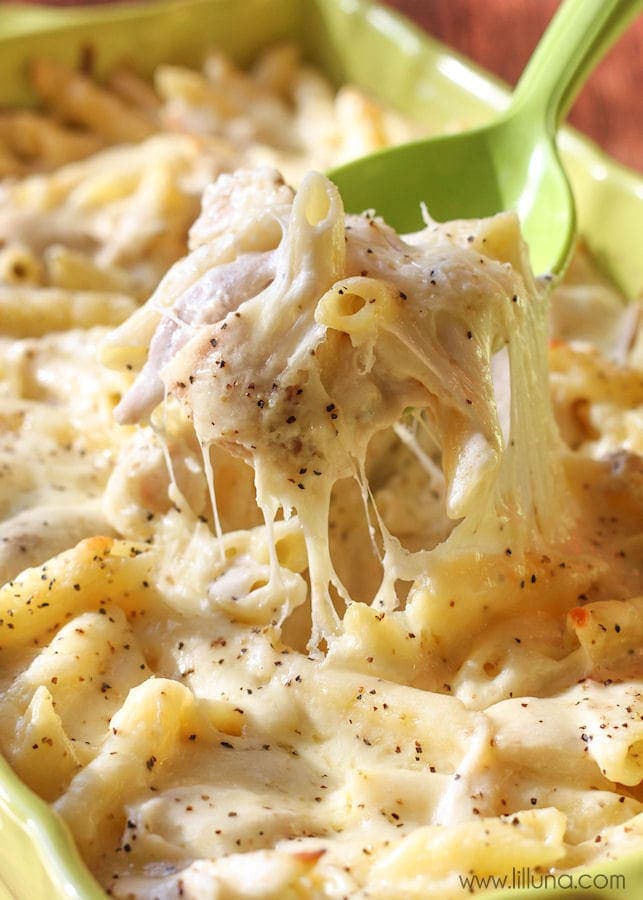 MY OTHER RECIPES
There are quite a few steps to this recipe, but they are so easy! If you've made pasta dishes like this before, then it's all pretty standard. You can even change it up by adding some of your favorite veggies or making a non-meat version and leaving out the chicken. 😉
For more cheesy pasta recipes, check out:
For FULL RECIPE VIDEO instructions, check out:
How to make this Chicken Alfredo Bake:
Cheesy Chicken Alfredo Casserole
Ingredients
1 - 12 oz package Penne pasta,
3 - boneless, skinless chicken breasts (marinated in Italian Dressing if desired)
vegetable oil
¼ tsp. thyme
¼ tsp. poultry seasoning
salt and pepper to taste
2 TB olive oil
1 stick butter
2 tsp minced garlic
4 TB flour
3 cups half and half
3 cups milk
3 cups Kraft Italian Five Cheese Blend w/cream cheese, divided
Italian Seasoning, garnish
Instructions
If time allows, always try to marinate your chicken. Throw them in a bag of italian dressing and let sit overnight or even a few hours will help your chicken to be tender and full of flavor.
Cook pasta as directed. Drain and set aside.
While pasta is cooking, heat 1 - 2 TB of oil in a skillet on medium heat.
Slice your marinated chicken in half so they are thinner pieces. This will help them cook through evenly.
In a bowl mix salt, pepper, thyme and poultry seasoning and rub it on all sides of your chicken breasts. Add chicken to hot oil and cook on both sides until done (about 15-20 minutes). Remove to a plate to let cool.
While chicken is cooling, preheat your oven to 350 and start on your sauce. In a separate large skillet melt the butter; add garlic and cook for 1 - 2 minutes.
Using a wire whisk, mix in flour and stir until bubbly. Mix in half & half and milk, stir to combine. Bring to a boil and then reduce to low heat and simmer for 5 minutes.
With your whisk, mix in 1½ cup of cheese. Cook an additional 5 minutes until sauce starts to thicken. Remove sauce from heat.
Preheat oven to 350.
Cut your cooked chicken into bite size pieces and add to a large bowl. Add the pasta to your bowl and then the sauce. Mix everything to combine.
Spray a 9x13 baking pan with non stick spray. Add the pasta mixture to the pan and sprinkle with an additional 1½ cup of cheese.
Sprinkle with pepper and bake for 30 minutes or until bubbly and golden brown.