Green salad recipes are for any occasion. They can be filled with a variety of protein and topped with any flavor dressing you can imagine!
More Collections: Grilled Dinner Ideas, Pasta Salad Recipes, Salad Dressing Recipes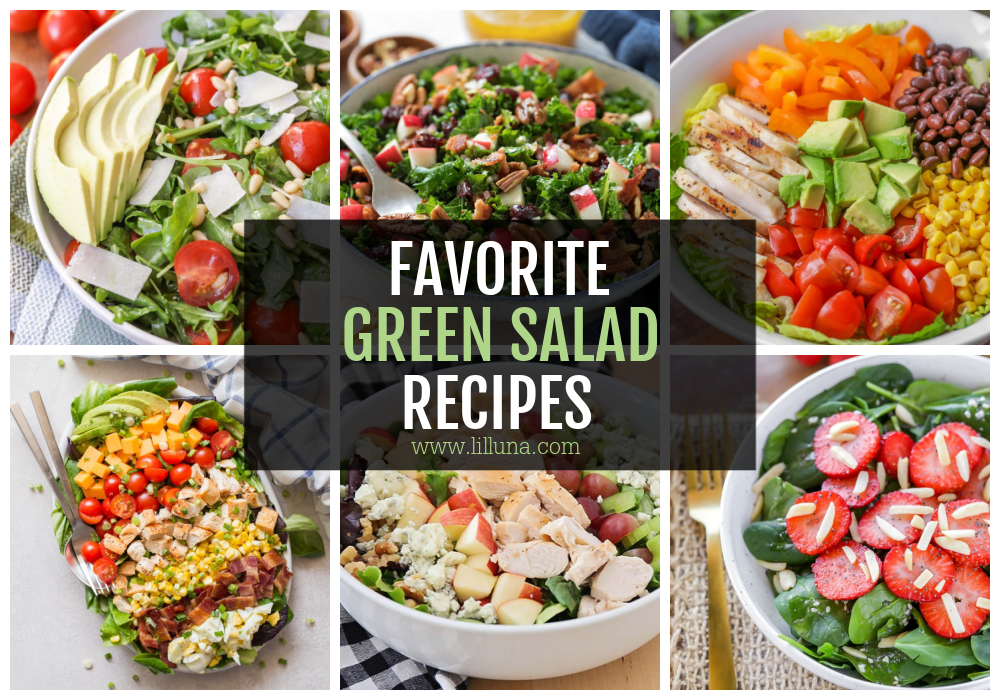 Summer Salads
When summer is upon us and the weather heats up, we love to have some cool and refreshing dinners on hand that won't heat the kitchen.
We have salads at least one time per week! They are filled with healthy fiber, calcium, and vitamins like potassium and vitamin c. With so many tasty options and flavor profiles, you will never run out of delicious options.
Before I share all of my favorite Green Salad Recipes with you, here are some tips for constructing the best salads!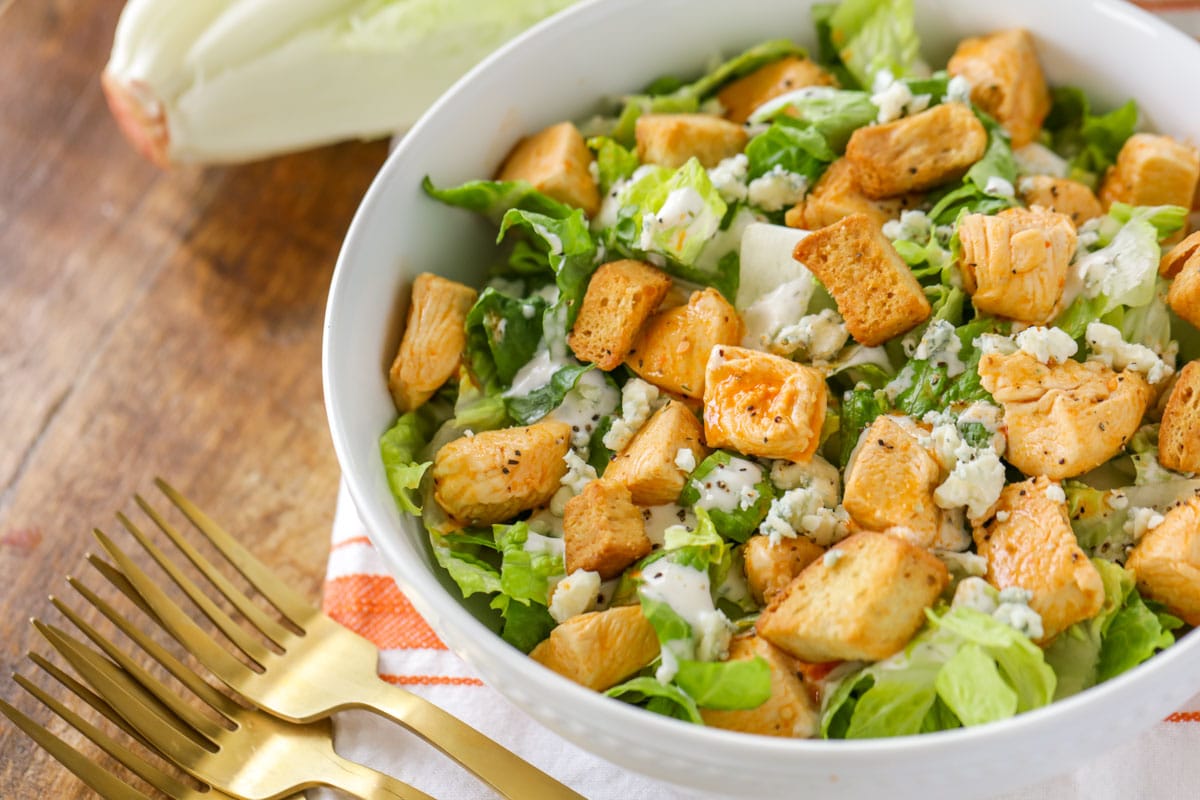 Salad Tips
Serving Suggestions:
Side salad: plan for 1.5-2 oz lettuce per person
Main Dish: Plan 2.5-3 oz lettuce per person
Salad Dressing: 2 tbsp equals one serving
Colorful: The leafy greens make a beautiful backdrop to colorful produce. You can pretty much use any kind of produce that you wish, but some common fruits and vegetables used in green salads include:
Veggies: carrots, cucumber, radish, celery, green or red onion, bell pepper, grape tomatoes, watercress.
Fruits: strawberry, mango, avocado, Mandarin oranges, pears, apples.
Bite Sized: Aside from a wedge salad you should never have to use a knife to cut your salad. Cut lettuce and other mix-ins into bite size pieces.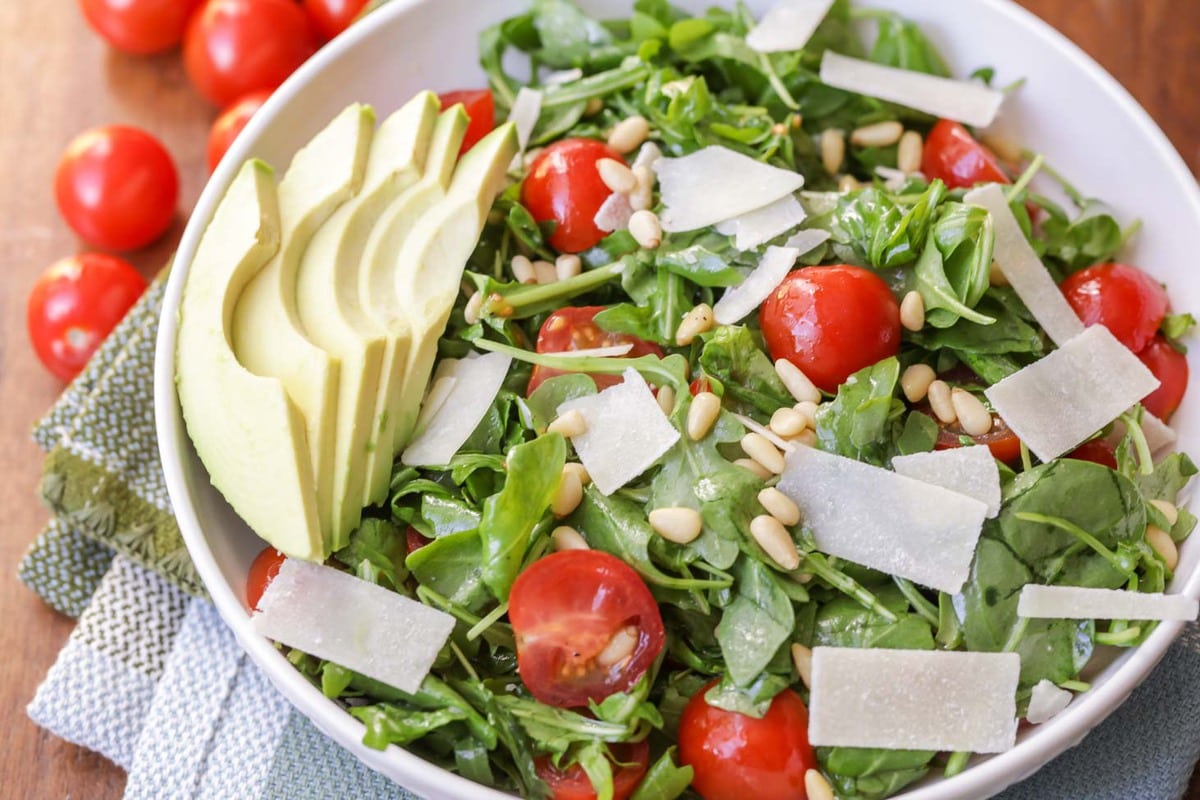 Best Salad Ingredients
Greens: Lettuce leaves are the main ingredient for a green salad. Salads are typically made with 1-2 types of lettuce and often feature other greens. Some common types include:
Iceberg lettuce
Romain
Green Leaf
Red Leaf
Bibb (Boston/Butter lettuce)
Arugula
Frisee/Curly Endive
Fresh Spinach
Cheese: Cheese is definitely a must for most of my salads. It can be used to add a lot of flavor or just a hint. It can be crumbled, cubed or shredded. Some popular salad cheeses include feta, goat cheese, blue cheese, parmesan cheese, cheddar cheese, swiss cheese, mozzarella cheese.
Crunch: One of my favorite elements of a salad are the ingredients that add a bit of a crunch. Often the crunch comes from crispy produce like carrots, cucumbers and apples. You can also use croutons, tortilla strips, nuts, and sunflower or pumpkin seeds.
Protein: Many salads already include protein in the ingredients list. If it doesn't, or you wish to make substitutions it's super easy. Some delicious proteins include:
Shrimp
Bacon Bits
Black, Kidney or White Beans
Boiled Eggs
Chicken- Buffalo, Grilled, Breaded
Chickpeas
Steak Strips
Tuna
Nuts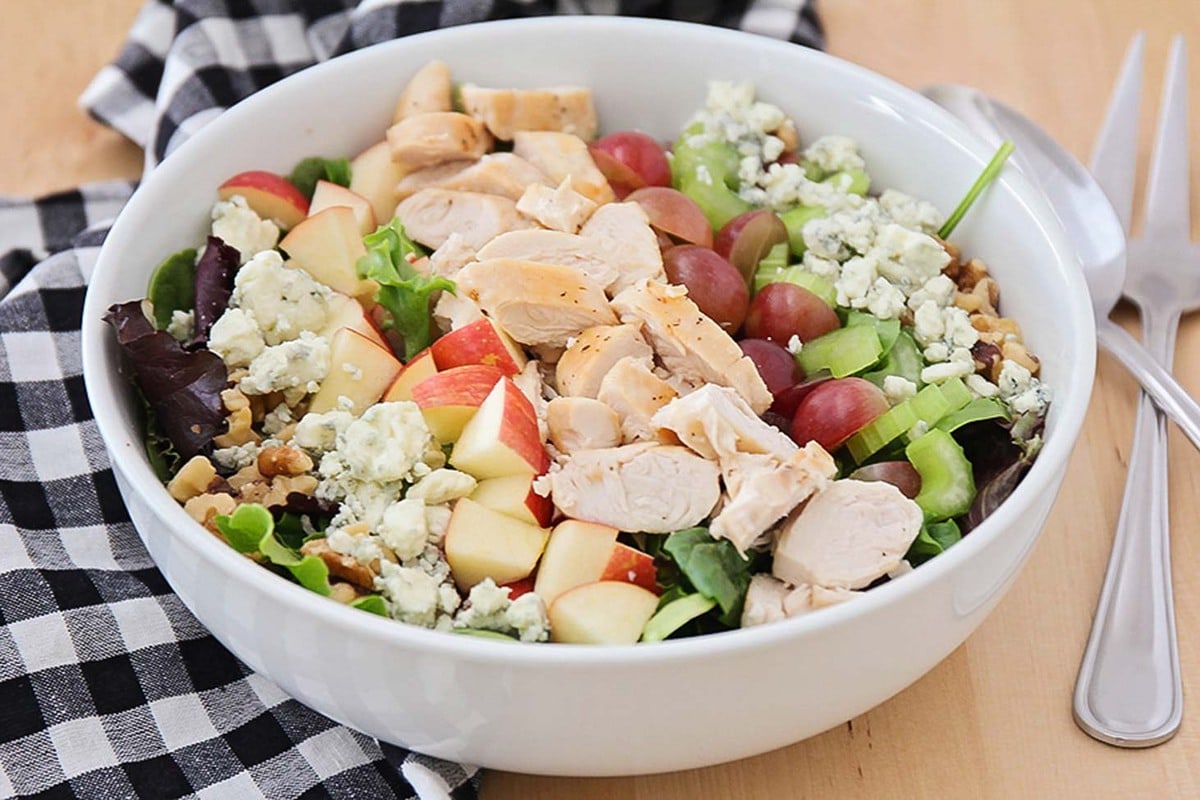 Best Dressings
Some salads are best served tossed in the dressing, other salads can be served with a side of dressing. If you wish to toss the salad with the dressing, then wait to do so until right before serving so that none of the ingredients get soggy.
Salads are typically topped with a simple olive oil and red wine vinegar, or a vinaigrette like Strawberry Vinaigrette or Cilantro Lime Vinaigrette or a dressing like Caesar Salad dressing or Ranch Dressing. Here is a link for more homemade Dressing recipes.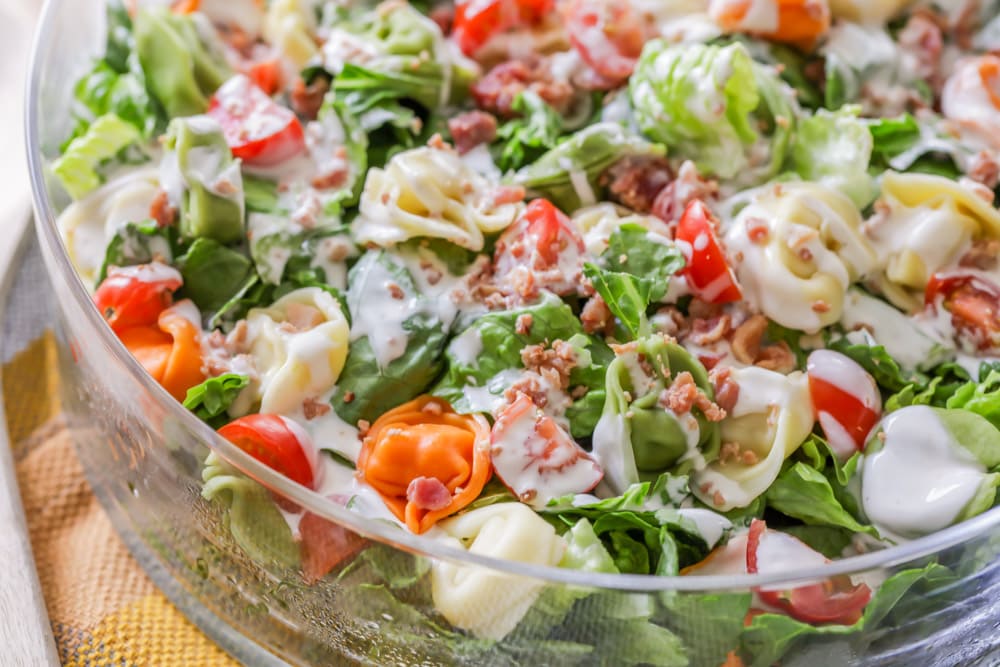 Making ahead of Time
Not only are salads delicious and healthy, they often find their way onto my menu because they can be prepared ahead of time giving me a little extra time to prepare other dishes before my meal.
I'll prepare and cut the different ingredients 1-2 days before and keep them stored in separate containers in the fridge. Then, I'll toss the salad together anywhere from 1-4 hours before serving.
However, I don't add any dressing until right before serving.
---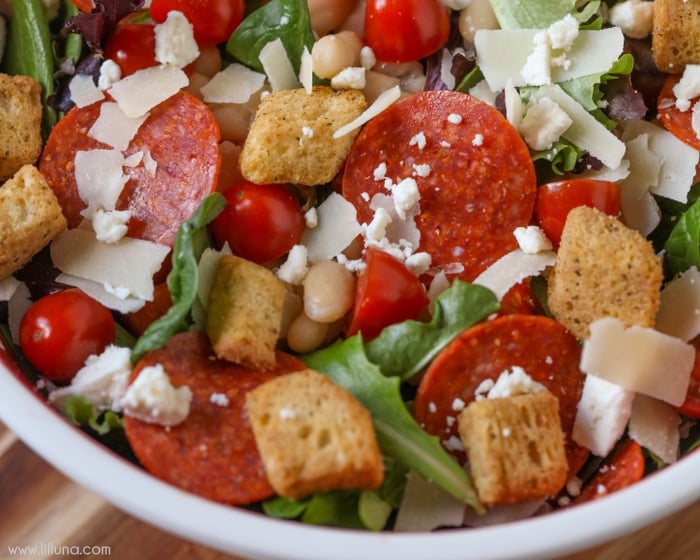 green salad recipes
These fresh and fabulous salad recipes flavorful and perfect for summer! When you don't want to heat the kitchen, or are craving something cool, whip up any of these tasty bowl-fulls!!
Pizza Salad – Delish Pizza Salad is hearty & refreshing. All of the flavors of pizza on a bed of greens, topped with a homemade herb dressing!
Southwest Salad – Our favorite Southwest Salad recipe filled with chicken, peppers, beans, corn, tomatoes, avocado and topped with a homemade cilantro ranch dressing.
Buffalo Chicken Salad – Spicy Buffalo Chicken Salad is filled with buffalo seasoned chicken, crumbled blue cheese, and ranch. It's your favorite wings in salad form!
Tuna Salad – Chopped Tuna Salad is the perfect summer side dish. Filled with fresh crisp veggies the color of the rainbow, protein packed tuna, and tossed in a light and refreshing lemon vinaigrette.
Antipasto Salad – Antipasto Salad Is the perfect summer salad! It's filled with tomatoes, cheeses, cured meats, veggies and more and can be topped with your favorite dressing.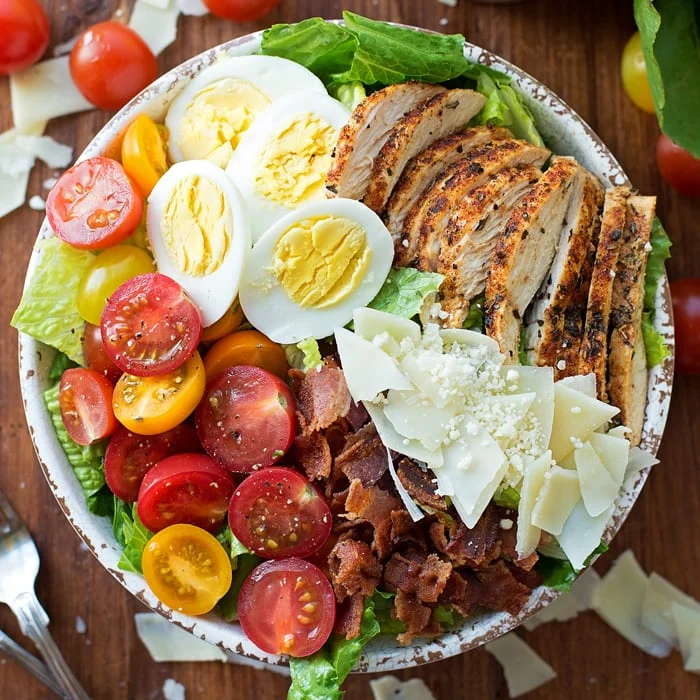 Chicken Caesar Salad – Ultimate Caesar Salad with grilled chicken, croutons, tomatoes, bacon, hard-boiled eggs, Parmesan cheese and tomatoes.
Quick Caprese Salad – Simple and Quick Caprese Salad is easy and delicious with pops of mozzarella, tomatoes, avocados and drizzled with a balsamic glaze!
Cobb Salad – This simple Cobb salad is so full of tasty ingredients it's a meal all on it's own. It is quick to make and utterly delicious.
Strawberry Harvest Salad – Strawberry Harvest Salad tastes just like the salad at Zupa's! It's topped with a homemade Strawberry Vinaigrette dressing.
Steak And Tortellini Salad – Delish Steak and Tortellini Salad is hearty and refreshing. Tortellini, sirloin & romaine in a creamy pesto dressing is a must-have!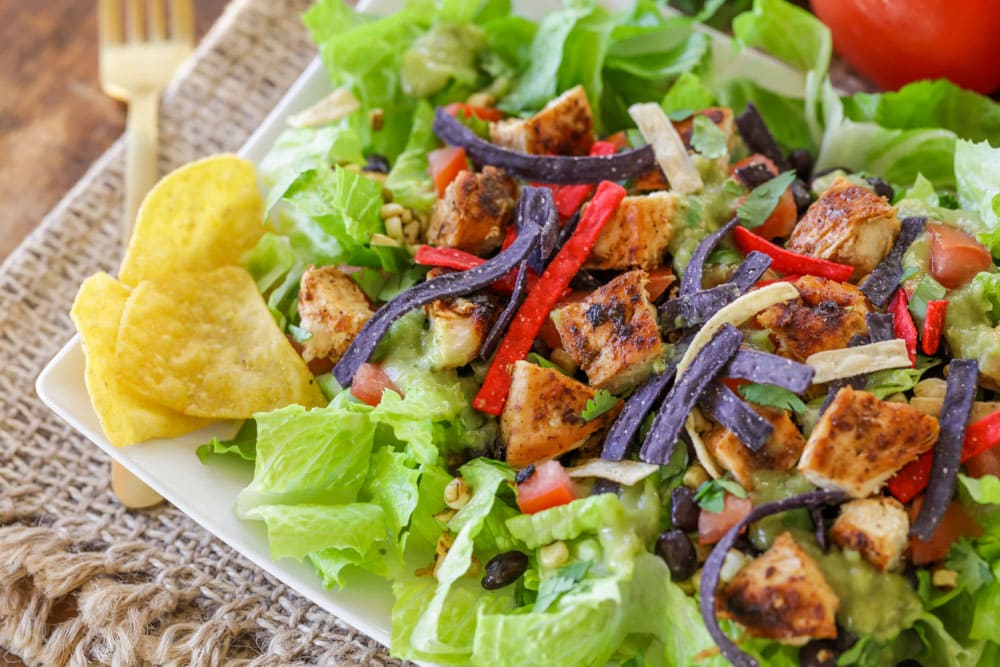 Chicken Taco Salad – Crunchy and fresh chicken taco salad is a weeknight dinner dream! Easy, flavorful, and a recipe that everyone will enjoy.
Lemon Poppy Seed Dressing – A delicious salad with tomatoes, chicken, craisins, sunflower seeds and a delicious homemade lemon poppy seed dressing. The dressing only requires 4 ingredients and takes minutes to make!
Honey Mustard Chicken Salad – Honey Mustard Chicken Salad is one of the heartiest, most delicious salad recipes you'll try! With greens, fruits, nuts, and a tangy dressing, it's a real winner.
Waldorf Salad – Waldorf Salad is filled with texture and flavor. Tossed in a homemade poppyseed dressing, it's perfect for any lunch, dinner or appetizer.
Cheesecake Factory Luau Salad – Loaded with sweet, tropical flavors, this delicious Luau Salad is BETTER than it's Cheesecake Factory double!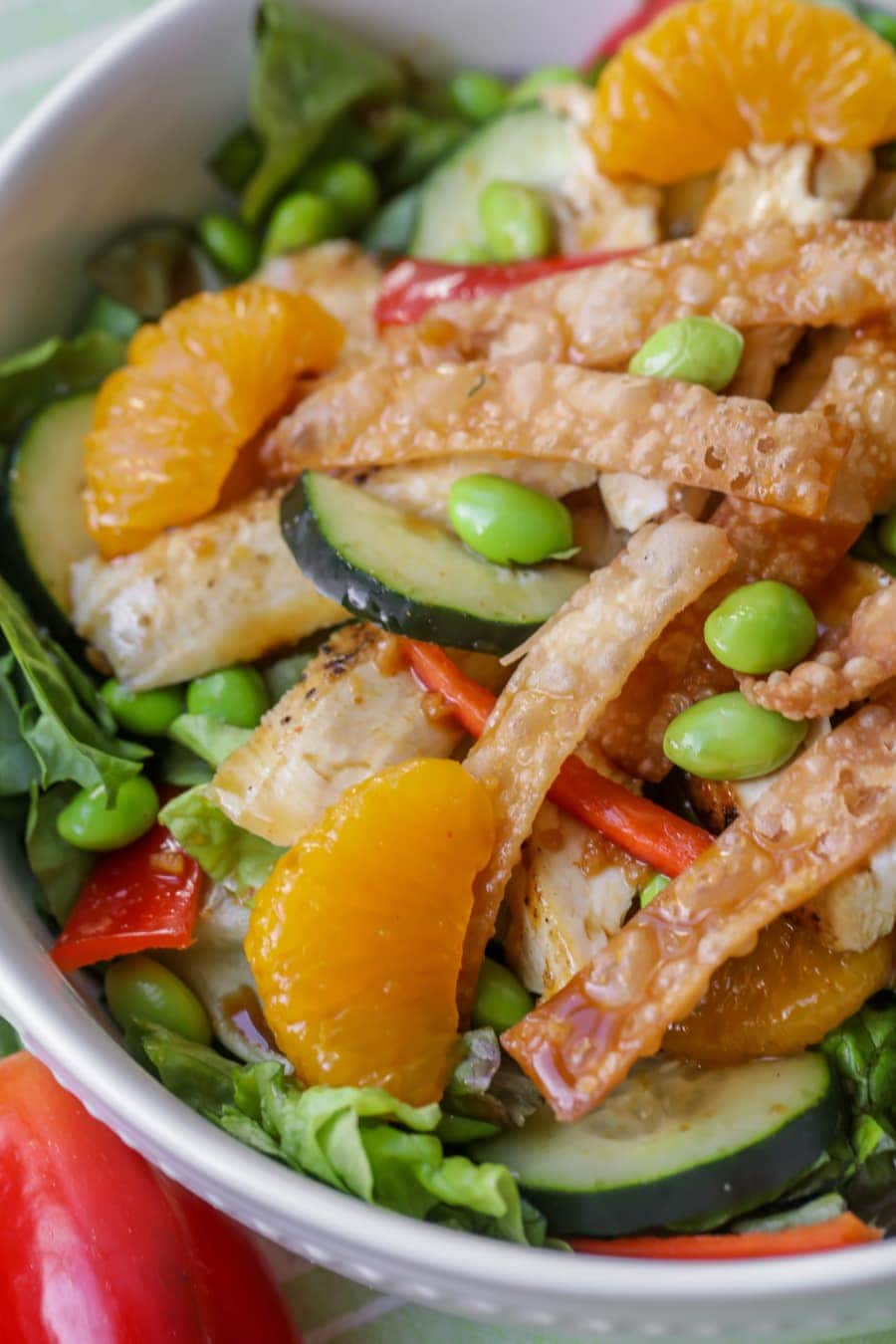 Asian Citrus Chicken Salad – Bright & Flavorful Asian Citrus Chicken Salad topped with crunchy wontons and a fruity vinaigrette is a family favorite!!
Wedge Salad – This fresh wedge salad is a classic. It's crisp and refreshing, smothered in creamy dressing and topped with crumbles of cheese and bacon.
Arugula Salad – Fresh Arugula salad is loaded with healthy greens, juicy tomatoes, and parmesan shavings with pine nuts and creamy avocado on top!
Applebee's Oriental Chicken Salad – This delicious Copycat Oriental Chicken Salad from Applebees is made with breaded chicken, cabbage, romaine, sliced almonds, and more tossed in a flavorful asian dressing!
Kale Salad – Sweet Kale Salad is topped with chunks of apple, candied pecans, dried cranberries, and bacon, served with a homemade sweet dijon vinaigrette!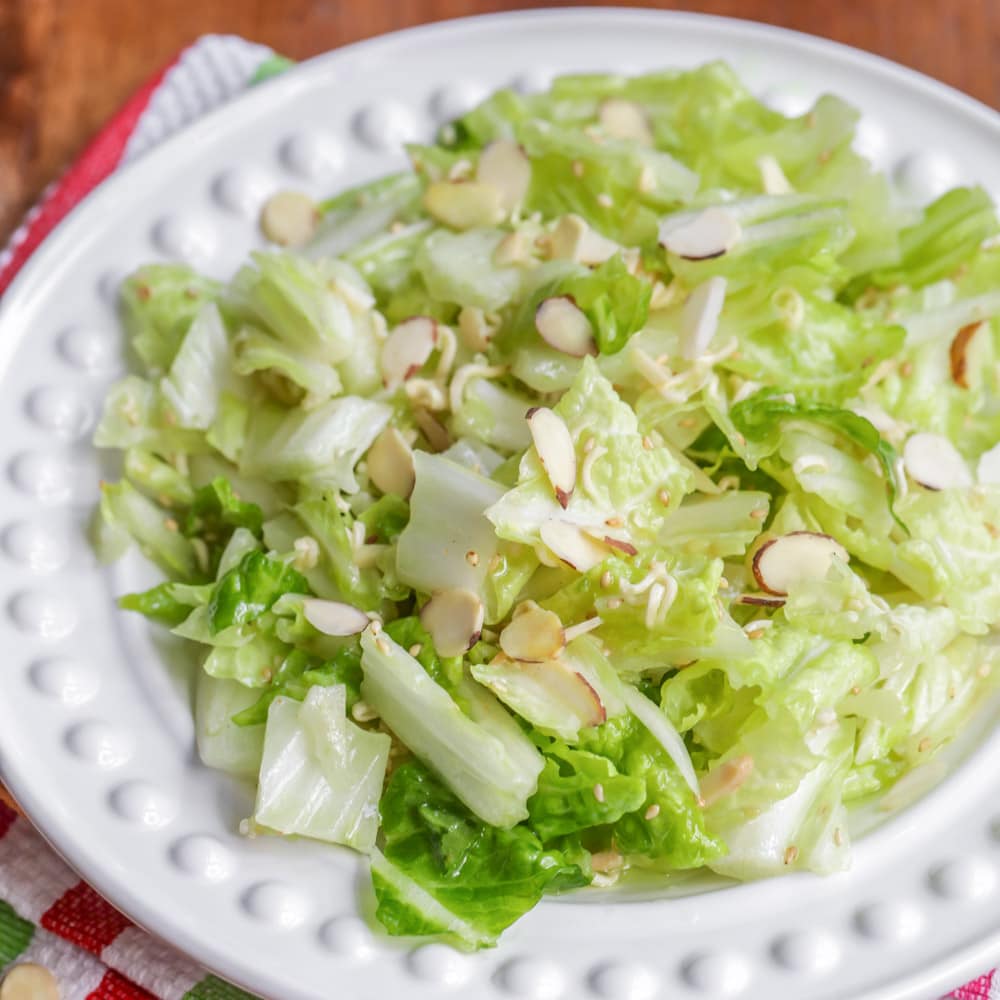 Ramen Noodle Salad – With toasted almonds, sesame seeds, and ramen noodles, this green salad has the perfect crunch to it. Top it all off with a simple homemade dressing, and this Ramen Noodle Salad will win everyone over!
Easy Tortellini Salad – Super YUMMY and easy Tortellini Salad filled with tortellini, salad, ranch, tomatoes and bacon bits – perfect for summer time!
Southwest Caprese Salad – Southwest Caprese salad substitutes queso fresco and a bright cilantro jalapeño vinaigrette to add some flair. It is fresh, vibrant, and full of flavor!
7 Layer Salad – 7 Layers of Goodness in this delicious layered Salad. This recipe isn't only delicious, but is easy to customize and is great to make ahead of time too!
Strawberry Spinach Salad – This Strawberry Spinach Salad is fresh, naturally sweet, colorful and absolutely delicious. Serve it as a quick lunch, a dinner side, or a potluck item!
---
the complete list
Here are the picture cards for all of the tasty Green Salad Recipes listed above.
You're sure to find some refreshing and delicious new favorites on this list!
---
More Collections: Spring Salad Recipes, Summer Salads , Easy Salad Recipes