7 Layers of Goodness in this delicious layered Salad. This recipe isn't only delicious, but is easy to customize and is great to make ahead of time too!
This 7 Layer Salad is one of our favorite recipes to bring to brunch or picnics. It's just as easy and tasty as our famous potato salad, pasta salad and broccoli salad.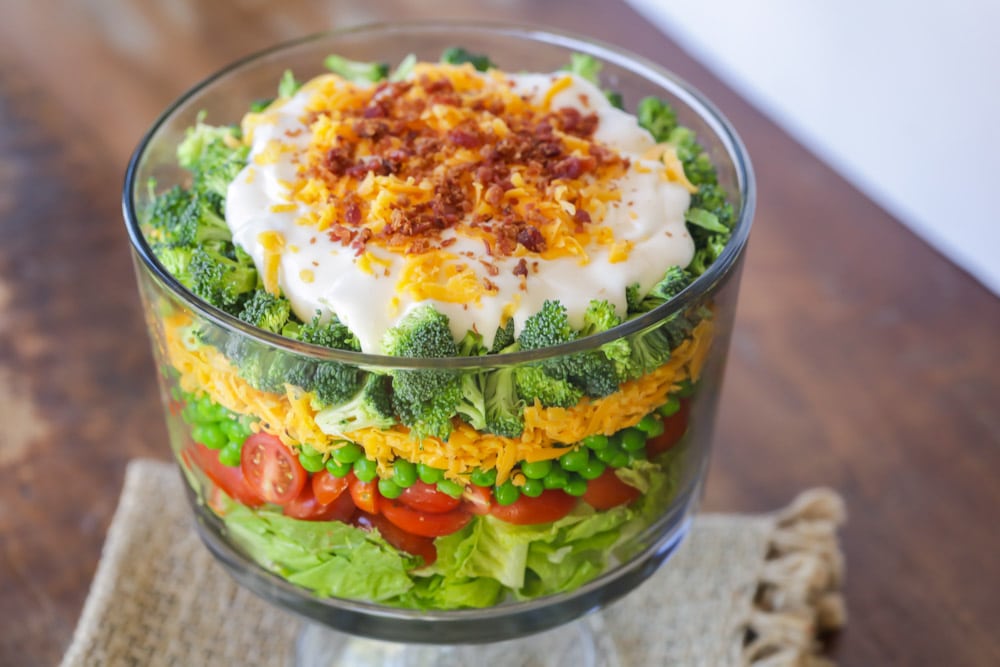 Perfect for Holidays + Picnics
We LOVE to have salads prepped and ready for special days.
From holidays, to brunches to showers and picnics – we love to have a large variety to choose from. One of our go-to's is this 7 Layer Salad that comes with a homemade dressing.
It's simple, can be made ahead of time and is easy to customize based on the ingredients you love most. Oh yeah – and it's gorgeous served in a glass trifle dish. It's definitely a family fav and one we love to make for special occasions.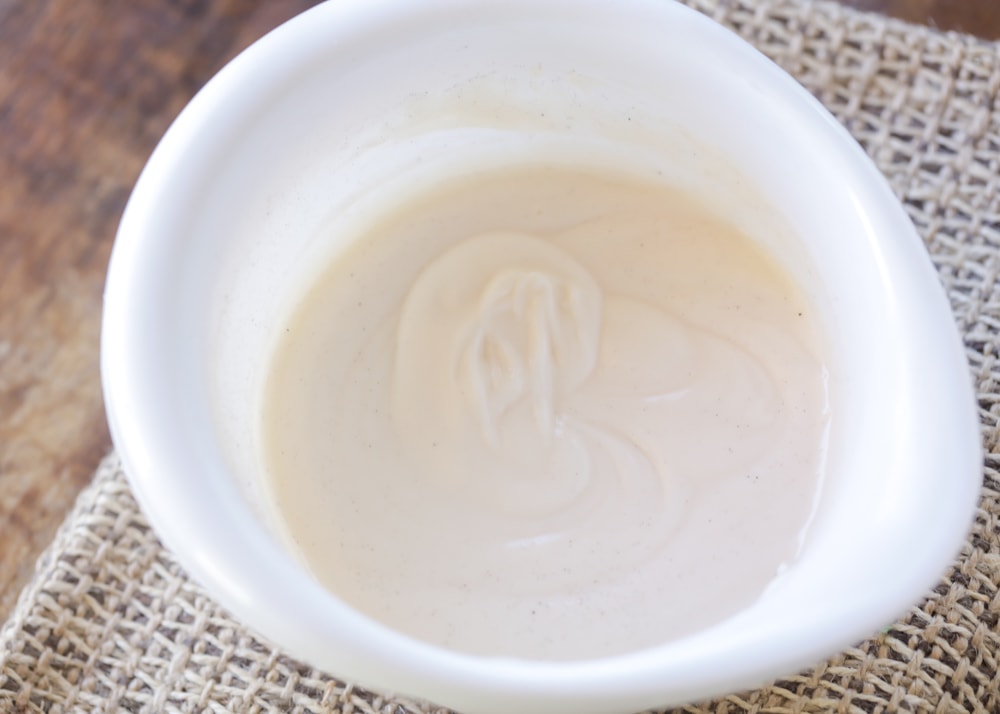 7 Layer Salad Dressing
We prefer a homemade dressing for this salad because it's easy, quick and yummy.
To make it, just whisk together the mayo, sugar and vinegar. Refrigerate until you're ready to top it on the salad.
As always though, you can use whatever dressing you'd like. Ranch, Italian or a vinaigrette would all be great. If you are using a dressing that is more runny, you may want to toss the salad. If it's creamy, it can be added on top as a layer and should set fine without having to be tossed.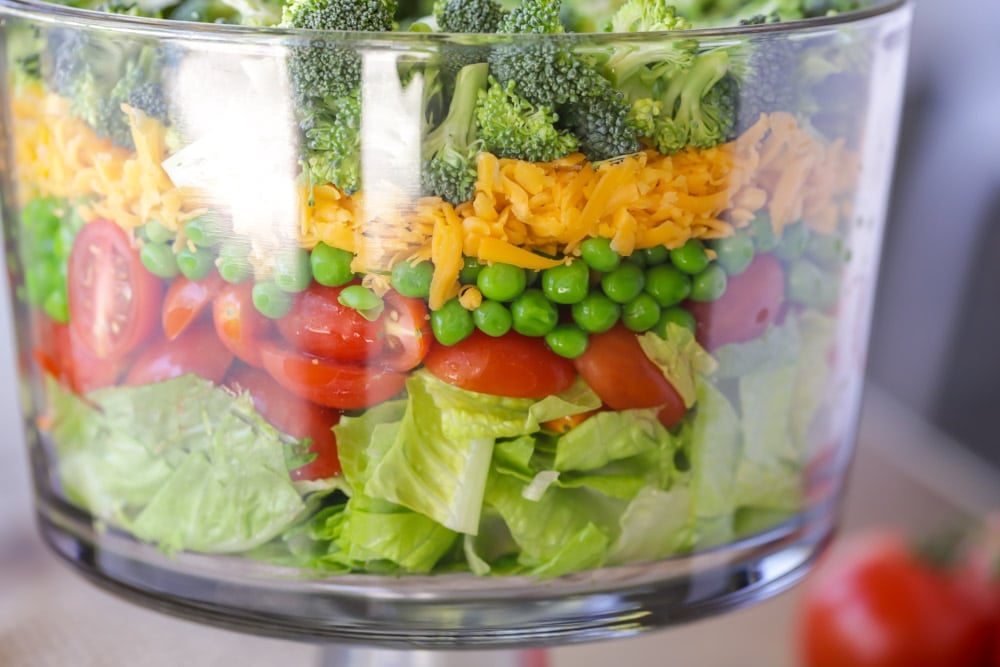 How to Make 7 Layer Salad
Now just because a salad has 7 layers doesn't mean it's a "7 Layer Salad". The traditional 7 layer salad recipes that I've seen all include lettuce, peas, tomatoes, cheese, bacon, and a mayo type dressing.
There's only one layer that seems to differ from recipe to recipe. Many recipes, like mine, use broccoli florets, but I've also seen boiled egg or chopped celery. Whatever you choose to use be sure the flavors are complementary and the colors contrast each layer.
Our layers: And in the order we layered them (which is totally by choice).
Romaine Lettuce: I prefer romaine lettuce.The green is vibrant and the leaves are soft, but any lettuce you like will do.
Grape tomatoes: An uncut grape tomato just seems a little too big for the salad, so I half mine. You can also use diced roma tomatoes or dice any tomato you have from your garden.
Peas: Do not use canned peas. Frozen peas work wonderfully. You don't even need to cook them! You can also use freshly shelled peas from your garden.
Cheddar cheese: Classic Cheddar is my favorite with this recipe. It tastes great with the dressing and other ingredients, but you can easily try using your favorite cheese. I've noticed many people like to add Parmesan Cheese.
Broccoli: I like to add broccoli florets. I always have them on hand and I like the flavor and texture they add.
Dressing: This creamy dressing is great for all kinds of green and vegetable salads. The dressing itself can be stored in an airtight container in the fridge for up to 5 days.
Bacon: Store bought bacon bits can be used, but I prefer to cook my own. I especially like to bake my bacon in the oven. Once cooled I'll use kitchen scissors to make my bacon bits. Bacon bits can be stored in the fridge in an airtight container for up to 5 days.
Recipe FAQs + Tips
How to serve 7 layer salad? To toss, or not to toss? Honestly, I serve with a long handled spoon and let each person dig deep.
Can you make this ahead of time? This is a great salad to prep and layer in advance. I will pre chop the ingredients and store them in separate containers in the fridge. I'll layer the ingredients anywhere from 2-10 hours in advance. Just be sure to spread the dressing over the entire top and right up to the edge of the bowl. This will "seal" in the ingredients underneath. Cover and store in the fridge until serving time.
What to serve this salad with? So many options, but here are some of our favs: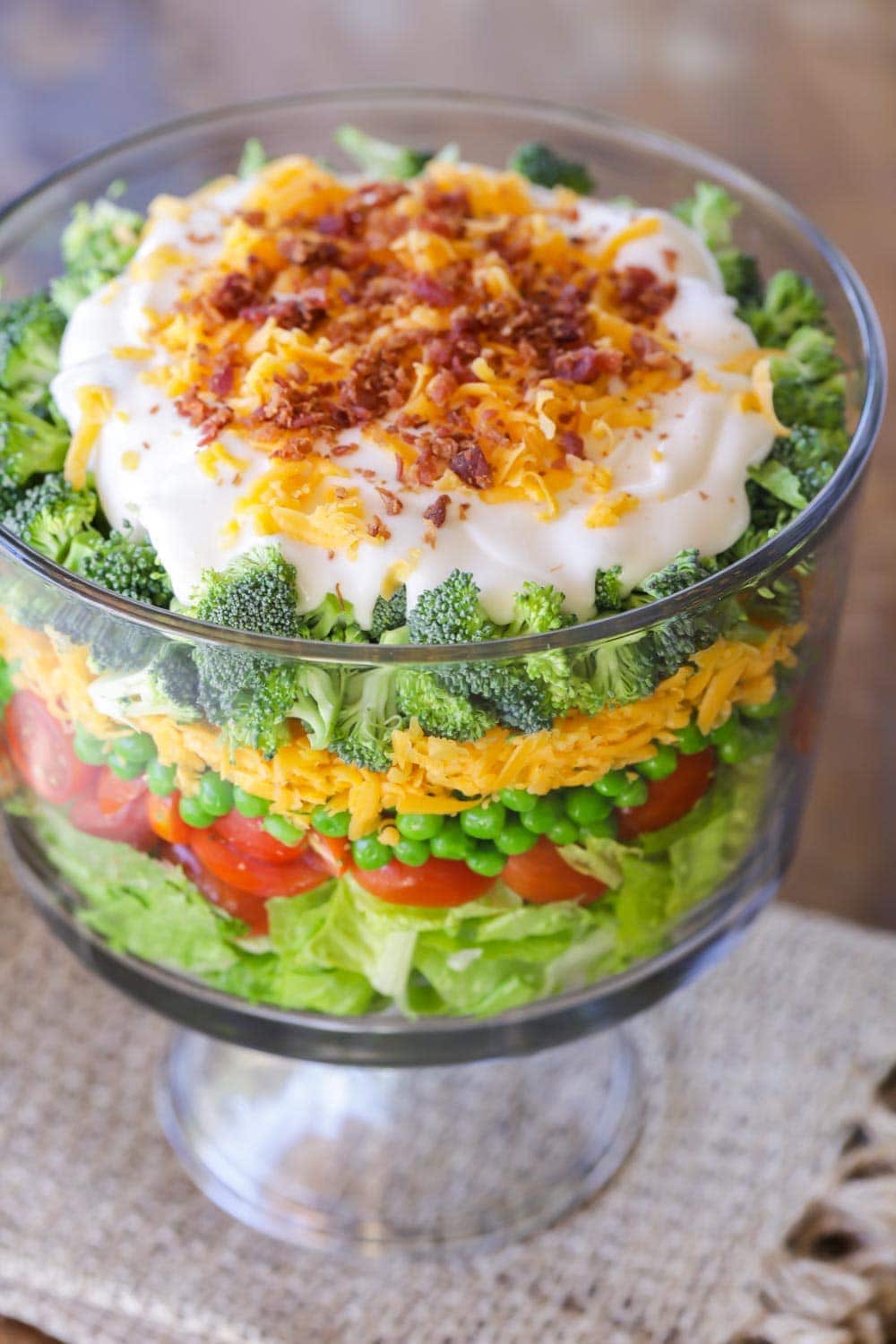 We know you'll love this salad as much as we do. It's so simple and always a hit with everyone!
For more salad recipes, check out:
7 Layer Salad Recipe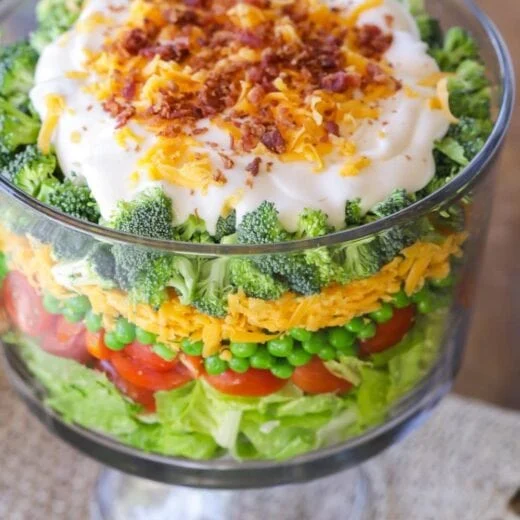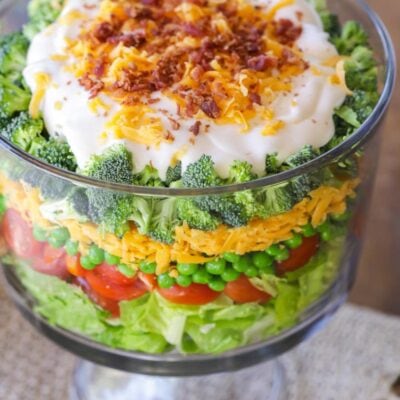 Deliciously customizable 7 Layer Salad is filled with just the right amount of goodness. It's perfect to make ahead!
Ingredients
1 1/4

cup

reduced fat mayonnaise

2

tbsp

sugar

2

tbsp

vinegar

2

large head

romaine lettuce

1 (10)

package

frozen green peas

thawed

1

package

grape tomatoes

halved

2

cups

broccoli

chopped

10

oz

cheddar cheese

shredded

1

lb

bacon

cooked and crumbled

green onions

optional
Instructions
Make dressing by whisking together mayo, white sugar and vinegar

Have all ingredients prepped, ready and laid out.

Grab a large, flat bowl or trifle dish and layer the lettuce on the bottom followed by the tomatoes, then peas, cheese and then broccoli.

Top with dressing followed by the shredded cheese and bacon crumbles. Refrigerate until ready to serve.