We have enjoyed Broccoli Salad for as long as I can remember. I think we first had it a BBQ restaurant years ago and have tried numerous recipes since then. I've posted a few broccoli salads here on the site (Strawberry Broccoli Salad and this Broccoli Slaw), and both are delicious, but today's recipe is my all-time favorite Broccoli Salad. It comes from my sister-in-law (on the hubby's side) and is one we tried a few months back.
As I had mentioned, we have tried lots of versions of this recipe, but today's version has all the ingredients that I love. Yes, I admit that in the past there have been ingredients I wasn't in love with (ie onions, raisins), but the combination of broccoli, sunflower seeds, bacon and craisins is absolutely amazing. Since I first tried this recipe, we have made it a few more times and even my family agreed it was absolutely delicious and their new favorite.
Broccoli, craisins, sunflower seeds, bacon and the most amazing dressing!
MY OTHER RECIPES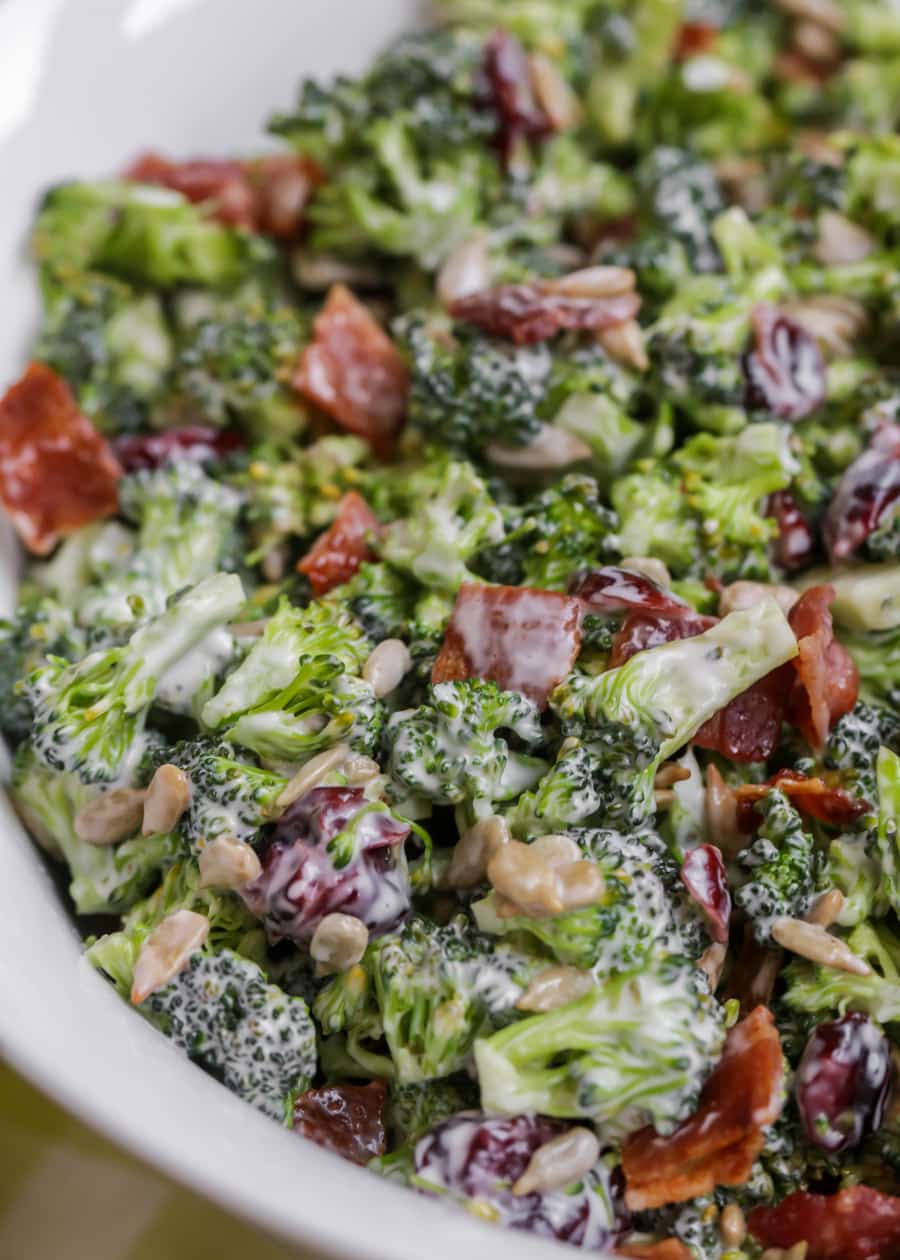 With summer get together and BBQs every week, you better believe we will be making this salad more often, and I hope you guys enjoy it just as much as we did!
For more salad recipes, check out:
For video instructions:
Broccoli Salad recipe:
Favorite Broccoli Salad
Sunny Broccoli Salad - A simple, tasty and hearty broccoli salad served with bacon, cranberries, sunflower seeds, and mixed with a delicious, homemade mayonnaise-vinegar based dressing that is perfect for BBQs and get togethers.
Ingredients
1 cup mayonnaise, reduced-fat mayonnaise, or salad dressing
½ cup craisins
3 tablespoons sugar
2 tablespoons vinegar
7 cups chopped fresh broccoli florets
½ cup shelled sunflower seeds
8 slices bacon, crisp-cooked, drained and crumbled
Instructions
In a large bowl combine mayonnaise, craisins, sugar, and vinegar. Add broccoli and stir to coat. Cover and chill in the refrigerator for at least 2 hours or up to 24 hours.
Before serving, stir in sunflower seeds and bacon. ENJOY!