This Summer Corn Salad is a light, flavorful salad filled with corn, tomatoes, feta, basil and cucumber. It's so simple and quick—perfect for get togethers and BBQs.
There's nothing better than cold, fresh vegetables in the summer—especially combined together in a tasty salad! If you like this corn salad, you should try asparagus salad or tomato cucumber salad! They're just as simple to prepare.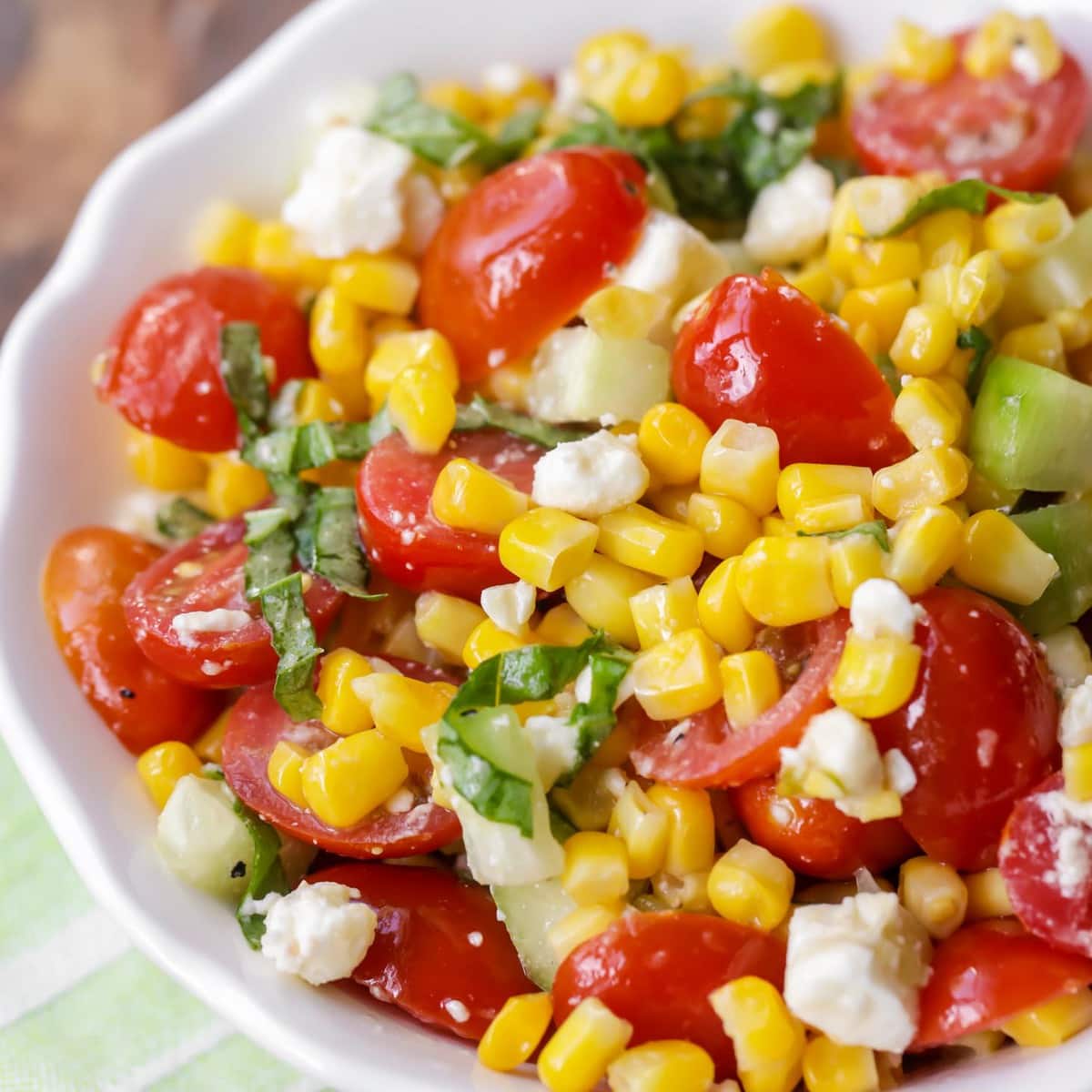 Corn Tomato Salad
Have you ever been invited to a BBQ or get together and were asked to bring a side salad to share?? This has happened to me on countless occasions, and for some reason I always get stumped as to which recipe to bring.
I love regular green salads but feel like they get soggy fast, so I recently went on the search for another recipe that could be my go-to side dish salad.
I think I found that recipe in this Summer Corn Salad. Now, don't let the name fool you – it doesn't need to be summer to make it but it's especially perfect for summer time. It's light, flavorful and delicious!!
One of the main reasons we love this salad is because it takes less than 15 minutes to make. It's full of corn, basil, cucumber, feta and tomatoes – all of which are some of my favorite ingredients.
It was loved by the entire family and was gone as quick as it came out. It will definitely be a new favorite, especially if you love corn.
Perfect for BBQ's and get togethers
Putting it together is as simple as you'd think. You start by cooking the corn until it's slightly tender. Let the corn cool completely (you can chill it in the fridge) and then add the tomatoes, cucumber and basil.
Right before serving, add the oil mixture, feta cheese, and Italian dressing and toss!
You can add some additional garden veggies if you like, such as:
Bell peppers

Avocado

Onion

Grilled Zucchini
You can also substitute the feta for a cheese that has a similar crumbly texture like Ricotta, Halloumi, Queso Fresco, or Goat Cheese.
Making ahead. This recipe is perfect for making ahead if you're planning a BBQ or gathering and don't want to worry about having to make a fresh salad right beforehand. You can combine all the veggies ahead of time, and then just add the dressing when you're ready to serve at your party!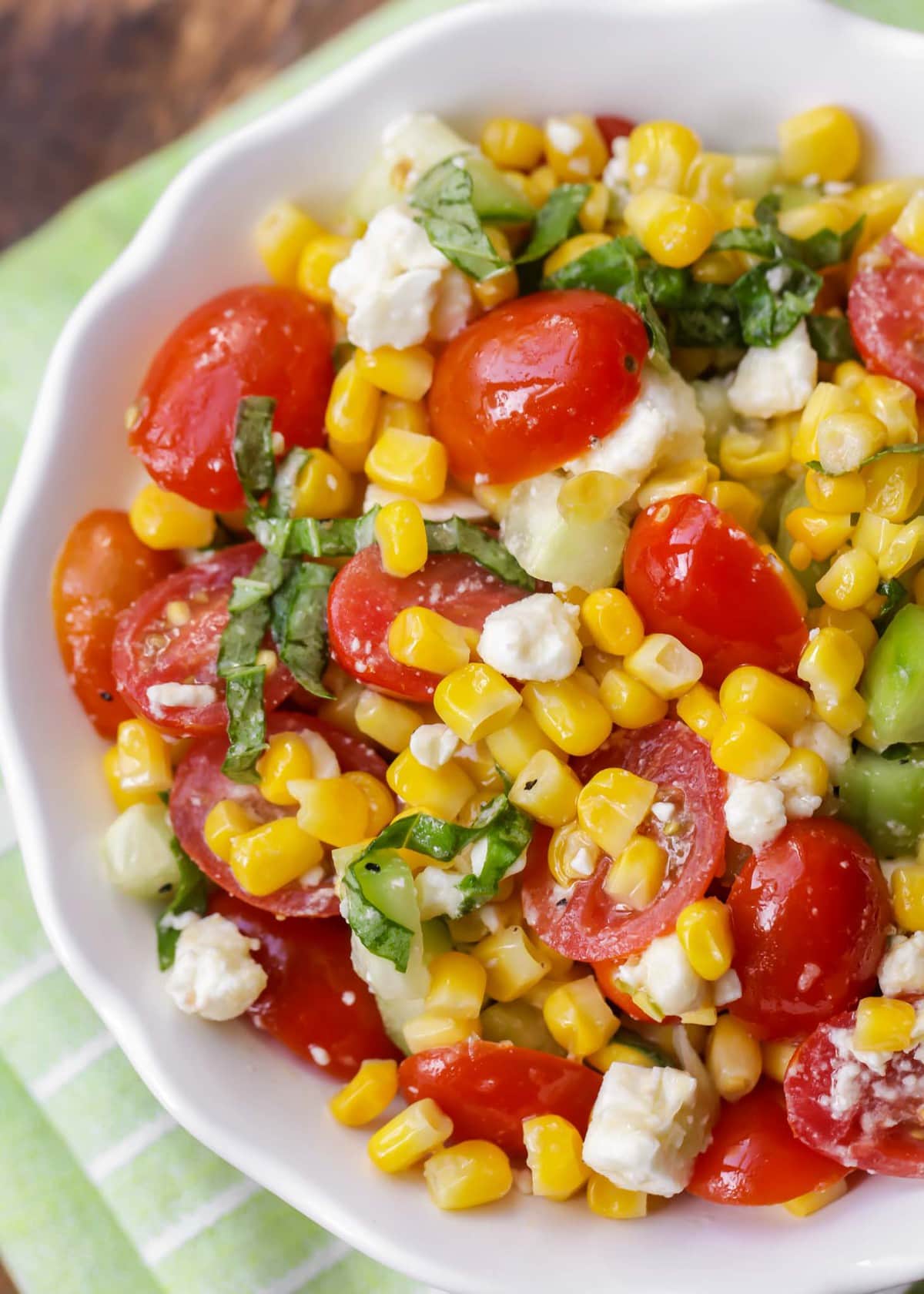 What kind of corn should I use? Using fresh corn makes the salad absolutely delicious. Frozen corn works well too. I do not recommend using canned corn.
The easiest way I have found to cut the corn off is to hold the cob perpendicular to a cutting board. Using a paring knife slice downward cutting the corn off in a long strip. Rotate the cob and slice again, Continue until all the kernels have been removed.
Grilling the corn beforehand will give it a little more of a charred flavor. Super yummy! But if you'd rather not have the the charcoal spots, you can wrap the corn in tin foil first.
Place the cobs directly on the grill over medium-hot heat. Rotate every 2-3 minutes until the corn in cooked evenly all around. Cut the kernels off the cob and follow the salad recipe as written.  
Love the flavor of this corn salad recipe!! And I love even more just how simple it is. We loved it how it was but may add beans next time just because I know they'd be a great addition. 😉
For more recipes great for bbq's:
For more summer salad recipes, check out:
Corn Salad Recipe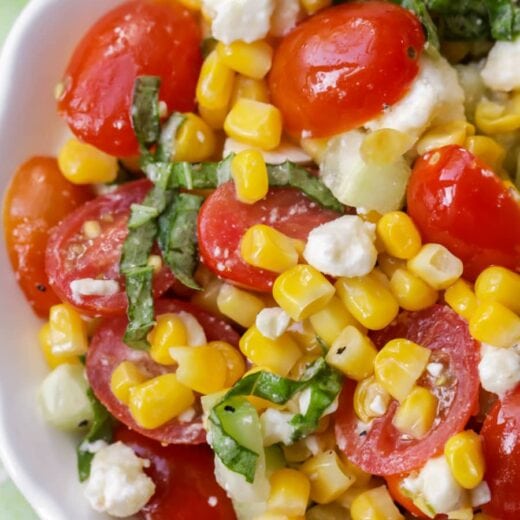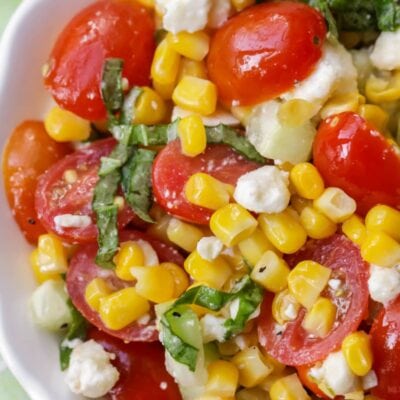 This Summer Corn Salad is a light, flavorful salad filled with corn, tomatoes, feta, basil and cucumber. It's so simple and quick that it's perfect for get togethers and BBQs.
Ingredients
3

tbsp

olive oil

divided

1

tbsp

lime juice

1/4

tsp

salt

1 1/2

cups

corn

fresh or thawed frozen corn

1 1/2

cups

cherry tomatoes

halved

1/2

cup

cucumber

finely chopped

2

tbsp

fresh basil

minced

1/3

cups

crumbled feta cheese

2

tbsp

Italian dressing

(optional)
Instructions
Whisk together 2 tablespoons of oil, lime juice, and salt in a small bowl and set aside.

Cooking corn in a skillet with remaining oil until tender.

Pour corn into a large bowl, cool slightly and add tomatoes, cucumber, and basil. Refrigerate until ready to serve.

Right before serving, drizzle with dressing, feta cheese and Italian dressing (if desired). ENJOY!
Recipe adapted from Taste of Home.