A smooth and creamy side dish filled with cream, butter and cheese. Anyone who likes corn will love this recipe! This creamed corn is also a perfect side dish for holiday meals.
This side dish is really popular at BBQ restaurants, so we love pairing it with things like pulled pork sandwiches. For more BBQ style sides, you can also try baked beans and coleslaw.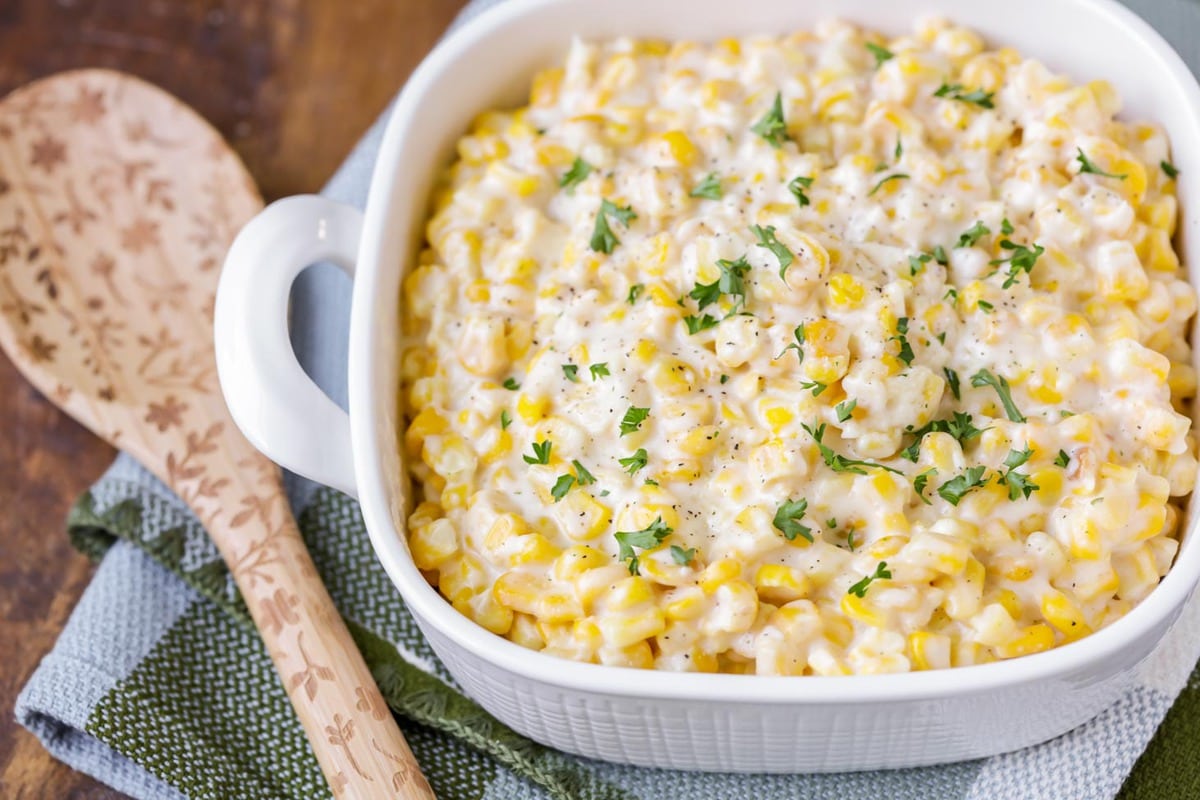 best homemade creamed corn
I love corn in all forms, but hadn't ever tried creamed corn before. When I finally did, though, you better believed I loved it!
This dish is pretty common in areas where BBQ is a big deal (mostly Midwestern and Southern United States)! In Texas, where we used to live, there are countless restaurants and places to get creamed corn, one being Rudy's. My husband loves their corn and said this recipe for homemade cream corn tasted just like theirs. Score!
This easy, cheesy, butter-y corn recipe is simple to make and is not only great for a summer barbecue, but it's perfect as a side dish to any meal, or even for Thanksgiving. It's so creamy and delicious it's hard not to love.
You will notice that there is some sweetness to the recipe, but that's why it's so good!! It's has a little bit of sweet & salty making it irresistible.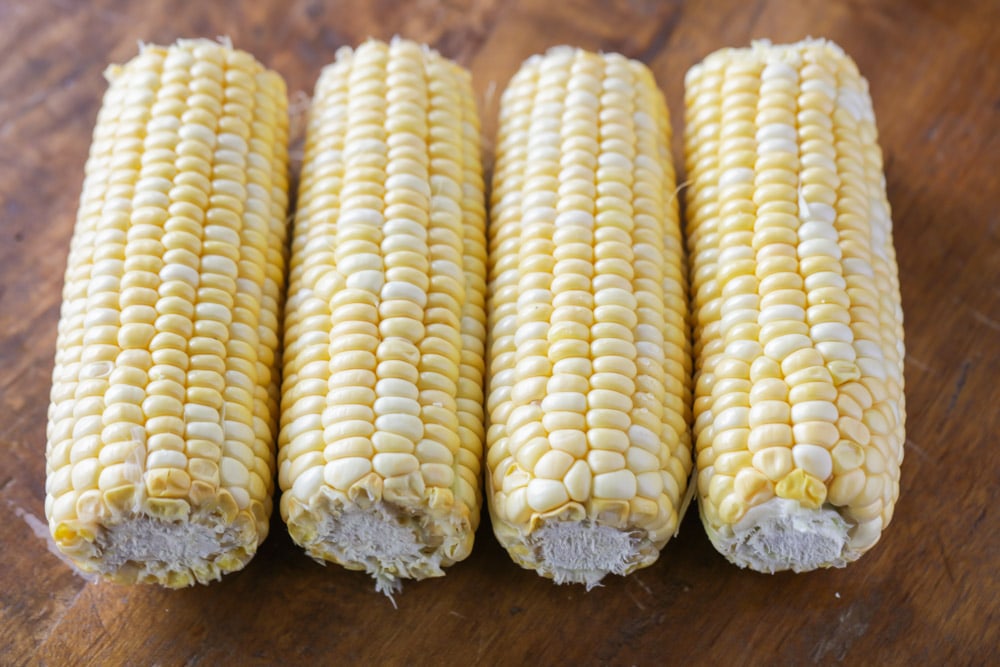 How to make Creamed Corn
We love that this recipe is simple and has the sweet and savory combo we love so much. There are different ways to make this creamed corn – you can use frozen corn or fresh.
From Frozen Corn:
Combine the corn, cream salt, sugar, pepper and butter in a skillet on medium heat.
In a separate bowl, whisk together the milk and flour, and stir into the corn mixture. Cook on medium heat until the mixture is thickened, and the corn is cooked through.
Remove from heat, and stir in the Parmesan cheese until melted, and serve warm.
From Fresh Corn:
You can also make this using fresh corn. Begin, by taking the husks and silk off the corn. Use a bowl to catch all the kernels and juice from the cobs.
Using a sharp knife, cut the tips of the kernels off the cob. And then follow the directions above. Since the kernels will be room temp, it will take less time for the corn to be cooked through.
slow cooker instructions
Can creamed corn be made in the crockpot? Yes it can (we actually have a great slow cooker creamed corn recipe)! Add all the recipe ingredients to the crockpot. You are also going to want to add a few dollops of cream cheese to the top of the corn mixture. Because the corn will be covered, the liquid will not evaporate as it does on the stove top leaving the creamed corn runny. The cream cheese will help alleviate this.
About halfway through the cooking process, remove the lid and stir all the ingredients. Return the cover and cook for the remaining time. Remove lid and let stand fo 10-15 minutes.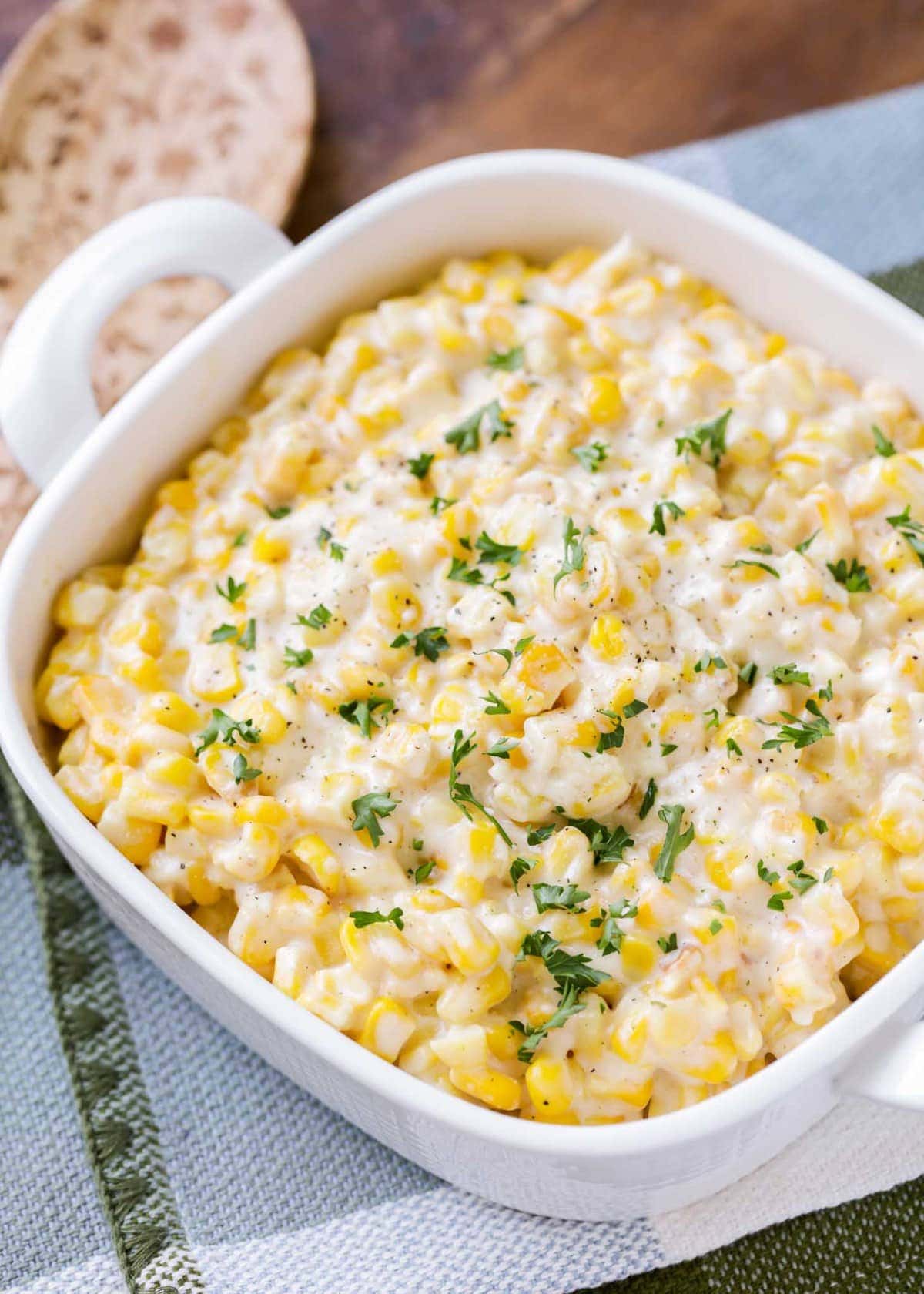 recipe faq + tips
Can you use canned corn in this recipe? Of course! Just like the fresh corn, it will take less time to cook through, but works just as well as frozen and fresh corn. If you only have canned corn on hand, don't fret because it really tastes just the same. 😉
Need a heavy creamy substitute? Use milk and butter instead! Just mix together ¾ milk and ¼ melted butter really well instead of using the 1 cup heavy cream.
How to make it creamier? If you find that you want even creamier corn, take ¼-½ cup of the dish and blend it until smooth. Add it back into the main mixture and stir.
How to thicken creamed corn? If you find that your creamed corn is a little runny you have a few options.
Use heat: Stir on the stove top a little longer letting the extra moisture evaporate.

Use a cornstarch slurry: For every 2 cups of creamed corn Mix 1 tablespoon cornstarch with 1 tablespoon water. Mix in a separate bowl and then add to the creamed corn.

Use rice flour: sprinkle 1 Tablespoon of rice flour evenly over the top of the creamed corn and stir. Continue sprinkling rice flour until you've reached your desired thickness.
Add a splash of spice:
For a bit of heat add some diced jalapeños or peppers.

Stir in some Cheyenne pepper.

You can also top with red chili flakes or hot sauce
How to store? Store leftover creamed corn in the fridge in an airtight container for 3-4 days. Reheat in the microwave, oven or stove top.
How to freeze? Make as directed and then spoon into freezer bags. Freeze flat until firm. It will last 6-8 months in the freezer. To reheat, thaw before using and place back in pot until heated through.
I'd love to hear your thoughts about creamed corn. My sisters were hesitant to try this because they never heard of it, but the we all LOVED it! If you love corn, we're pretty sure you'll enjoy this too. 🙂
For more corn recipes, check out:
Creamed Corn Recipe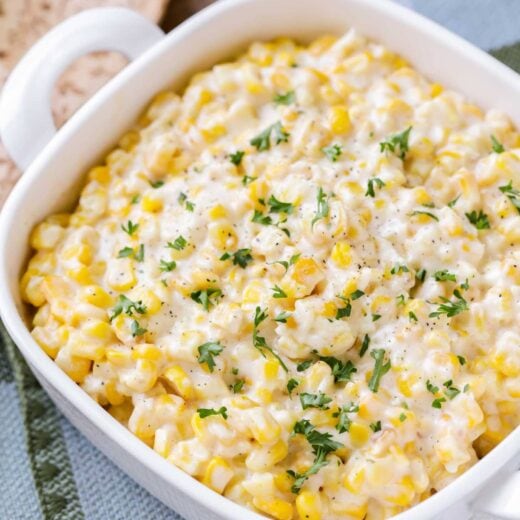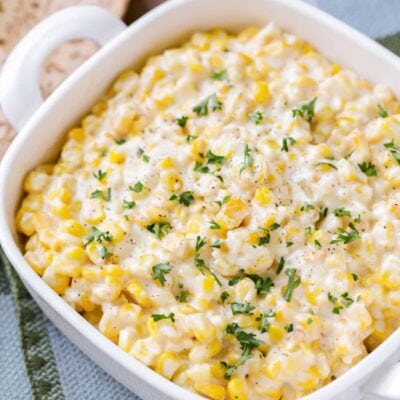 Creamed Corn – a delicious side dish filled with cream, butter and cheese making it perfect for anyone who loves corn!
Ingredients
20

oz

frozen corn kernels, thawed

(2 10 oz packages)

1

cup

heavy whipping cream

1

tsp

salt

2

tbsp

sugar

1/4

tsp

pepper

2

tbsp

butter

1

cup

whole milk

2

tbsp

all-purpose flour

1/4

cup

grated parmesan cheese
Instructions
In a skillet, combine corn, cream, salt, sugar, pepper and butter and cook on medium heat.

In a small bowl, whisk together the milk and flour, and stir into the corn mixture. Cook on medium heat until the mixture is thickened, and corn is cooked through.

Remove from heat, and stir in the Parmesan cheese until melted. Serve warm. ENJOY!
Recipe from Diana Yockey.