How to Roast a Turkey – All the tips and tricks you'll need to make a turkey full of flavor. It's great for Thanksgiving but really for any holiday.
You can't resist a delicious turkey for Thanksgiving! Serve it with mashed potatoes, rolls, green bean casserole and pumpkin pie and you're set! Plus, this turkey is so flavorful it's great to save and use for leftovers in so many soups and casseroles.
COLLECTIONS: Thanksgiving, Thanksgiving Dinner Ideas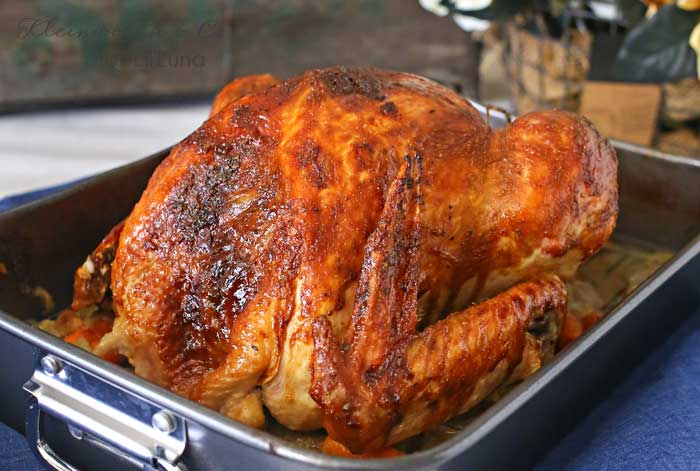 Perfect Roast Turkey
Hi everyone! It's Gina from Kleinworth & Co. & I'm back today to share my favorite Thanksgiving recipe. Have you ever wanted to know How to Roast a Turkey?
Today I'm sharing my recipe that took me years to perfect. But now it's so easy that we make a full turkey dinner several times a year!
When my husband & I spent our first Thanksgiving together it was a disaster. Neither of us had any clue what we were doing & as a result the meal was a flop. My parents were so nice & didn't complain at all. But I made it my mission to learn how to make a perfect roast turkey. It took several more years of only trying at Thanksgiving time before we nailed it. But now here we are 20 years later & the turkey is the easiest part of the whole feast. Let me show you just how simple it can be.
First up – let's talk about the size of turkey to buy as well as thawing a frozen turkey…
What size turkey should I buy for my dinner? Take a headcount and plan to serve each person 1- 1 ½ lbs of turkey. For 10 people plan to serve a 10-15 lb turkey. If you are hosting a large crowd consider cooking two smaller turkeys.
Best Way to Thaw a Frozen Turkey
DO NOT thaw at room temperature or in hot water. Also, do not refreeze a raw turkey. With that said you have a couple of choices.
In the fridge: Keep the turkey in its wrapping and place it in the fridge. Allow 24 hours for every 4-5 pounds. Once the turkey has thawed it can stay in the fridge for an additional 2 days before it needs to be cooked: A 12 lb turkey will need 36 hours to thaw.
A cold water bath: Make sure the package is leak proof or put the turkey in a leak proof bag. Completely submerge the turkey in

cold

tap water. Depending on the size of your turkey you can use a sink, a large cooler or even the bathtub. The water needs to stay cold so change the water every 30 minutes. Allow 30 minutes per 4-5 lbs to thaw: a 12 lb turkey will need 6 hours. Cook the turkey as soon as it is thawed.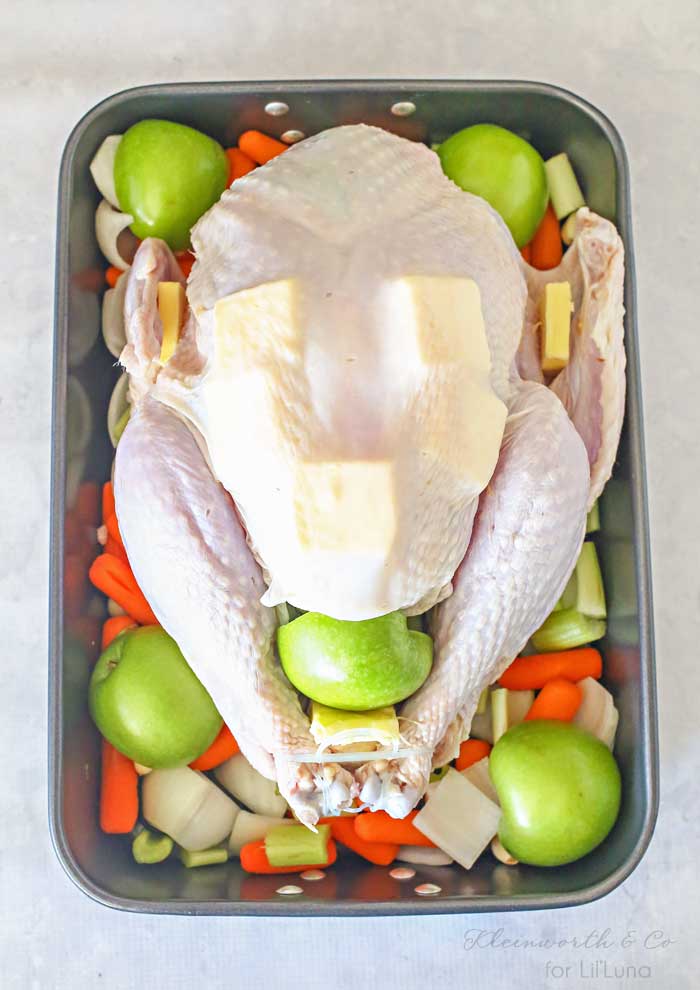 How to roast a turkey
This is how we do it (keep scrolling to see different times and temps to cook). Trust us – it's easier than you think!
First you cut your veggies & add them to the bottom of the pan. I also add apples because it gives a wonderful flavor (cut in half, inside turkey and sprinkled around too). NOTE – be sure to use a roasting pan with an elevated rack to keep the bird somewhat above the liquid
Then you add your bird & stuff it full of those same veggies. I like to add butter between the skin & meat to help crisp the skin & give it a great flavor.
Don't forget to give the whole bird a coat of melted compound butter. I love to use my Italian garlic butter. I don't really add any other seasonings at this point because I have found they tend to burn. However once we get to the glaze there will be plenty of flavor. I bake for a while (about 30 minutes) uncovered to get that skin to start to crisp.
Continue roasting an additional 2 – 2.5 hours depending on the size of your turkey (check label for exact cooking times per size) Basting every 40-45 minutes.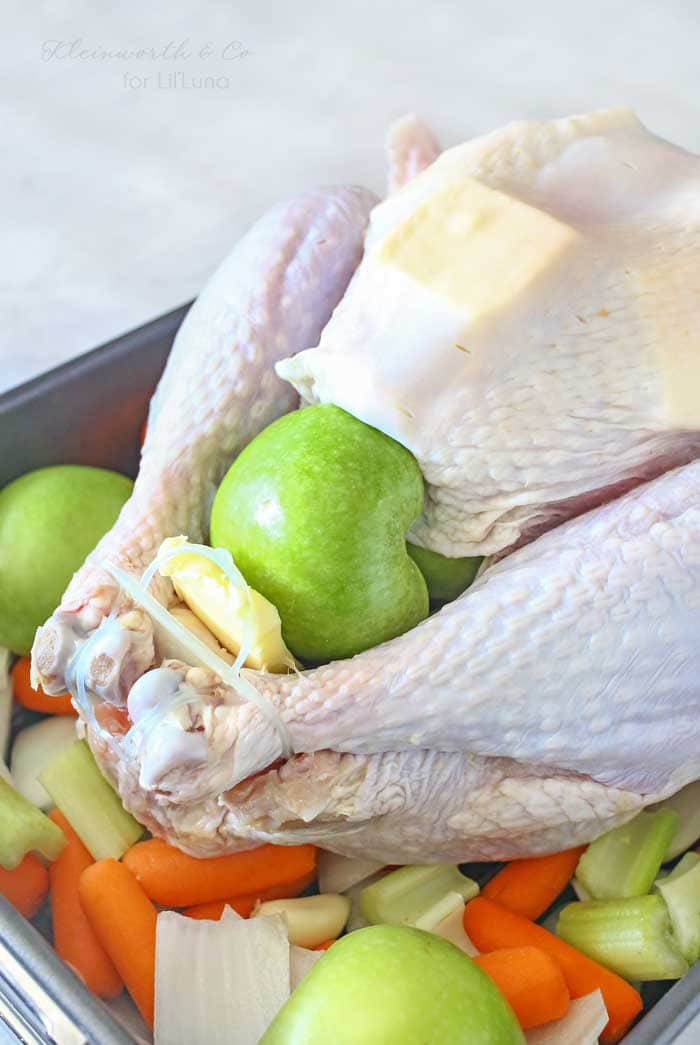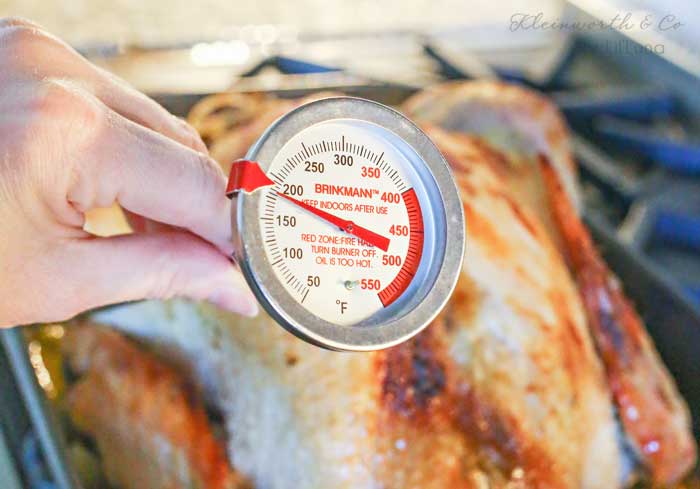 Turkey Cook Times
How long should I cook my turkey? To be 100% sure your turkey is done use a meat thermometer. When the bird reaches 165 degrees F it's done. The following will give you a rough idea of how long to expect it to take:
10 – 18 lbs: unstuffed 3-3.5 hours: stuffed 3.5-4.5 hours

18 – 22 lbs: unstuffed 3.5-4 hours: stuffed 4.5-5 hours

22 – 24 lbs: unstuffed 2-2.5 hours: stuffed 5-5.5 hours

24 – 29 lbs: unstuffed 4.5-5 hours: stuffed 5.5-6.5 hours
BE SURE to stick your thermometer into the thickest part of the bird & make sure it's at least 165 degrees.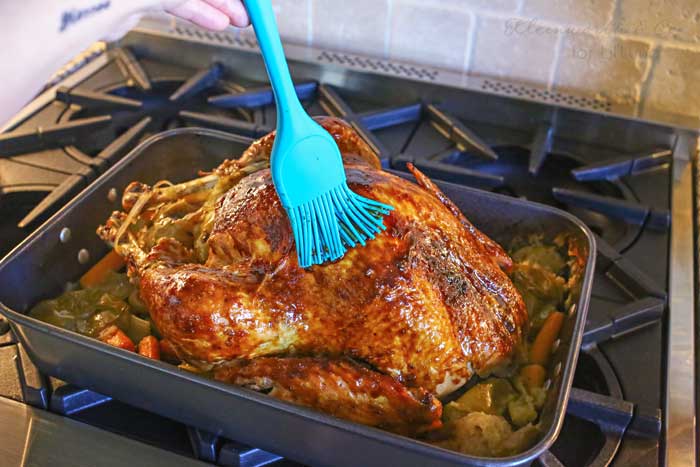 Turkey Glaze
Check temperature near the end – once you reach a minimum of 165 degrees in the thickest part of the turkey, it's time to add your glaze.
Our glaze is made up of molasses, dijon mustard, granulated garlic, pepper and salt. Whisk glaze ingredients in a small bowl to combine. Brush glaze over turkey and return turkey to oven, uncovered & cook an additional 15 minutes to crisp the skin.
Remove & let rest 10-20 minutes before carving.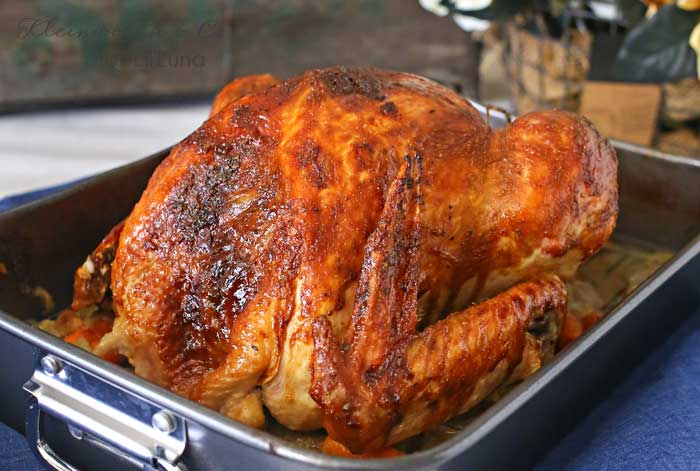 turkey FAQ + Tips
What do I do if the top is cooking quicker than the middle? You definitely do not want to end up with a scorched turkey. If your turkey has begun to brown too quickly loosely cover the top with aluminum foil. Also, if the drippings are starting to evaporate and become too dark go ahead and add a tablespoon or two to the pan.
IMPORTANT TO REMEMBER: Remember to give your turkey a rest: Once your turkey has been taken out of the oven let the turkey rest under a loose sheet of foil for at least 20 minutes before carving.
How do I store leftovers? Remove the meat from the bones. Store in an airtight container in the fridge for 3-4 days or freezer for 2-3 months.
What to make with leftover turkey? There are so many options, but here are some of our favorites: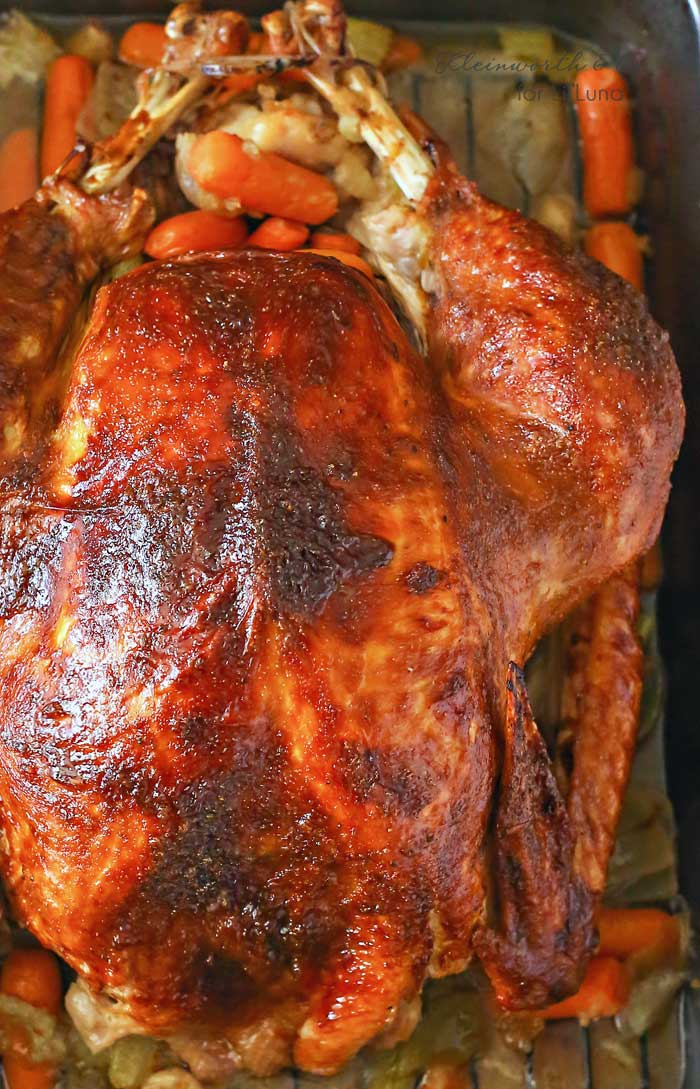 That's it! I told you it was easy & it's so delicious too. Moist on the inside with a wonderfully crispy skin that is packed full of flavor. Your Thanksgiving guests will love this!
For more Thanksgiving recipes:
COLLECTIONS: Thanksgiving, Thanksgiving Dinner Ideas
Oven Roast Turkey Recipe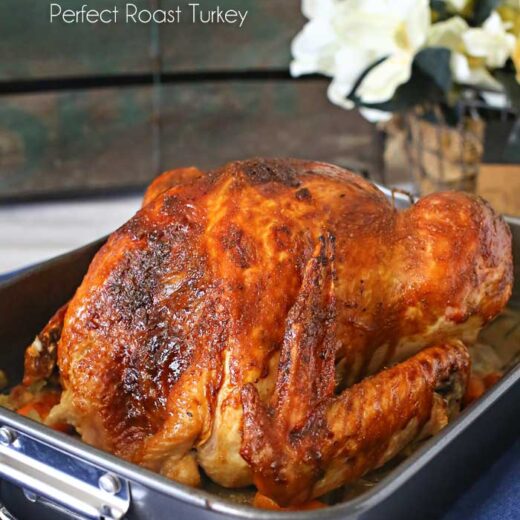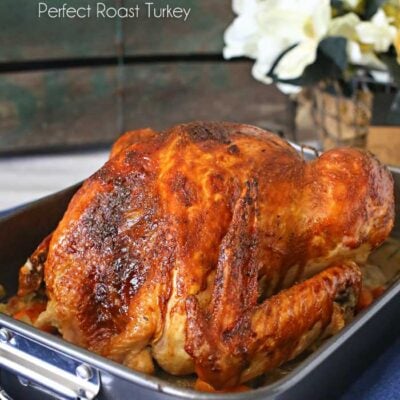 How to Roast the Perfect Turkey – so full of flavor and a hit any holiday or day of the year, but especially Thanksgiving!!
Ingredients
1

turkey

thawed

5-6

stalks

celery

chopped

1/2

onion

chopped

4-5

carrots

peeled and chopped

2

head

minced garlic

peeled

2-3

apples

2

cups

chicken broth

6

tbsp

butter

divided

3

tbsp

compound butter

(such as Italian Garlic Butter)
Glaze
1

cup

molasses

2

tbsp

Dijon mustard

1

tbsp

granulated garlic

3

tsp

black pepper

2

tsp

kosher salt
Instructions
Preheat oven to 425 degrees
Cut your celery, carrots, onion & garlic & add most of them to the bottom of your roasting pan

*Note- be sure to use a roasting pan with an elevated rack to keep the bird somewhat above the liquid

Prepare your turkey by removing the added items (neck, giblets, gravy packet) – no need to rinse the turkey- leave the tie on the legs – this helps keep it together.

Place turkey in your prepared pan

Stuff remaining veggies inside turkey

Add one apple- cut in half, inside turkey

Place remaining apples (also cut in half) around outside of the turkey

Cut your butter into 1 tbsp pats

Carefully lift skin away from meat & slide pats of butter in-between the skin & breast

Add chicken stock to the bottom of the pan

Melt your compound butter & brush over the entire turkey

Roast in pre-heated oven, uncovered for 30 minutes

Remove, baste, tent with foil – return to oven
Reduce heat to 375 degrees
Continue roasting an additional 2-2.5 hours depending on the size of your turkey (check label for exact cooking times per size) Basting every 40-45 minutes

Check temperature near the end – once you reach a minimum of 165 degrees in the thickest part of the turkey, it's time to add your glaze

Whisk glaze ingredients in a small bowl to combine

Brush glaze over turkey & return turkey to oven, uncovered & cook an additional 15 minutes to crisp the skin

Remove & let rest 10-20 minutes before carving