Thanksgiving Dinner Ideas and Tips will help you have a stress-free holiday. From planning, shopping, and cooking, to a whole list of recipe ideas—this post has everything you need to know about turkey day!
MORE COLLECTIONS: Thanksgiving, Thanksgiving Appetizers, Thanksgiving Side Dishes, Thanksgiving Desserts
making a thanksgiving menu
When it comes to Thanksgiving Dinner, it can be a little bit overwhelming knowing where to start, especially if you're the HOST. But, don't you fret, we are sharing all the best recipes and tips to help you plan your Thanksgiving menu.
One of the things we like to do when we gather as a family for Thanksgiving is to divide the work, and assign each person to bring a dish (or two).
Whether you are dividing the responsibilities, or it's all on you, we have a handful of tips to make sure you pull off an amazing Thanksgiving dinner, without having to stress!
I'm helping you get prepped for Thanksgiving – from dinner ideas to appetizers and side dishes, we've got you covered!
Tips for Making Thanksgiving Dinner easy
Seasoned Thanksgiving Cooks know the secret to a successful meal: ORGANIZATION. Whether you're a first timer or a pro, you need to have a plan to execute a successful Thanksgiving Feast. I've gathered a few tips to help you out:
THE MENU: From appetizers to dessert, plan out everything you want to serve (use our FREE Thanksgiving Menu Planner to help).

How much to make: Figure out about how many people will be attending. Then, decide how much to make of each item. Add a new side dish for every 8-10 people attending.
Do you have any guests who are dairy-free, gluten-free, nut-free etc.? Consider making accommodations, and be sure to label the dishes so guests know they are safe for them to eat.

Don't be afraid to ask your guests to bring a dish. Most are happy to help!

SHOPPING: Don't wait until the last minute. Plan the menu and purchase as much as you can in advance. You don't want to make a last minute trip to a crowded store, only to find they are all out of the ingredient you need.
STORAGE: Clean out the fridge the week before. Take note of any items that do not HAVE to be refrigerated. Some fruits and veggies can be kept on the counter for a day or two to make room for other dishes.
More Tips
PLAN A COOKING SCHEDULE: Here are a few questions, and a bit of information that will help when planning your schedule:
What are all the items that need to be cooked in the oven, and in what order?

Can any items go into the oven at the same time?

Which items need to be cooked on the stove top, and what order?

Can anything be made in a crock pot?

How can I keep items warm?

Can anything be made ahead of time? Do they need to be reheated, and how?
AHEAD OF TIME: There are several dishes such as pies, casseroles, and salads that can be made the day before. This saves a lot of stress the day of the event. Also, prep ingredients before hand, like making sure the turkey is defrosted, chopping veggies, and pre-measuring ingredients so they're ready to be mixed.
ON THE DAY OF: Decide what time you want to eat. Then figure out how long each item takes to cook, or to be reheated, and subtract that amount from the time dinner is suppose to be served. This will give you a good idea on what time you need to get things started.
For example: Dinner is at 2pm – 20 minutes to reheat the casserole – 3 hours to cook the turkey – 40 minutes for sweet potatoes – a 30 minute buffer. That means you need to start putting food in the oven by 9:30 am.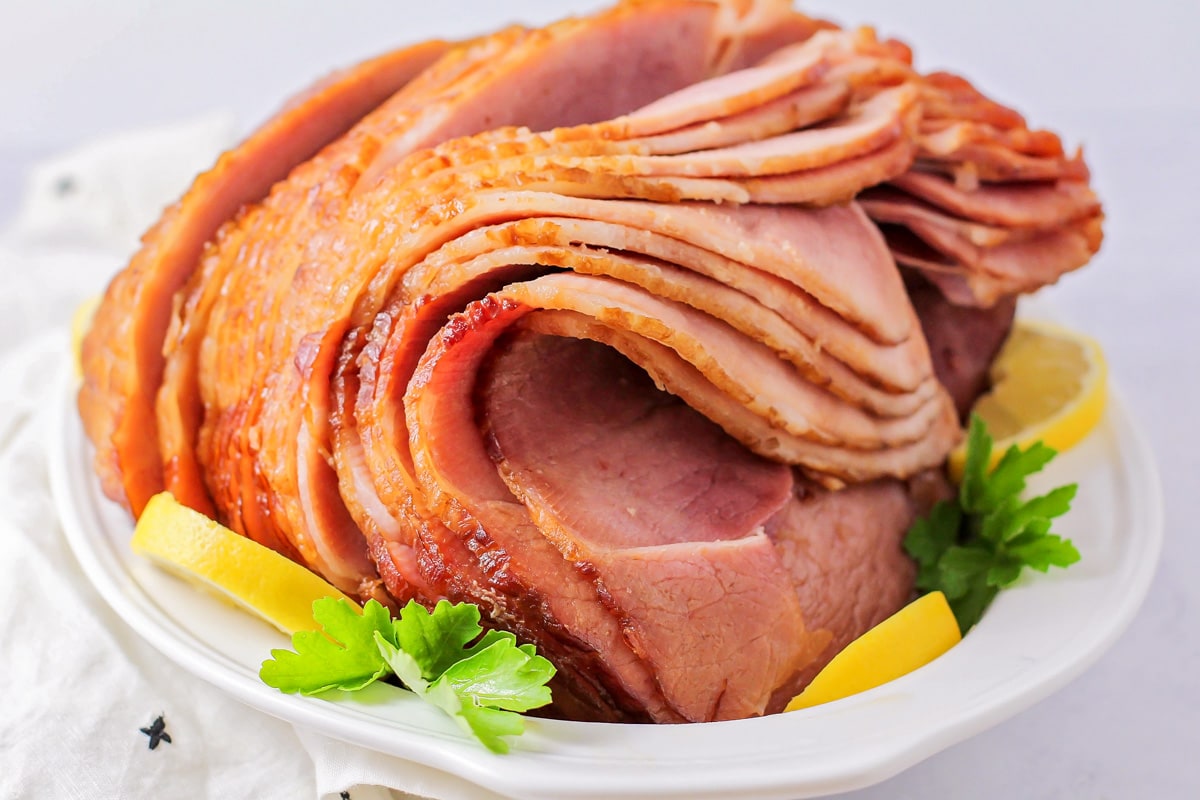 Favorite Thanksgiving Dinner ideas
If you're stumped on what to serve for all the courses, we have a few suggestions of Thanksgiving Dinner Ideas.
Of course, most of them are the typical items you would find on any table in America on Thanksgiving day (Turkey, Mashed Potatoes, Rolls, Cranberry Sauce, etc.), but there are a few that are a little more uncommon that we tend to enjoy in our family.
We typically end up picking out: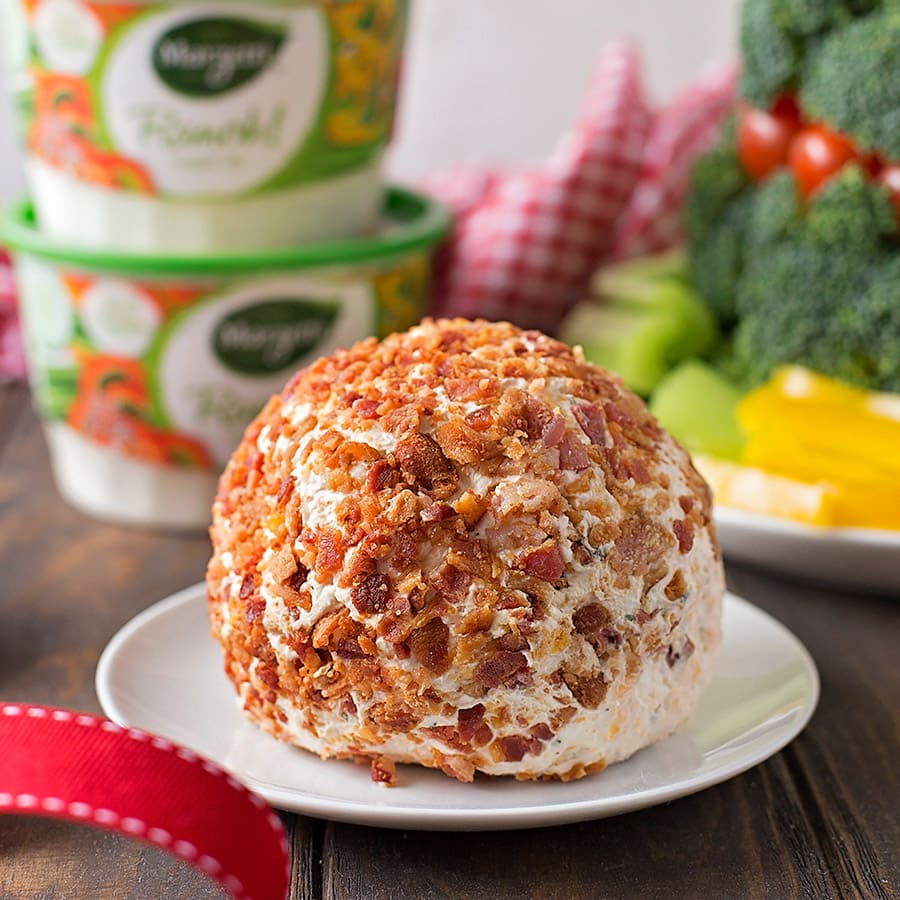 appetizers
Check out our complete list of Thanksgiving Appetizers.
Plan to serve 3-5 appetizers per person. If you only have 5-10 people coming, plan to serve 1-2 different appetizer dishes. Add another appetizer dish for every 5-8 people in attendance.
Bacon Ranch Cheese Ball – This Bacon Ranch Cheese ball is the perfect partner for your veggie tray! With cheese, bacon, and ranch flavors, you can do no wrong!
Caprese Kabobs – Simple, quick and delicious Caprese Kabobs take minutes to throw together and are perfect for any party or get together.
Spinach Dip Bites – Spinach Dip Bites are crunchy, bite-size treats are cheesy and buttery, making them a great appetizer. They are a hit every time!
Deviled Eggs – Nothing better than a smooth deviled egg appetizer! You'll be surprised with how easy these are to make. Tons of flavor, super delicious and perfect for parties and holidays.
Turkey Veggie Tray – The most festive vegetable tray you will ever make! Perfect for your Thanksgiving dinner with friends and family. Both kids and adults will be impressed!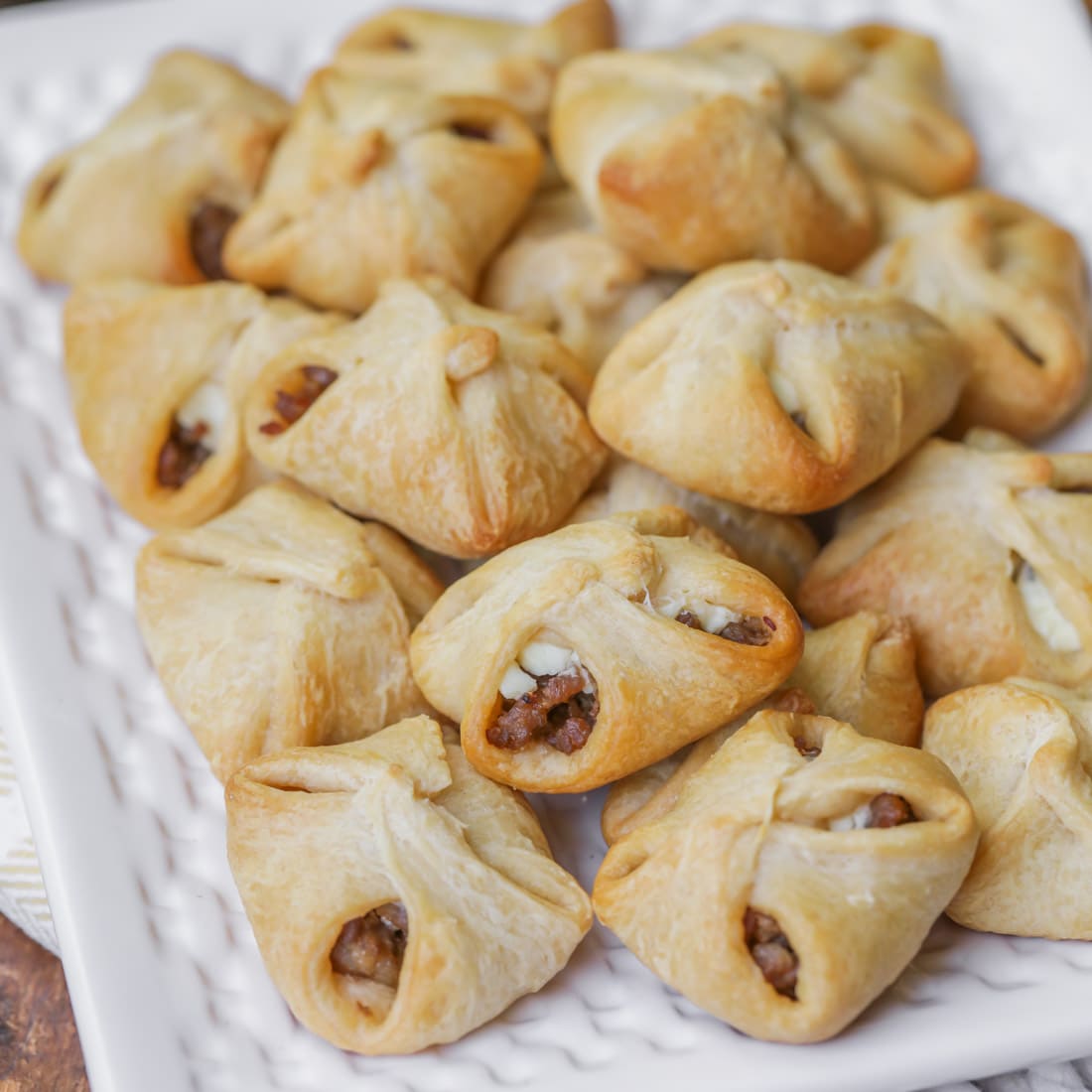 Sausage Cream Cheese Crescent Rolls – This simple 3-ingredient appetizer is great for parties and get togethers and is so full of flavor! Everyone will love these Sausage Cream Cheese Crescent Rolls.
Sweet Potato Skins – Crispy Sweet Potato Skins are a delicious buttery parmesan crusted appetizer. Whip these up for your next party!!
Spinach Artichoke Dip – This is the BEST Spinach Artichoke Dip recipe, and the ultimate dip for any get together! Filled with spinach, artichoke hearts, cheese, and more – this dip is sooo cheesy and perfect for any gathering!
Pull Apart Bread – This pull apart bread is a favorite appetizer. With cheese, butter and seasonings, there is cheesy, delicious goodness in every bite!
Charcuterie Board – We all love to graze during holidays and parties, and what better way to do it than with a Charcuterie board?! Customize with all your favorite meats, cheeses, crackers, veggies, fruits and dips!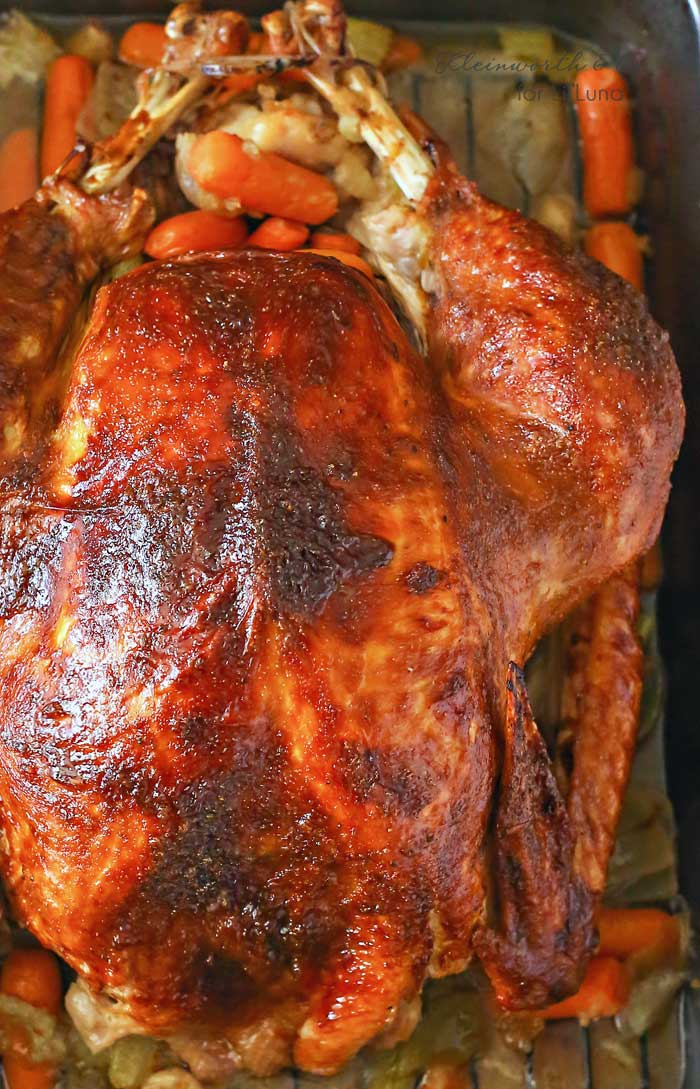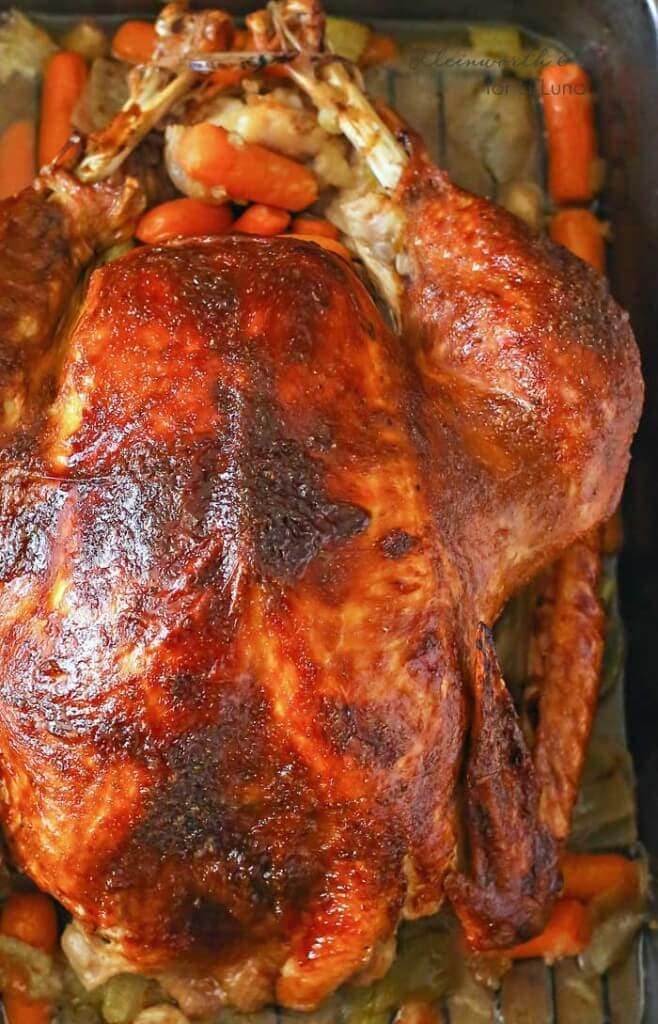 thanksgiving Main DISHes
Check out our complete list of Thanksgiving Main Dishes.
Turkey is usually the main dish served at Thanksgiving. Typically, plan to serve 1.25 lbs of turkey per person. Other recipes to remember include: Turkey Brine, Turkey Gravy (No Drippings), Turkey Gravy (with drippings).
If you do not like turkey, or you are planning to serve a crowd, you can most definitely choose a different protein to serve.
How To Roast A Turkey – How to Roast a Turkey – All the tips and tricks you'll need to make a turkey full of flavor. It's great for Thanksgiving but really for any holiday.
Steak Marinade – This is Our All-Time Favorite Steak Marinade. It requires only four ingredients, and makes our steak taste SO amazing!
Crock Pot Roast With Potatoes And Carrots – Tender, savory Crock Pot Roast with Potatoes and Carrots takes 15 minutes to prep and tastes absolutely amazing. It all cooks together in the crock pot for an easy and impressive dish.
Crockpot Brown Sugar Ham – This crock pot ham is made entirely in the slow cooker, which makes for quick prep time and minimal effort. With a deliciously sweet brown sugar glaze, it's our favorite way to make a holiday ham!
Slow Cooker Roast Chicken – Juicy and flavorful roasted chicken made in the slow cooker! So simple to make an entire chicken with the help of your crock pot.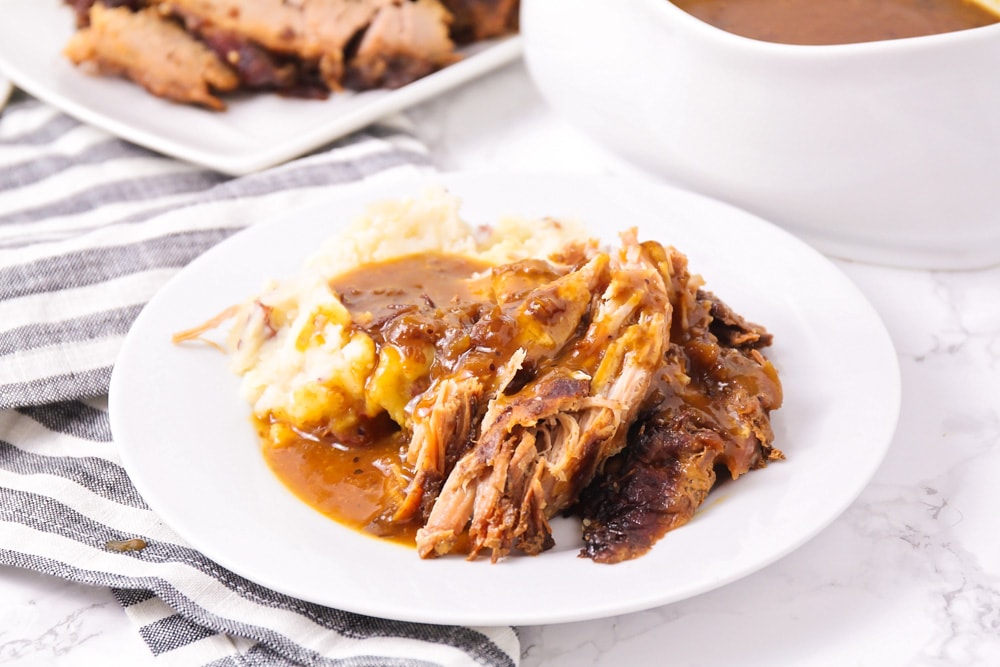 Pot Roast – This Crock Pot Roast Recipe is one of our favorite Sunday dinners. It takes only 3 minutes of prep time and then the slow cooker does the rest! The chuck roast ends up being SO tender and full of flavor from the brown gravy, Italian, and ranch dressing mix!
Creamy Swiss Chicken Bake – Delicious Creamy Swiss Chicken Bake – a simple and delicious dinner recipe that includes Swiss and Parmesan cheese.
Honey Glazed Ham – Simply place a spiral cut ham in the crock pot, cover with a 5-ingredient glaze, and 4 hours later you'll have a tender and juicy Honey Glazed Ham!
Garlic Prime Rib – Perfect prime rib, seasoned with garlic and cooked in the oven. A secret trick will give you the most tender and juicy meat you've ever made!
Slow Cooker Roast Chicken – Juicy and flavorful roasted chicken made in the slow cooker! So simple to make an entire chicken with the help of your crock pot.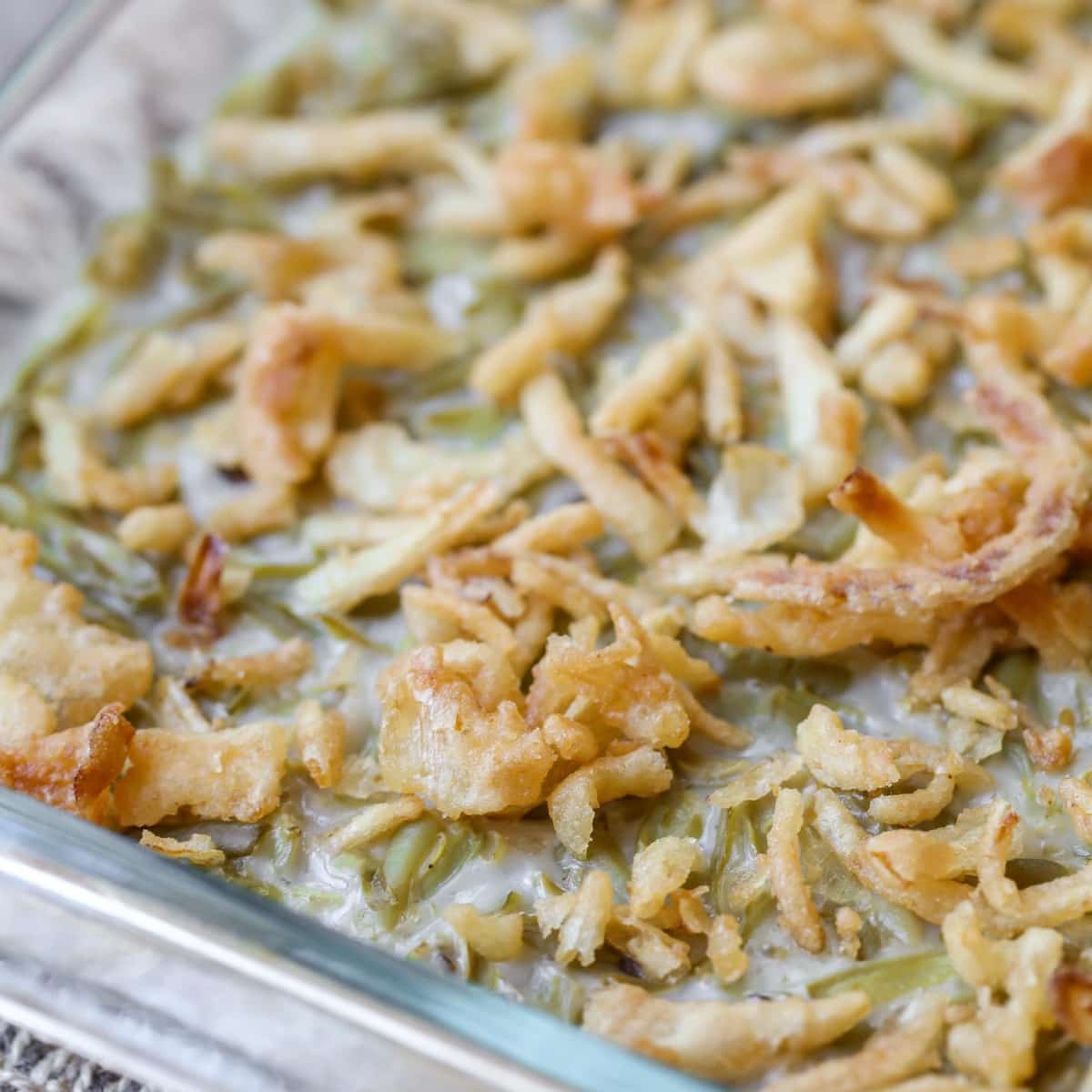 Sides
Check out our complete list of Thanksgiving Side Dishes.
Plan about 6 oz of potatoes per person, and 4 oz of veggies per person. For every 5-8 people attending, add another dish to the menu. Plan to serve 1.5 rolls per person.
Easy Green Bean Casserole – Green Bean Casserole is a classic side dish, especially at holiday meals! This savory casserole is simple, delicious and requires only 4 ingredients, which makes it the perfect addition to your holiday menu!
Homemade Dinner Rolls – These are our ALL-TIME FAVORITE dinner rolls! They are soft, butter-y and always the hit for any dinner or holiday get together. It's so hard to eat just one!
Homemade Mac And Cheese – The cheesiest, CREAMIEST homemade mac n cheese you'll ever make! Macaroni pasta covered in sharp cheddar cheese, melted into a warm cream sauce, and topped with a perfect panko crust. The whole family will definitely approve!
Best Mashed Potatoes – These Buttery smooth mashed potatoes are our Go-To potato side dish recipe for every dinner and holiday get together. They're everyone's favorite potatoes!
Traditional Homemade Stuffing – Would Thanksgiving be the same without stuffing?? This homemade stuffing recipe, made with sourdough bread, is exactly what you need to pair with your Thanksgiving turkey!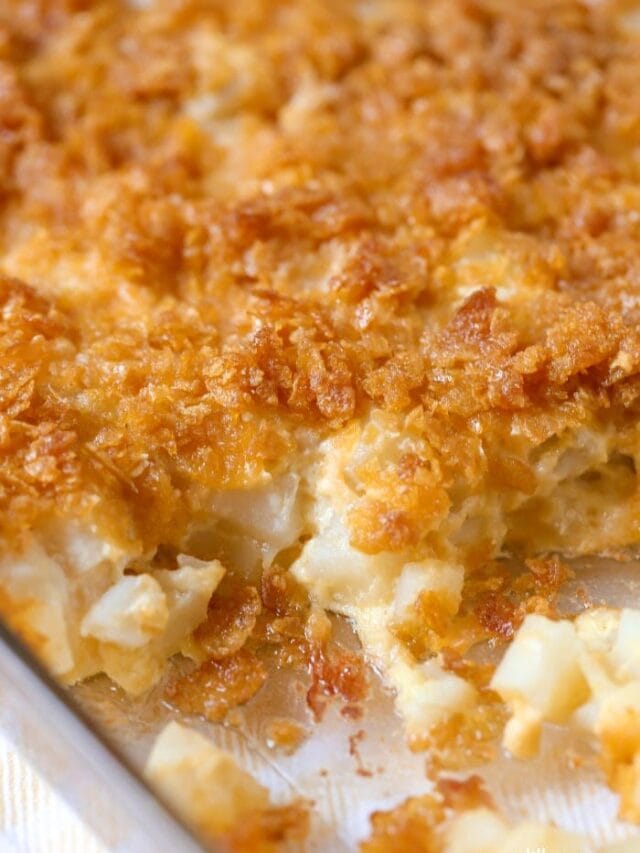 Funeral Potatoes – Family-favorite Funeral Potatoes casserole is creamy, cheesy, and crispy on top. It's perfect for dinners and holidays!
Easy Sweet Potato Casserole – Delicious Sweet Potato Casserole which is great for holidays and family meals! These creamy sweet potatoes are topped with a butter-y, brown sugar and pecan topping making them irresistible.
Potato Rolls – Potato rolls are soft, chewy and buttery. The mashed potatoes make the rolls very pillow-y and add that little extra something to make them melt in your mouth!
Sweet Potato Casserole With Marshmallows – Classic sweet potato casserole with a sweet pecan streusel and toasted melty marshmallows on top.
Cornbread Stuffing – Savory cornbread stuffing is the perfect side dish, especially for holiday meals! The texture is perfect and the flavor is delicious!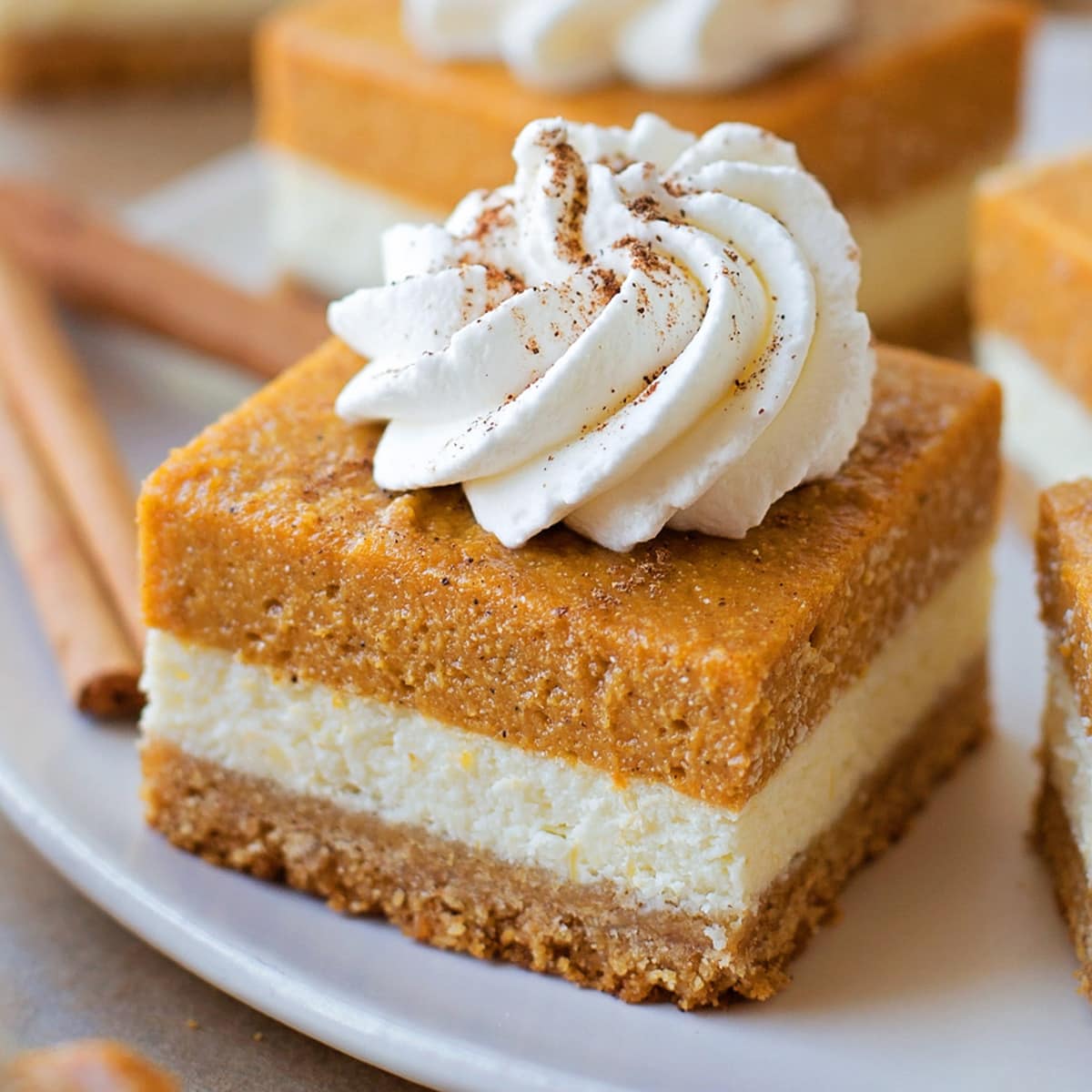 desserts
Check out the complete list of Thanksgiving Desserts.
A 9 inch pie can serve 6-8 people. Plan to have enough desserts for people to have 2 servings. Although pie is the most common dessert for Thanksgiving, there's nothing wrong with serving other desserts—especially ones with seasonal flavors, like pumpkin!
Pumpkin Cheesecake Bars – These Pumpkin Cheesecake Bars have so many delicious layers, including a graham cracker crust, cheesecake layer and pumpkin layer. They're full of fall spices and are sure to impress at any holiday gathering.
Oreo Turkeys – These adorable Oreo Turkeys are chocolate dipped oreos with candy melts as feathers, candy eyes and a butterscotch chip beak. Kids love these!
Double Layer Pumpkin Cheesecake – Oreo crust, two layers of cheesecake (one plain and one with pumpkin puree), whipped cream, and chocolate ganache! Everything about this chocolate pumpkin cheesecake is heavenly.
Pumpkin Brownies – The yummiest Pumpkin Brownies you will ever taste! Pumpkin, chocolate, and spices unite to make one pan of deliciousness that will sure to satisfy anyone's pumpkin addiction.
Homemade Pumpkin Pie – Not only is this pumpkin pie incredibly easy – it's the most moist, flavorful, all around perfect pumpkin pie! Made from canned pumpkin, seasonal spices, and evaporated milk, this pie is a must have dessert during the holidays.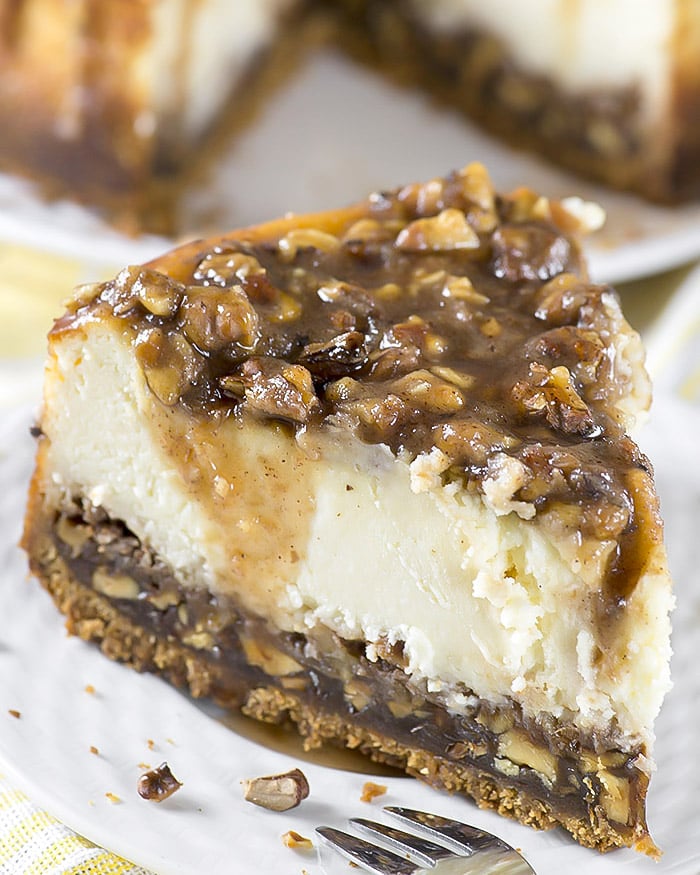 Pecan Pie Cheesecake – Pecan Pie Cheesecake has a wafers crust, pecan pie filling, cheesecake layer and buttery, caramel-pecan topping. It is perfectly indulgent!!
Best Apple Pie – There's nothing like a slice of warm apple pie served with vanilla ice cream! This recipe for Homemade Apple Pie has proven to be the BEST apple pie recipe around. With a flaky, buttery crust made from scratch, and a gooey, sweet apple filling, this pie will not disappoint!
Pecan Pie – Buttery, nutty, ooey gooey pecan pie is SO easy to make and only requires a handful of ingredients. It's a classic that is perfect all year!!
Pumpkin Delight Dessert – Pumpkin Delight starts with a crunchy pecan crust topped with light and fluffy pumpkin and whipped cream. It's heavenly!
Pumpkin Lasagna – This Pumpkin Lasagna dessert is stacked with the most delicious layers – a Pumpkin Oreo crust, cream cheese layer, pumpkin pudding layer, and topped off with cream and white chocolate curls.
---
HOW DO YOU LIKE YOUR THANKSGIVING TURKEY?
Do you like it fried? Baked? With Gravy? Without?
No matter how you like it, we wanted to share our go-to Thanksgiving Turkey Recipe.
This herb-glazed turkey is simple and is the perfect recipe for the big day.
It's the perfect recipe to add to this list of Thanksgiving Dinner Ideas!
---
the complete list
Here are the picture cards for all of the fabulous Thanksgiving Dinner Ideas listed above.
When it comes to food Thanksgiving is the perfect holiday for serving your very best, and these recipes are all sure to impress!
---
We hope you enjoy these Thanksgiving Dinner Ideas!!
MORE COLLECTIONS: Easy Leftover Turkey Recipes, Holiday Drink Recipes, Crock Pot Side Dishes