Tender flavorful meatloaf that the whole family will devour! This meatloaf recipe is super simple- making it perfect for all levels of cooks in the kitchen.
Meatloaf is such a classic dinner recipe from everyone's childhood! It's one of our favorite ways to use ground beef aside from homemade meatballs and goulash.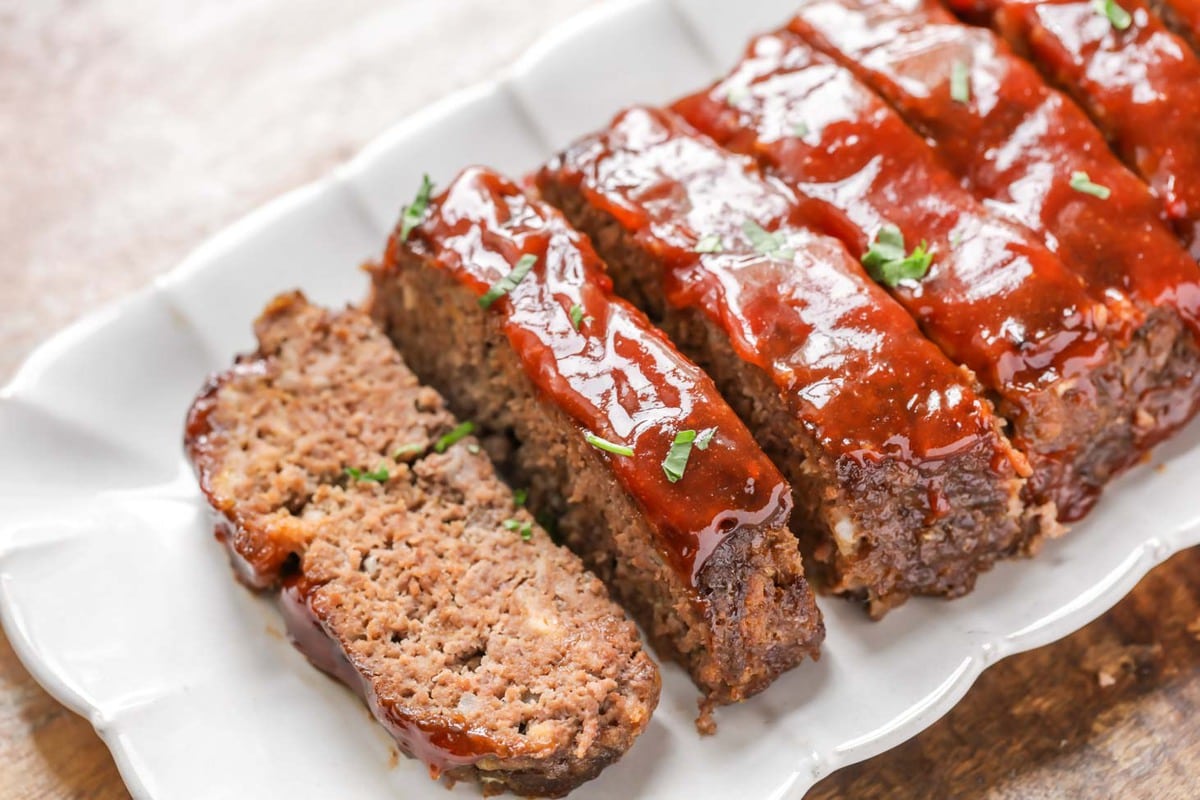 Mom's Classic Recipe
Meatloaf is the all-American recipe of food. It's a classic comfort food that never goes out of style for dinnertime. This is my mom's famous recipe that I have loved all my life. I can't remember a time in my life that we didn't have this meatloaf recipe because it has always been a Sunday staple.
When my mom would cook up meatloaf, we could smell it's tasty aroma throughout the house! This recipe has a soft spot in my heart and I'll always love it.
We know there are so many variations for this recipe, and this can be changed up based on the spices you like most or if you prefer regular bread crumbs, but we love this version.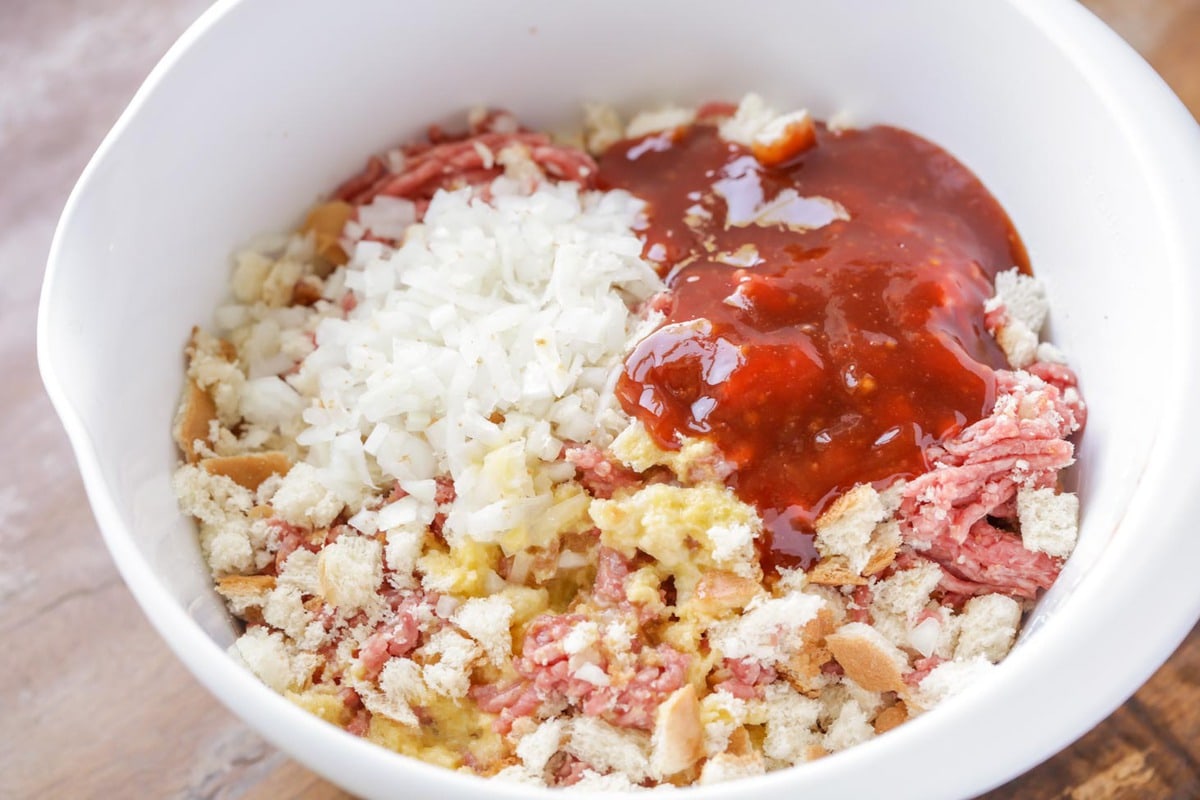 How to Make Meatloaf
This meatloaf is the easiest dinner recipe ever. Basically it consists of combining everything together in a bowl, baking it up, and topping it with the glaze! So simple that even your kids can get in on the cooking fun.
PREP. Start by grabbing all of your ingredients and prepping everything before you start. That will make it even easier to make.
FORM LOAF. Add all of the meatloaf ingredients and half of the ketchup sauce to a bowl, and mix until well combined. One of the tips I always tell people is to not handle the ground beef mixture too much. Over-mixing can cause the meatloaf to turn out tough and dense. Form into a loaf and place in a baking dish.
BAKE. Bake for 1 hour at 350 degrees. Pull out of the oven and top the loaf with remaining ketchup sauce, then bake for an additional 10 minutes.
SERVE. Before you slice into that perfectly baked meatloaf, make sure to let it rest for a few minutes so that it can absorb all of the juices.
Tip: I like to keep the juices from the pan so that I can pour it over the top of my meatloaf after it's done baking. This makes it even more moist and juicy.
Modifications
You can switch up the flavors in this recipe to give it some variation. Try any of the following:
Try adding some Mexican spices to give it a more Tex-Mex taste.
Instead of using ground beef, try using ground pork or ground turkey.
You could also try using dried uncooked lentils for a vegetarian meatloaf.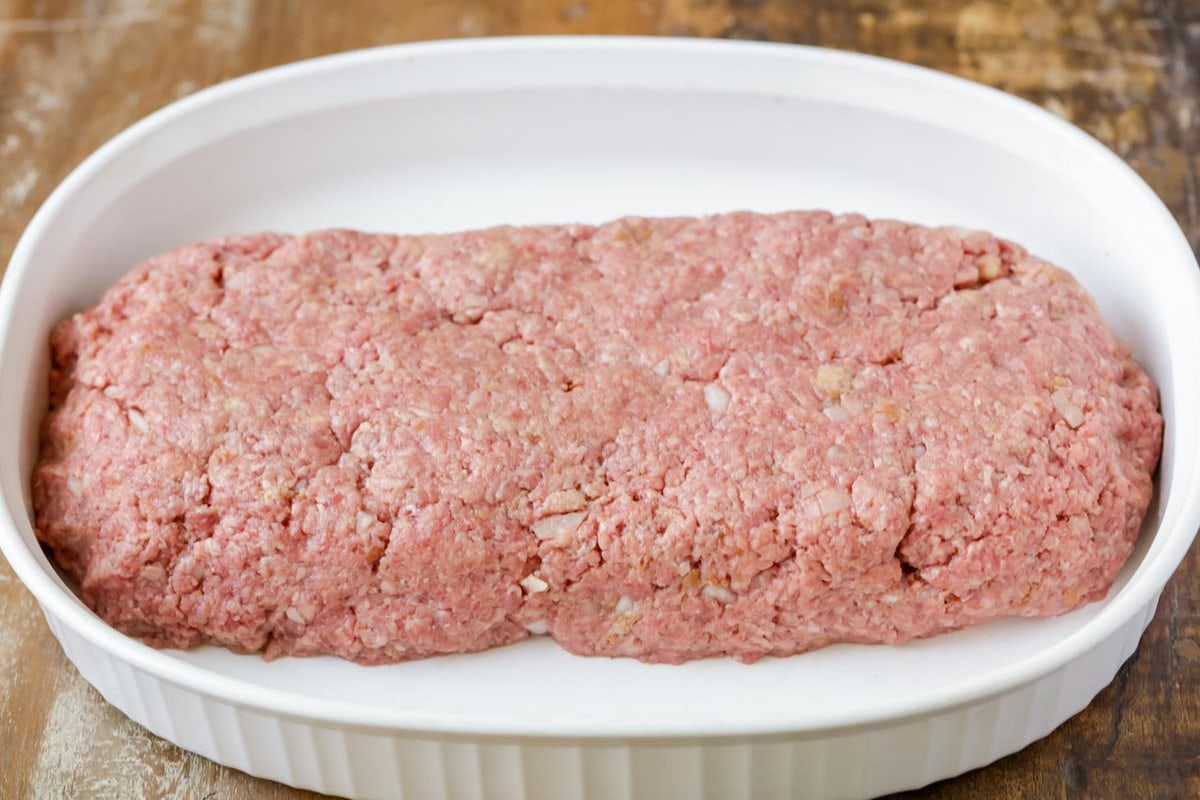 homemade Sauce/glaze
Do not forget to make the sauce that goes over the top of your meatloaf. It adds tons of flavor that you definitely want for this recipe. The steps are really simple.
Combine the ½ cup of ketchup, ⅓ cup of brown sugar, 1 tbsp lemon juice, and 1 tsp dry mustard in a small bowl. Mix everything until smooth.
You'll add ½ of the sauce to the mixture of the meatloaf before it's cooked. Then you'll add the rest of the sauce to the top of the meatloaf after it's cooked.
Then bake the meatloaf with the sauce on top for another 10 minutes before serving and eating.
Leftovers are just as good!
STORING. Store any leftover meatloaf in an airtight container in the fridge. It should last up to 3 or 4 days when kept in the fridge.
FREEZING. If you'd rather freeze your meatloaf to eat at another time or make ahead- wrap it tightly in freezer wrap and keep it in a freezer-safe bag. It will keep its quality of taste if kept in the freezer for 3 to 4 months.
REHEATING. You can reheat individual portions in the microwave, or you can put large portions in the oven. Preheat the oven to a low temperature (220°-240°F) and place loaf in a casserole dish with any remaining juices to help retain moisture. Cover with foil and bake until heated through.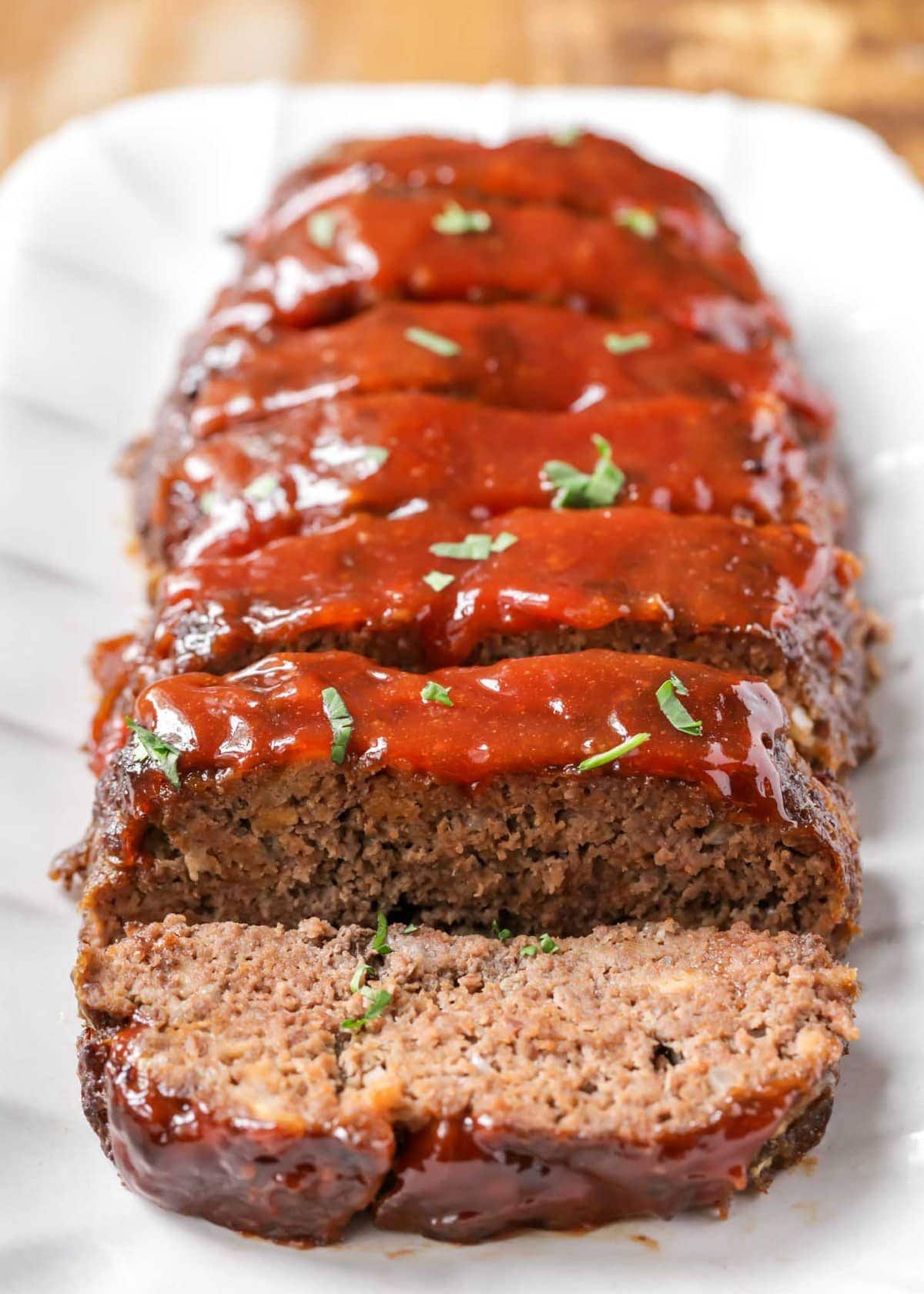 I just know you're going to LOVE this classic meatloaf recipe. Just like Mom made it. 
One of the many things that is great about meatloaf is that you can serve it with tons of different side dishes.
Meatloaf side ideas:
Easy Meatloaf Recipe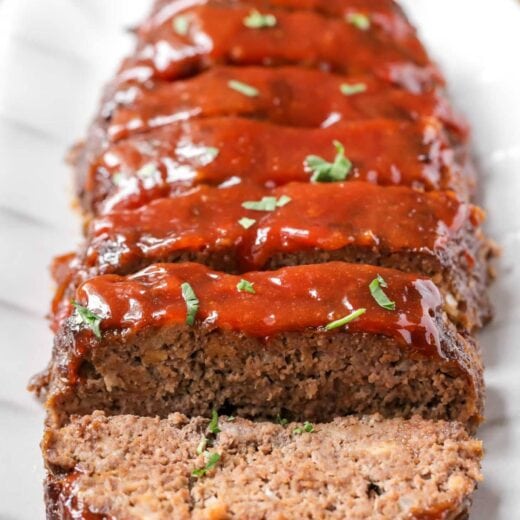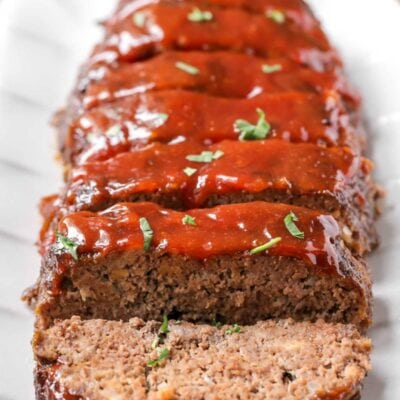 Tender flavorful meatloaf that the whole family will devour! This meatloaf recipe is super simple- making it perfect for all levels of cooks in the kitchen.
Ingredients
ketchup mixture
1/2

cup

ketchup

1/3

cup

brown sugar

4

tbsp

lemon juice

1

tsp

dry mustard
meatloaf
2

pounds

ground beef

lean

4

bread slices

crumbled

1/4

cup

onion

diced

1

egg

beaten

1

beef bouillon cube

crushed
Instructions
Combine ketchup, brown sugar, 1 tbsp lemon juice and dry mustard in a small bowl and mix until smooth.

Combine ground beef, shredded bread crumbs, onion, eggs, bouillon cube and remaining lemon juice in a large bowl. Add ½ cup of the ketchup mixture and mix until well combined. Form meat into a loaf and place in a casserole dish.

Bake for 1 hour. Drain fat from dish, then top with remaining ketchup mixture and bake an additional 10 minutes.