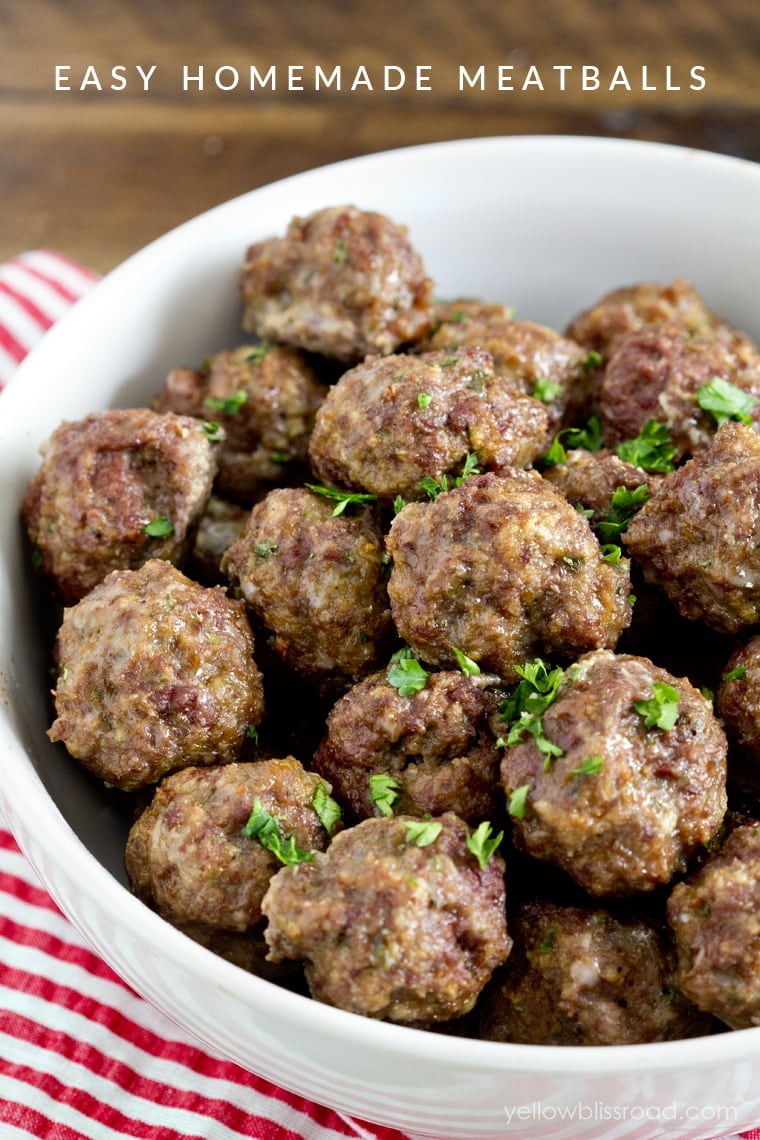 I'm Kristin from Yellow Bliss Road and today I've got a delicious and super easy Meatball recipe to share with you. You can make as many as you like and freeze them so you always have meatballs ready – you'll never eat store bought again!
Until about a year ago, I had always been a little intimidated of making meatballs at home, because for some reason I talked myself into believing they were super complicated or difficult. Little did I know just how incredibly easy they really are! If you don't mind getting your hands a little dirty, you to can make homemade meatballs in just minutes. The key is not to overwork the meat, which is why mixing with your hands is so important. It's fun, and it's a perfect recipe to get kids involved in. My son loves making meatballs, like he did for our Turkey Meatball Soup.
MY OTHER RECIPES
To ensure that they cook evenly, I use a cookie scoop to divide the meat into balls, then place them fairly close together on a foil lined cookie sheet. They can be even closer together than this, as long as they're not touching.
There are so many different meatball recipes out there, it's hard to know which is best. But this recipe has proven time and time again to be my family's favorite. The recipe makes about 50 meatballs and they freeze beautifully. Just let them cool completely on the baking sheet then place them into a freezer bag and store them in your freezer. When your recipe calls for meatballs, you'll have them readily on hand. Defrost them in your fridge, or put the frozen meatballs right into a soup or sauce. *Note, for cream based sauces, defrost the meatballs completely before adding.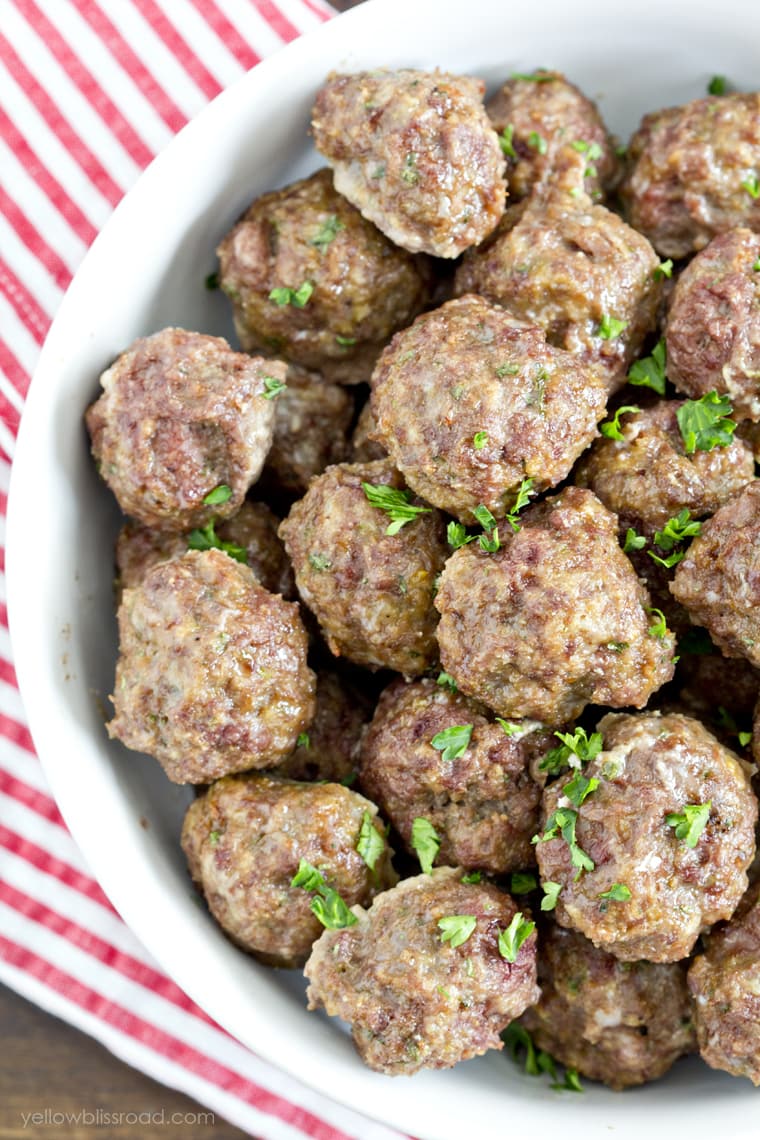 For more meatball recipes, check out:
Easy Meatball Recipe:
Easy Homemade Meatballs
Easy & Delicious Homemade Meatballs recipe - Way better than store bought and easy too! Ground beef mixed with parmesan cheese, salt, pepper, onion and garlic powder, milk, and eggs. These are perfect alone or mixed in with pasta!
Author:
Kristin | Yellow Bliss Road
Recipe type:
Dinner/Main Course
Ingredients
2 pounds ground beef (I use 85/15)
2 eggs
1 cup milk
2 tablespoons grated parmesan cheese
½ cup plain breadcrumbs
1 teaspoon garlic powder
1 teaspoon onion powder
1 teaspoon kosher salt
½ teaspoon black pepper
Instructions
Preheat oven to 450 degrees F. Line 2 rimmed baking sheets (baking pans will work if you don't have rimmed cookie sheets) with foil and set aside.
Place all ingredients into a large bowl and gently mix together with your hands, careful not to overmix. Just squish it all together a few times to combine.
Using a cookie scoop or your hands, divide meat mixture into desired size meatballs. As long as they are uniform, they can be as large or small as you like.
Bake in the preheated oven for 10-14 minutes, depending on the size. Be sure to check for doneness. Serve hot with your favorite sauce.
TO FREEZE: Allow meatballs to cool completely on the baking sheets. Once cool, scrape the fat away from the meatballs and seal tightly in a freezer safe bag or air tight container and place in the freezer.
—————————————
These look sooooo good. I can already think of a handful of recipes I'd love to try these homemade meatballs in! Thank you for sharing this recipe with us Kristin!! Head over to Yellow Bliss Road to see more of her amazing recipes!