Swedish meatballs cooked to perfection and covered in creamy gravy. You will love this classic comfort food that is perfect for holiday entertaining.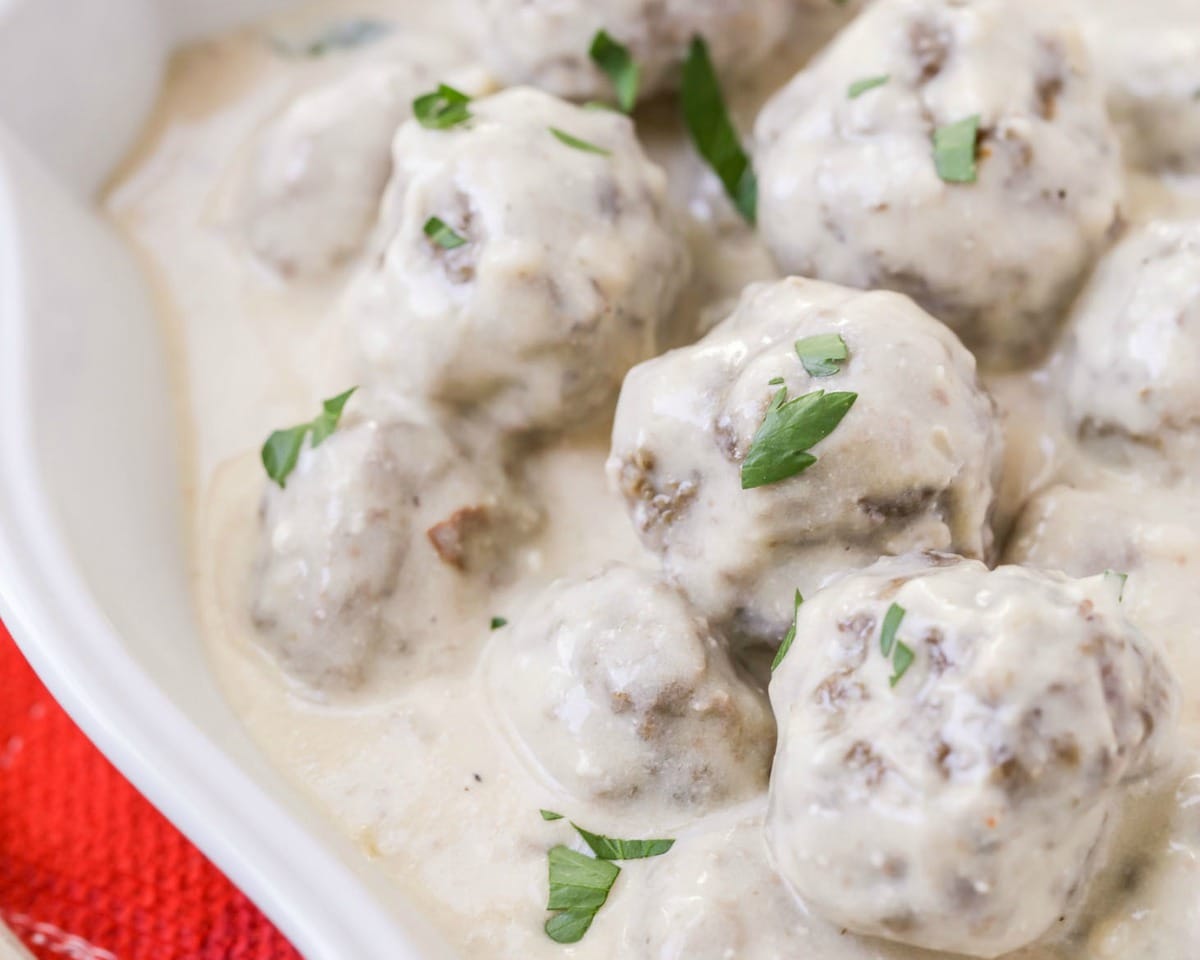 Easy Swedish Meatballs
The flavor of these Swedish meatballs is so incredibly delicious. Being Swedish on my husband's side, these have become a main dish served every Christmas.
The meatballs are classically prepared with yummy breadcrumbs and spices. They are baked in the oven which holds in all the flavor. Your whole household will LOVE this recipe. And don't even get me started on the sauce for the meatballs. It's comforting, creamy, and just downright tasty.
There is no wrong way to eat Swedish meatballs. You can definitely just eat them on their own with the sauce. With a scoop of mashed potatoes on the side or some roasted vegetables. I even like to serve mine over pasta. Anyway you eat them, they will taste amazing. This recipe is a home run!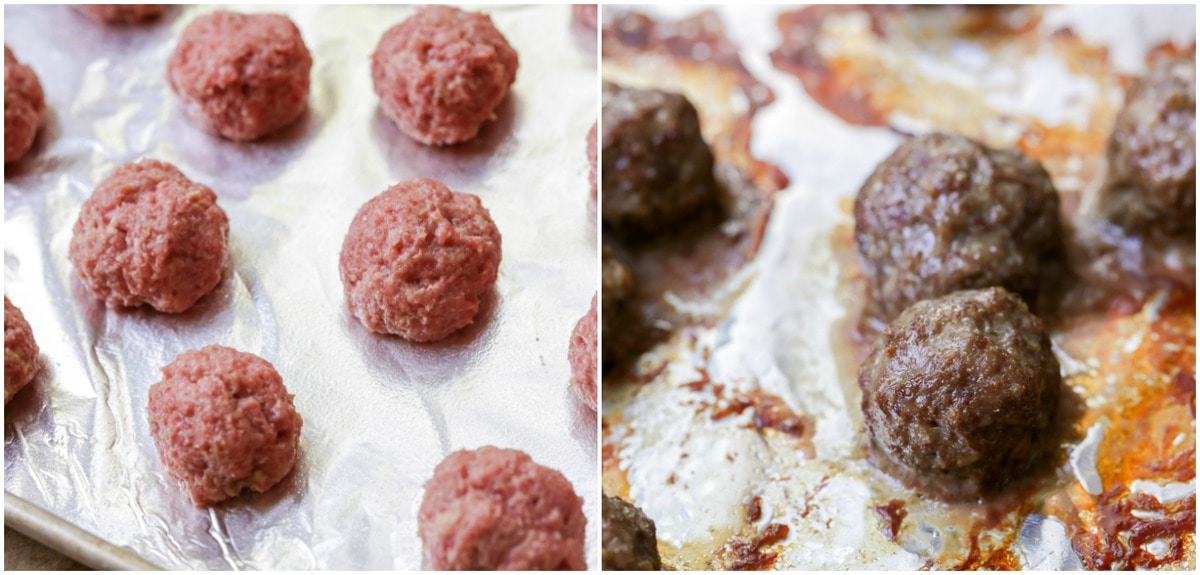 How to Make Swedish Meatballs
These easy Swedish meatballs are just that – simple!
Combine the breadcrumbs and milk and let the breadcrumbs sit in the milk for a minute to soak it all up. Mix in the ground beef and ground pork. I like to use both beef and pork but you could just do one or the other (Or even ground turkey – whatever you prefer)!
Mix in the rest of the ingredients and stir to combine. Shape the mixture into 2 inch wide meatballs. Line a jellyroll pan with tinfoil and spray with a little cooking spray. Set the shaped meatballs onto the pan and bake fro 40-45 minutes at 350 degrees. While the meatballs are baking, turn them a few times to cook evenly throughout.
Now it's time to make the gravy!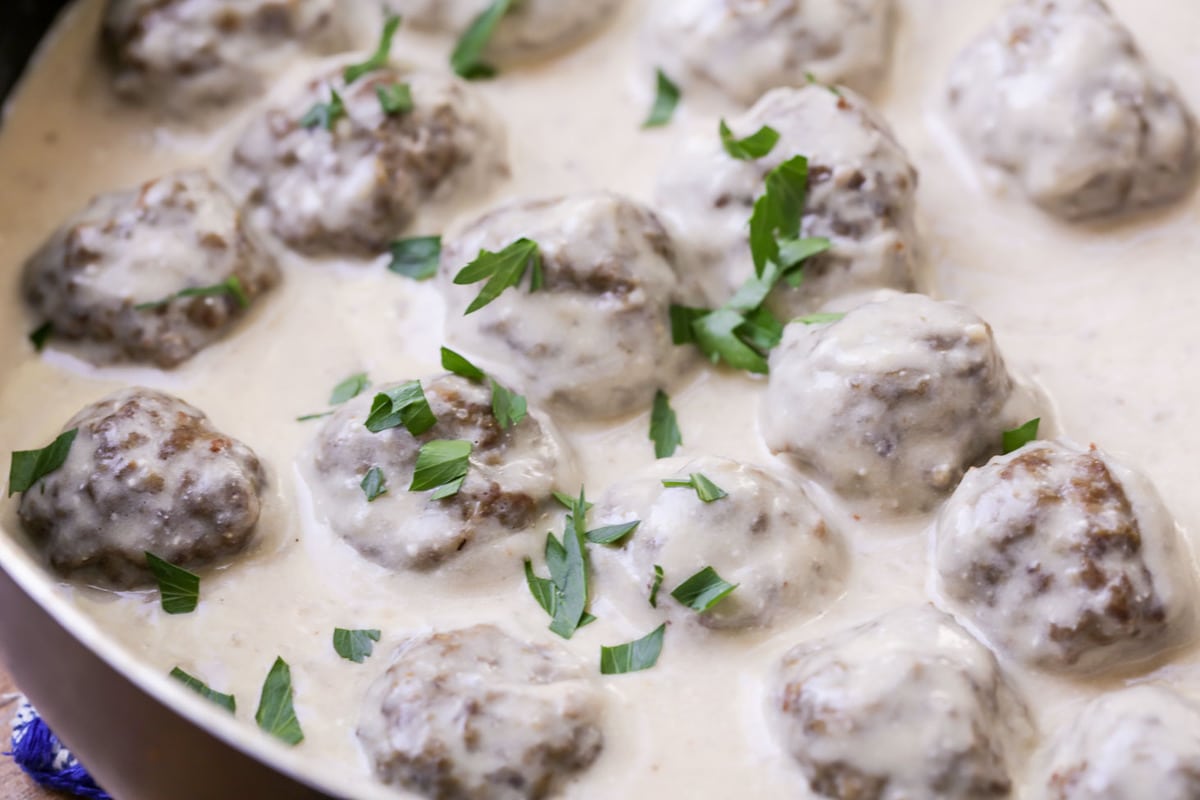 Swedish Meatball Sauce
When the meatballs are done baking, transfer them to a plate to rest. Pour the meatball drippings from the pan into a saucepan over the stove. Whisk the flour into the pan drippings over medium heat. Whisk until smooth. Pour in the beef broth and whisk.
Bring this mixture to a simmer over medium heat while whisking constantly. You want the gravy to get nice and thick which will take about 5 minutes of whisking at a simmer. Whisk in the sour cream and salt and pepper to taste!
Add the meatballs into the gravy and mix to coat the meatballs. Serve in a large serving dish with your favorite sides. Sprinkle parsley on top to add a little color.
Can Swedish Meatballs be made ahead? The meatball part of this recipe can totally be made ahead of time! You can prepare the meatballs unbaked and keep them in the fridge in an airtight container for up to one day ahead of time. Just pop them into the oven the next day. The gravy is best when you make it right before you want to serve the meatballs.
Can Swedish Meatballs be frozen? Flour-based sauces do not usually freeze well so I do not recommend freezing the gravy of these Swedish meatballs. It tastes best when freshly made. You can freeze the meatballs baked or unbaked and they can stay in the freezer for up to 3 months.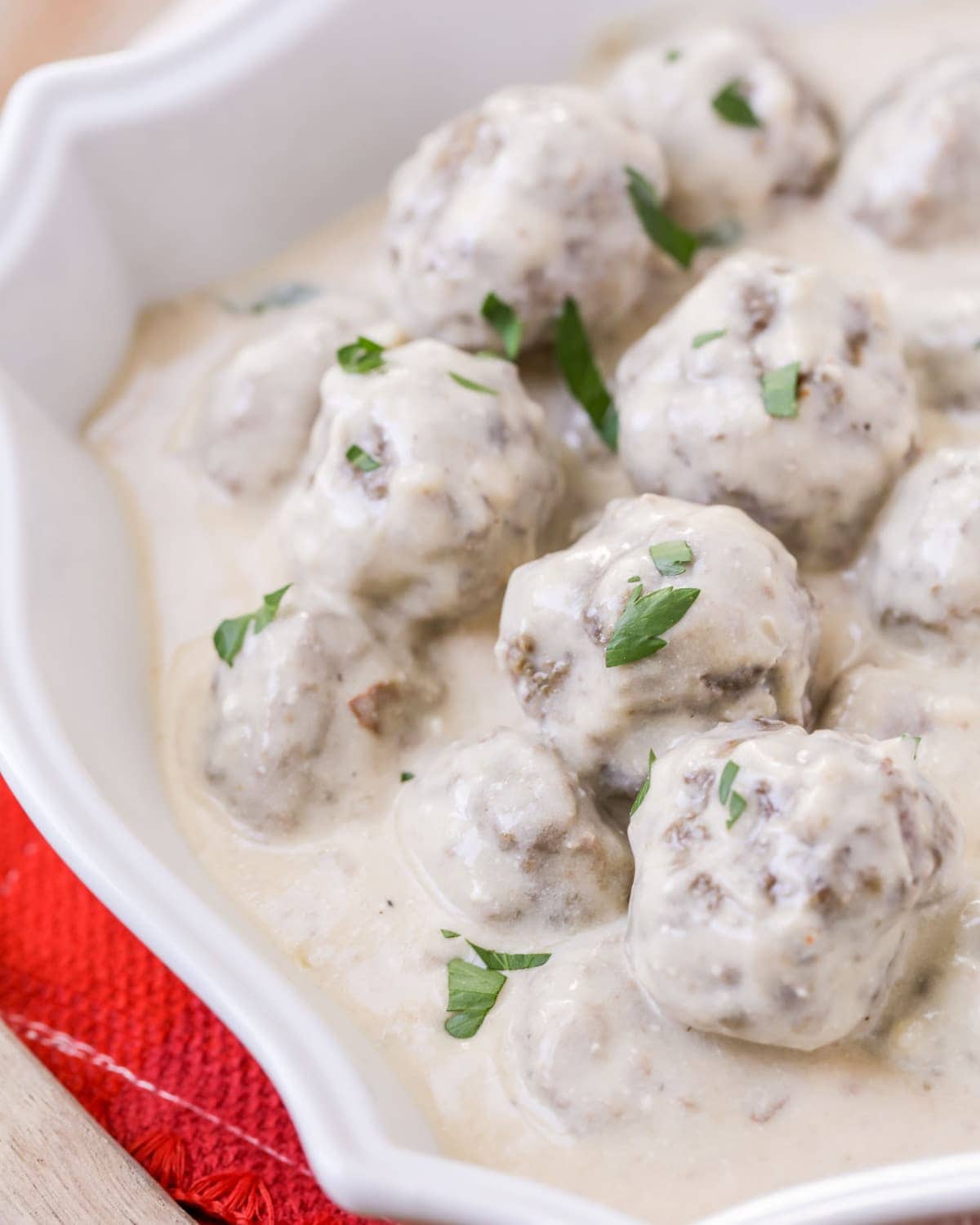 Swedish Meatballs for Holidays
Needing a good dish to make for the holidays? Swedish meatballs are perfect for feeding big crowds. You can double or triple this recipe to fit your needs. Just keep these numbers in mind:
Each person will need about 4-6 meatballs depending on their appetite so just plan accordingly.
To feed 9 – 10 people – double this recipe
For 13-15 people – triple this recipe
To feed 18-20 people – quadruple this recipe
I love easy and YUMMY recipes that can be made for a gathering of friends and family. There is nothing better than eating good food with good people.
Complete the meal by also making:
For other meats perfect for the holidays, check out: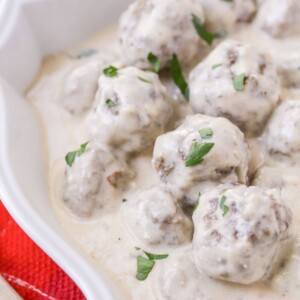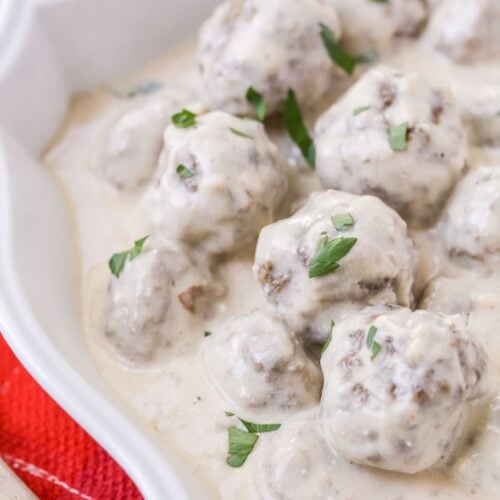 Swedish Meatballs Recipe
Swedish meatballs cooked to perfection and covered in creamy gravy. You will love this classic comfort food that is perfect for holiday entertaining.
Ingredients
1/2

lb

ground beef

1/2

lb

ground pork

1/2

cup

bread crumbs

3/4-1

cup

milk

1

egg

2

TB

onion powder

1

tsp

salt

1/4

tsp

white pepper
Gravy
3

TB

all purpose flour

as needed

2

cups

beef broth

as needed

4

oz

sour cream
Instructions
Soak bread crumbs in milk. Mix in remaining ingredients and stir to combine. Shape mixture into small balls, about 2" wide. Place on a jelly roll pan, lined with tin foil. Bake at 350 for 45-50 minutes, turn several times during baking.

Gravy
Pour drippings from jelly pan into a saucepan. Over medium heat, whisk the flour into the pan drippings until smooth. Gradually whisk in enough broth to total about 2 1/2 cups of liquid. Bring to a simmer, whisking constantly until thick, about 5 minutes. Just before serving, whisk in your sour cream. Season with salt and pepper to taste. Add meatballs and serve.