This Homemade Swedish Pancakes recipe makes the softest, most delicious pancakes. Add a sweet or savory filling!
Swedish Pancakes aren't your typical pancakes. They can be made into a sweet breakfast or dessert, or even a savory dinner idea! If you're looking for classic pancakes, try these Buttermilk Pancakes.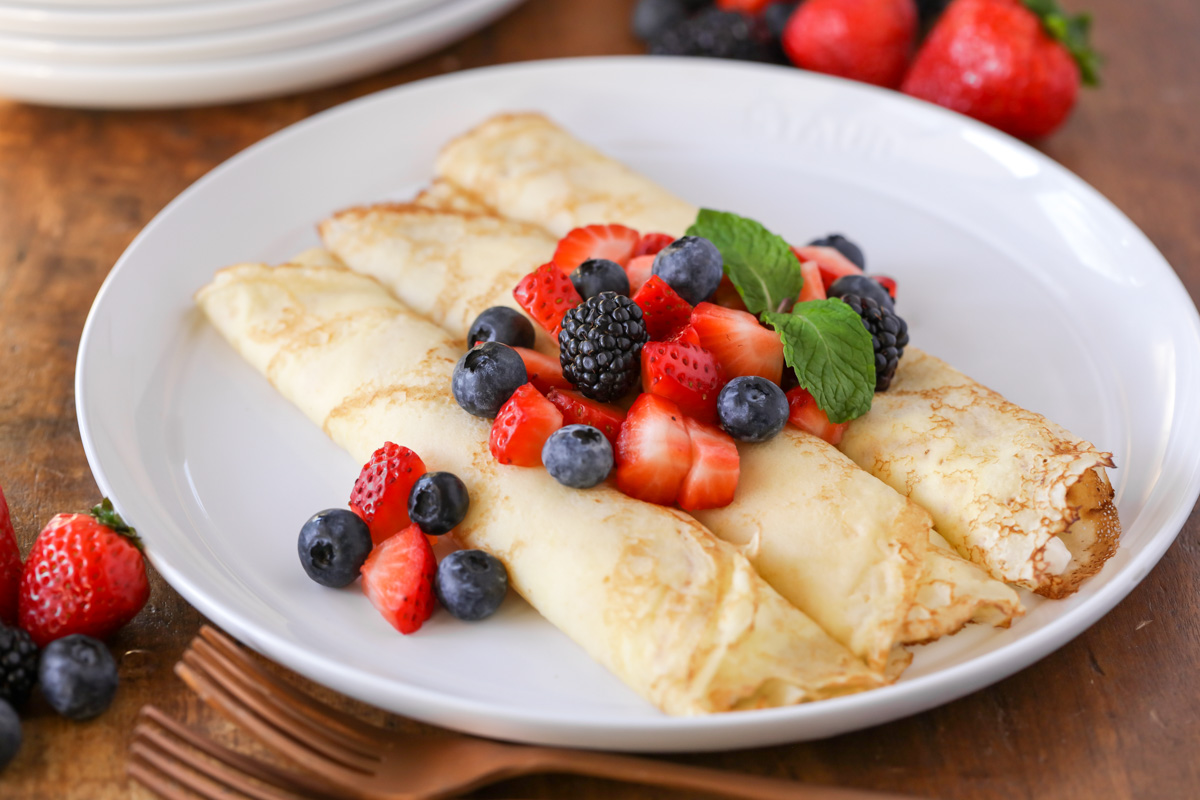 Grandma Johnson's Swedish Pancakes
Have you guys ever tried Swedish pancakes before?
Let me preface by saying we are NOT talking about crepes. These are Swedish Pancakes. I learned there is a BIG difference when I married into a Swede family (in fact this is my hubby's Great-Grandma Johnson's recipe).
What is the difference between a crepe and a Swedish pancake? Visually it can be difficult to tell the difference, but once you take a bite it's very apparent. Crepes are more dense and chewy due to more flour, fewer eggs, and no butter. Swedish pancakes are lighter and fluffier by using less flour, more eggs, and butter.
American pancakes have more flour than milk and use a leavening agent like baking soda or baking powder. Swedish pancakes are thinner because they use more milk than flour and don't use a leavening agent at all.
We have these for dinner all the time (not just breakfast), and they are so good, especially with the Buttermilk Syrup Recipe!
I admit they take a little practice at first to get them that perfect golden color, but after a few tries and seeing how easy they cook, you'll have this Swedish Pancake recipe down in no time.
Any way you have them (sweet or savory), they are sure to be a hit!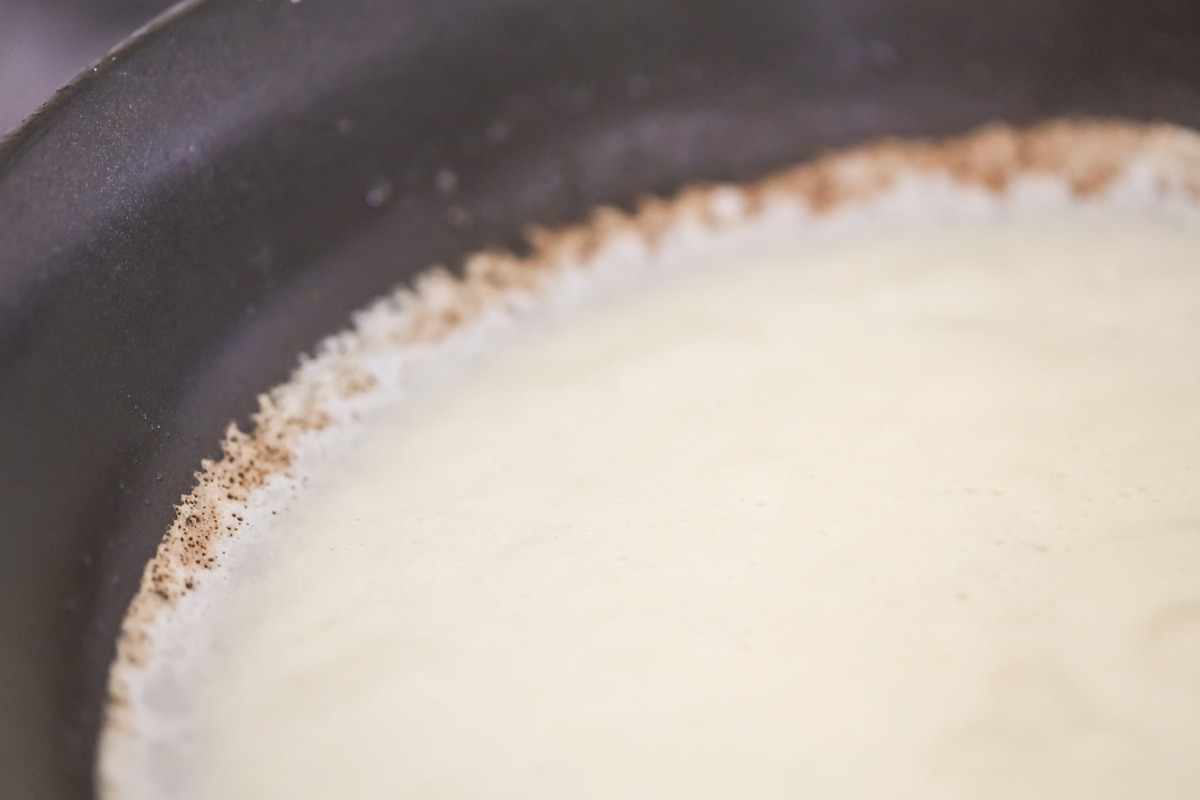 How to Make Swedish Pancakes
The whole family loves this Swedish Pancakes recipe so much that we usually double (or even triple the mix). Yes, it's true – each kid usually has at least 3-4 pancakes.
They're thin and delicious, so we can't blame them. They may take a little practice, but once you have them done, you'll be making them ALL the time!
BATTER. Beat eggs and add about ¼ cup milk. Add some flour with the salt and sugar. Mix in a bowl with beaters or in the blender. Add melted butter and more milk. Mix in the rest of the flour and milk; mix well.
COOK. Wipe the griddle with some butter or oil when it is hot. Pour a thin layer of batter into the pan and move the pan until the batter is spread all over. When edges are bubbled and browned, it's ready to flip.
SERVE. Serve warm and add any desired toppings.
What pan to use
For larger Swedish Pancakes, simply use an 8-10-inch pan with a flat bottom and shallow sides so they are easier to flip.
For smaller pancakes use a Plett (a frying pan with several round grooves, often 3 inches in diameter). You can make several small Swedish pancakes at one time.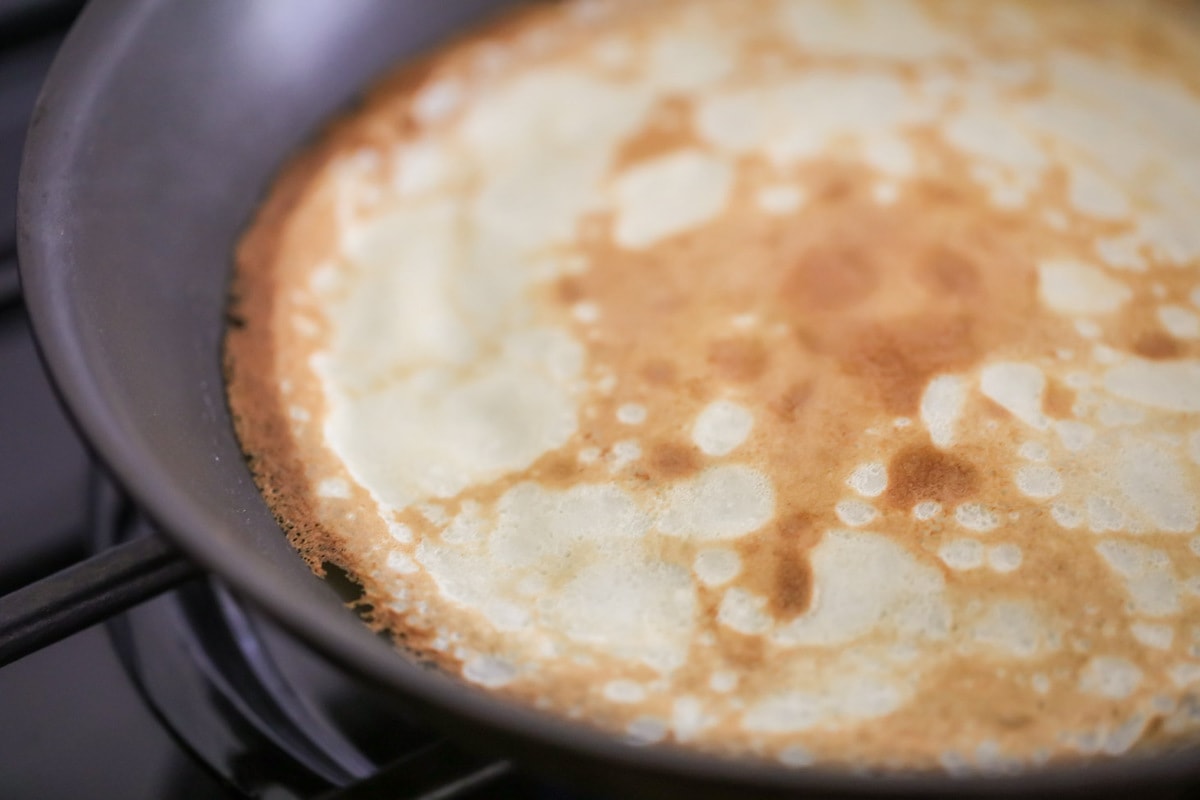 Swedish pancake recipe toppings
Syrup. In our home, Swedish Pancakes can't be made without some Homemade Buttermilk Syrup or maple syrup. It's our absolute favorite, and if you've had it before you know why. It's DELICIOUS!!
We even like to add some cinnamon at times to create a Cinnamon Buttermilk Syrup. This syrup is easy to make and only takes a few minutes.
Fruit. Fresh fruit is a great topping. We love to add fresh berries like lingonberries, strawberries, blueberries, raspberries, and blackberries. Another filling we love is our Berry Cheesecake Filling.
Ice cream. We've also added Ice Cream and Whipped Topping to the middle of the Swedish Pancakes, making an amazing dessert!!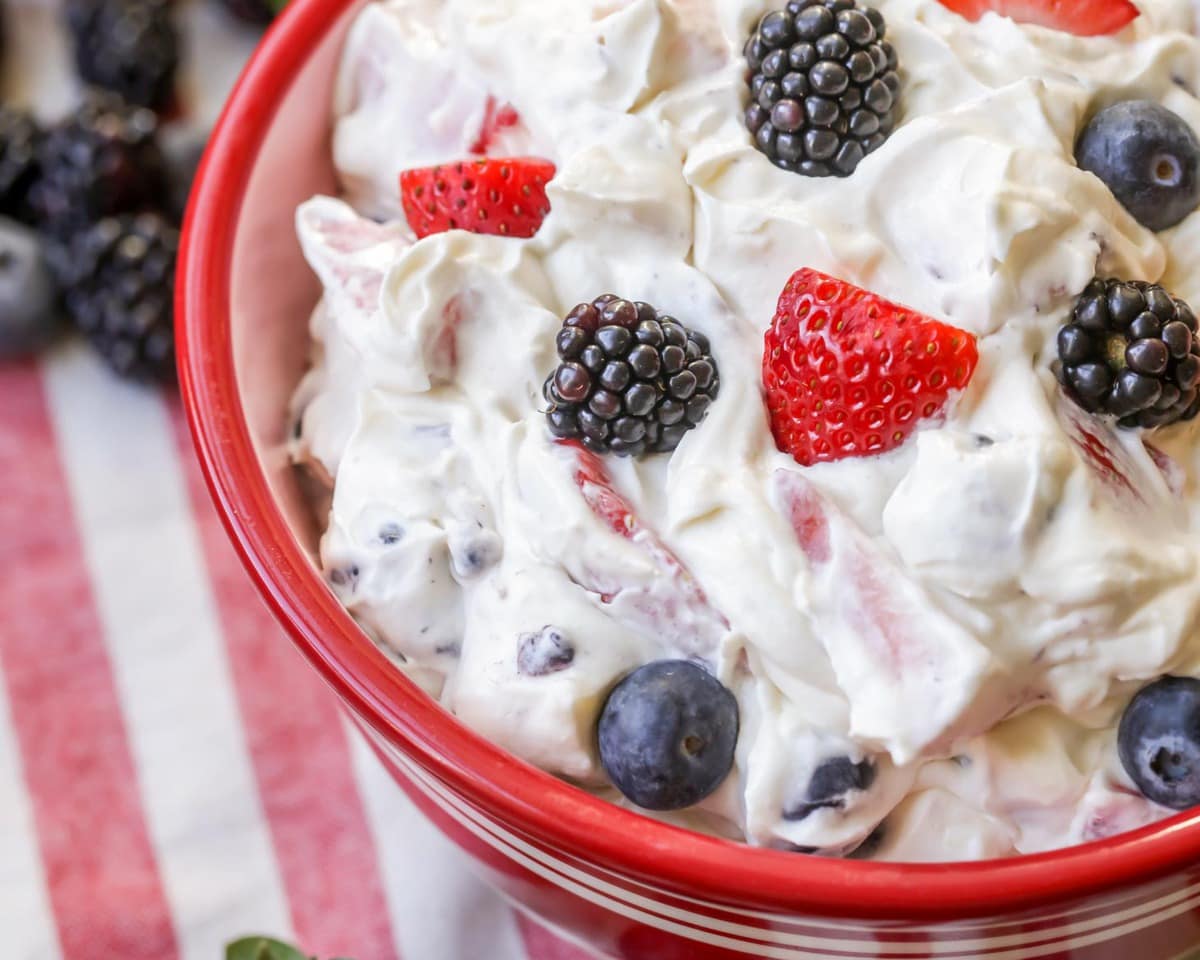 filling combinations
So many options, and it just depends on whether you're in the mood for sweet or savory!!
SAVORY:
Sauteed steak, spinach, and mushrooms

Eggs, ham, and cheese

Chickpea and portobello mushrooms

Pulled pork or chicken with BBQ sauce

Avocado, tomato, Mozzarella, and balsamic glaze (Caprese version)
SWEET:
Apples, strawberries peaches, and kiwi

Apples and cinnamon

Blueberries and lemon

Strawberry and Nutella

Any jam with your favorite fruit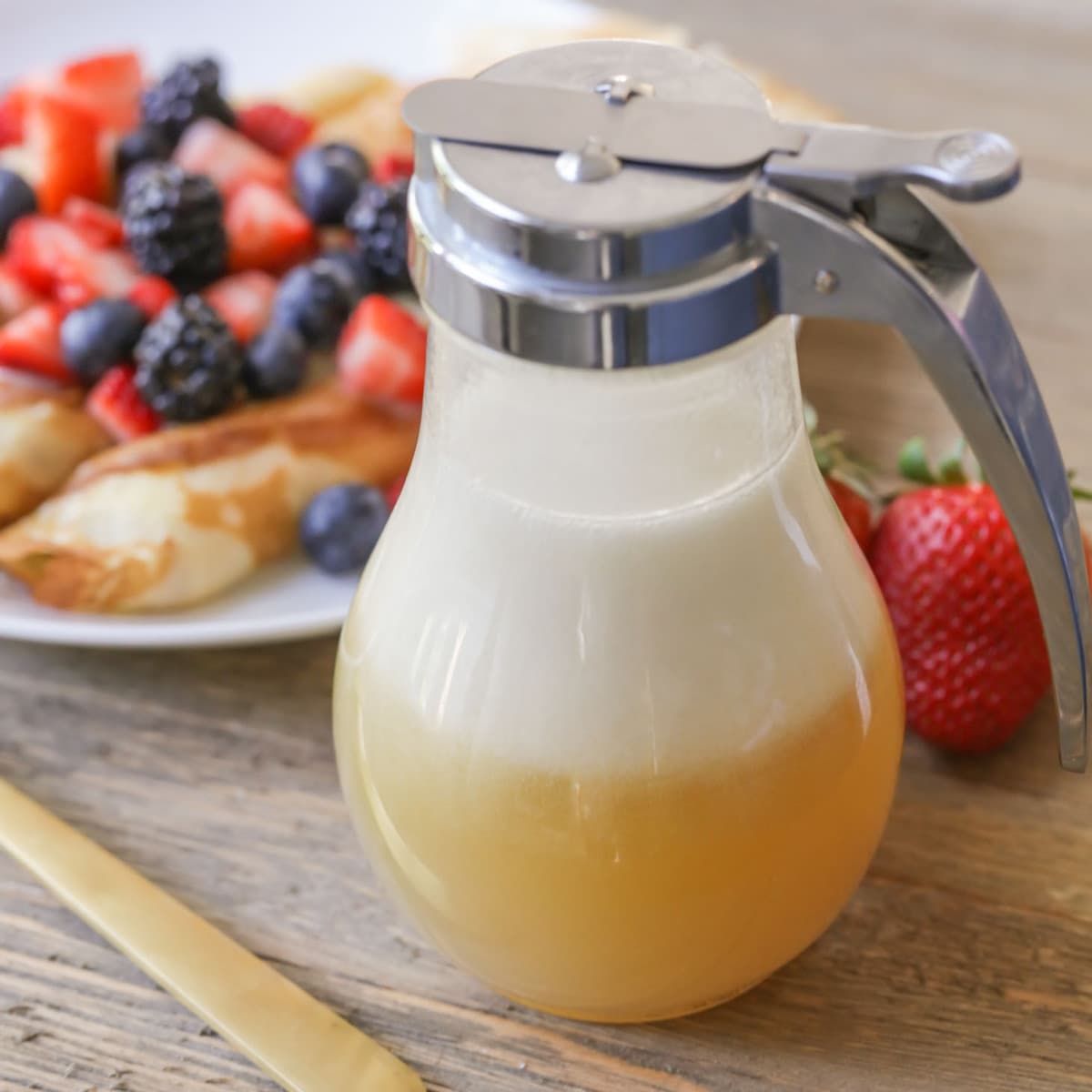 Storing Info
Serving warm pancakes. To keep them warm, use an oven heated to about 200°F. Either roll each pancake and place them side by side in a pan or stack them on the pan separating each pancake with parchment paper.
STORE. Cover the stack with plastic wrap, place it in an airtight container, and store it in the refrigerator for 2-3 days.
FREEZE. Separate pancakes with parchment paper, wrap the stack with plastic wrap, and then again with aluminum foil and label. Store in the freezer for up to 4 months.
Thaw before reheating. Heat in the oven, microwave, or skillet.
I'm not joking when I say we have these more for dinner than breakfast, because they are that good.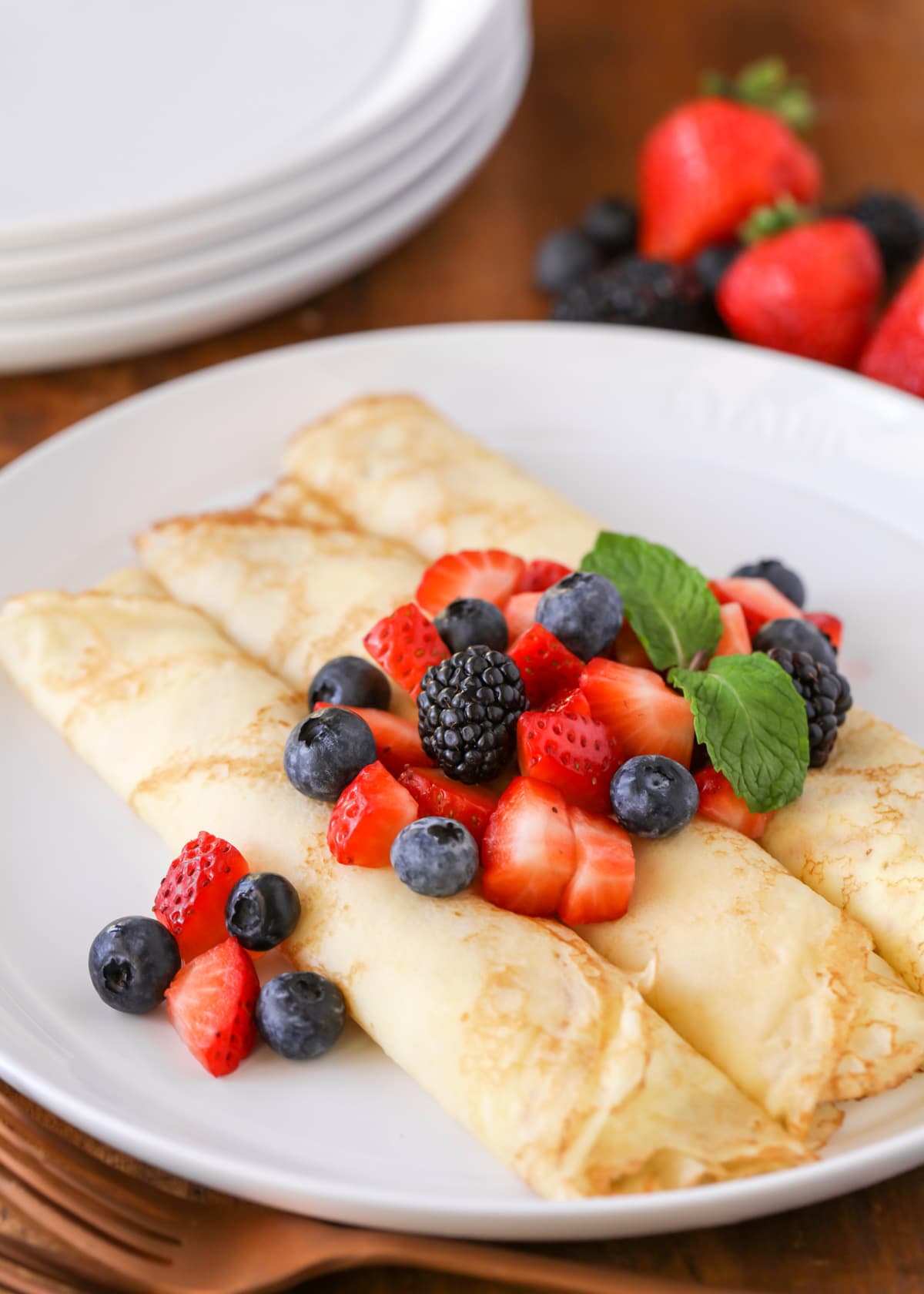 For more pancake recipes, check out:
Swedish Pancakes Recipe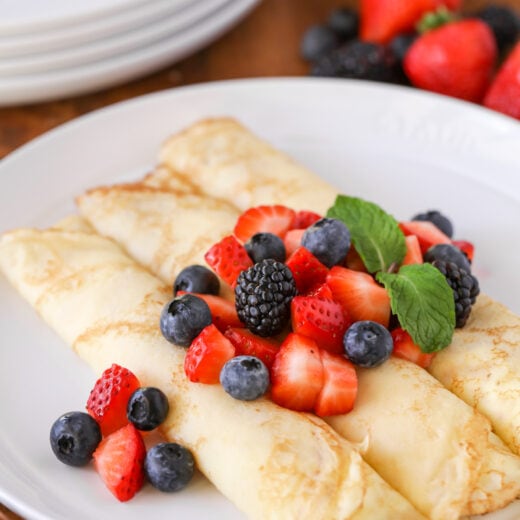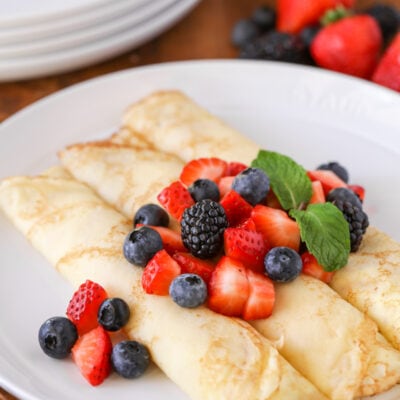 This Homemade Swedish Pancakes recipe makes the softest, most delicious pancakes. Add a sweet or savory filling!
Ingredients
3

large eggs

3

cups

milk

3

tablespoons

unsalted butter

melted, plus more for the pan

1½

cups

all-purpose flour

sifted

2

teaspoons

sugar

1

teaspoon

salt
Toppings
fruit syrup, homemade whipped cream
Instructions
In a medium bowl, beat eggs until well combined.

Add milk, butter, flour, sugar and salt to eggs and mix until smooth.

Heat more butter in a 10-inch nonstick skillet over medium heat, or spray skillet with nonstick cooking spray.

Pour about ¼ cup batter into the pan and tilt the pan in circles until the batter is spread all over in a thin layer. Cook for 1–2 minutes. When the edges are bubbled and browned, it is ready to flip.

Cook the other side until golden, about 1 minute, then transfer to a plate. Repeat to make the remaining pancakes, stacking them with a piece of parchment paper between each one to keep from sticking.

Serve immediately with your toppings of choice.
Notes
Make Ahead: If making a large batch, you can keep the Swedish pancakes warm until ready to serve in an oven heated to about 200 degrees F. You can either roll each pancake and place them side by side in a pan, or stack them on the pan, separating each pancake with parchment paper.
Fillings: There are many different sweet and savory fillings you can use for Swedish pancakes. Simply place fillings in the center of a pancake and roll up like a crepe.
o Sweet: Fruit, Nutella, buttermilk syrup, jam, whipped cream or ice cream.
o Savory: Eggs, ham, cheese, mushrooms, spinach, steak, pulled pork with barbecue sauce or a caprese version with avocado, tomato, mozzarella and balsamic glaze.