These light, fluffy, eggy German Pancakes have become a family favorite breakfast recipe! They're EASY to make, requiring only 5 simple ingredients that are kitchen staples. Serve with powdered sugar, maple syrup, cinnamon, or even homemade buttermilk syrup for a delicious breakfast (or dinner)!
It's a classic breakfast dish in our home, and this easy and tasty German Pancake recipe is as popular as our buttermilk pancakes and blueberry pancakes. We love that these are quick and loved by the whole family.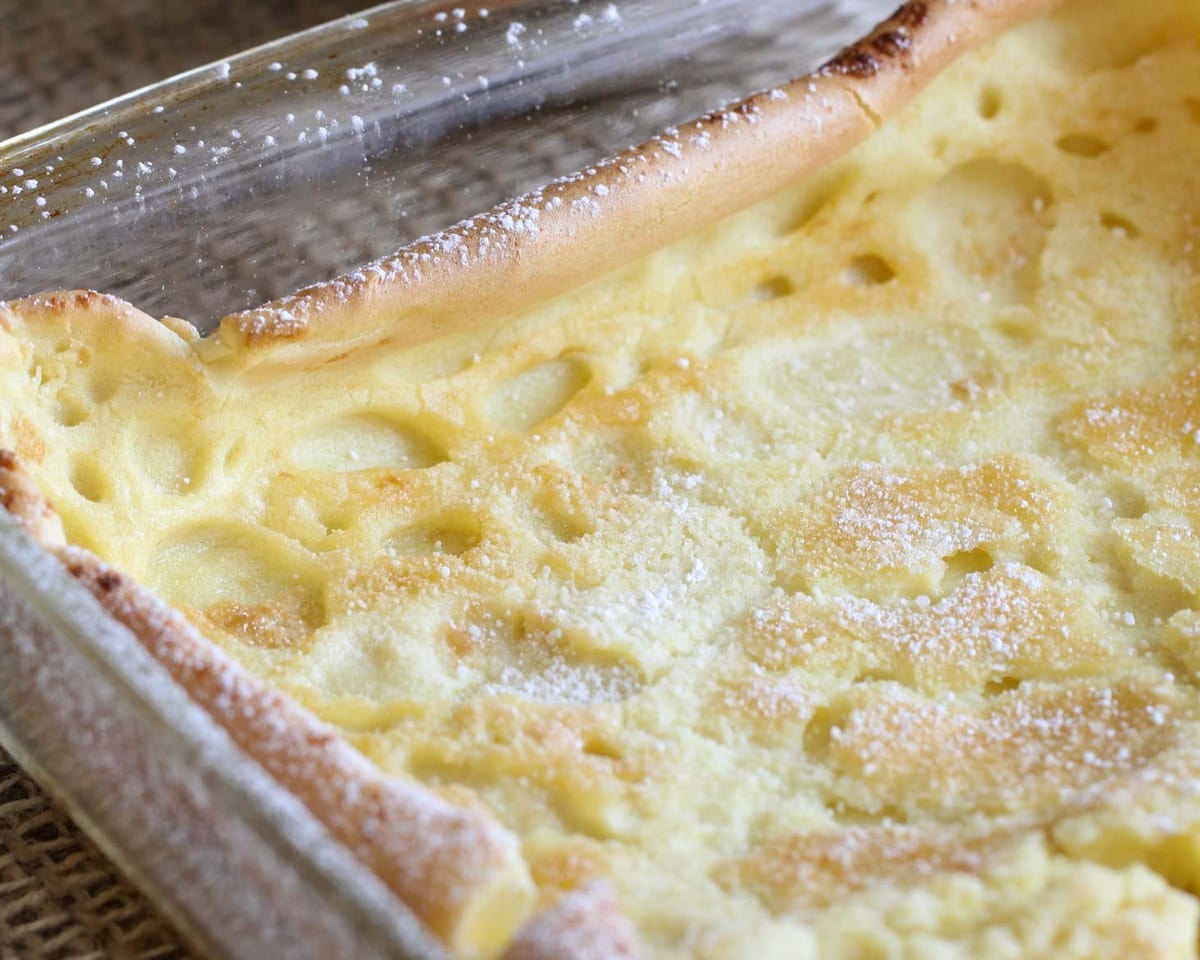 BEST German Pancake Recipe
Have I told you guys how much I LOVE breakfast recipes? We love breakfast so much that we have it for DINNER one night a week. Do you do the same thing?
We especially love pancakes (like our Buttermilk Pancakes and Blueberry Pancakes), but another favorite that has been made in our family since we were little are German Pancakes. My parents have been making these for as long as I can remember, and they were always a favorite. Now that I'm older, we make them for our own family and I'm reminded just how yummy and simple they are.
This is one of those recipes that you don't really need to plan ahead for, because you almost always have the ingredients on hand. My kids love watching it bake, because when you put it in the oven, it gets all puffy and the sides start curling up the pan!
The finished product is like eggs and pancakes in one, and if you've had them before you know just how yummy they are. We usually have regular syrup with them, but I'm thinking I need to make Buttermilk Syrup next time because really… You can't beat homemade buttermilk syrup.
Are these the same as dutch baby pancakes
?
They are very similar but also differ in that Dutch Baby Pancakes have a little more butter, and are typically made in a pan or skillet with rounded edges.
German Pancakes are typically made in a baking pan or casserole dish. Also, if fruit is involved, most people put the fruit on top of their Dutch Babies while baking it IN their German pancakes.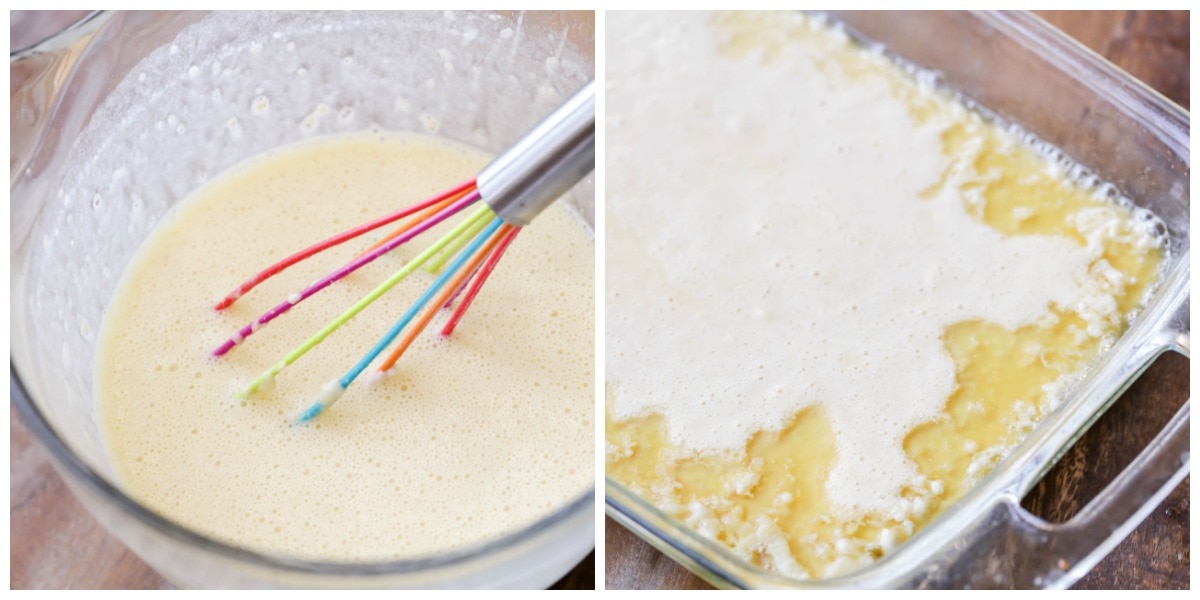 How to make German Pancakes:
As I mentioned before, this puff pancake recipe requires just 5 simple ingredients:
Eggs
Milk
Flour
Salt
Butter
Preheat the oven to 450° very first thing. While the oven is warming up, whip the eggs together in a bowl and then add the milk, flour, and salt. Put your butter in the 9×13 pan, and place in the warmed oven.
Once it is melted, remove from the oven, and pour the mixed batter on top of the melted butter. Bake for 15-20 minutes. The sides will be overflowing and fluffy but will calm down once you take it out of the oven. Serve immediately with syrup, cinnamon or whatever sounds great to you!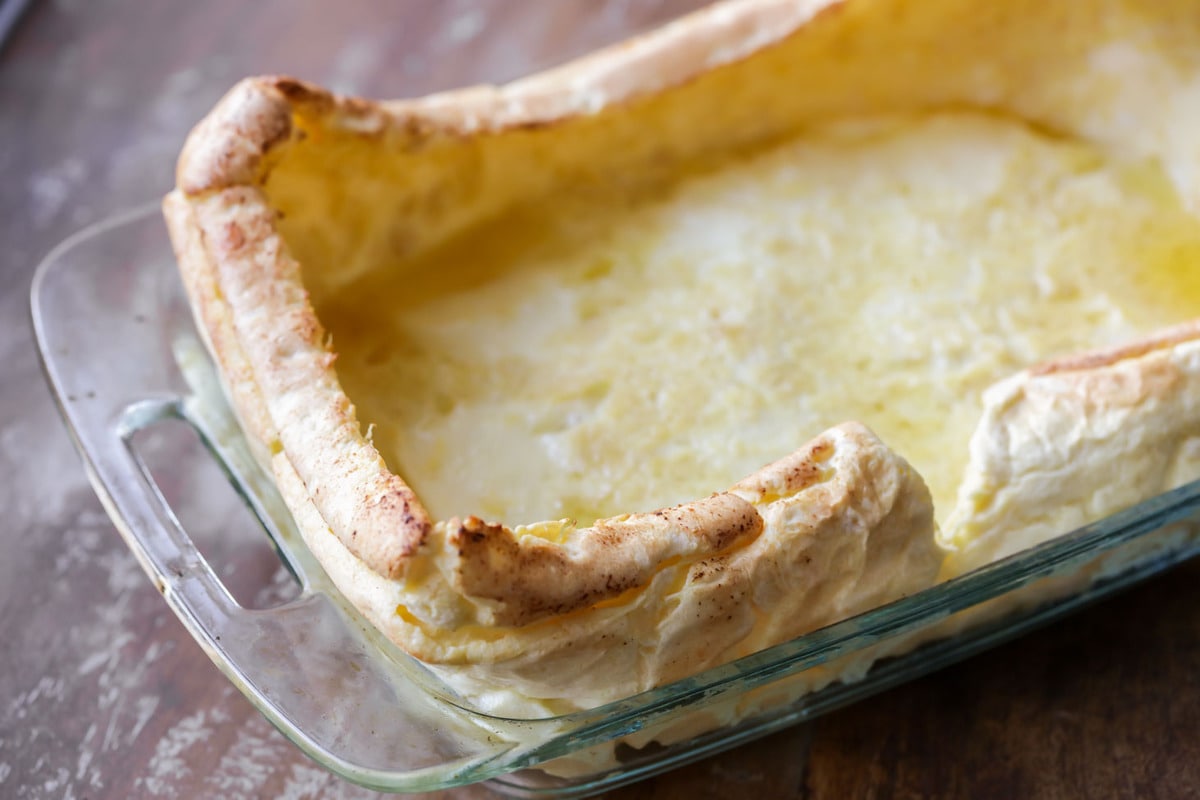 Want to create the fluffiest german pancake possible?
 German puff pancakes will rise considerably then fall when cooled. These two tricks will help keep them as puffy as possible:
For some reason baking in a metal pan vs a glass pan helps.

Use the freshest eggs possible. Add one egg at a time and beat for 30 seconds after each egg.
How do I store leftover german pancakes? Here are instructions for the both the fridge and freezer…
Fridge: Cover and store in the fridge for 2-3 days. Reheat in the oven or a toaster oven. If you're in a hurry the microwave will also work.

Freezer:  Cut into serving size pieces. Wrap each piece with plastic wrap and place in a freezer safe airtight container. Freeze for 1-2 months. To reheat:  place the desired amount of pancakes on a baking sheet and cover loosely with a piece of foil. Heat oven to 350 degrees F. bake for about 10-15 or until warm.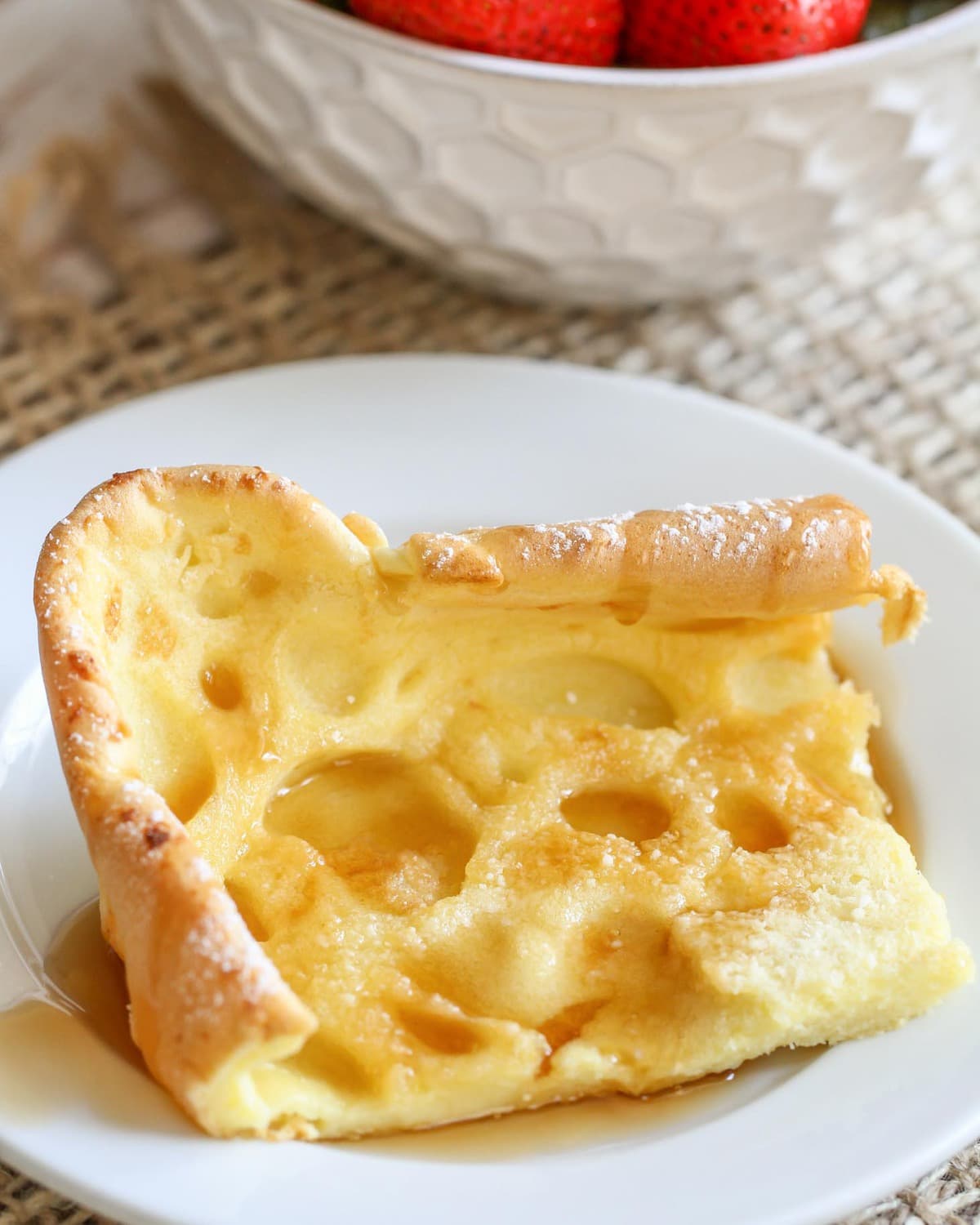 Seriously, these are the best!!! I think we'll make them this week for Breakfast night. 😉
What to serve with German Pancakes?
For more pancake recipes, check out:
German Pancake Recipe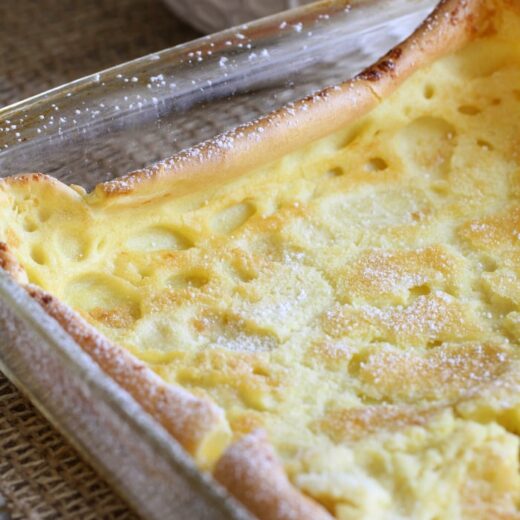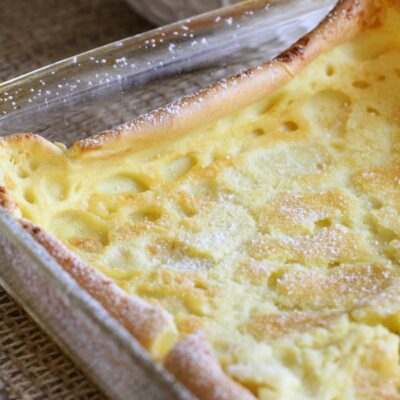 German Pancakes - a breakfast family favorite recipe we love to make! They're EASY and light and fluffy too!!

Instructions
Preheat oven to 450. In a medium bowl, whip eggs together. Add milk, flour and salt.

In warmed oven, heat your butter in a 9x13 pan. Pour batter into pan of melted butter. Bake for 15-20 minutes. The sides will be overflowing and fluffy but will calm down once removed from oven. Serve immediately with syrup, cinnamon or whatever sounds great to you!