These light, fluffy, eggy German pancakes have become a family favorite breakfast recipe! They're EASY to make, and use 5 simple ingredients!
Serve this classic breakfast dish with powdered sugar, maple syrup, or cinnamon. Try German pancakes with homemade Buttermilk Syrup for a delicious breakfast (or dinner)!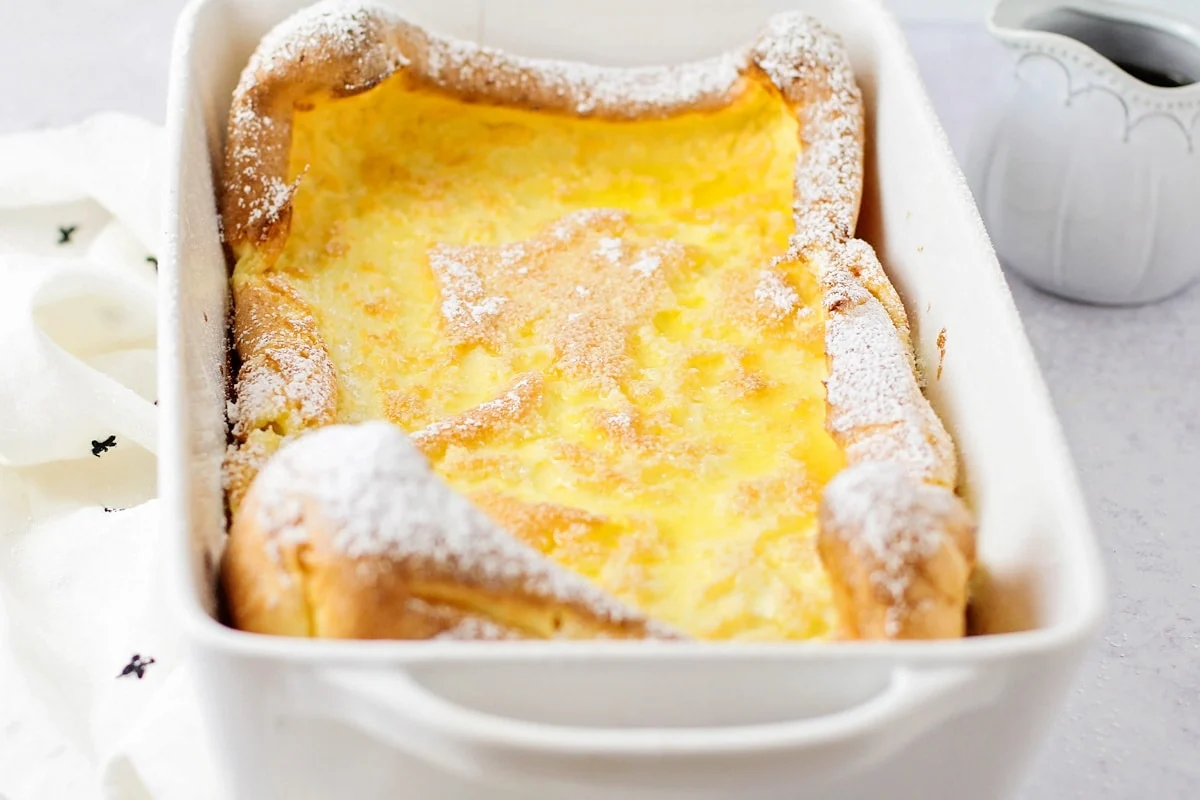 We Love Breakfast!
Have I told you guys how much I LOVE breakfast recipes? We love breakfast so much that we have it for DINNER one night a week. Do you do the same thing?
We especially love pancakes (like our Buttermilk Pancakes and Blueberry Pancakes), but another favorite that has been made in our family since we were little are German pancakes.
This is one of those recipes that you don't really need to plan ahead for, because you almost always have the ingredients on hand. My kids love watching it bake because when you put it in the oven, it gets all puffy and the sides start curling up the pan!
The finished product is like eggs and pancakes in one, and if you've had them before you know just how yummy they are.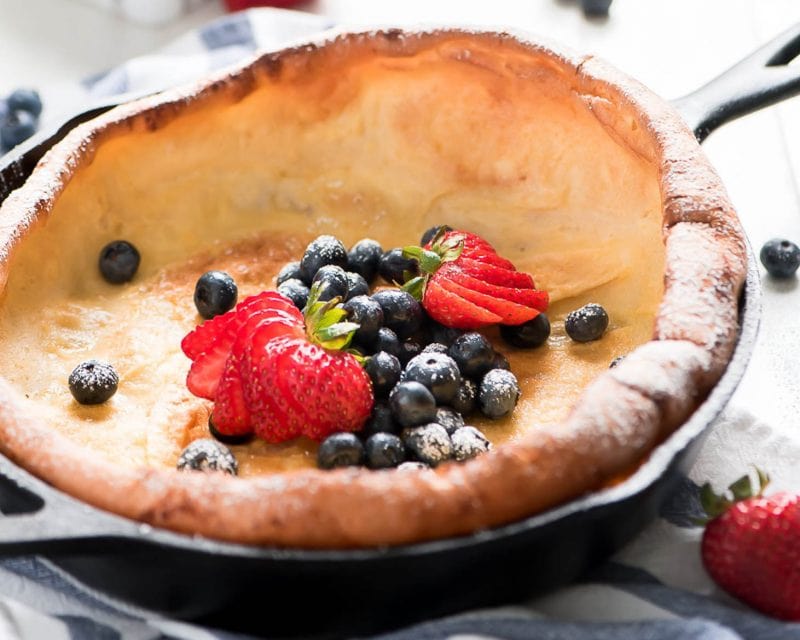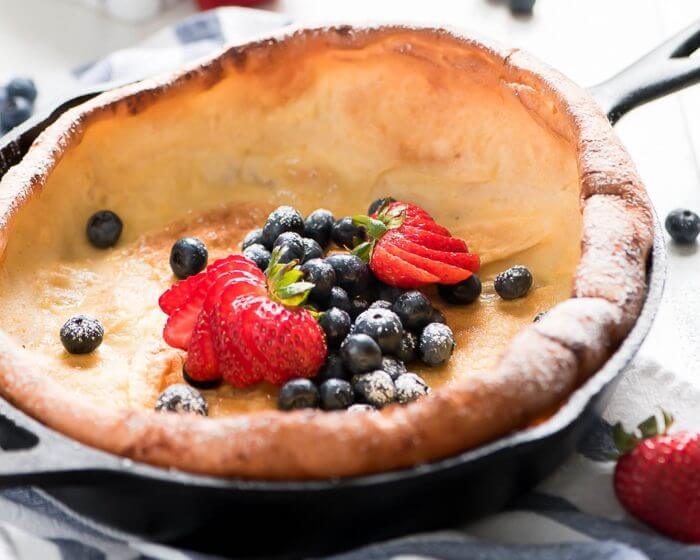 German Pancakes Vs. Dutch Baby Pancakes
They are very similar but also differ in that Dutch Baby Pancakes have a little more butter, and are typically made in a pan or cast iron skillet with rounded edges.
A German pancake recipe is typically made in a baking pan or casserole dish. Also, if fruit is involved, most people put the fresh berries on top of their Dutch babies, but bake them IN their German pancakes.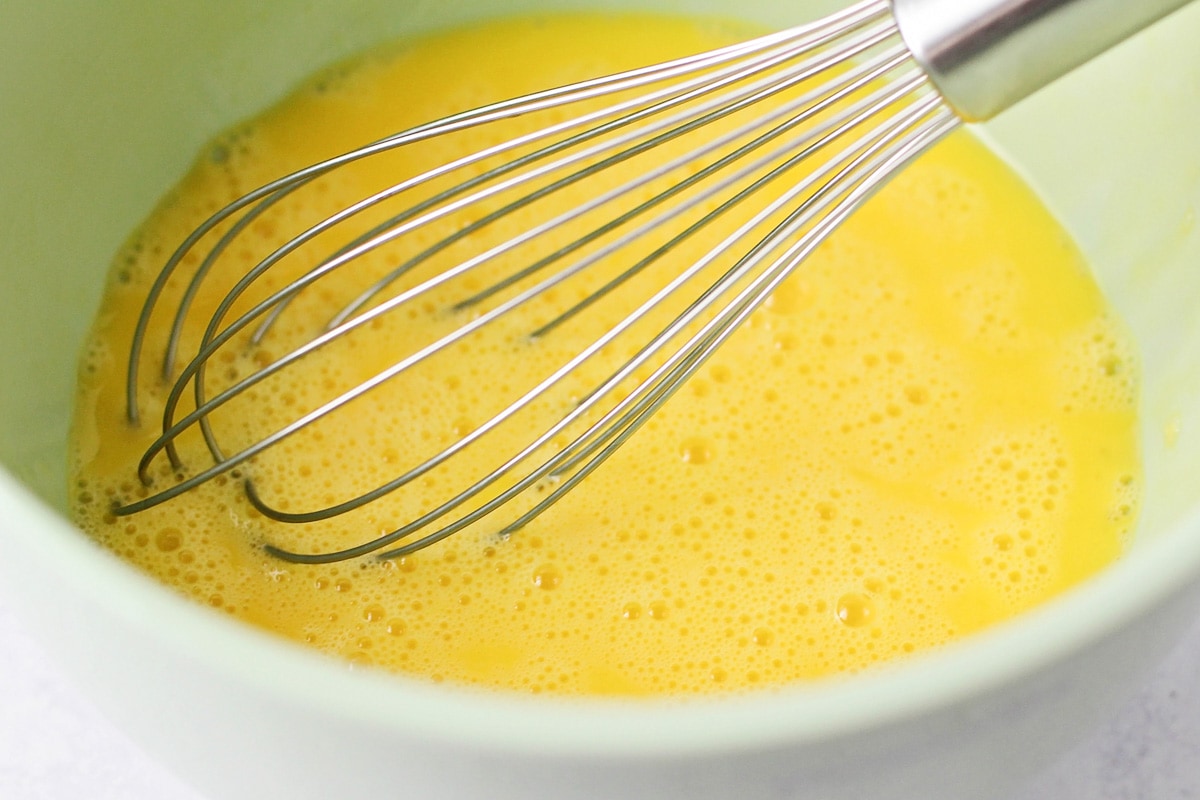 How to Make German Pancakes
As I mentioned before, this recipe for German pancakes requires just 5 simple ingredients!
PREP. Preheat the oven to 450°F very first thing. Put your butter in the 9×13 baking dish, and place in the warmed oven to let it melt.
BATTER. While the oven is warming up, whip eggs together in a medium bow. Whisk in flour until clumps are gone. Add milk and salt and whisk until combined.
*Pro Tip: You can also put all of the ingredients in a blender and blend until smooth!
Once the butter is melted, remove the pan from the oven, and pour the mixed batter on top of the melted butter.
BAKE. Bake for 15-20 minutes. The sides should be golden brown.
Note that they will be overflowing and fluffy but will calm down once you take it out of the oven. Serve immediately with syrup, cinnamon-sugar, a dusting of powdered sugar, or whatever sounds great to you!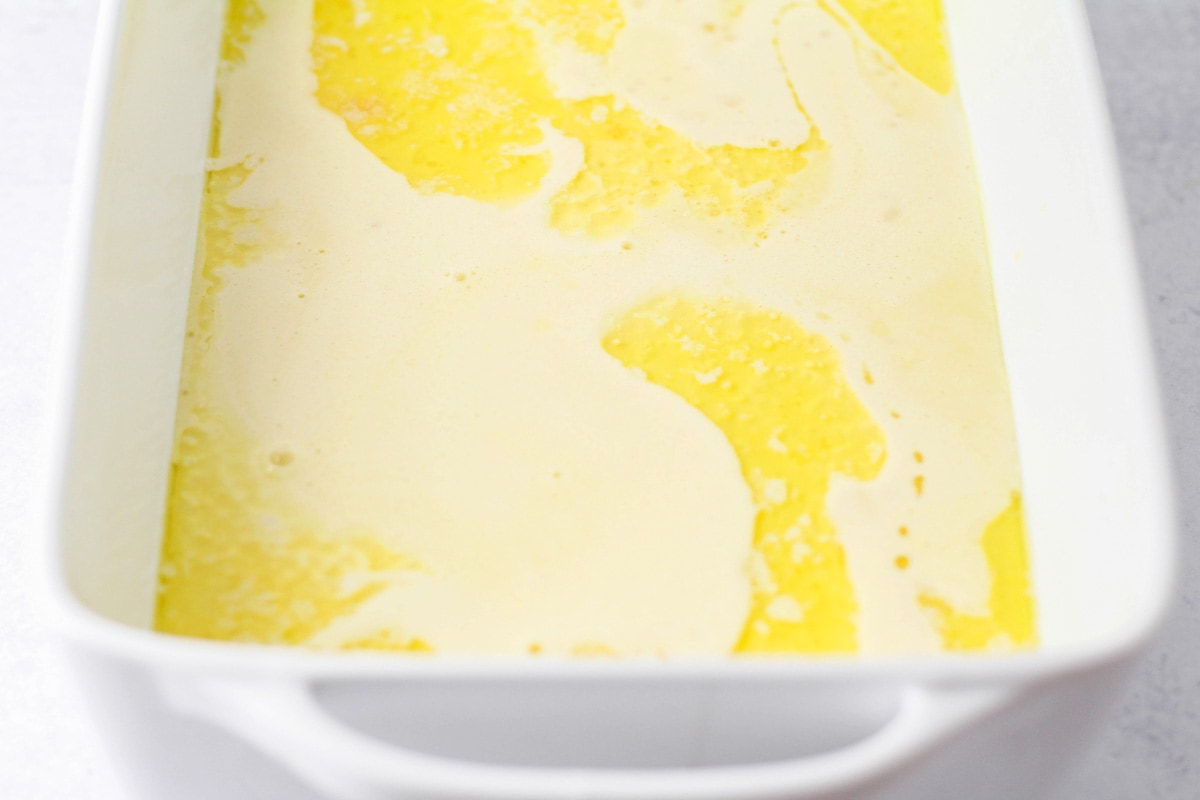 Recipe Tips + SToring
If you want to create the fluffiest pancakes use these tips. German puff pancakes will rise considerably and then fall when cooled.
Fluffy pancakes. These two tricks will help keep them as puffy as possible:
For some reason baking in a metal pan vs a glass pan helps.

Use the freshest eggs possible. Add one egg at a time and beat for 30 seconds after each egg.
STORE. Cover and store in the fridge for 2-3 days. Reheat in the oven or a toaster oven. If you're in a hurry the microwave will also work.
FREEZE. Cut into serving-size pieces. Wrap each piece with plastic wrap and place in a freezer-safe airtight container. Freeze for 1-2 months.
To reheat: place the desired amount of pancakes on a baking sheet and cover loosely with a piece of foil. Heat oven to 350°F. Bake for about 10-15 minutes or until warm.
Seriously, these are the best!!! I think we'll make them this week for breakfast night. 😉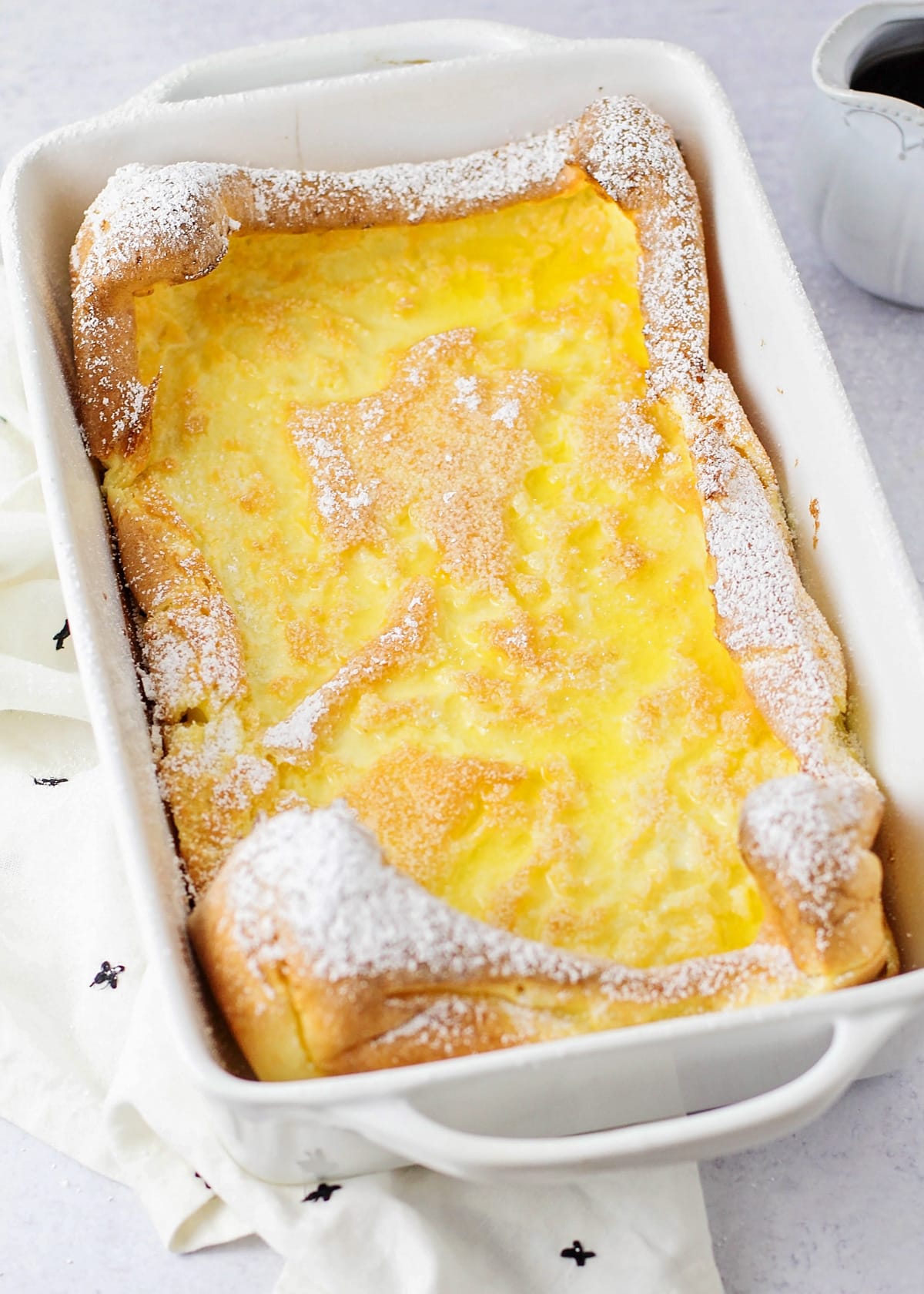 Serving Suggestions
So many great ideas, and you can find our favorites below but for all ideas, check out our breakfast recipes.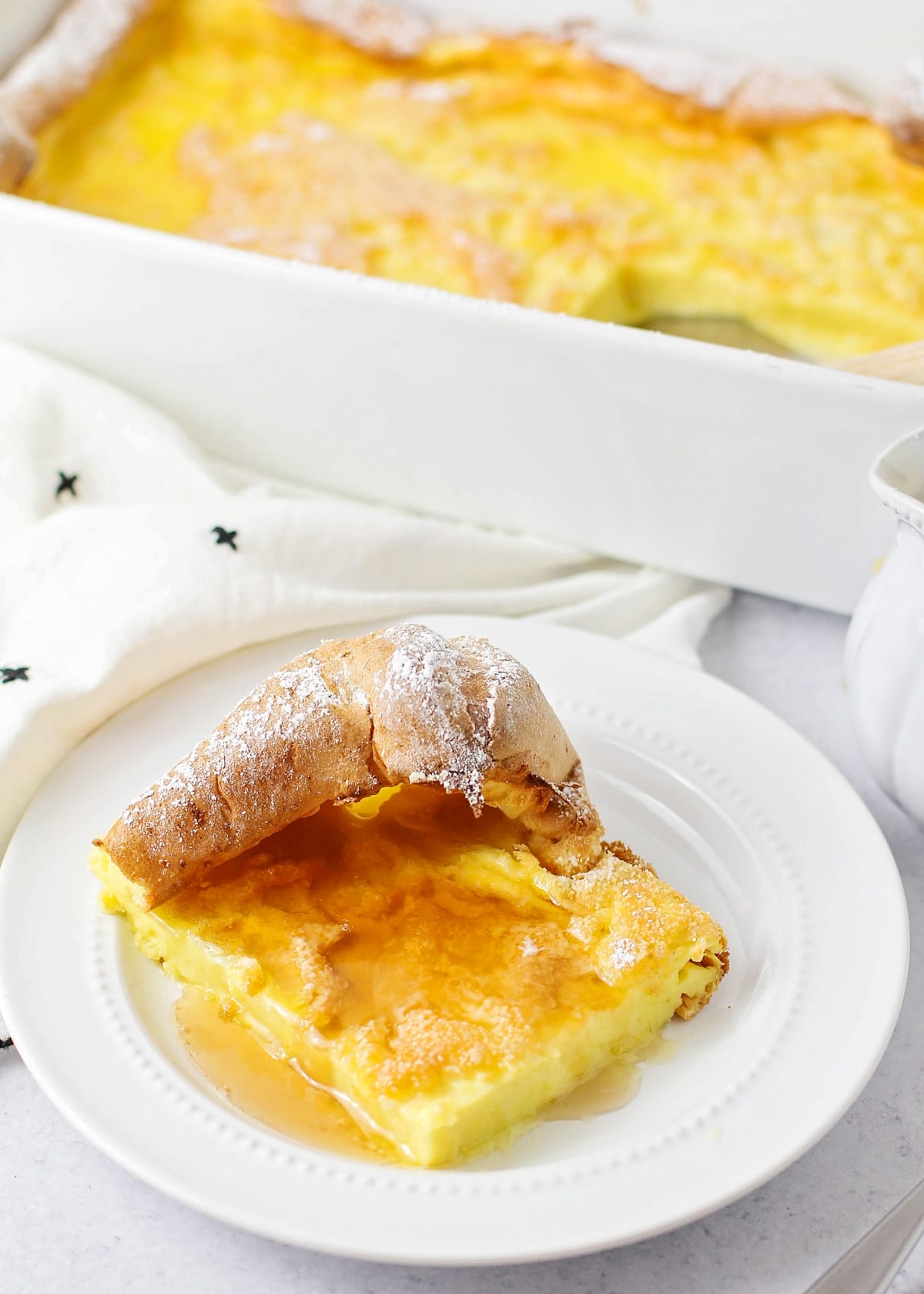 Recipe FAQ
Why does a German pancake puff up?
The hot pan immediately starts producing steam around the edges of the batter. This causes the edges to puff up all the while drawing batter from the center of the pan to help support the rising sides. The end result is a thinner center with puffy sides. If the edges don't rise up, it could be that the sides of the pan didn't get hot enough to create the steam needed to rise and bake.
What is another name for German pancakes?
Though the two dishes differ slightly many people call Geman pancakes Dutch baby pancakes and are similar to American popovers. Some other names include Bismarks, Dutch puff, or Hootenanny pancakes.
What do German pancakes taste like?
The taste is a bit eggy and similar to a crepe. The texture is a thin flat center and puffier sides.
For More Pancake Recipes, Try: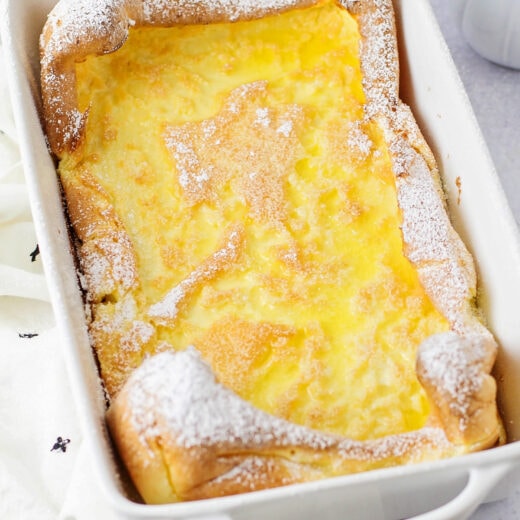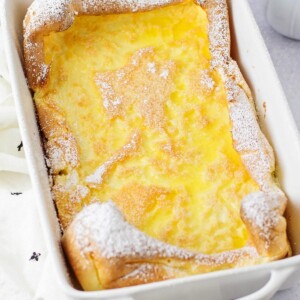 German Pancakes Recipe
These light, fluffy, eggy German pancakes have become a family favorite breakfast recipe! They're EASY to make, and use 5 simple ingredients!
Instructions
Preheat the oven to 450°F.

Melt butter in a 9-x-13-inch baking dish in the warm oven.

In a medium bowl, whisk eggs together. Whisk in flour until clumps are gone.

Add milk and salt and whisk until combined (this can also be mixed in the blender to avoid clumps).

Pour batter into the pan of melted butter. Bake for 16–20 minutes. The sides will be overflowing and fluffy but will come down a bit once the pan is removed from the oven.

Serve immediately with your toppings of choice.
Notes
Toppings. There are lots of different toppings you can try! We like to top ours with fruit, powdered sugar, and buttermilk syrup.
Nutrition
Serving:
1
g
,
Calories:
185
kcal
,
Carbohydrates:
14
g
,
Protein:
7
g
,
Fat:
11
g
,
Saturated Fat:
6
g
,
Polyunsaturated Fat:
1
g
,
Monounsaturated Fat:
3
g
,
Trans Fat:
0.3
g
,
Cholesterol:
145
mg
,
Sodium:
205
mg
,
Potassium:
110
mg
,
Fiber:
0.4
g
,
Sugar:
2
g
,
Vitamin A:
446
IU
,
Calcium:
61
mg
,
Iron:
1
mg
Nutrition information is automatically calculated, so should only be used as an approximation.
Making this recipe? Tag us!
Share it with us on Instagram using the hashtag #lilluna, so we can see what you're creating in the kitchen!