Whether you are in the mood for something sweet or savory, I have you covered. No matter your style, Breakfast for Dinner is always a good idea!!
More Collections: Chicken Dinner Ideas, Beef Dinner Ideas, Quick Dinner Ideas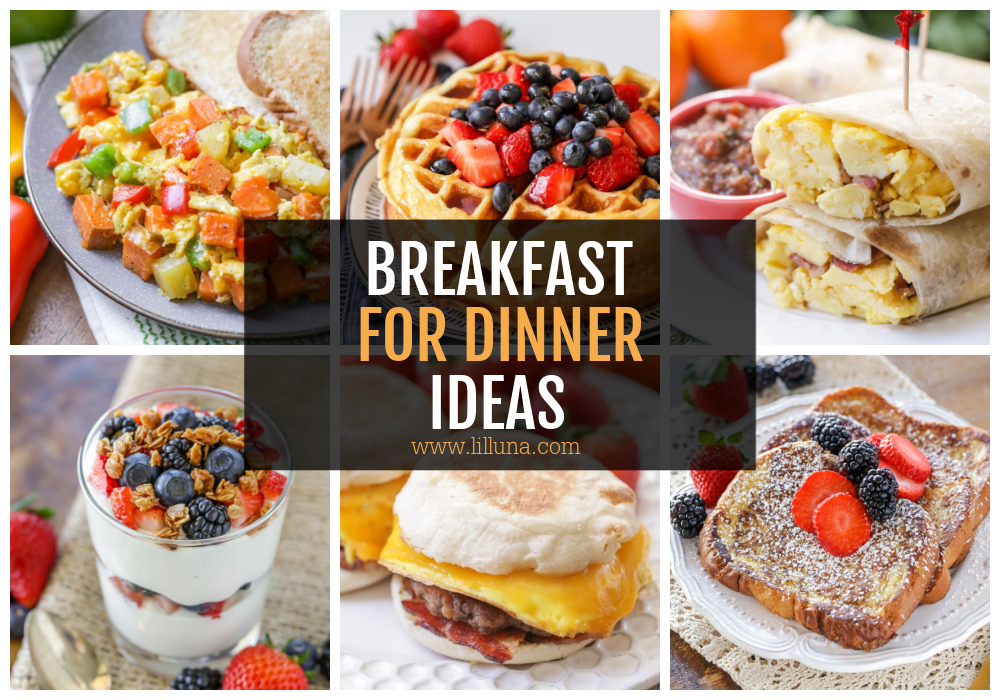 Breakfast – Great Any Time of Day!
As breakfast is the most delicious meal of the day, sometimes you just need to have it twice. Or if mornings are busy, and you only have time for a quick something, it's nice to "do it up" in the evening with the whole breakfast shebang.
If you're in the mood for something sweet like pancakes, French Toast, or Cinnamon Rolls – I have you covered. More of a savory breakfast eater? Try a tasty Sausage Casserole or Breakfast Casserole.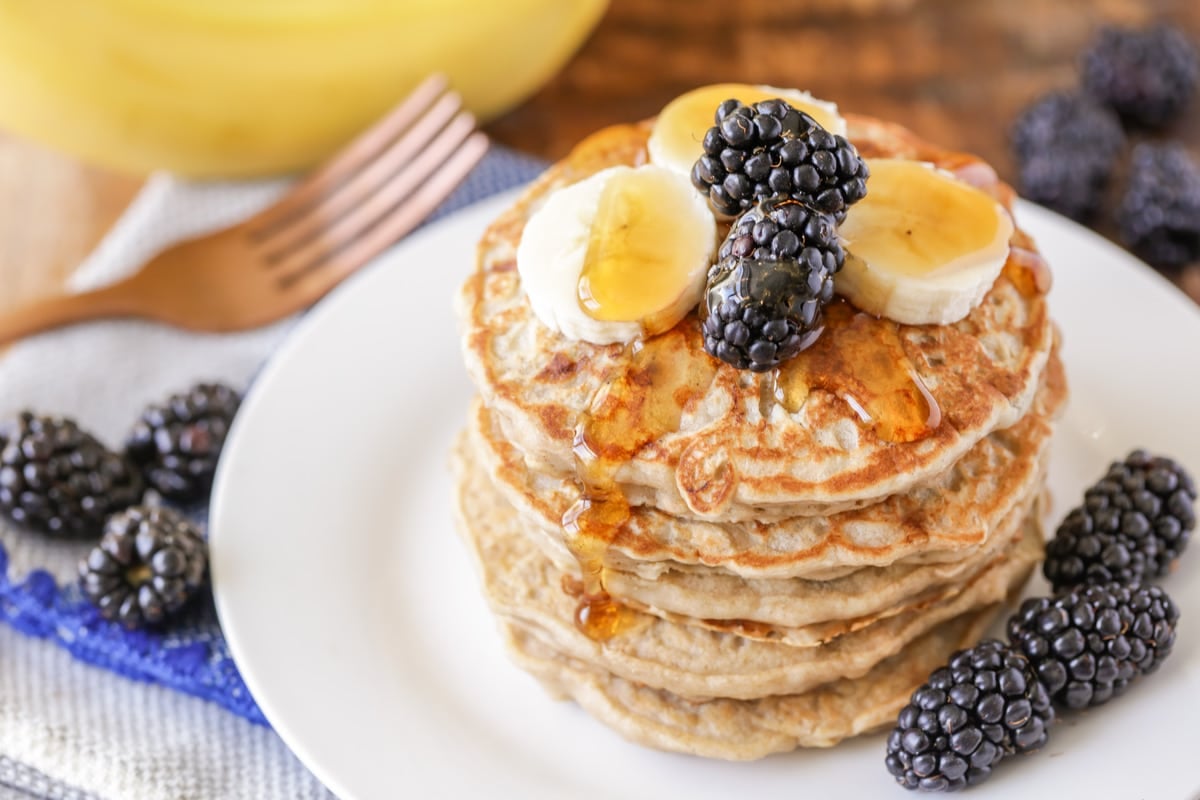 Brinner Tips
Pancakes, waffles and French toast are classic breakfast dishes that are definitely best when served freshly made. If you are feeding a crowd, this can get a bit tricky.
Keep it fresh. Start cooking these food items, and get a nice stockpile going before breakfast starts. As they finish cooking, place them on a baking sheet in a warm oven (about 200°F). Keep them in a single layer, otherwise the steam from the freshly cooked item will make the items below it soggy. They can be kept warm in the oven for up to 30 minutes and still have that freshly made taste.
Casseroles are great because they are easy to throw together, and most can be made ahead of time. Simply combine the ingredients the night before, cover, and refrigerate until morning. See individual posts for more storage information.
Involve the kids. Breakfast foods like pancakes, waffles, or scrambled eggs are some of the easiest to master. Making breakfast for dinner can give a little more time to help teach! They'll catch on quickly, and before you know it, your kids can start making these dishes for breakfast, lunch, or dinner.
Buttermilk substitute. Many breakfast foods call for buttermilk. If you don't have any in the fridge, simply make your own. Add 1 tbsp white vinegar or lemon juice to a measuring cup. Then, use regular milk and fill to the 1 cup line. Stir and let stand for 5 minutes.
Leftovers can be frozen to be reheated later. I have a great post about freezing pancakes. The info can easily apply to waffles and French toast.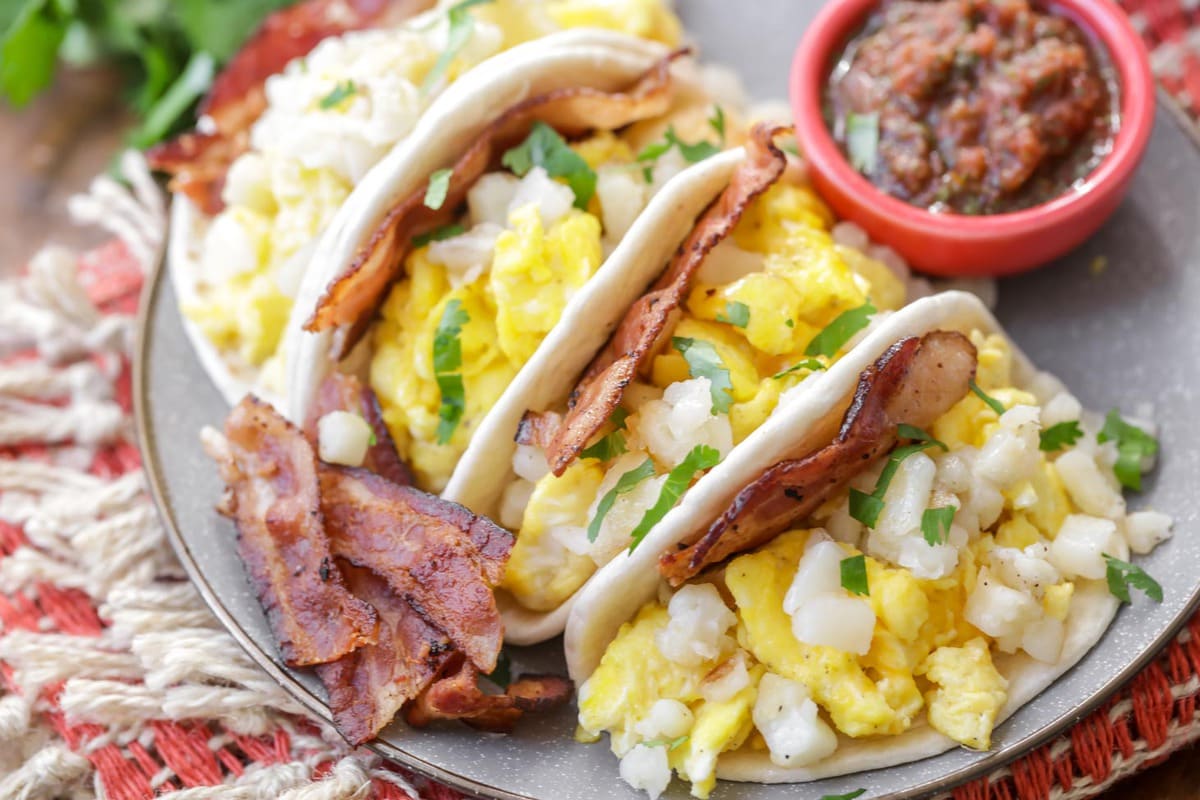 Toppings
Topping your dish can be just as important as the dish itself. Whether you're making pancakes, waffles , French toast or biscuits there are a variety of delicious toppings you can choose from:
Fresh Berries
Powdered Sugar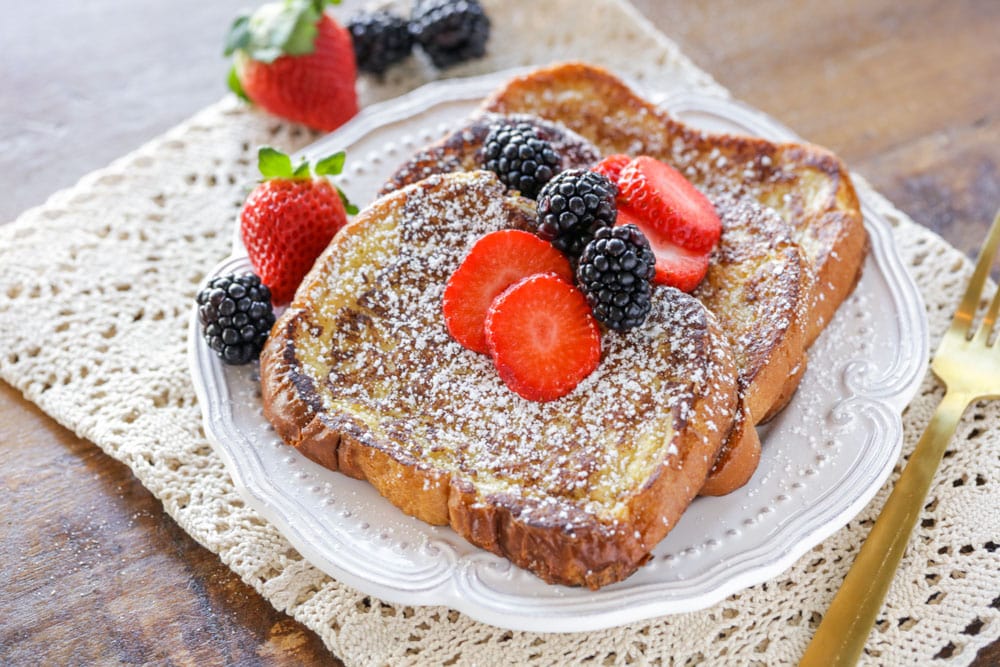 How Much to Serve
I'm a pro at knowing how much my own family can eat during a meal, but it gets a little harder to calculate how much to serve when we have guests, or I'm hosting a large party.
I came across a handy menu calculator for such occasions. It's not exact, but does give a better baseline.
Quiche: 1 slice per person
Savory Casserole/Strata: 1-2 (2 inch squares) per person
Pancakes: 3 per person
Waffles, French Toast, Bagels, Muffins, Large Biscuits: 2 per person
Coffee Cake, Sweet Rolls, Sweet Bake/Casserole: 1 ½ slices per person
Bacon OR Sausage: 3-4 slices per person
Eggs any style: 2 per person
Juice or Milk: 1 c per person
---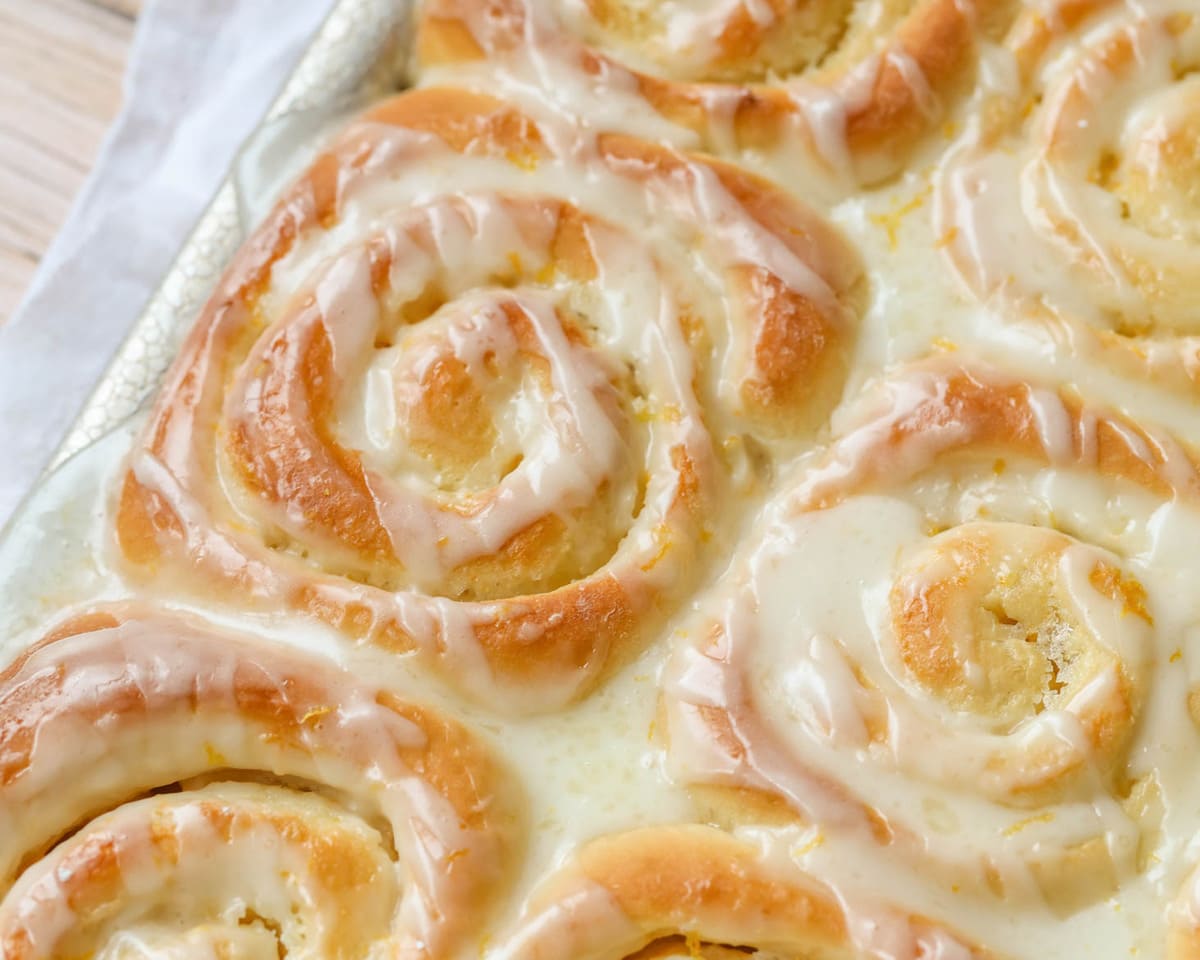 Sweet Breakfast for Dinner ideas
Perfect for your sweet tooth, these sweet Breakfast for Dinner recipes will make any dinner special!! Pair with your favorite fruit and a side of bacon for a deliciously decadent dinner.
Orange Rolls – One of our favorite morning treats! A sweet roll recipe made with an orange filling and an irresistible lemon glaze. Everyone loves these delicious Orange Rolls!
Easy French Toast – Easy French Toast topped with syrup, fresh berries, and dusted with powdered sugar is a much-loved classic breakfast recipe!
Cinnamon Roll Cake – This cinnamon roll cake takes your favorite breakfast treat and puts it in cake form. With buttery cinnamon swirls and a sweet glaze, this cake is sure to be a new favorite!
Brioche French Toast – Thick and fluffy Brioche French Toast topped with maple syrup, powdered sugar, and berries! The best breakfast for all occasions.
Cinnamon Roll Bites – Ooey gooey cinnamon roll bites taste just like cinnamon rolls, but are SO much quicker! They are a tasty make ahead breakfast.
Oatmeal Pancakes – Delicious Oatmeal Pancakes – this simple and tasty recipe is filled with oats and is one the whole family will enjoy for breakfast and for holidays!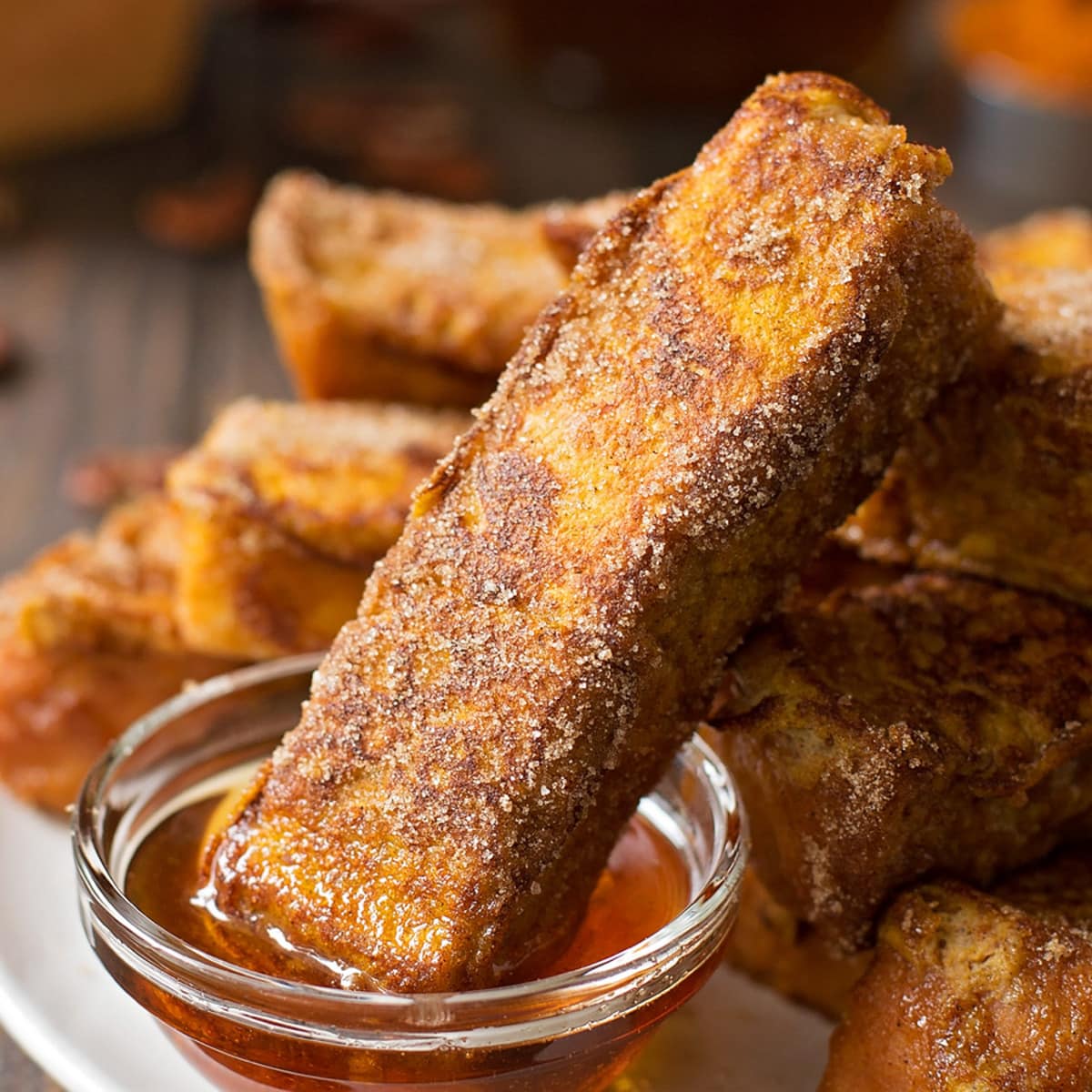 Pumpkin French Toast Sticks – These Pumpkin French Toast Sticks are so quick and easy to make, there's no reason not to try them! Each bite is filled with cinnamon, sugar, & just the right amount of pumpkin!
Blueberry French Toast Casserole – Easy and delicious Blueberry French Toast Casserole is an indulgently sweet breakfast. It will be a showstopper at brunch or perfect to serve for holiday mornings.
Easy Cinnamon Rolls – These Easy Cinnamon Rolls are smothered with homemade cream cheese frosting. They're super soft, gooey and quick—made in just one hour!
Cream Cheese Coffee Cake – Cream Cheese Coffee Cake is even more decadent than your typical coffee cake! It is perfectly topped with a tasty streusel.
Stuffed French Toast – The BEST breakfast to wake up to! Thick slices of French toast stuffed with a delicious strawberry and cream cheese filling.
Protein Pancakes – Breakfast is the most important meal of the day! These protein packed pancakes are your new favorite recipe. Fluffy, healthy, and incredibly delicious!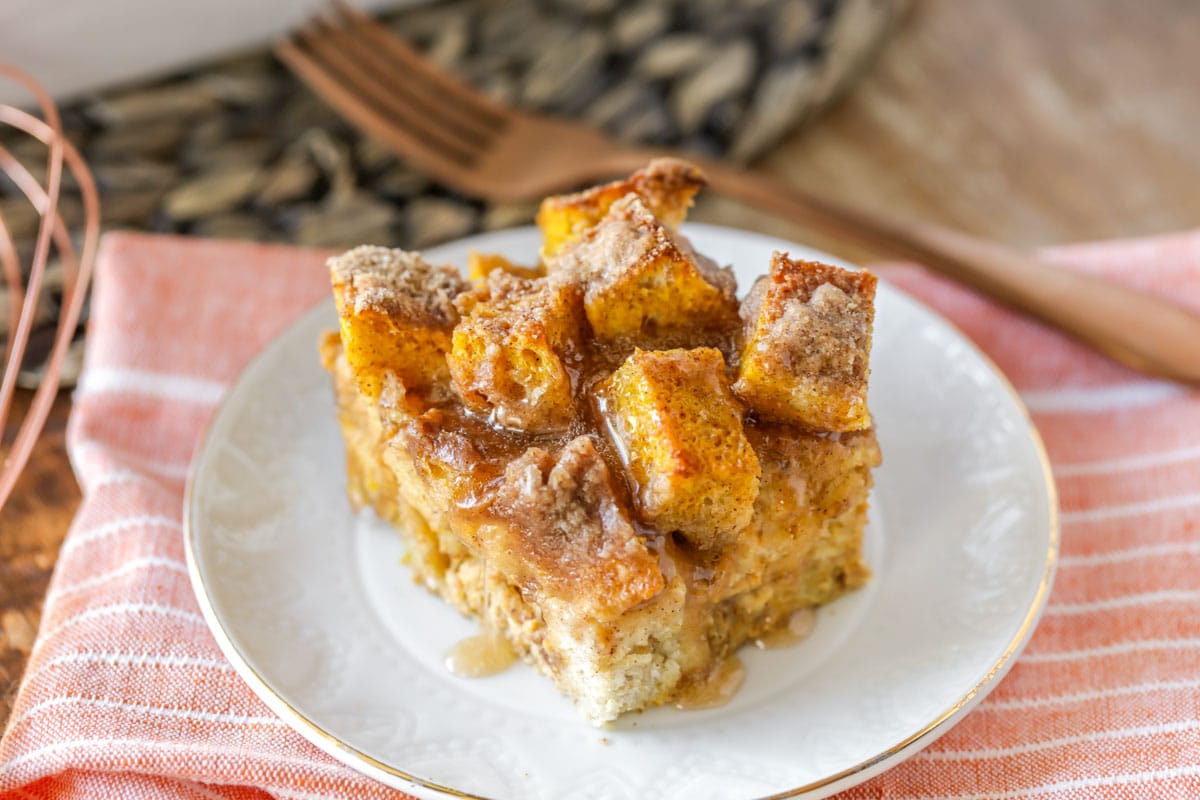 Pumpkin French Toast Bake – Gooey Pumpkin French Toast Bake is oozing with butter, cinnamon and brown sugar making it a family favorite fall breakfast!
Cinnamon Roll French Toast Bake – Cinnamon Roll French Toast Bake has all of the ooey gooey goodness of warm cinnamon rolls, with the ease of an overnight breakfast casserole.
Cream Cheese French Toast Bake – Cream cheese French Toast Bake is slightly toasted on top, soft in the middle, and each bite is bursting with rich cream cheese. Just add your favorite fruit!
Overnight French Toast Bake – Overnight French Toast Bake is a layered breakfast recipe has layers of Texas toast, cinnamon, sugar, brown sugar and eggs!
Healthy Apple Muffins – Delicious and Healthy Apple Muffins filled with oats, bran, and cinnamon. These muffins are not only simple but are great for breakfast and after-school snacks.
Yogurt Parfait – Fresh & Creamy yogurt parfaits are filled with fresh fruit and topped with crunchy granola. They are perfect for breakfast or dessert!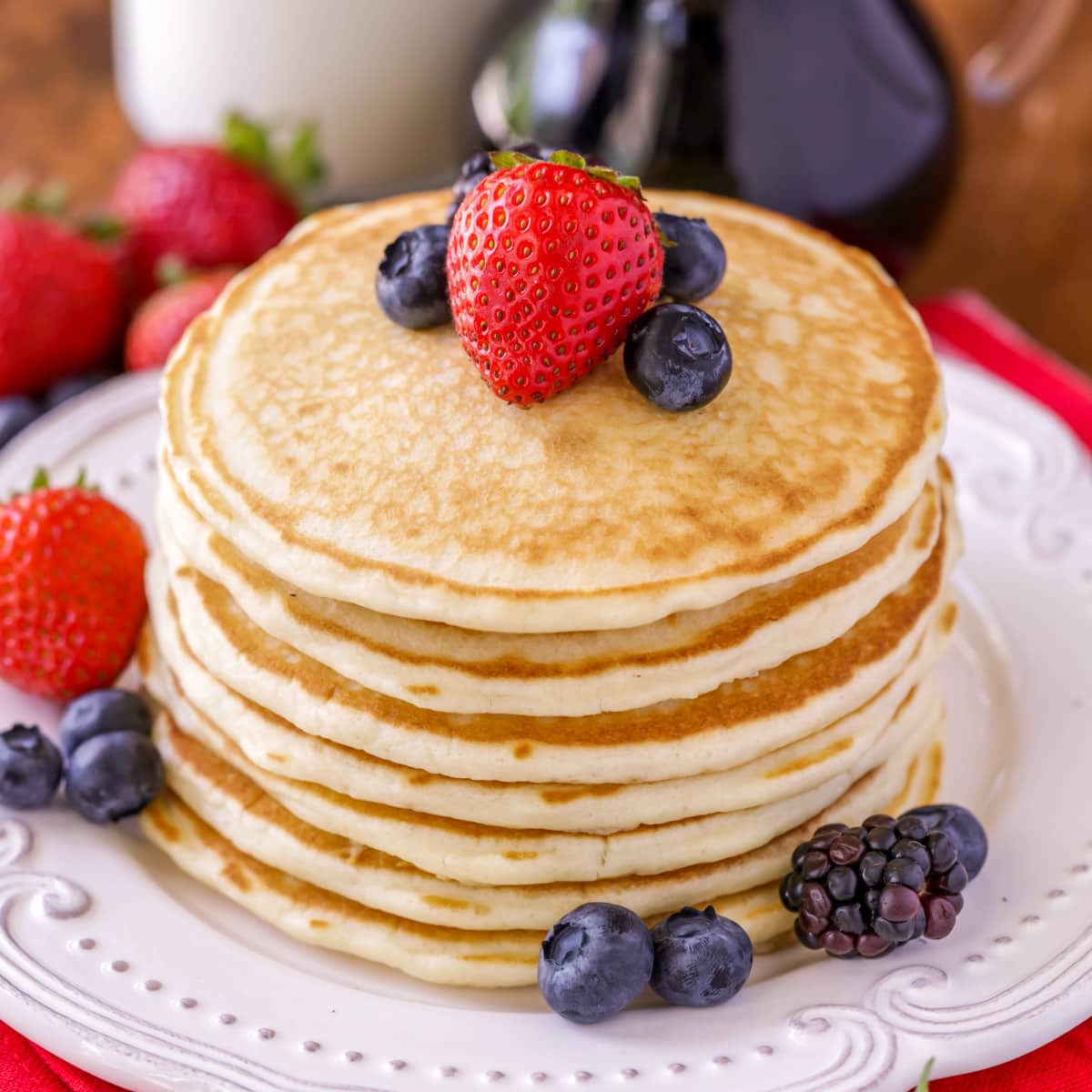 Easy Pancake Recipe – The easiest and yummiest basic pancake recipe. Use this recipe if you're out of mix for delicious pancakes that everyone will love. Plus, check out all our tips on how to change them up for even more flavor!
Cinnamon Roll Pancakes – Cinnamon roll pancakes are all of your breakfast dreams coming true! They are filled with a cinnamon swirl and topped with a smooth cream cheese frosting that is utterly delicious!
Fluffy Pancakes – Waking up to a big stack of fluffy pancakes it THE BEST! This recipe is foolproof for the best pancakes in the world!
Funfetti Pancakes – Celebrate a Birthday or special day with these super-yummy Funfetti Pancakes! Light, fluffy, and loaded with sprinkles, these breakfast goodies will make your morning extra special!
Chocolate Chip Pancakes – Deliciously fluffy Chocolate Chip Pancakes are perfect for even the biggest kid. Whip them up for breakfast or dessert!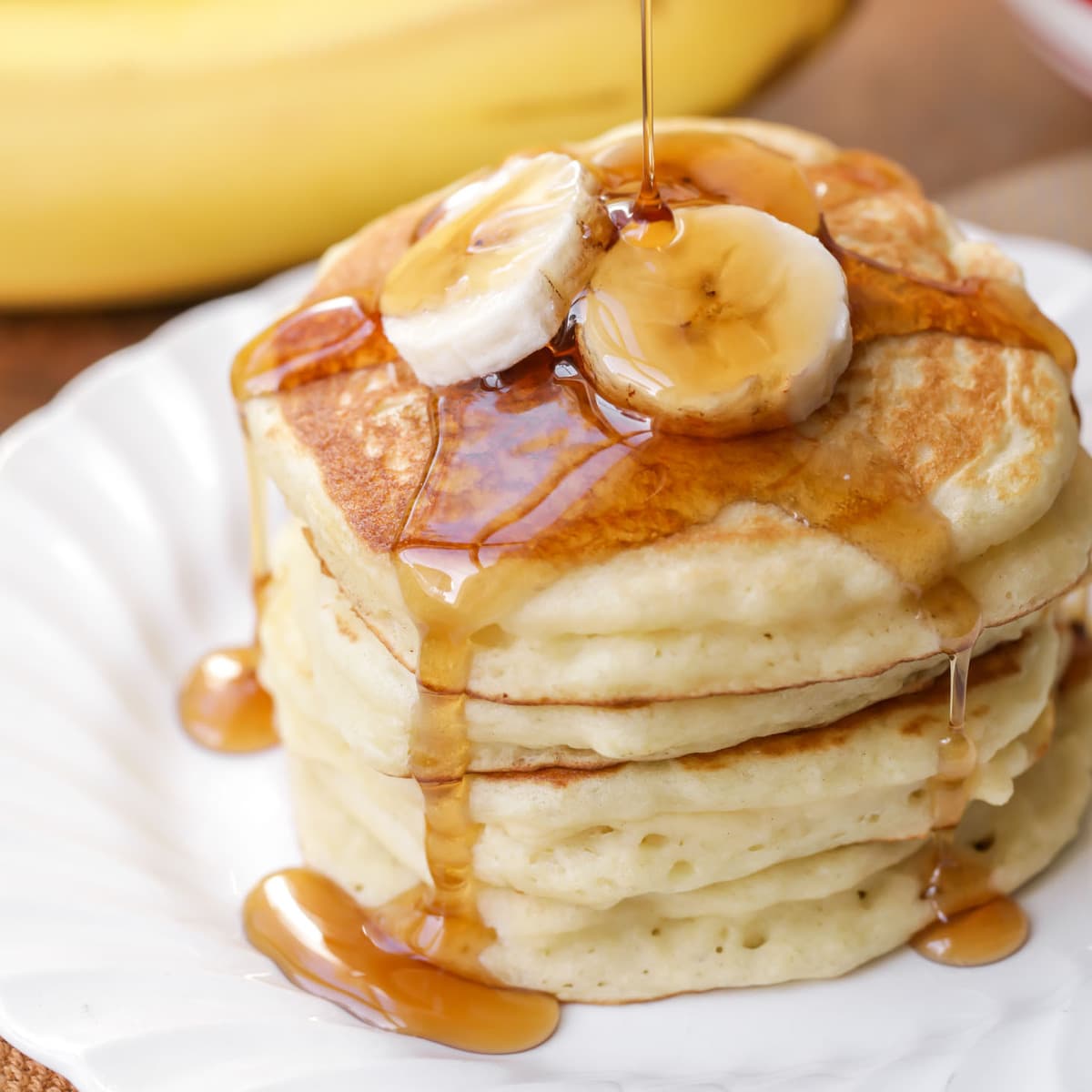 Yogurt Pancakes – These yogurt pancakes are quick, easy and delicious! The yogurt adds a bit of sweetness and makes these pancakes so soft and fluffy. Use vanilla yogurt, greek yogurt, or any flavor of yogurt you like!
White Chocolate Berry Pancakes – White Chocolate Berry Pancakes are served with homemade berry syrup, fresh berries, and white chocolate on top. They're AMAZING!
Peanut Butter Banana Pancakes – Deliciously fluffy banana pancakes are topped with melted peanut butter, bananas and chocolate chips making them irresistible.
Bacon Pancakes – Crispy, salty bacon sandwiched in the middle of a fluffy pancake. Serve these bacon pancakes for your next big breakfast and everyone will love the sweet and salty combo!
Buttermilk Pancakes – Tender homemade buttermilk pancakes turn out light and fluffy every time. These golden beauties are impossible to resist!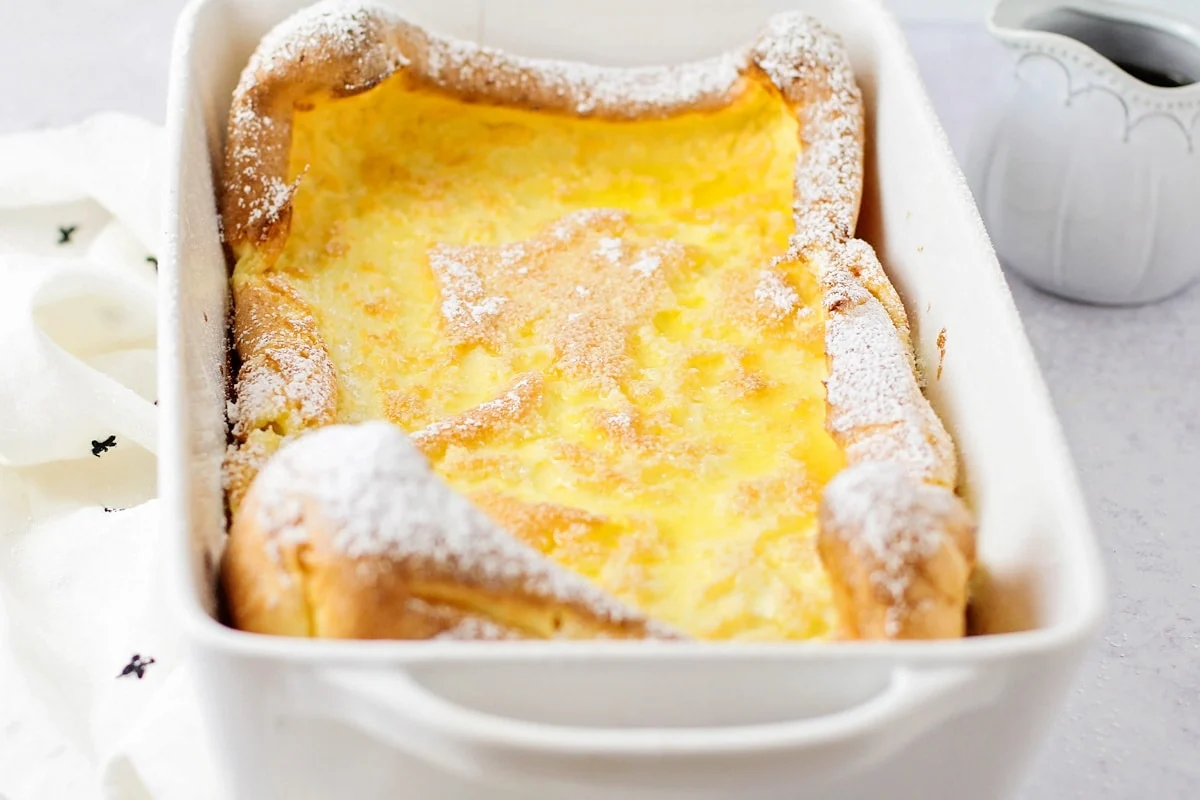 German Pancakes – These light, fluffy, eggy German Pancakes have become a family favorite breakfast recipe! They're EASY to make, requiring only 5 simple ingredients that are kitchen staples.
Dutch Baby Pancakes – Dutch Baby Pancakes are a super simple, fun, and delicious breakfast that the whole family will love. Similar to German Pancakes (but made in a rounded skillet), these dutch babies are simple and can be topped with powdered sugar, syrup, berries, jam.
Lemon Poppy Seed Pancakes – Lemon Poppy Seed Pancakes are light & refreshing with the perfect hint of lemon! They're the best way to add some fruity flare to your morning.
Pumpkin Pancakes – These pumpkin pancakes are the ultimate autumn breakfast!! They're soft, full of fall flavor, and completely irresistible when topped with homemade cinnamon buttermilk syrup.
Swedish Pancakes – This Homemade Swedish Pancakes recipe makes the softest, most delicious pancakes. Fill and top them with cream, fruit or buttermilk syrup for a delicious breakfast!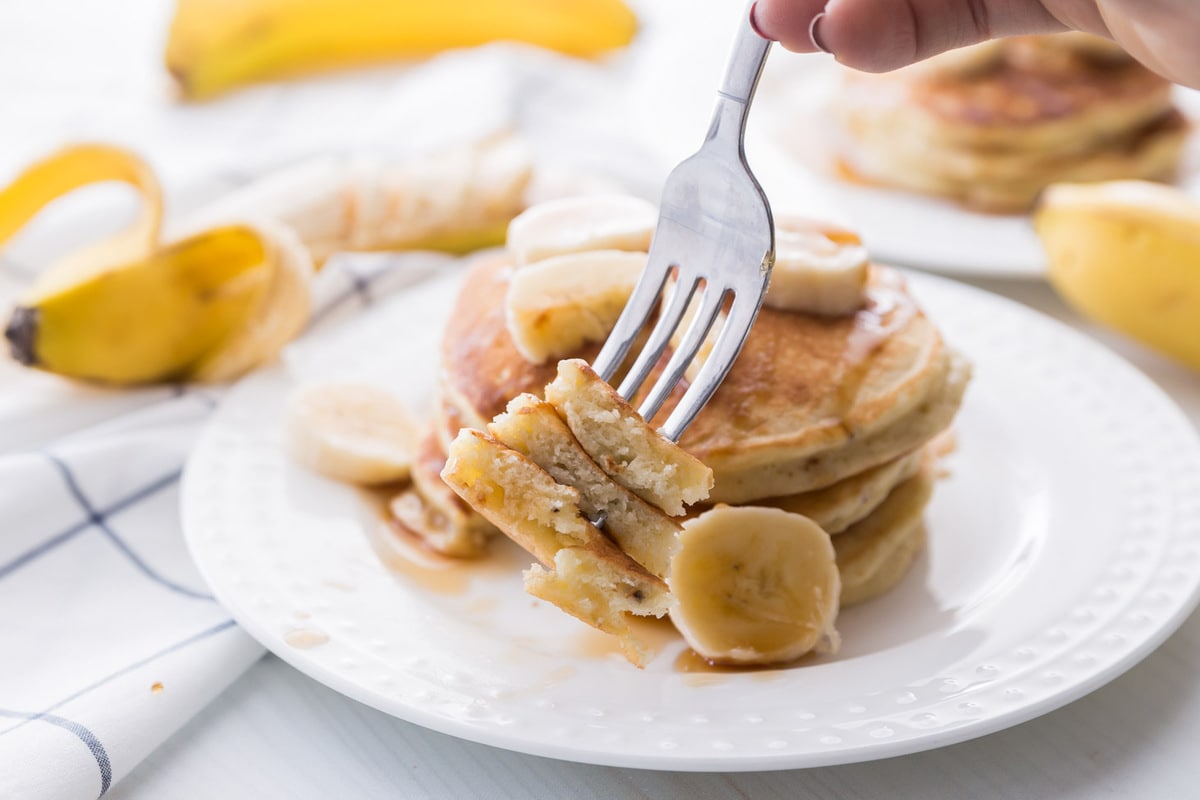 Banana Pancakes – Light and fluffy Banana Pancakes that are simple and so full of flavor. Everyone loves these pancakes that are perfect topped with Nutella, chocolate syrup or even buttermilk syrup.
Blueberry Pancakes – These quick and simple Blueberry Pancakes take just minutes to prepare and are filled with fresh blueberries, making them irresistible.
Apple Pancakes – Change up your typical breakfast routine with these Apple Cinnamon Pancakes! Light, fluffy pancakes filled with grated apple and the perfect hint of cinnamon.
Banana Oatmeal Pancakes – Hearty banana oatmeal pancakes that make the most delicious breakfast! Light and fluffy on the inside, with just a little crisp on the outside. Absolutely divine!
Strawberry Pancakes – Strawberries & Cream Pancakes – These strawberries and cream pancakes are perfect for celebrating spring! They're bursting with strawberry flavor and topped with an amazing homemade strawberry sauce. They'd be wonderful for a Mother's Day brunch, or a fun Saturday breakfast.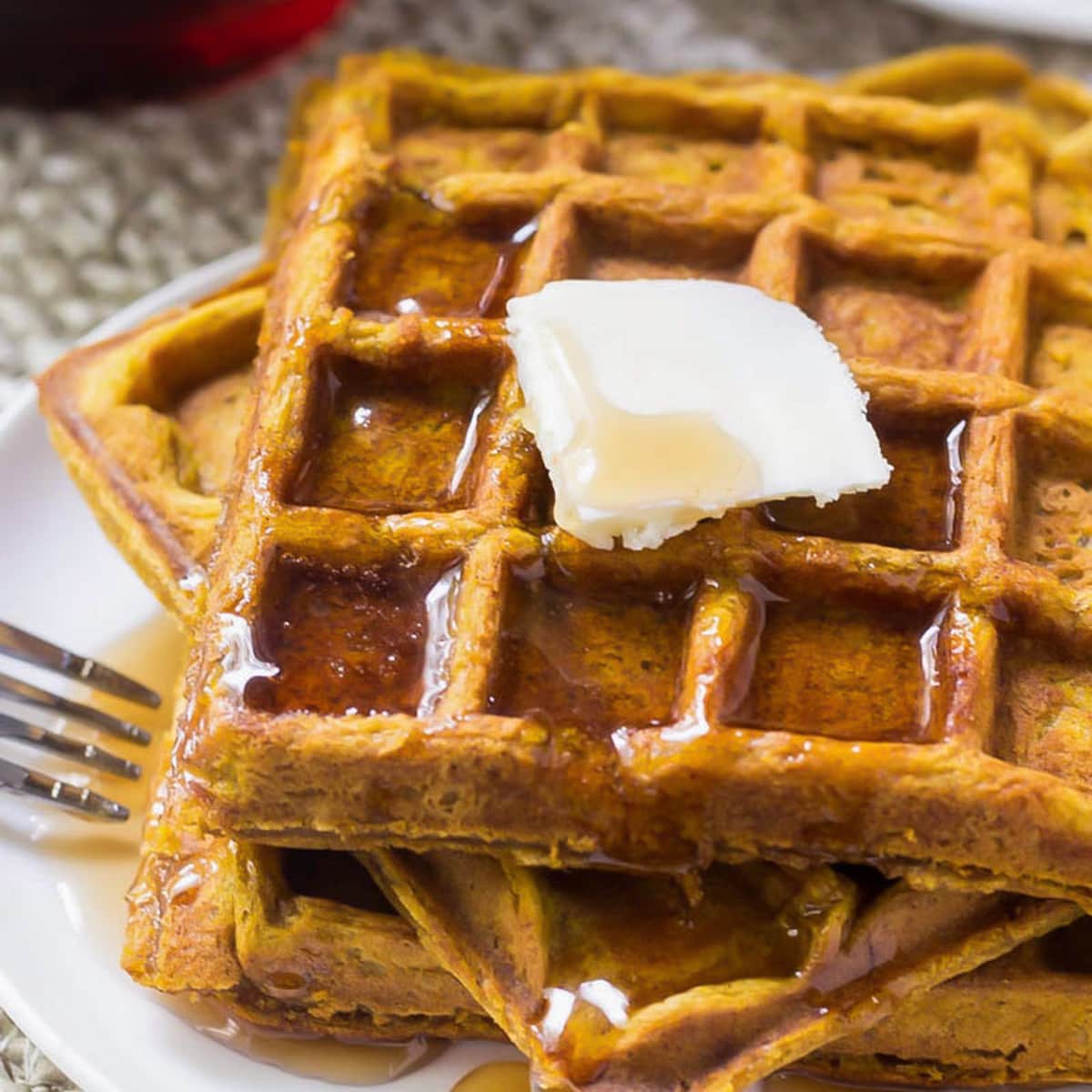 Pumpkin Waffles – With pumpkin puree, seasonal spices, and brown sugar for a hint of caramel, these are the most flavorful and fluffy waffles! Serve your pumpkin waffles with syrup or a scoop of vanilla ice cream for a delicious treat.
Red Velvet Waffles – Delicious Red Velvet Waffles made from scratch and topped with berries and syrup – the perfect breakfast recipe!
Belgian Waffles – Crispy, fluffy, Belgian waffles to start your day off with a smile. Top them with all of your favorite fruits , spreads and syrups. Once you try these homemade waffles, you'll never want the box mix again.
Buttermilk Waffles – There's nothing better than big, fluffy Buttermilk Waffles first thing in the morning! This will be your new favorite breakfast recipe!!
Cinnamon Roll Waffles – Cinnamon Roll Waffles – crisp, buttery, tender waffles, topped with an amazing combination of sweetened cream cheese and a cinnamon brown sugar topping.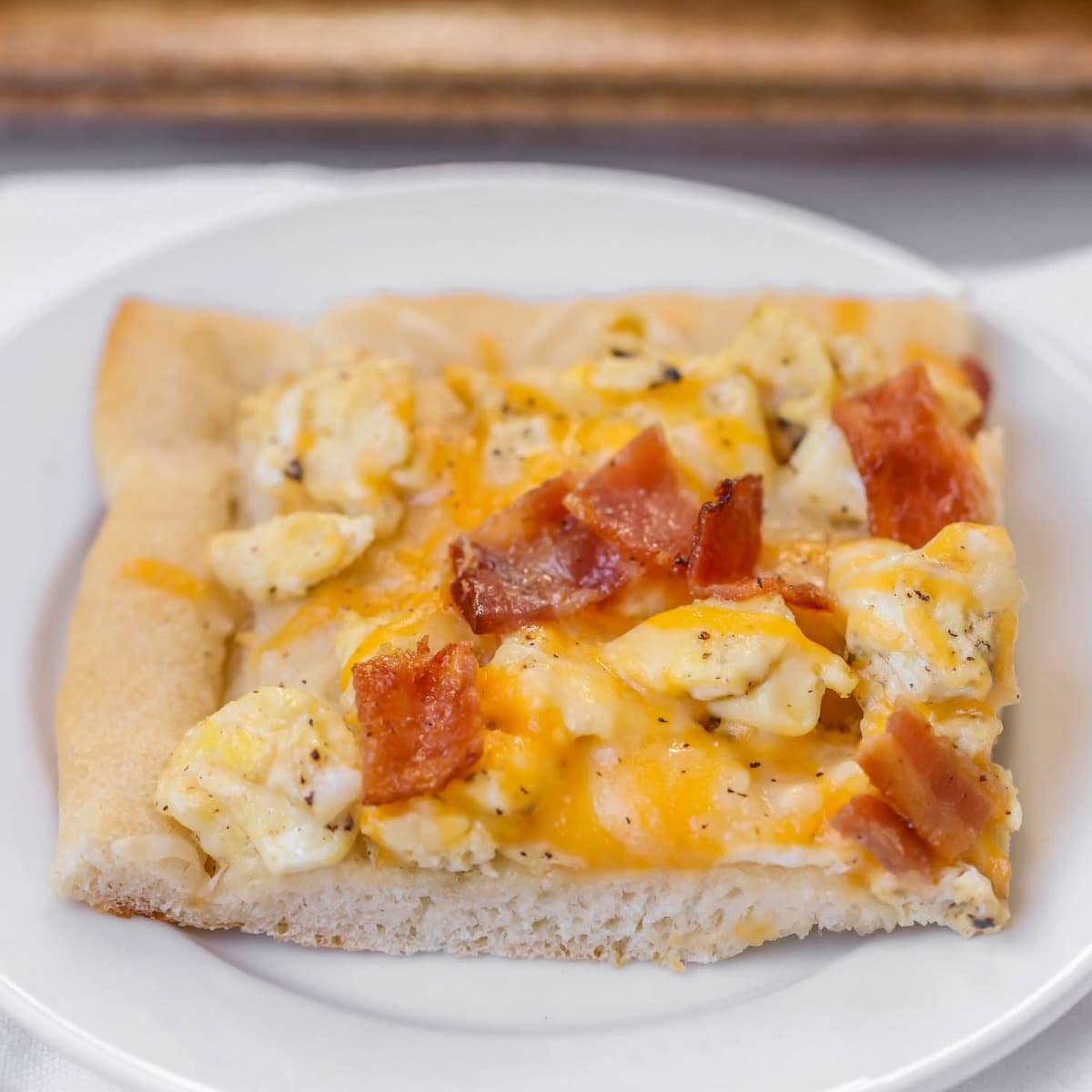 Savory breakfast for dinner recipes
These simple Breakfast for Dinner recipes will hit the spot, especially if you are craving something savory. You will love these easy breakfast for dinner ideas!
Breakfast Pizza – This Bacon Breakfast Pizza is a cheesy breakfast recipe topped with scrambled eggs, bacon and your favorite breakfast ingredients! It's simple, quick and is easily customized based off of your favorite morning ingredients.
Breakfast Crescent Ring – Cheesy Breakfast Ring – delicious cheesy, bacon and pepper-filled eggs inside a ring of delicious crescent roll dough. Its our new favorite breakfast recipe!
Bacon And Cheese Quiche – Bacon and cheese quiche makes the perfect hot breakfast to share with a crowd. It's filling, savory, and full of egg, bacon, cheddar, Parmesan and mozzarella cheese.
Biscuits And Gravy – Classic Biscuits and Gravy is perfect for breakfast or dinner. Buttery biscuits smothered in a homemade sausage gravy is a family favorite!
Breakfast Sandwich – Smooth morning with quick and simple breakfast sandwiches filled with egg, cheese, sausage, and bacon in a fluffy English muffin.
Chilaquiles – Add a little spice to your breakfast with saucy Mexican chilaquiles topped with a creamy fried egg and your favorite garnishes.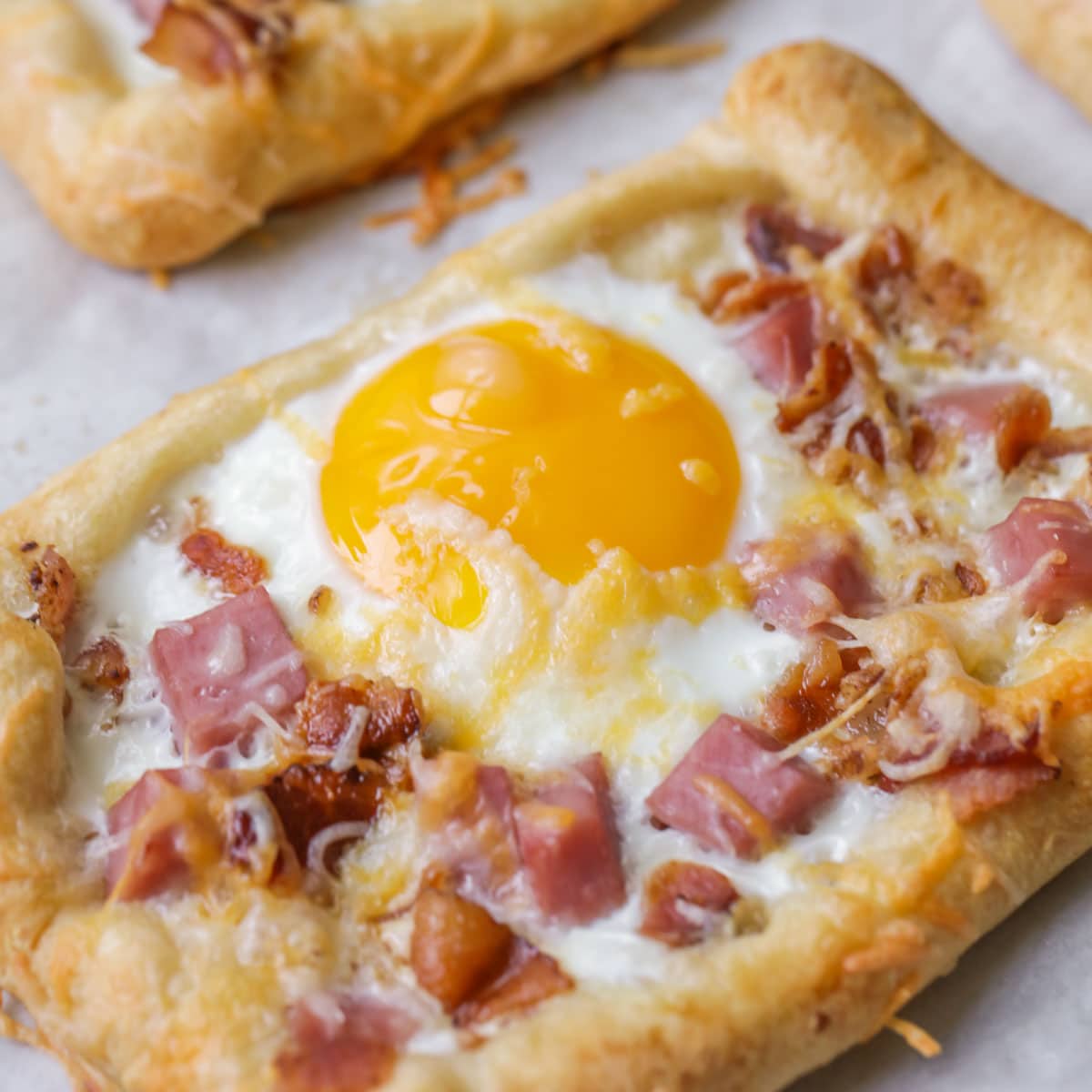 Breakfast Hand Pies – Simple and delicious crescent dough Breakfast Hand Pies are perfect for breakfast! They are easy to make and completely customizable.
Breakfast Pie – Easy and delicious Cheesy breakfast pie filled with bacon, eggs and hashbrowns.
Favorite Eggs And Potatoes – Delicious Eggs & Potatoes are made in the skillet and finished in the oven. This flavorful recipe is perfect any morning or special day.
Broccoli Quiche – Broccoli quiche is one of my favorite hot breakfast recipes! Healthy, filling, and flavorful. It has everything you want and more!
Eggs Benedict – Eggs Benedict is a rich and bold breakfast that is great for lazy weekend mornings, brunch, or holidays! Crispy bacon, flavorful fried egg, and smooth hollandaise sauce make for one delicious bite.
Huevos Rancheros – Huevos rancheros is a classic spicy Mexican dish that turns eggs and beans into a savory breakfast tostada.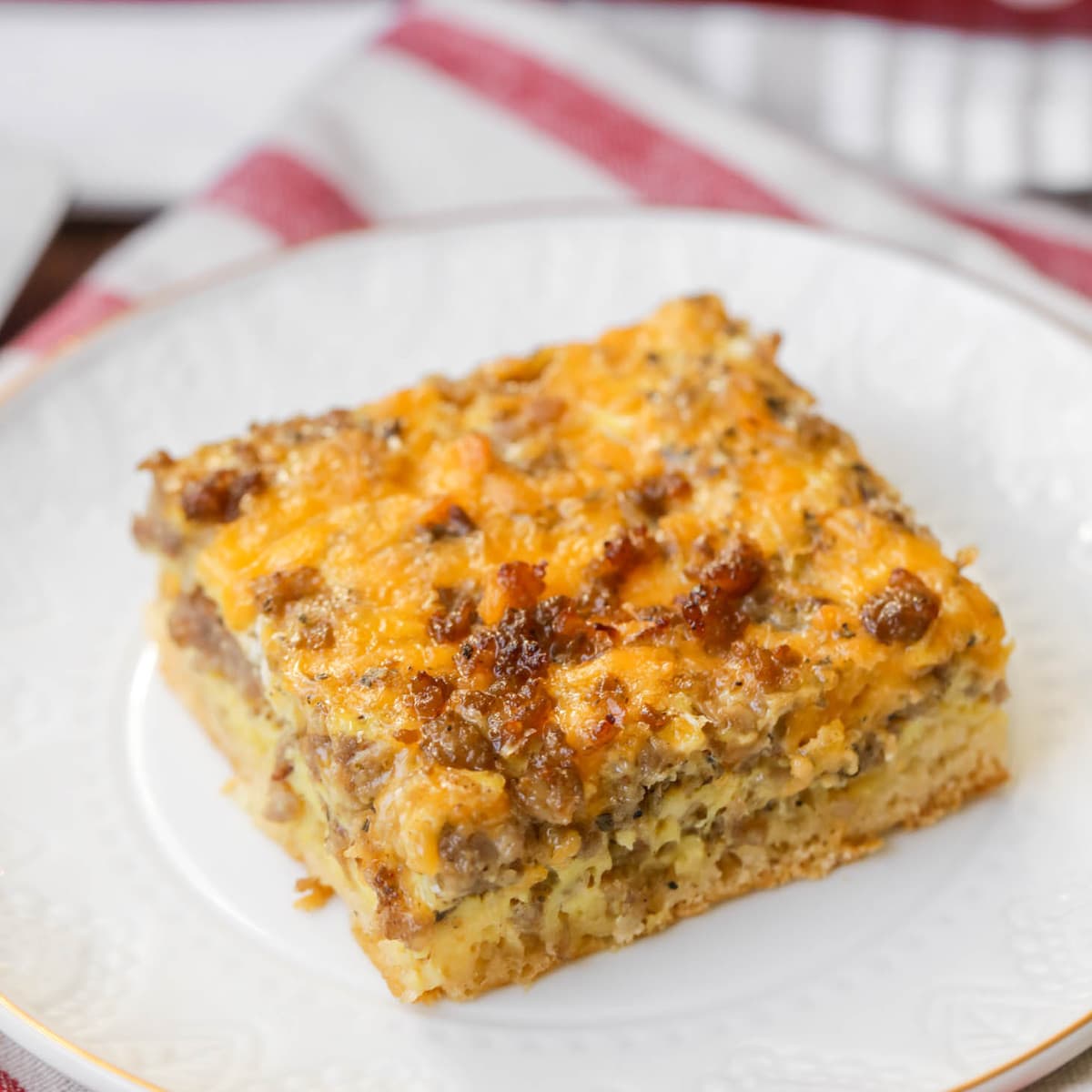 Sausage Breakfast Casserole – Sausage Breakfast Casserole – eggs, sausage, milk, cheddar cheese, and seasonings all layered upon a crescent sheet! The perfect way to start off your morning!!
Breakfast Strata – This breakfast strata is great for brunches, holidays, or a yummy family breakfast!! With buttery layers of bread, ham, cheese, and egg, this Ham and Cheese Strata is guaranteed to please any crowd! Better yet, it only takes a short time to prepare.
Sausage Cream Cheese Casserole – Sausage Cream Cheese Casserole is filled with a savory sausage and cream cheese center. It's the perfect breakfast recipe!
Biscuits And Gravy Casserole – A casserole version of a classic breakfast dish!! This Biscuits and Gravy Casserole is simple and perfect for weekend mornings and holidays – especially if you're feeding a crowd!
Crockpot Breakfast Casserole – Hearty Crockpot breakfast casserole is a tasty make-ahead meal filled with hash browns and sausage that you NEED in your life!
Crescent Roll Breakfast Casserole – Crescent roll breakfast casserole is savory and cheesy. It is easy to assemble and bakes in under 30 minutes!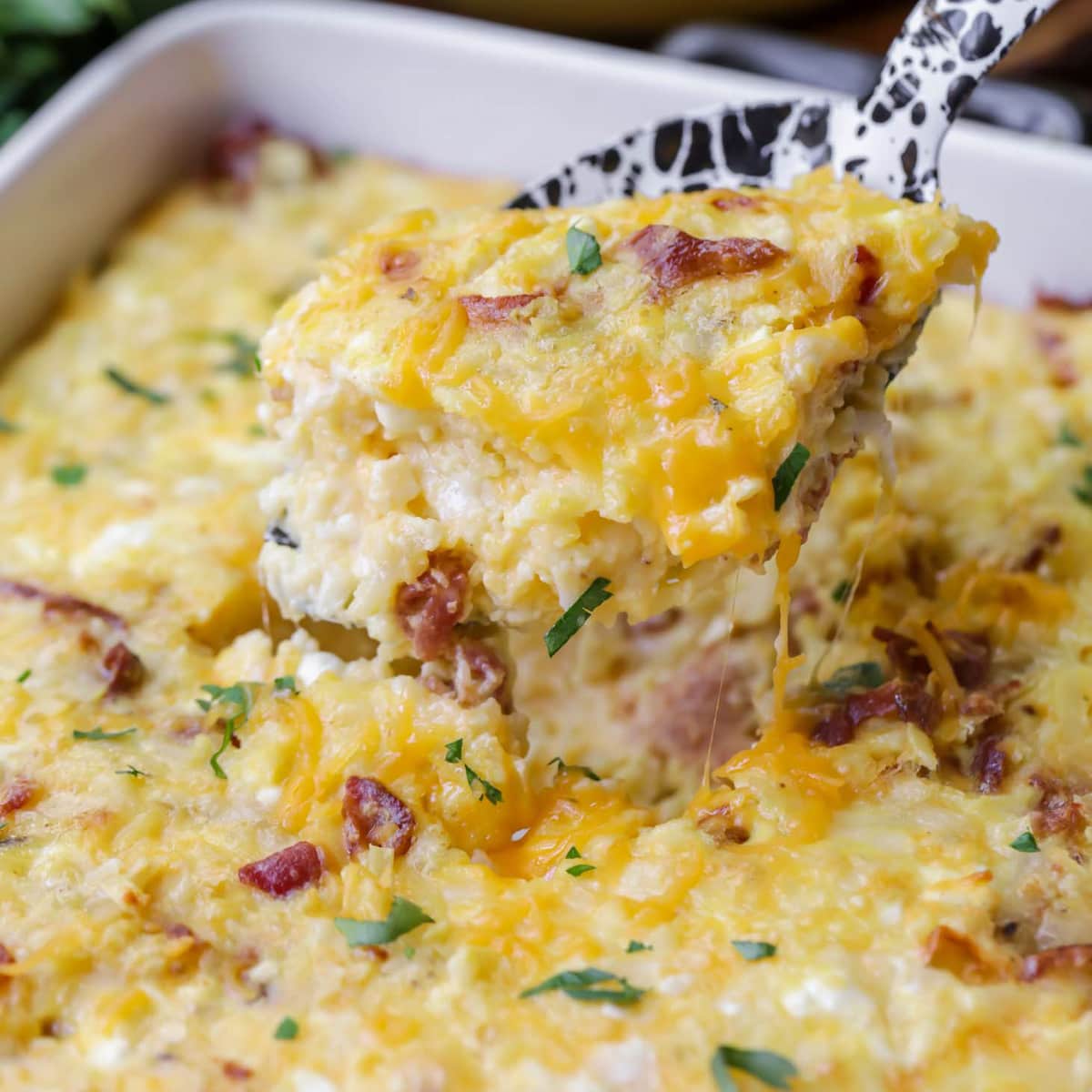 Cheesy Hashbrown Casserole – Cheesy Hashbrown Casserole takes minutes to prep and is the perfect side dish to any dinner or holiday meal!
Breakfast Tacos – These Breakfast Tacos will become your morning mealtime hero! Eggs, bacon, cheese, and hash browns all stuffed in a soft mini tortilla!
Tater Tot Breakfast Casserole – Filled with bacon, sausage, cheese and more – this Tater Tot Breakfast Casserole is sure to be your next go-to breakfast dish. It's easy, delicious and sure to be a crowd pleaser.
Eggs Benedict Casserole – Eggs Benedict Casserole – the perfect breakfast dish made with English muffins, Canadian bacon, eggs and It's delicious!!
Breakfast Burritos – Delicious breakfast burritos are the perfect on-the-go breakfast! Load them with all your favorite fixings.
Slow Cooker Hashbrown Casserole – Potluck, Easter brunch or just your typical Sunday Breakfast, this Slow Cooker Hash Brown Casserole is easy, delicious and a family favorite!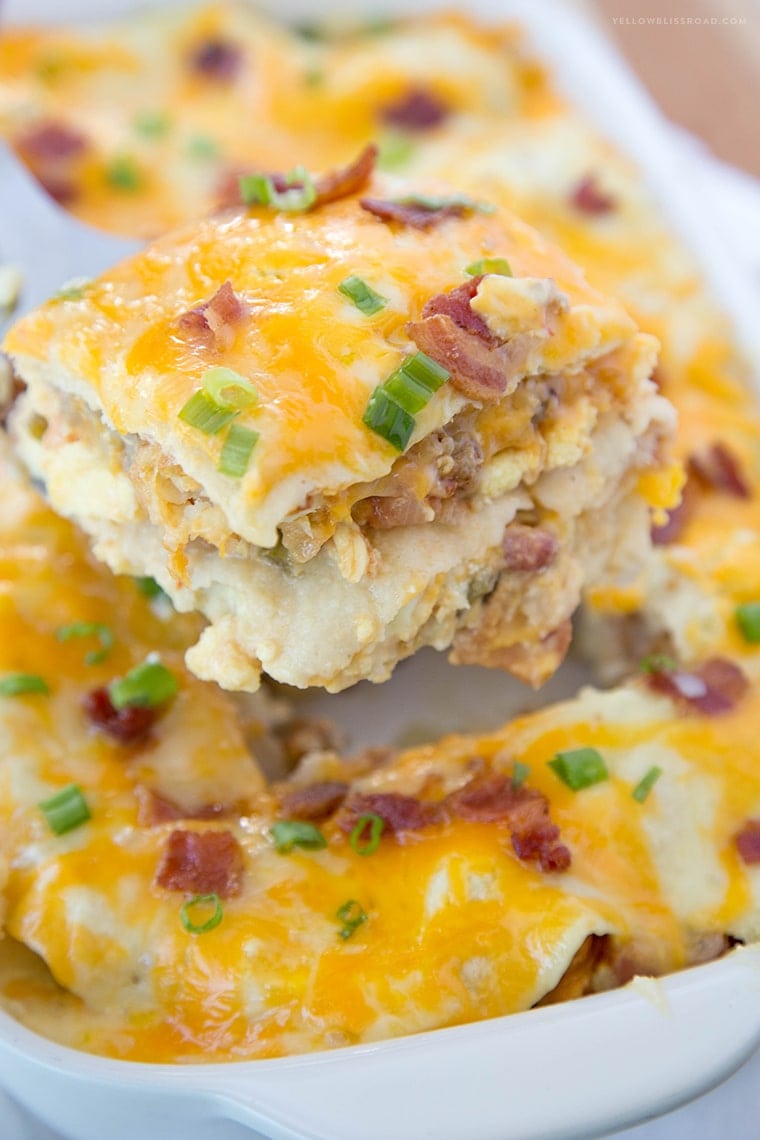 Breakfast Enchilada Casserole – This Breakfast Enchiladas Casserole is everything you love about enchiladas and breakfast casseroles in one recipe! Corn tortillas, eggs, sausage, bacon, green chili sauce, sour cream, and lots of cheese!! Definitely a crowd pleaser!
Cheesy Breakfast Casserole – This easy savory cheesy breakfast casserole is perfect for any morning or special holiday occasion. It is perfect for making ahead!
Cheesy Breakfast Potato Casserole – This Cheesy Breakfast Potato Casserole takes minutes to make and is delicious!! This recipe will become a breakfast favorite.
Sweet Potato Breakfast – Whip up this easy sweet potato breakfast for a filling and healthy meal! You're going to enjoy every flavorful bite of this colorful breakfast.
Mexican Breakfast Casserole – Mexican breakfast casserole is hearty and filling with a bit of spice! It comes together quickly and is ready to eat in under an hour.
Western Omelette – This Western omelette is packed with cheese, bell peppers, and ham!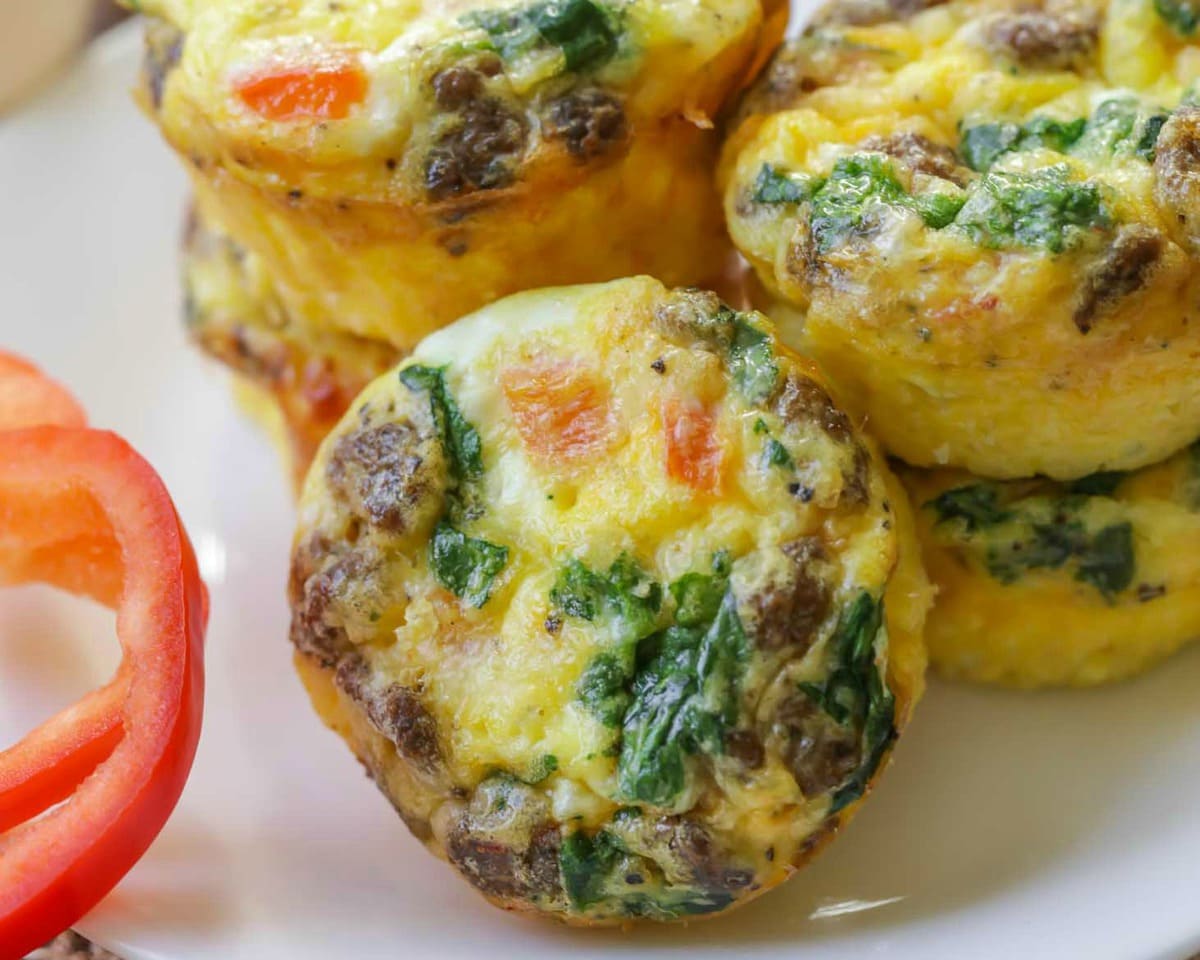 Healthy Egg Muffins – These Healthy Egg Muffins are super simple and delicious! Add cheese, meat and veggies, like bell peppers and spinach, to make these tasty breakfast muffins or customize them with your favorite ingredients. They're not only great for breakfast but also for snacks and lunch!
Frittata – Fluffy frittata stuffed with asparagus, ham, and parmesan cheese. It's a breakfast dream—so simple and delicious!
Avocado Eggs – Avocado Bacon and eggs – one of our favorite breakfast recipes. They're topped with cheese and so delicious!
Baked Denver Omelet – This thick and delicious Denver omelet is stuffed with melty cheese, ham, mushrooms, onions, and bell pepper! It's baked to perfection.
Toad In The Hole – Toad in a hole is toasted bread with an egg cooked into the middle. It's a simple breakfast classic perfect for any morning.
Chorizo And Eggs – Spicy and rich chorizo and eggs makes the yummiest breakfast to start your day! Serve them with tortillas or use it in breakfast burritos and tacos.
---
the complete list
Here are the picture cards for ALL of the fabulous Breakfast For Dinner recipes listed above.
With so many easy and delicious recipes to choose from you'll want to serve breakfast any time of day!