Deliciously fluffy banana pancakes are topped with melted peanut butter, bananas and chocolate chips making them irresistible.
There's no need for syrup on these peanut butter banana pancakes. If you love PB as much as I do, you'll also LOVE Peanut Butter Cupcakes, Soft Peanut Butter Cookies, and Chocolate Peanut Butter Cookie Bar.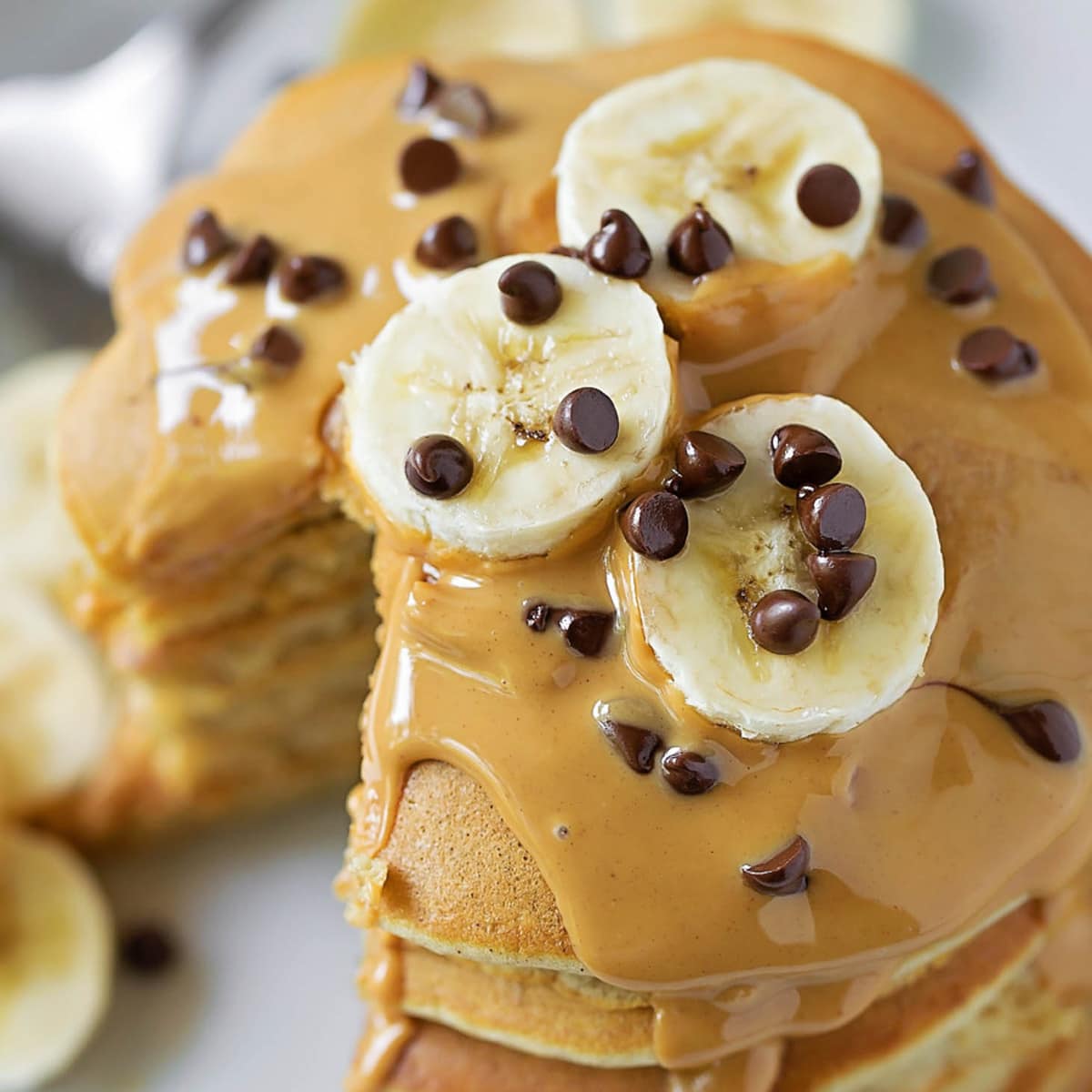 Banana Peanut Butter Pancakes
We ALWAYS have a few spotted bananas on our counter. While I love banana bread, sometimes it gets old. That's when we make pancakes! These light and fluffy peanut butter pancakes are a family favorites. They only take a few minutes to make and they always come out tasting amazing.
I tested this recipe with peanut butter swirled into the batter and honestly, I wasn't a fan. What we loved was melted peanut butter (literally melted in the microwave until silky smooth) in between the pancakes and then drizzled all over the top. It's like a thick, luscious syrupy frosting. They've got that sweet salty combo going on. Absolutely perfect for busy mornings or lazy weekends. Kid love them and adults do too!
Of course our kiddos requested a sprinkle of mini chocolate chips and some extra banana slices for the top. Totally optional but highly recommended. If you aren't a fan of the banana and PB combo, omit the bananas and just add the melted peanut butter and chocolate chips on top. It's so good!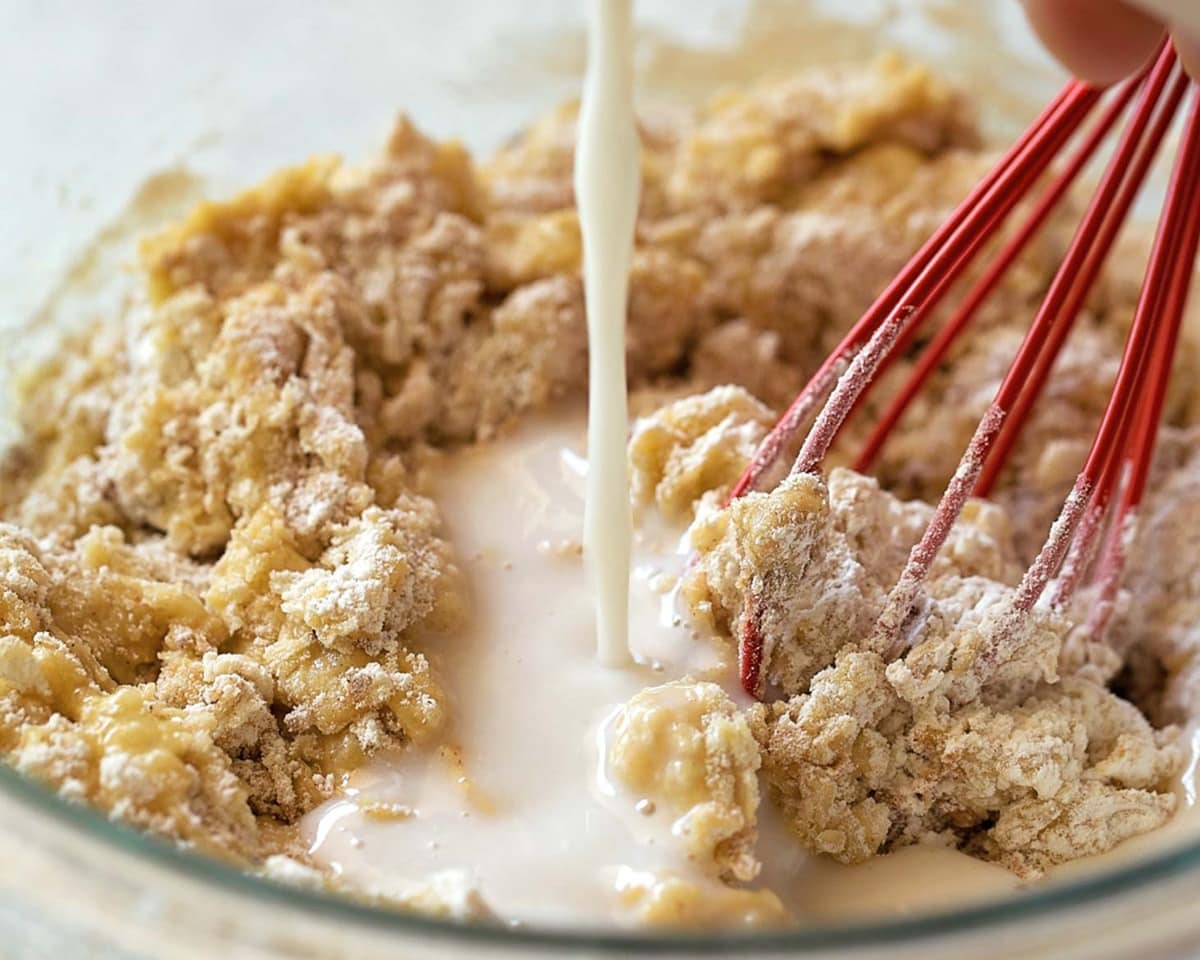 How to Make Peanut Butter Banana Pancakes
DRY INGREDIENTS. You'll start by mixing the dry ingredients together. All you need is flour, baking soda, baking powder and salt.
WET INGREDIENTS. Then whisk in the wet ingredients until a lump batter forms. Remember- lumps make for tall, fluffy pancakes. DO NOT OVERMIX!
REST + COOK. Once the batter is mixed up, let it rest. Yes, let it sit on your counter for 10 minutes. I love this trick, it helps activate the leavening agents and thicken up the batter. Sky-high pancakes? Yes please! This little insider tip will make you feel like a pancake pro.
TOPPING. While your pancakes are on the griddle, prepare the peanut butter. It's so simple. Transfer a half cup of your favorite creamy (smooth) peanut butter to a microwave-safe bowl and warm on half power for 30 seconds to 1 minute until it resembles the consistency of melted chocolate.
SERVE. Once the pancakes are done, layer them, adding a drizzle of melted peanut butter between each pancake. Drizzle the top and add mini chocolate chips and sliced banana if desired.
Tips, Variations + Storing Info
Use overly ripe bananas for taste and texture. The peel should have a lot of brown spots and feel soft when squeezed. 
Ripen Bananas Quickly: If you really want to make these but don't have riep rough bananas you can get them soft enough by utilizing the oven.

Heat the oven to 300°F. Place the UNpeeled banana(s) on a baking tray. Bake them in the oven until the peels turn black. Allow them to cool before you peel and use them in the recipe. 

Frozen bananas

: The excess liquid that the fruit collects from being frozen will affect the pancake batter so I don't use them. However, you could add a pinch more flour to compensate for any extra liquid. Make a test pancake and adjust if necessary.
Healthier: There are  few easy switches to choose from that can make these a bit healthier.
½ whole wheat flour and ½ white flour

Use coconut sugar instead of typical brown sugar

Use coconut oil instead of melted butter

Use your favorite organic or natural peanut butter. Just note that it wont yield the smooth syrupy texture like classic peanut butter. 
Flipping the Pancake: Flip the pancake when air bubbles appear on the tops and the edges are beginning to turn a golden brown. Fro best results flip only once and to do not use the spatula to press on the pancake.
STORE leftover pancakes in an airtight container/bag in the fridge for 2-3 days. Reheat in the microwave until warmed through. You can also check out our How to Freeze Pancakes post for more storage ideas.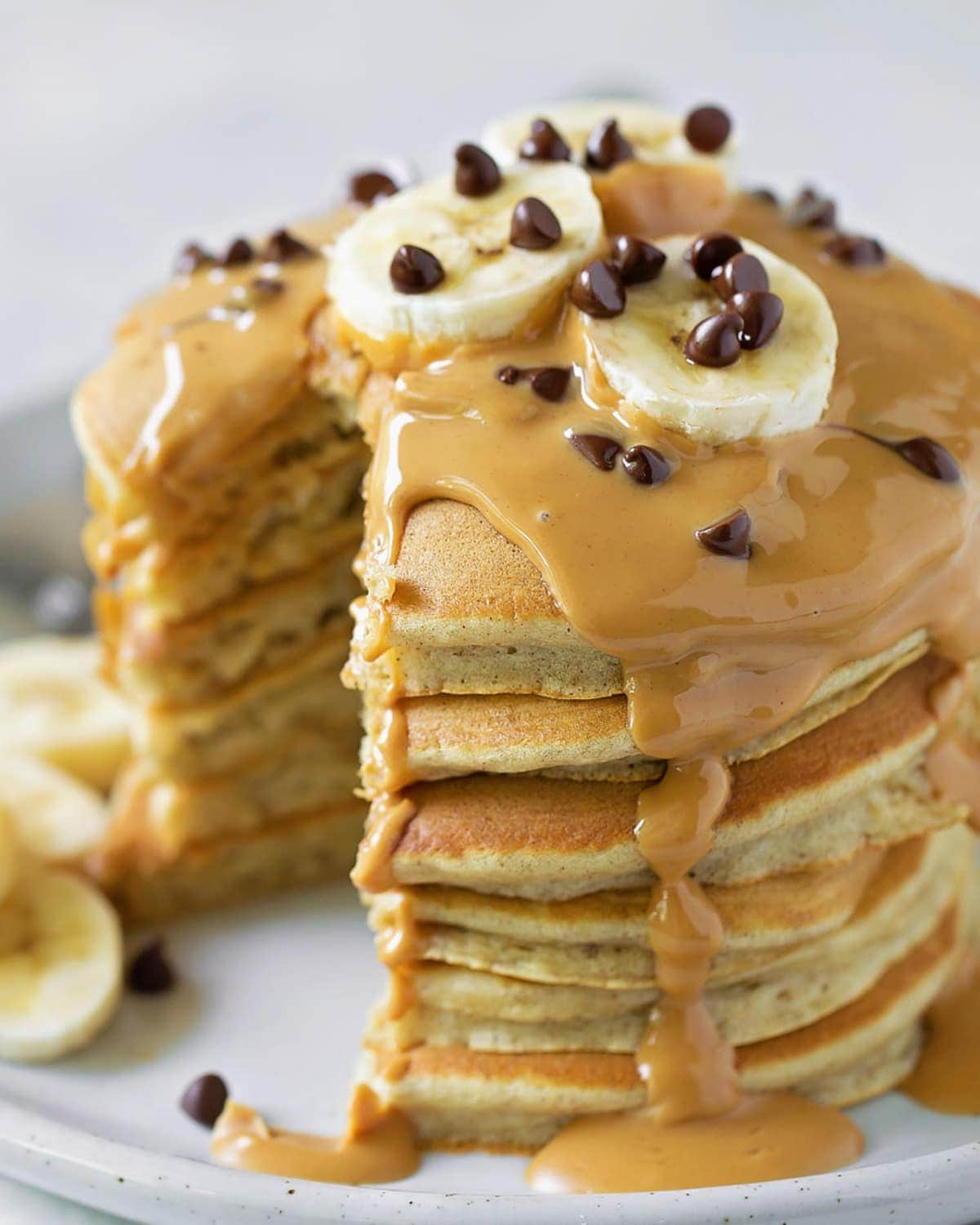 For even more pancake recipes, check out:
Peanut Butter Banana Pancake Recipe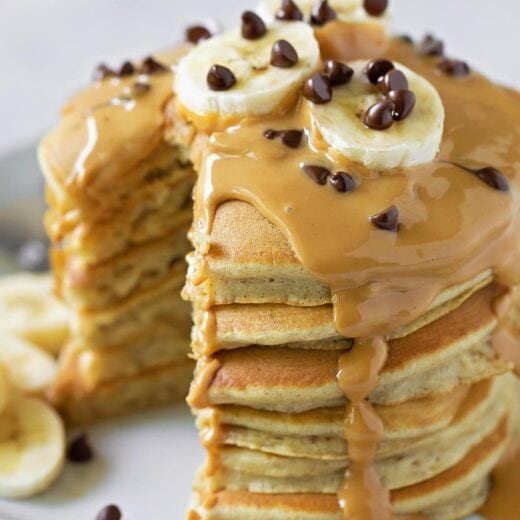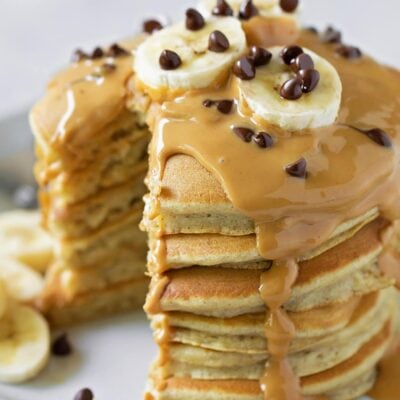 Deliciously fluffy banana pancakes are topped with melted peanut butter, bananas and chocolate chips making them irresistible.
Ingredients
For the topping:
1/2

c.

creamy peanut butter, warmed

2

tbsp.

mini chocolate chips

optional

slices of banana

optional
Instructions
In a medium mixing bowl, whisk together the flour, baking powder, baking soda and salt.

In a small mixing bowl, add the buttermilk, mashed banana, brown sugar, egg, vanilla extract, and melted butter. Lightly beat until combined.

Add the wet ingredients to the dry ingredients and mix until just combined, being sure to not overmix. Lumps make for fluffy pancakes! You may need to add a tablespoon or two of additional buttermilk to get the right consistency.

Allow the batter to rest for 10 minutes, meanwhile, place a large pan over medium heat and add ½ tbsp. of butter. Scoop the batter out using ⅓ measuring cup and pour into the center of the heated pan. Allow the pancakes to cook approximately 2 minutes or until you see small bubbles on the surface of the pancake. Flip, and cook for 1-2 additional minutes. The pancakes should be lightly golden brown in color.

Drizzle melted peanut butter between layers of pancakes. Sprinkle with mini chocolate chips and top with banana slices, if desired.
Notes
Warm your peanut butter by adding it to a microwave-safe mixing bowl and heating on half powder for 30 seconds to 1 minute.