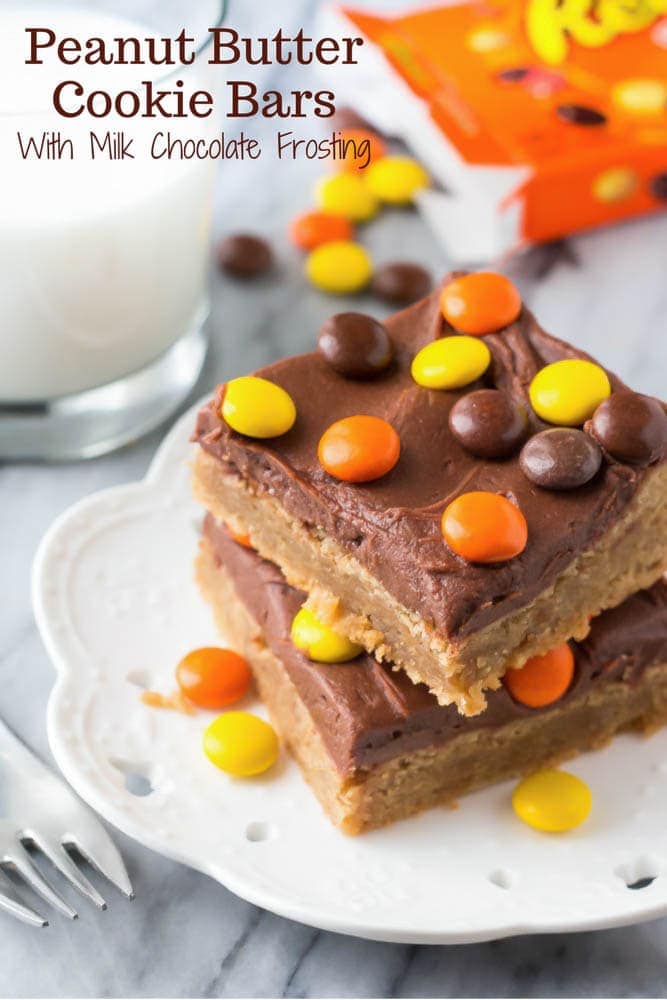 Hi! My name's Fiona and I'm so excited to meet you! I blog over at Just So Tasty, and today's my first post on Lil' Luna. I love baking desserts, and anything with peanut butter – especially peanut butter and chocolate.
So, I thought it only made sense to bake something with peanut butter and chocolate for my first post. (Plus – one of my favorite recipes on Lil' Luna is these Reese's Pieces Peanut Butter Cookies.)
Today's peanut butter cookie bars with chocolate frosting start with a layer of soft and chewy peanut butter cookie. Then they're frosted with creamy milk chocolate frosting, and decorated with Reese's Pieces. The chocolate frosting makes them a little more special than regular peanut butter cookies. And because we're making them in bar form, there's less busy work since we don't have to roll the dough into balls.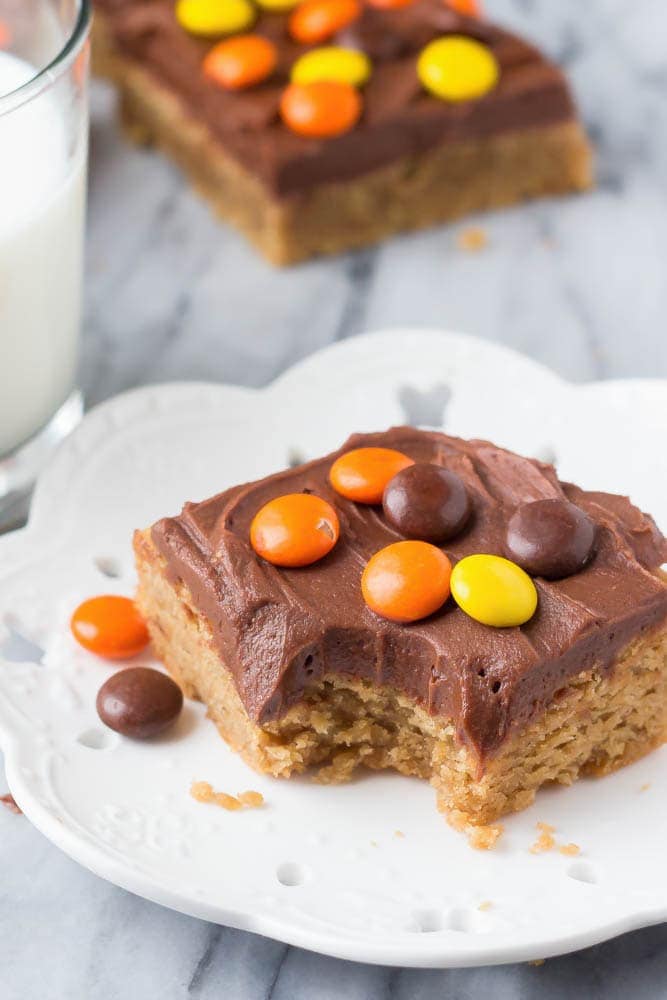 The layer of peanut butter cookie is soft and chewy for a few reasons. First, make sure your butter is soft before getting started. This makes it easier to mix everything together. Then  light brown sugar adds moisture, chewiness and extra flavor. And finally we're adding a little cornstarch to keep them tender.
The chocolate frosting is a simple recipe using butter, confectioner's sugar, cocoa and whipping cream – plus a little vanilla and salt. I like to use whipping cream in frosting because it makes it extra creamy and smooth. But if you only have milk on hand, it'll work too.
I love the combination of peanut butter and chocolate, so these bars are the perfect thing in my book. They're a great way to dress up your peanut butter cookies. So pour yourself a cold glass of milk – because these chewy peanut butter cookie bars with chocolate frosting are delicious!

Peanut Butter Cookie Bars with Chocolate Frosting
Ingredients
For the Peanut Butter Cookie Layer
⅓ cup unsalted butter, softened to room temperature
⅔ cup light brown sugar, packed
⅓ cup peanut butter (not natural or whipped)
1 and ½ teaspoons vanilla
1 large egg
1 cup all-purpose flour
2 teaspoons cornstarch
½ teaspoon baking powder
For the Milk Chocolate Frosting
⅓ cup unsalted butter, softened to room temperature
1 and ¼ cup confectioner's sugar, sifted
3 tablespoons natural cocoa powder, sifted
1 teaspoon vanilla
pinch of salt
2-3 tablespoons whipping cream
Instructions
Preheat the oven to 350F degrees. Line an 8x8 inch square baking pan with aluminium foil, then grease with non-stick cooking spray. Set aside.
In a medium bowl using an electric mixer on medium speed, beat together the butter, sugar and peanut butter until smooth and no butter or sugar lumps remain. Add in the egg and vanilla and continue beating until combined (about 30 seconds).
Turn the mixer down to low speed and carefully beat in the flour, cornstarch and baking powder. You may need to turn off the mixer and scrape down the sides of the bowl.
Spoon the batter into your prepared pan, and press down to the edges using your hands or a rubber spatula. Bake in your preheated oven for 20-23 minutes or until the top is set and the edges are just starting to brown and pull away from the sides of the pan. Allow to cool fully before frosting.
To make the frosting, in a medium bowl using an electric mixer on medium speed beat the butter until softened. Turn the mixer down to low speed and beat in the confectioner's sugar about ½ at a time. After each addition has been incorporated, turn the mixer up to medium high speed for 5 seconds. Then with the mixer on low speed, beat in the cocoa, vanilla and salt. Finally, beat in the whipping cream 1 tablespoon at a time until you get your desired consistency and sweetness level.
To decorate the bars, first lift them out of the pan using the aluminium foil. Frost with the chocolate buttercream using a flat-edge knife. Then decorate with Reese's Piece. Cut into 9-12 bars and serve.
Notes
*Bars store well at room temperature in an air-tight container for up to 4 days.
Don't you just love cookie dough?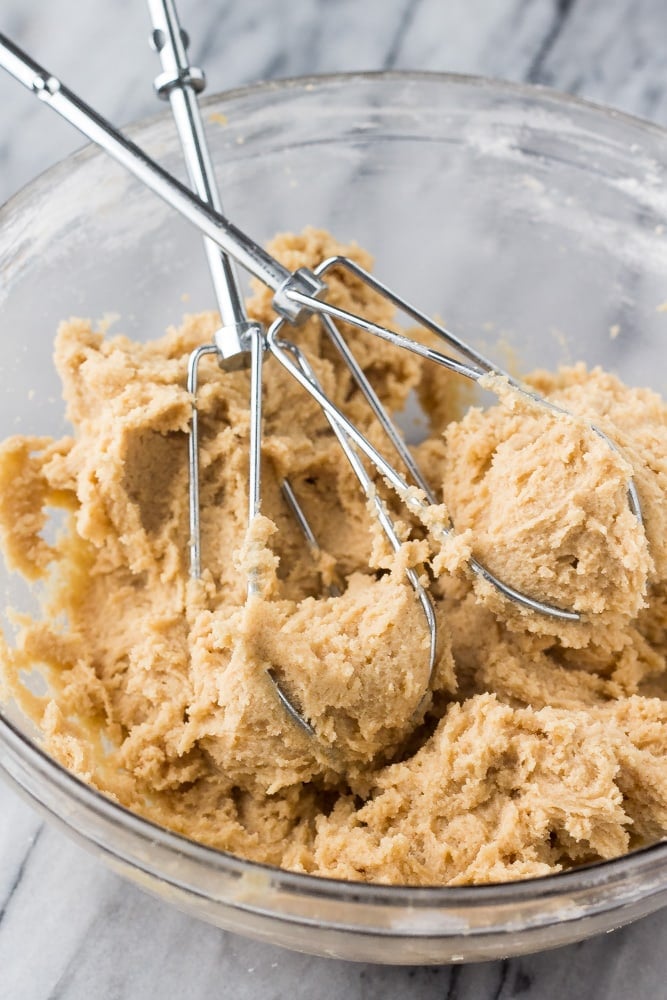 And creamy chocolate frosting??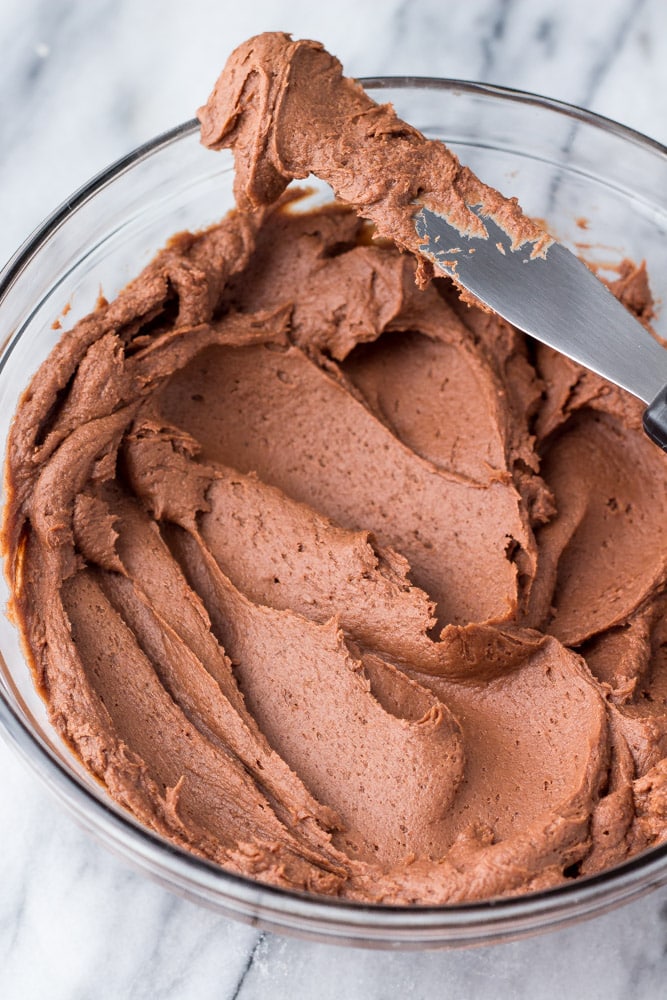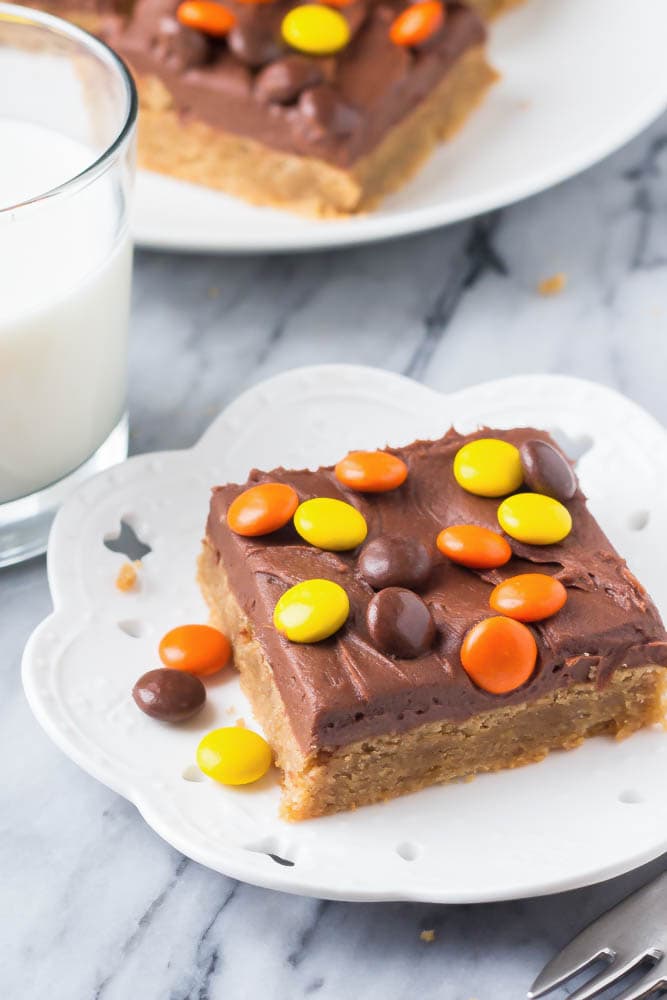 ________________________
I'm thoroughly convinced that chocolate and peanut butter are the ultimate combo!
Check Out My Other Recipes
These cookie bars look AMAZING! Thanks for sharing this recipe with us, Fiona.
For more awesome recipes, visit her over at Just So Tasty!
And for more of my favorite dessert bar recipes, check out these: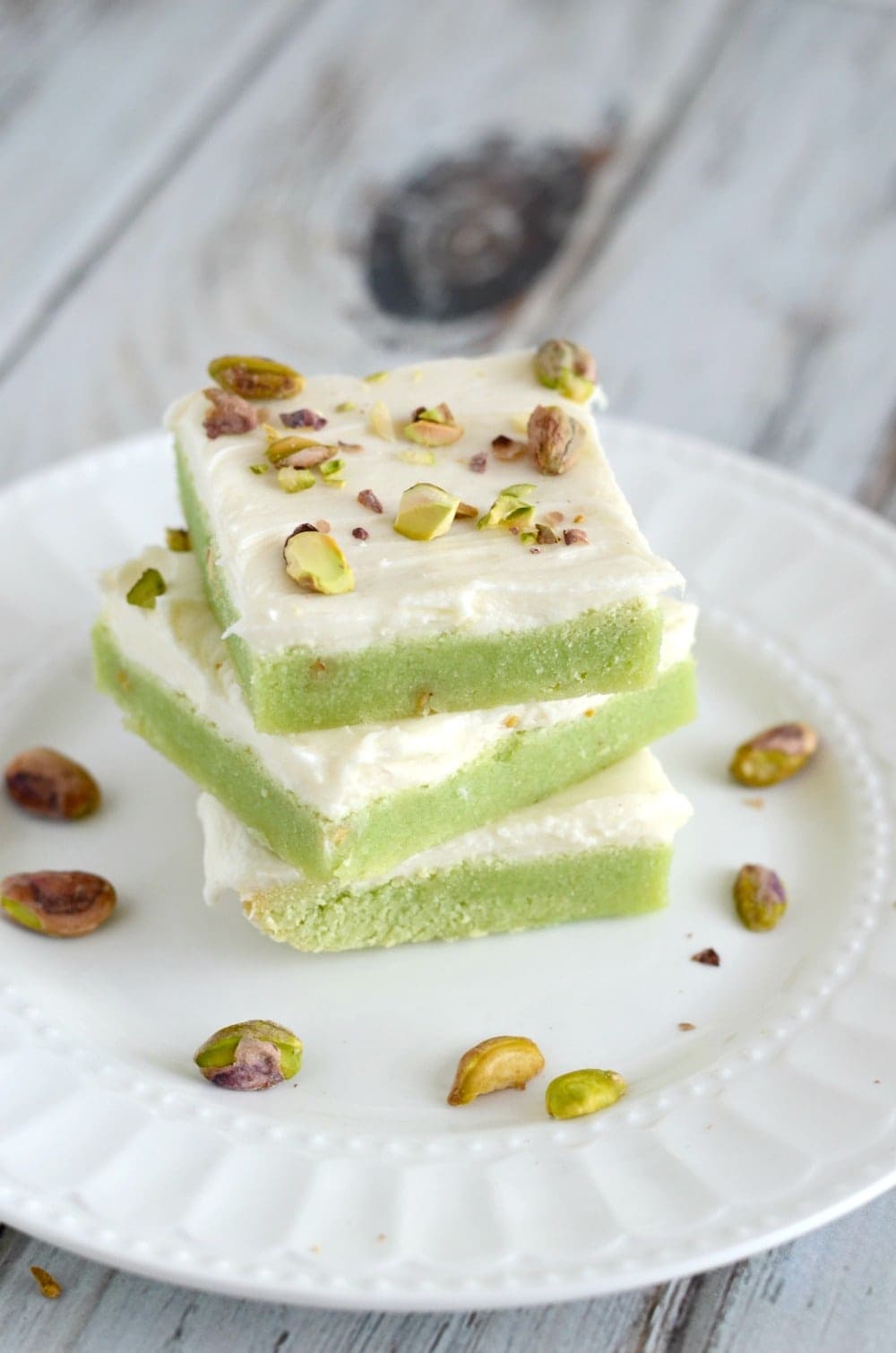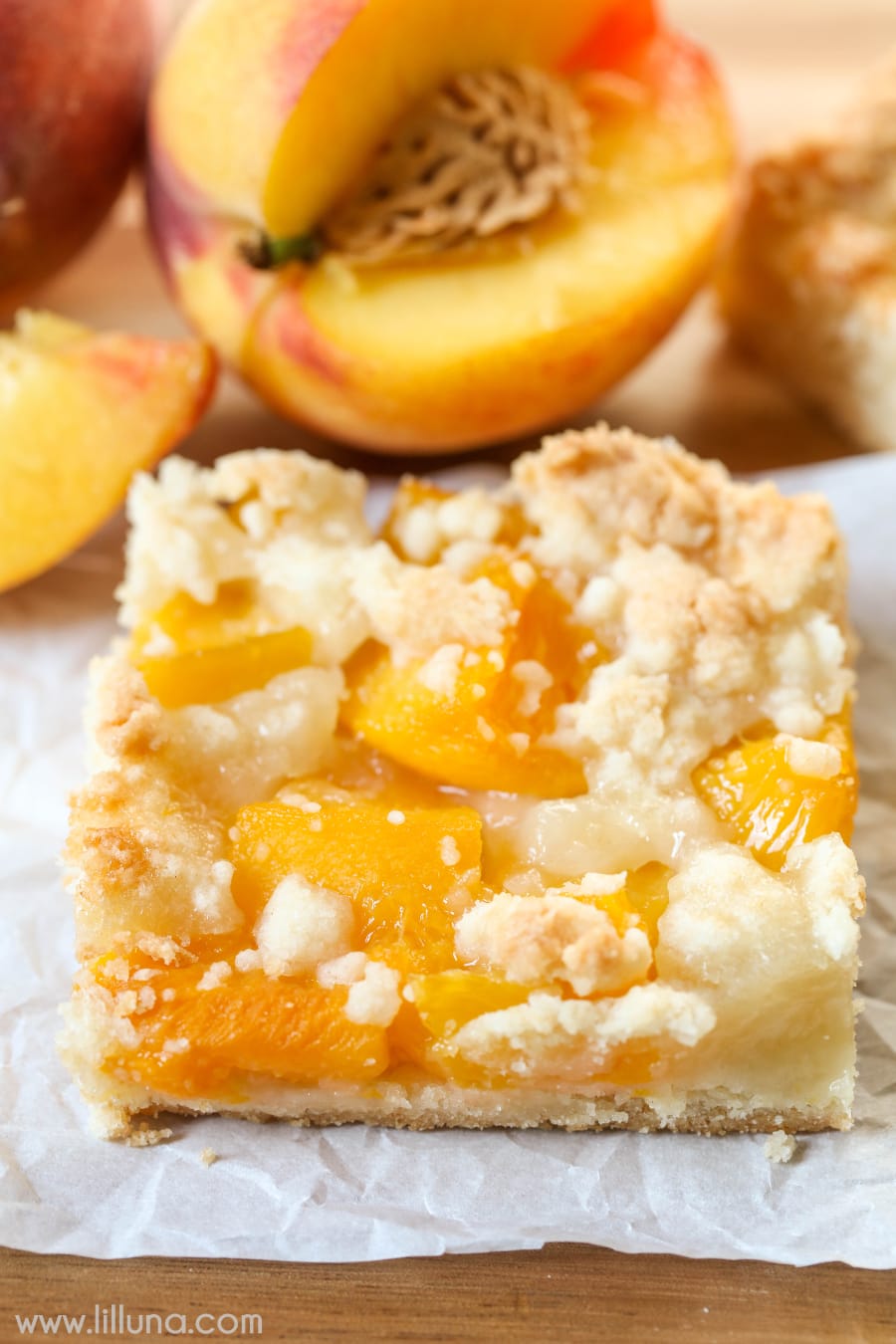 For all dessert recipes go HERE.
For all recipes go HERE.
For even more great ideas follow me on Facebook – Pinterest – Instagram – Twitter – Periscope – Snapchat.
ENJOY!
Need more recipes and creative ideas? Sign up and get a FREE copy of my latest ebook!